OCTOBER IS HERE AND I AM ECSTATIC!
Published Oct 01, 2015
Updated Sep 29, 2016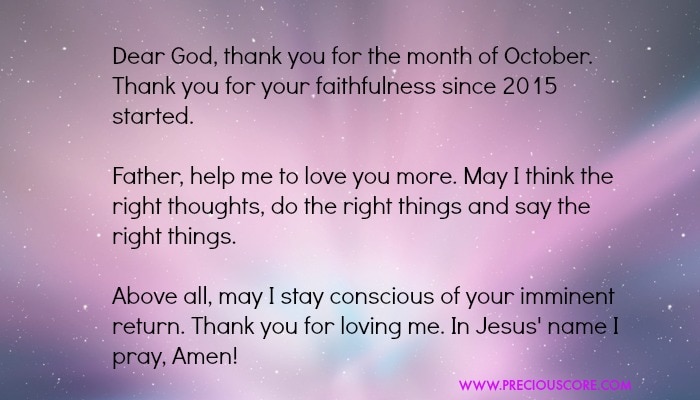 So far this year, I have grown tremendously. I am grateful to God for that. I believe we stop living when we stop growing. I'm happy with how far my blogging has come. I am not where I want to be but I am not where I used to be. I am so grateful for this opportunity to use my writing skills to inspire someone out there. #IhopeIinspiresomeone
Is there something you have always wanted to do but failed to do? Go for it! Of course, only go for it if God approves of it. There is a way that seems right to a man but it leads to death-Proverbs 14:12. As long as you know you are in God's will, don't hesitate to do what you have to do. Don't procrastinate. Just do it. Don't try to know everything at once. Take one step at a time and you will get there. Whenever I write, I feel fulfilled because it is a step towards dying empty.
Apart from writing, I have started a business with Mary Kay as an Independent Beauty Consultant. My beautiful starter kit came in yesterday and I am over the moon! Mary Kay was created to help women balance spiritual life, family and career. When I was first told this, I thought it was a line to draw me into the business. However, I have found this to be true. In fact, Mary Kay Ash, the founder said God should come first. family second and career last. This is ideal for me as a Mom who wants to spend a lot of time with her kids. I will be able to make some income and this will not prevent me from rightly building my home. #Grateful
I do not want to go to my grave with all my God-given potentials. That is why I will keep giving and giving again. What is that thing inside of you that needs to be released? Don't hoard that book. Don't fail to write that song. Start that business. Do that thing that you have to do. A day that goes by is never coming back.
This is the beginning of the last quarter of the year. Live each day as it it were your last on earth. Yet plan for many years ahead. And, let me just remind you here that Jesus is coming soon. So, "whatever you do in word or deed, do all in the name of the Lord Jesus, giving thanks through Him to God the Father." Colossians 3:17
Let's raise our glasses and toast to an exceptional month of October! A very happy independence day to every Nigerian and "Southern Cameroonian" reading this. I will be writing more intriguing
stories
, sharing tips and
recipes
, telling you
what happens during the week
and keeping you updated on my Mary Kay journey.
Thank you so much for reading and for clicking again. Those clicks are the reason I stay motivated.
P.S. Let's do some #ThrowbackThursday here. Check out the posts below, which I wrote last year!