SPAGHETTI OMELETTE RECIPE- GOOD FOR BREAKFAST
Spaghetti Omelette is the reason why a lot of people visit the tea shops (known as cafeterias) of Hausa men in some towns in Cameroon. I always keep leftover spaghetti to make this the next morning. This meal just takes eggs to the next level and it is unbelievably easy to make!

Spaghetti (or superghetti…lol), how I love thee! I love that you give me endless options for quick delicious meals like spaghetti shrimp dinner or quick spaghetti in tomato sauce or even this spaghetti omelette that could pass for a frittata! Oh, how I love that I could have you for breakfast buried in an omelette!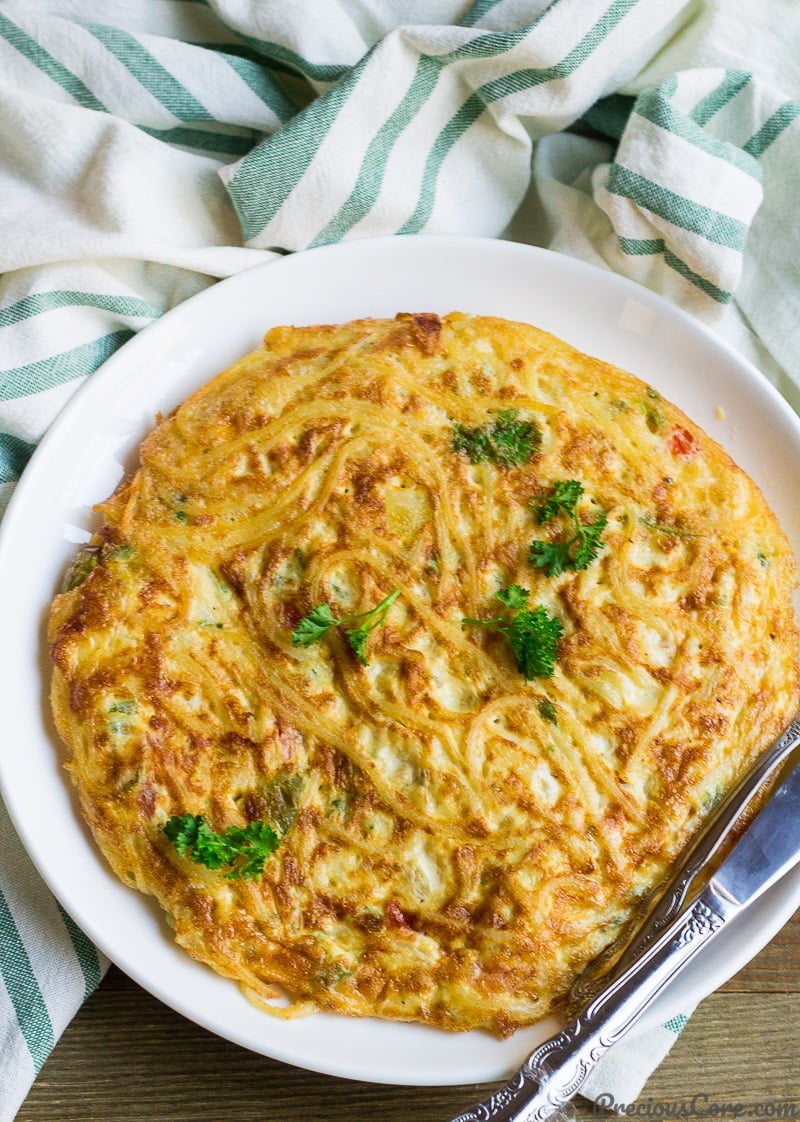 You guys, pasta for breakfast? Count me IN! Especially when the pasta is cooked into a luscious omelette with fresh veggies, crispy on the outside, eggy on the side and just irresistible!
This spaghetti omelette is one of the reasons I love that I grew up in Cameroon! Cameroonians just know how to mix things together to make amazing food. Just imagine egg and spaghetti coming together for breakfast! And I tell you, they are a match made in culinary heaven!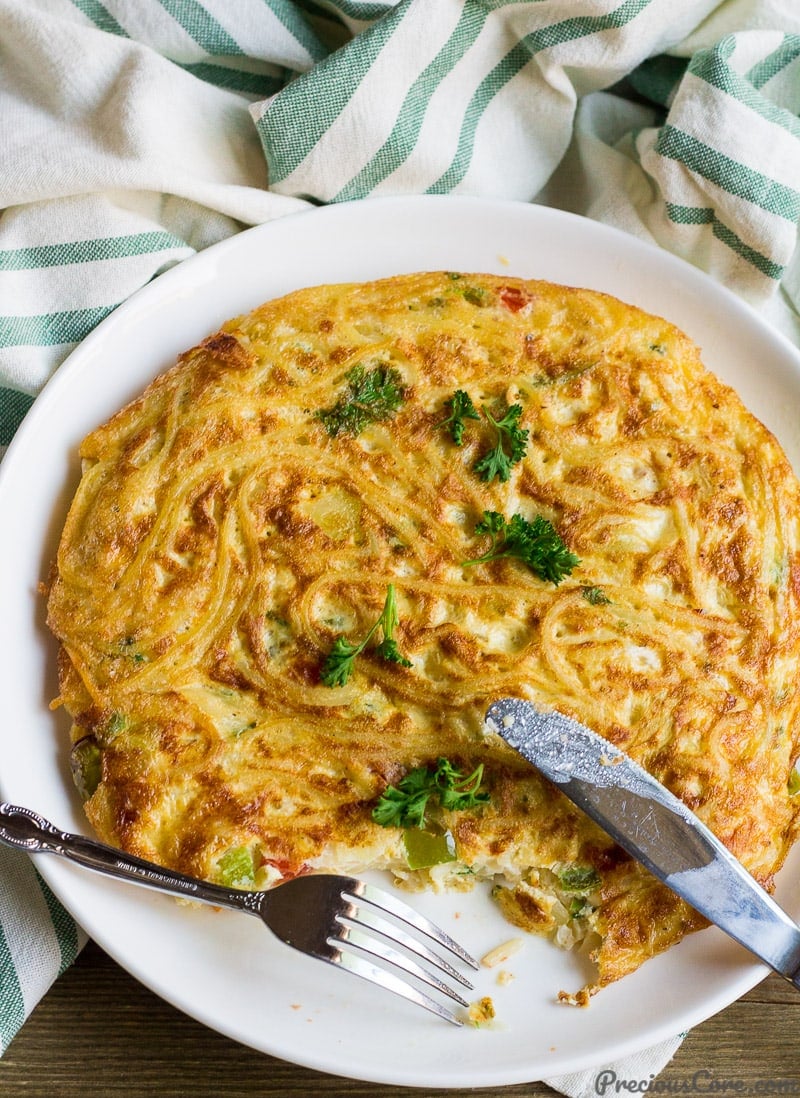 This recipe! Make it then make it again! Keep leftover spaghetti to make this. Boil some spaghetti just to make this. Make it for your family and friends. Make it for breakfast, brunch or dinner. Ready in under 30 minutes! Check out
the video
, below!
Watch How to Make Spaghetti Omelette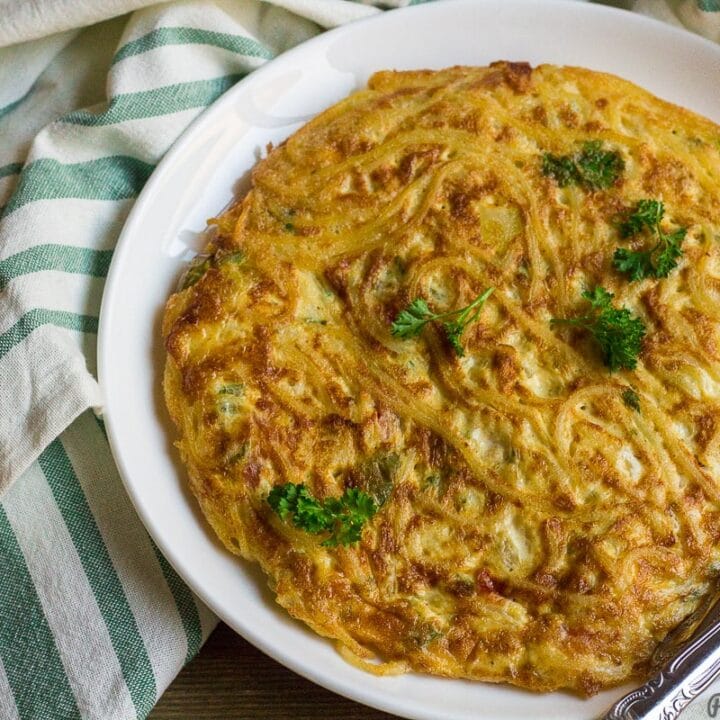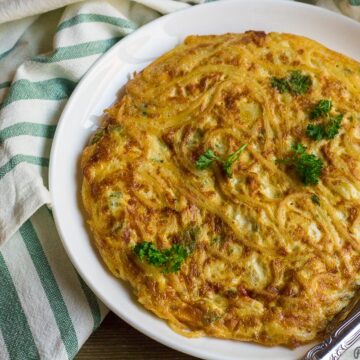 Spaghetti Omelette
This spaghetti omelette is the kind of breakfast I dream of having every morning. Loaded with all the nutrients, fresh, filling and insanely delicious! I grew up eating this spaghetti omelette occasionally from cafeterias in Cameroon. It was always such a special treat! And it is even better when made at home because you can customize to add other veggies/proteins you like. Some may refer to this as a spaghetti frittata. It is quite close to a frittata. Enjoy this African Breakfast Recipe!

Ingredients
1 1/2

cups

boiled spaghetti

see Note 1

4

eggs

1/2

tomato - chopped

1

tablespoon

chopped onion

1/4

green bell pepper - chopped

1

seasoning cube (Maggi)

4g cube

1 1/2

tablespoons

oil

1/8

teaspoon

ground white pepper

2

sprigs

parsley - finely chopped
Instructions
Place tomato, onion, bell pepper, parsley, cracked eggs and white pepper in a bowl. Sprinkle seasoning cube (Maggi) on top. Beat with a fork to combine then add the spaghetti and mix well to combine.

Heat oil in a skillet on high for 2 minutes then reduce the heat to low and pour the spaghetti and egg mixture into the skillet. Spread to ensure that it is evenly distributed in the skillet then let it cook on very low heat for about 8 minutes until the egg sets. Flip to the other side and let it cook for another 3 minutes.
Notes
1. I boiled an 8-ounce pack of spaghetti then measured out a cup and a half for this recipe. You should boil the spaghetti according to the package instructions. Salt your water before boing and after boiling, do not rinse. That way, no extra salt is needed in the recipe.
2. Feel free to add some chili pepper or a little freshly chopped habanero pepper if you want some heat in this recipe. OR just serve with some hot sauce on the side.
3. Customise your spaghetti omelette as you like. You could add other chopped veggies like different colored bell peppers, chopped celery, etc. You could equally add other forms of protein like sausage, ham, canned sardines, or even cheese.
4. It is key to let the omelette cook on low heat in this recipe. If you let it cook on high heat. the egg will burn without it cooking through. So low heat is best to ensure it cooks thoroughly.
Nutrition
Calories:
411
kcal
|
Carbohydrates:
39
g
|
Protein:
19
g
|
Fat:
20
g
|
Saturated Fat:
4
g
|
Polyunsaturated Fat:
5
g
|
Monounsaturated Fat:
10
g
|
Trans Fat:
0.1
g
|
Cholesterol:
327
mg
|
Sodium:
754
mg
|
Potassium:
408
mg
|
Fiber:
3
g
|
Sugar:
4
g
|
Vitamin A:
735
IU
|
Vitamin C:
23
mg
|
Calcium:
94
mg
|
Iron:
4
mg
*This recipe was first published on March 31st, 2016.
Pin this recipe:

Never stop improving on yourself. Learn all you can and grow all you can. As long as you have your breath, keep growing.