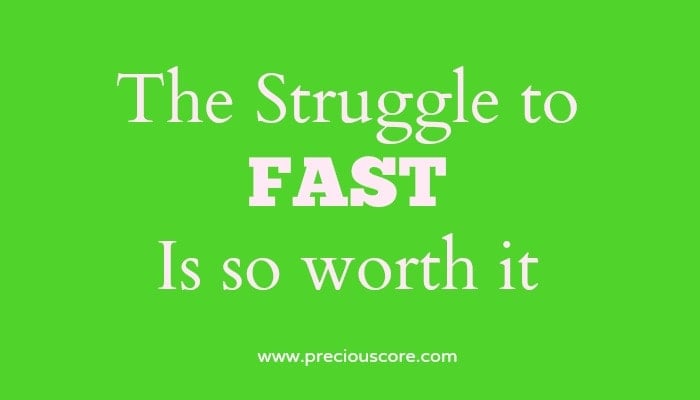 Two days ago I had a sudden urge to fast and pray concerning an issue. It was in the middle of the day and when I woke up that morning, I had no plans to take a fast. Then I felt a sudden strong conviction that I should eat nothing till the next morning so I will be better focused on the issue and pray.
First, I was happy about it and I longed for the tremendous power felt in the presence of God during prayers and fasting. I also thought of this Biblical verse, "this kind does not go out except by prayer and fasting" Matthew 17: 21. I was convinced that I needed to fast.
When I passed by my kitchen. I could see my pot of
eru
staring at me in the face. It looked 'miserable' and needed someone to rescue it from its 'misery' by eating from it. To make matters worse, there was a lone wrap of garri lying idle on my counter top, waiting for someone who could use it to eat the eru. As I paced about in the kitchen, a feeling of sadness came over me. I noticed all the good food I couldn't eat and I felt miserable.
I started advising myself, saying I was only fasting out of fear and not out of faith. I struggled to convince myself that the fasting wasn't necessary and I even licked some of the Eru when I fed my baby girl. However, a voice kept telling me that it wasn't too late to focus on the fast.
After much going back and forth, I succumbed. It was the most wonderful experience! That evening, I was a lot more focused and I had supernatural strength to do a lot of things. When I settled in to pray at night, it was an awesome time. My supernatural strength continued right into the morning when I could fold mountains of clean clothes that had been occupying valuable real estate in the bed rooms in my house.
It is amazing how God works when we let Him into our lives. He begins to touch even areas that we least expect Him to touch, When Jesus told the woman at the well to give Him a drink, she was reluctant but when she did, He touched an area of her life she least expected. He spoke about her marriage to multiple husbands, which was the major issue she was battling with.
When I prayed in my period of fasting, I felt God's peace sweep over me. Suddenly, I had no worries and the things I thought were so hard to do became so easy. The struggle to fast is so worth it! It takes you from a place of self-reliance, to a place of total reliance on God.
The next morning, the garri and eru didn't have as much appeal. When I sat down to eat, I didn't devour loads of food as I had planned. The temptation to eat only came so strong because I was abstaining from food.
It may take a struggle to fast but fasting has many benefits for you:
Spiritual Benefits
You gain a new desire for God
Your prayer is more intense and focused
You deal away issues that can only leave through fasting
You experience emotional wellness
Your spiritual strength is renewed
You can overcome negative habits through fasting
Health Benefits
It helps your body detoxify
It helps you loose weight
People have seen improvement in their blood pressure, insulin and cholesterol levels while fasting.
It promotes longevity because your digestive system doesn't have to work as much.
It may be hard to pass on delicious meals in the name of fasting but it is so worth it, my friend.