WHEN YOU LOVE YOUR KIDS
Published Apr 17, 2017
Updated Apr 28, 2017
I had the most beautiful morning of my life today. I slept in for a while because I spent most of yesterday cooking and entertaining guests for Easter. So I was tired and chose to treat myself to a little more sleep because I deserve it 🙂 My girls aged 6 and 4 woke up before me me and their baby sister. They immediately ran downstairs and prepared to surprise me with breakfast in bed.
First my 4 year old brought to my room a tray for serving : it's actually a worn-out tray I use in baking but who cares? Then she brought me a large mug of coconut milk. I LOVE coconut and if you read this blog you already know that. Because she knows I love coconut, she chose to bring coconut milk for me though there is both coconut and almond milk in the fridge. She proceeded to bring me some roasted groundnuts (peanuts) on a plate.
Her sister brought in some bread filled with butter, styled as a car. She cut the bread into a rectangle to represent the "car" then she put 4 strawberries on the sides to make the "wheels". It was beautiful. Then they placed all of these goodies on the scrap tray and brought them right to me in bed. I hate eating once I wake up in the morning. I love to read my morning devotional, pray, walk around a little then plan for an epic breakfast. Because I take eating pretty seriously.
So I didn't want to eat. I wasn't feeling an iota of hunger and my mouth was… well you know the situation with your breath when you just wake up from bed.
I was going to tell them, "Thank you, girls. Don't worry I will eat this later." But then I said what if I just go against the odds and eat right there with them? They made breakfast for themselves – bread and butter. Then we all sat on the bed, eating, talking, cuddling, staring into each other's eyes, saying a million, 'I love yous" and just connecting with each other. It was beautiful.
It became even more beautiful when my oldest daughter (who didn't come from my womb but is mine) called me. Well she "beeped" or "flashed" which means she rang my phone shortly inviting me to call her and I did. We had a nice conversation together. She spoke with her sisters and we laughed together. She lives with my mom back home in Cameroon so we only get to connect on phone.
During our nice time, my 6 year old said, "I want us to do this often!" I told her we can't do this often because the bed is meant for sleep, not meals. But still, I can't deny how much their gesture created an atmosphere of love.
I am not the perfect mommy but I love my kids. And they know it. I love them enough to play with them running over the house as though I am a 5 year old. I love them enough to choose them over money, over any job I could do in this country because staying with them and raising them is more important than making dollars. I love them enough to sit down with them and read to them nuggets from the Bible and other forms of literature. I love them enough to go get them that special gift because they asked for it (not all the time though). I love them enough to hold conversations with them because they love talking with mommy. I love them enough to discipline them when they go wrong, to tell them when they go wrong and help them do better. I love them enough to teach them the right path to follow in a world that seeks to offer many alternatives to the right way. I love them deeply and they know it.
You know the result of this? They love me right back. They seek ways to make me happy because they know I love them. Love in, love out.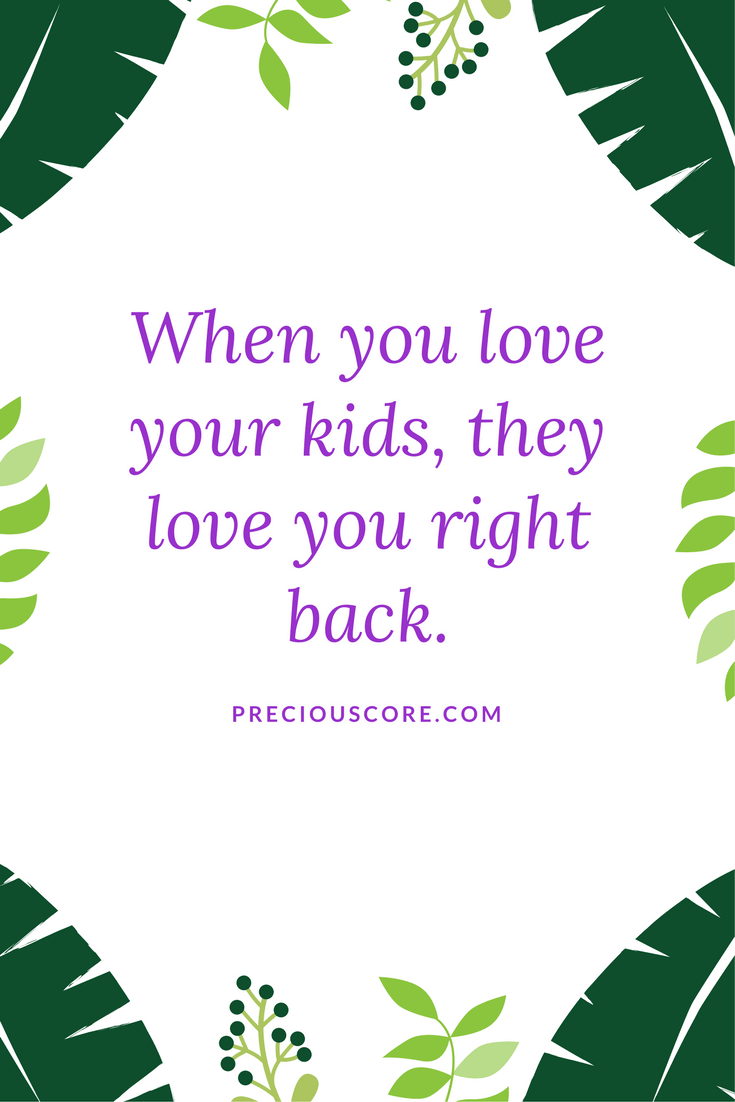 They may not be happy with the decisions I make all the time but that assurance that their mama loves them is there. They may only understand some things when they grow up. My role is to keep loving them and showing them love the way Christ commands.
Sometimes I get wearied caring for them but my goal is not to let this overwhelming feeling make me love them less. I do not want to see my kids as burdens but as blessings. Because they really are blessings. I want to love them in every way I can, with every fibre of my being. Because I won't always have this time with them. Because many years from now, it won't matter how rich I was or whether I could afford expensive clothes. All that will matter is that I loved God and I loved the children He blessed me with. Many years from now, it is only memories like the one made this morning that will matter.
Have a beautiful week, friends!