3 POWERFUL WAYS TO INVEST IN YOUR MARRIAGE
Published Dec 14, 2016
Updated Dec 21, 2016
As I lay on my bed that morning, I heard God speak to me. It was not a loud thunderous echoing voice. It was a still small voice on the inside. And it said something like this:
"You are not investing in your marriage like you should."
When the word of God comes to you in the right season, it convicts you deeply. It is supernatural, something that transcends human thinking and logic. As I felt convicted, I made a choice that I would invest in my marriage the way God wants me to. Marriage is God-ordained, honourable and beautiful.
Yet…
It is so easy to think about investing in a business, investing in your job or even investing in your school work. I put in so many hours studying and digging deep while I was in school. I pulled a lot of all-nighters I wanted to make sure I got a good pass.
When it comes to marriage, somehow I just expect it to work naturally. I mean, I love him, he loves me, let's go on and enjoy life, right?
But it doesn't happen that way.
Spontaneous love doesn't remain spontaneous. It becomes decisive love after a while. Getting a "good grade" in marriage is in many ways like getting a good grade in school. You must study God's principles for marriage- because He created it. You must invest. You must sow good seeds in order to get a good harvest.
The institution that brings a man and a woman who want to spend their life together forever is not one to be taken lightly. It is one to be cared for, nourished, fixed and intentionally made beautiful.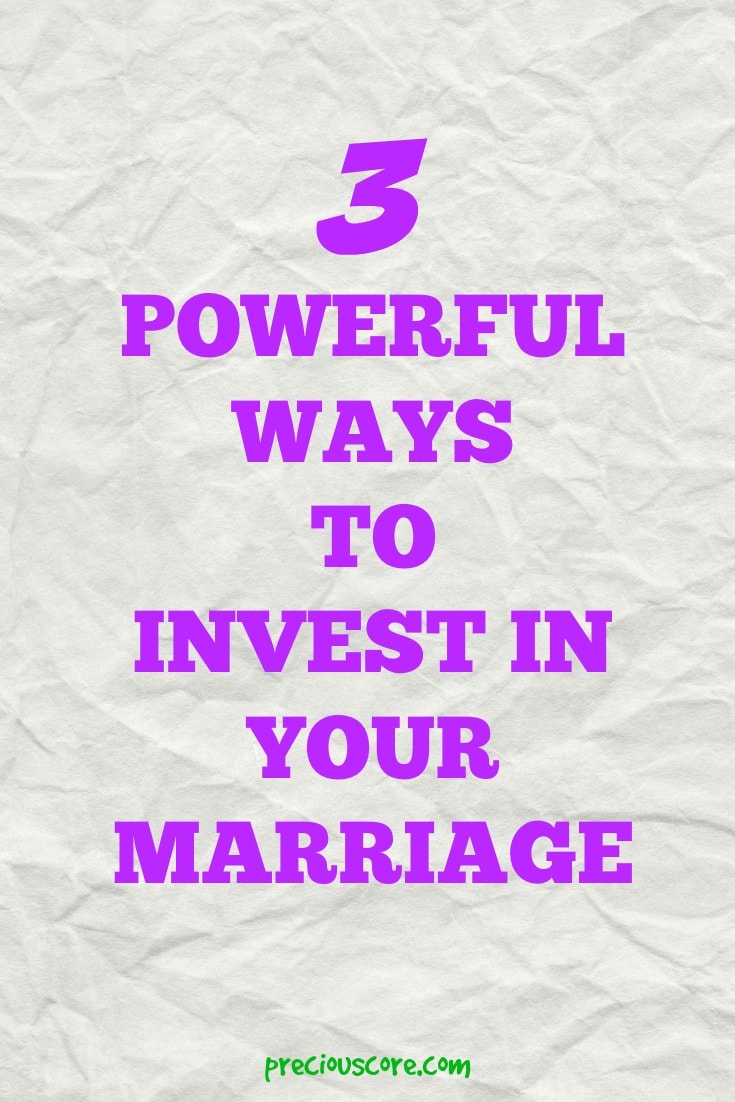 God in Marriage 
For other foundation can no man lay than that is laid, which is Jesus Christ. 1 Corinthians 3:11
Life thrives on foundations. Build a good foundation for your business and watch it grow. A house built on sand will fall when the floods come and the winds blow. But a house built on the rock is able to stand the changing tides. Scripture tells us that the solid rock is Jesus Christ. Now how does one build a marriage on Christ?
By marrying a person that is devoted to following Him
By having intentional prayer time together
By using the word of God as your final authority in decision-making
To me, this means, prioritising my prayer time and Bible study time every morning. It means honouring my husband according to the word of God. It means keeping my computer aside to have intentional time with my man. It means searching the scripture to find out how God wants me to live with my husband and following His word. And it means going back to God in prayer again and again because I need to walk by His spirit.
No marriage is immune to problems but applying God's principles in marriage builds a very strong foundation.
Serving Your Partner
"Outdo one another in showing honor." Romans 12:10

As Christians, we are called to outdo each other in showing honour. And that includes our spouses. Imagine if both husband and wife constantly strive to outdo each other in showing honour. This is what I call healthy competion. We shouldn't compete about who gets to make the most decisions and engage in bitter fights, always seeking to dominate each other. That. Is. Just. Not. Healthy.
Our goal should be outdoing each other in showing honour. To be commited to honouring our spouses. When we honour our spouses, they see God through us. This makes a marriage so healthy.
-Honour them with your tongue. Pray for them rather than gossip. Offer encouragement rather than criticism.
-Honour them with your time. Value time with them rather than spending time on excessive work or social media.
-Focus on their stengths and not their weaknesses.
As you focus on serving your spouse, you reveal God's love to him or her.
The Sex Factor
Drink water from your own cistern [of a pure marriage relationship]
And fresh running water from your own well.
Should your springs (children) be dispersed,
As streams of water in the streets?
[Confine yourself to your own wife.] Let your children be yours alone,
And not the children of strangers with you.
Let your fountain (wife) be blessed [with the rewards of fidelity],
And rejoice in the wife of your youth.
Let her be as a loving hind and graceful doe,
Let her breasts refresh and satisfy you at all times;
Always be exhilarated and delight in her love. Proverbs 5: 15-19 (AMP)
I love how scripture clearly touches on the issue of sex in marriage. The things that happen beneath the sheets could greatly strengthen a marriage. It is important to devote time and energy into ensuring that you have a healthy sex life. A sex life in which both husband and wife are fulfilled.
-Be open to sexual intercourse
-Commit to pleasing your spouse
-Engage in romantic activities together
A strong sex life makes a strong marriage.
Investing in your marriage is one of the best investments you will ever make. I'll encourage you to go all out today and invest as much as you can in your marriage.
What other ways can we invest in our marriages?
To marriages that last!