4-INGREDIENT PURPLE SMOOTHIE
Published Feb 13, 2017
Updated Feb 22, 2017
Two weeks ago, I introduced you to my love for smoothies with 3 absolutely delicious smoothie recipes. Combining the best ingredients to throw into a smoothie is one of the things that keep me up at night. I take smoothies pretty seriously. So when I got Welch's 100% grape juice I just knew I had to make a smoothie. I just had to! I could only imagine the vibe the rich purple grape juice will bring to a smoothie. And it didn't disappoint. With the perfect group of ingredients, I made the most deeee-licious 4-ingredient purple smoothie.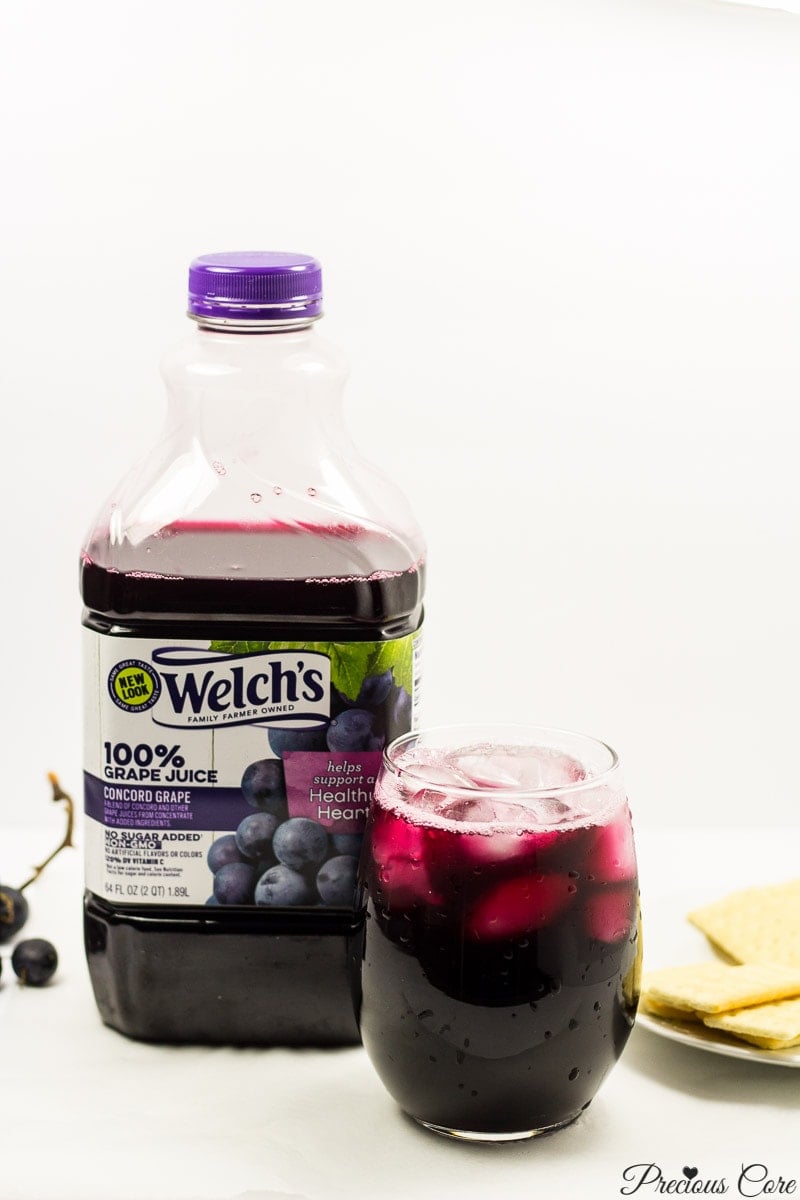 Did you know the color purple is associated with a healthy heart? That's because purple and blue foods are made up of compounds that help support a healthy heart. Examples of such foods are eggplant, purple cabbage, blueberries and purple grapes.
Welch's makes it easy for us to eat the purple we need by making 100% purple grape juice with no added sugar. That way, you can drink up the heart-healthy nutrients you need. Or to make the experience even more enjoyable, add other ingredients and make this power purple smoothie!
Here is the cast of characters for your power purple smoothie: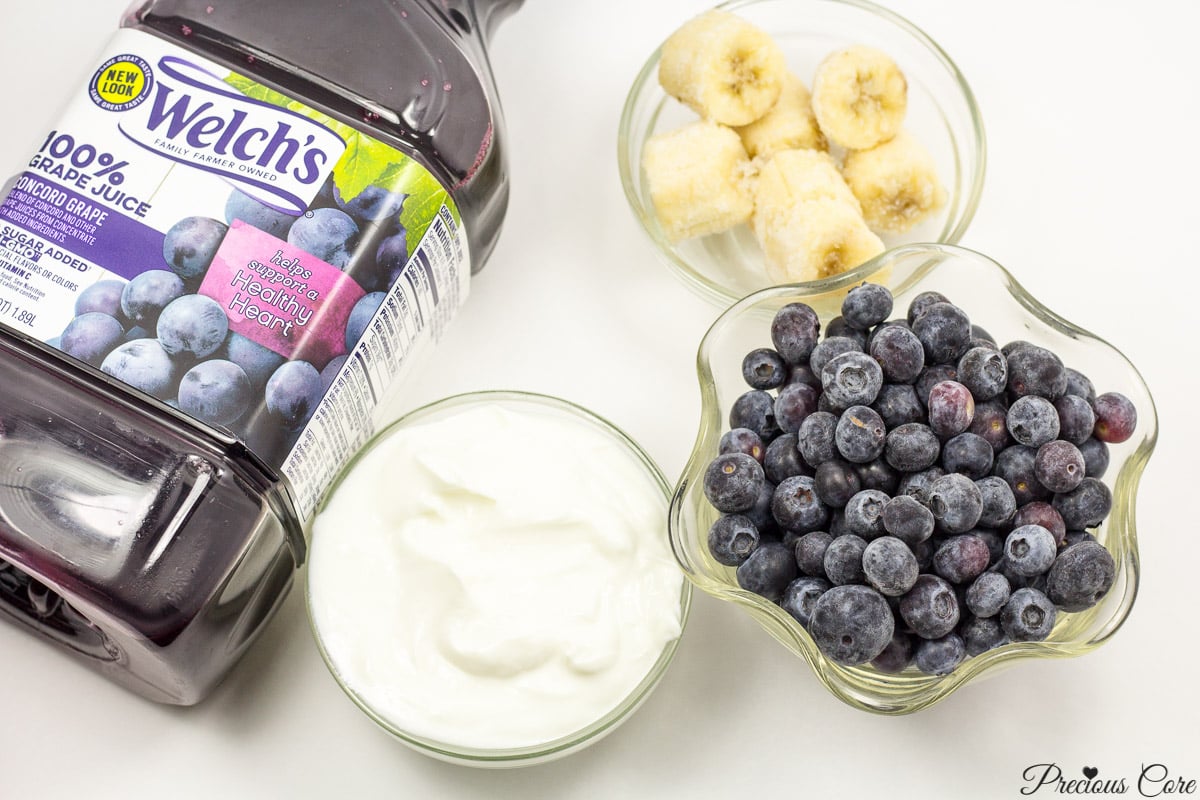 Frozen banana and blueberries, plain Greek yogurt. And some 100% grape juice. Seriously, that's all you need.
Dump the blueberries, banana and yogurt into a blender, pour in the grape juice and blend into purple perfection.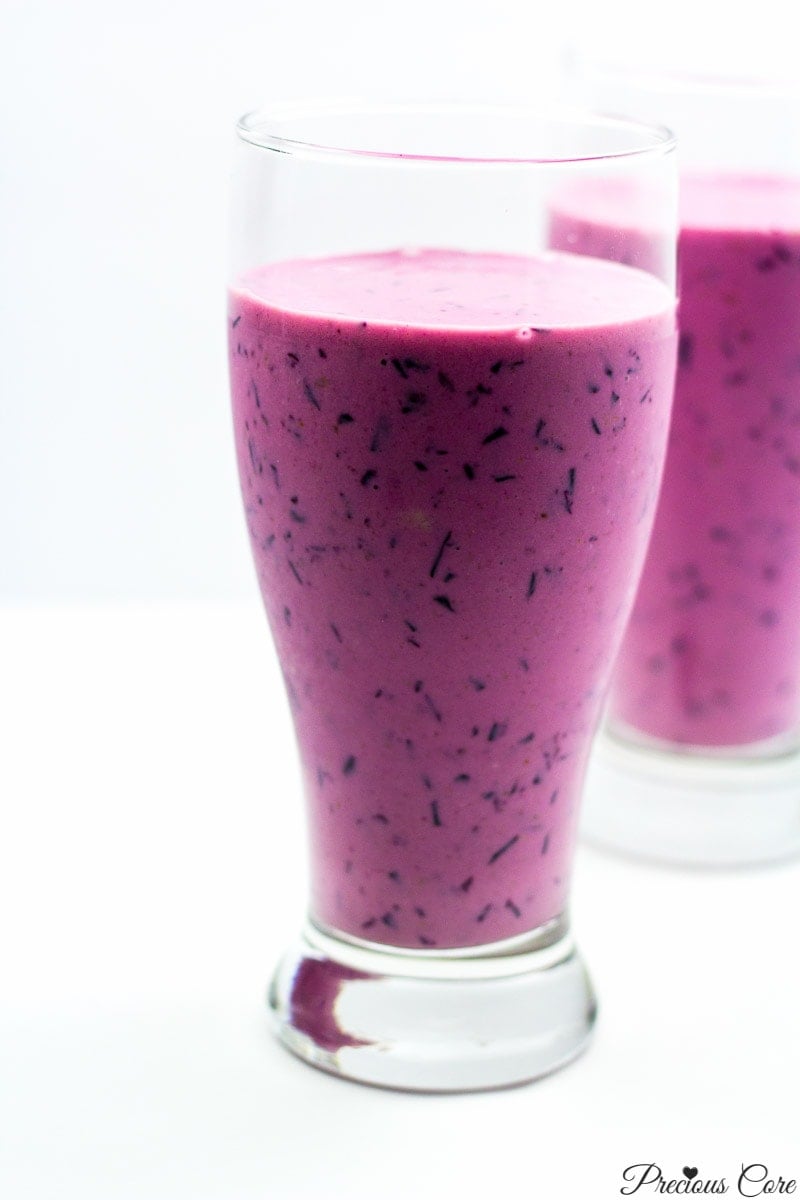 Five reasons why I love this 4-ingredient purple smoothie:
It is purple. I mean, look at the blog! I heart purple!!
It is deeee-licious (read creamy, sweet, yogurty, ahh!)
Blueberries are a powerhouse of antioxidants.They protect the body from damage caused by harmful molecules. So, it is good for you!
It is heart-healthy. Because 100% grape juice made with concord grapes contains polyphenols which support a healthy heart.
It is easy to make. You dump the ingredients into a blender and let it do the work for you.
Speaking of blenders, I recommend a Ninja. I have used this baby for three years and it blends everything I dump into it. It is a keeper. Below is an affiliate link – I only recommend the products I absolutely love.
Also, my friends at Welch's are offering you a coupon so you can enjoy the goodness of concord grape juice. Click here to grab it.
Enjoy, friends!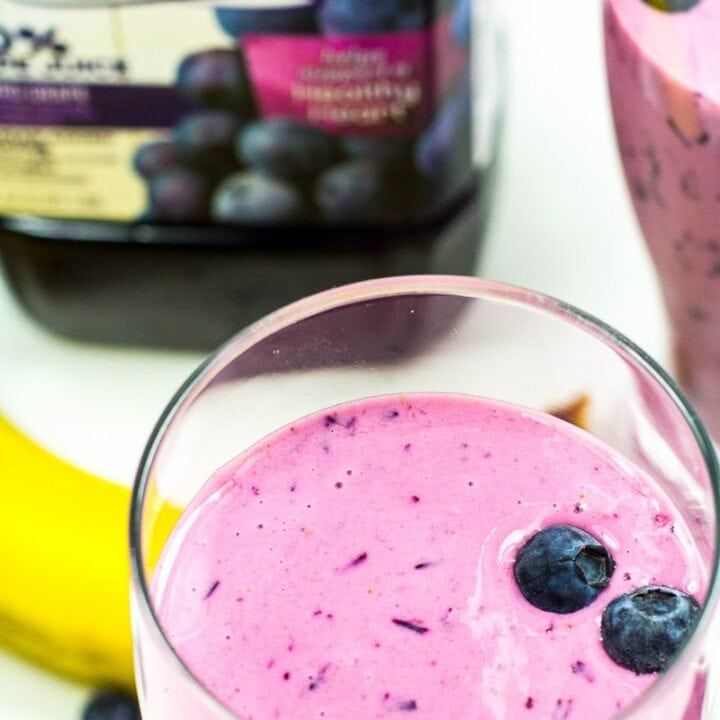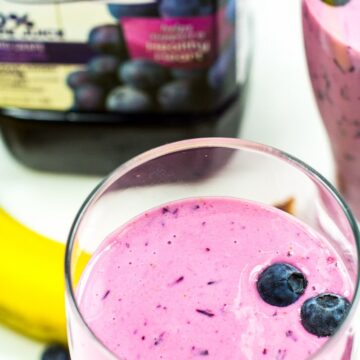 4-Ingredient Purple Smoothie
This purple smoothie is pretty and palatable. The combination of blueberries, grape juice, bananas and yogurt yields a richly colored creamy smoothie that is so filling. Perfect for a quick breakfast!
Ingredients
2

cups

frozen blueberries

2

cups

100% Welch's concord grape juice

1

cup

plain yogurt

1

frozen banana
Instructions
Put all ingredients into a blender and pulse until smooth.
Notes
I use plain Greek yogurt here because I find that when I use regular sweetened Greek yogurt, it turns out too sweet. However, if you have a sweet tooth then you might prefer making this with sweetened yogurt.
A dash of vanilla will greatly improve the taste of this smoothie. You might want to try that.
Package and freeze your fruits overnight so you can just blend and enjoy in the morning for a quick breakfast.
Nutrition
Calories:
350
kcal
|
Carbohydrates:
76
g
|
Protein:
13
g
|
Fat:
1
g
|
Saturated Fat:
0.3
g
|
Polyunsaturated Fat:
0.3
g
|
Monounsaturated Fat:
0.1
g
|
Trans Fat:
0.01
g
|
Cholesterol:
5
mg
|
Sodium:
51
mg
|
Potassium:
729
mg
|
Fiber:
6
g
|
Sugar:
61
g
|
Vitamin A:
142
IU
|
Vitamin C:
20
mg
|
Calcium:
151
mg
|
Iron:
1
mg

If you make this, please tag me in a photo on Instagram @preciouscore. I'll love to see!
Do you have a smoothie recipe you absolutely love? Feel free to share below!