NIGERIAN MEAT PIE RECIPE – CAMEROONIAN MEAT PIE – AFRICAN MEAT PIE
Published Aug 25, 2017
Updated Sep 26, 2018
On the 9th of August, that's two weeks ago, Mr. N and I celebrated our 8th wedding anniversary! After thinking of what to make to celebrate with (because what's any celebration without food??) I decided to make these EPIC meat pies. I call them Nigerian meat pies, Cameroonian meat pies or African meat pies because I've lived in both countries and experienced the same kind of meat pie in both of them. Meat pies are also eaten in Ghana, Liberia, Sierra Leone, Jamaica  and in many other countries. Other names for it are beef empanadas, beef patties or pastelillos. So all of us, it's our meat pie! And it's coming to you with a Precious Kitchen touch, of course!
You guys, African style meat pies for the mighty win! On that anniversary day, we ate then ate some more. All of my girls equally loved it. In fact, we had them as a complete meal because you know they are wholesome and very filling! I posted a picture on
Instagram
and
Facebook
and a lot of you wanted the recipe.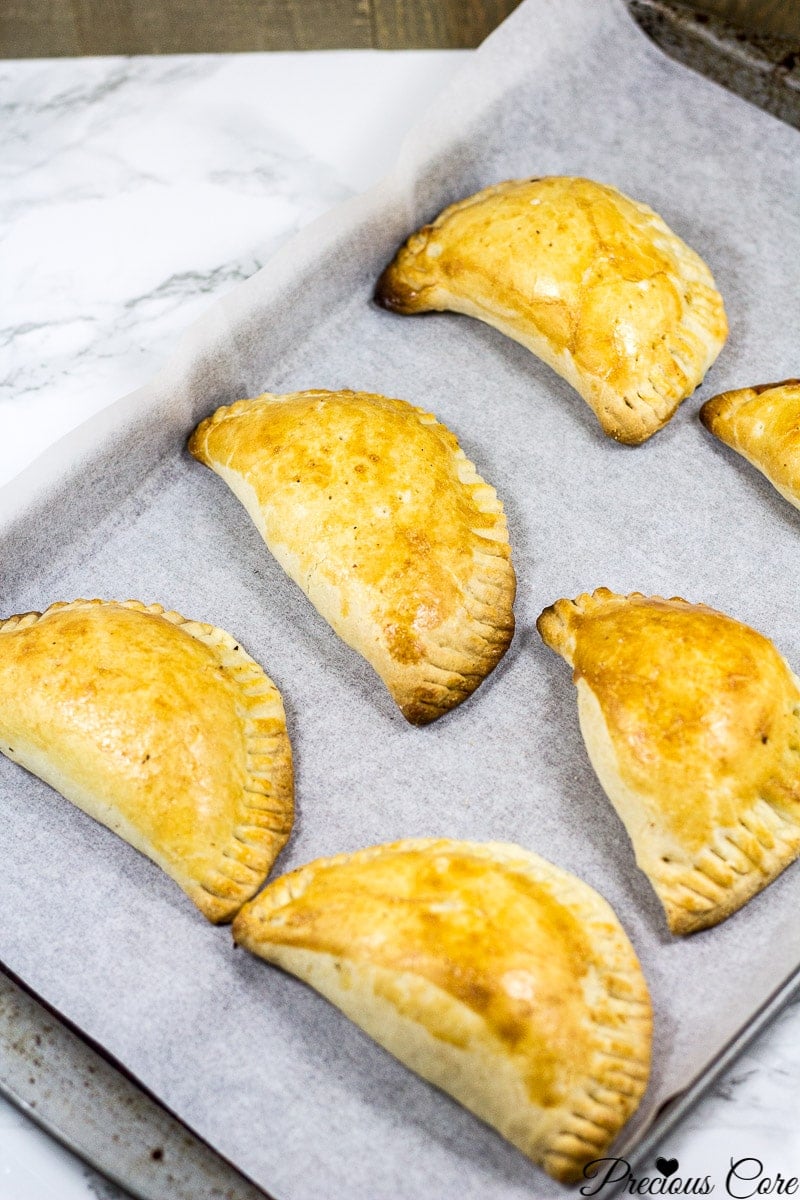 Now I had to come back to the blog and edit my archaic meat pie recipe which has been begging for a revival. Let me confess something to you: in the early days of the blog, I hardly tested recipes properly. I mean I mostly eyeballed everything when I cooked and they almost always turned out great. Now when it came to sharing the recipe with others aka, here on the blog, I estimated the ingredients. Yeah, busted!
But I'm no longer in that place, you guys. I have been learning the art of food-writing, recipe-testing and all the bells and whistles of this job called food blogging. Sometimes I'll have to remake a recipe 3 times to get the perfect measurement of ingredients. It is a bit of a pain but it is so rewarding. Because I can stand tall and proud and tell you to follow my exact measurements and make a recipe because I know the outcome will be glorious.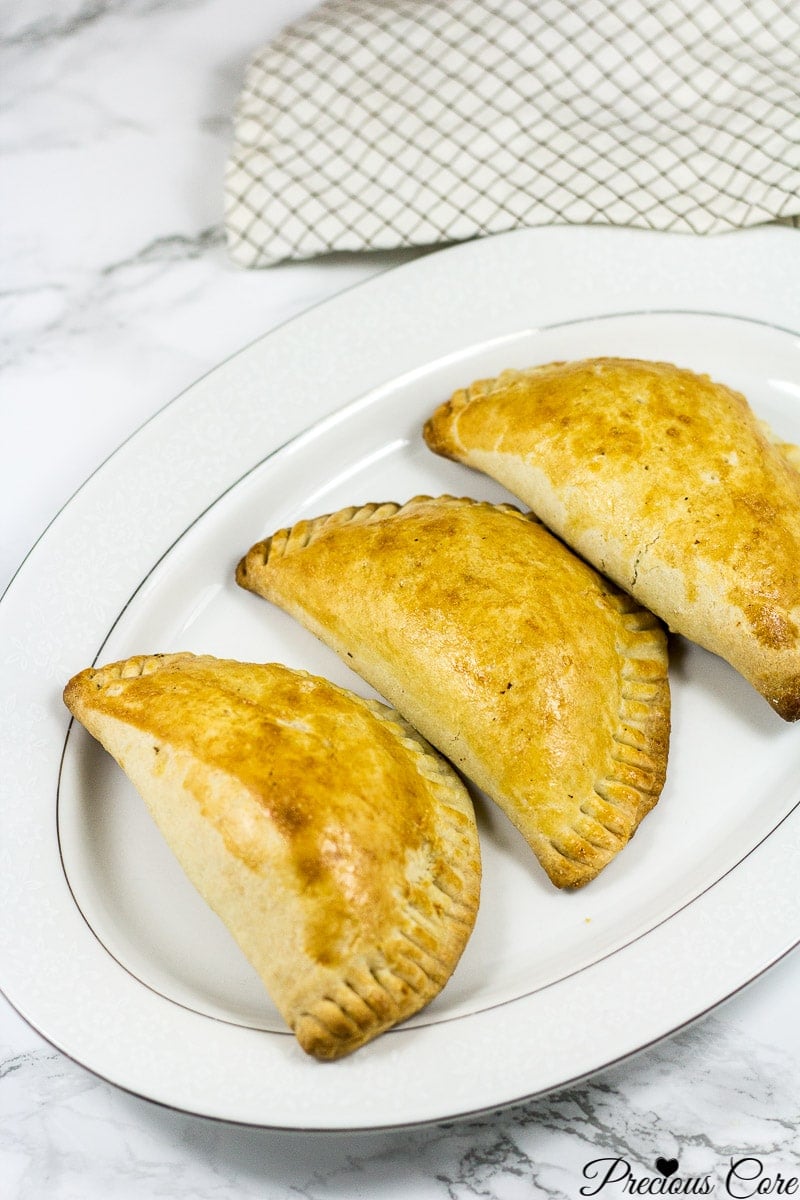 That's the case with these meat pies, the measurements are perfect! For best results, you must make the pie dough the same way I make mine. If you don't understand anything about the recipe, feel free to leave a question below and I'll respond ASAP.
The pie crust is perfectly buttery, flaky and so tasty. I could live on the pie crust alone. But then when you dig further into the pie, you taste the filling which is sufficiently meaty, savory, garlicky, moist and so rich. To take it up a notch, I added some slices of hardboiled egg to some of the pies. Welcome to meat pie heaven!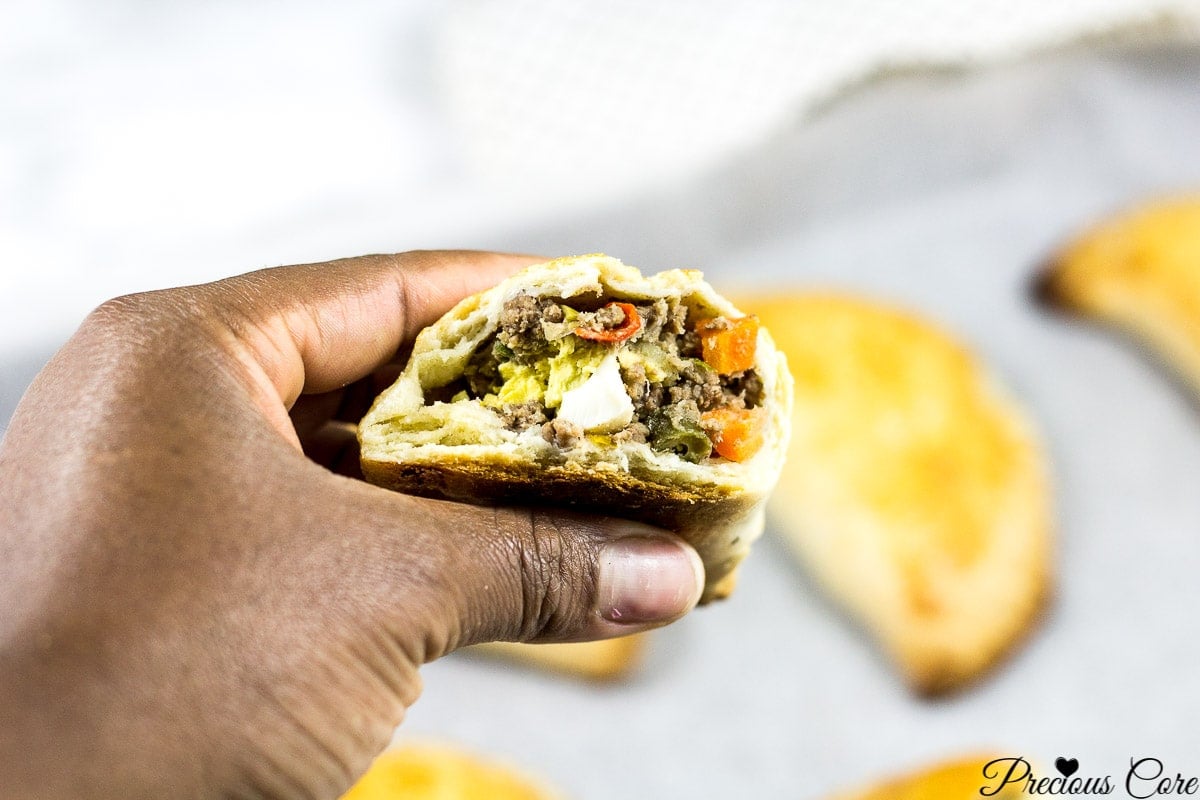 Because I love you, I made
a video
to show you how to be a meat pie guru! The video is so detailed that I call it "Meat Pie University". I share so many details in there and if you follow my steps, I am certain that be you man or woman, boy or girl, you will be able to impress everyone around you with very tasty meat pies!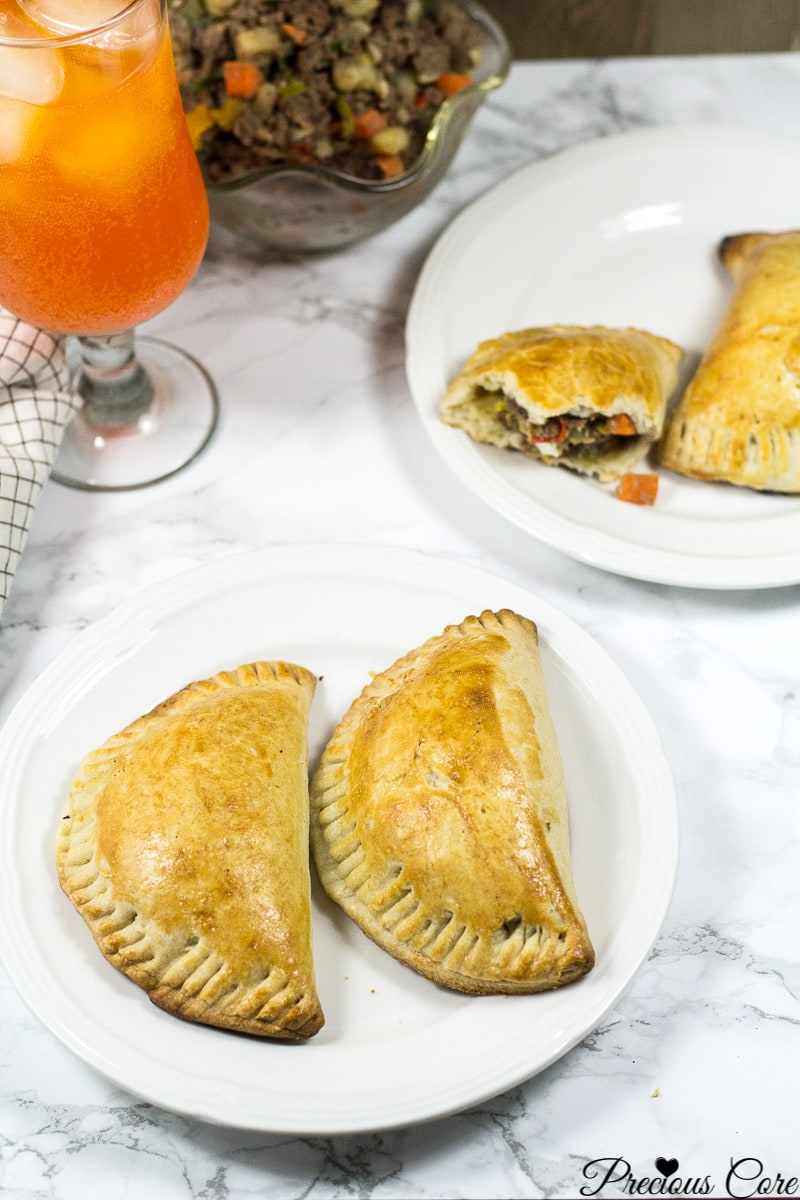 Watch how to make perfect African meat pies: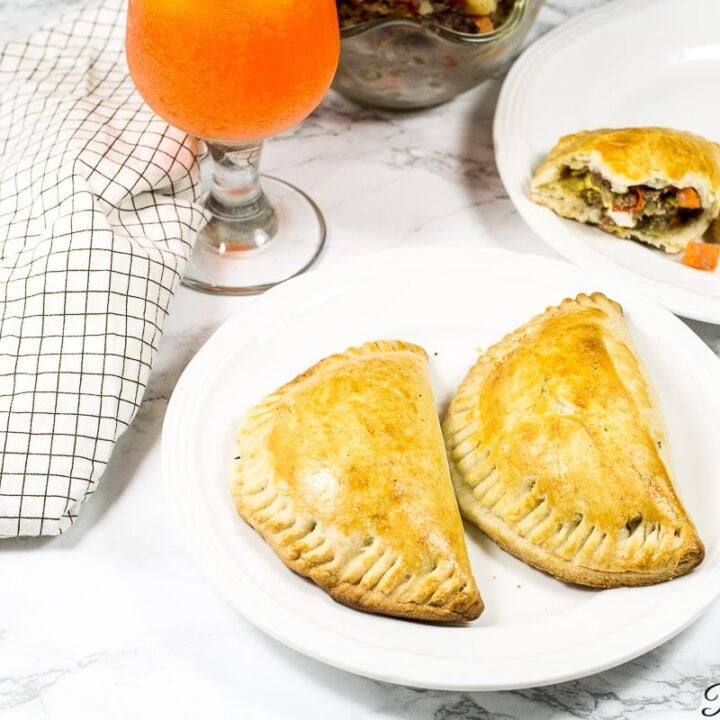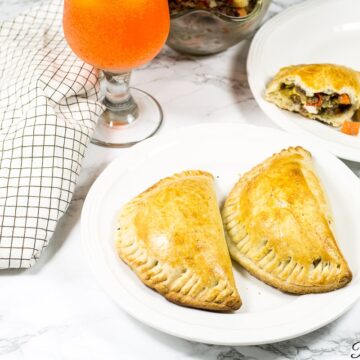 African Meat Pie
These savory hand-held African style meat pies are EPIC! Believe me when I say you've never had meat pies like these before. The pie crust is perfectly flaky and the filling is perfectly meaty. Add a slice of hardboiled egg into each pie to take it up a notch. Insanely delicious!
Ingredients
For the dough
4

cups

all-purpose flour

500g or half kg

1

cup

unsalted butter - softened

226g or 16 tablespoons

1 1/2

teaspoons

salt

1/2

teaspoon

baking powder

1

egg - beaten

1

cup

cold water
For the filling
1

pound

ground beef

about half kg

1

medium onion

chopped

1

stem

green onions - chopped

sub with leeks

4

large garlic cloves

peeled and minced

1

large bay leaf

1/2

teaspoon

ground white pepper

1

habanero pepper

optional

2

medium Irish potatoes - peeled and diced

about 1 cup chopped

3

small carrots (or 1 large carrot)

diced

8

green beans

diced

2

small bell peppers (1 yellow, 1 red)

sub with half a medium bell pepper

2

small stock cubes (Maggi)

about 4g per cube

1/2

teaspoon

salt

1/2

tablespoon

flour

2

tablespoons

oil

I used olive oil
Instructions
How to Make the Filling
Pour oil into a pot and heat for 2-3 minutes. Add in onions and saute while stirring from time to time until fragrant.

Add the minced garlic and stir to bring out the flavor. Let it cook with the onion for about a minute.

Add the ground beef and use a wooden spoon to break it as it cooks. This helps prevent it from forming chunks of meat. At the same time, incorporate the meat into the garlic/onion mixture. Stir meat until fully scattered and it has changed from pink to brown.

Add a cup and a half of water to the meat. Add in potatoes, bay leaf, white pepper, salt, stock cubes and habanero (if you choose to use it). Cover and cook for about 15 minutes until the potatoes are soft and break easily when touched.

Add in half a tablespoon of flour and stir well. Let the flour cook with the meat for about 3 minutes.

Add the green onions/leeks, carrots, green beans and bell pepper. Mix well to combine. Turn off the heat - the filling is ready.
How to Make the Dough
In a large bowl, mix together flour, baking powder and salt.

Add in softened butter and mix until the flour and butter are well incorporated.

Add beaten egg and cold water. Mix to form a dough. Transfer to a floured surface and knead lightly until smooth. Place dough back in the bowl and place in the fridge until ready for use.
How to Make the Pies
Cut the dough into two. Place one half on a floured surface and roll out to about 1/8 of an inch thick.

Use a pie maker or a round lid (I used the lid of a water jar) to cut circles out of the rolled dough. Remove the excess dough from around the circles.

Place about a tablespoon and a half in the middle of each circle. Be careful not to overfill the circles! Now add a slice of hardboiled egg on the filling (note that I only used the hardboiled egg for half of the pies in this recipe. If you would love to use egg on all your pies, use two hardboiled eggs instead. )

Cover each circle to form a semi-circle. Press the edges with your hands then press with a fork.

Repeat the pie-making process with the rest of the dough.

Place all the pies in the refrigerator to rest for about 5 minutes. While they rest, preheat oven to 350 degrees F (or 180 degrees C).


Remove pies from fridge and brush generously with egg wash.

Bake in preheated oven for about 25 minutes until golden brown.
Notes
1. Sometimes I add a tablespoon of sugar to the dough to give it a hint of sweetness. This gives it a nice variation in taste.
2. Use milk in place of water if you would like a richer dough.
3. I usually brush the top of my pies with egg again half way through baking. This makes them extra glossy. 
Nutrition
Calories:
434
kcal
|
Carbohydrates:
43
g
|
Protein:
14
g
|
Fat:
23
g
|
Saturated Fat:
12
g
|
Polyunsaturated Fat:
2
g
|
Monounsaturated Fat:
7
g
|
Trans Fat:
1
g
|
Cholesterol:
93
mg
|
Sodium:
618
mg
|
Potassium:
451
mg
|
Fiber:
3
g
|
Sugar:
3
g
|
Vitamin A:
3717
IU
|
Vitamin C:
36
mg
|
Calcium:
48
mg
|
Iron:
3
mg