Baked Dry Rub Chicken Wings
These crispy-on-the-outside Baked Dry Rub Chicken Wings are made with a simple but tasty dry rub, made with pantry staples.
You'll love these juicy wings whether as an appetizer or as a main dish. Perfect for everyday dinner or for the holidays!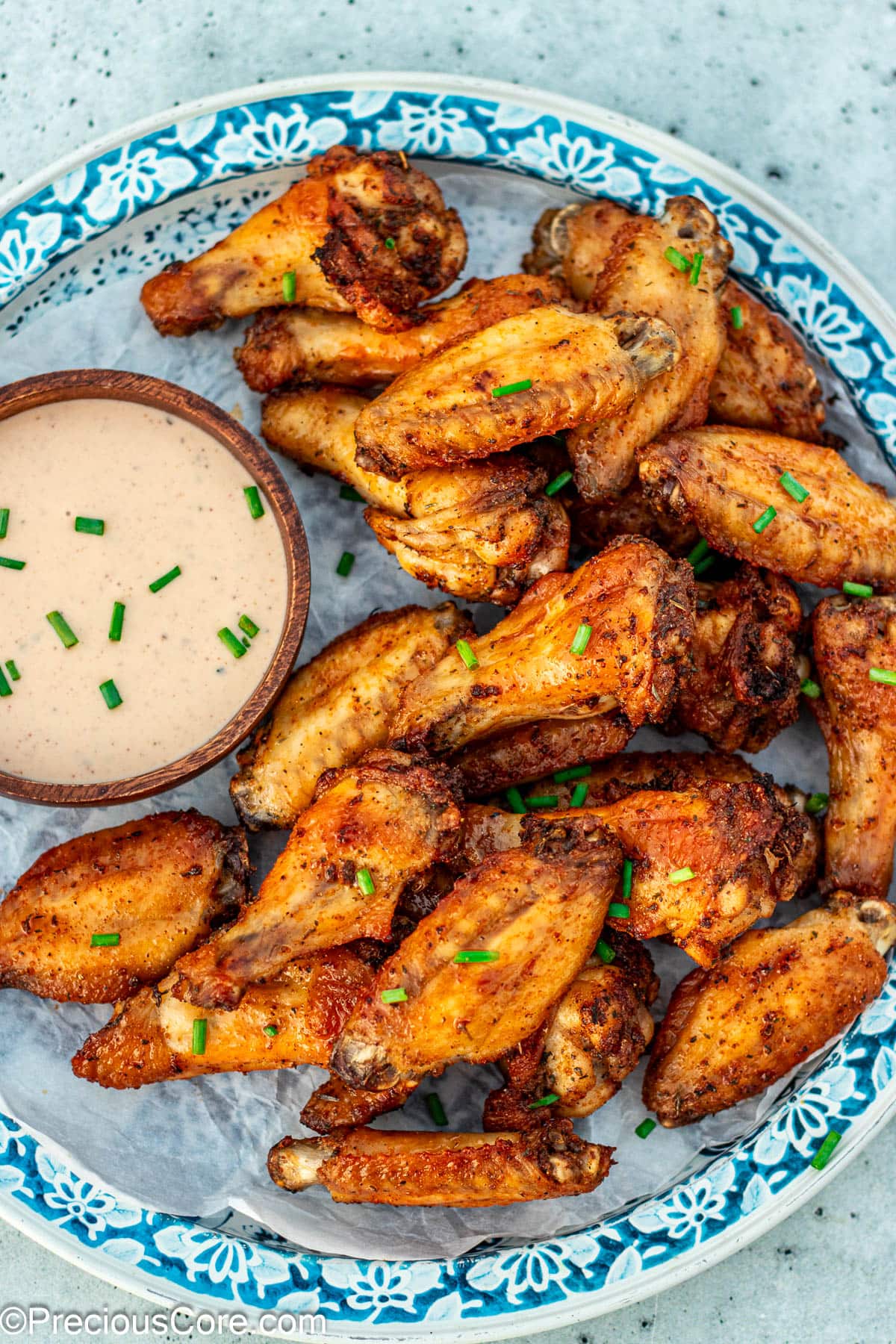 With only 10 minutes of prep time, you'll have these chicken wings dry-rubbed and placed in the oven so the oven can do its work. This is a quick and easy way to make wings that rival any restaurant version.
New to making wings at home? I got you! One of the easiest ways to make chicken wings is to coat them in a dry rub and bake them. Don't miss all the tips in this post.
This recipe is ridiculously easy and it yields really flavorful wings, perfect for dipping into your favorite ranch.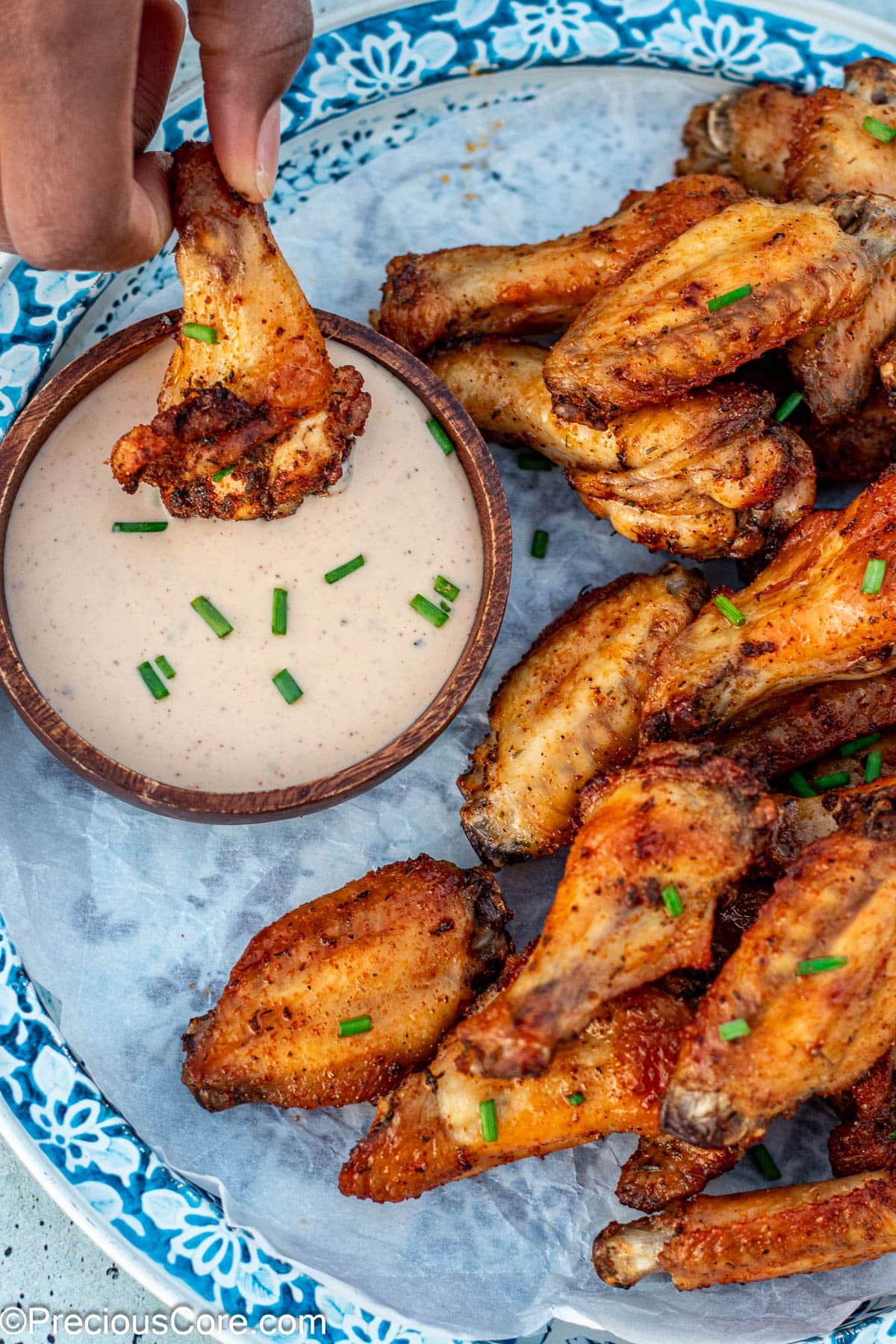 You'll love this better-for-you recipe as the wings are baked, not fried. No need to deep-fry anything here.
These wings are crispy on the outside and really tasty with a good balance of flavors. No bland boring wings here!
Love wings? Also, check out my melt-in-the-mouth Garlic Butter Wings and Jerk Chicken Wings.
Dry Rub Baked Chicken Wings
All you need is a simple dry rub to make scrumptious chicken wings. And you don't need a premade storebought rub either.
Combining pantry staple spices and herbs will yield the perfect dry rub that makes finger-licking good wings.
Making a quick dry rub is a great way to imbue flavor onto meats like these Baked Dry Rub Ribs.
For a great dry rub to go on chicken, start with onion and garlic powder then add other spices and herbs as needed.
Ingredients Needed
Here is everything you need for phenomenal baked dry rub chicken wings: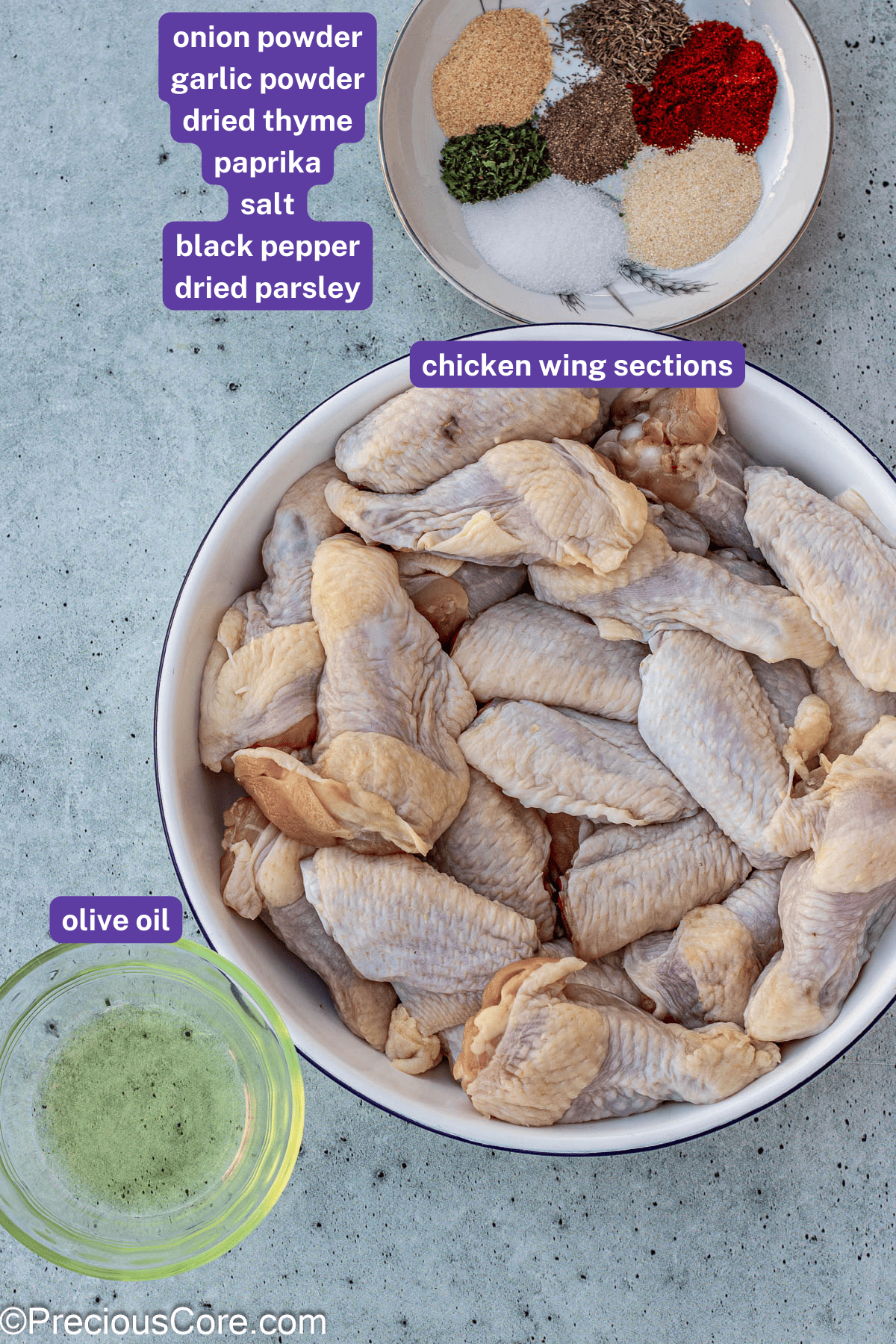 Chicken Wings: For convenience, get "party wings", which are wings that are already separated at the joint with the tips discarded. But you could get full wings and separate them yourself. See below for how to separate them.
Olive oil: Helps the wings crisp up and allows the spices and herbs to stick to the wings. You could also use any other flavorless oil.
Herbs and Spices: A simple combination of onion powder, garlic powder, and dried thyme will make chicken wings taste insanely good. But take it further and add some paprika for smokiness and color. and dried parsley for color (doesn't really have much flavor).
Salt and pepper: The salt will bring out all those lovely flavors.
See the recipe card below with a detailed list of ingredients and instructions.
To separate a whole chicken wing, first cut the wing tip and discard or save it for making chicken stock then separate the drumette and the paddle.
Don't have time to make chicken stock immediately? Gather all the wing tips into a Ziploc bag and store them in the freezer until ready to use for stock.
How To Bake Dry Rub Wings
Start by patting the chicken wing sections dry with paper towels. Don't skip this step as patting the chicken wings dry with paper towels allows the chicken to crisp up and lets oil and spices stick to the chicken.
Then drizzle olive oil over the wings. Toss to let the oil to coat the wings.
Next sprinkle on the spices, herbs, and seasoning. Mix the salt, pepper, spices, and herbs in a small bowl to combine then sprinkle over the chicken wings. Toss well to combine.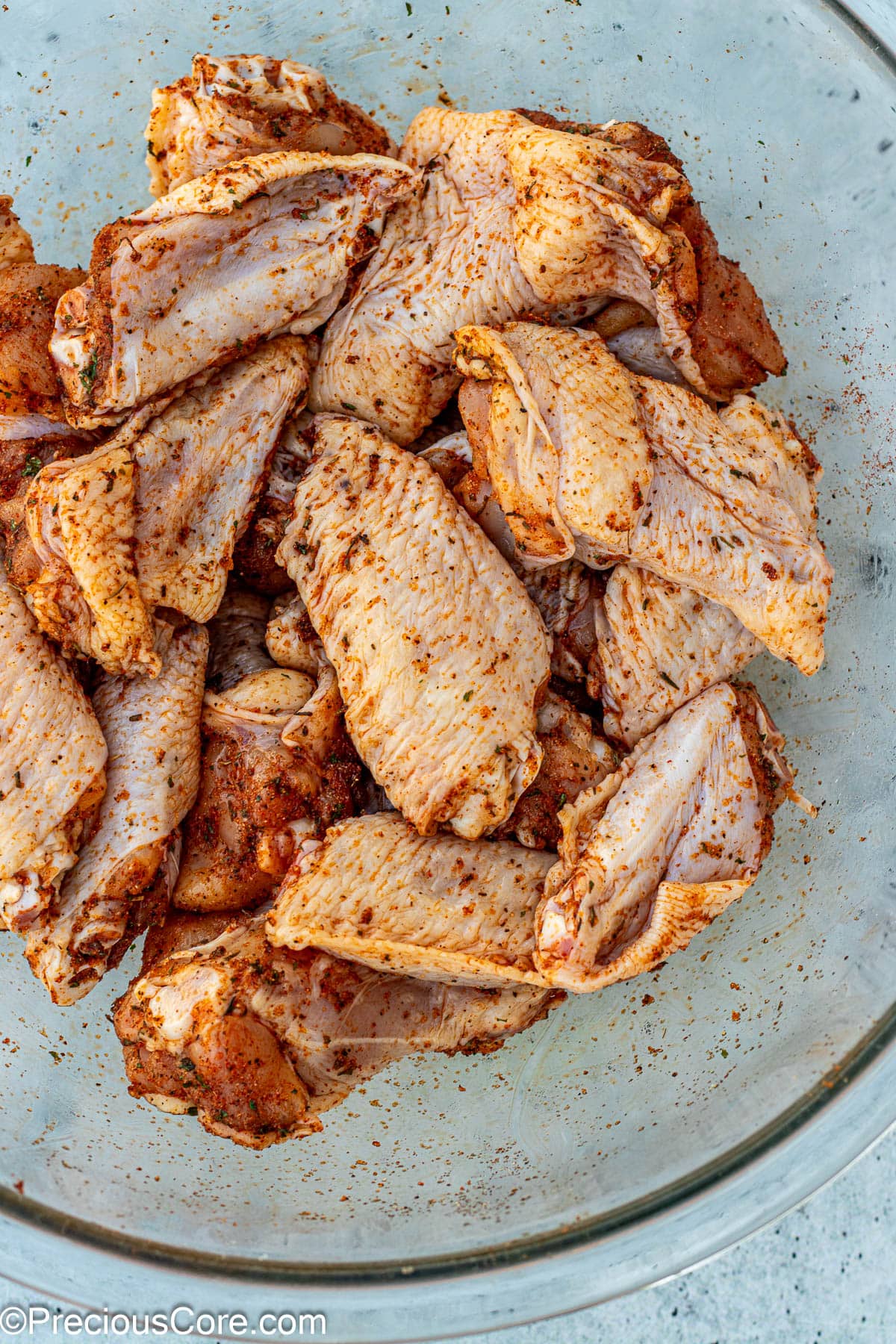 Place the chicken wings in a single layer on a baking rack. The baking rack should be placed on a baking pan lined with aluminum foil for easy clean-up. Allow enough space between the wings for easy airflow so the wings crisp up nicely.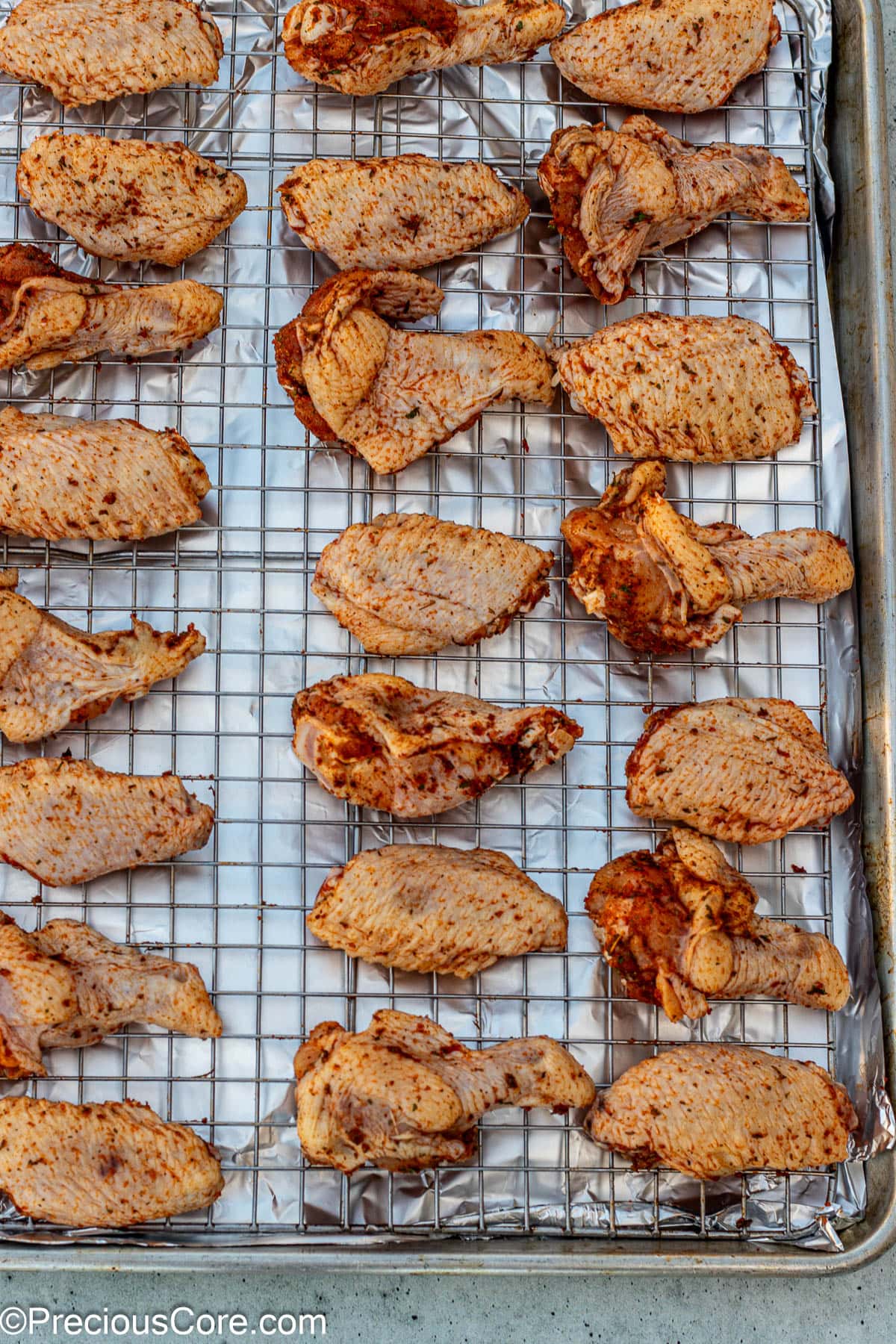 Bake at 400 degrees Fahrenheit for 45 minutes. The chicken wings should register an internal temperature of 165 degrees Fahrenheit when tested with an instant-read meat thermometer to be considered done.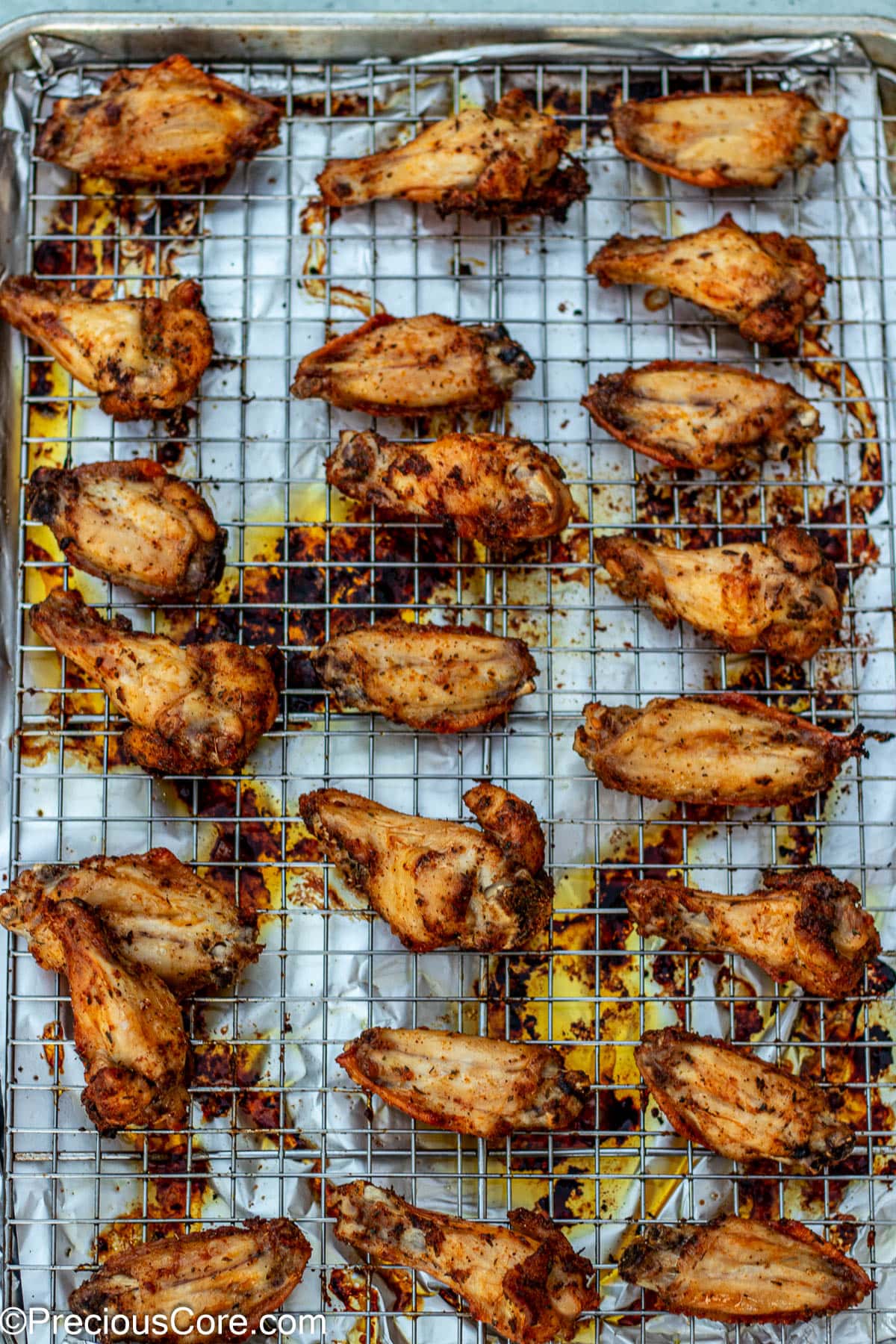 Chicken Wing Variations
Try the following variations with your chicken wings:
Lemon Pepper Wings – Season the chicken wings with lemon pepper seasoning, garlic powder, and onion powder.
Spicy Wings – Add cayenne pepper or red pepper flakes to the dry rub for a spicy kick.
Hot Honey Wings: After making the wings, combine butter, hot sauce and honey and pour the hot honey over the wings.
Also, check out these Garlic Butter Wings, Jerk Chicken Wings, and Epic Oven Grilled Chicken Wings.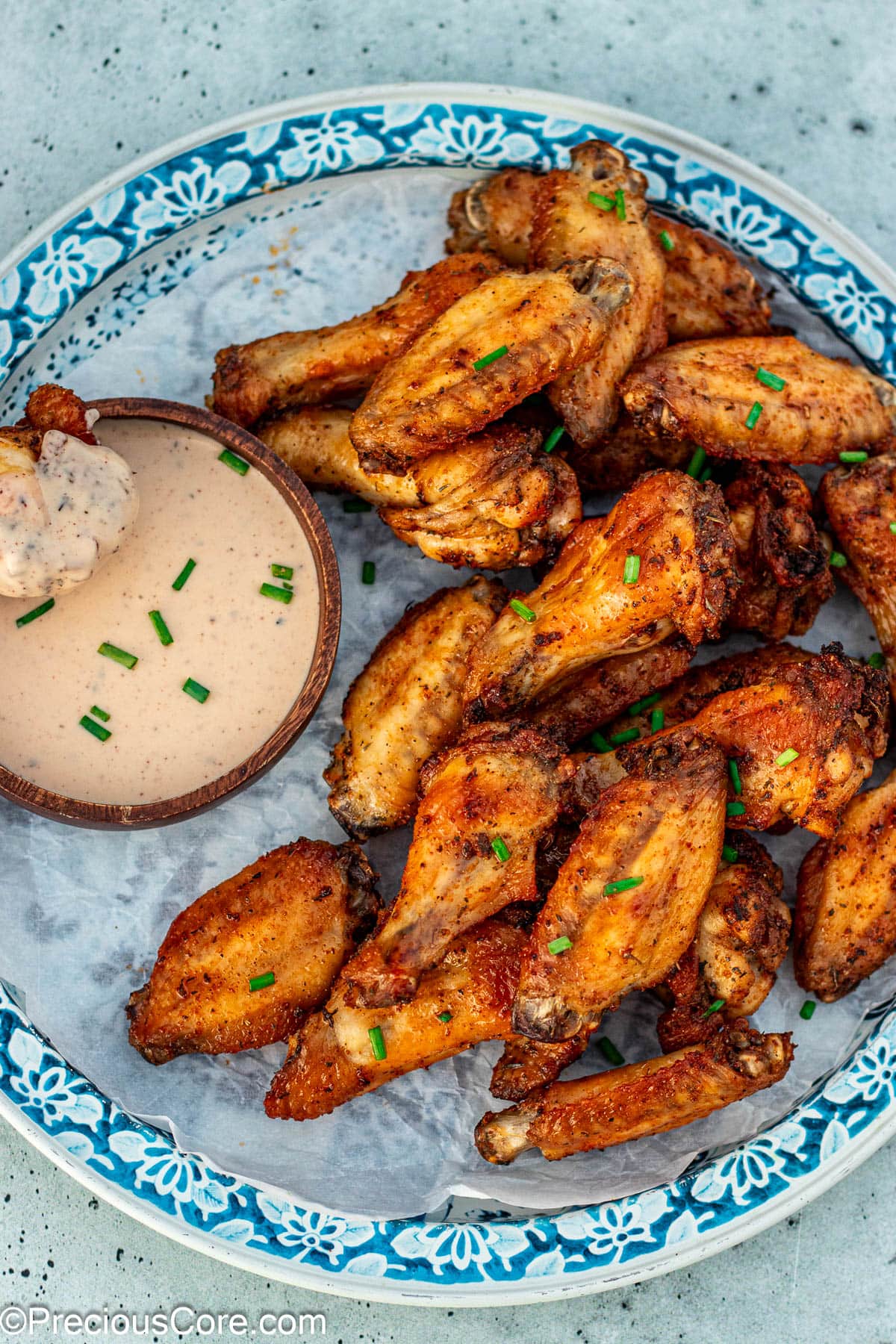 Serving Chicken Wings
Serve chicken wings with your favorite ranch dipping sauce. You could also serve the wings alongside carrots and celery sticks for added freshness.
These Baked Dry Rub Chicken Wings make a great appetizer or dinner.
Also, consider serving them with this African Pepper Sauce for dipping.
Expert Tips for Baked Dry Rub Wings
To ensure super crisp wings, pat them dry with paper towels and let them further air-dry in the fridge overnight.
Add baking powder to the dry rub for even crispier wings. Add 1 teaspoon of baking powder for every one pound of chicken wings.
Be sure to use the correct oven temperature. Baking at 400 degrees Fahrenheit (200 degrees Celsius) ensures that you get wings that are crispy on the outside and juicy on the inside.
Commonly Asked Questions
Do you add dry rub before or after cooking wings?
Dry rub goes on wings before cooking them so the dry rub can penetrate the wings as they cook.
It is better to marinate or dry rub chicken wings?
Marinating and dry rubbing are both great methods for making wings. Choose the marinating method if you have more time to let the wings sit in the marinade. Choose the dry rub method for achieving tasty wings in a quicker time.
How do you get seasoning to stick to wings?
First, toss the wings with oil then coat them with the seasoning. The oil will help the seasoning abide to the wings.
Similar Recipes
Love this Baked Dry Rub Chicken Wings recipe? Also, check out the following oven-powered recipes.
If you make this recipe please leave a star rating below. Your rating helps others find the recipe plus I love hearing from you! Thank you!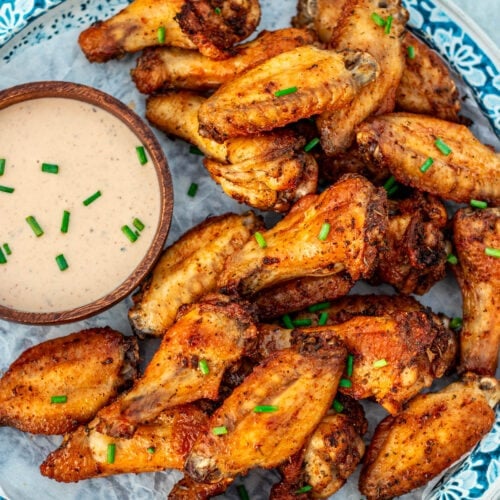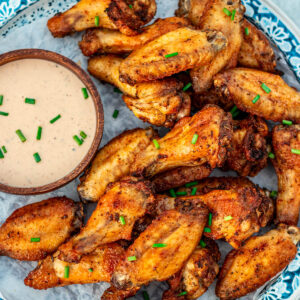 Baked Dry Rub Chicken Wings
The tastiest Baked Dry Rub Chicken Wings are made with a simple but epic dry rub made with pantry staples. You'll love these simple and tasty chicken wings.
Ingredients
2

pounds

chicken wings

completely thawed if frozen

1

Tablespoons

olive oil

1

teaspoon

salt

½

teaspoon

ground black pepper

1

teaspoon

garlic powder

1

teaspoon

onion powder

½

teaspoon

dried thyme

1

teaspoon

dried parsley

1

teaspoon

paprika
Instructions
Preheat oven to 400℉ (200℃). Line a sheet pan with aluminum foil. Top the sheet pan with an oven-safe rack.

Remove chicken wings from the fridge at least 30 minutes before cooking. Pat the chicken wings dry with paper towels to remove extra moisture. Add the chicken to a large mixing bowl.

Drizzle the olive oil over the chicken and toss to combine. Combine all the dry ingredients in a small mixing bowl. Sprinkle the dry rub over the chicken and toss well to ensure each chicken wing is coated with the rub.

Place the wings on the prepared baking pan in a single layer for even baking. Leave a bit of space between the chicken wings to allow circulation of air and to help the wings crisp up.

Place in the preheated oven and bake for 45 minutes. Rotate halfway through cooking. Chicken is done when it registers an internal temperature of 165℉ on an instant-read meat thermometer.

Serve warm with your favorite dipping sauces.
Notes
1. Patting the chicken dry with paper towels before seasoning is an important step for ensuring that the chicken crisps up well in the oven. Don't miss it.
2. If you don't have an oven-safe rack for baking, bake then directly on a greased baking pan or on a baking pan lined with aluminum foil.
3. Store leftover wings in an airtight container in the fridge for up to 3 days.
Nutrition
Calories:
309
kcal
|
Carbohydrates:
1
g
|
Protein:
23
g
|
Fat:
23
g
|
Saturated Fat:
6
g
|
Polyunsaturated Fat:
5
g
|
Monounsaturated Fat:
10
g
|
Trans Fat:
0.2
g
|
Cholesterol:
94
mg
|
Sodium:
672
mg
|
Potassium:
221
mg
|
Fiber:
0.4
g
|
Sugar:
0.1
g
|
Vitamin A:
433
IU
|
Vitamin C:
1
mg
|
Calcium:
23
mg
|
Iron:
2
mg