CITRUS SALAD WITH AVOCADO
This post is sponsored by Whiskware™. All opinions are 100% my own.
I have taken my love for avocados further in this Citrus Salad with Avocado. This salad celebrates the wonders of citrus fruits. It is light, refreshing, fruity and just so good! I added avocado because it provides something cool to pair with the citrus fruits and it also brings some creaminess due to its wonderfully creamy texture. Also, avocados are LIFE!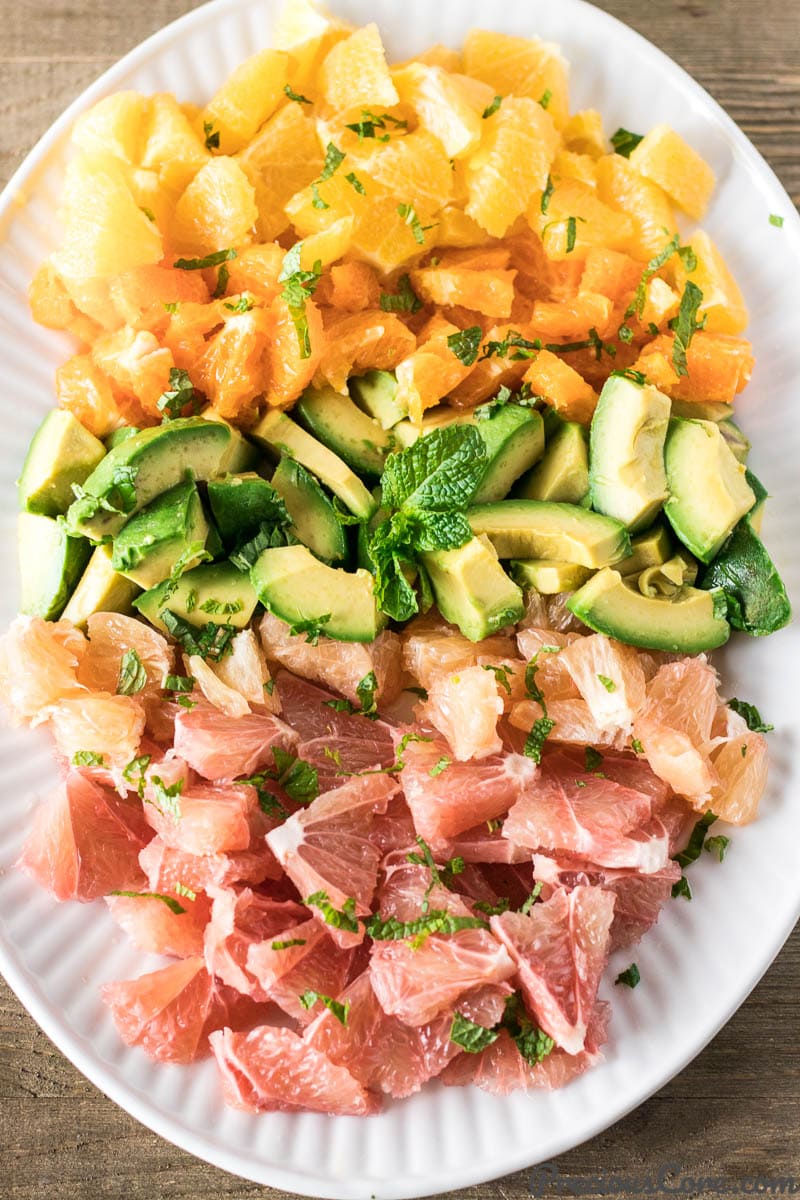 With all the citrus fruits at the grocery store in this season, I just couldn't resist making a Citrus Salad. I love eating fruits when they are in season. That's because they are fresh, and taste much better than when they aren't in season.
So I set out to get a mixture of citrus fruits – grapefruit, oranges, tangerines, and pomelo. Now, if you are not familiar with pomelo, it is is the largest citrus fruit, larger than grapefruit. It is also referred to as Chinese grapefruit. I only got some because I stumbled on it in my local grocery store but be sure to substitute with more grapefruit if you can't find it.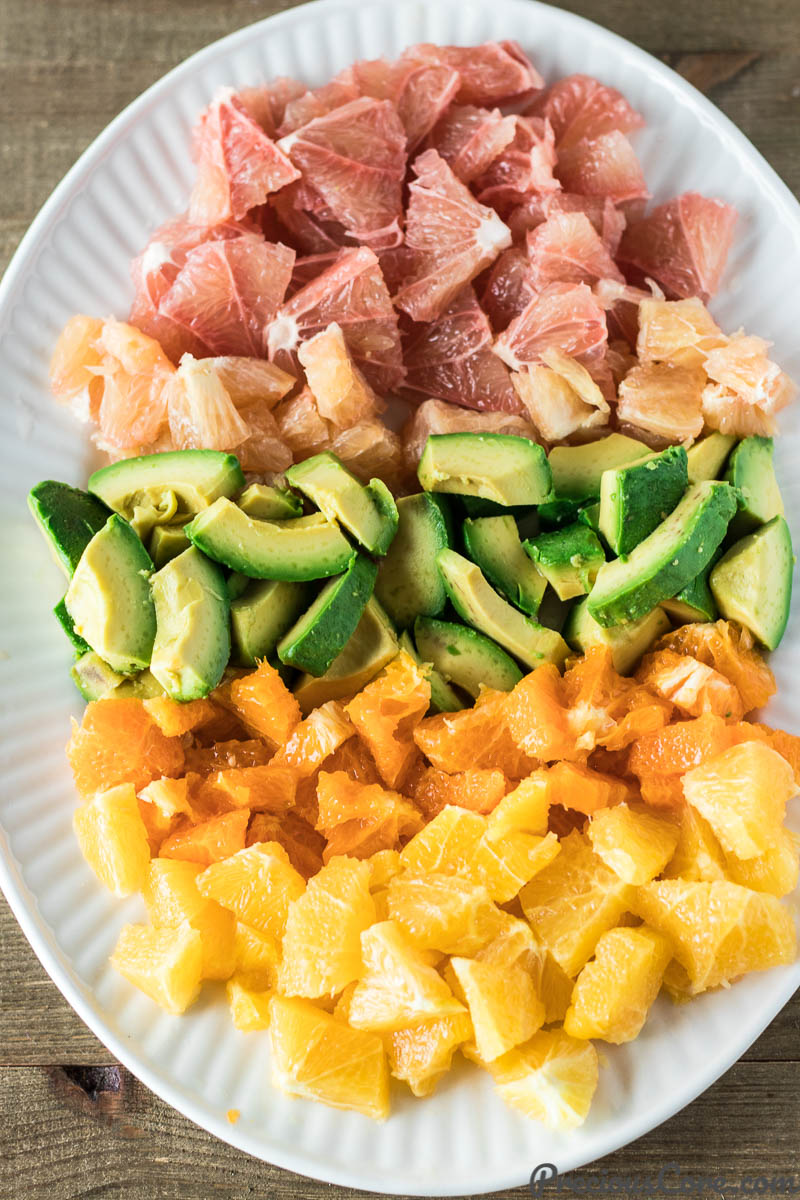 As if the combination of citrus fruits isn't enough, I made a Honey Citrus Dressing to go with the salad and let me tell you, this dressing is LIFE. It's a 3-ingredient dressing with freshly squeezed lemon juice, lime juice, and honey.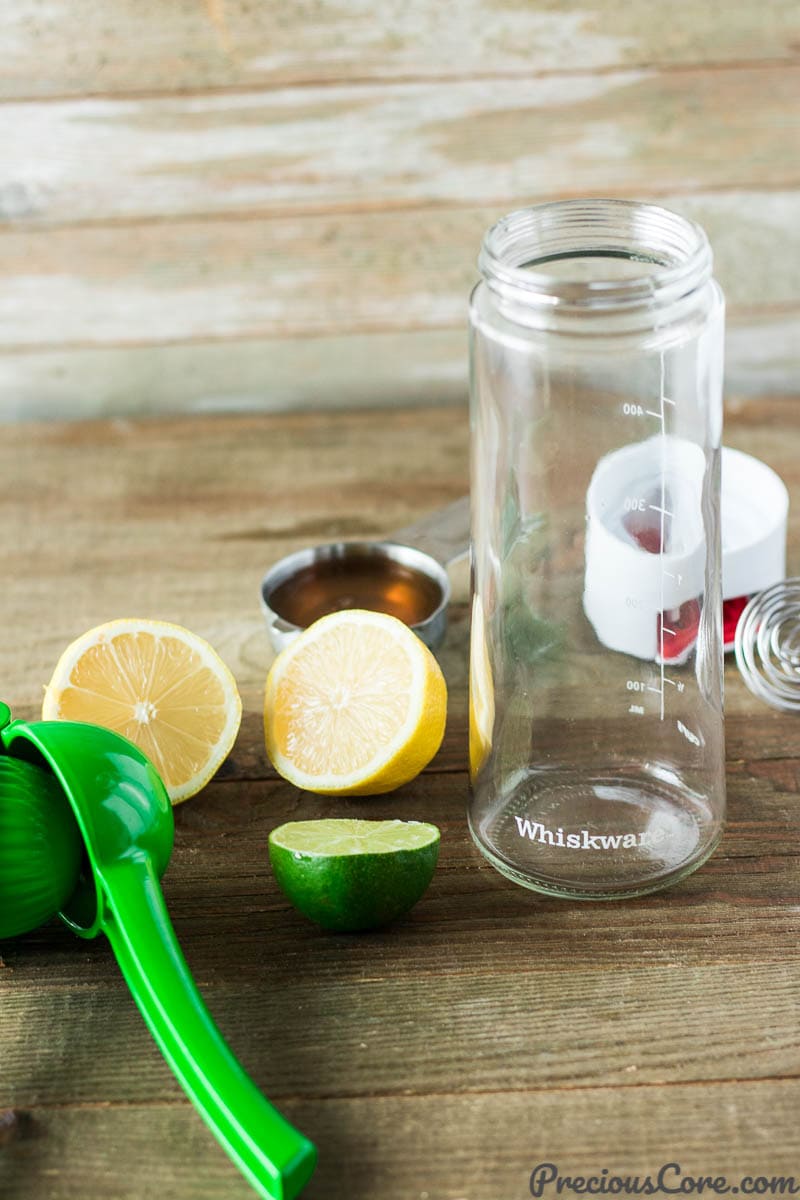 I placed all the ingredients into my Whiskware Dressing Shaker and shook until they became one and indivisible. This golden-looking dressing is everything and I want to pour it over every fruit salad I make!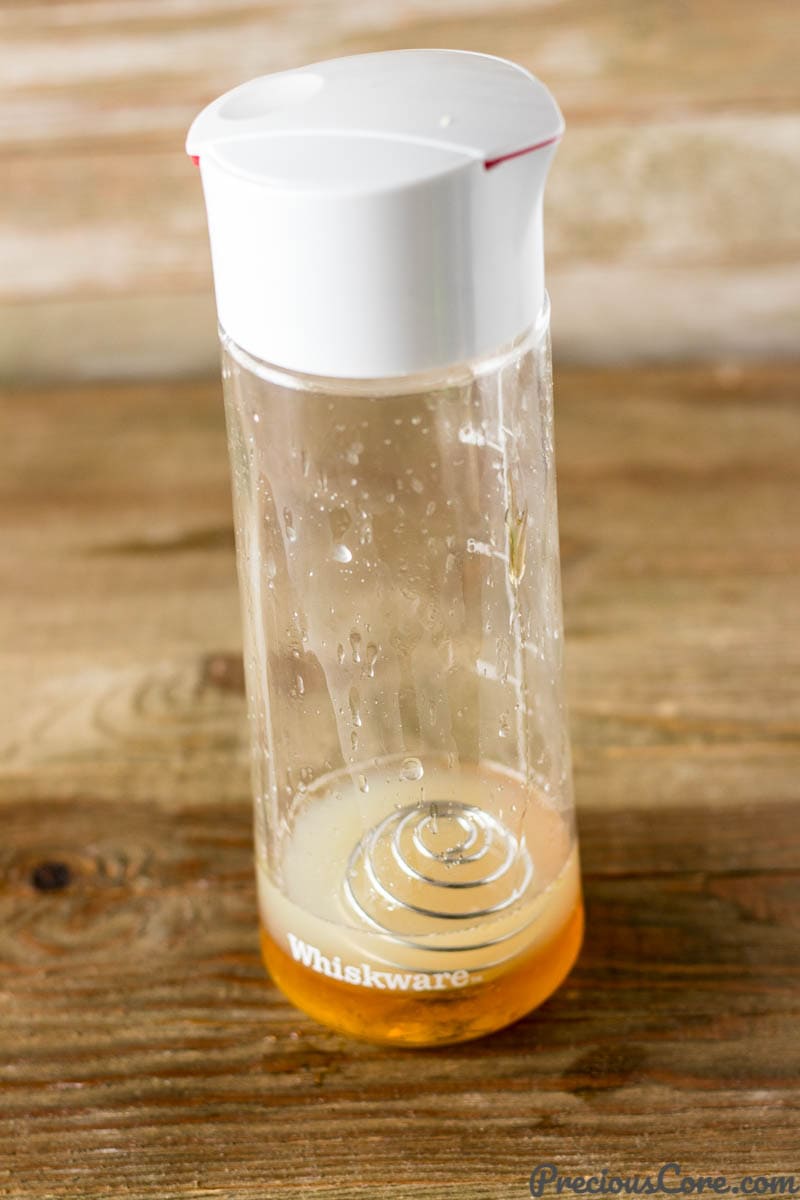 I really love the Whiskware Dressing Shaker because it makes making salad dressing a breeze. Whether you are making creamy salad dressings or light vinaigrettes, just combine all the ingredients in the bottle and give them a good shake. It also has a nice opening for pouring or drizzling the dressing over the salad.
Citrus Salad Ingredients
1. Oranges. It's not a citrus salad if there's not some form of orange. My orange of choice here is navel oranges because I love how sweet they are. You could also use blood oranges for more color in the salad. Maybe you could use one navel orange and one blood orange.
2. Tangerines. I love using honey tangerines because they are super sweet! It is hard to go through making the salad without munching on some.
3. Grapefruit. I love the red variety of grapefruit in my salad because it is more vibrant.
4. Pomelo: Only use this if you can find it. If you can't find it, use more grapefruit in its place.
5. Avocado: The avocado really helps balance out the textures since it is creamy but you could definitely leave it out if you do not want any avocado in your Citrus Salad.
6. Mint Leaves: Adding some mint leaves yields a light refreshing minty flavor to your Citrus Salad. So good!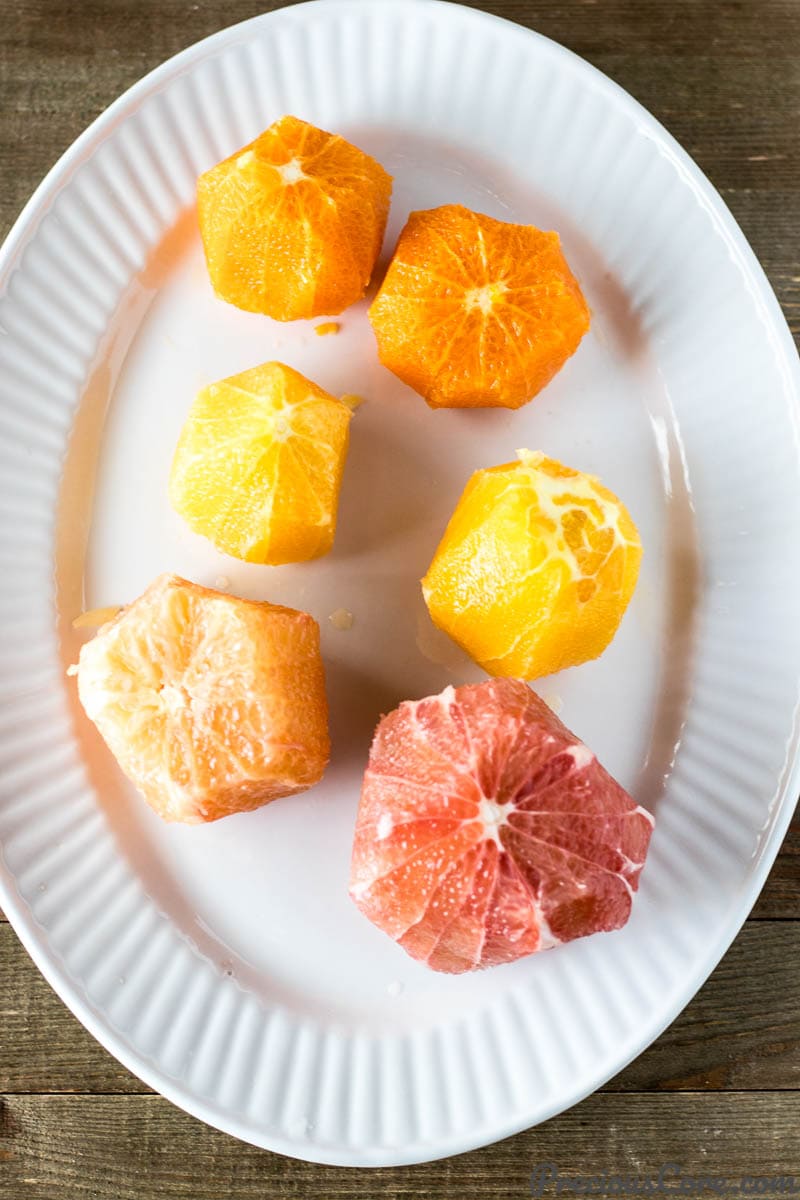 Serve this salad while entertaining as an appetizer. It really refreshes the taste palate and arouses the appetite for the main meal. Hope you enjoy this Citrus Salad with Avocado!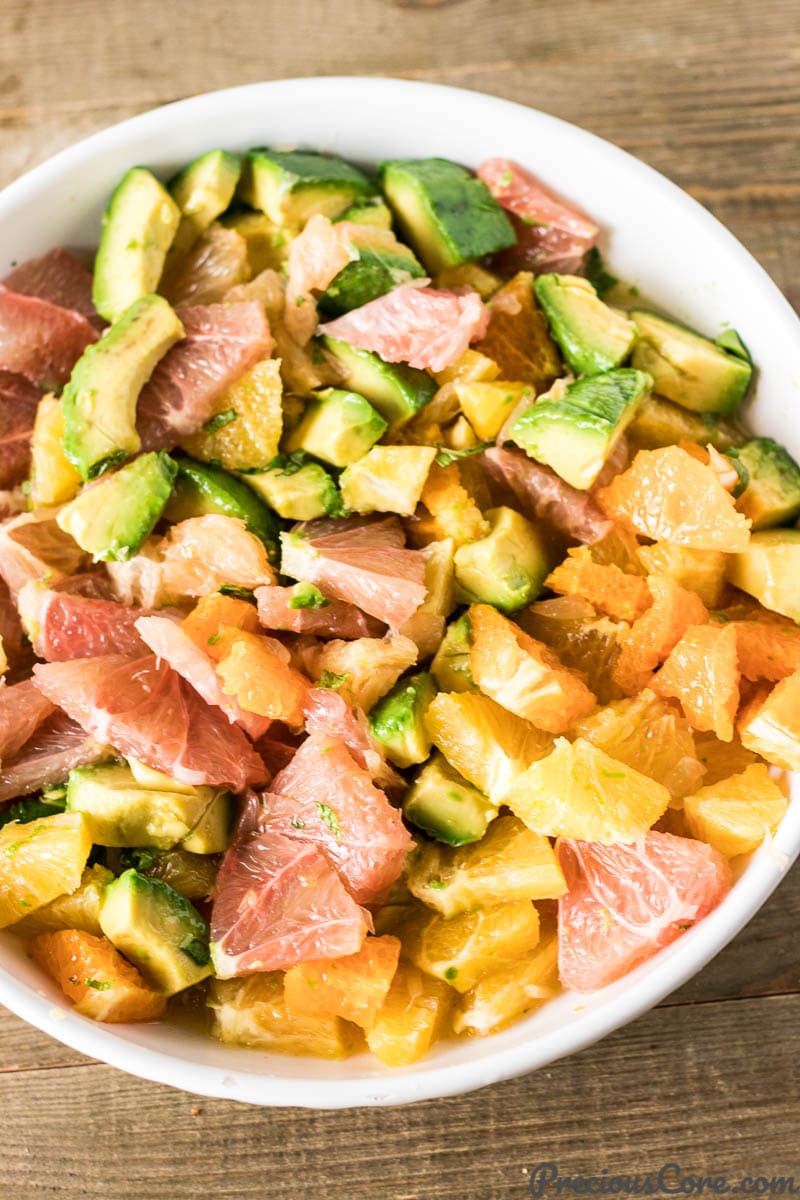 Check out the Whiskware Dressing Shaker so making salad dressings can become a breeze!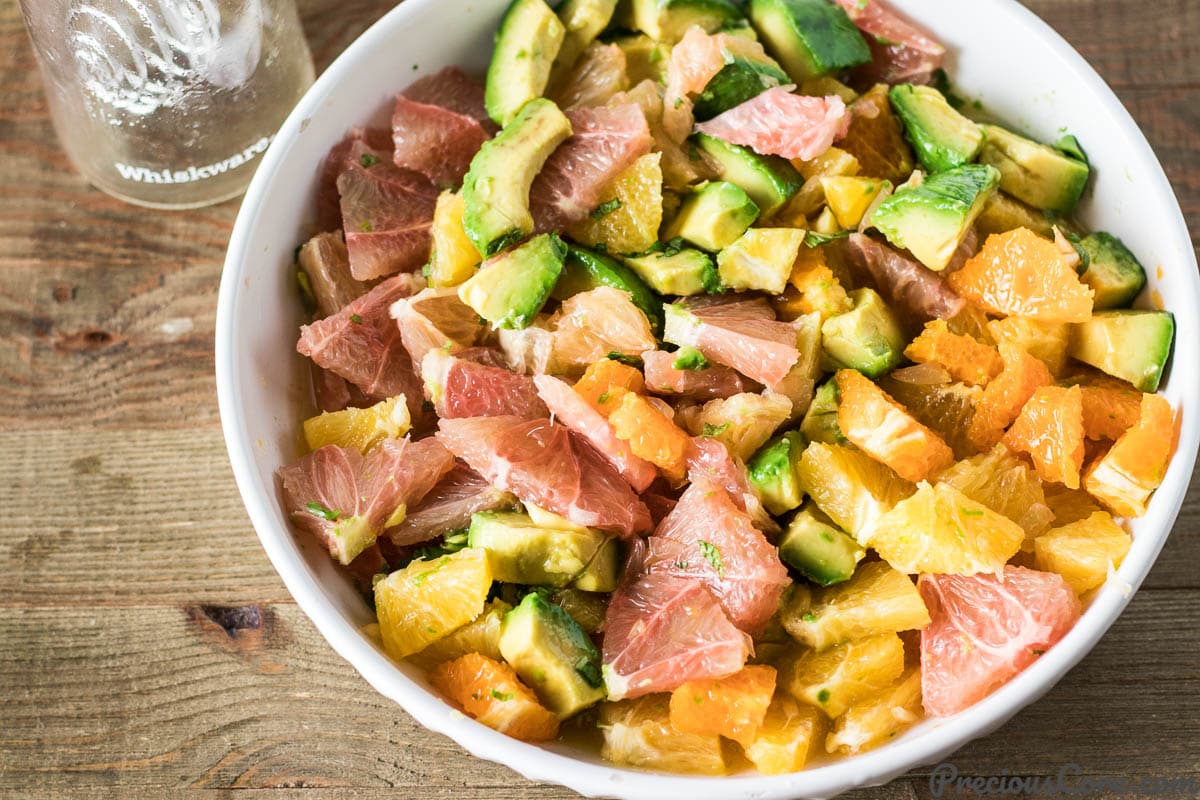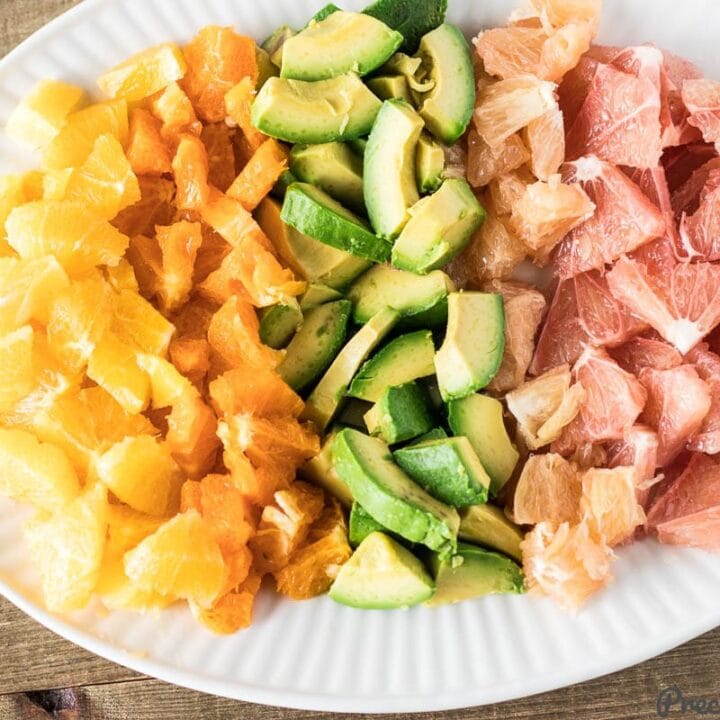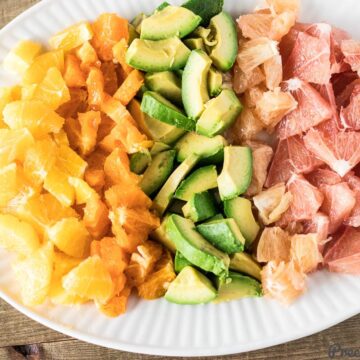 Citrus Salad with Avocado
This Citrus Salad with Avocado is a great way to celebrate the wonders of citrus fruits. It is basically a citrus party in the mouth and the avocado provides something cool for the palate to rest on. Serve this at your next party or dinner. So light and refreshing to the taste palate!
Ingredients
Citrus Salad
2

navel oranges

2

honey tangerines

1

grapefruit

1

pomelo

substitute with more grapefruit

1

large avocado

substitute with 2 small avocados

2

sprigs

mint
Honey Citrus Dressing
Juice of one lime

Juice of one lemon

1/4

cup

honey
Instructions
Make the honey citrus dressing
Place lime and lemon juice into the Whiskware Dressing Shaker. Shake everything well to combine.
Make the Citrus Salad with Avocado
Peel the fruits for the citrus salad being careful to take off all of the white parts.

Cut all the fruits into circles, remove the seeds then cut into wedges.

Arrange fruits on a platter. Peel and slice avocado into about 1-inch slices and add to sliced fruits.

Finely chop the mint and sprinkle over the fruits. Drizzle dressing on top then toss to combine and serve.
Notes
1. To ensure your honey comes out of the measuring cup, first spread a teaspoon of oil around the cup then you can pour in your honey. That way the honey will slide out easily.
2. Be sure to take time to remove the seeds from the fruits when you cut them into circles. Some seeds could be hidden so take time to remove them all.
3. If you aren't serving the salad immediately, be sure to sprinkle some of the lime juice (the same lime juice for the salad) all over the avocado. That will stop it from oxidizing. 
4. Make-Ahead Tip: The night before, cut up all the citrus fruits and store in an airtight container in the fridge. Mix the dressing and store in the fridge. Right before serving, chop the avocado and the mint and add to the salad. Pour dressing over, toss and serve.
Nutrition
Calories:
192
kcal
|
Carbohydrates:
39
g
|
Protein:
2
g
|
Fat:
5
g
|
Saturated Fat:
1
g
|
Polyunsaturated Fat:
1
g
|
Monounsaturated Fat:
3
g
|
Sodium:
5
mg
|
Potassium:
573
mg
|
Fiber:
6
g
|
Sugar:
22
g
|
Vitamin A:
863
IU
|
Vitamin C:
114
mg
|
Calcium:
49
mg
|
Iron:
0.5
mg
Pin this recipe: