CORNCHAFF RECIPE
Published Aug 20, 2016
Updated Sep 26, 2018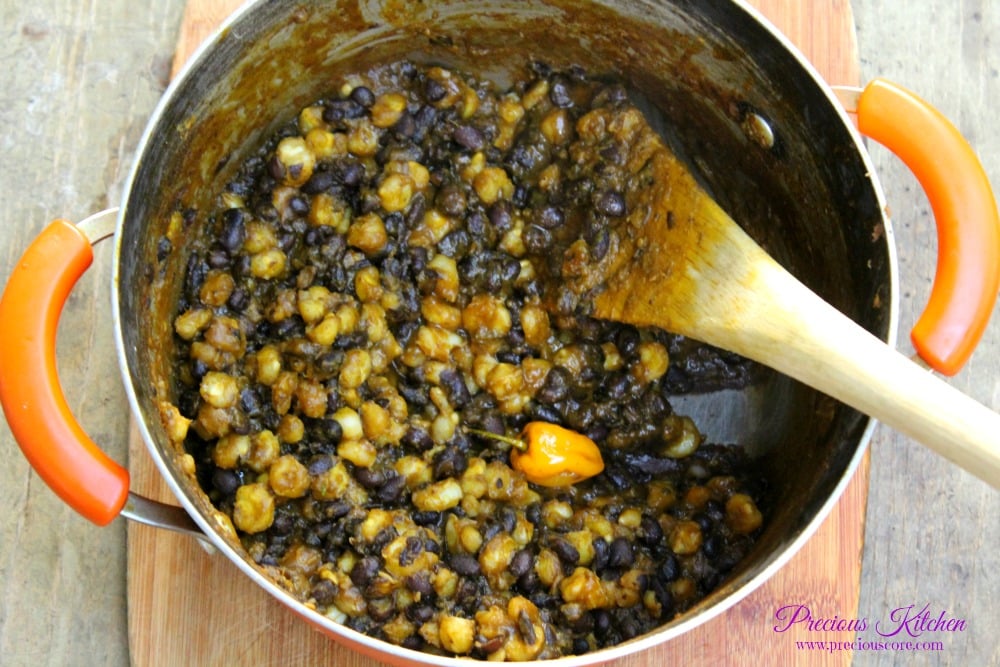 When I was in boarding school, we were served Cornchaff a couple of times every damn week. Today, I make it almost every week because this dish is a delectable delight of creamy goodness emanating from corn and beans slowly simmered in BIG flavours. Errm, excuse my French.
This is so easy to make. I think I use the word "easy" a lot when it comes to recipes but that's because a lot of the meals I show you are EASY. Cornchaff is basically just that kind of one-pot, dump-and-go recipes and you guys know I love to dump things in a pot and go away.
I've had an interesting Cornchaff-making journey since I moved to the United States.
First, I would make Cornchaff with dried peeled broken corn from the grocery store. I found this too mushy for my liking.
Then one day I discovered dried corn in an African store. I jumped for joy. I would boil the corn in Kanwa (lime stone) or baking powder and peel off the skin, rinse and put back into the pot to boil before adding in the raw soaked beans. Too time-consuming for my liking.
Then my sister-in-law told me she used to make her Cornchaff with a particular brand of corn straight from the can. I couldn't find the particular brand but I decided to try making this corn and beans delight with frozen sweet corn. It was the bomb.com. I shared the recipe with all kinds of sweet details that will make you get a PhD in Cornchaff concoting. Read it here:
How to Make Delicious Cornchaff
.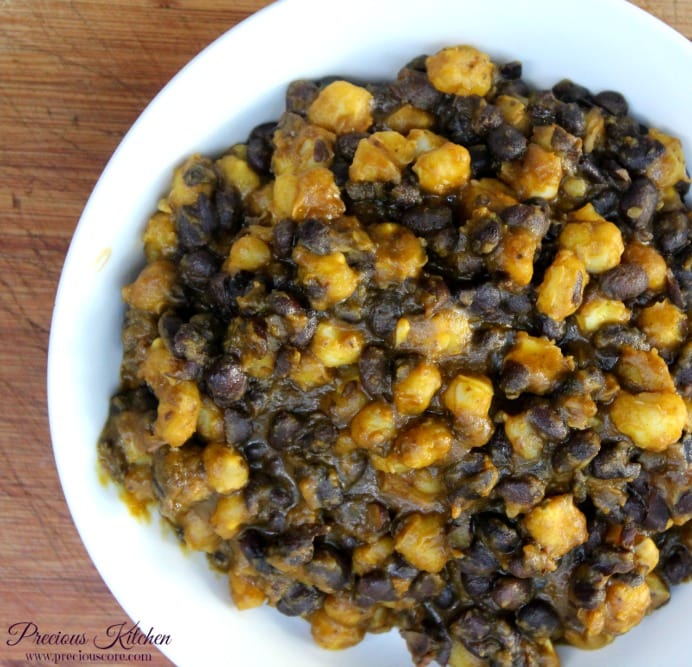 As God would have it, I went to the grocery store the other day and I saw something looking like whole peeled corn in the can. It didn't look like sweet corn. It looked like dried peel corn. I was confused because the title read, "Hominy". After looking through the can, umpteen times, I discovered there was "Maiz" written somewhere on it. And "maiz" means corn in French. Thanks for the French lessons, Mr Findo!
I purchased it to see if opening the can would reveal some nice peeled corn to me. Brethren, when I went home and opened the can, tadaaaa! Corn! Peeled soft corn! Corn just like the one back home! I used it together with black beans, which I had boiled earlier. Boiling the beans while doing some form of house chore (or sleeping), reduces cooking time. But don't forget your beans pot on the fire if sleeping! My black beans together with the corn and all the ingredients I'll show you in this recipe make for Cornchaff that is da bomb.com.
For those who live in the United States, here is an affiliate link for online purchase:
This recipe is partly in celebration of my newfound love… The soft peeled corn in the can.
print recipe
Cornchaff
by
Precious Nkeih (www.preciouscore.com)
August-20-2016
An excellent culinary marriage of corn and beans
Ingredients
5 cups

boiled corn

5 cups

boiled beans

1 cup

palm oil (or vegetable oil)

1 stem

leeks

½ inch

ginger

7 cloves

garlic

3 – 4 cubes

Maggi

½

a large onion

½ teaspoon

salt

1/4 teaspoon

country onions (rondelles) powder- optional

1

habanero pepper- optional
Instructions
1. Put beans, corn and oil into a pot.
2. Blend together garlic, ginger, onions, leeks and pepper (if using) and add in.
3. Add in half a cup of water, salt, Maggi and "contri onion" (rondelles) powder. The "contri onion" is optional.
Set pot on medium high heat. Cover and let everything simmer together for about 20 minutes. Check while simmering and add water if more moisture is needed.
5. Serve warm.
Details
Prep time: Cook time: Total time: Yield: 5 servings