Cameroonian groundnut paste, also known as "Mboh" is a pudding-like savory meal made with roasted peanuts. It is spicy, peanuty and insanely good!
My mother is unarguably the best mother in the world! You need to hear how she tells me recipes over the phone. With so much passion! She taught me how to make this Cameroonian groundnut paste over the phone. I followed her instructions and it was a hit! Such that Mr. N said it reminded him of his grandma's cooking. Whoop!
This groundnut paste is very similar to Cameroonian egusi pudding and they are both hawked on road-sides in Cameroon.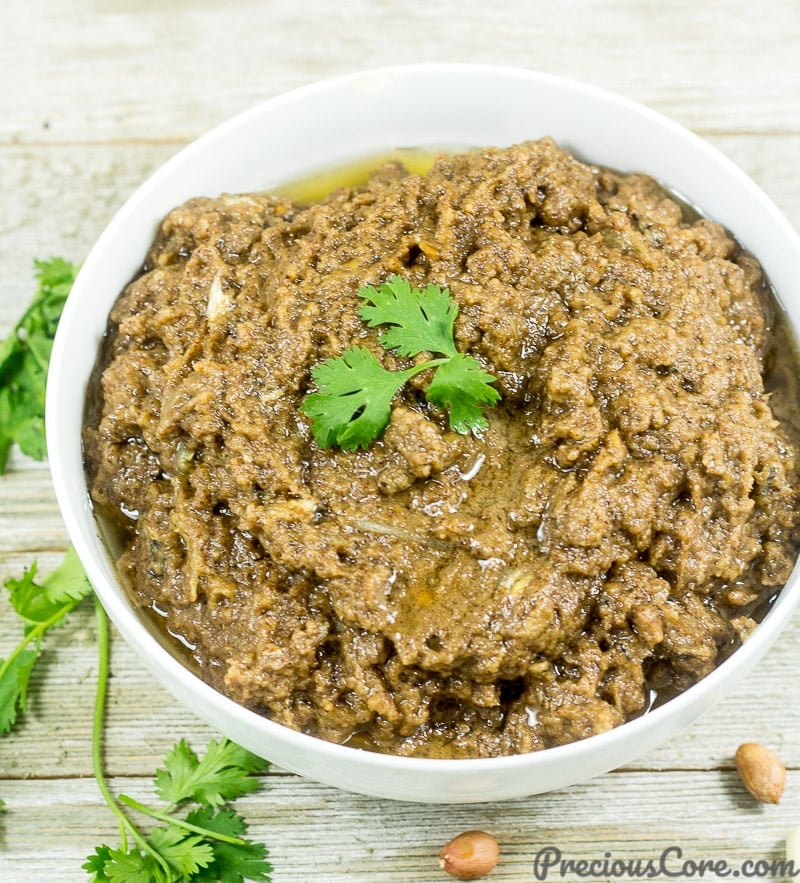 Mboh can be eaten with any starchy side of choice – cassava (yuca roots), plantains or yams. I also like it in French bread. So good! Sometimes, it is eaten with some fresh garden eggs. Insanely good!
In Cameroon, it is typically eaten with Bobolo or Miondo, a product of cassava, (yuca roots). I'll be showing you how to make bobolo/miondo in the days ahead. But first, let's make some insanely yummy mboh!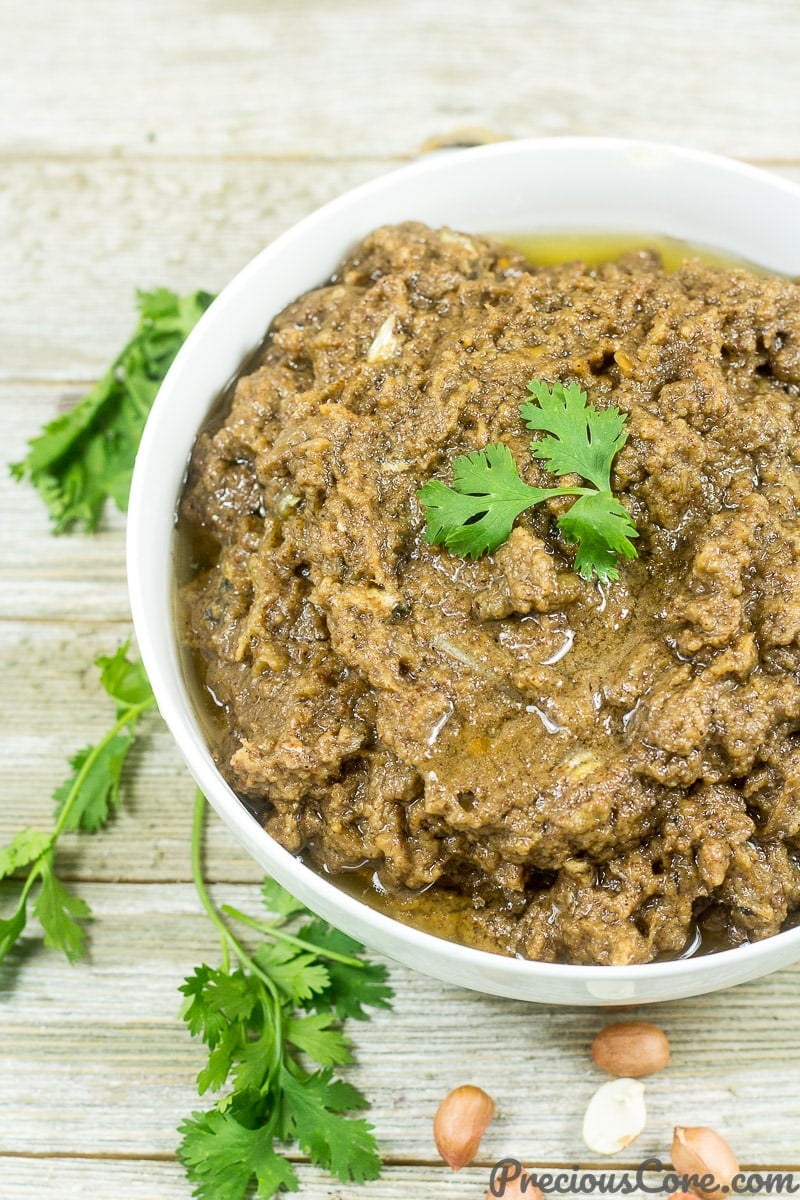 I made a YouTube video to show you guys how to make this deliciousness. You can click here to subscribe to my YouTube channel so you never miss any of my videos.
Watch how to make Cameroonian Groundnut Paste (Mboh):
Note that there are two methods for making this:
The steaming method: With this method, all ingredients are mixed, wrapped in (banana) leaves and steamed. This results in a cake-like Mboh, cooked about the same way Cameroonian Koki (black-eyed peas pudding) is cooked. (See recipe notes if you wish to follow this method.)
The stove-top method. With this method, the Mboh is made right on your cooker. I prefer this method because it is easier and the mboh is not too thick which makes it a great dip!
How to make Cameroonian Groundnut paste (Mboh)
You need 3 cups of raw peanuts (called groundnuts in Cameroon).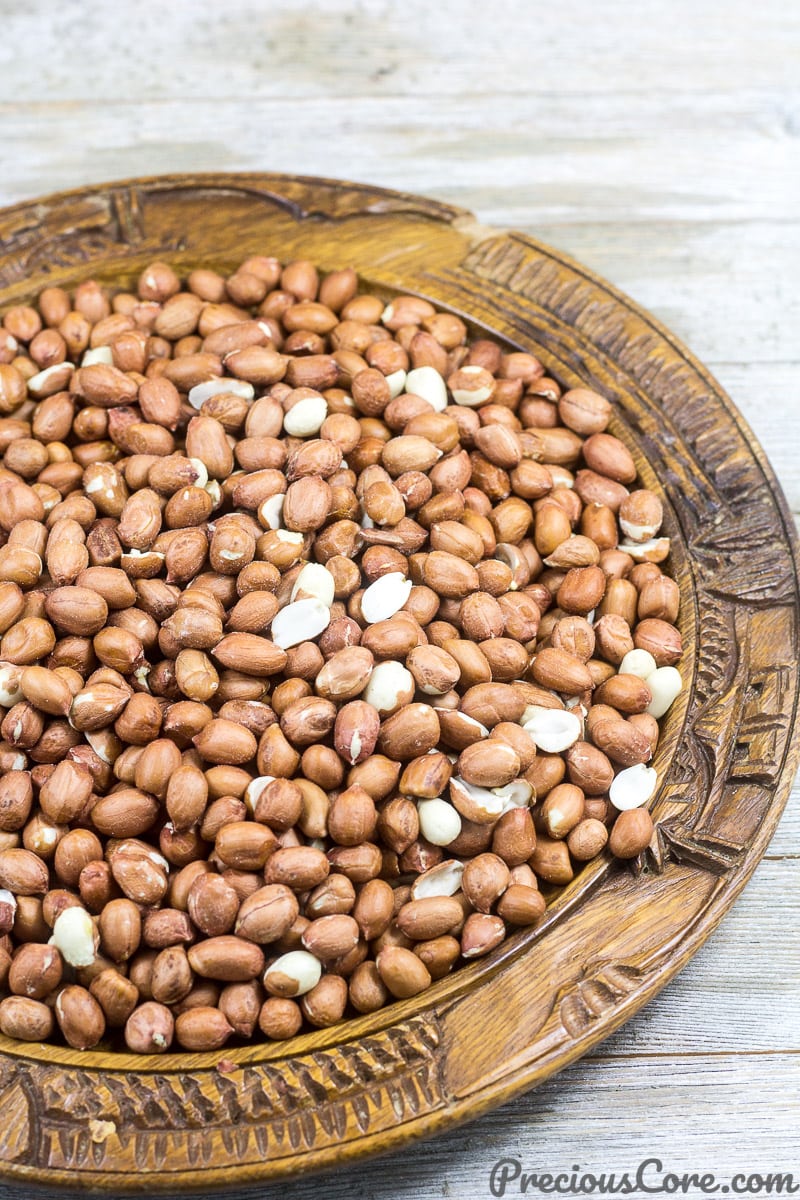 You also need 1/2 cup of ground crayfish, 1 hot pepper, 1 crayfish seasoning cube (or 2 regular Maggi cubes), and some salt. I added a cup of dried fish – anchovies known as "njanja moto" in Cameroon to mine but this is completely optional.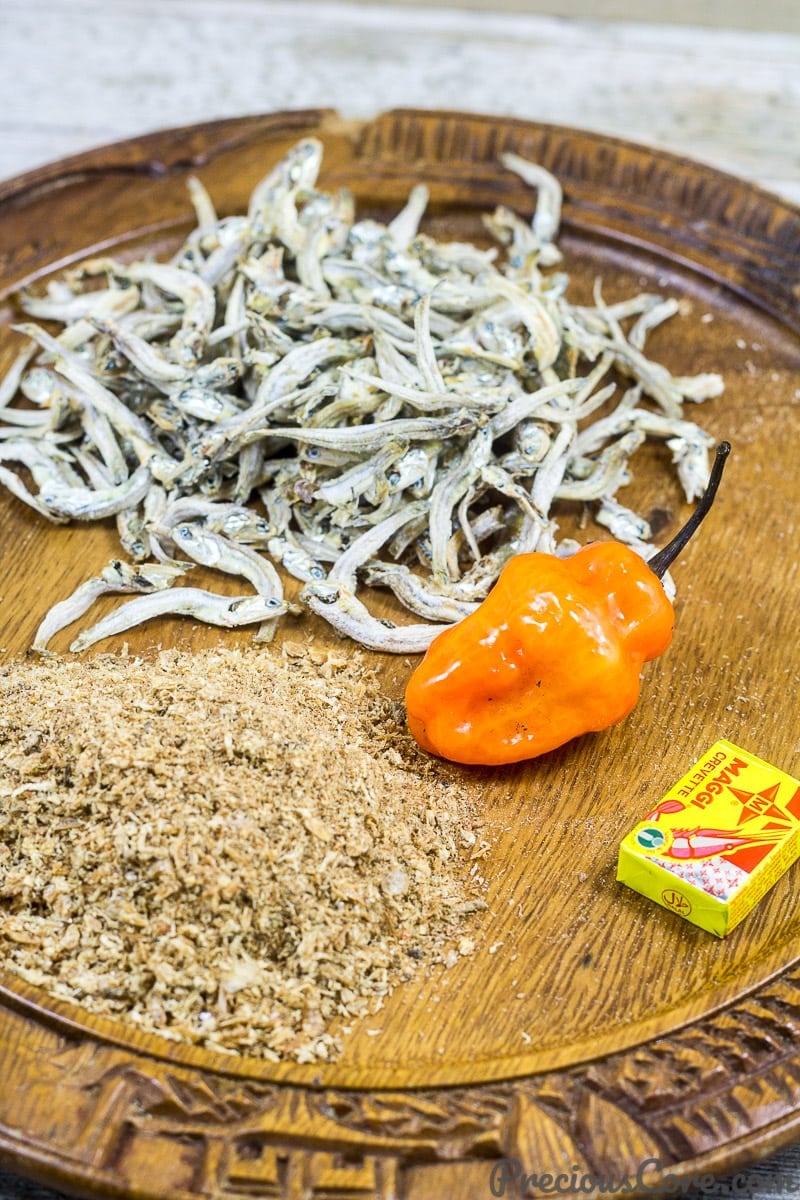 Step 1: Roast the peanuts until they are very done. This takes about 15 minutes. Also, be sure to stir while roasting so the groundnuts do not burn.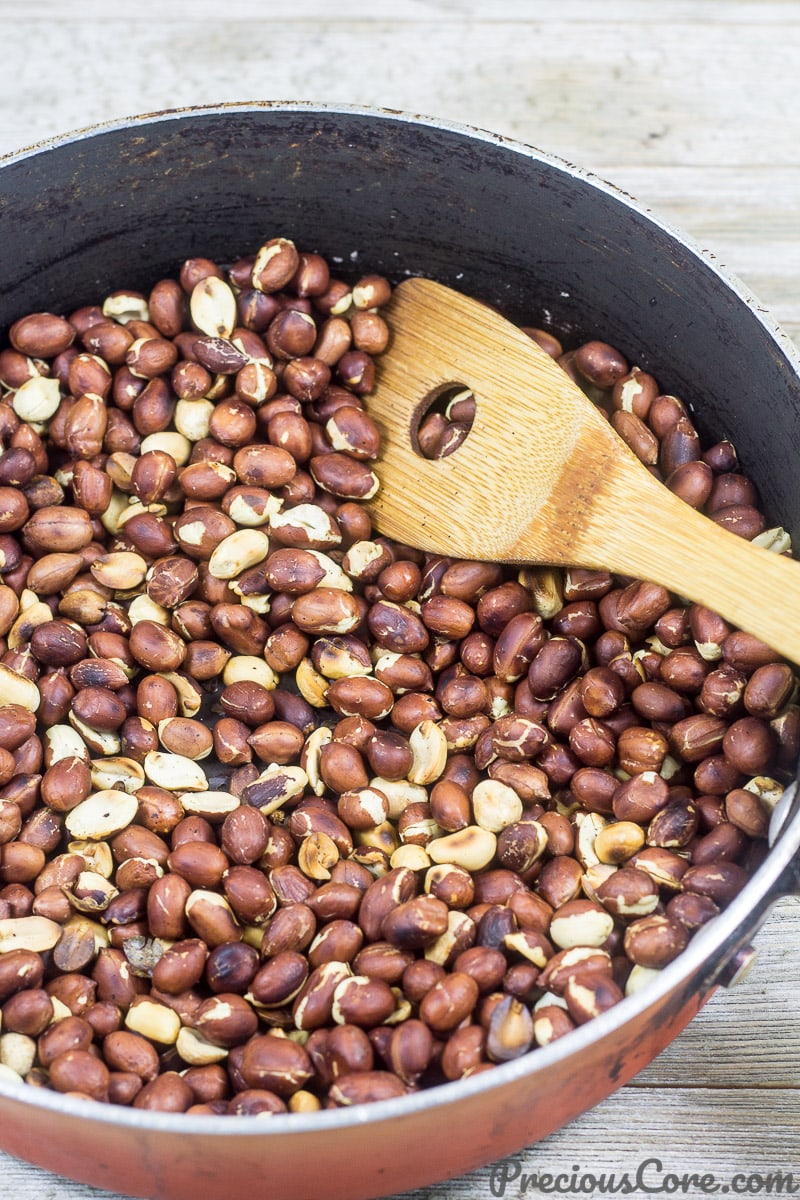 Step 2: Let the roasted peanuts cool completely then grind them. Also grind your hot pepper.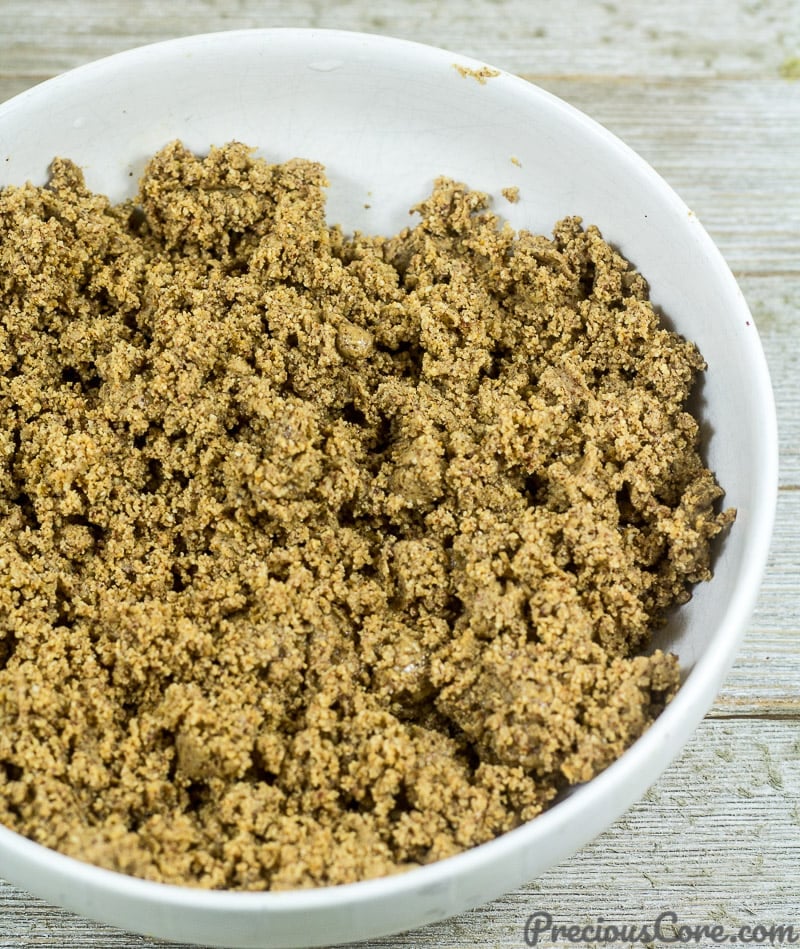 Step 3: Boil together crayfish, fish with a cup of water. Mix ground groundnuts with 2 cups of water to form a paste. Add paste to pot. Add in Maggi, Salt and pepper and mix well. Cook on medium heat stirring all the time for about 15 minutes until the oil begins to separate from the peanuts.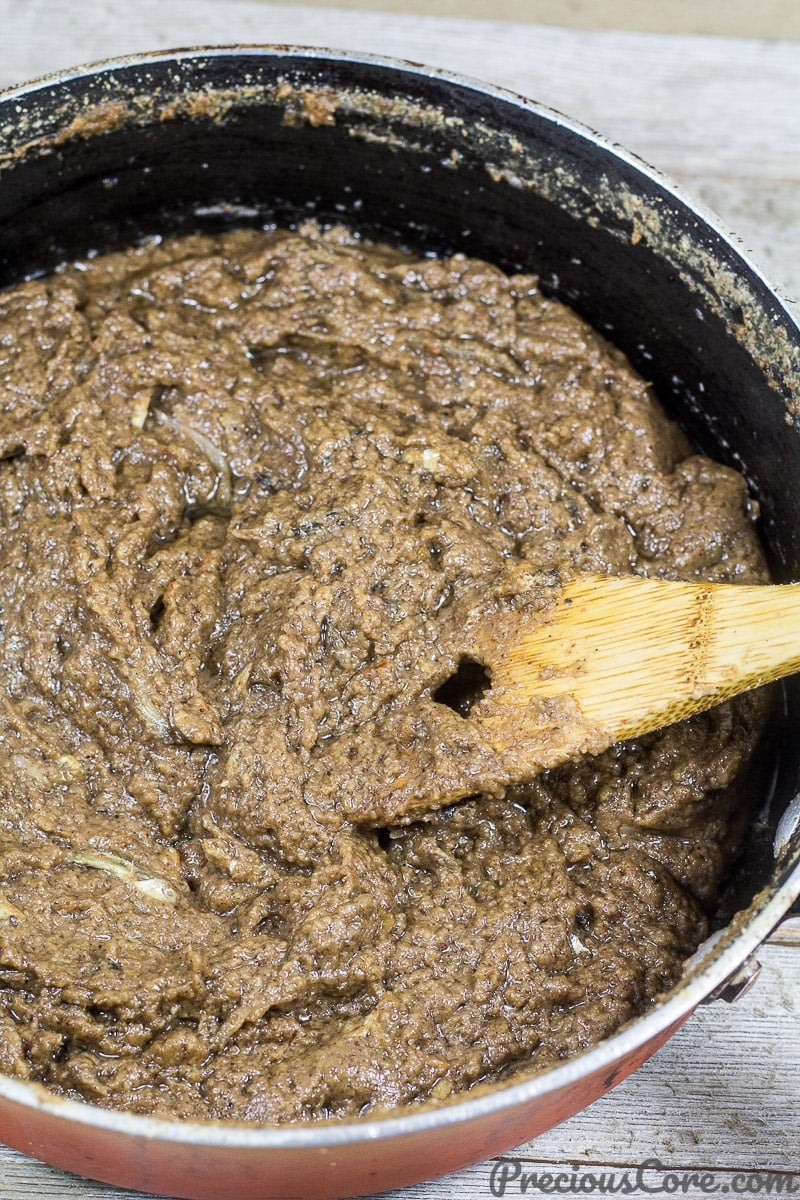 It is ready when a lot of oil can be seen hovering over the groundnut paste. Now serve that and enjoy with a side of choice. I had mine with some Bobolo!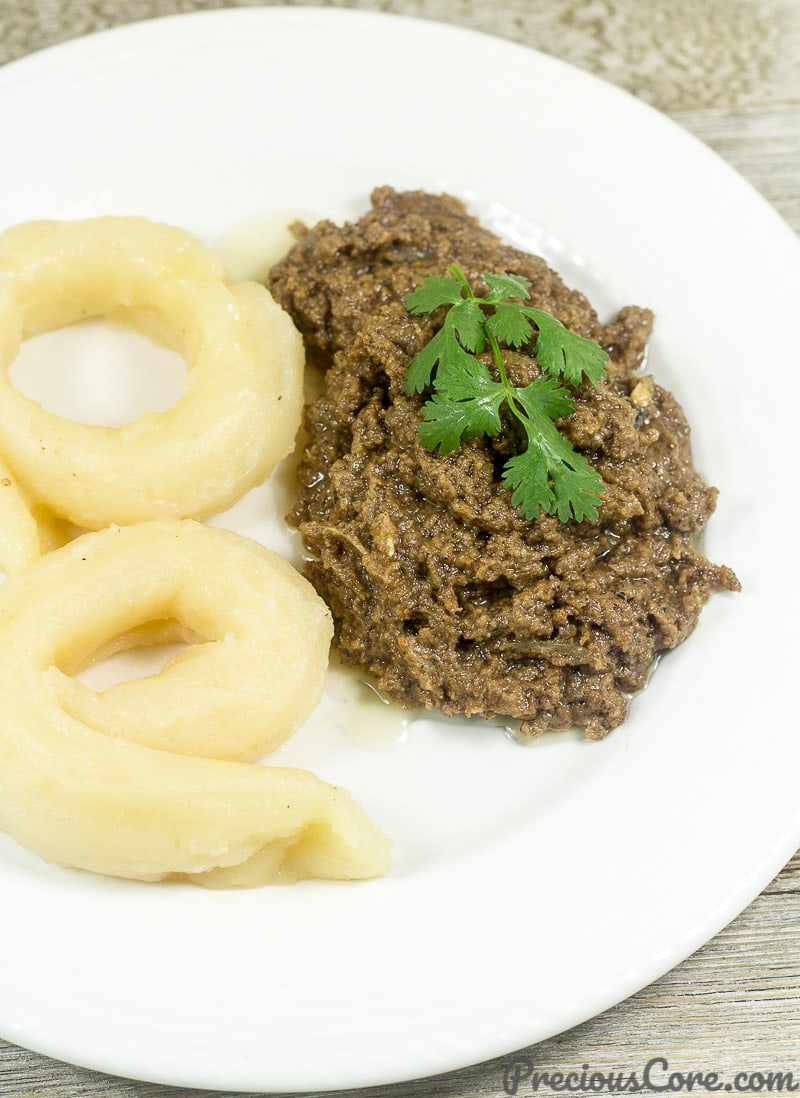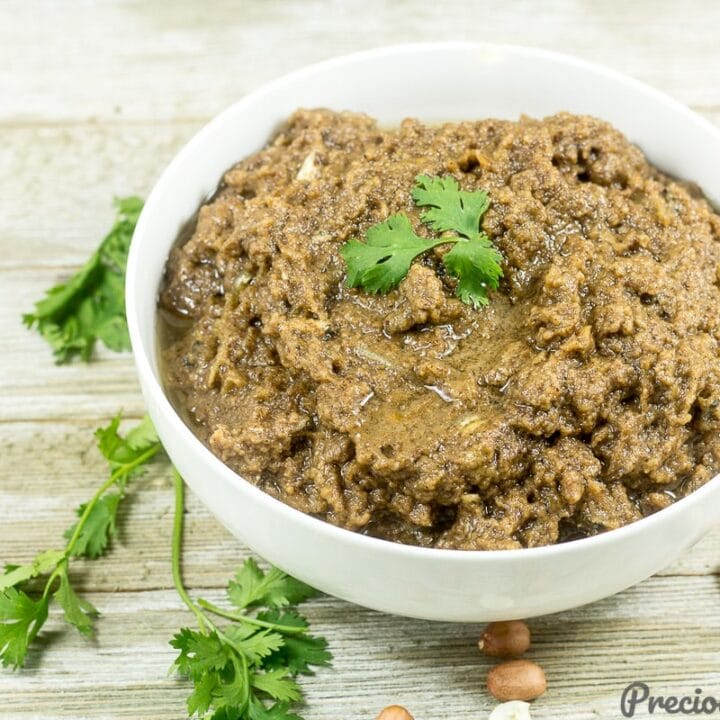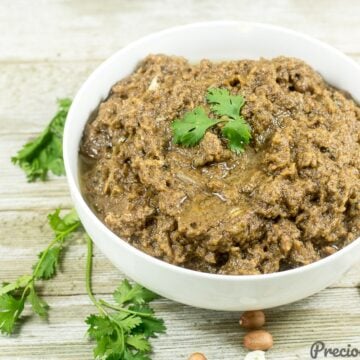 Groundnut Pudding - African Spicy Peanut Butter
Cameroonian groundnut paste, also known as "Mboh" is a pudding-like savory meal made with roasted peanuts. It is spicy, peanuty and insanely good!
Ingredients
3

cups

groundnuts (peanuts)

1/2

cup

crayfish (ground)

1

habanero pepper

2

seasoning cubes (Maggi) or 1 large Maggi crevette

1

teaspoon

salt

3

cups

water

1

cup

dried fish (optional)

I used dried anchovies
Instructions
Place groundnuts in a wide frying pan or pot and roast on medium heat for about 15 minutes, stirring all the time. The groundnuts should turn brown - be careful not to let them burn.

When groundnuts are fully roasted, place them on a tray to let them cool completely - for about 30 minutes.

Blend together habanero pepper with about 2 tablespoons of water.

Grind groundnuts using the small cup of your blender or a coffee grinder. Mix the ground groundnuts with about 1 cup and a half of water to make a paste.

Place 1 cup of water, crayfish and dried fish in a pot. Bring to a boil. When water boils, add salt, Maggi, blended habanero pepper, and groundnut paste. Mix well then add remaining half cup of water.

Bring the groundnut mixture to a boil, stirring all the time. Let it cook until the natural oil from the groundnuts starts to show up and the mixture is considerably thick.

Enjoy with any starchy side you like: bobolo/miondo (Cameroonian food made ut of cassava tubers), plantains, yams, potatoes or even bread!
Notes
1. To cook your groundnut paste using the steaming method, mix all ingredients with 2 cups of water then wrap in banana leaves and steam till done. This is very similar to the way you will cook koki (steamed black-eyed peas pudding).
2. I find that groundnut paste made with the listed ingredients here is so tasty and doesn't require additional ingredients, However, if you want more flavor try adding any of these:
Half a small onion - ground together with pepper and added to the mixture.
1 pebe (African nutmeg) ground together with the groundnuts.
Half a teaspoon of "bush pepper" also know as peppercorns.
Half a teaspoon of white pepper.
Nutrition
Calories:
414
kcal
|
Carbohydrates:
9
g
|
Protein:
36
g
|
Fat:
28
g
|
Saturated Fat:
4
g
|
Polyunsaturated Fat:
10
g
|
Monounsaturated Fat:
12
g
|
Cholesterol:
65
mg
|
Sodium:
2639
mg
|
Potassium:
881
mg
|
Fiber:
5
g
|
Sugar:
0.2
g
|
Vitamin A:
61
IU
|
Vitamin C:
3
mg
|
Calcium:
118
mg
|
Iron:
3
mg
Pin this recipe:

If you make this recipe, please share a photo on Instagram and tag me: @preciouscore, or share a photo on my Facebook page. I'll love to see!
Update: A lot of you have asked me where I bought the machine used in grinding the groundnuts in my video. I have included a link (affiliate link) below to the exact machine I used so you can equally get if from Amazon.