GROUNDNUT SWEET RECIPE – CANDIED PEANUTS
Published Aug 18, 2017
Updated Dec 23, 2019
Groundnut sweet also know as candied peanuts or sugar-coated peanuts is a popular snack in many countries. They are crunchy, sweet, insanely delicious and simply irresistible!
In Cameroon, these are sold as a snack or street food. I remember my uncle warning me sternly years ago that I should never purchase Groundnut Sweet. According to him, I was going to damage my teeth if I dared to eat any. He said this because of the sugar crust all over the peanuts/groundnuts.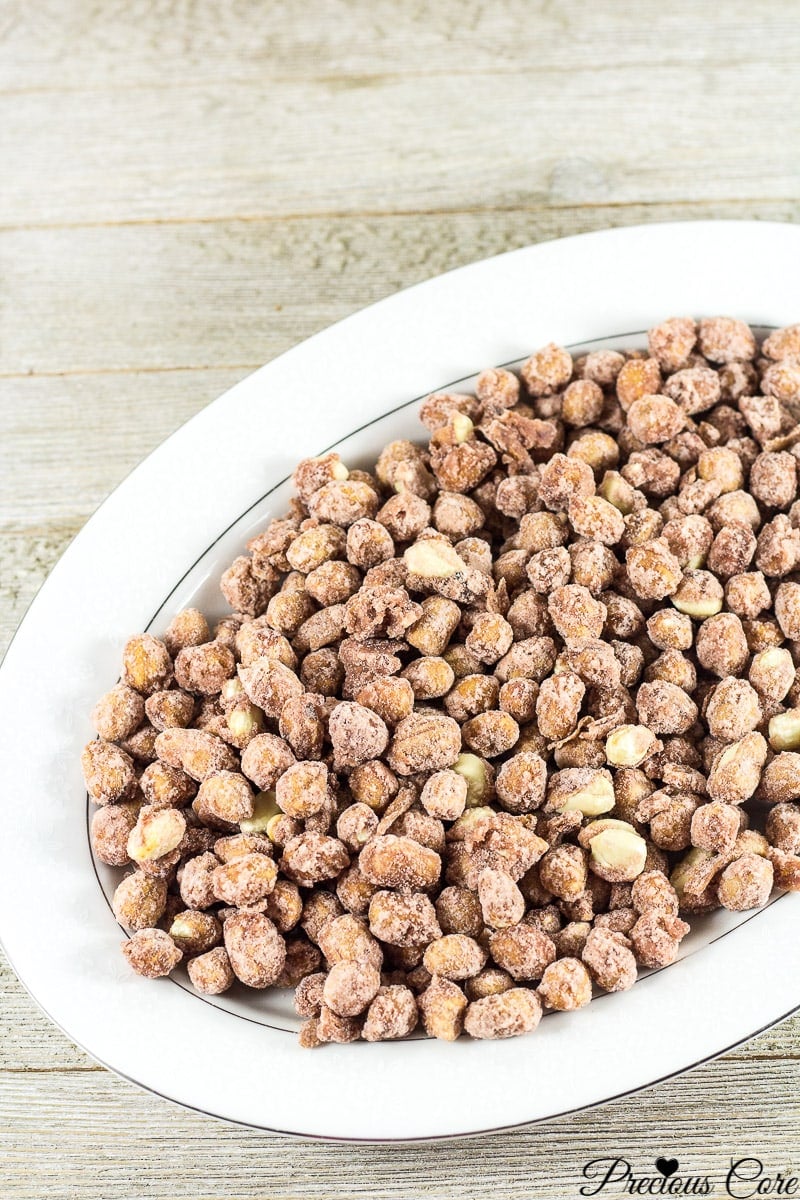 To an extent, Uncle was right. The sugar can be overwhelming especially if you are not a sweet-tooth person. BUT I have an epic solution to overwhelming sugar here. Add some salt! OKAY, the salt doesn't take away the sugar but it takes away the overwhelming sweetness you get when you use just sugar. Plus the sweet and salty combo in a snack is to die for! Try it, I tell you.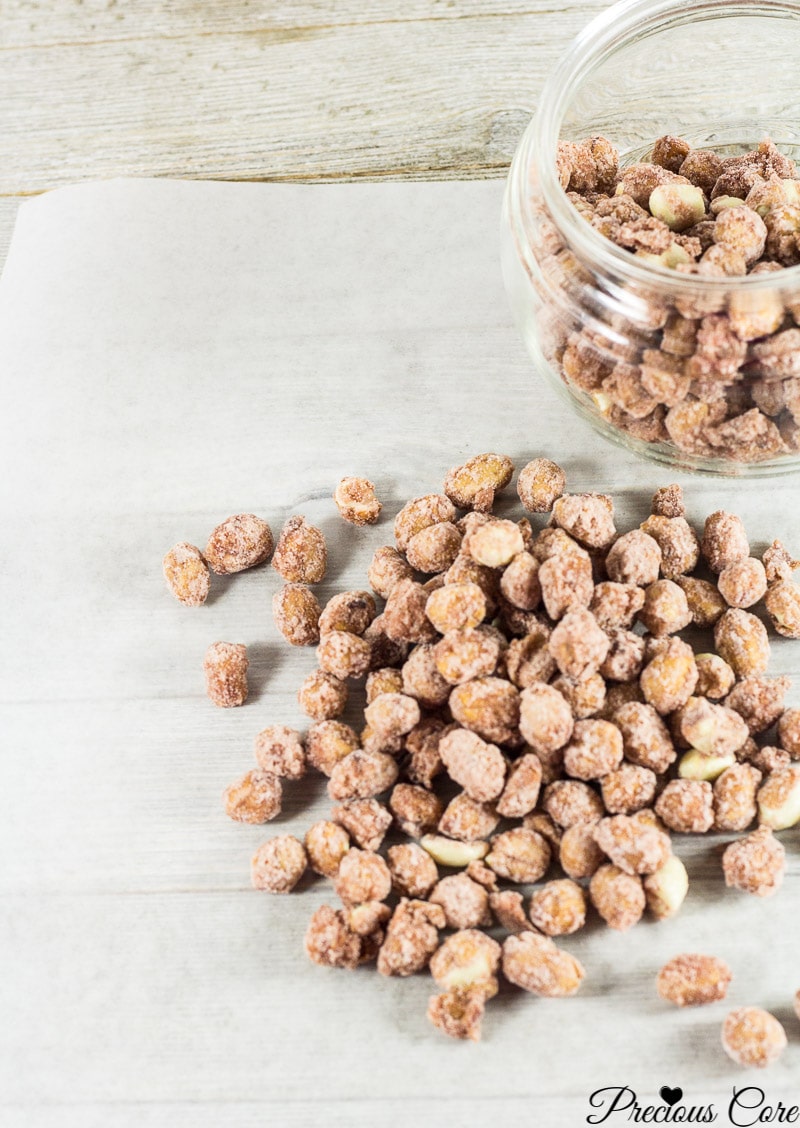 You guys, this thing called groundnut sweet hardly lasts for long in my home when I make it. But if it survives in yours, store in an airtight container for future enjoyment.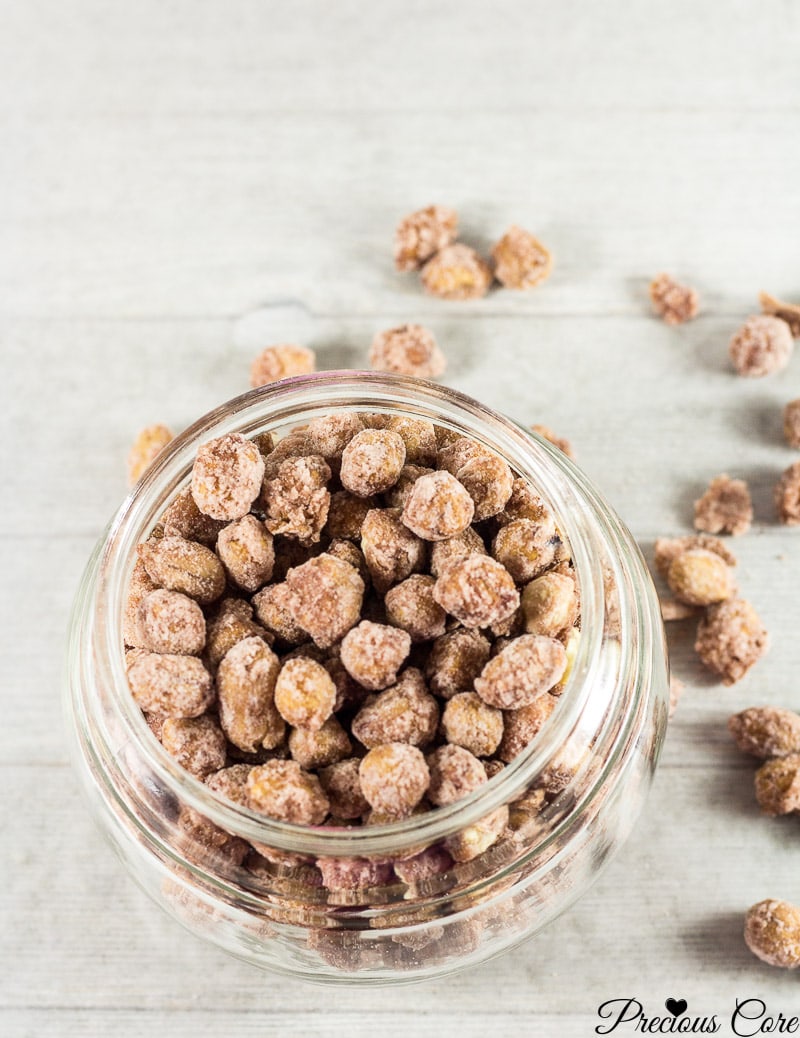 You need very minimal ingredients in this recipe with the basic ones being the nuts, some sugar and water. Now with those three things you can make really tasty candied peanuts. But I love to take it up a notch by adding salt, and some form of flavor.You can watch me in the how-to video of this recipe adding ground nutmeg. Here pictured, we have vanilla extract and cinnamon as flavor options. These are equally very good. Just choose the flavor you prefer and use or you could even make it with no flavor at all and it will still taste good!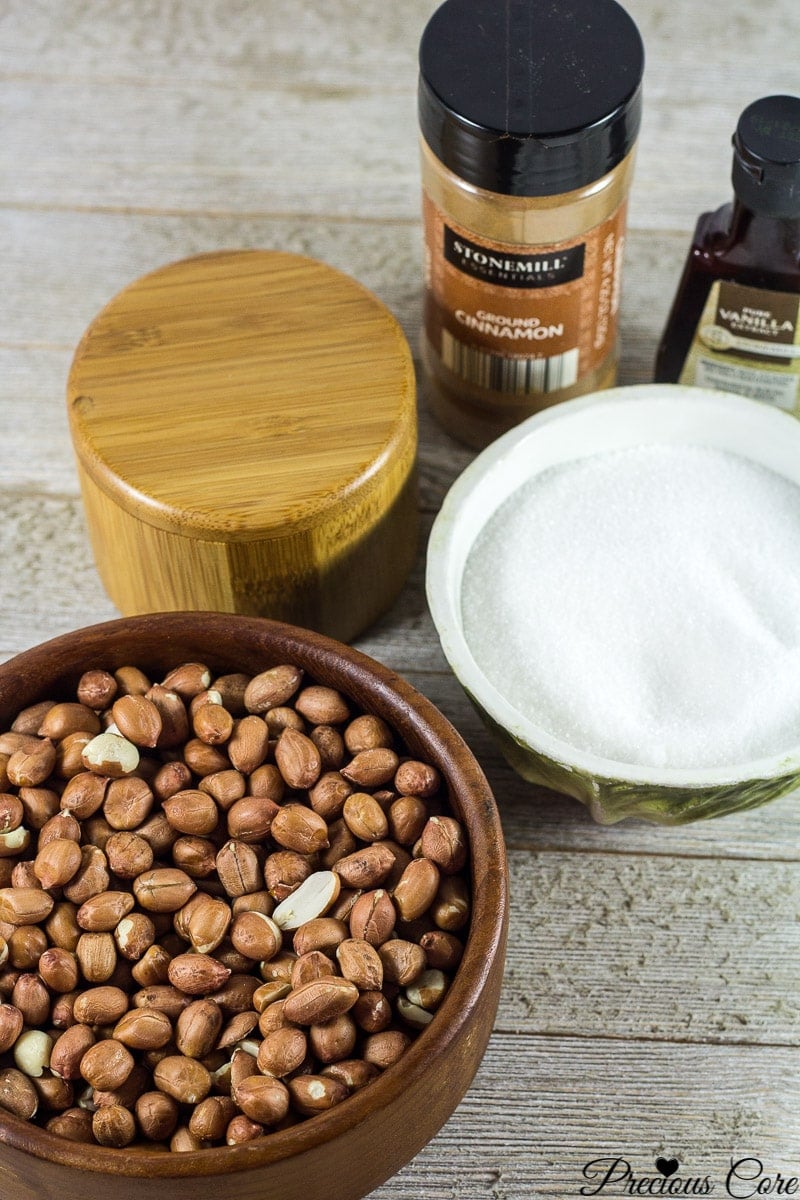 Now this whole recipe takes only 15 minutes. Fifteen! So it's one of those thing that you can jump up and do if you want a quick crunchy satisfying snack. Also, you could use this same recipe with any nuts of choice – almonds, pecans, etc.
Making this is very easy as you can see in the video. If you have not yet subscribed to my YouTube channel, CLICK HERE TO SUBSCRIBE so you never miss any of my videos.
How to make groundnut sweet:
Start by roasting the peanuts for a few minutes. For the quantity of nuts in this recipe, I roast them for 5 – 10 minutes, stirring from time to time. Roasting the peanuts ensures that they are crunch and it also lends them a nice flavor.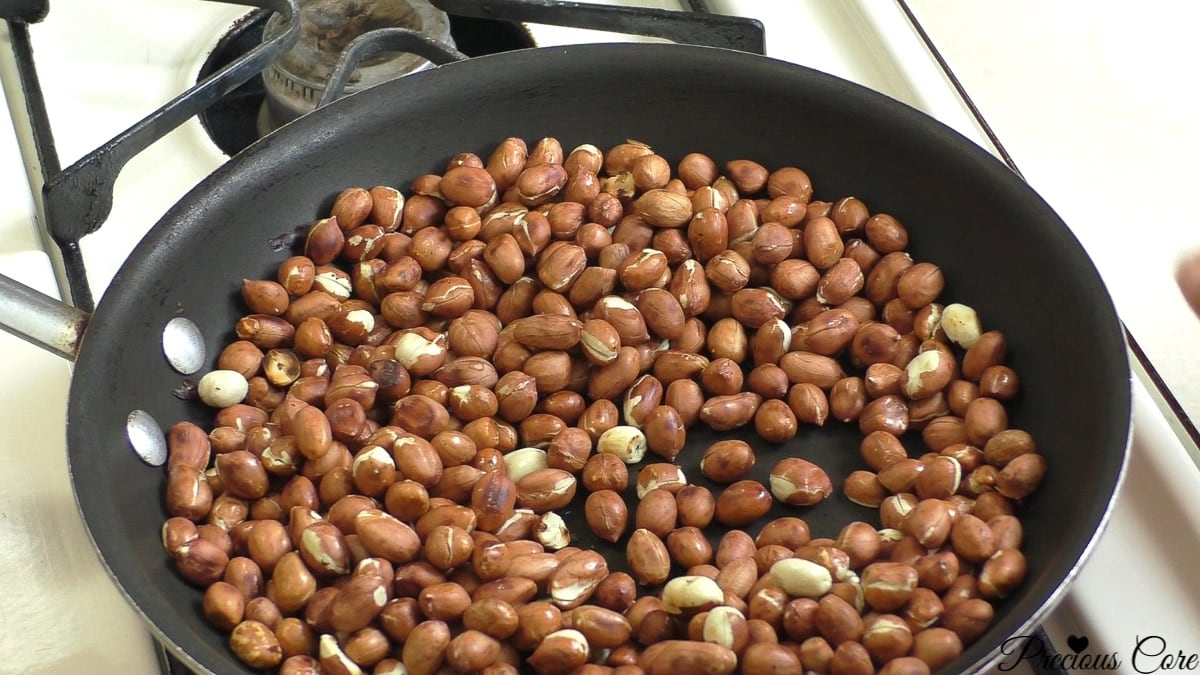 Then pour the sugar, water salt and flavor (nutmeg, vanilla extract or cinnamon) into a pot. Stir and add in the peanuts.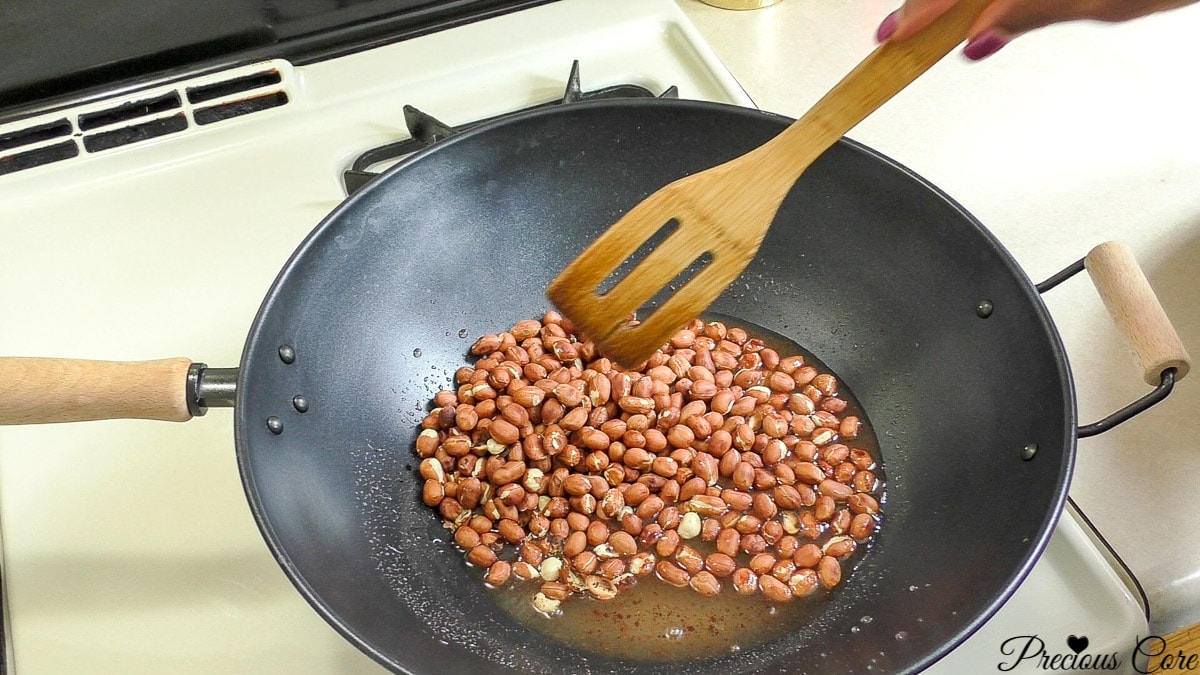 Mix and let it bubble.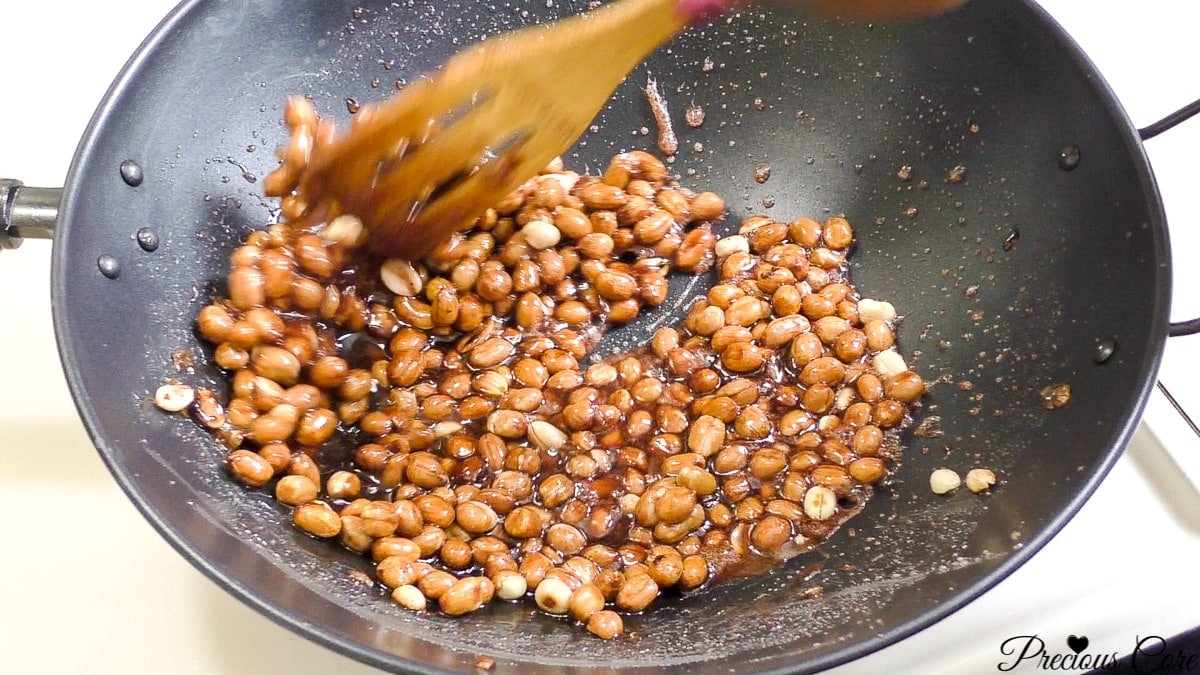 Then keep stirring until the sugar crystallizes, nicely coating the groundnuts.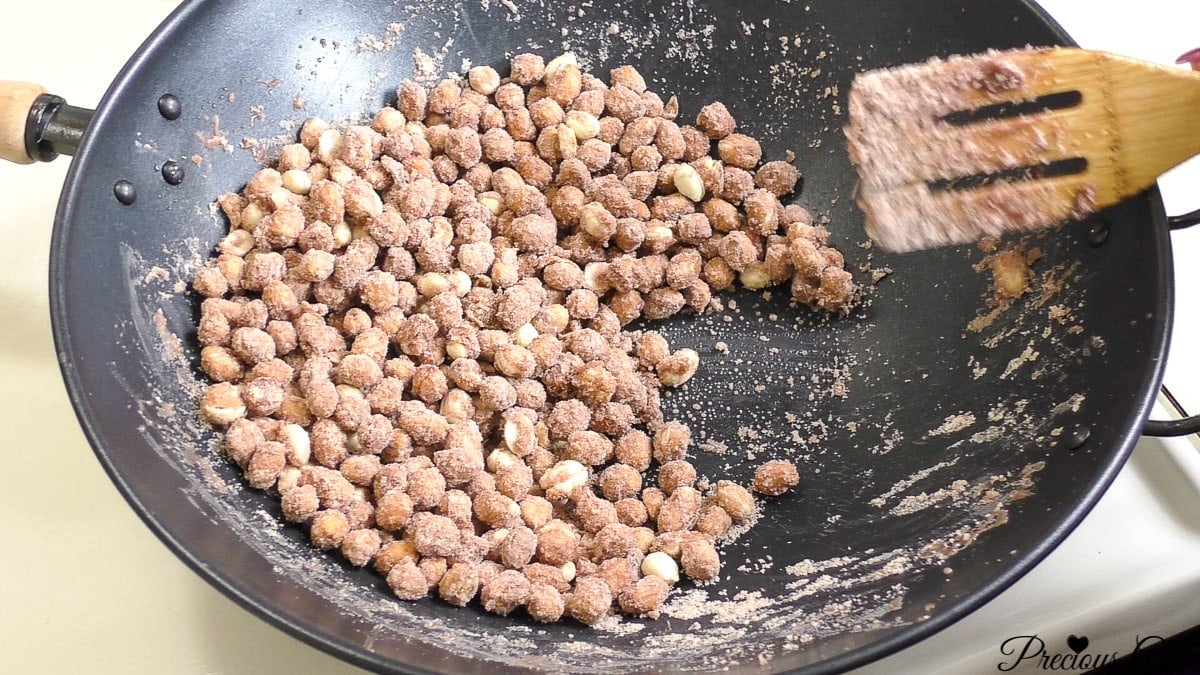 Let it cool then sit down and enjoy yourself! By enjoy yourself, I mean eat some. Then eat some more. You deserve it, honey. Check out the full recipe below!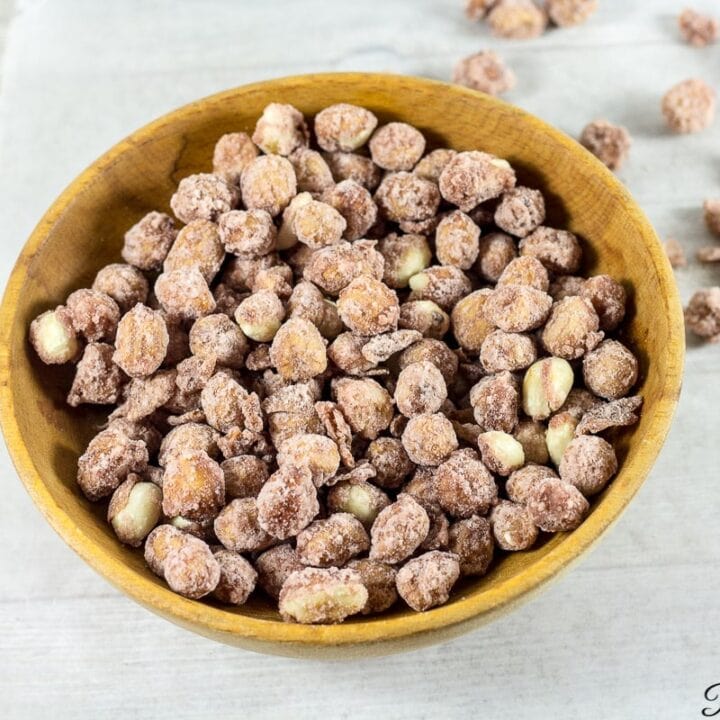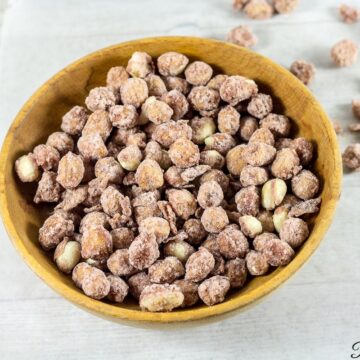 Candied Peanuts
You will go nuts over this candied peanuts recipe. Sweet, crunchy and irresistibly good!
Ingredients
2

cups

raw peanuts (groundnuts) - (292 g)

1

cup

granulated sugar (200 g)

1/2

teaspoon

salt

1/2

teaspoon

nutmeg

optional

1/2

cup

water (118 ml)
Instructions
Place peanuts on a skillet and roast on medium heat, stirring from time to time for about 5-10 minutes.

Add sugar, water, salt and nutmeg in a pot set on medium heat and stir to combine. Add in roasted peanuts and mix well. Bring to a bubble then keep stirring until the sugar crystallizes on the peanuts. This takes about 5 minutes.

Spread on a tray to cool then enjoy! To preserve, store in an airtight container.
Notes
1. Other ingredient options for adding flavor to your candied peanuts include vanilla extract and cinnamon. You could really use any flavor you like or use no flavor at all.
2. Omit the salt if you want it very sugary but I find that adding salt yields the perfect blend of sweet and salty.
3. If you choose to double this recipe, note that the cooking time will increase.
4. Us this same method to candy other nuts like almonds and pecans. SO GOOD!
5. Instead of roasting the peanuts on the stove-top you could roast them in the oven - spread them on a tray covered with parchment paper on a single layer then roast for about 15 minutes at 350 degrees F (180 degrees C).
Nutrition
Calories:
407
kcal
|
Carbohydrates:
41
g
|
Protein:
13
g
|
Fat:
24
g
|
Saturated Fat:
4
g
|
Polyunsaturated Fat:
8
g
|
Monounsaturated Fat:
11
g
|
Sodium:
206
mg
|
Potassium:
363
mg
|
Fiber:
5
g
|
Sugar:
33
g
|
Vitamin A:
0.2
IU
|
Vitamin C:
0.01
mg
|
Calcium:
53
mg
|
Iron:
2
mg

If you make this recipe, please share a picture with me on Facebook at Facebook.com/preciouscore or on Instagram: @preciouscore. I'll love to see!