HOW I FOUGHT FOR MY FAITH
Published Mar 17, 2016
Updated Apr 27, 2017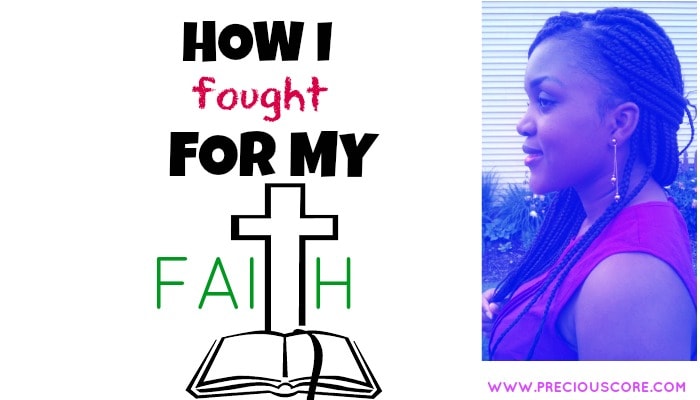 I had cried so much that I had no tears nor voice left. As I sat on my wooden bed, tears trickled uncontrollably down my face. Home, which was once a place of comfort had now become a place of anguish. My two aunts hovered over me like hawks. Yet the things they said didn't guarantee the protection gotten from hawks.
The bigger aunt, robust in appearance with a weight that could easily be calculated by looking at her thighs, sat on the cane chair that leaned on the wall near the door way. I can picture images of her tapping one foot continuously, as she anxiously awaited my response. Her younger sister was pacing about in the room. She began her lecture,
"Is God not everywhere? Why must you go to that church? Is there no God in the Presbyterian church?"
My mouth could spew no words.
"People have gone to such churches and run mad. Meshi, you could be in the choir in the Presbyterian church. What happened to you?"
When they call you by your traditional name, you know things have gone from bad to worse.
I sat still on the bed in my room, my head bowed, my eyes fixed on the red plastic tile that was before me. The tears kept trickling. I had done every explanation I deemed fit to tell my overprotective family that I wasn't loosing my mind. I was just loving Jesus. Yet, my words meant nothing to them. They were convinced that I had been hypnotised by some dubious men into occultism.
After my aunt yelled at me for a while, she succumbed to begging. She went down on her knees.
"Ma, look at us. We are your family. Don't disappoint us."
Then she asked me,
"Are you going to leave the church?"
I uttered a resounding NO.
My aunt sprung up and grabbed the two-yard multicoloured Ankara cloth, lying by her sister on the cane chair. She tied it on her waist, ensuring that the knot was well secured. Then she told her sister,
"Let's go! We will destroy that church today!"
She hurried out while her older sister gathered herself to stand up and toddled behind her. As they left, I felt sick in my stomach, thinking of the drama that was about to be acted at my church. The plate of
Fufu and Eru
which waited to be devoured on my bedside cupboard lost its appeal. As the warm and melted palm oil hovering in the plate grew cold and sticky, so did my desire to stay home grow cold.
So I did something I had never done before. I ran away from home. I walked through the back door, out of the gate and off I went to find solace somewhere… anywhere.
That evening was one of the most dramatic evenings of my life. From the time I
made the decision to follow Christ
to that evening, it had been from one battle to the next, trying to convince my family to accept my choice of
faith
.
I had been temporarily disowned by my Dad, punched in the face and called despicable names, I had been denied favours, humiliated and received threats. I was severely crushed but not destroyed.
I thought I had seen it all but on this evening, I saw a new phase. My mother tried all she could to stop me from going to "that church". And when she couldn't stop me, she solicited help from my aunts. She said I was under a spell.
The more they tried to break me free from that spell, the more I fell in love with Jesus. I saw firsthand what it means to lose your life in order to save it. I literally lost it all. I went without food not because I was fasting but I was lacking. I trekked miles to carry water on my head in order to survive. I trekked to destinations that required paid transportation because I had no money. I was without earthly parents for a while. But that was the price I had to pay to strengthen my relationship with my heavenly Father.
After that evening, I had to deal with a long line of complicated problems. The problems got to the level of the police. I had to sit in a meeting with my Dad and leaders of the Pentecostal pastors' association in Bamenda. I had to attend counseling sessions with a Presbyterian pastor. All these were aimed at causing me to obey my parents and leave the "born-again church."
Yet I stayed put. I really wanted to obey my parents and make my family happy. At the same time, I really wanted to be in a place where my faith will be nurtured. A relationship with God needs to be watered and fed. When it is not watered and fed, it dies. I didn't want my faith to die under orthodox Christianity.
This happened over seven years ago and each time I think of it, the tears come trickling again. I want to sincerely thank the believers who stood by me in such trying moments. I am so grateful to my parents because it is due to their love for me that they tried to protect me from what they thought was harmful. Today, they totally get it.
HOWEVER, I will like to add that my parents' fears were very valid. There are many dubious persons today parading as people of God. Pastorpreneurship is on the rise so we must be very watchful.
Lord Jesus, I want more of you.
Dear reader, did you ever have to fight your faith? How did you do it?