HOW TO MAKE ACHU AND YELLOW SOUP
Published Feb 15, 2017
Updated Sep 26, 2018
Hello friends, today I am updating a very important recipe on the blog! It is Achu and Yellow Soup and it is so tasty. Now, this might look very strange to some of you and that's okay. I can only imagine how this meal would have looked to me if I didn't know it. But this is Achu – pounded cocoyams with a traditional yellow soup. It is my father's heartbeat, his traditional meal. He hardly goes a week without devouring a plate of this, loaded with meat and lots of hot pepper. After that, he would sit in the parlor (living room), toothpick in mouth, legs crossed, discussing "political issues." Ha!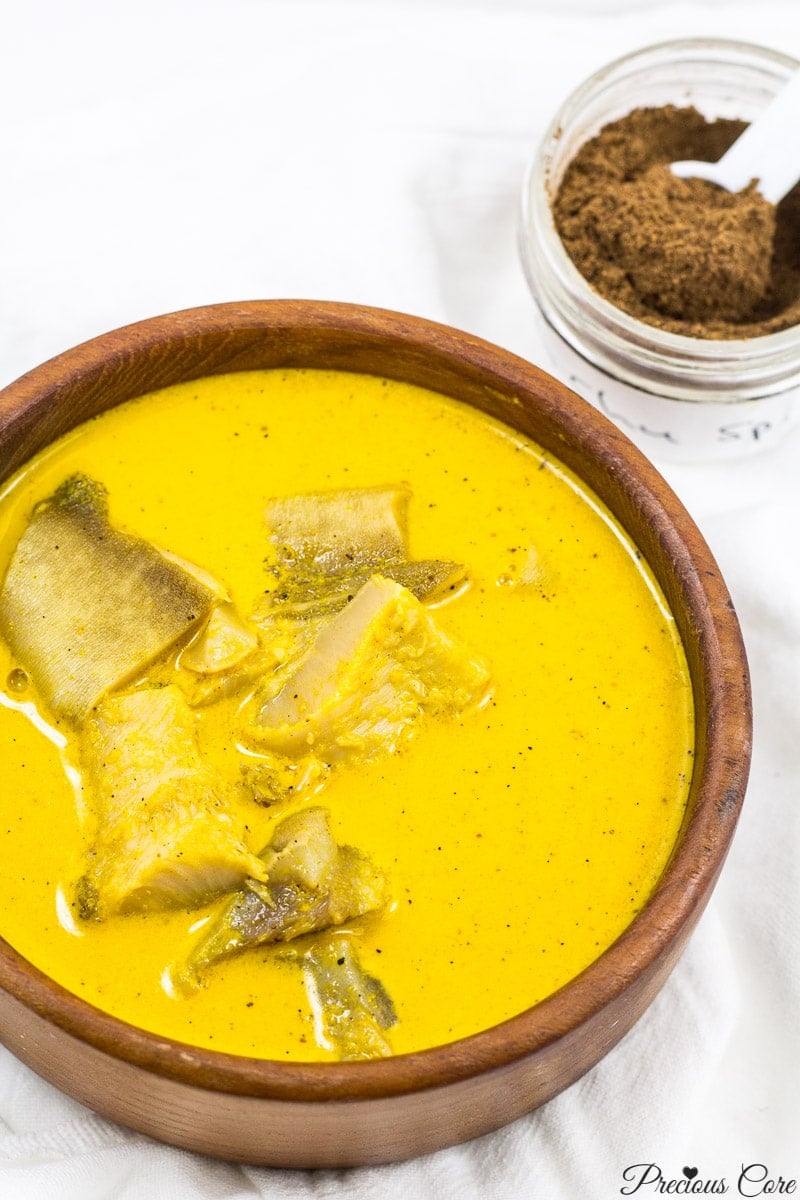 Achu is the traditional meal of a number of villages in the North West region of Cameroon. It is the specialty of the Bamenda or "Bamda" people as I like to say. It is also widely eaten by the Bamilekes in the western region of the country. Another name for yellow soup is "Ndza Nikki." In French, it is known as "sauce jaune".
The meal starts with some nicely boiled cocoyams (taro), which are then pounded into the Achu fufu (a whitish paste). The pounded cocoyam is eaten with either a black soup made with cocoyam leaves (and sometimes groundnuts/peanuts) or a yellow soup. It is mostly eaten with the yellow soup which made up of "kanwa" (limestone), palm oil and a special blend of spices. In the absence of kanwa, I use baking soda because it has a component that is also present in limestone. Science-inclined people will understand this better. I am not one of them.
Now there has been an argument at home and abroad that kanwa is not good for health. So many people resort to making an alternative to kanwa called "Nikki" It is achieved by burning peels of plantains for a long time to achieve an ash-looking substance. That's what I used in this recipe but you will find me using baking soda in the video.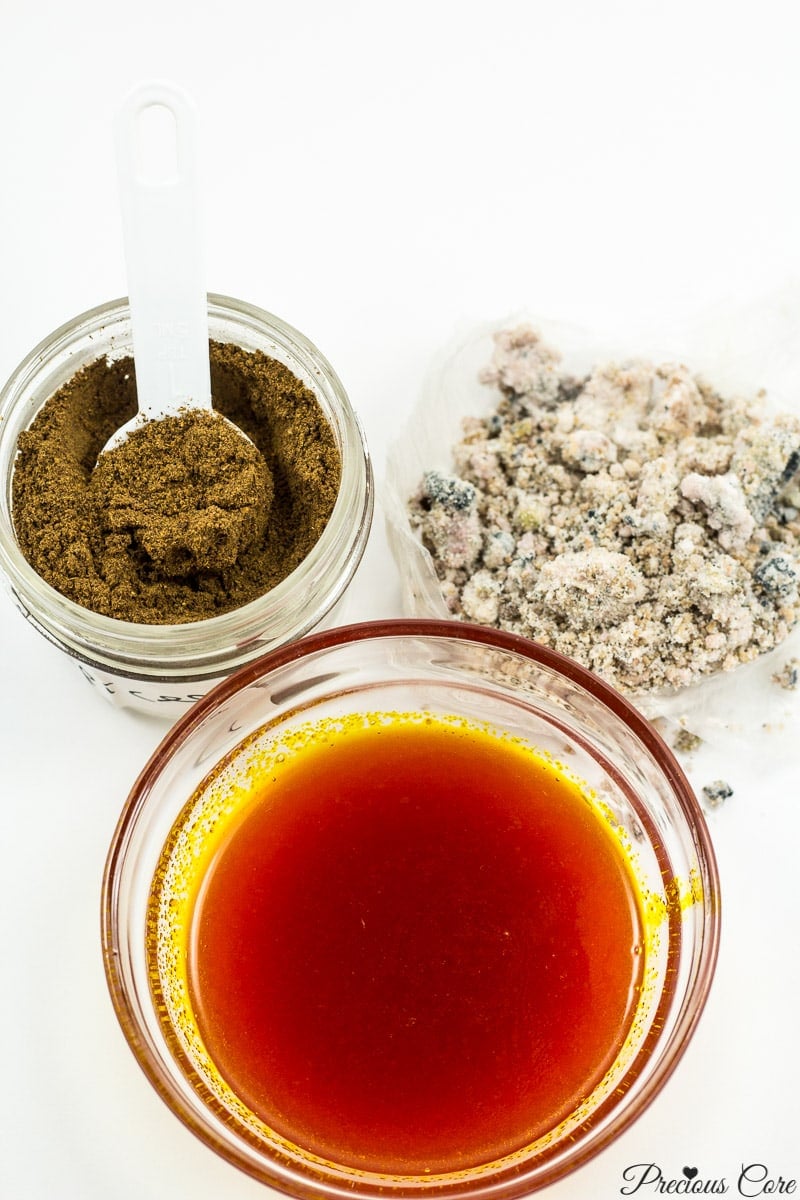 The spices used in making achu soup are many and I do not know all of them. Traditionally, some are roasted then ground to a powder on a grinding stone.
To go the easy way, I purchase the premade spice blend. If you live abroad, you can get that from an African store – most likely an African store owned by a Cameroonian. If you can't find it to buy, your best bet will be asking someone travelling from Cameroon to bring some for you. Or you could beg a friend for some. I beg friends here for spices all the time (the Nikki was given to me by a friend). No shame in that. When you are in the 'abroad' with limited access to authentic ingredients from home, you gotta beg!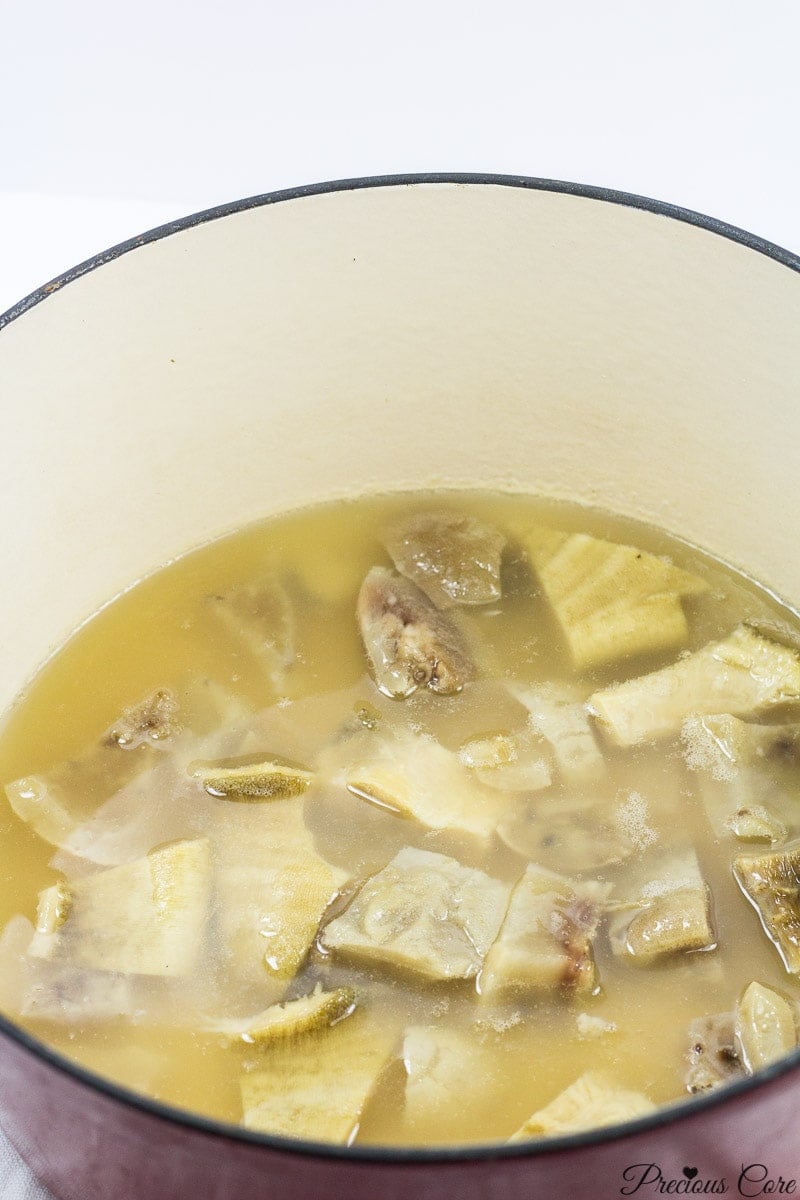 Making the soup is quite easy. You simply combine some beef stock with all the ingredients and mix until everything is well incorporated. The soup is not "cooked" on heat but rather "mixed." Traditionally, it is mixed to perfection by pouring the soup from one pan to another over and over. Or by scooping the soup with a bowl and pouring back into the pot until it is well mixed. Well mixed here means the stock must not seperate from the oil. They have to marry and be one happy family. They must be one and indivisible.
Now I do not go down that traditional road at all. I simply pour my meat stock and every other ingredient minus the meat into a blender and pulse to perfection. I pour the soup back into the meat and mix. It is much easier and effective that way. Thank God for blenders!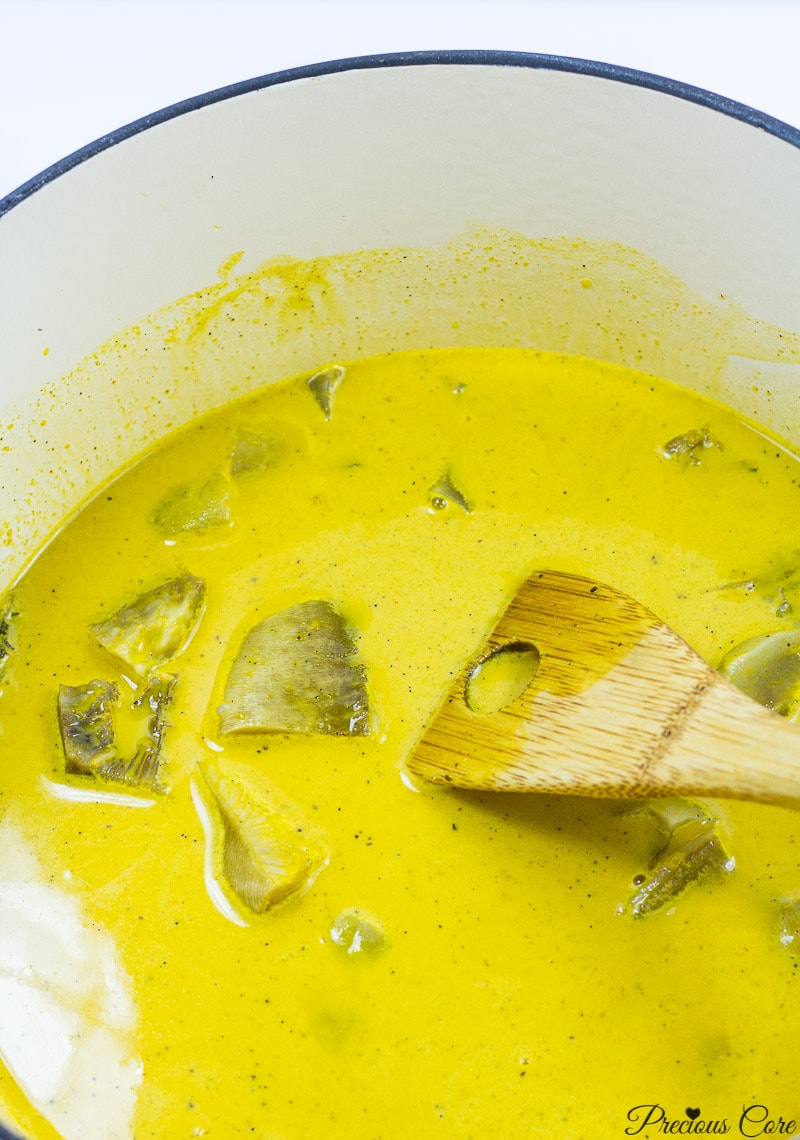 Achu soup is light and has a rich ethnic flavour: spicy, flavourful and hot if pepper is included. It is literally finger-licking good especially as the meal is eaten with the hands. No cutlery needed here. You just have to wash your hands and dig in!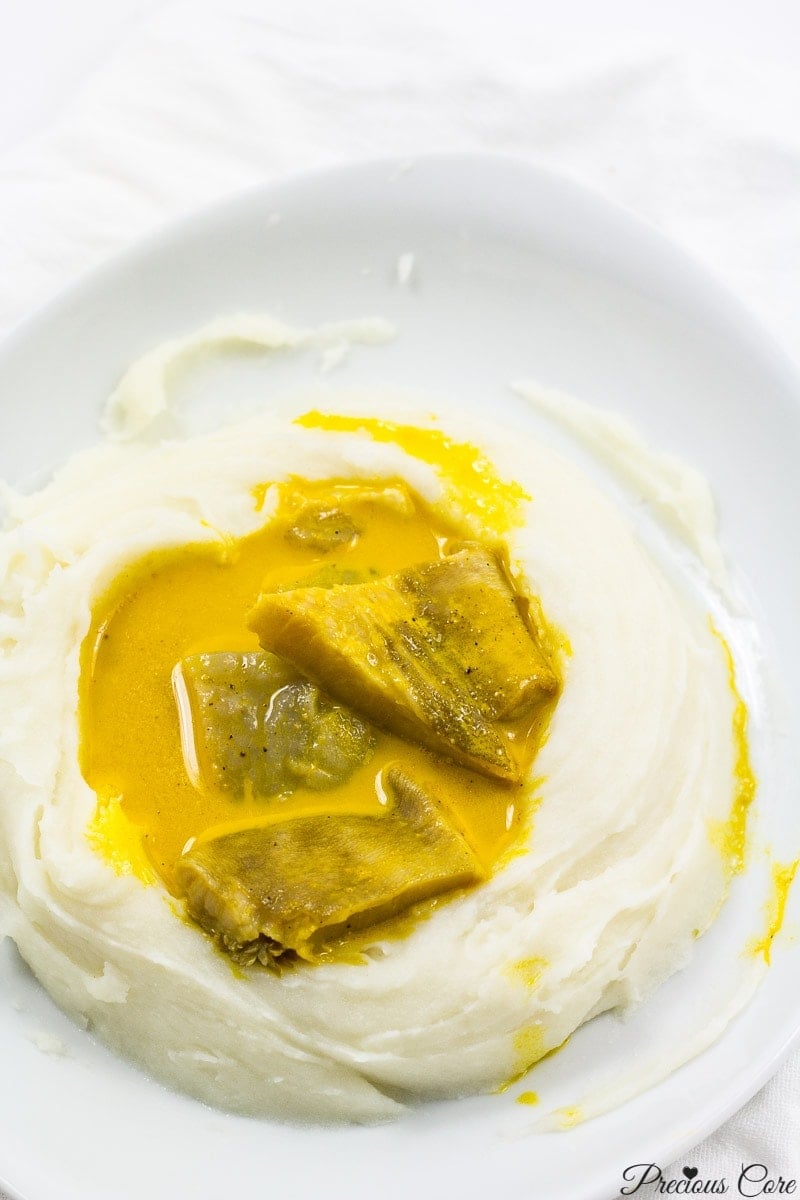 It is served in a very special way. A mound is formed on the plate with the pounded cocoyams then a hole is bored in the middle of the mound. That hole is where the soup is poured in. Achu is figuratively called, "one finger round the world" because you eat it by moving your finger round the pounded cocoyam mound and dipping it into the soup (you can watch me eating some in the video below.)

Growing up, I didn't like this because I thought it was "boring contri food." Now that I am older and wiser, oh man, I can never have enough! What was I thinking?? Sometimes I just want to drink up the epic soup. Besides, making achu just connects me to my Dad in a special way. Food awakens different emotions in us and to me, this spells HOME.
Pair your Achu meal with Egusi Pudding or Njama Njama and you are in for a treat!
Let's cook!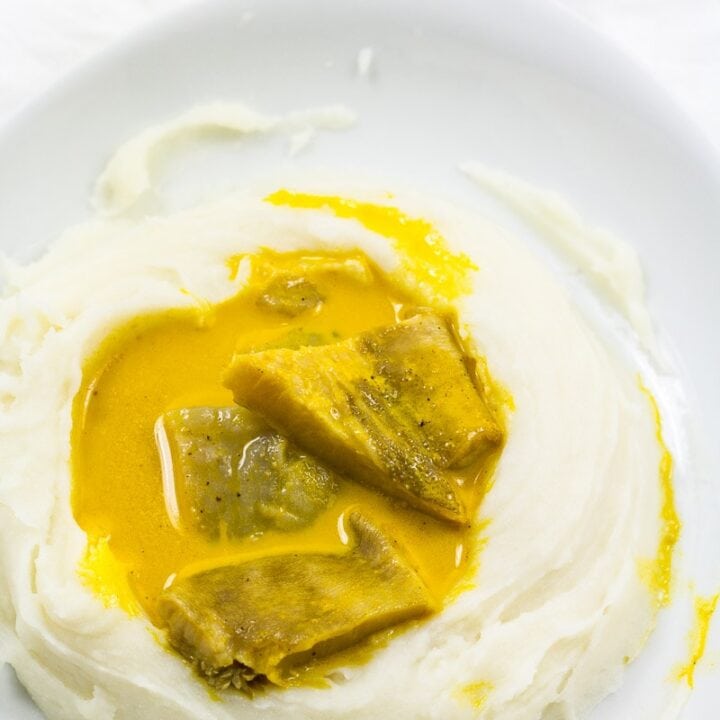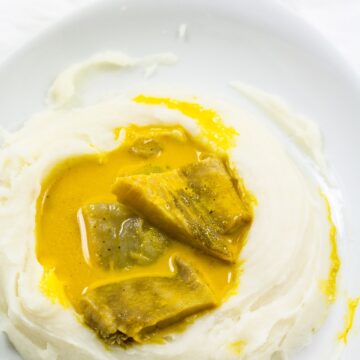 Achu and Yellow Soup
This is a Cameroonian traditional meal: pounded cocoyams eaten with a light yellow soup. It is intensely spicy - filled with ethnic flavours.
Ingredients
For the Achu Soup
3

pounds

boiled meats/fish of choice (I mostly make a blend of beef, beef skin (canda), beef tripes (towel), smoked/fried fish and mushrooms)

4

cups

beef stock (from the beef above)

1/2

cup

palm oil

2

teaspoons

baking soda (or kanwa/nikki)

2

teaspoons

powdered achu spices

2-4

small seasoning cubes (Maggi)

Salt to taste

1

hot (scotch bonnet) pepper - optional
For the Achu
4

pounds

small cocoyams (taro) - you could add in achu banana (unripe bananas) and some large cocoyams if you so wish
Instructions
To make the achu soup
Warm palm oil in a skillet (frying pan) for about 1 minute. Do NOT bleach it.

Pour the all ingredients except the meat and fish into a blender. Pulse until it is well mixed and yellowish. Taste to ensure that seasoning is perfect. Add a little salt if needed (I assume your beef stock is salted so you might not need to add a lot more salt).

You might find some bubbles at the top of the soup. That is totally okay. Pour over the meat/fish and mix. Alternately, you could keep the meat

seperately

from the soup and put it on the side while serving.

Serve with some achu!
To make the achu
Wash cocoyams and place in a pot with skin on. If also using large cocoyams ("mami coco") and "achu banana", place the large cocoyams at the bottom of the pot then add in the small cocoyams and top with the bananas.

Boil until cocoyams are soft and the skin comes off easily.

While they are still warm, peel and process to a paste in a food processor. Traditionally, they are pounded in a mortar but a food processor can do the job though it might not give you a very smooth paste.

Again, if you are using "achu bananas", start by processing them first then mixing the banana with the first two batches of cocoyams so they remain warm.

When it is all processed, place into a serving bowl and serve. You could also wrap the achu into lumps using warmed banana leaves or aluminium foil.
Notes
Achu soup keeps well for a couple of days.
To reheat, simply place the soup in a saucepan and warm it LIGHTLY, stirring from time to time. Do NOT let it get hot or boil the soup as the water will inevitably seperate from the stock. 
Achu soup thickens up when kept for a while so do not be surprised if you find it looking thicker than it was when just made.
Nutrition
Calories:
575
kcal
|
Carbohydrates:
66
g
|
Protein:
40
g
|
Fat:
17
g
|
Saturated Fat:
8
g
|
Polyunsaturated Fat:
2
g
|
Monounsaturated Fat:
6
g
|
Cholesterol:
85
mg
|
Sodium:
866
mg
|
Potassium:
2193
mg
|
Fiber:
10
g
|
Sugar:
2
g
|
Vitamin A:
392
IU
|
Vitamin C:
11
mg
|
Calcium:
134
mg
|
Iron:
3
mg
If you make this, be kind enough to share a photo and tag me on Instagram @preciouscore.
Which meal connects you to home?