MBONGO TCHOBI – CAMEROONIAN BLACK STEW
Published Dec 06, 2016
Updated Sep 26, 2018
Mbongo Tchobi is a spicy black stew typically eaten by the Bassa people of Cameroon. Its deliciousness has made it gain popularity in other parts of the country. The key ingredient is the intensely aromatic mbongo spice, from which the stew derives its name. It is burnt then ground before cooked into a sauce, hence the black colour.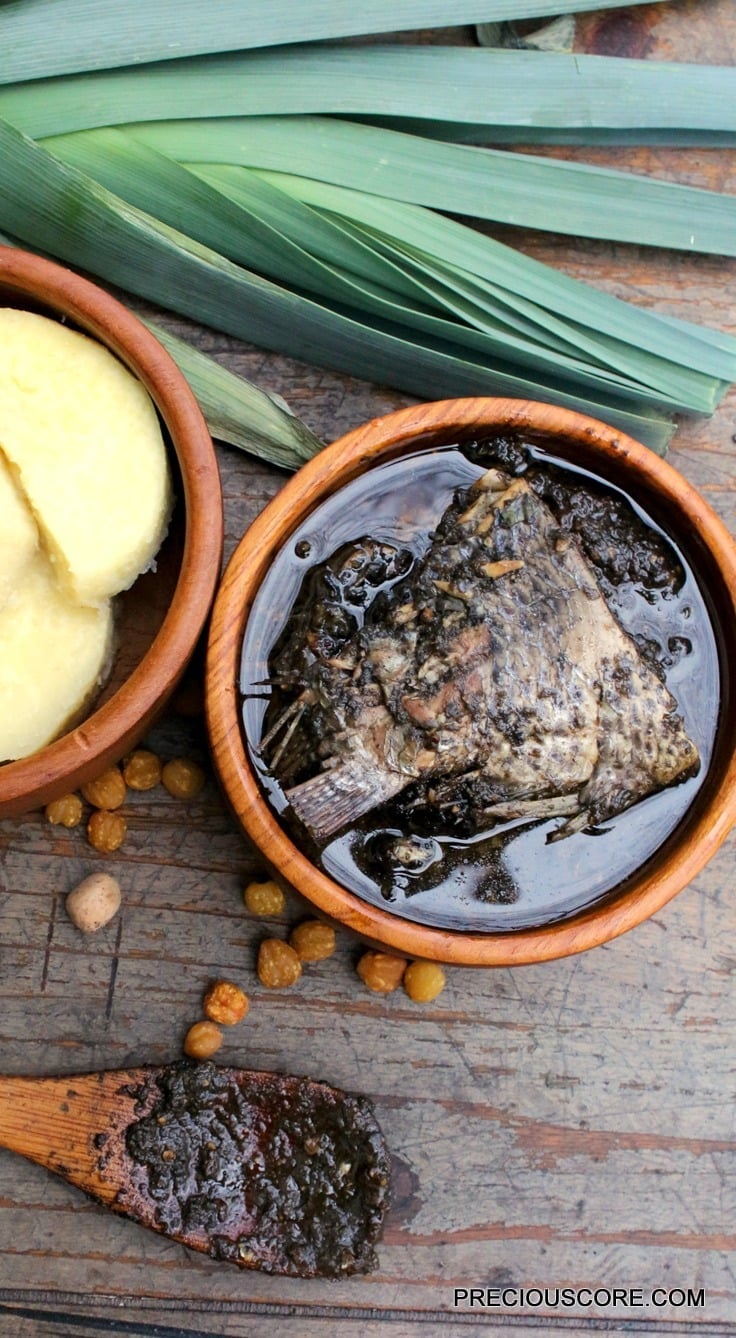 The already ground black spice is widely sold in Cameroon and colloquially called, "mbongo spice" or "epice mbongo" in French.
In other parts of the world, it can be gotten from select African shops. Other ingredients used in the stew include tomatoes, onions, garlic, pepper and a nutty seed called njangsa in Cameroon, typically used in making peppersoup.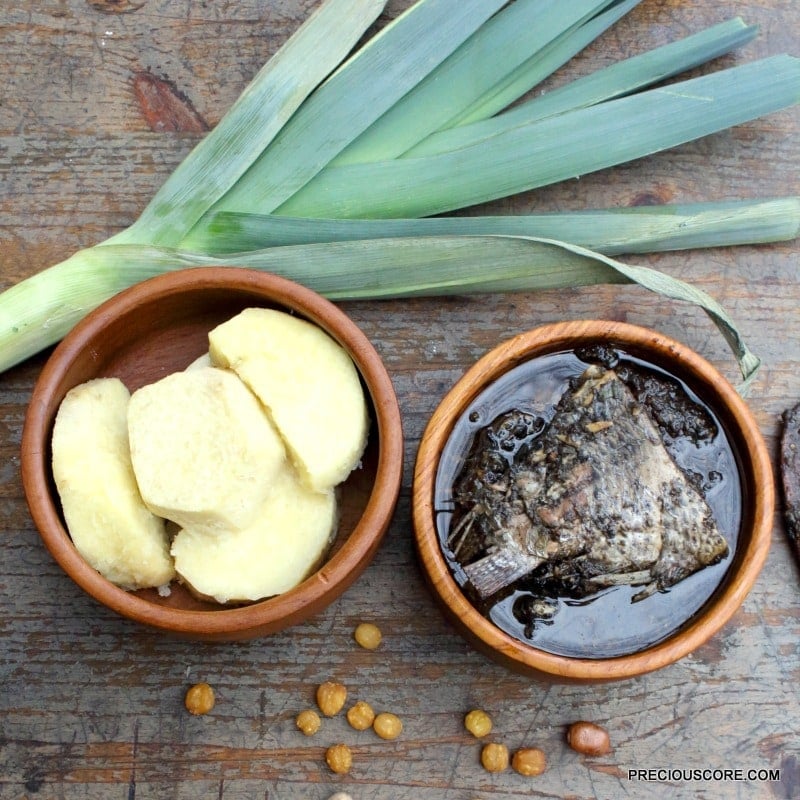 Mbongo, as it is fondly called is typically eaten with a starchy side like plantains or yams. I ate mine with white yam because there's nothing like some boiled crumbly African yam.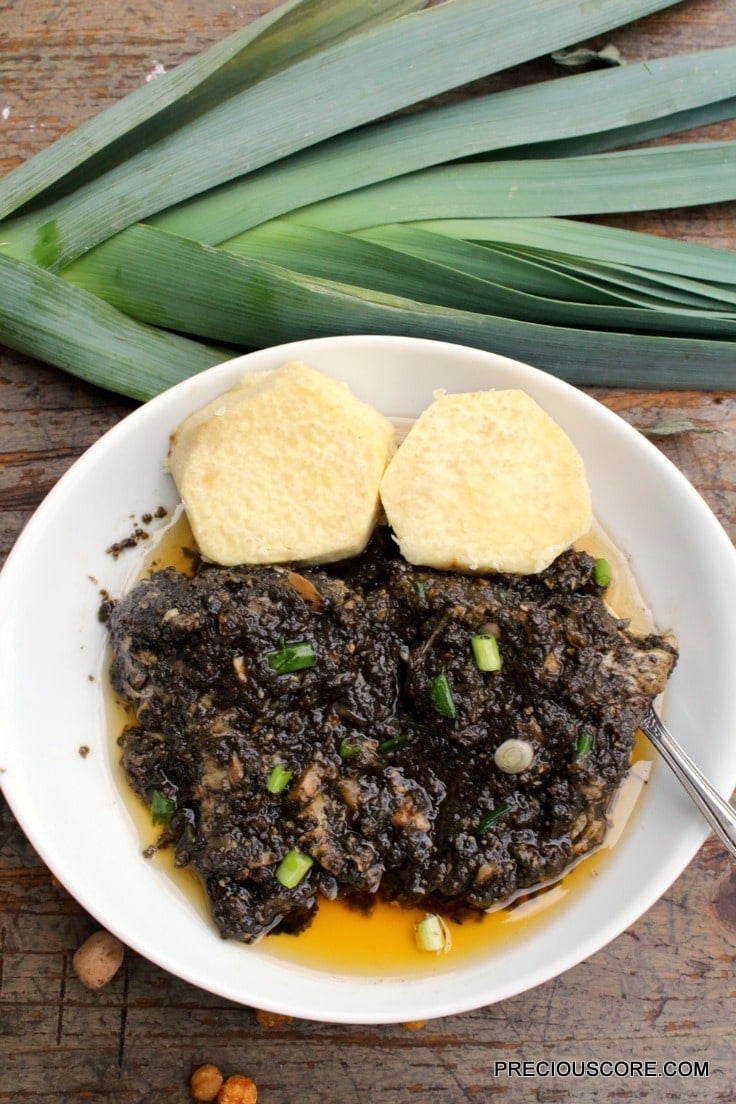 Watch me whip it up in the video below. Enjoy!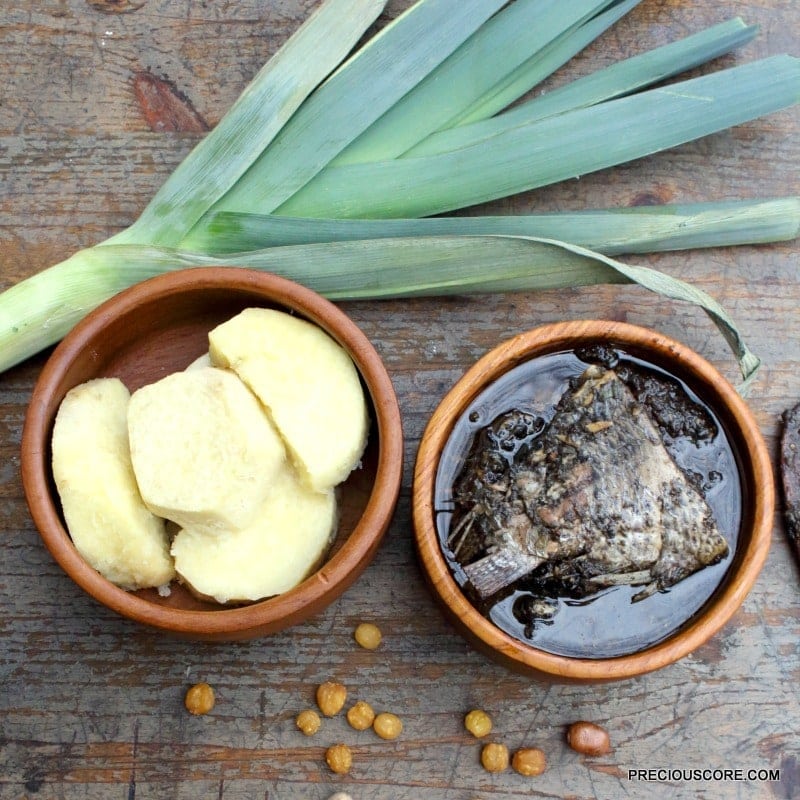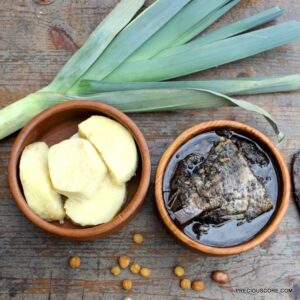 Mbongo Tchobi - Cameroonian Black Stew
This is a black stew typically eaten by the Bassa people of Cameroon. It is spicy, earthy and nutty.
Ingredients
2

large fish of choice (I used tilapia)

about 2 pounds

4

teaspoons

ground mbongo spice

30

seeds

njangsa

2

seeds

African nutmeg (Ehuru/Pebe)

peeled

3

small seasoning cubes (Maggi)

1 1/2

teaspoon

salt

2

large tomatoes (or four small ones)

roughly chopped

1

large onion

1/2

celery stalk

- chopped

1/2

stem of leeks

- chopped

7

garlic cloves- peeled

1/2

inch

ginger root - peeled

1/2- 1

cup

vegetable oil

1/4

teaspoon

white pepper (optional)

1

habanero/hot pepper (optional)

2

stems green onions (optional)

for garnishing
Instructions
Clean the fish and cut into steaks. Rinse well, sprinkle a pinch of salt over and set aside.

Put into a blender the tomatoes, onions, garlic, ginger, leeks, celery, African nutmeg, njangsa, mbongo spice, half the onion together with half a cup of water. Blend into a paste.

Pour the blended mixture over the fish and let it rest.

In a pot, heat vegetable oil. Chop the other half of onion and saute in the oil until fragrant.

Add fish and spice mixture into sauteed onions. Scatter Maggi cubes over it and salt. If using white and hot pepper, add them at this stage.

Cover and let it cook for about 15 minutes. After that, open and taste to make sure the seasoning is perfect. At this point, you could add a little water to lighten up the stew if it is too thick for you. Allow to cook for another five minutes.

Serve warm with boiled yams or plantains.
Notes
You could use chicken or pork instead of fish in this recipe.
If you wish, blend your hot pepper together with the other ingredients. If not, add it whole.
Nutrition
Calories:
572
kcal
|
Carbohydrates:
7
g
|
Protein:
13
g
|
Fat:
56
g
|
Saturated Fat:
9
g
|
Polyunsaturated Fat:
32
g
|
Monounsaturated Fat:
13
g
|
Trans Fat:
0.4
g
|
Cholesterol:
29
mg
|
Sodium:
1095
mg
|
Potassium:
379
mg
|
Fiber:
2
g
|
Sugar:
3
g
|
Vitamin A:
1180
IU
|
Vitamin C:
12
mg
|
Calcium:
35
mg
|
Iron:
1
mg