MY MINIMALIST WARDROBE: HOW I DECLUTTERED MY CLOSET
Published Jan 31, 2017
Updated Feb 08, 2017
154. That's the number of pieces of clothing I found in my wardrobe, excluding the handful of dirty ones. Yes, I counted. To tell you the truth, I thought the number would be farrr bigger than this. Because the place looked too crowded with some blouses sharing the same hanger and some hangers bent due to the weight of clothes on them. Sometimes I dreaded bringing more clothes back from the laundry because there was no place to keep them!
Still, with all these 154 clothing, I always said, "I don't have what to wear!" I was wearing 20% of my clothes 80% of the time. So I created a minimalist wardrobe in week two of my minimalism journey. Right now, that space is easier and more functional for me. Of all the 154 items, there were very few in there that I actually loved. Those make up some of the ones I have retained. And it feels so good because if I want to go out right now, I know exactly what I am going to wear. Read on if you are interested in knowing how I created my minimalist wardrobe.
First, I read a billion blog posts on the internet on how to create a minimalist wardrobe. Okay, I actually read about 6 because reading a billion won't be minimalist at all. I gathered many ideas from the blog posts so I knew exactly where to begin. I also learned that another name for a minimalist wardrobe is a capsule wardrobe. Who knew? But the thing I read that stroke me most is chapter 2 of the book, 7
. In it, the writer approaches wearing fewer clothes from a Jesus perspective. She talks about how our focus should be on our integrity and how much we can be Christlike, not how cute and impressive we look. I gleaned so much from all the things I read then I proceeded to practice.
I marched into my bedroom with determination then put on some good music to make the whole process interesting. I took out everything from my closet. Every single thing. I placed them on my bed. I rejoiced when all my hangers were dangling free and my closet was empty. Then I cleaned my closet.
Next, I opened up three big plastic bags.
Bag 1 was for the clothes I somewhat love but do not absolutely love: Making-up-my-mind bag
Bag 2 was for the clothes I want to donate: Donation bag
Bag 3 was for worn out clothes that were beyond wearable so they were to be thrown: Trash bag
There was a fourth set of clothes: The clothes I absolutely wanted to retain. I placed those ones back into my cleaned-out closet.
I ended up adding a second and third bag for donation because there were quite a few clothes in there that were good but not good fits for me.
I also put away my making-up-my-mind bag. I will keep that for a couple of months and see if I still want the clothes in there. If not, I will donate it.
Another thing I did was box up all my Ankara (African fabric) clothes that still fit and I love. I have a sentimental attachment to those so they are not going anywhere!
Here are the results, people: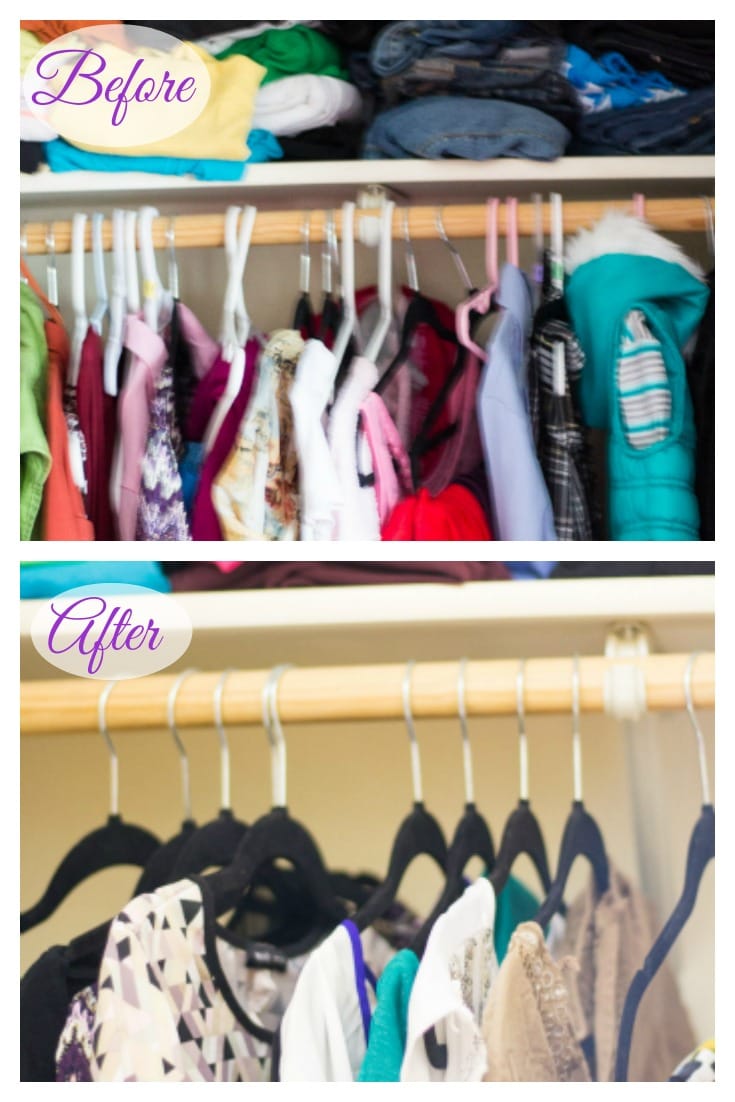 So here are the things I now own:
3 coats – because this is Minnesota and it is coldddd
2 dressy trousers/pants
2 jean trousers/pants
3 short sleeve blouses
4 long sleeve blouses
5 scarfs – I have a problem letting go of these
2 dresses
2 boots
1 pair of flats
2 pairs of sandals
Now my innerwears, at-home clothes and exercise clothes are not included here. I also have a few clothes in the laundry which I will determine whether to add to this, keep in my making-up-my-mind bag or giveaway. So the clothes noted above are those for wearing to get out of the house.
Also worthy of note is the fact that I haven't decluttered my jewellery yet. However, I plan to do that soon.
The wardrobe decluttering process took me two hours from start to finish, with lots of good music to keep me going. BUT I decluttered my shoes days before. If I had to do shoes and clothes on the same day, it would have taken me more time.
I used to dream of having a large walk-in closet with lots of beautiful clothes for me to pick and wear at my leisure. Now, I do not have that dream anymore. I only want a few clothes that are practical, wearable and I absolutely love.
If you choose to do this, note that minimalism is not something that can be fitted into a can. It is a lifestyle you adapt to suit your needs. This is the number of clothes and shoes that works for me. It may be more or less for you.
I plan on adjusting my wardrobe every season to suit my needs because the season changes here are drastic. When I do a change, I will probably blog about it under "Beauty N Style" here on the blog.
Now my kitchen and wardrobe are decluttered. I am moving next to belongings and I will share how that goes next Tuesday.
Hope you enjoyed reading. Is this something you would consider doing?
P.S. It is TEMPTING to go shopping right after you declutter because you feel like you deserve to get new stuff for youself. This will only create a vicious circle. I decided to make the clothes I presently have work for me. Flee from the temptation of shopping after decluttering!