3 Ingredient Biscuits
Published Oct 30, 2022
Updated Oct 13, 2023
3 Ingredient Biscuits are made with flour, butter and, Sprite! They are so fluffy, ridiculously easy to make, and make the perfect breakfast or side dish! These biscuits are ready in 30 minutes from start to finish!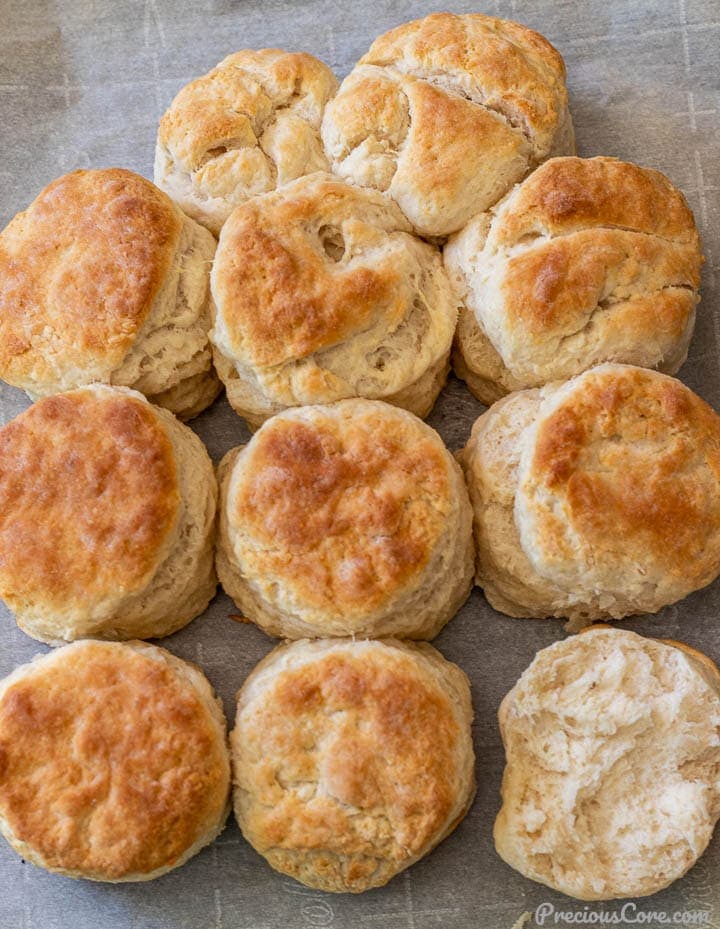 I get super excited when sharing a quick and easy recipe with you guys. Like these 3 ingredient biscuits. Yes, just 3 ingredients! Who says making insanely delicious food has to be hard?!
I make biscuits all the time in various ways. Check out my Homemade Buttermilk Biscuits and Cream Cheese Biscuits. Making biscuits from scratch is super easy!
You can't beat fresh homemade biscuits for breakfast in the morning. Serve them with some Apricot Preserves, Healthy Strawberry Jam, or some butter so the butter can melt into the warm biscuits. So good!
These biscuits are also the perfect side dish for Thanksgiving or Christmas. They only take a few minutes to prep so you can free up time to do other things.
Ingredients for 3 Ingredient Biscuits
1. Self-Rising Flour. Self-rising flour is flour that already contains baking powder and a bit of salt. (See below for instructions on how to use regular flour if you do not have self-rising flour.)
2. Cold Salted Butter. Butter gives biscuits great flavor! The butter used should be cold and only taken out of the refrigerator when it's time to use it.
3. Lemon-lime Soda. Lemon-lime soda with the two most popular brands being Sprite or 7up might be an unusual ingredient but the soda provides much-needed moisture to biscuit dough. The gas that forms bubbles in the drink acts like a leavening agent, causing the biscuits to rise.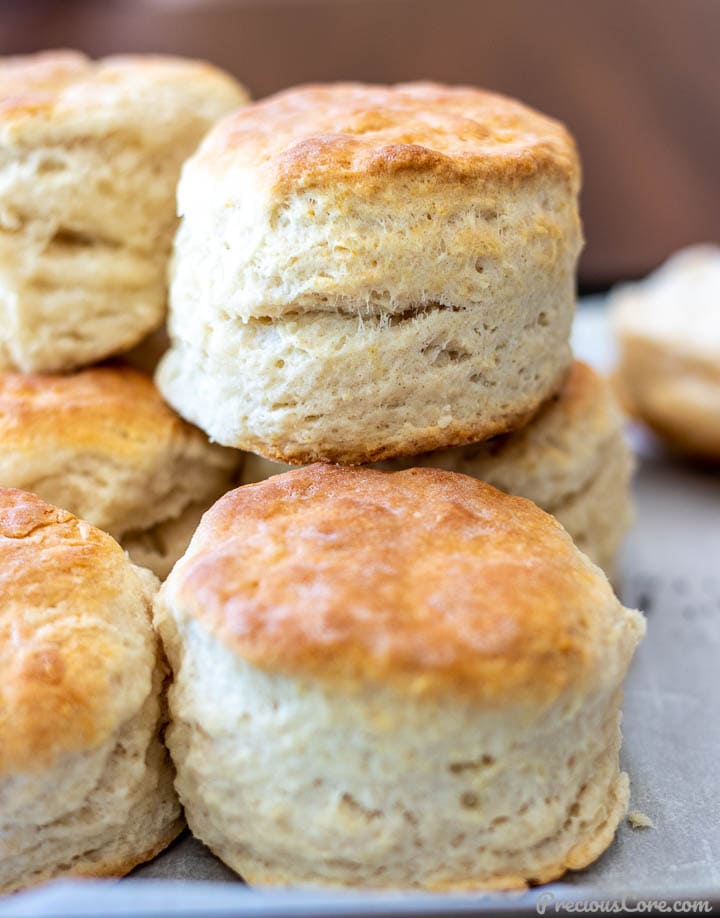 Substitutions
Flour: You could use regular flour for these biscuits. See directions below on how to make your own self-rising flour using flour, baking powder, and salt.
Milk or Buttermilk: You could substitute the soda with milk or buttermilk. 3 ingredient buttermilk biscuits are equally good!
Shortening: Try using shortening instead of butter.
How To Make Biscuits With 3 Ingredients
1. Grate the cold butter into a large mixing bowl using the large holes of a box grater.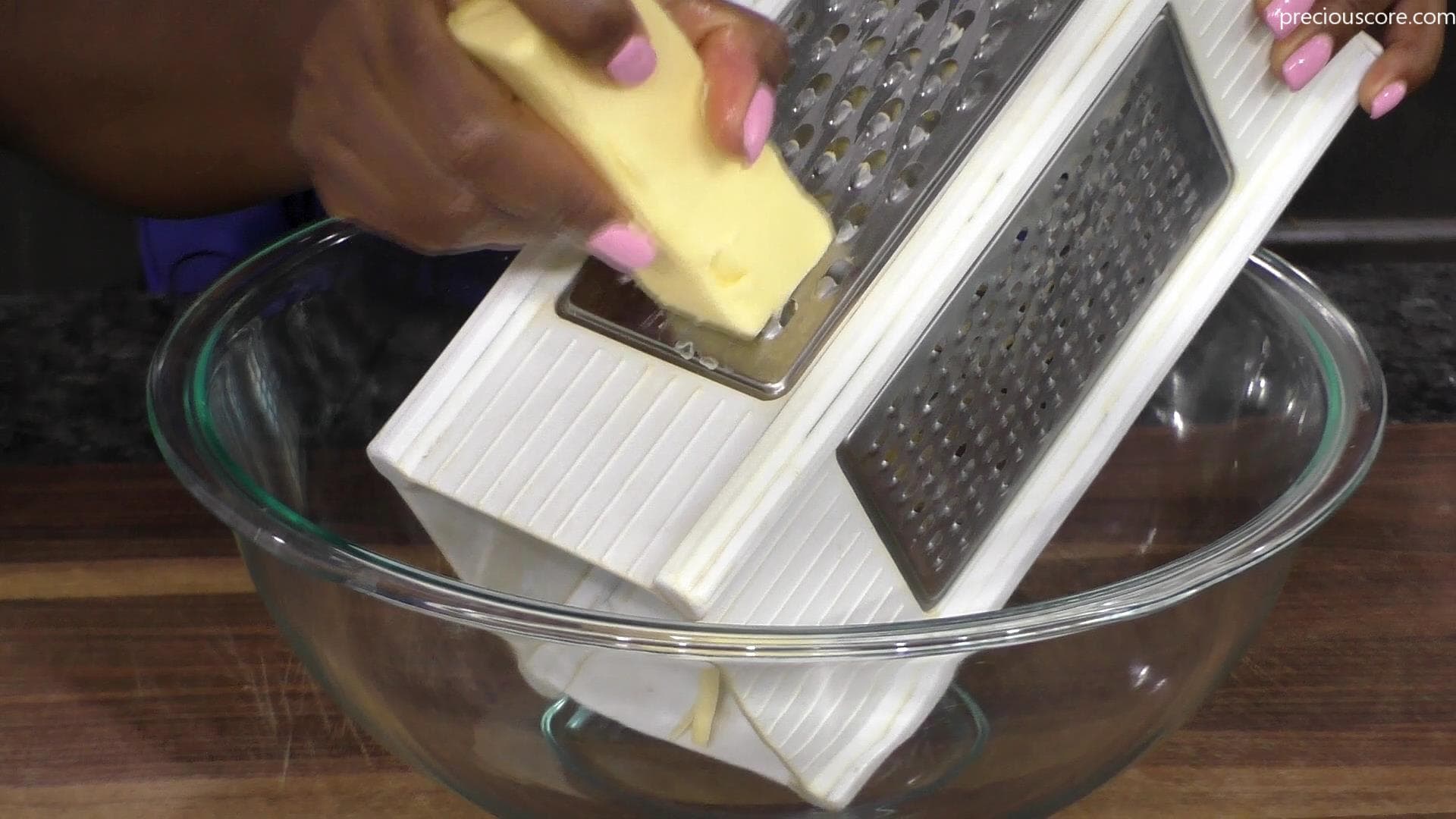 2. Add in flour and mix together butter and flour using your fingertips until the butter is evenly distributed across the flour.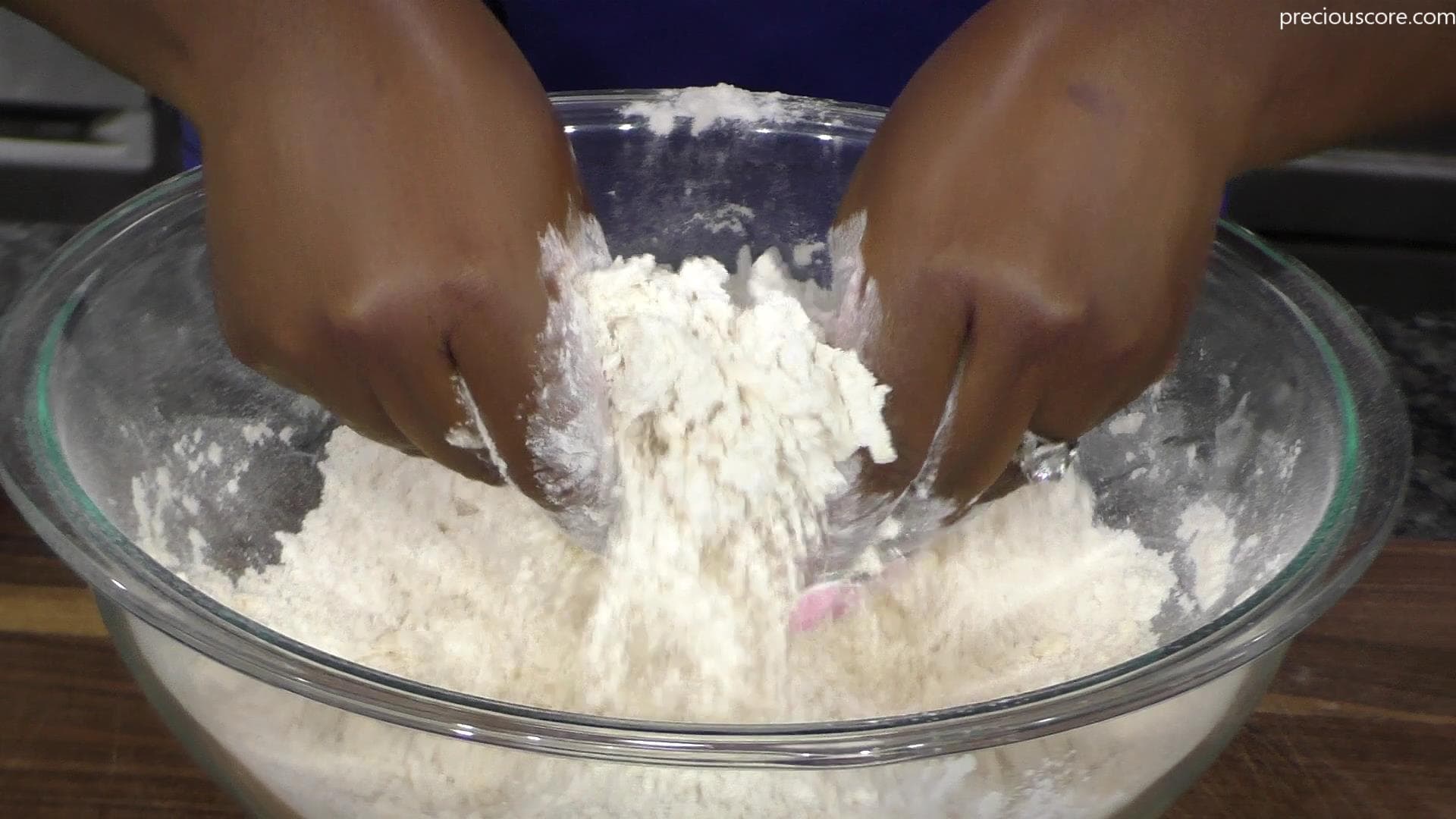 4. Add Sprite or 7 Up to the butter-flour mixture and mix gently to form a dough, adding more soda as needed.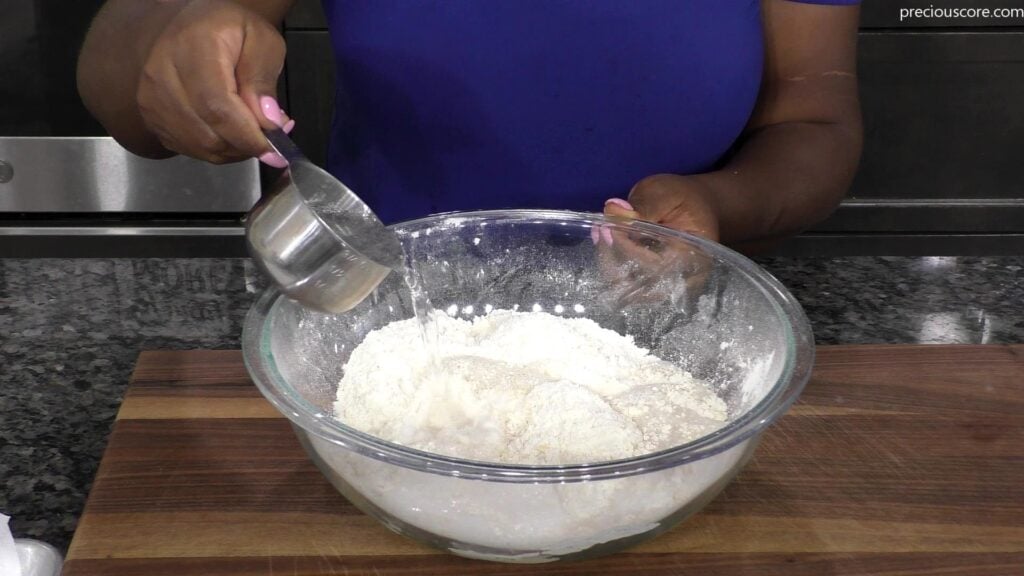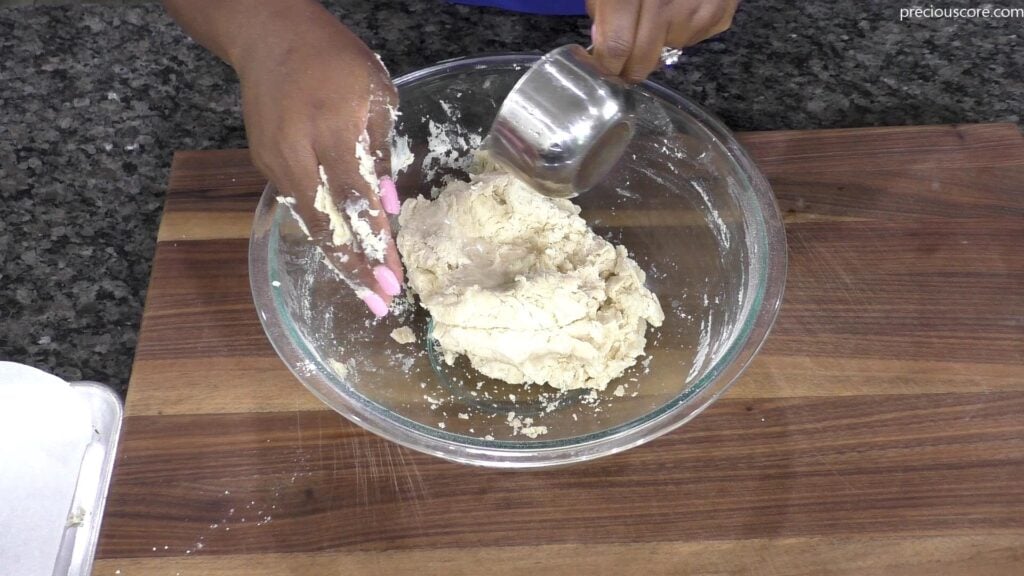 5. Place the dough on a generously floured board and roll it into half to 3/4 inch thick.
6. Cut dough into rounds using the rim of a glass, cup or a 2.5-inch biscuit cutter. Here is the biscuit cutter I use.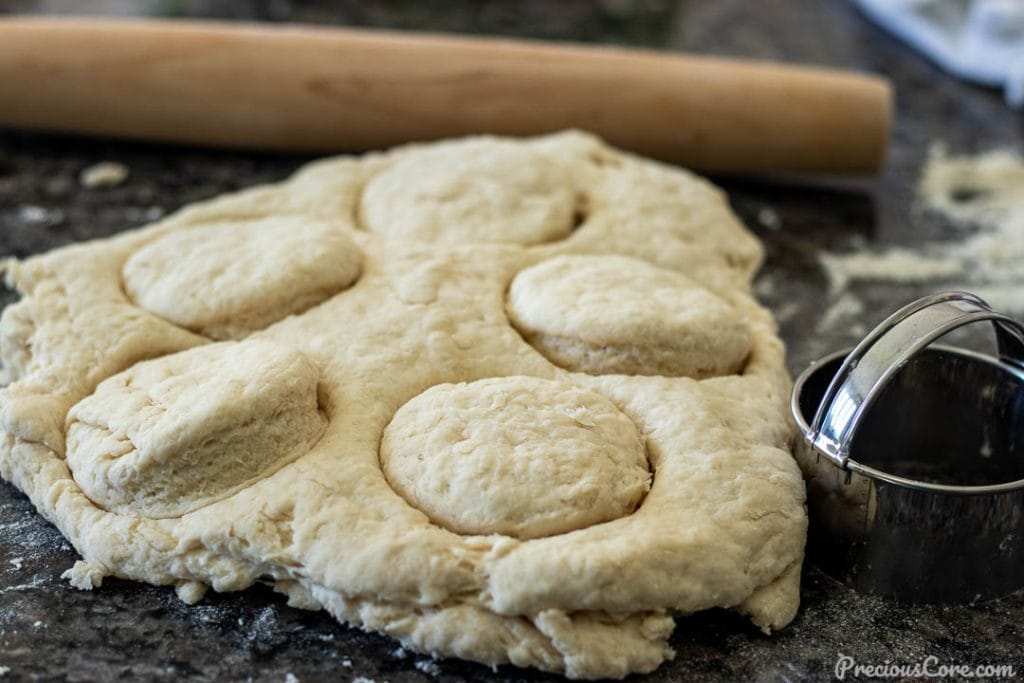 7. Place the cut-out dough on a baking sheet lined with parchment paper.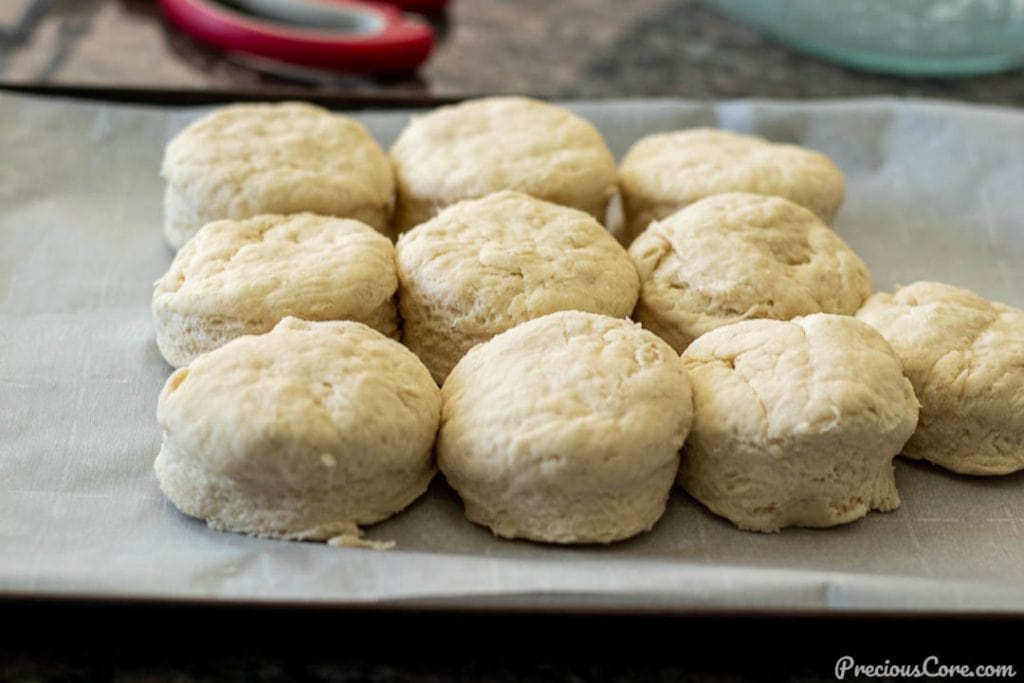 8. Bake until golden brown.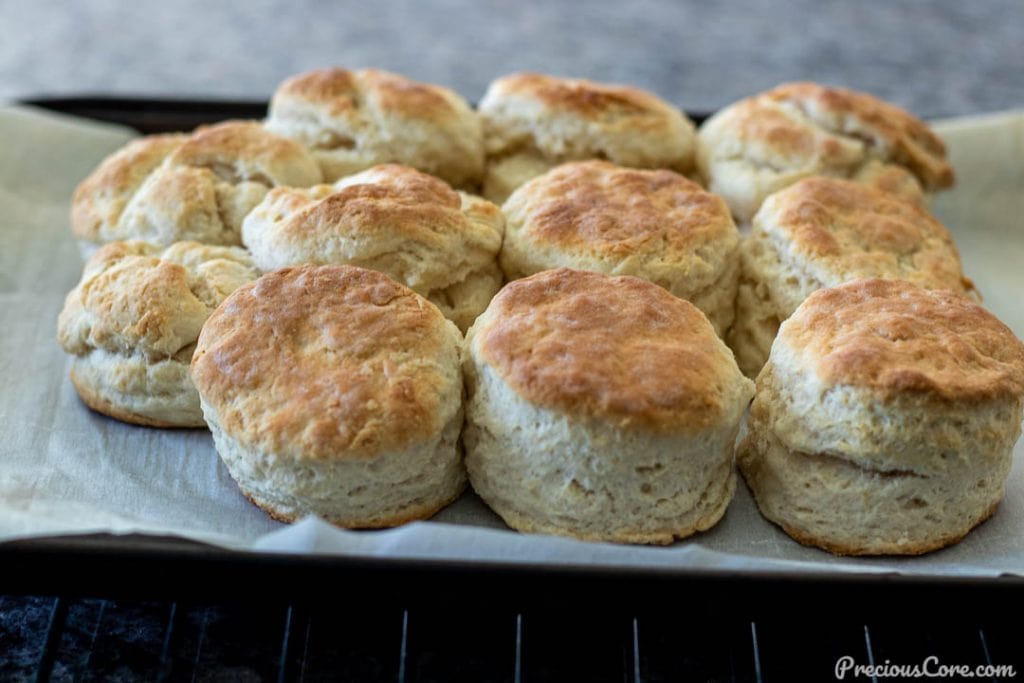 Also, check out this recipe for Cornbread Without Buttermilk.
3 Ingredient Biscuits Without Milk
Yes, you can make 3 ingredient biscuits without milk. No milk or buttermilk is needed for this recipe!
I came up with this recipe because I wanted to make biscuits for breakfast but there wasn't any milk at home. But there was Sprite! So I used Sprite instead.
The biscuits turned out quite good! My daughter even said they were her favorite biscuits!
Biscuit Expert Tips
Use cold butter always when making biscuits. Cold butter will create air pockets as the biscuits bake, creating tall biscuits with flaky layers. Never use softened butter for biscuits.
Grate the butter using the large holes of a box grater so it easily incorporates with the flour. If you don't have a box grater, try cutting the butter into pea-sized shapes and incorporate it into the flour using a pastry cutter.
Never overmix biscuit dough. Unlike yeasted dough, you do not need to knead biscuit dough. Mix until just combined. If you overmix biscuit dough, it will toughen up.
Roll biscuit dough into a triangle and fold in thirds to create layers. Repeat the process 3 times for beautifully layered biscuits.
If your biscuits are not golden brown by the time they are done, turn on the oven broiler and let it brown the biscuits for about 1 minute or until golden brown.
Brush biscuits with melted butter as soon as they come out of the oven for them to look glossy and more appealing
Frequently Asked Questions
Below, I have answered some of your frequently asked questions about these 3 Ingredient Biscuits.
How Much Baking Powder And Salt Should I Add If I Only Have Regular Flour?
If you only have regular flour, you could still make these biscuits! You'll have to add the baking powder and salt yourself. For every 1 cup of all-purpose or plain flour, add 1 teaspoon of baking powder and 1/4 teaspoon salt to make your own self-rising flour. Note that you should use aluminum-free baking powder here so the biscuits don't have an unwanted metallic taste.
This recipe calls for 3 cups of flour so you will need to add 3 teaspoons of baking powder and 3/4 (three-quarter) teaspoon of salt in addition to the 3 cups of flour.
Note: I have changed my ratio of baking powder to flour from 1 1/2 teaspoons per cup of flour to 1 teaspoon per cup of flour. I found that the former ratio contained way too much baking powder and resulted in biscuits that had an undesirable after-taste.
How Do I know Baking Powder is Aluminum-Free?
To check if baking powder is aluminum free, check the ingredient list. If a baking powder brand contains aluminum, it would be listed as 'sodium aluminum phosphate' or 'sodium aluminum sulfate' on the list of ingredients. Or the baking powder will say, 'aluminum-free'.
Are biscuits made with Sprite too sweet?
No, biscuits made with Sprite aren't too sweet at all! They are only slightly sweet and perfect for serving in both sweet and savory dishes.
Are these scones?
No, these aren't scones, they are American biscuits. Scones are British and they contain eggs while biscuits don't contain any eggs.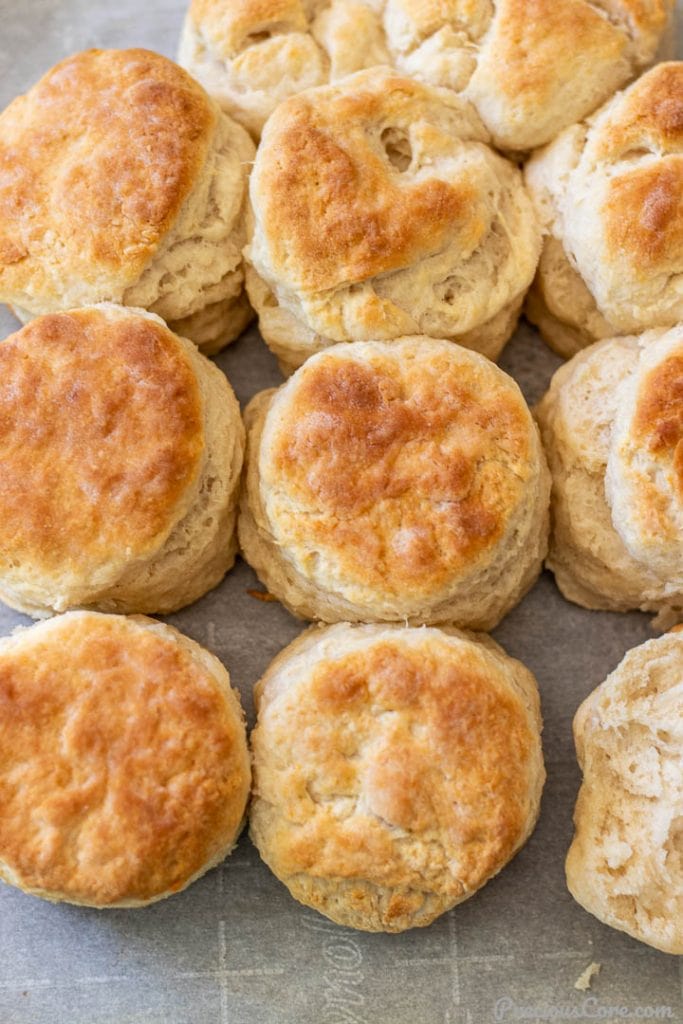 What To Serve With Biscuits?
1. Jam. Check out my homemade Strawberry Jam, my Mixed Berry Jam and my Pineapple Jam recipes.
2. Butter. Biscuits served warm with butter slathered on top are so good! I love them with some good Kerrygold butter!
3. Whipped Cream. Consider pairing jam with whipped cream on biscuits for an incredible experience.
4. Ham and Cheese. Fill biscuits with ham and cheese to make breakfast sandwiches.
5. Gravy. Biscuits and gravy are a great savory meal.
Tools For Making Homemade Biscuits (affiliate)
Side note: I don't understand people who throw away dough just because it doesn't form a biscuit the same size as others. I always attach whatever dough is left after cutting the biscuits to the side of my batch of 'neat' biscuits. That way I don't waste anything and I have a cook's treat! By the way, the last biscuit you make is always the ugliest!
More Breakfast Recipes To Try
If you make this 3 Ingredient Biscuit recipe, please rate it below. I would love to hear how it turns out for you!
Enjoy, friends!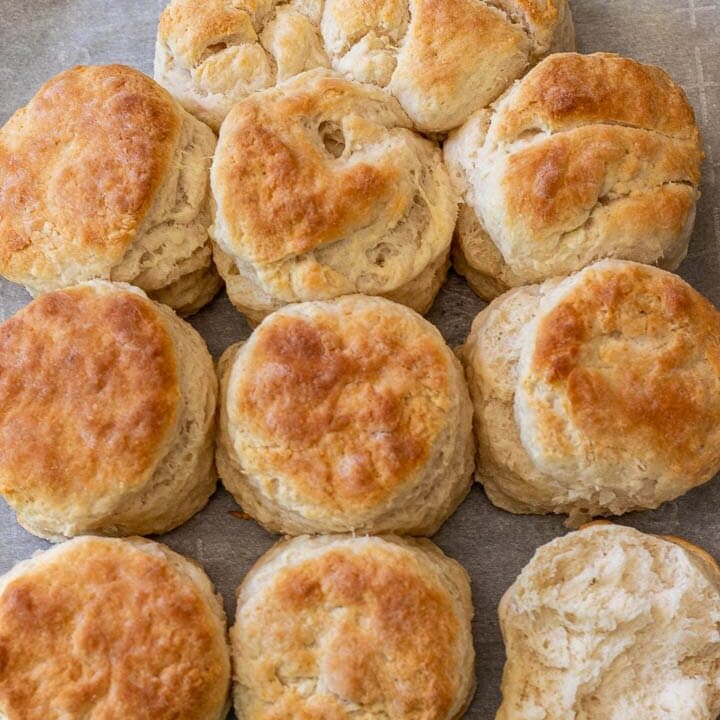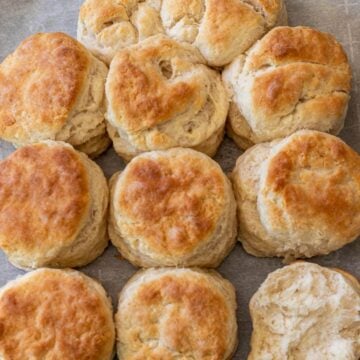 3 Ingredient Biscuits
Only 3 ingredients and you have tasty biscuits. These 3 ingredient biscuits are sure to please for breakfast, brunch, potlucks, picnics or holiday meals. They can be served sweet with jam and whipped cream or savory with gravy or as a side dish. They are so easy to make and I hope you enjoy them as much as we do!
Ingredients
8

tablespoons

salted butter (110 grams)

cold

3

cups

self-rising flour (375 grams)

See recipe notes on how to use regular flour if that's what you have

3/4

cup

Sprite or 7 Up (180 ml)
Instructions
Preheat oven to 400 degrees F (200 degrees C).

Grate cold butter into a large mixing bowl.

Add in self-rising flour and gently mix the butter and flour with finger tips until combined. Do not overmix.

Add in the Sprite or 7UP and mix to form a dough. Stop mixing once all ingredients are combined. If the dough is tough and not coming together easily, add more soda in litte bits until the dough is combined.

Sprinkle flour generously over a working surface. Place the dough on the surface and gently roll into a 1/2 to 3/4 inch thick rectangle. Cut into 2.5 inch circles.

Place the cut-out dough close together (all portions should be touching) on a baking sheet lined with parchment paper.

Bake in preheated oven for about 12 minutes until golden brown.

Remove and brush the top with melted butter if desired.
Notes
Golden brown biscuits: If your biscuits don't turn out brown on top, you could turn on the oven broiler for 1 minute to brown the top. Watch the biscuits closely though because the oven-broiler could quickly burn them.
Regular flour: If you only have regular flour, you could still make these biscuits! You'll have to add the baking powder and salt yourself. For every 1 cup of all-purpose or plain flour, add 1 teaspoon of baking powder and 1/4 teaspoon salt to make your own self-rising flour. To avoid the biscuits having a metallic after-taste use aluminum-free baking powder.
Measuring the Sprite or 7Up: When measuring the soda for the biscuits first pour it into a cup, let the bubbles settle then add more soda to have the correct quantity.
Nutrition
Calories:
223
kcal
|
Carbohydrates:
29
g
|
Protein:
5
g
|
Fat:
10
g
|
Saturated Fat:
6
g
|
Polyunsaturated Fat:
1
g
|
Monounsaturated Fat:
2
g
|
Trans Fat:
0.4
g
|
Cholesterol:
24
mg
|
Sodium:
75
mg
|
Potassium:
40
mg
|
Fiber:
1
g
|
Sugar:
2
g
|
Vitamin A:
281
IU
|
Calcium:
9
mg
|
Iron:
0.3
mg
This post contains affiliate links.