Easy Crepes
Published May 06, 2020
Updated Nov 26, 2022
These are buttery tender Easy Crepes that you can make in no time. Just dump all the ingredients in a blender and blend your way into breakfast or brunch goodness! (Includes video!)
I topped these homemade crepes with cinnamon sugar but you can enjoy them as is (they are so good! Or top them with any toppings you like! Or fill them with any fillings you like! (See below for ideas!)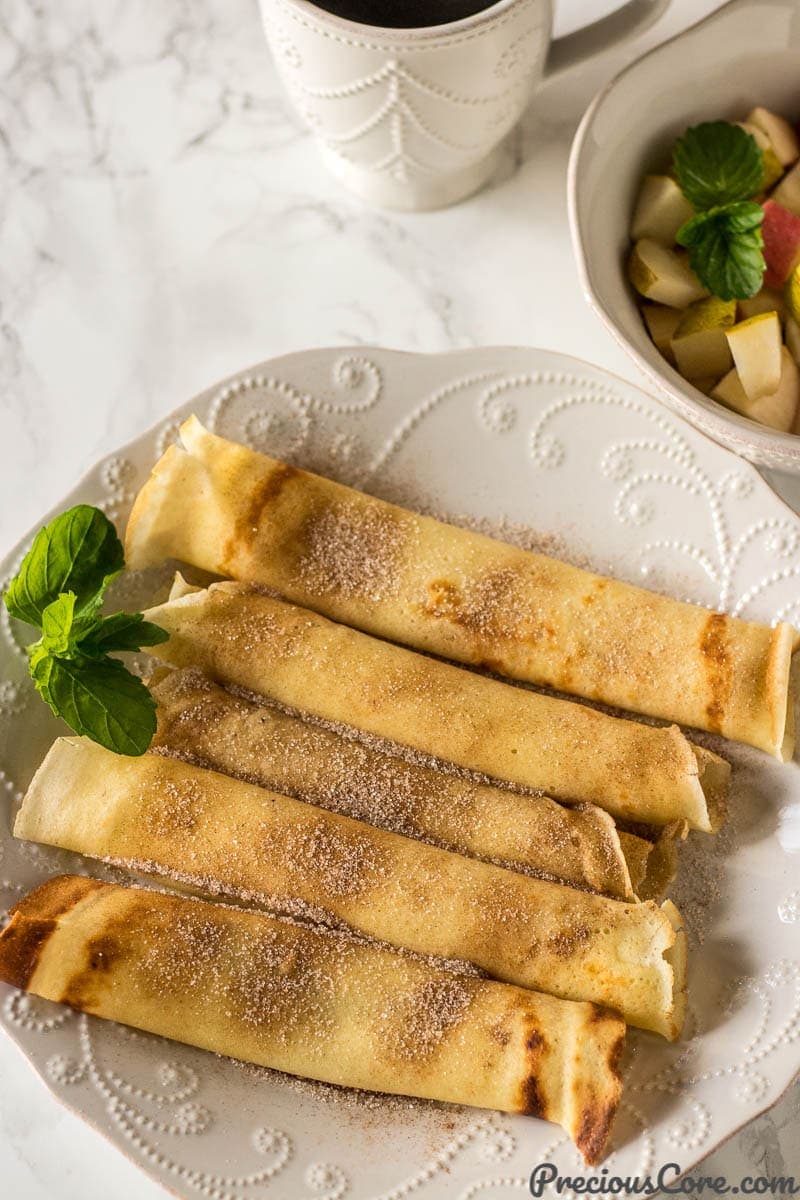 We did something crazy this week. And by something crazy I mean we packed a few of our things into our car and drove across six states from California to Minnesota. Hmmm! I feel tired just typing that. But the journey was worth it.
I loved seeing the different states and now I can claim that I have been to 7 states in the USA, right? In all the tiredness, attending to needy kids, taking bathroom breaks et al, I still had space in my brain to think about cooking.
I thought about the foods I will like to cook while here at my friends' place in Minnesota. Like these Easy Crepes.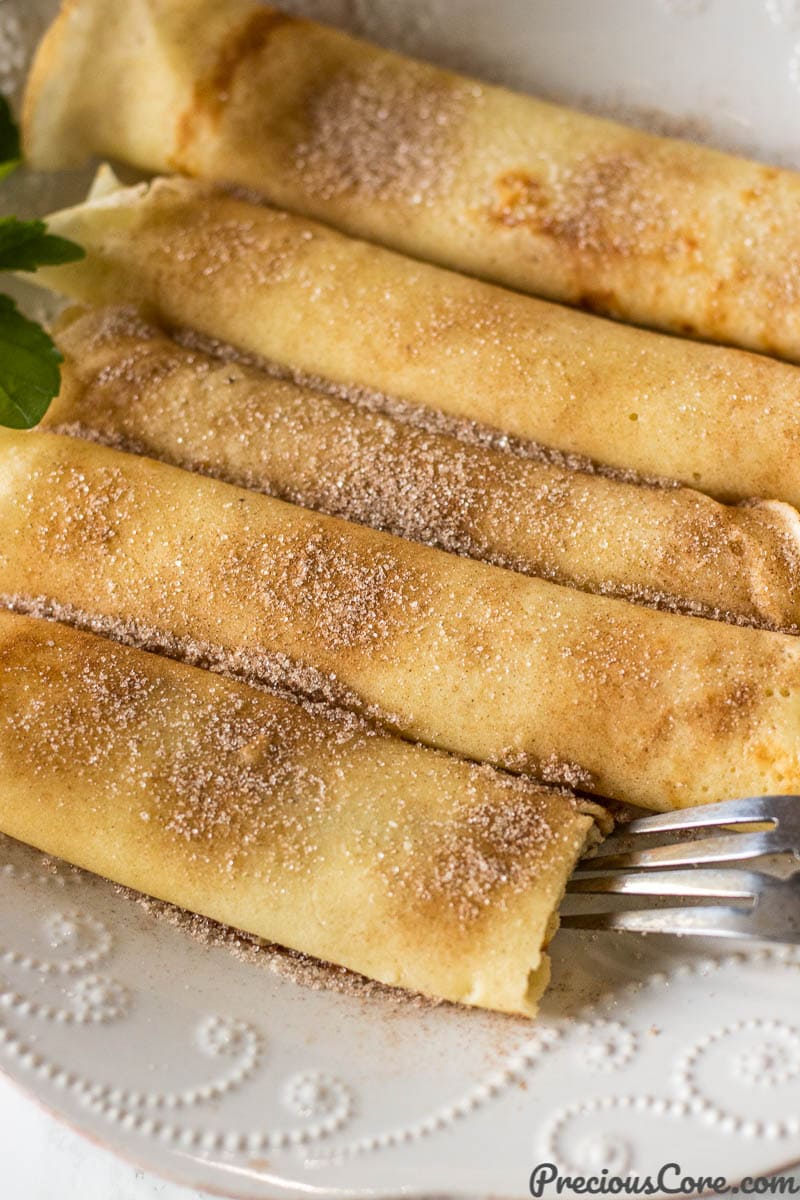 It doesn't get easier than this, friends. Just dump all the ingredients into a blender then blend your way into crepe batter perfection.
You could store the batter in an airtight container in the fridge for up to a week then you just take out the batter and cook the crepes when you are ready. Or you cook the crepes right after making the batter!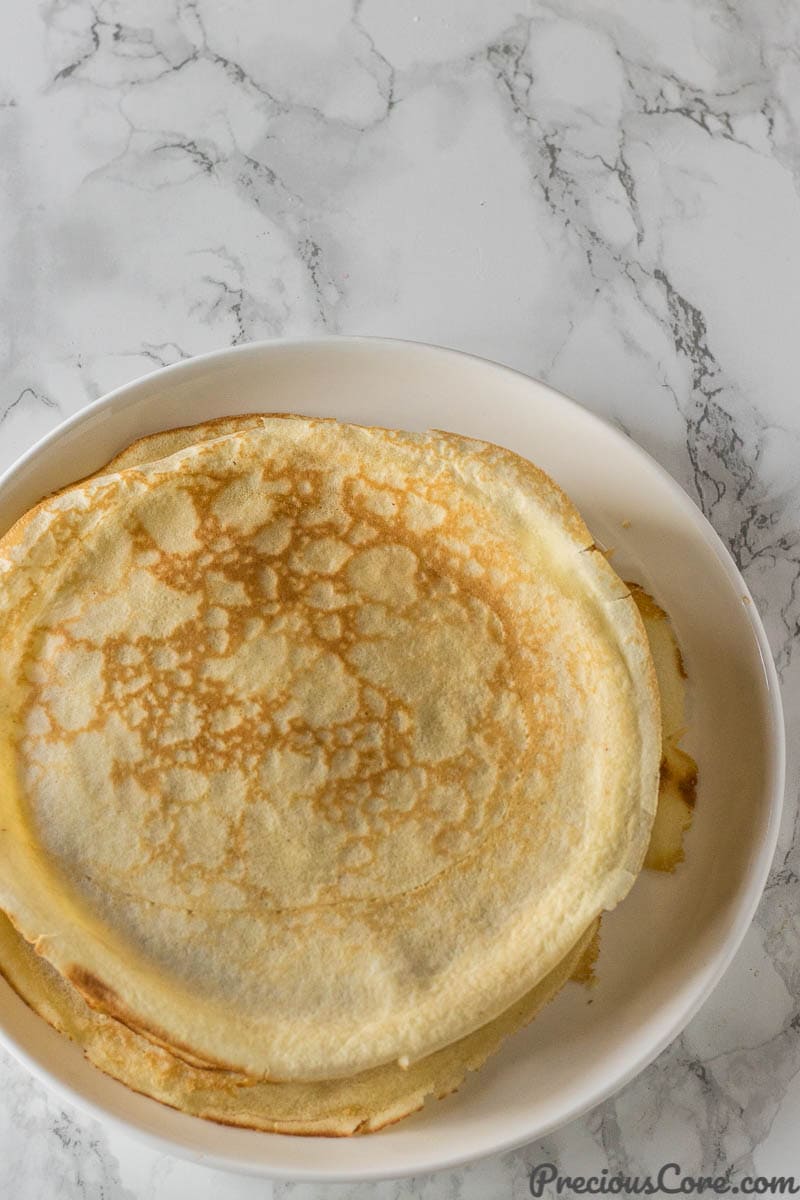 I love how these crepes look sophisticated when in fact they are some of the easiest things you will ever make. They are quite similar to African pancakes but they are lighter.
If you cook them long enough to get some color, they get slightly crispy around the edges. My kids love those crispy edges and let me not lie, I love them too!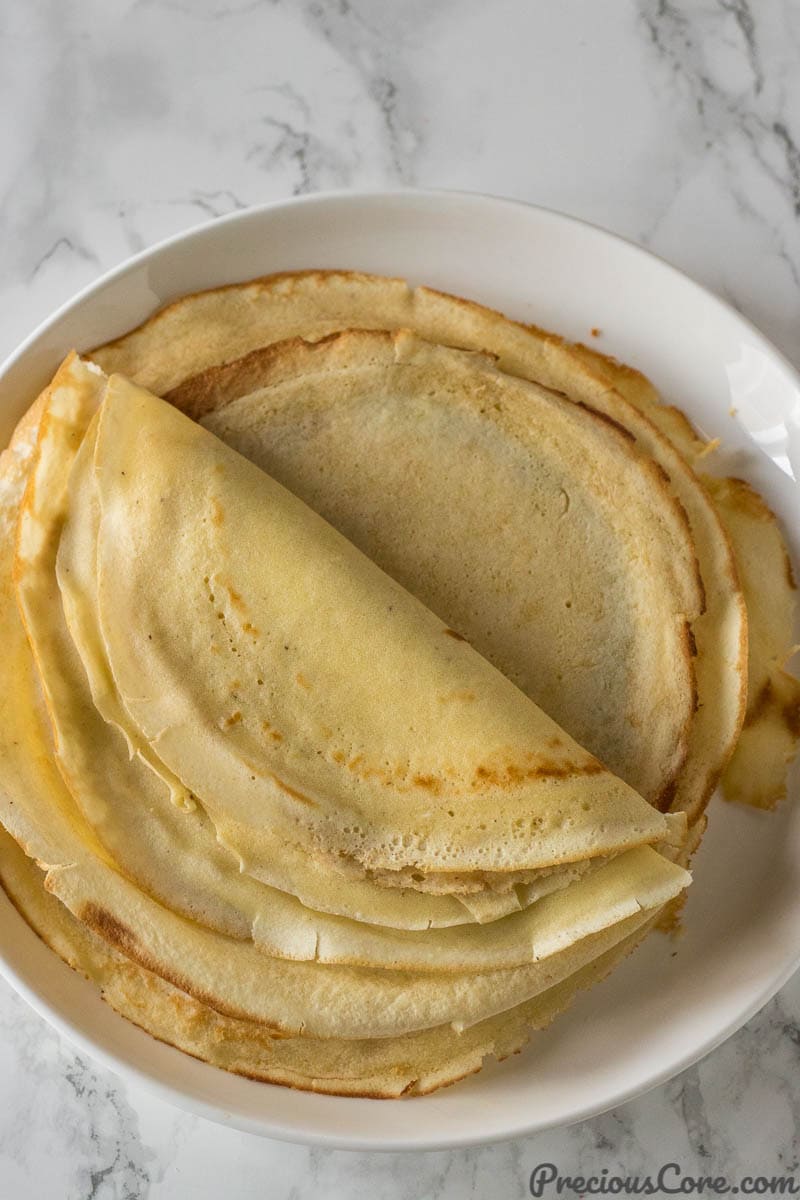 What Are Crepes?
Crepes are a breakfast food basically made with flour, eggs, melted butter or oil, salt and/or sugar, and milk. The word crepe or crêpe is a French word which means thin pancakes. Crepes are also known as French pancakes.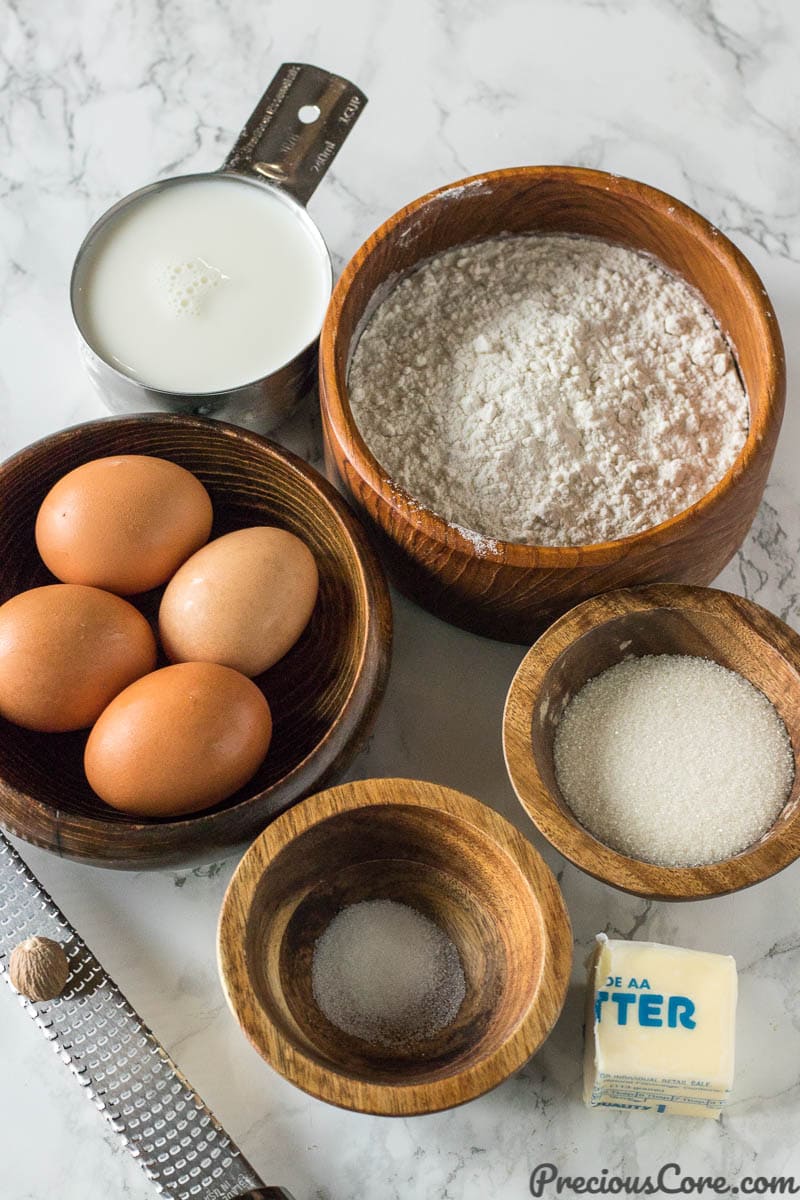 What is the Difference Between Crepes and Pancakes?
Crepes are thin and flat and do not require a raising agent in the batter meanwhile pancakes are thick, fluffy, and they are made with a raising agent.
How To Make Easy Crepes From Scratch
1. Place eggs, milk and melted butter in a blender. Add flour, sugar, salt, and flavor of choice (my go-to flavor is freshly grated nutmeg). My microplane grater makes it easy to grate the whole nutmeg.
2. Blend all ingredients into a batter.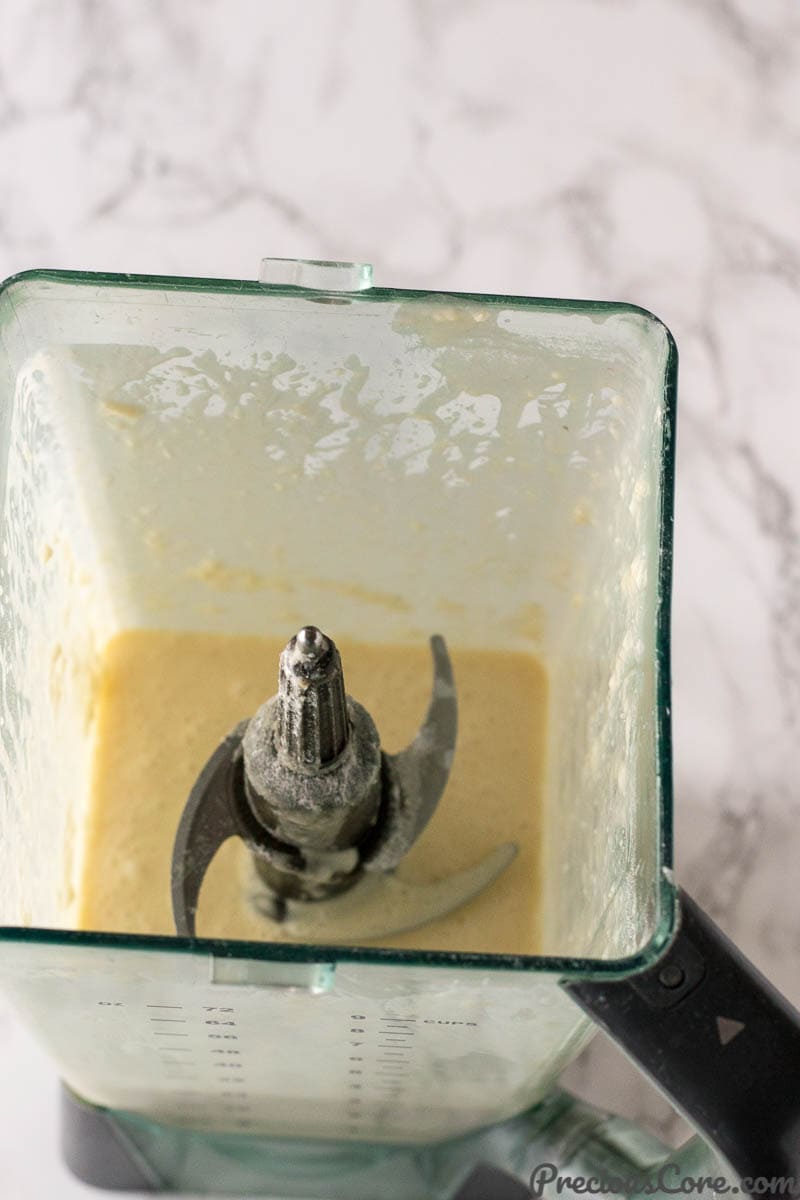 3. Heat a skillet on medium heat then rub butter on top. Add a quarter cup of the batter to the skillet and swirl around immediately to ensure it coats the bottom of the pan. Cook for about 3 minutes then turn to the other side and let it cook for another 1 to 2 minutes.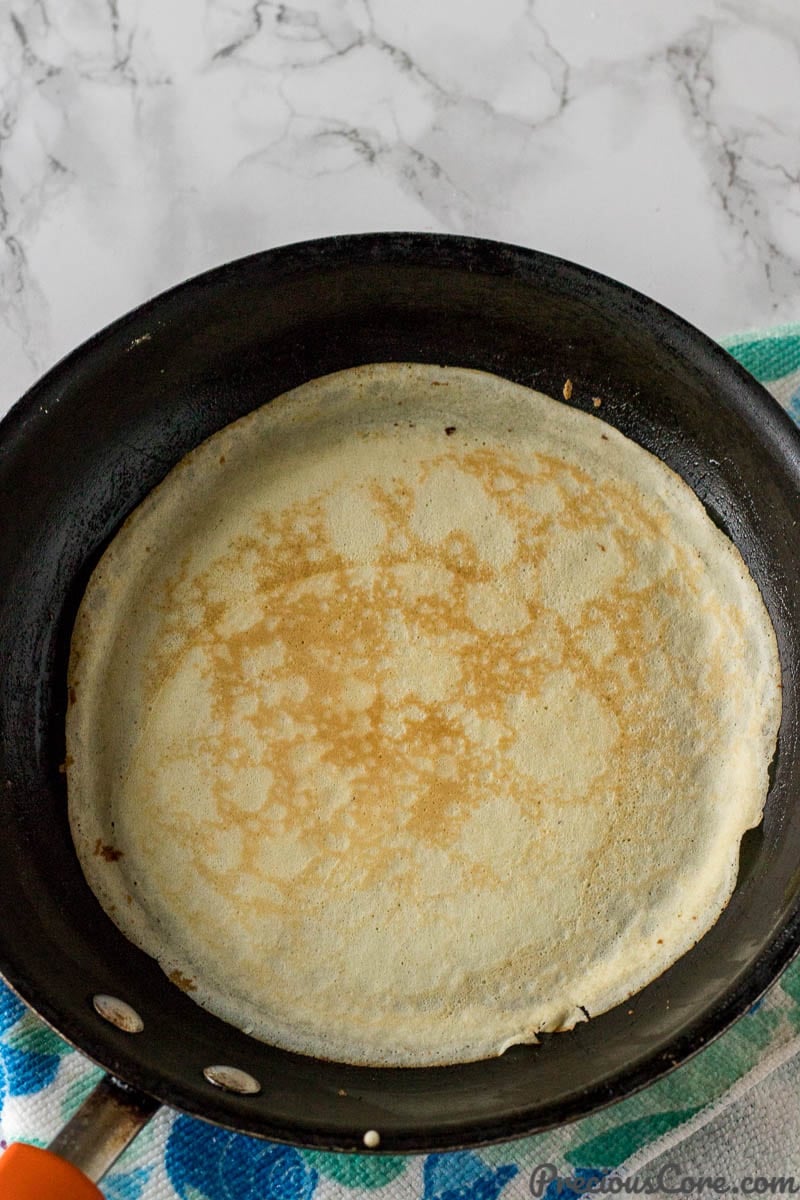 How To Make Savory Crepes
To make savory crepes, simply omit sugar and use only salt in the crepe batter.
What to Serve With Crepes
1. Fruits. I love serving my crepes with fruits: berries, apples, pears are some of my favorite fruits to serve with crepes.
2. Chocolate-hazelnut spread AKA nutella. You can fill your crepes with chocolate-hazelnut or just drizzle some of the chocolate goodness on top.
3. Whipped Cream. Place cold heavy whipping cream in a bowl. Add sugar and vanilla extract to taste then whip using a hand mixer until stiff peaks form. You could already use already whipped cream from the store. My kids love their crepes with some whipped cream. So good!
4. Cheese. You could fill your crepes with some cheese.
5. Cinnamon sugar. Mix together some cinnamon and sugar and sprinkle on your crepes. So good! While you are at it, equally cut up some apples and pears then sprinkle some cinnamon sugar on the fruit too. Apples and pears go so well with cinnamon. That's how I served the crepes in this photo and plates were cleared in no time.
Different Crepe Flavors
1. Orange Crepes. Add one teaspoon of orange zest and use orange juice instead of milk to make orange crepes.
2. Chocolate Crepes. Add one tablespoon of chocolate powder to make chocolate crepes.
3. Banana Crepes. If you can find banana milk where you live, use it to make banana crepes.
4. Coconut Crepes. Add coconut flakes to your batter to make coconut crepes.
Watch How To Make Crepes
Watch me making Crepes in the video below. If you haven't subscribed to my Youtube channel yet, SUBSCRIBE so you do not miss any of my videos.
May you enjoy this easy crepe recipe as much as we do!
P.S. I first published this recipe on May 8 2019 (when people could travel). I have updated the recipe with a video!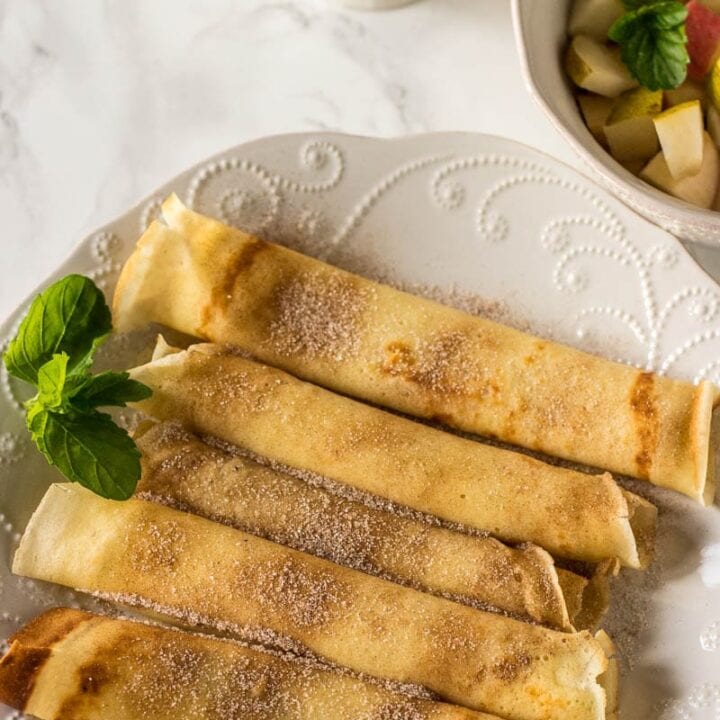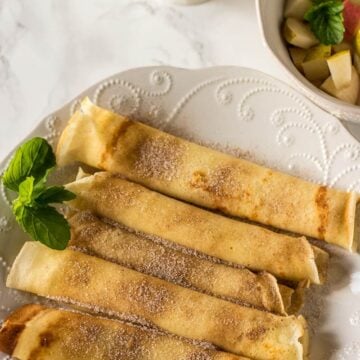 Easy Crepes
These are light easy buttery crepes. Just dump all ingredients in the blender and blend to make the batter. Top with some cinnamon sugar for an easy breakfast that looks sophisticated.
Ingredients
4

eggs

1

cup

milk

4

tablespoons

unsalted butter – melted

plus more utter for rubbing on skillet

1/4

cup

sugar

1

cup

flour

A pinch of salt

1/4

teaspoon

grated nutmeg
Instructions
Place the 4 eggs, 1 cup of milk and 4 tablespoons of melted butter in a blender. Add the 1 cup of flour, a quarter cup of sugar, a pinch of salt and the grated (or ground) nutmeg. Blend everything until just smooth. Do not over blend.

Place a 9-inch skillet on the stove then rub butter on the skillet. Let it heat up on medium heat for about 2 minutes then add a quarter cup of the batter and swirl around immediately to ensure it coats the bottom of the skillet. Let it cook for about 3 minutes until the flour sets and is no longer liquidy. Use a spatula to flip the crepe to the other side and let it cook for another 1-2 minutes. Repeat the process with the rest of batter, adding about a quarter cup of batter each time.

Mix together the one teaspoon of cinnamon powder and 1 tablespoon of sugar. Roll crepes then sprinkle the cinnamon sugar over them and serve warm.
Notes
1. I recommend using freshly grated nutmeg because the flavor of freshly grated nutmeg is intense and so good. I highly recommend you purchase whole nutmegs. Check in the spice or baking section of your grocery store. Whole nutmegs come in handy in a lot of recipes! A microplane grater makes it easy to grate the nutmeg.
2. To cook all your crepes fast, I suggest you have 2 skillets on two burners at once. That way you can cook 2 crepes at once and get done with the batter quickly.
3. You could store the batter in an airtight container in the fridge for up to a week then you just take out the batter and cook the crepes when you are ready.
Nutrition
Calories:
283
kcal
|
Carbohydrates:
33
g
|
Protein:
6
g
|
Fat:
15
g
|
Saturated Fat:
7
g
|
Polyunsaturated Fat:
3
g
|
Monounsaturated Fat:
3
g
|
Trans Fat:
0.3
g
|
Cholesterol:
25
mg
|
Sodium:
308
mg
|
Potassium:
146
mg
|
Fiber:
4
g
|
Sugar:
12
g
|
Vitamin A:
304
IU
|
Vitamin C:
0.1
mg
|
Calcium:
161
mg
|
Iron:
2
mg
*This post contains affiliate links.