CAMEROONIAN PANCAKES
Published Sep 15, 2017
Updated Nov 26, 2022
Behold the best pancakes you will ever make! You are welcome! These are Cameroonian pancakes just how I like them – soft, fluffy, sweet and so yum!
If we were in a world were pancakes were vegetables, I would be so happy. That's because I would eat them every single day.
I love pancakes in every shape and form: American pancakes, waffles, Cameroonian pancakes, pancakes made at home, pancakes bought from the store, pancakes at the restaurant, "scrambled" pancakes, everything pancakes!
But can we just agree that there is nothing like a good homemade pancake? It is epic, filled with flavor and so good. To take the experience further drizzle some chocolate spread on top and you will be over the moon.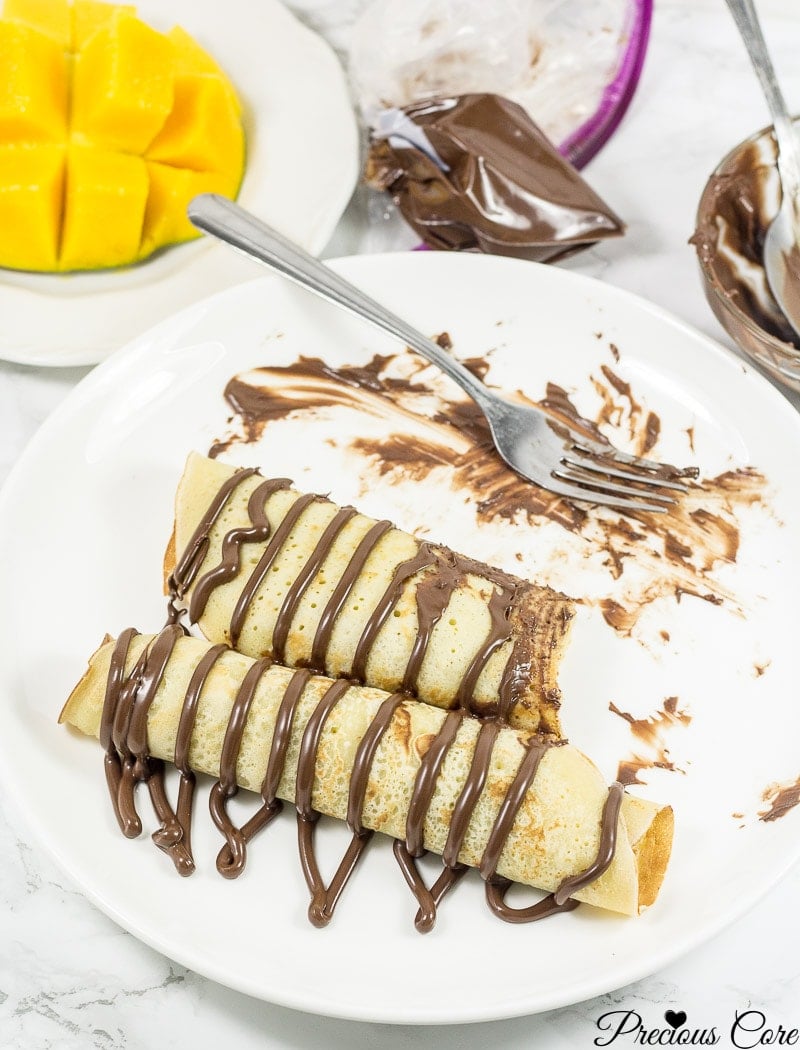 The basic ingredients include flour, water, sugar and eggs. In the yesteryears when women were girls, I have made "pancakes" just flour, water and sugar. And they still turned out great. True story.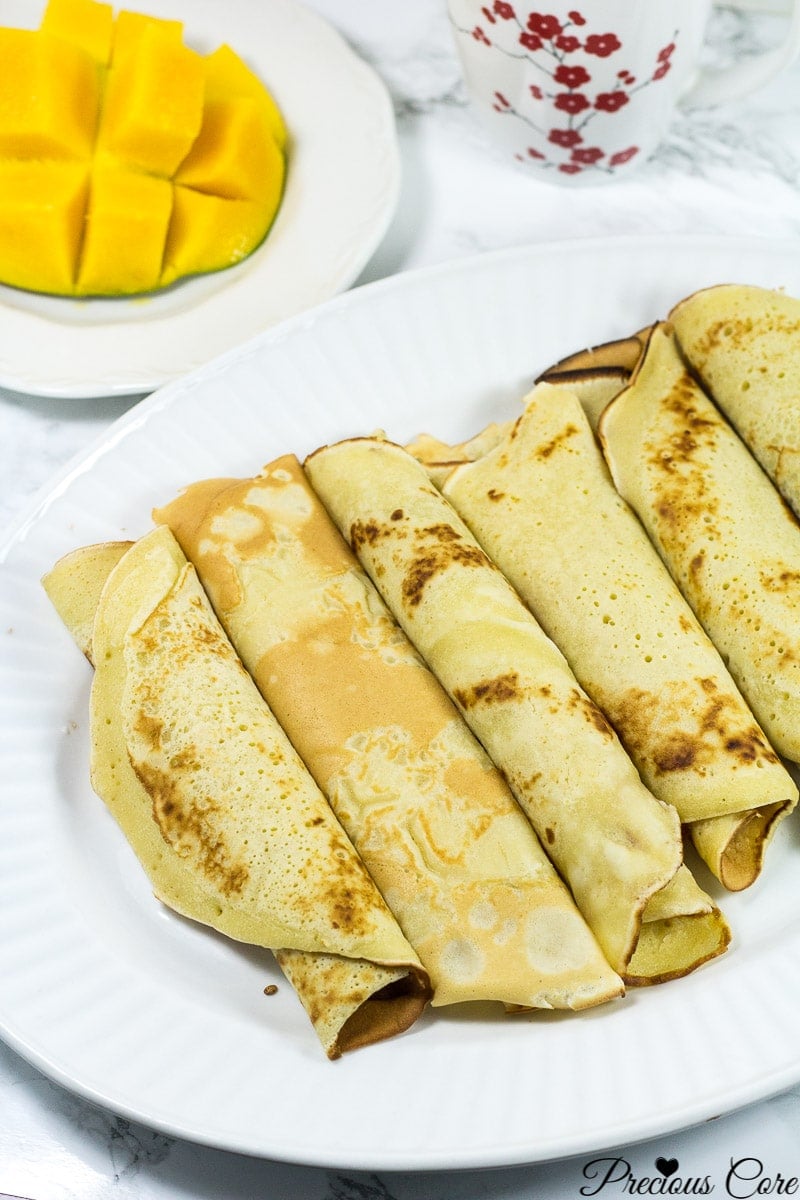 This is the way I grew up making pancakes in my homecountry, Cameroon. They are very similar to Nigerian pancakes, Ghanaian pancakes, Kenyan pancakes and even South African pancakes. So we could call these African pancakes too though the recipes may slightly differ by country.
They look like crepes but they are thicker than crepes and they are different from American pancakes. Only 8 ingredients and 3 easy steps are needed to make these babies.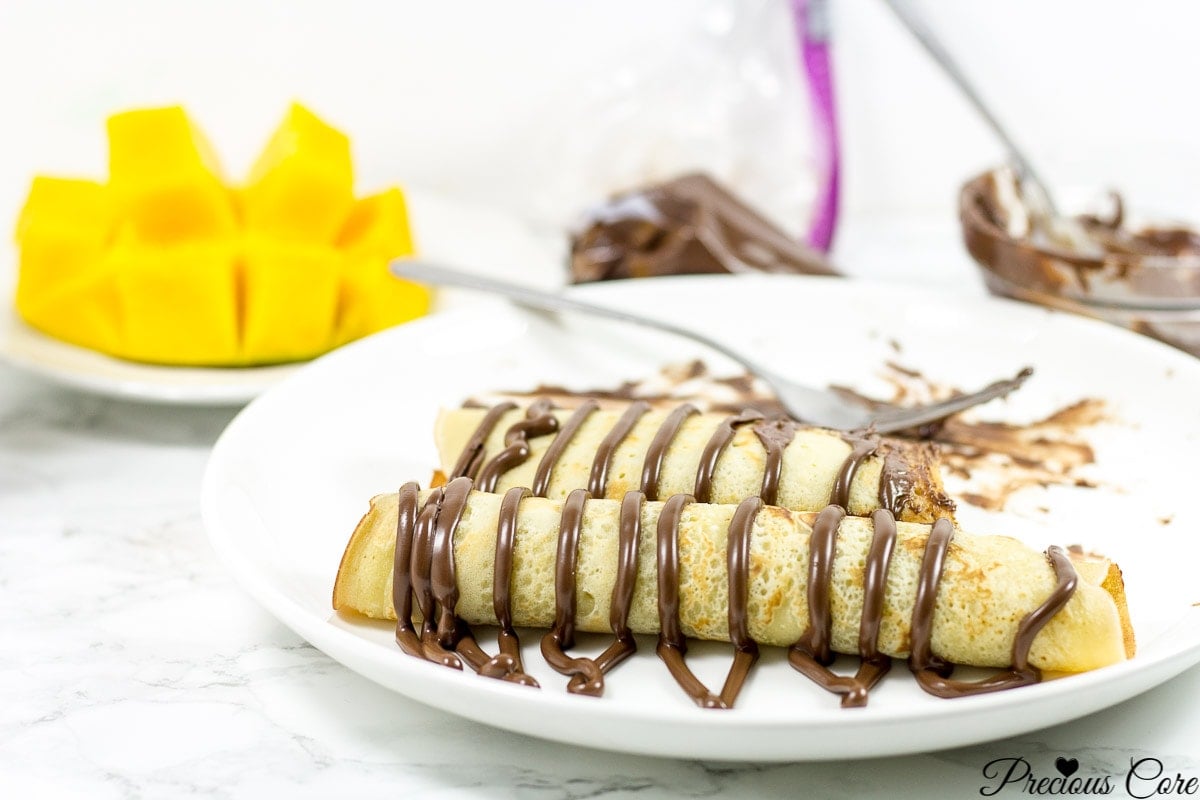 Apart from drizzling chocolate over my pancakes, sometimes I would add coconut to the pancakes to make coconut pancakes. At other times, I would make a chocolate crepe cake out of them. Simply divine!
Watch how easy they come together in this video! Easy pancakey!
How to make Cameroonian pancakes: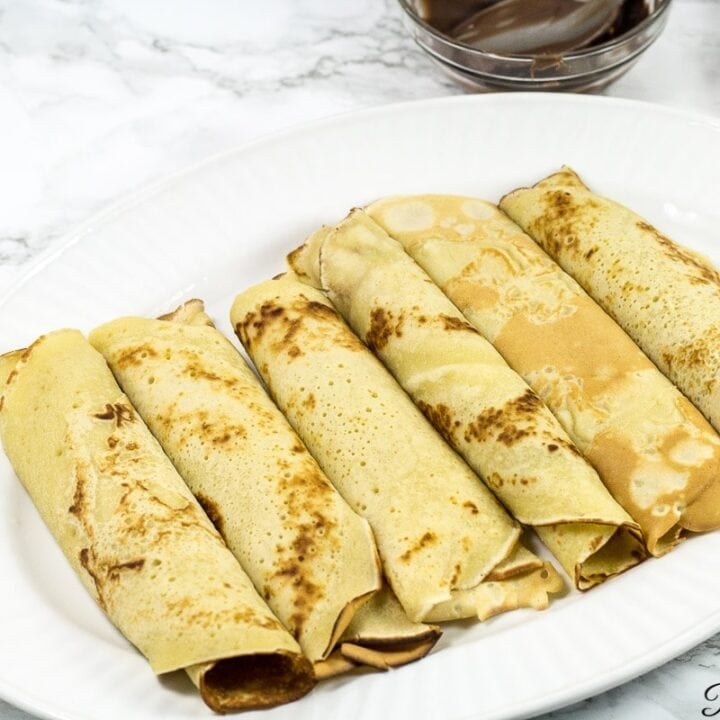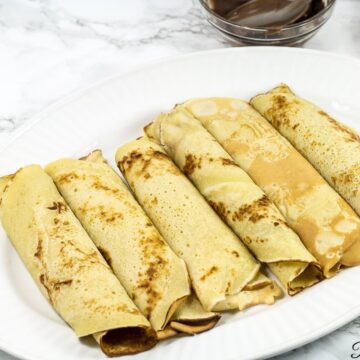 Cameroonian Pancakes
How to make Cameroonian pancakes. These are like crepes by sightly thicker than crepes. They come together in no time! This is the perfect breakfast recipe. Enjoy!
Ingredients
2

cups

flour (250 grams or 1/4 kg)

1/2

cup

granulated sugar (100 grams)

3

eggs

1

cup

liquid milk (240 ml)

see note 1

1/4

teaspoon

salt

1

cup

warm water

1 1/2

teaspoons

vanilla extract

substitute with half a teaspoon of ground nutmeg

3

tablespoons

oil
Instructions
In a large bowl whisk together the flour, sugar and salt.

Add in the water, milk, vanilla extract and 2 and a half tablespoons of the oil. Then mix together to form a batter.

Beat the eggs then add to the batter and mix to incorporate.

Heat a frying pan on medium heat. Add in about 1 teaspoon of the remaining oil. Spread the oil around to coat the bottom of the pan. Let it heat up for about 2 minutes. 

Pour in about a quarter cup of the batter into the frying pan (you may need more or less of this depending on the size of your frying pan. You just need enough to coat the bottom.)

Let the side down the pancake cook for about 2 minutes then use a spatula (or an eating spoon haha!) to flip it to the other side and let it cook for 1-2 minutes. Remove and place on a tray.

For the next pancake, place the batter on the hot frying pan without any added oil and let it cook the same way the first one cooked. (Note that no added oil is need here because the batter already contains oil. However, if your frying pan is not smooth on the inside then the batter might stick to the pan. In this case, skip adding oil to the batter and add about half a teaspoon of oil before cooking the subsequent pancakes.)

Serve your Cameroonian pancakes warm - I love serving them with some chocolate drizzled over them and some fruits. So good!
Notes
1. You could use powdered milk in case of liquid milk. In that case use half a cup of powdered milk. In this case, the milk should be added to the flour at the beginning then 2 cups instead of 1 cup of water should be used. I must note here that fresh liquid milk is not so popular in Cameroon (but I use it because I can conveniently get it here) In recipes like this, powdered milk or evaporated milk is used.
2. Use evaporated milk for more flavor.
3. These crepes are fairly thick. If you prefer them on the lighter side, add in an additional half cup of water.
4. With this method of frying only the first crepe with oil and frying the rest without, the crepes fried without additional oil are not as oily as those made with oil poured into the frying pan each time. I prefer this method because with this I don't eat more oil than I need to.
Nutrition
Calories:
252
kcal
|
Carbohydrates:
38
g
|
Protein:
6
g
|
Fat:
8
g
|
Saturated Fat:
2
g
|
Polyunsaturated Fat:
2
g
|
Monounsaturated Fat:
4
g
|
Trans Fat:
0.03
g
|
Cholesterol:
65
mg
|
Sodium:
110
mg
|
Potassium:
103
mg
|
Fiber:
1
g
|
Sugar:
14
g
|
Vitamin A:
139
IU
|
Calcium:
53
mg
|
Iron:
2
mg

If you make this recipe, please share a picture with me on my Facebook page (Facebook.com/preciouscore) or on Instagram (@preciouscore). I'll love to see!