So I went to the farmer's market and bought pumpkin which looked very African. I thought it was going to taste just like the one back home - dry on the inside and creamy when boiled. But after boiling it, I was disappointed. It was watery on the inside. I could not eat it but I could not also waste it by putting it right into the trash. So I blended the pumpkin with some water and used part of the puree to make these insanely delicious pumpkin chocolate chip pancakes. I have preserved the leftover pumpkin puree for more pumpkin recipes coming your way right here on the blog. I might equally be making this pumpkin roll cake because it is so good!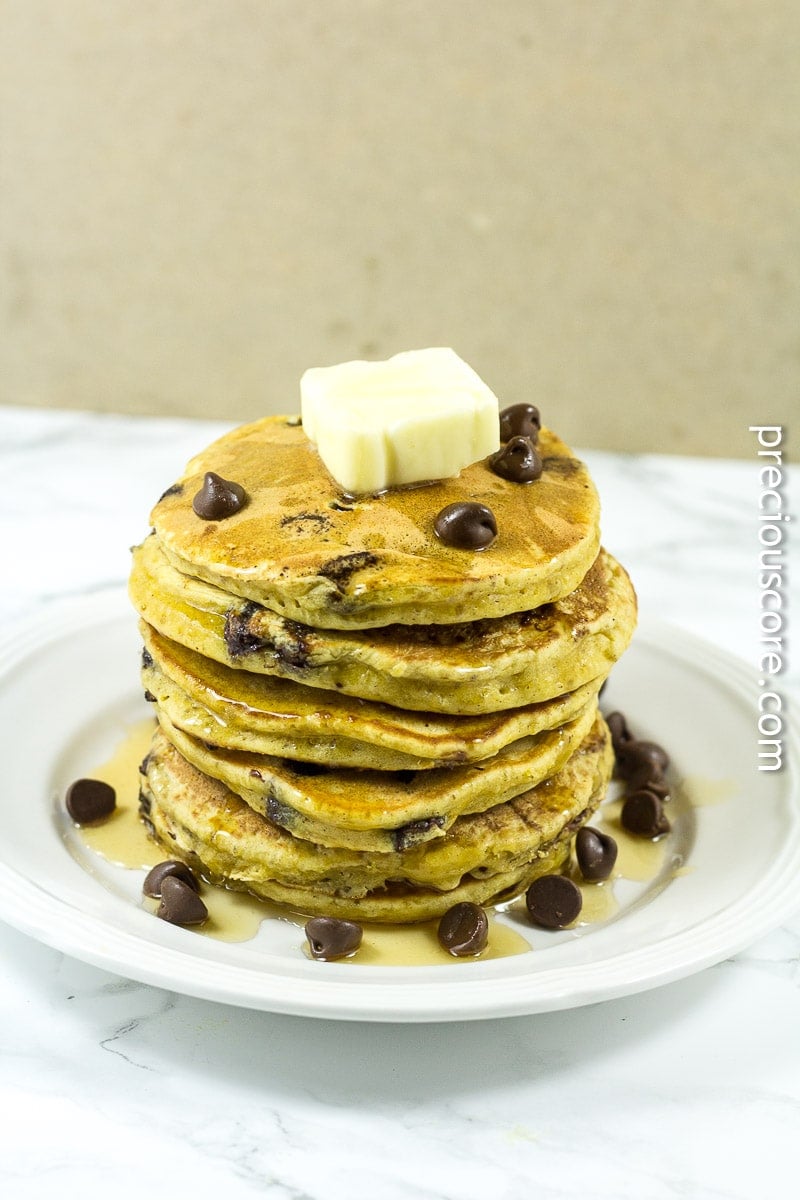 How to make Pumpkin Puree: Go to the farmer's market and buy pumpkins, then go home, boil the pumpkins and when they are done, be disappointed at how they turn out then dump the pumpkin into blender and boil to make some pumpkin puree. I kid, I kid.
How to Make Pumpkin Puree for Pumpkin Chocolate Chip Pancakes
Method 1: Cut pumpkin into about 6-8 pieces (do not peel). Roast in a 450° F oven for about 45 minutes. Take out and scoop out the pulp. Put into a blender and puree. You might need to add a little water in order for it to blend properly.
Method 2. Cut pumpkin into about 8 pieces, remove pumpkin seeds and peel. Place in pot, add water to about midway the pumpkins. Boil until pumpkins are done. Remove and place in a blender. Add a little water and blend into a paste.
If these methods are too much work for you, you could buy canned pumpkin puree from grocery stores depending on where you live. In this fall season, there's a lot of pumpkin puree being sold at the grocery stores in the United States.
Apart from the pumpkin puree, our second key ingredient in this pumpkin chocolate chip pancake recipe is the chocolate chips. You could make plain pumpkin pancakes but why have plain pumpkin pancakes when you could have pumpkin chocolate chip pancakes?? The chocolate chips make the pancakes truly special.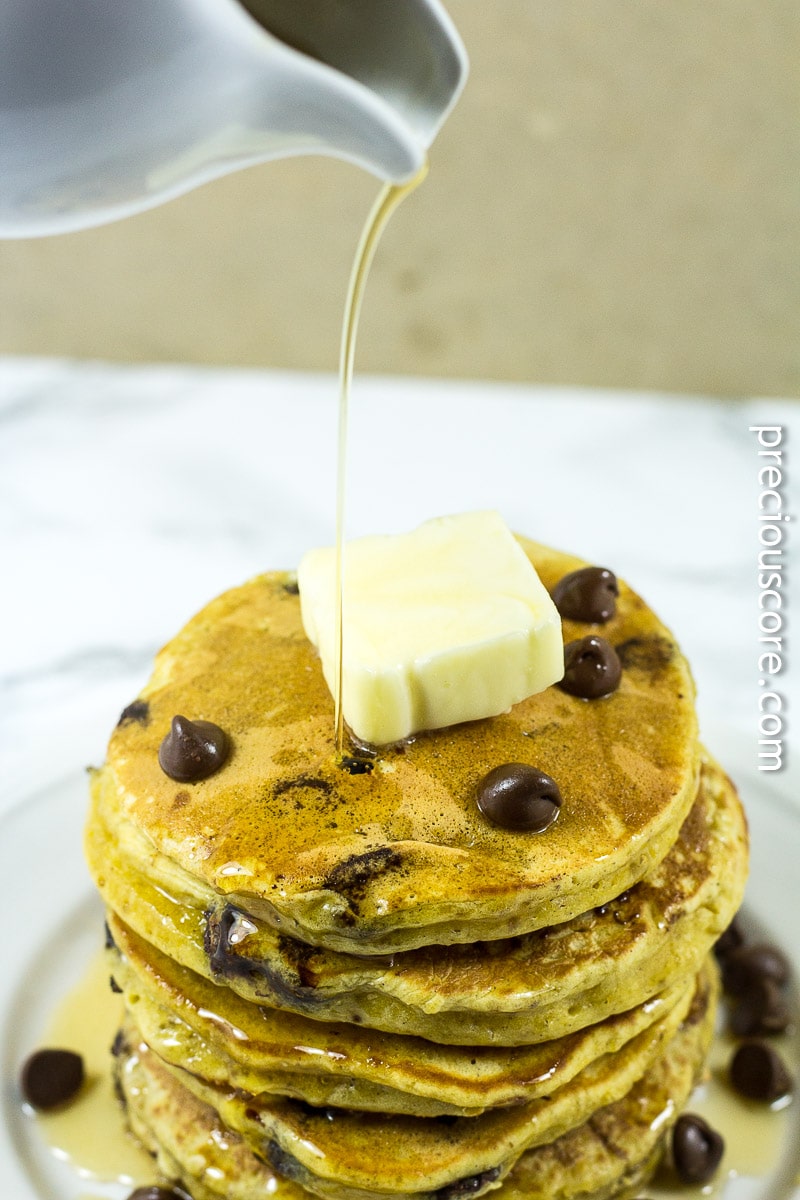 If chocolate chips are not readily available in your area, you could buy chocolate bars, chop them and use.
These pancakes are so good that my kids cleared their plates and asked for more. Even my picky toddler ate the two pancakes I served her. When I made these pancakes, I couldn't resist them though I didn't want to eat right away. I left everything I was doing and dug into them. Ha.
Here are the steps for making pumpkin chocolate chip pancakes.
Step 1: Pour half a cup of pumpkin puree into a bowl.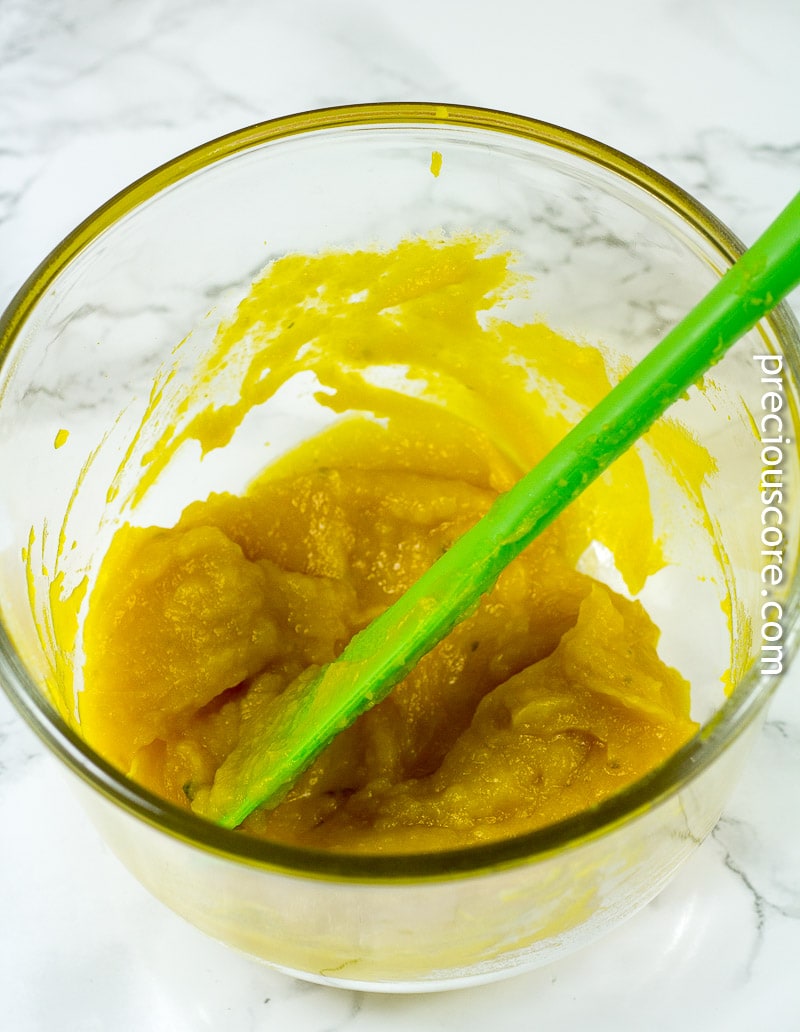 Step 2: Add in 2 eggs and whisk together.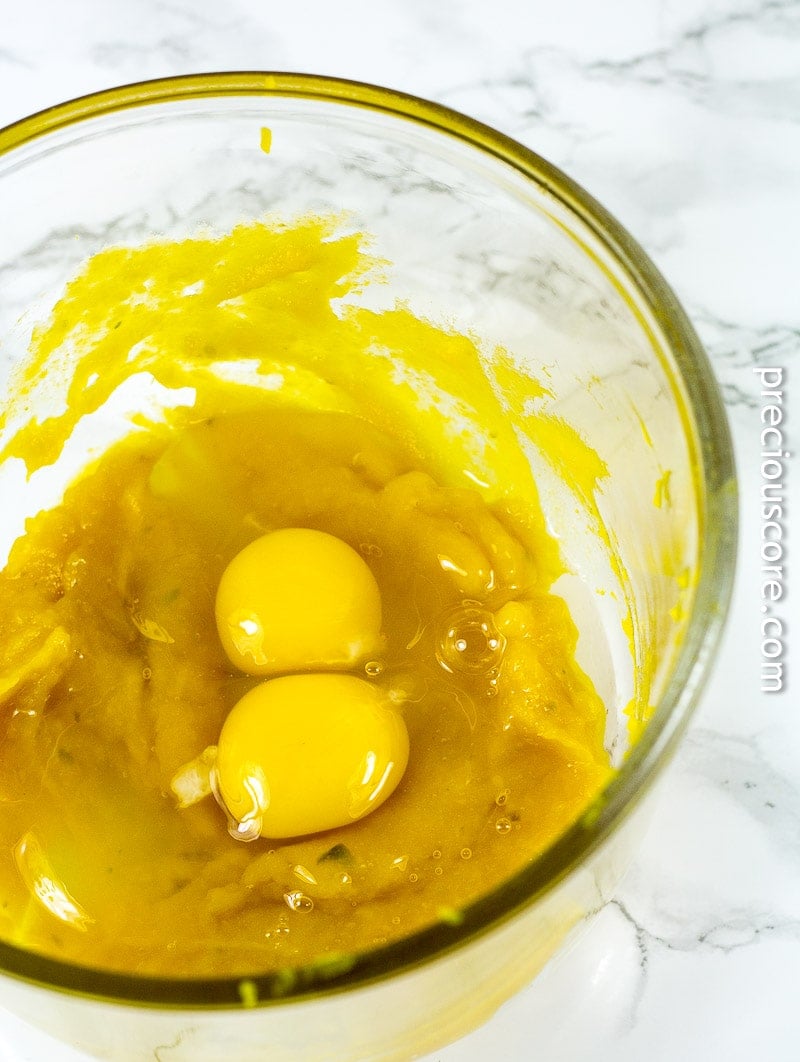 Step 3: Add half a cup of sugar plus one and a half cup of evaporated milk. Mix well.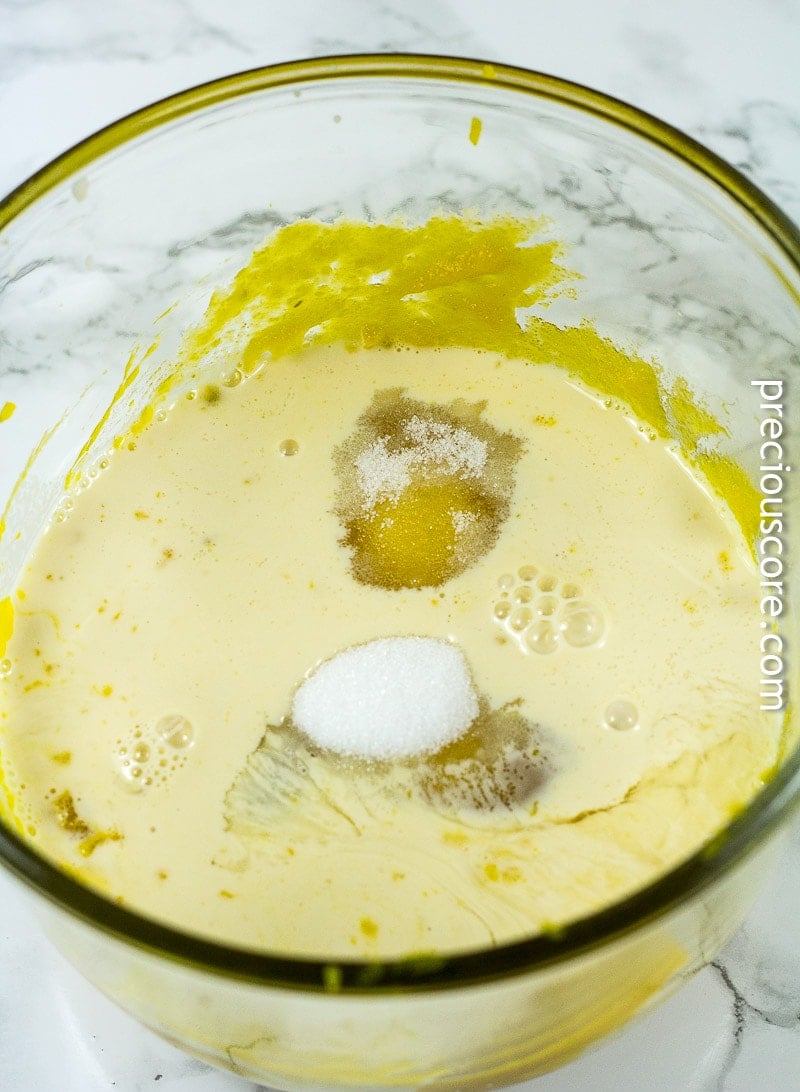 Step 4: Add 2 cups of flour, 1 teaspoon baking powder, 1 teaspoon baking soda, half a teaspoon of salt and 1 teaspoon of cinnamon (You could use two teaspoons of cinnamon instead or use pumpkin spice. See recipe notes below for more options).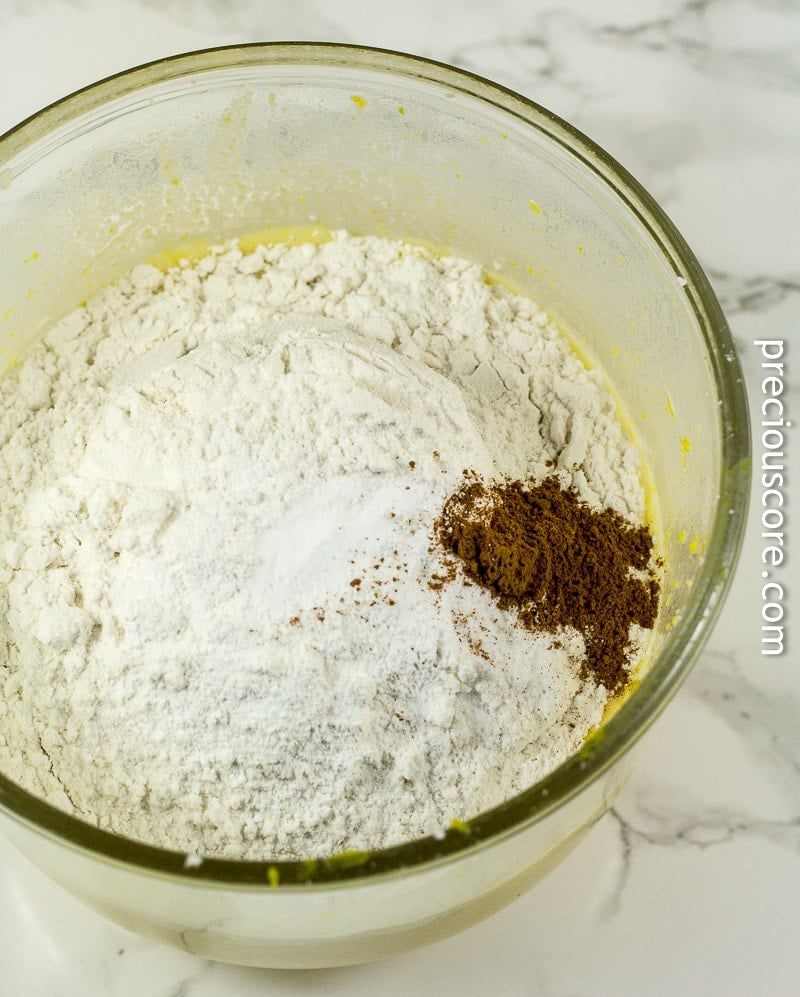 Step 5: Mix everything to form a batter. Add two tablespoons of melted butter and mix.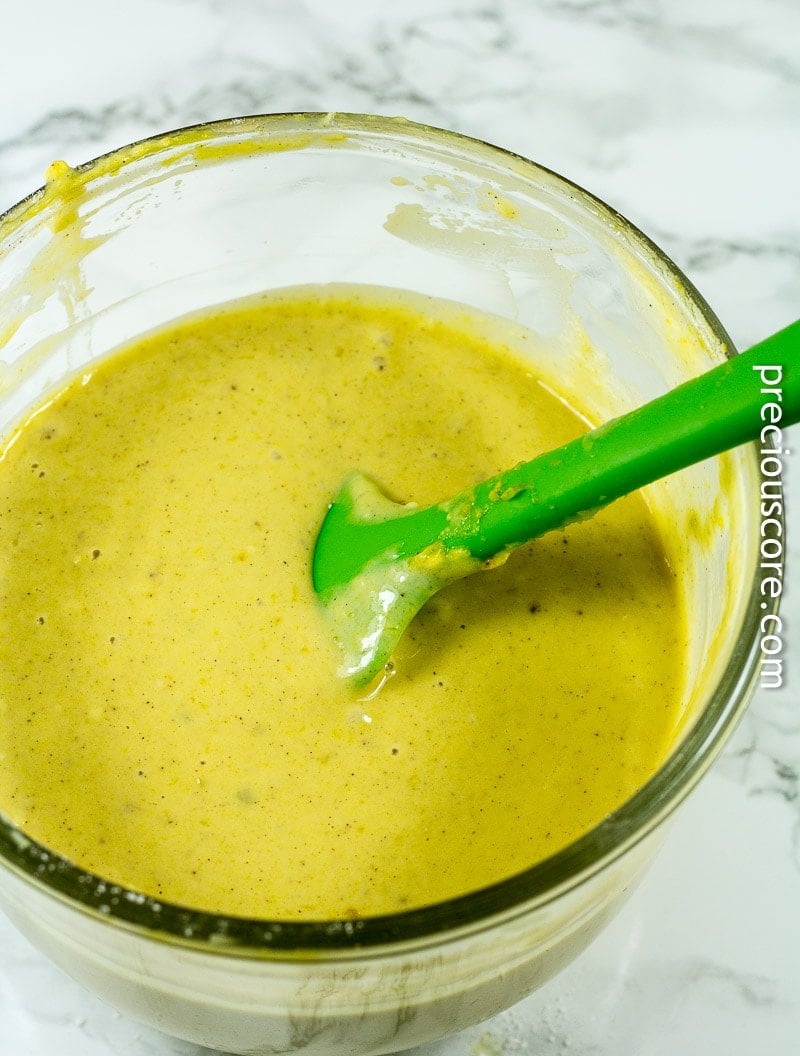 Step 6: Add in half a cup of chocolate chips.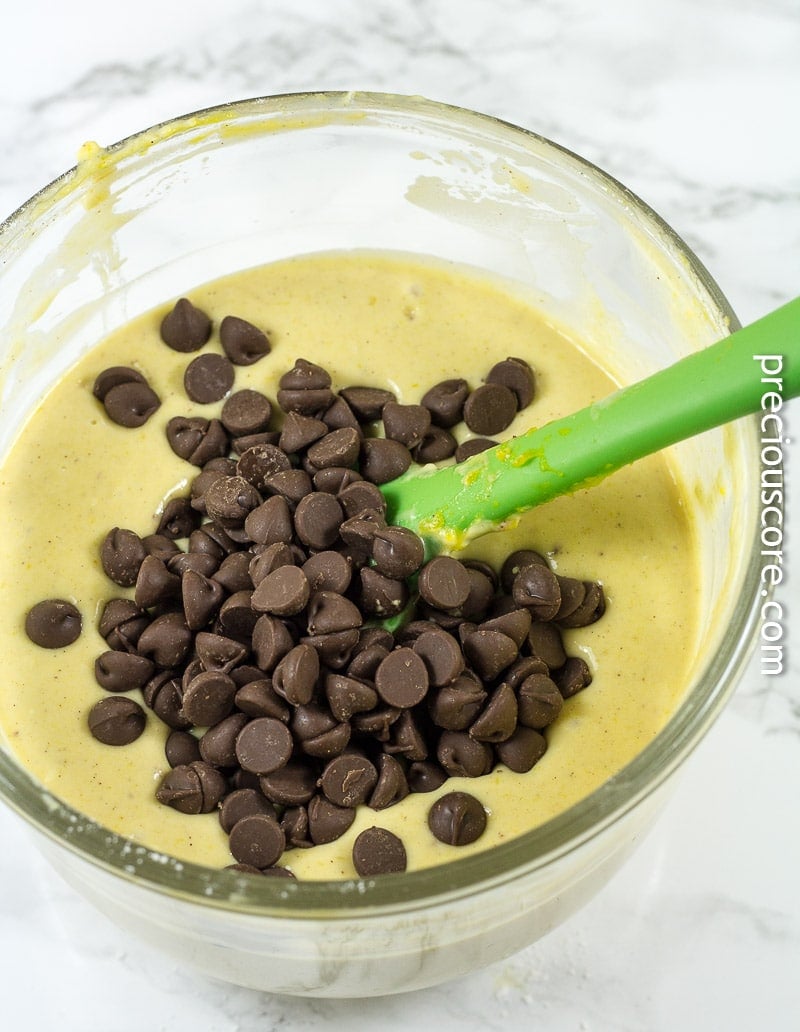 Step 7: Gently fold in to combine. And now you have the perfect batter for pumpkin chocolate chips pancakes.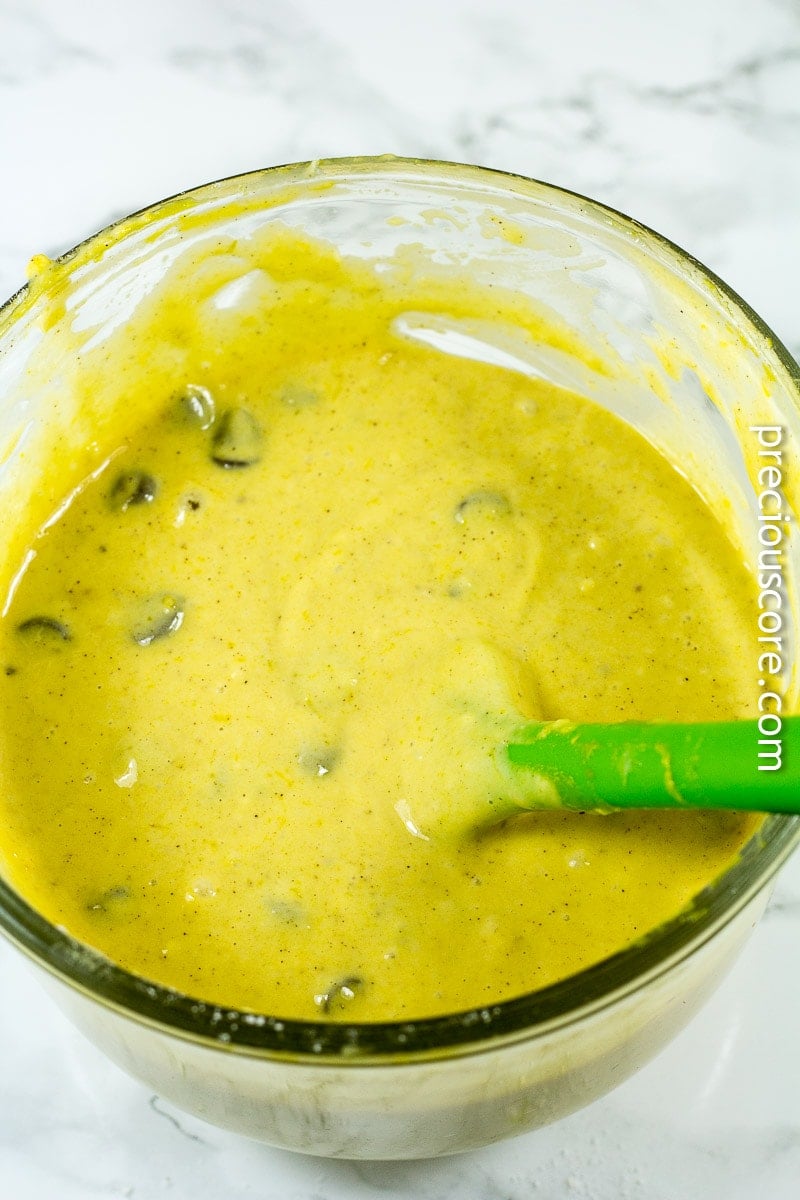 Step 8: Cook pancakes on a buttered skillet or pancake griddle by pouring about a quarter cup each time. Cook one side on medium heat for 1-2 minutes then flip to the other side. Repeat process with the rest of the batter. This recipe makes about 16 pancakes.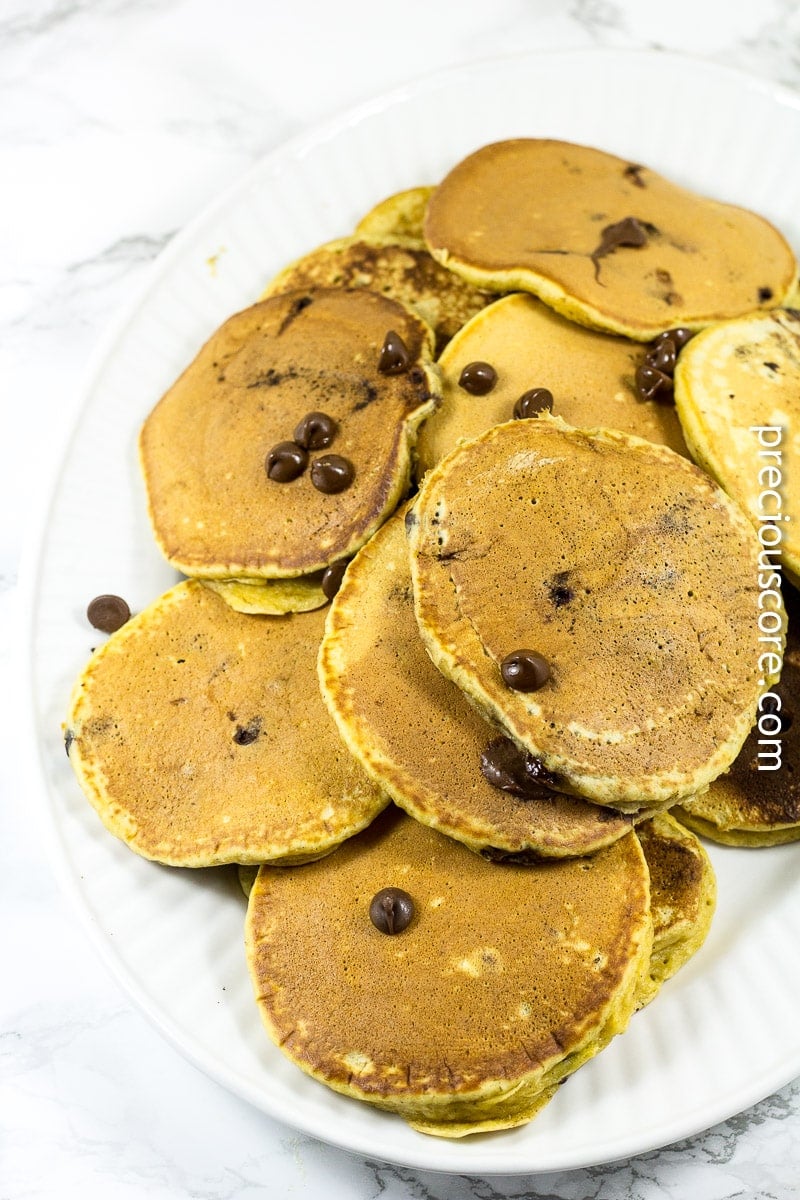 These pancakes are fluffy, chocolatey with a subtle pumpkin flavor. They are the perfect breakfast. You can also make these and freeze to quickly reheat and enjoy on busy mornings. Who wants to eat some pumpkin pancakes?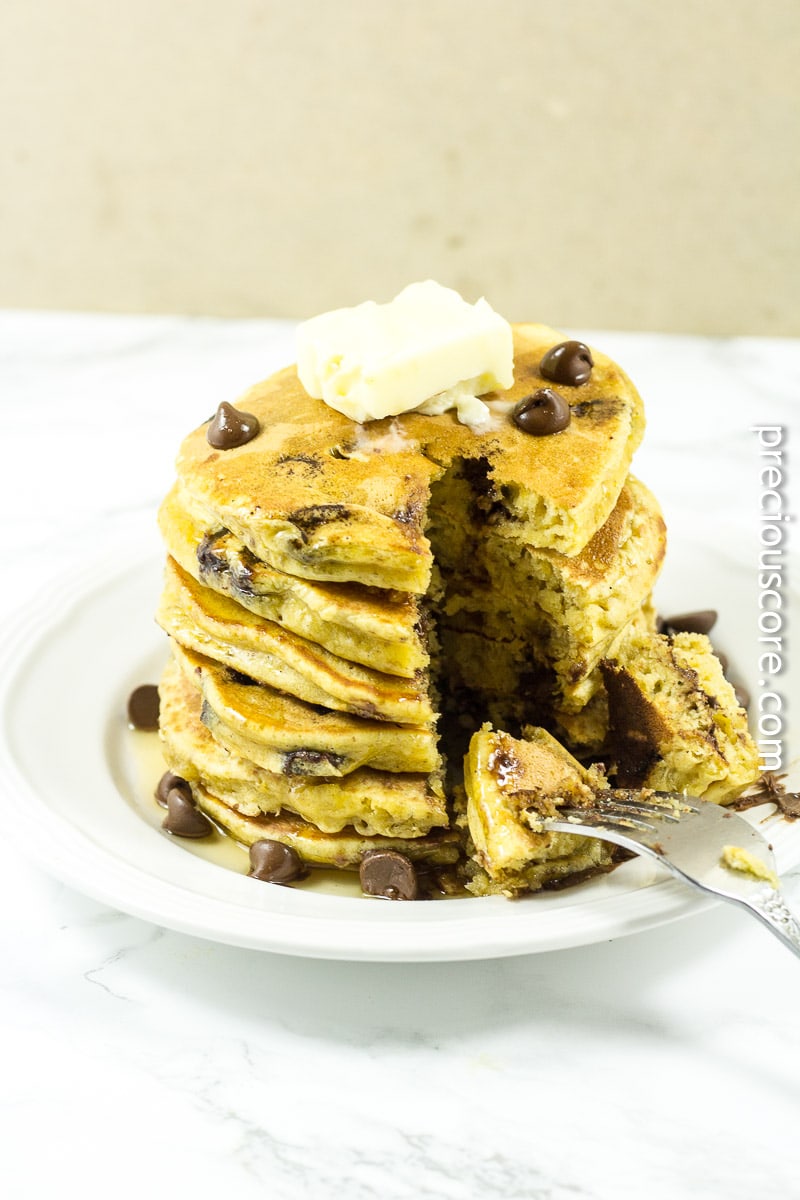 Check out the full pumpkin chocolate chip pancakes recipe below!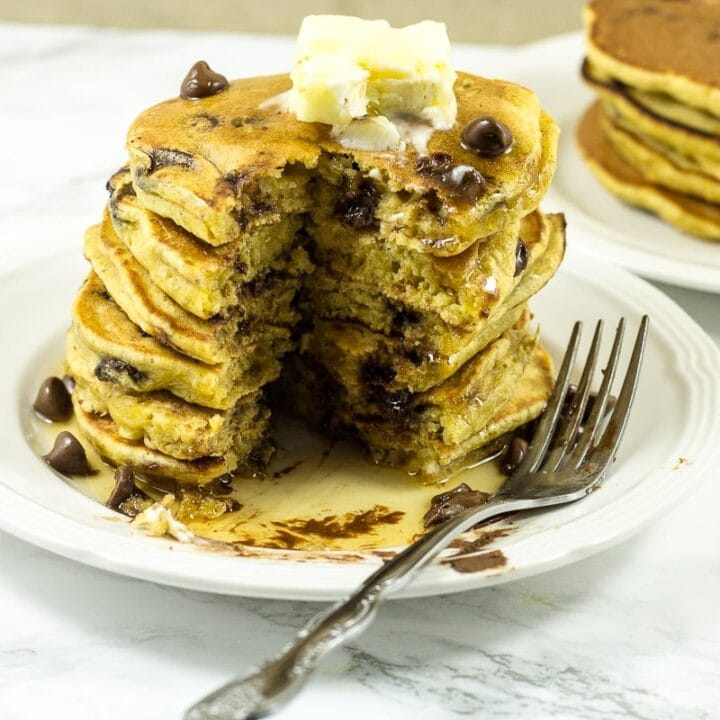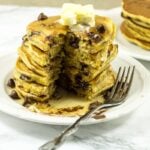 PUMPKIN CHOCOLATE CHIP PANCAKES
Tasty pancakes made with pumpkin puree with the added goodness of chocolate chips. These pumpkin chocolate chip pancakes are the perfect fall breakfast though you can totally enjoy them at anytime of the year.
Ingredients
½

cup

pumpkin puree

2

cups

flour

¼

cup

sugar

1

teaspoon

cinnamon powder

heaped

½

teaspoon

salt

1 ½

cups

evaporated milk

2

tablespoons

melted butter

½

cup

chocolate chips

½

tablespoon

butter
Instructions
Pour pumpkin puree into a large bowl then add in eggs and mix. Add the sugar, evaporated milk and mix well.

Add flour, salt, cinnamon powder and mix to combine. Add the melted butter and mix. Then add the chocolate chips and gently fold in.

Rub the other butter onto a skillet or griddle (I love using 3 skillets on 3 different burners at once so I go fast). Set to cook on medium heat. Pour about a quarter cup of the batter onto the skillet/griddle. Let it cook on one side until it starts bubbling on the top. This takes 1-2 minutes. Then flip to the other side and let it cook for another 1-2 minutes.

Repeat process with the rest of the batter.

Serve warm with slices of butter, maple syrup and more chocolate chips if you so wish. Enjoy!
Recipe Notes
1. I love using evaporated milk because of its rich flavor. You could substitute with whole milk.
2. I do not use a lot of flavor in this recipe but if you want lots of flavor, use teaspoons of cinnamon instead or use two teaspoons of pumpkin spice. Or use a combination of 1 teaspoon of cinnamon powder, half teaspoon of ground nutmeg and a quarter teaspoon of ground cloves.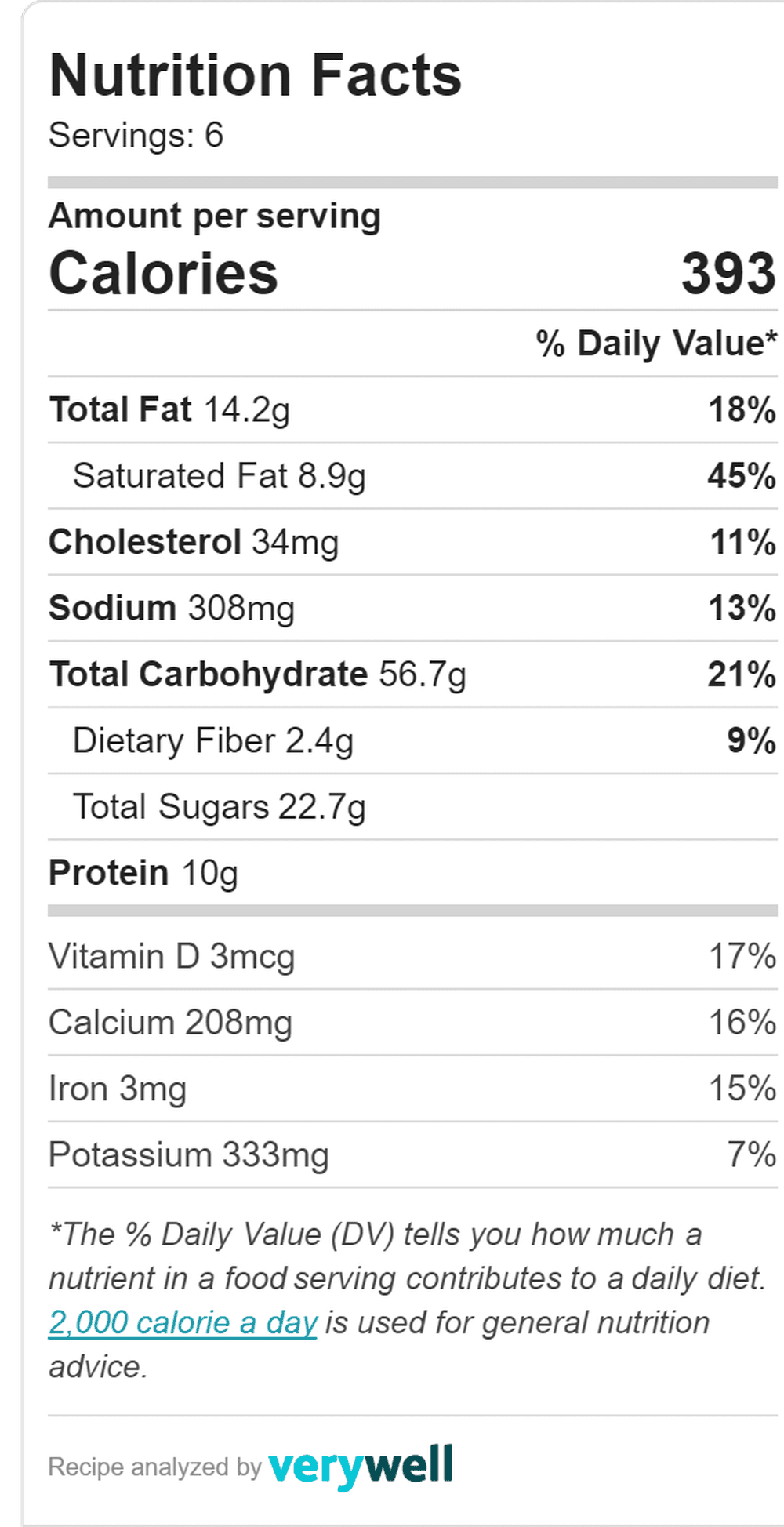 Pin this recipe on Pinterest:

If you make this recipe, please share a photo on Instagram and tag me: @preciouscore, or share a photo on my Facebook page. I'll love to see!