EASY HEART-SHAPED PANCAKES FOR VALENTINE'S DAY
Published Feb 11, 2016
Updated Feb 04, 2023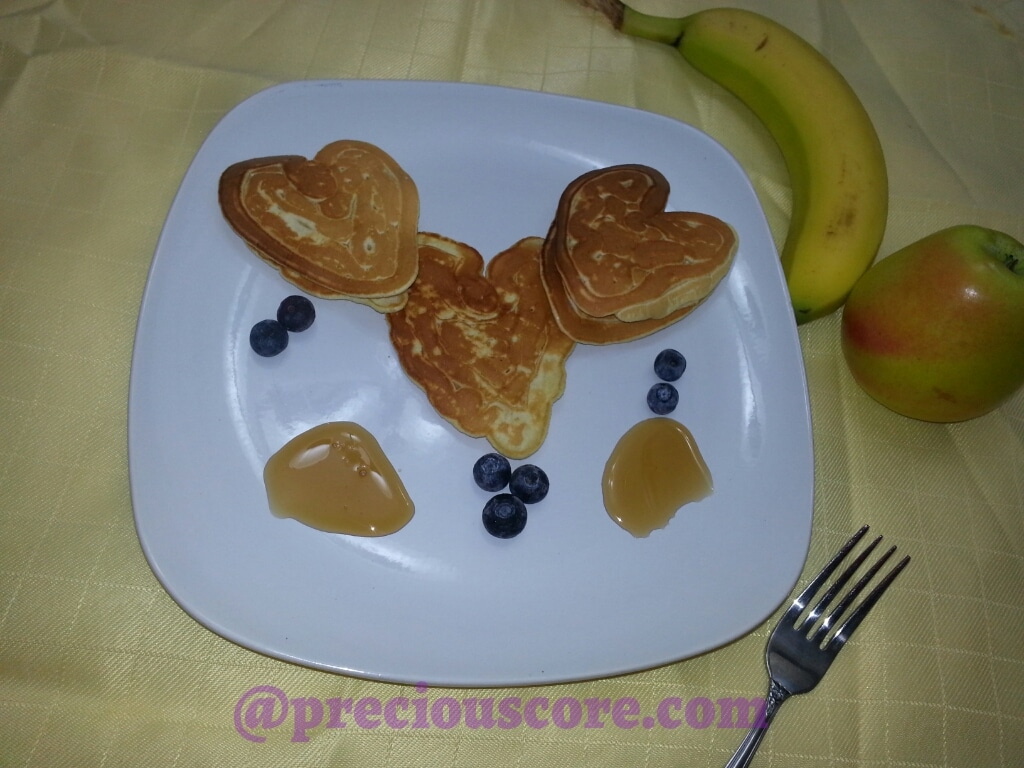 This is one of the easiest things you will ever make in your entire life! Yet, they are classy and you can use them to speak the language of love in a very special way. Whether you are single, married, divorced or widowed, these pancakes will melt your heart.
I served some to my kids this morning and my older daughter said, "Mommy, thank you for loving me." *wipes tears*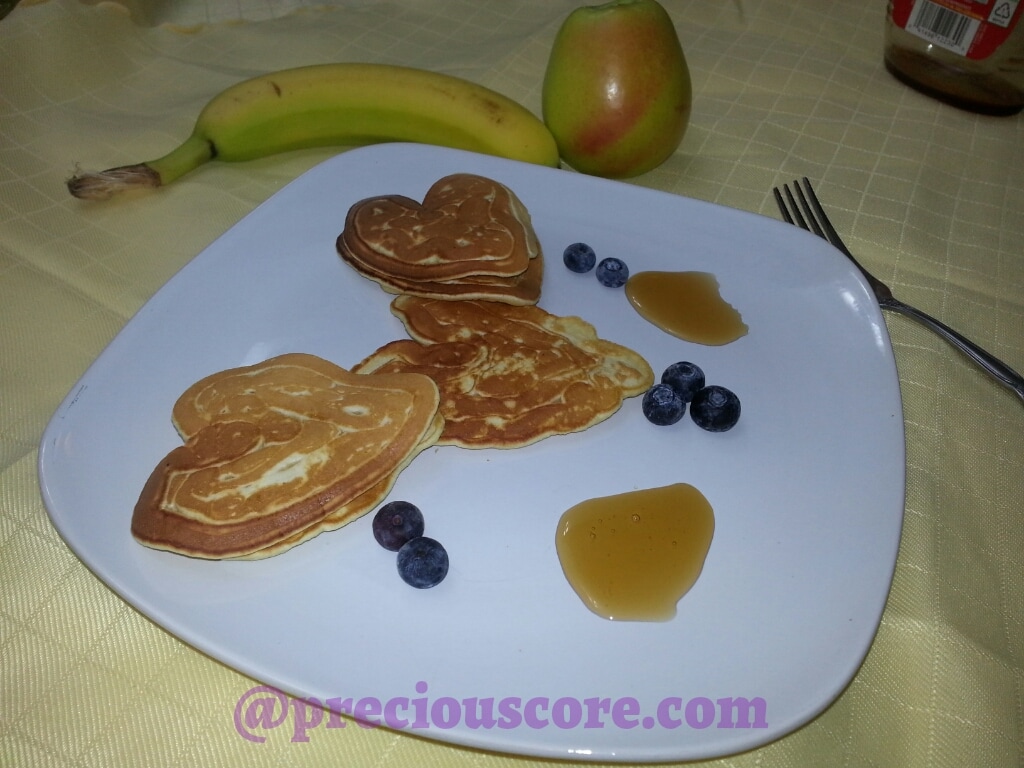 They will take your cooking to a whole new level of creativity. If you are good at drawing, decorating cakes of anything like that, you will nail it! I'm not the best artist in the world. I once tried to draw a dog for my daughter. At the end, she exclaimed, "Mom, that doesn't look like a dog! That looks like a hippo!" So if my crooked hands could "draw" these pancakes, yours will do same and even better.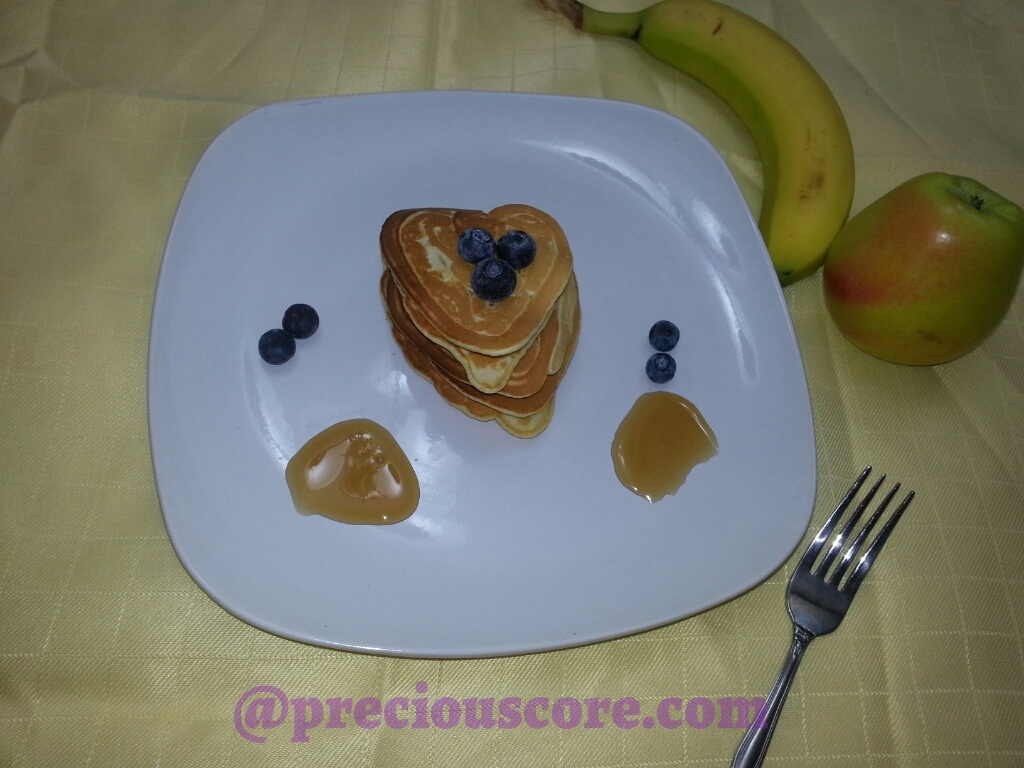 HEART-SHAPED PANCAKES

Prep time: 15 mins
Cook time: 20 mins
Total time: 35 mins
Serves 4

Ingredients

1 cup flour
1 cup milk (whole or skim)
1 tablespoon sugar (could add more if you wish)
1 teaspoon baking powder
1 egg
A quarter teaspoon salt
1 tablespoon vegetable oil (I used olive oil)
A quarter teaspoon vanilla extract (optional)
Method
Dump all your ingredients except the oil into a mixing bowl.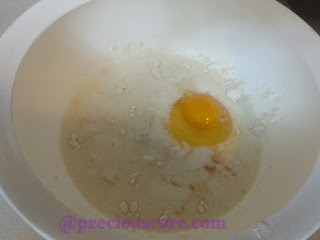 Mix that up. Don't over mix. Also, don't worry if it has some lumps. That makes fluffy pancakes.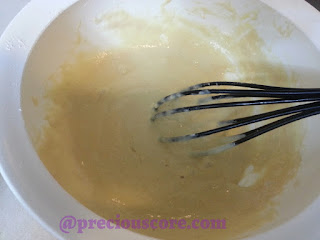 Let your batter rest for about 5 minutes. This helps the gluten relax. Then pour the mixture into a ziploc/sandwich or any hard plastic bag. If you have a piping bag or bottle, used in decorating cakes, by all means, use it.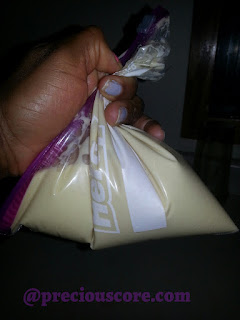 Create a small hole about the size of the tip of a marker at the sharp end of the bag. If you are using a piping bag, you should already have a hole on it so no need to create one. Heat a skillet on medium heat and oil it up. (Note: You can use the oiled pan to make many successive pancakes before oiling the pan again. You just need a little oil to prevent stickiness.) Then put your bag over the skillet and draw a heart.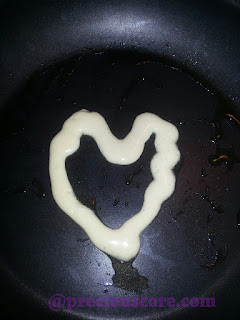 You can see, the edges of my my heart are a tad crooked but that's okay as long as it's a heart. Lol
Fill the middle of your crooked or straight heart with more batter. (Note: the oil I have on the skillet here is a little more than needed. I used it to make many more pancakes.)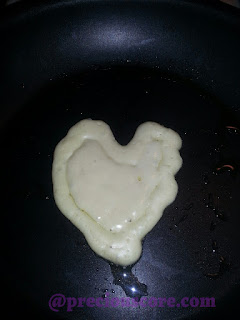 When it starts forming bubbles on top, it means one side is ready. Flip your pancake and let the other side cook.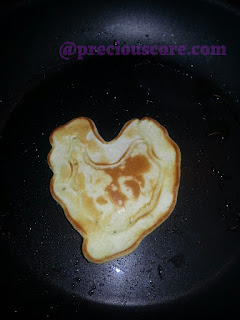 My second heart came out looking more refined. Praise the Lord!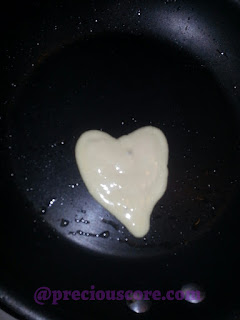 Repeat the heart drawing process and cooking until batter is finished. Here are my heart pancakes. They look different but that's okay because all hearts are not the same, right?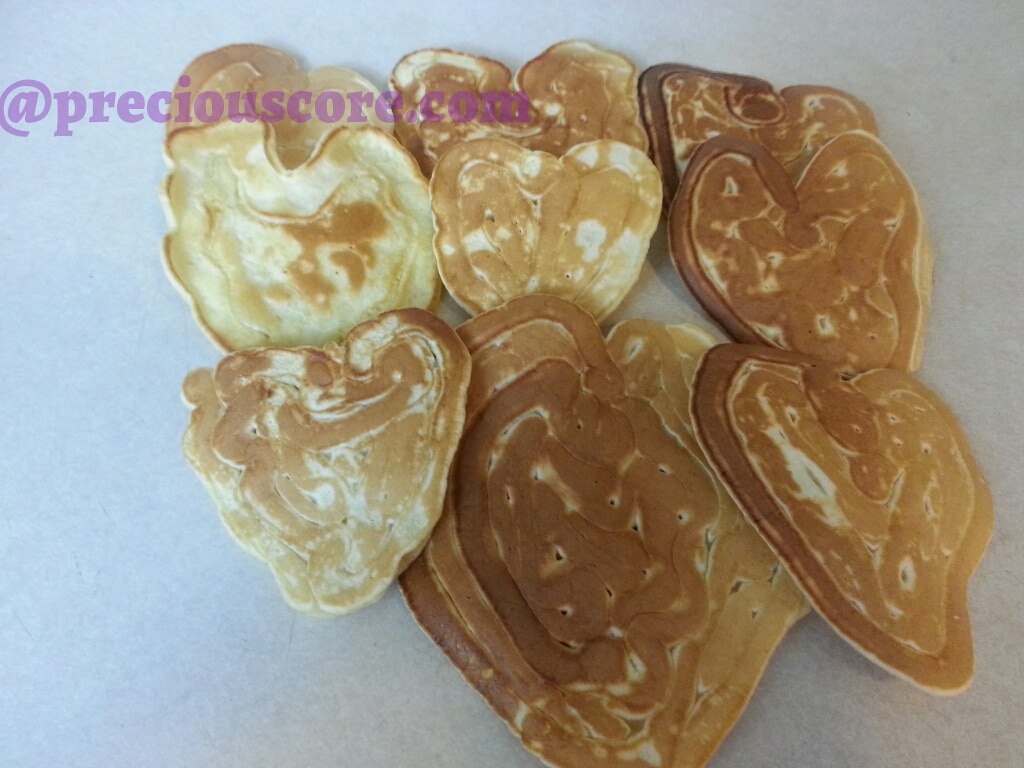 Serve this hearty pancakes as breakfast in bed to that special someone in your life and see them glow. Make some for yourself, make them for someone, make them!
Notes
I'm not much of a sugar person so with the sugar content I listed above, these pancakes will be more savoury than sweet. If you like them really sweet, feel free to up your sugar.
Also, you can make more savoury pancakes by reducing the sugar content and serving them with a hot/spicy sauce!
Add two tablespoons of melted butter to the batter for richer pancakes.
Instead of oil, you could use rub a little butter on your frying pan before making the pancakes.
If you can lay your hands on strawberries, cut them in halves and serve with these pancakes. Strawberries cut in halves look like hearts so they are a good match for this.
I love you and you and you. Enjoy!