AFRICAN BEEF STEW
Published Oct 31, 2018
Updated Nov 14, 2018
I love having a big bowl of this African Beef Stew in the fridge. So on busy days, I could make a quick side dish like some boiled rice then I warm up the stew and we have a complete meal! This tomato-based stew is so versatile. And I'm going to show you the easiest way to make it which will yield the most flavor!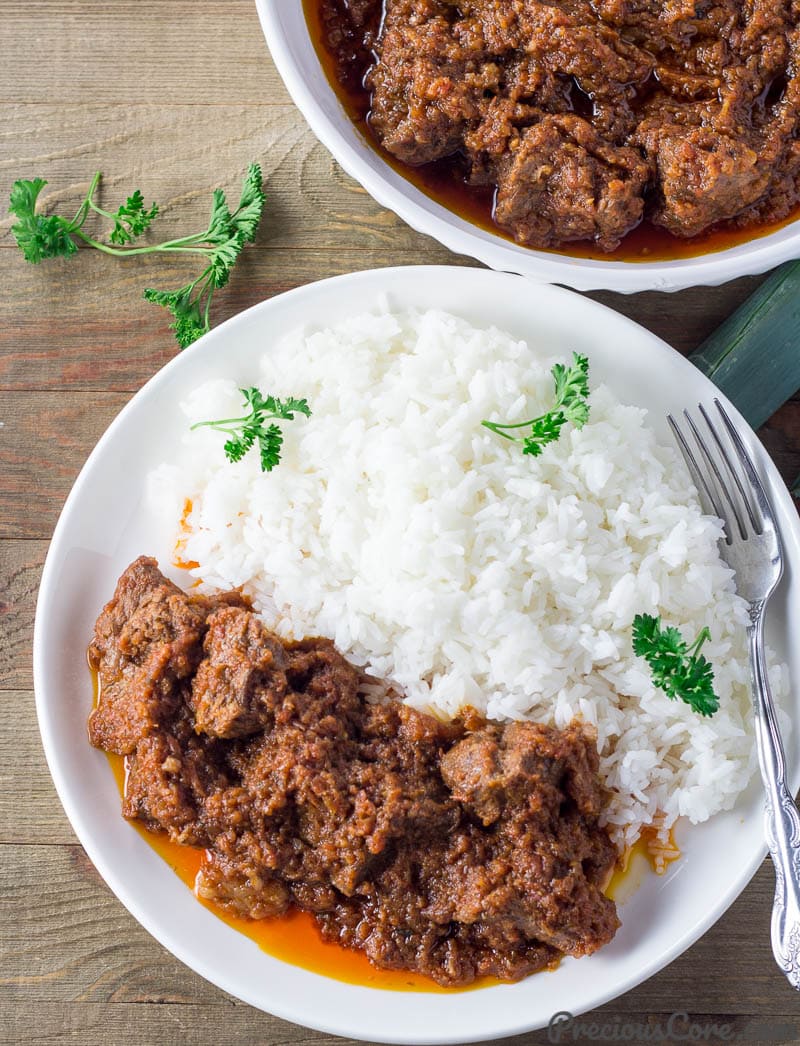 I am back with another out-of-the-norm recipe just like my Cameroonian Jollof Rice. My African Beef Stew is totally unconventional but the method I will show you works so well!
In West Africa, what is called Beef Stew or Meat Stew is quite different from the Beef Stew in America. While American Beef Stew is made with just a little tomato and a mixture of carrots, celery, and other ingredients, the main ingredient in West African Beef Stew is tomatoes. Lots and lots of tomatoes. So we may as well call it a tomato stew.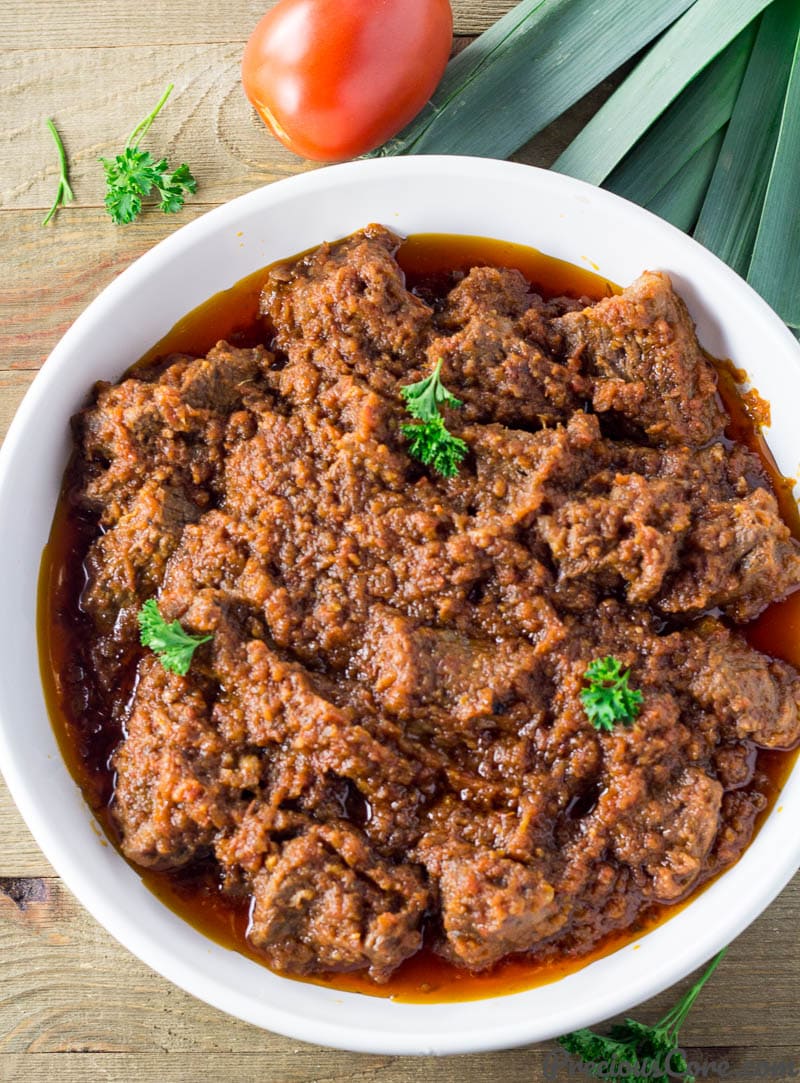 African beef stew is made in a gazillion ways across Cameroon, Nigeria, Ghana and other African countries. But no matter the way stew is made, the main ingredient is always tomatoes.
Typically, the tomatoes are fried in oil to remove the acidity. We like our tomatoes without the acidity so the frying helps make that happen.
My method doesn't include all the frying. You simply combine the ingredients together with the meat and cook together. By the time they are done cooking, the tomatoes don't taste sour at all!
Also, the meat is super flavorful as it takes on the flavors of the spices and herbs. So good!
I add the oil to the stew at the end. The oil still retains its fresh taste since it has not passed through a lot of heat as is the case with conventional West African stew. This African Beef Stew is:
savory
slightly sweet with all the natural sweetness from the tomatoes
garlicky and herby
finger-licking delicious!
versatile: it can be eaten with so many things – rice, pasta, potatoes, plantains, the list is endless!
Ingredients for African Beef Stew
To make the best tasting stew use these ingredients: beef, tomatoes, onion, leek (or green onions), parsley, celery leaves, basil, garlic, ginger, white pepper, stock cubes, oil, and salt. Now if you love heat, feel free to equally add in some habanero or scotch bonnet pepper.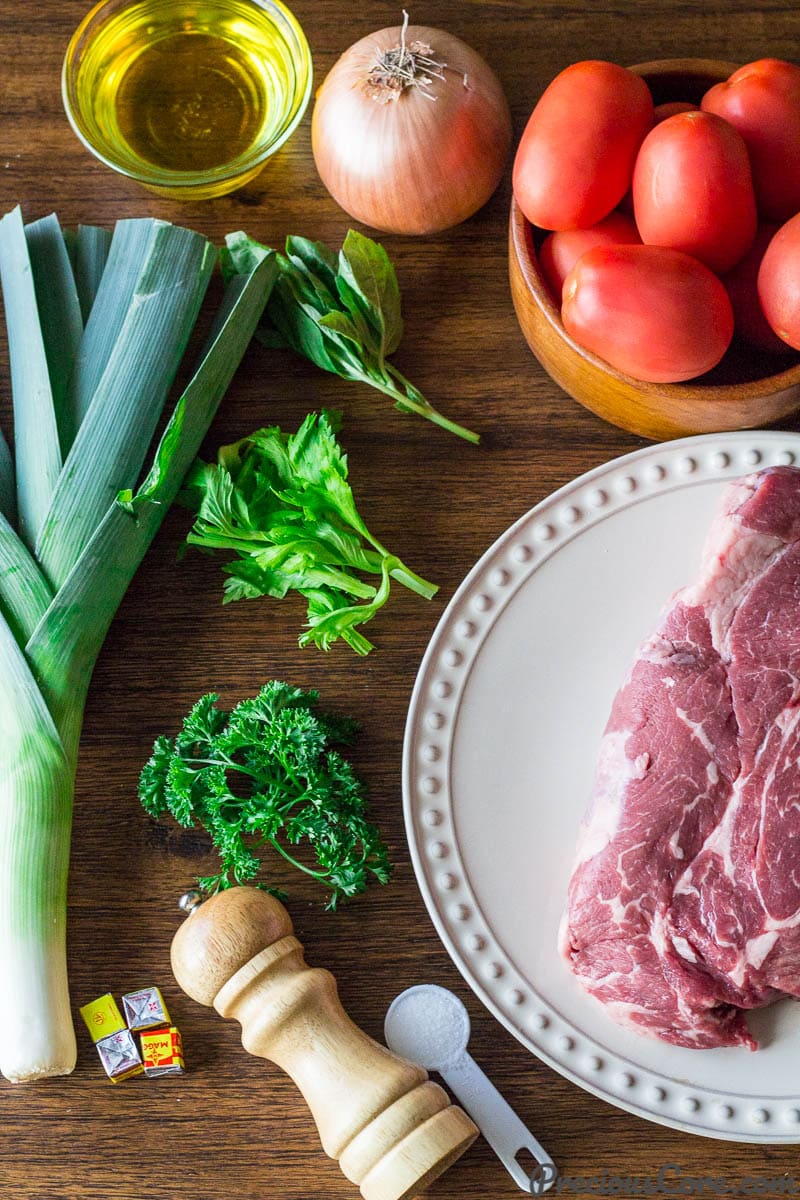 Ginger and garlic pictured separately because I forgot to snap them with the other ingredients. Blame it on mommy brain!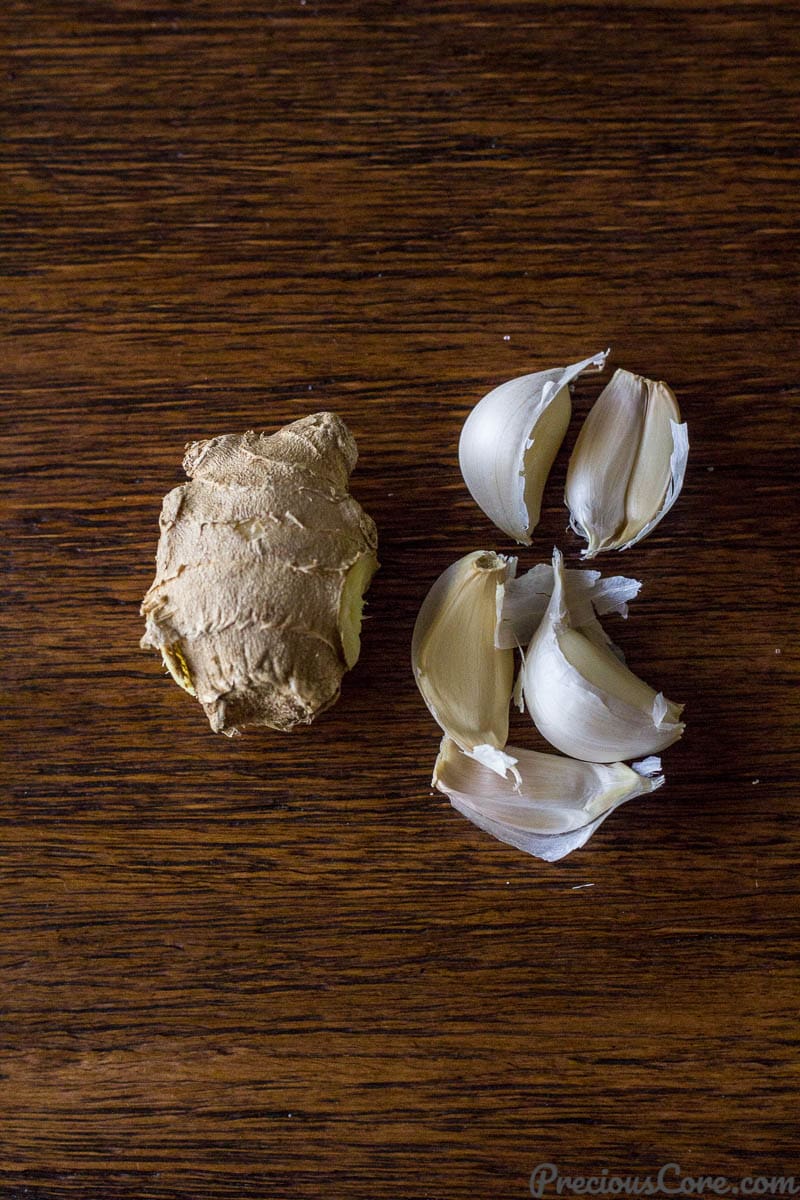 The cut of beef I use is Chuck Roast because it contains just the right amount of fat that makes it super flavorful!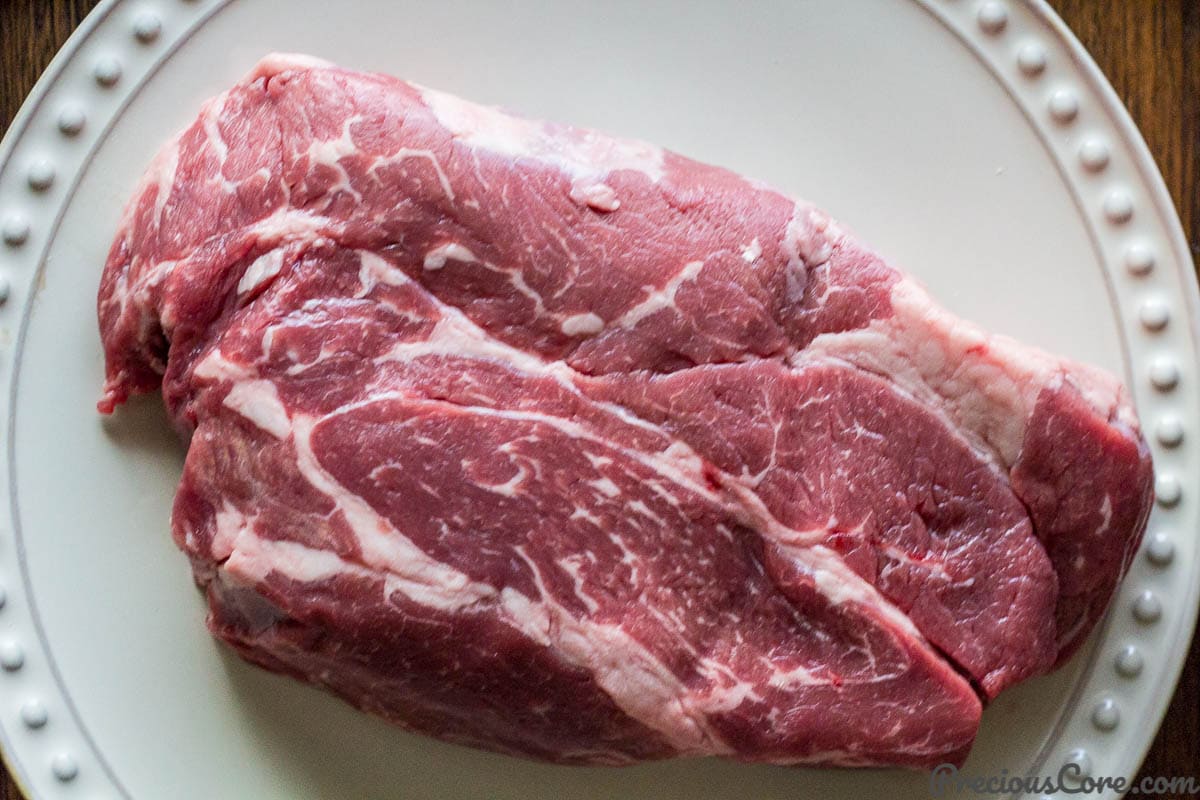 How to Make African Beef Stew
1. Cut your beef into chunks and place in a pot.
2. Blend together garlic, ginger, parsley, celery basil, tomatoes, onion, leek into a paste.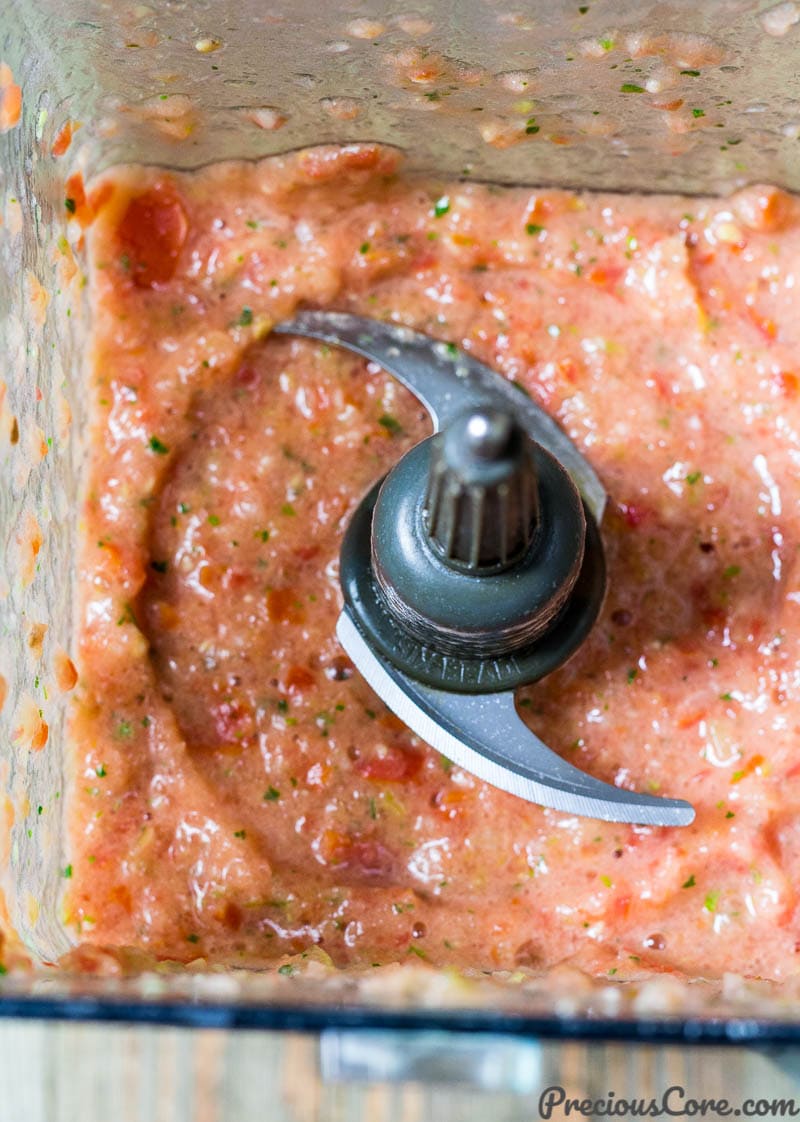 3. Pour the blended mixture over the beef. Also add salt, stock cubes and white pepper then stir.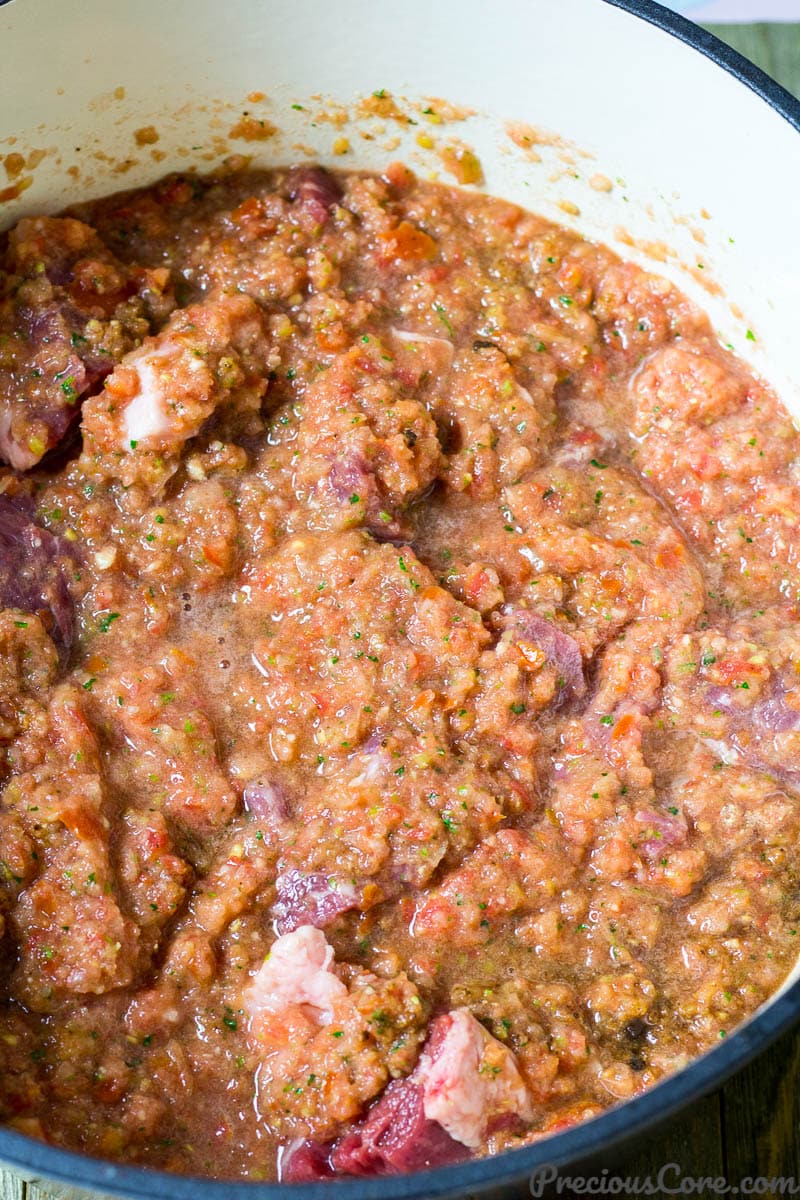 4. Cook the beef and mixture on medium-high heat while stirring from time to time for 30 minutes.
5. Add oil to the pot, stir and let it simmer for 3 minutes. Your African Beef Stew is ready!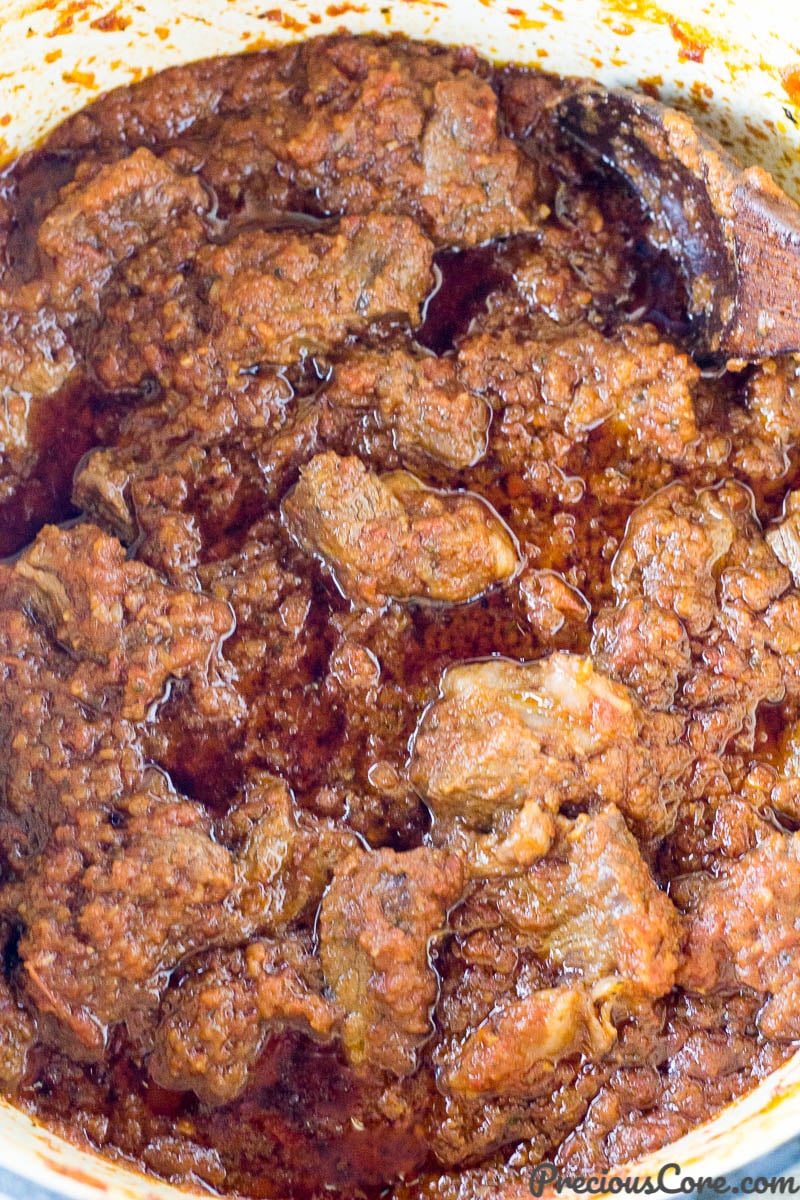 What Goes Good With African Beef Stew?
You can enjoy your African beef stew with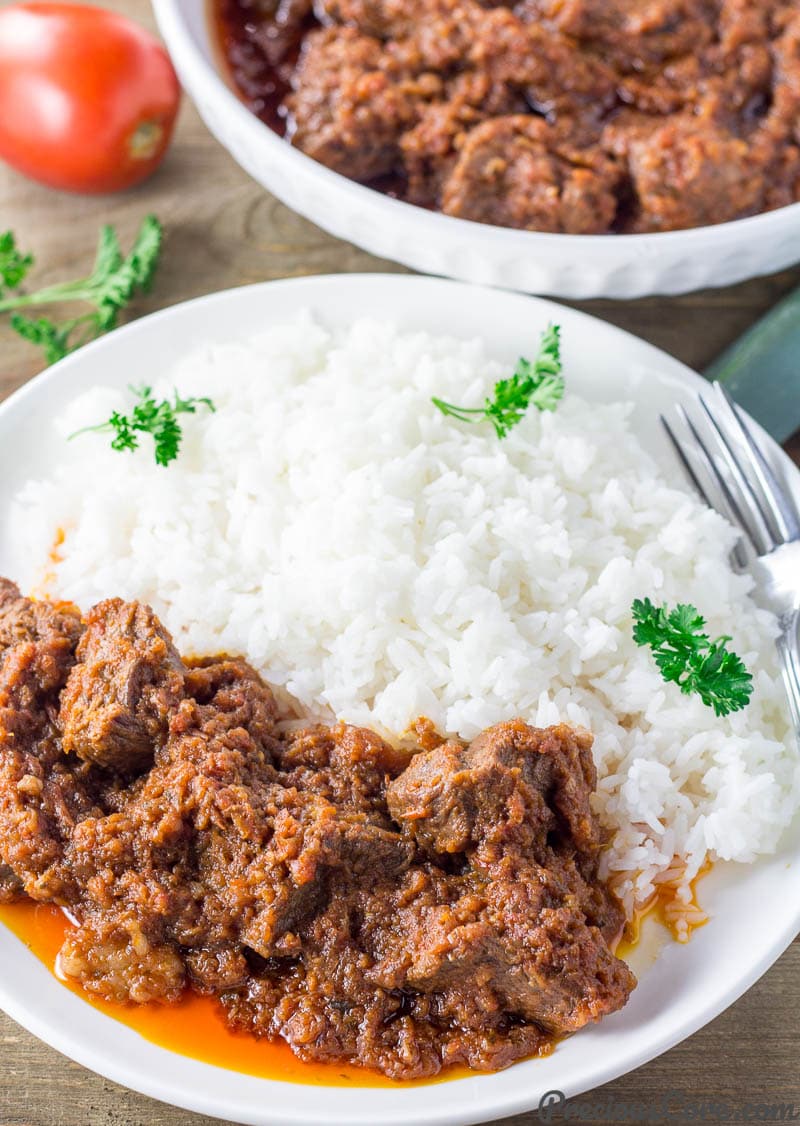 This is such a tasty and easy African dinner recipe. Hope you make some soon!
I made a video to show you guys how to make African Beef Stew. Click below to watch and don't forget to subscribe to my YouTube channel so you never miss a video. Thanks to everyone who has subscribed!
Watch How to Make African Beef Stew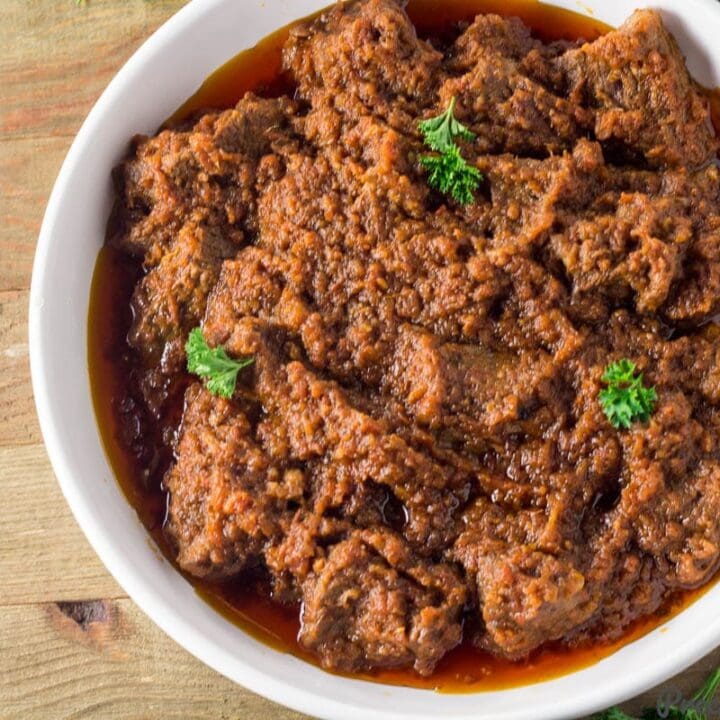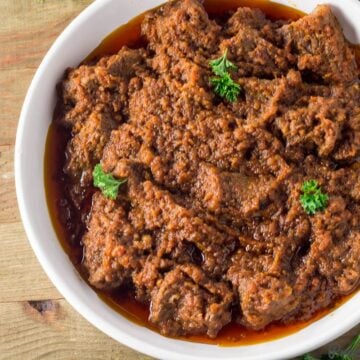 African Beef Stew
See Recipe Video Above. African Beef Stew is quite different from American Beef Stew. The main ingredient is tomato so you may as well call it a tomato stew. My method of making African Beef Stew includes cooking the tomatoes with a tasty blend of spices then adding the oil at the end. The taste is out of this world!
Ingredients
2

pounds

beef

I used Chuck Roast

8

large roma tomatoes - chopped into chunks

1

large onion - chopped into chunks

4

sprigs

parsley

3

sprigs

celery leaves

1/4

a leek

substitute with 3 stems of green onions

5

cloves

garlic - peeled

1

inch

ginger root- peeled

1/2

teaspoon

ground white pepper

4

stock cubes

4g per cube - substitute with 4-5 teaspoons of bouillon powder

1

teaspoon

salt

1

cup

oil

I used corn oil
Instructions
Grind the tomatoes and spices. Place the tomatoes, onion, basil, parsley, celery, garlic and ginger in a blender. Blend into a paste.

Cut the beef into 1 1/2 inch slices and place in a pot.

Add the ground ingredients to the beef. Then add the salt, stock cubes (or bouillon powder) and white pepper. Mix well to combine.

Place the pot on medium high heat and bring to a boil. Stir then cover and let it cook while stirring from time to time for 30 minutes until the liquid reduces and the tomatoes assume a richer red color.

Add the oil and stir. Taste to ensure seasoning is perfect, At this point, adjust the consistency of your stew. If you want it thinner, add a little water. If you choose to add water, be sure to taste so you can add more salt as needed. I like it thick so I leave it without any added water. Let it simmer with the oil for about 3 minutes then turn off the heat.

Serve warm with boiled rice or any side of choice.
Notes
1. I used chuck roast in this recipe because it has a nice ratio of fat to meat and it yields great flavor. Feel free to use any cut of meat you like. Sirloin steak or even stew meat are great choices.
2. If you love heat, feel free to add some habanero or scotch bonnet pepper to the ingredients you blend.
3. I blend the ingredients in this recipe with no added water. The water from the tomatoes provides enough liquid for my blender to crush the other ingredients. Also, I blend all the ingredients at once because my blender can accommodate them. If your blender is smaller blend in batches, making sure there are tomatoes in each batch.
Nutrition
Calories:
477
kcal
|
Carbohydrates:
5
g
|
Protein:
23
g
|
Fat:
41
g
|
Saturated Fat:
8
g
|
Polyunsaturated Fat:
9
g
|
Monounsaturated Fat:
24
g
|
Trans Fat:
1
g
|
Cholesterol:
78
mg
|
Sodium:
868
mg
|
Potassium:
572
mg
|
Fiber:
1
g
|
Sugar:
3
g
|
Vitamin A:
622
IU
|
Vitamin C:
11
mg
|
Calcium:
36
mg
|
Iron:
3
mg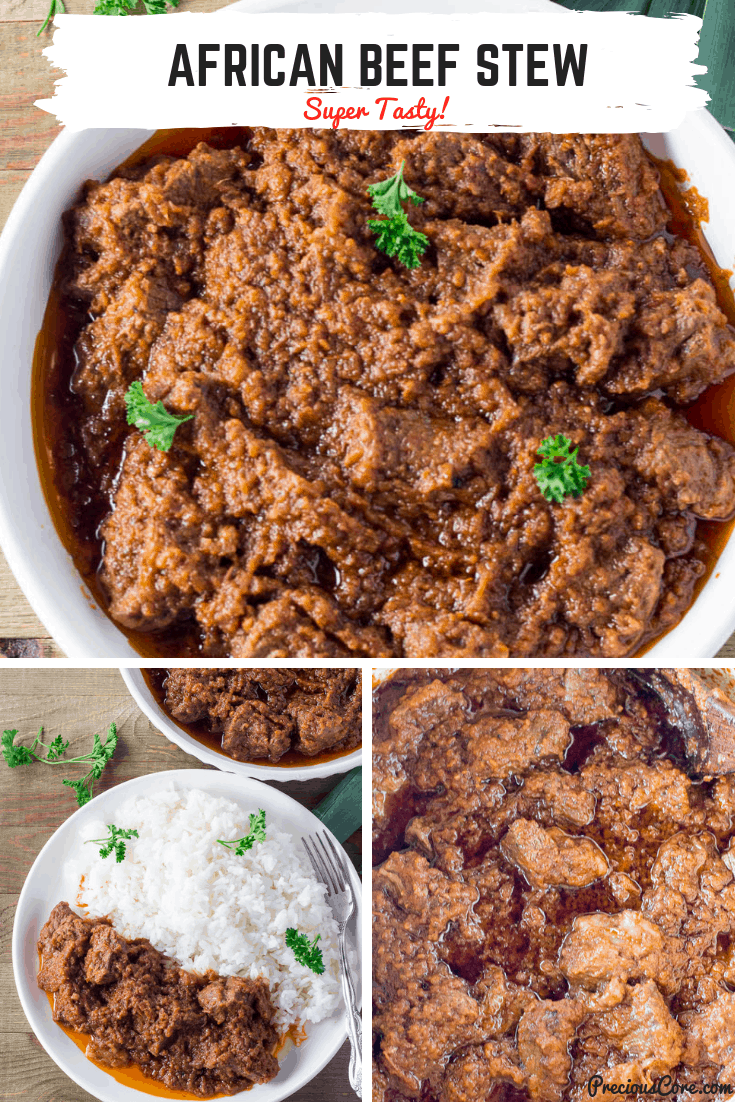 "The name of the Lord is a strong tower;
The righteous run to it and are safe." Proverbs 18:10, NKJV