YAM PORRIDGE
Published Jul 23, 2016
Updated Sep 26, 2018
The other day, I had what I would term the most boring day of my life. I was feeling so unmotivated. I didn't want to do anything. Nada! I didn't want to cook. I even considered getting fastfood for the girls. Then I remembered that I had one lovely white yam in my kitchen.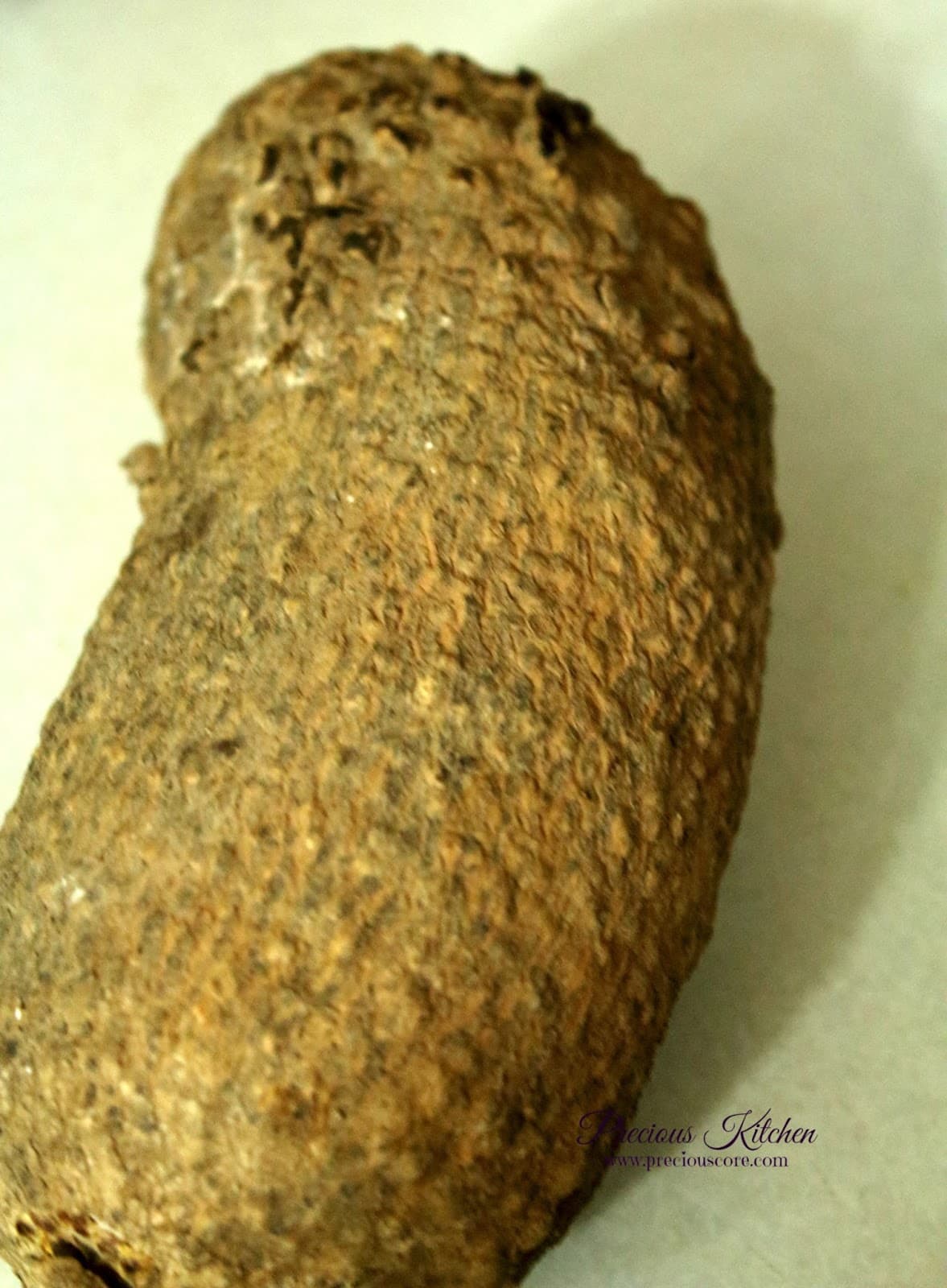 This yam changed my life. I mean, I even had Kuta (a kind of smoked) fish, Dried Herring fish, crayfish and palm oil! I had everything needed to make a quick spectacular meal come through. I didn't have to follow long processes to put a meal on the table. All I needed to do what cut the yam, dump into a pot with ingredients and voila, dinner was ready!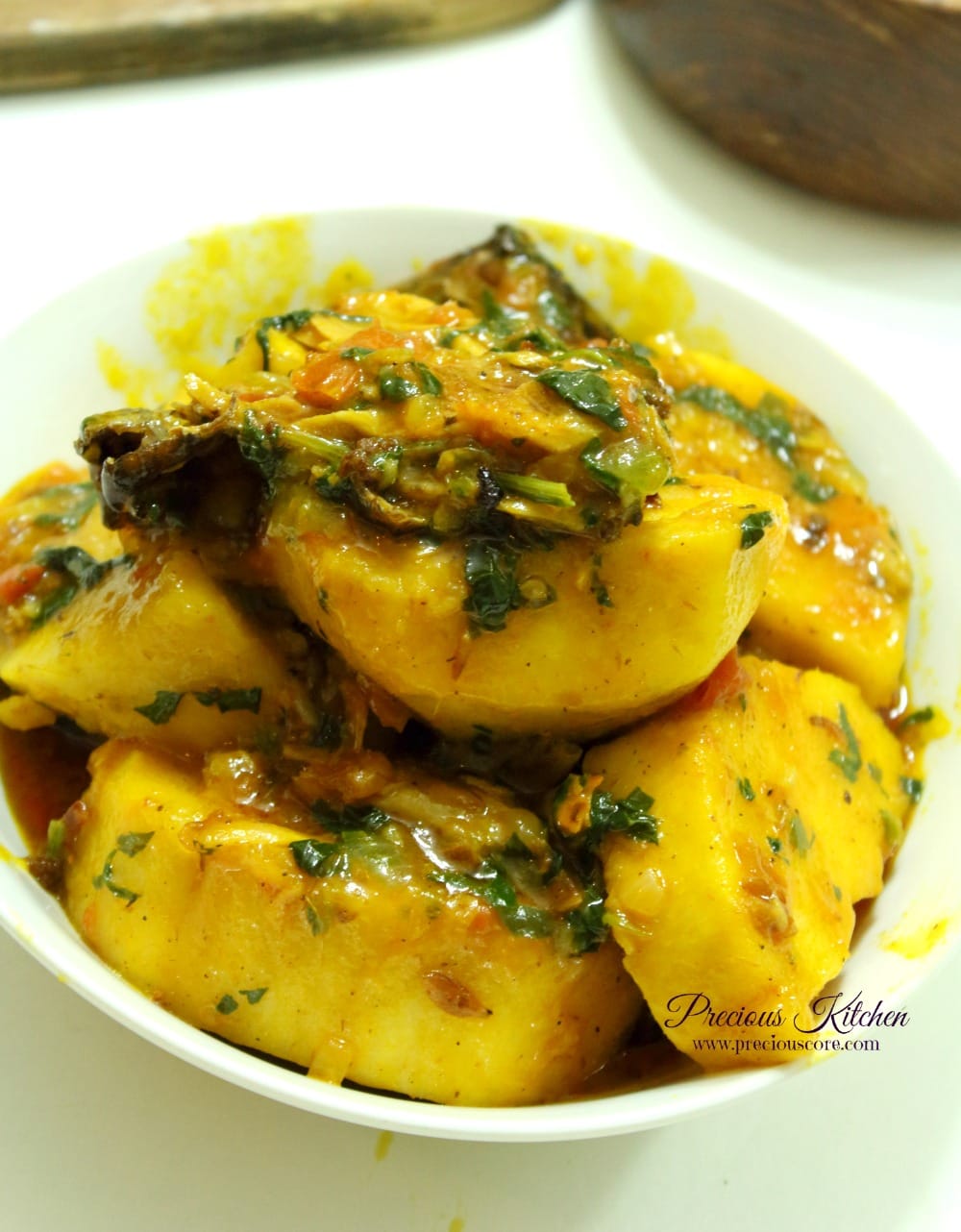 What is called Yam, in Cameroon is an edible tuber that belongs to the Dioscorea plant specie. It is different from the American Yam, which bears a striking resemblance to sweet potatato. In Cameroon, this white yam is colloquially called, "Calabar Yam". Perhaps because, it is mostly imported from Calabar, Nigeria. Old yams make the best meals. They have a nice slightly crumbly texture when cooked.
I love boiling white yams to eat with
Ndole
,
Okongobong
or
Njangsa stew
. But on this day when all I wanted to do was be a couch potato, I made it into a porridge and it made my family very happy. The meal is fishy, savory and it's like Africa in a plate. So natural, yet so full of character.
To make this, cut your yam into circles then into half-moons and peel. You can cut further if you want but I prefer my yams in big chunks.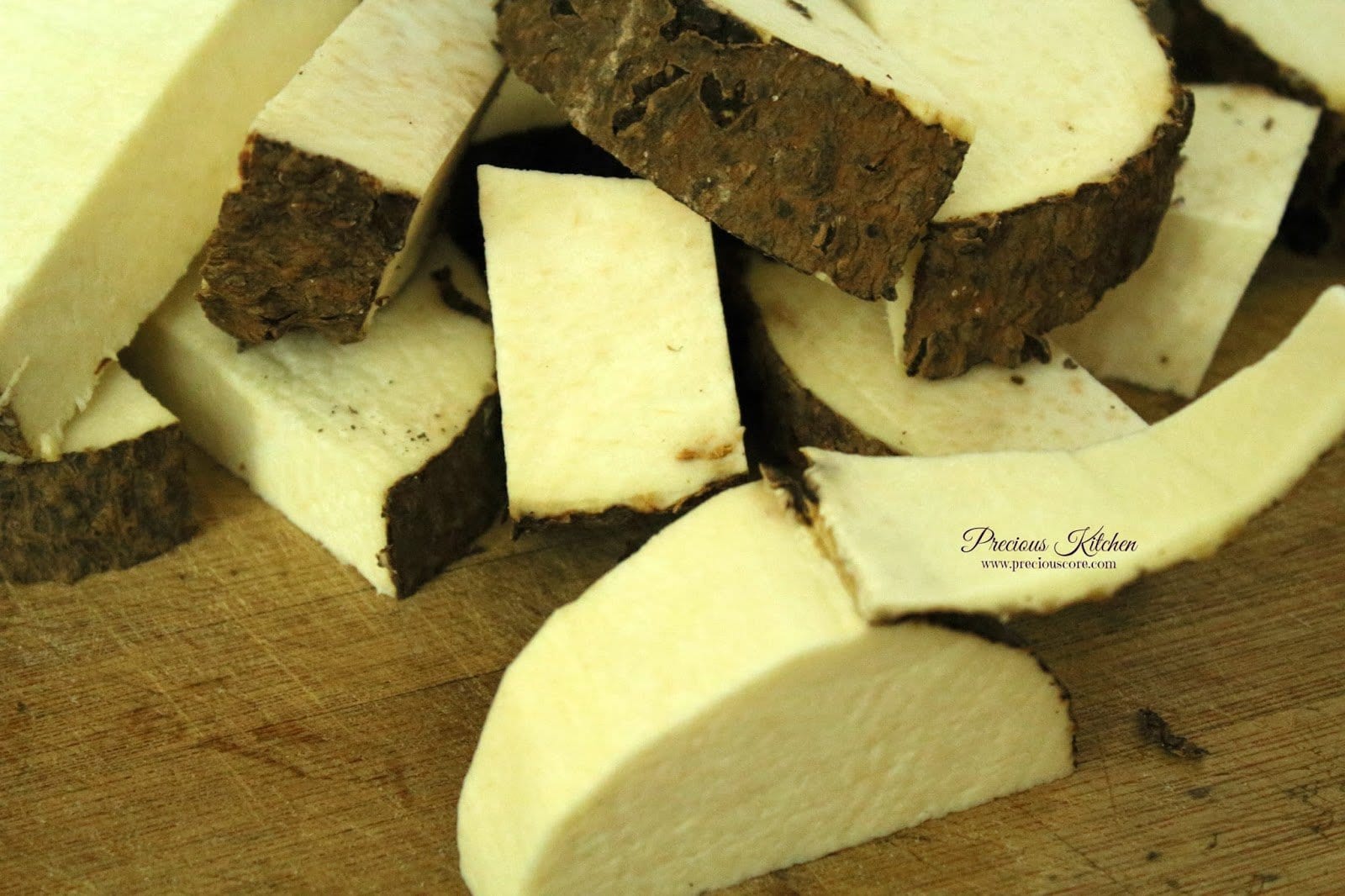 Place into a pot and add water to the level of the yam. I can explain the oil-stained water you see below. I had some used oil in my pot with EDIBLE particles. So I just dumped in my yam and water. Remember the couch potato thing I said earlier?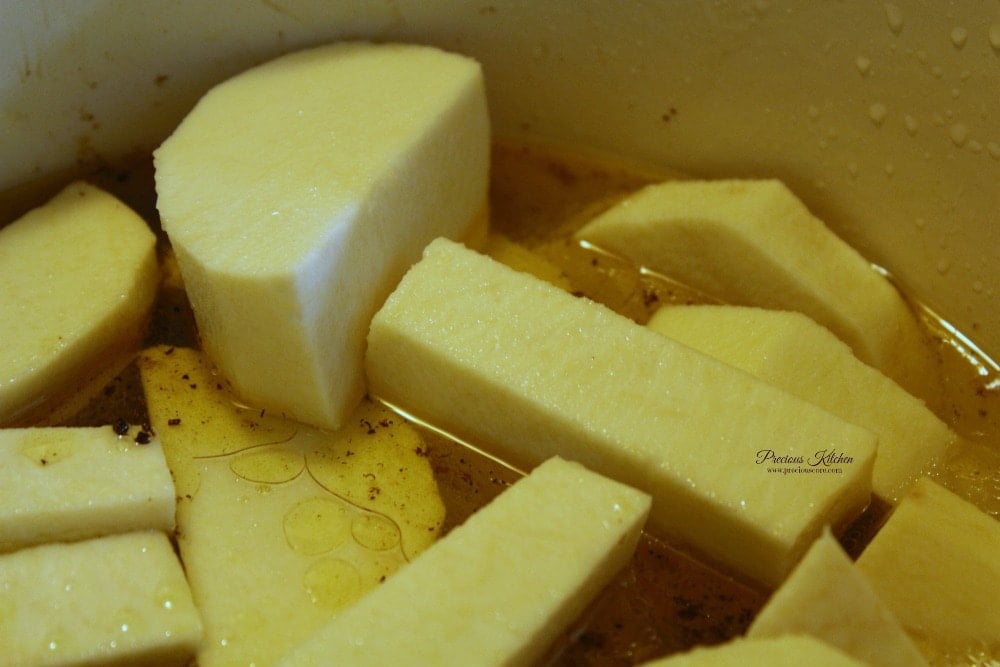 Dump in some chopped tomatoes, onions, palm oil, crayfish, dried fish, salt and Maggi. Oh, and some hot pepper if you like! Bring all of that to a boil. Oh my, the aroma from this is to die for!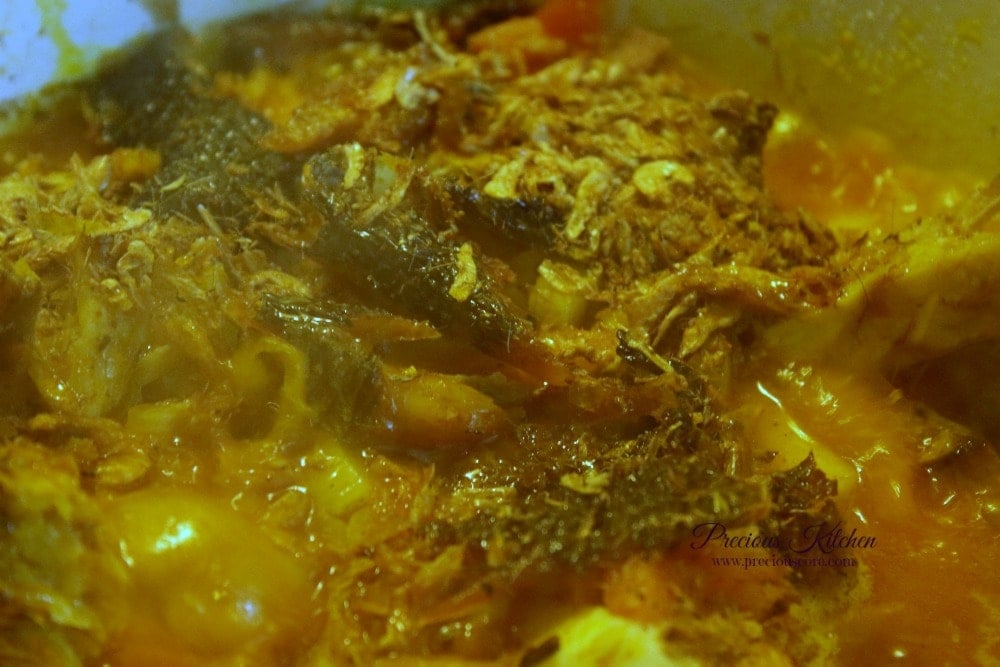 After about 10 minutes, stir by either shaking the pot or using a wooden spoon. Be careful not to break the yams, except you want the yams mushy. At this point, you can add some water if you need more moisture.
Chop some green leafy vegetable and throw in. I used spinach. You could use bitterleaf. Okongobong or kale.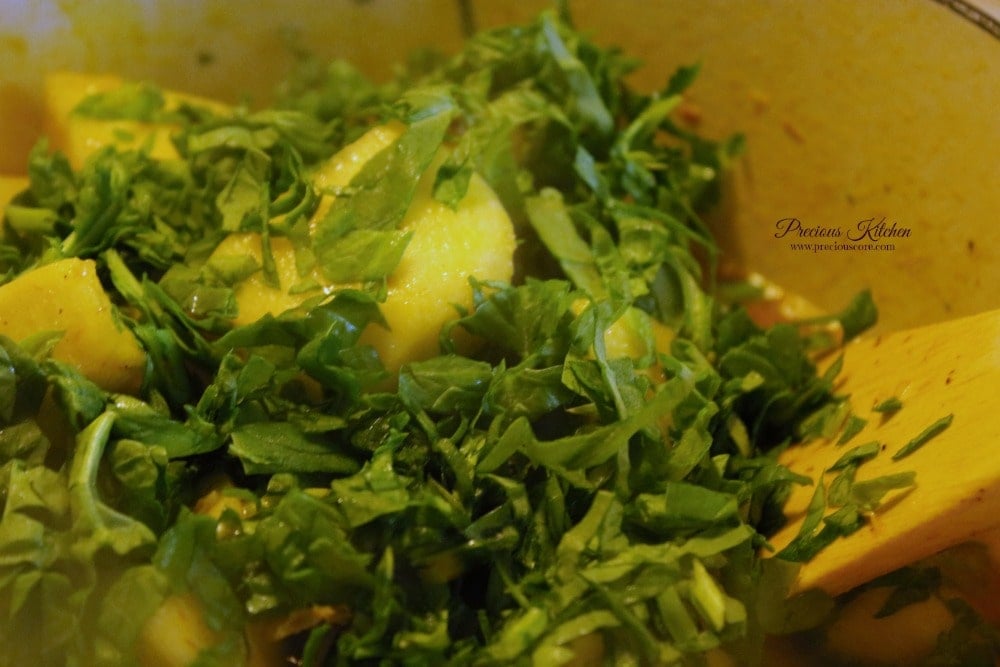 Give that one last stir.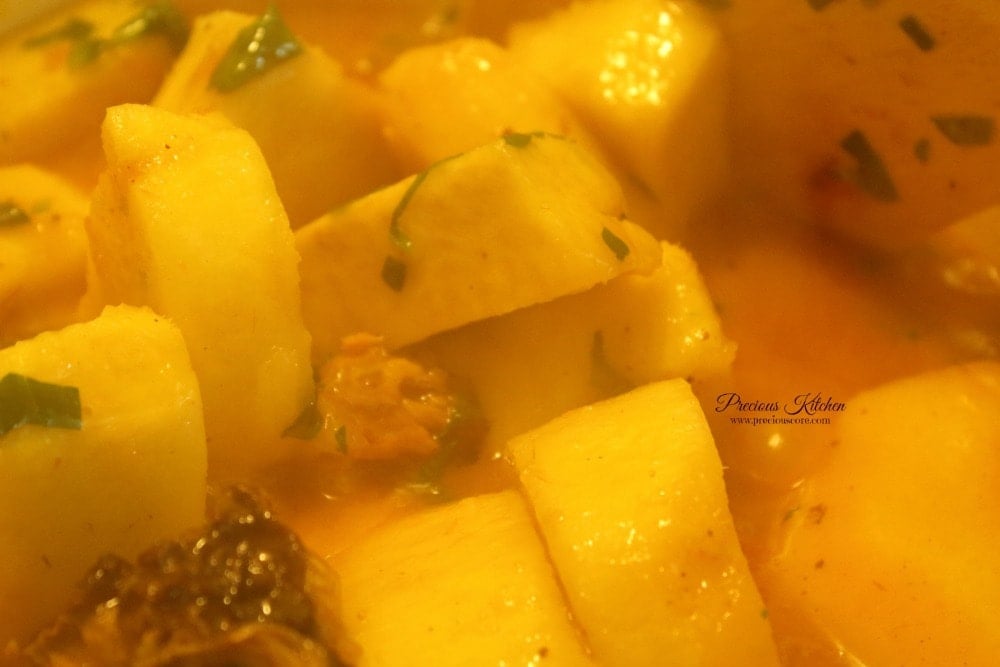 Serve warm!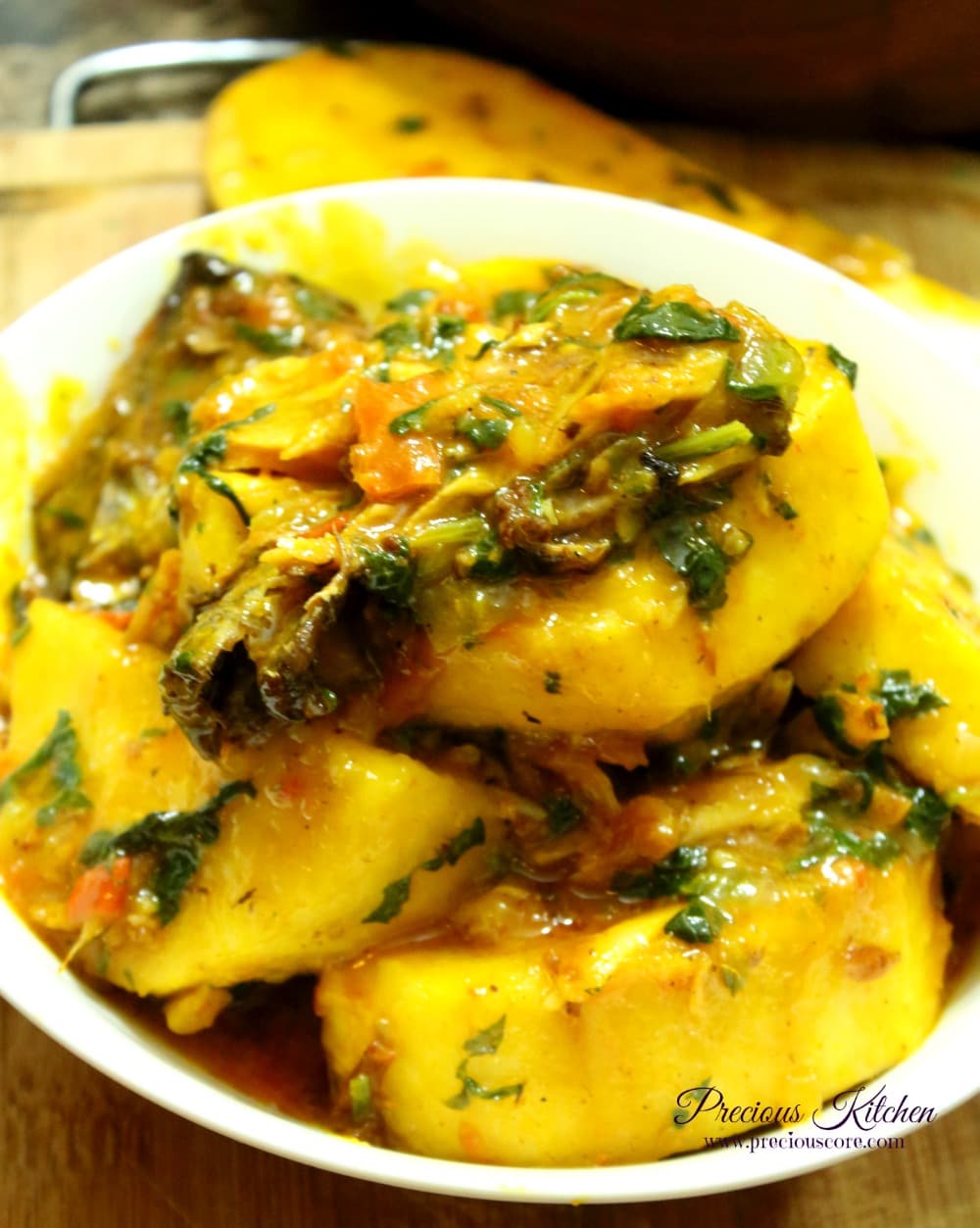 Here is the printable recipe for you, my friend!
print recipe
Yam Porridge
by
Precious Nkeih (www.preciouscore.com)
July-23-2016
A one-pot yam dish which is typically eaten in Cameroon and Nigeria. So easy to make!
Ingredients
1 tuber

yam

3

tomatoes

1

medium-sized onion

1 pound (about half kg)

dried/smoked fish

half cup

crayfish

half-one cup

palm oil

2 cubes

maggi seasoning

half teaspoon

salt

1

habanero or chili (hot pepper) – optional

1 handful

spinach or other green leafy vegetable (bitterleaf/kale)
Instructions
1. Cut yam into circles, then into half moons and peel.
2. Wash yam pieces and place into a pot. Pour in water to about the same level of the yam slices.
3. Chop tomatoes, onions and throw in. Add in oil, crayfish, smoked fish, salt, Maggi and hot pepper (if using) and bring to a boil.
4. Check pot after 10 minutes to see if more water is needed.
Add water depending on how much liquid you want in the pot.
Also, taste to make sure the seasoning is perfect at this stage.
Let it cook till the yam is thoroughly cooked and breaks easily when pricked with a fork.
5. Chop spinach and throw into the pot. Stir in carefully with a wooden spoon, being careful not to break the yam. Turn off heat and serve warm!
Details
Prep time: Cook time: Total time: Yield: 4 servings