African Meatballs – Video Recipe
Published Jan 26, 2018
Updated Sep 26, 2018
I'm immortalizing my African Meatballs recipe today by adding a video to it. The step-by-step photo version of the recipe can be found here: African Meatballs.
Here is one thing I must tell you about these meatballs: Mr. N doesn't like meat but he LOVES these meatballs. I think it is because of their exceptional taste. They are infused with garlic, onions, parsley and one of my all-time favorites, white pepper!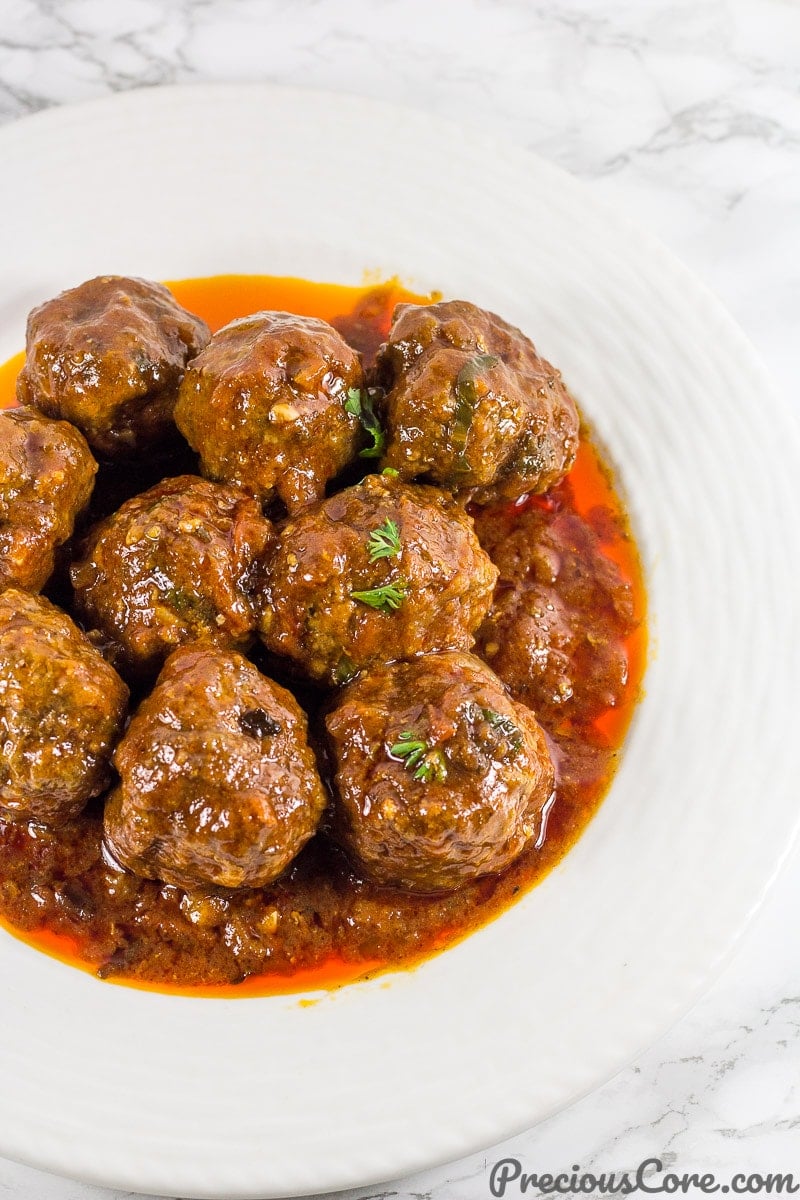 These African Meatballs are a great party food. If you want to make serve them as an appetizer, omit the tomato sauce and serve just the cooked meatballs. To make them more appealing as an appetizer,, you could make them smaller, place them on skewers like soya and serve.
Some tips for the perfect meatballs:
Don't overmix the meatballs. Overmixing may result in tough meatballs. Once all the ingredients are incorporated, stop there and proceed with forming the balls.
Use an ice cream scoop to scoop out the meat mixture so your balls are very similar in size. Trying to measure just with your hands might lead to a variety of sizes. So use a scoop just to be sure.
These meatballs are best fried. They could be baked too but honestly, the baked version is not as good as the fried one. So I advocate for frying – it's not an everyday meal in my home so I have no concerns with deep frying while cooking every now and then.
Meatballs freeze well so you could make them and freeze beforehand then make the sauce and add the meatballs to it for a quick dinner.
We love eating our meatballs with boiled pasta or boiled rice. I served them the other day with boiled whole grain thin spaghetti. They were epic in every way!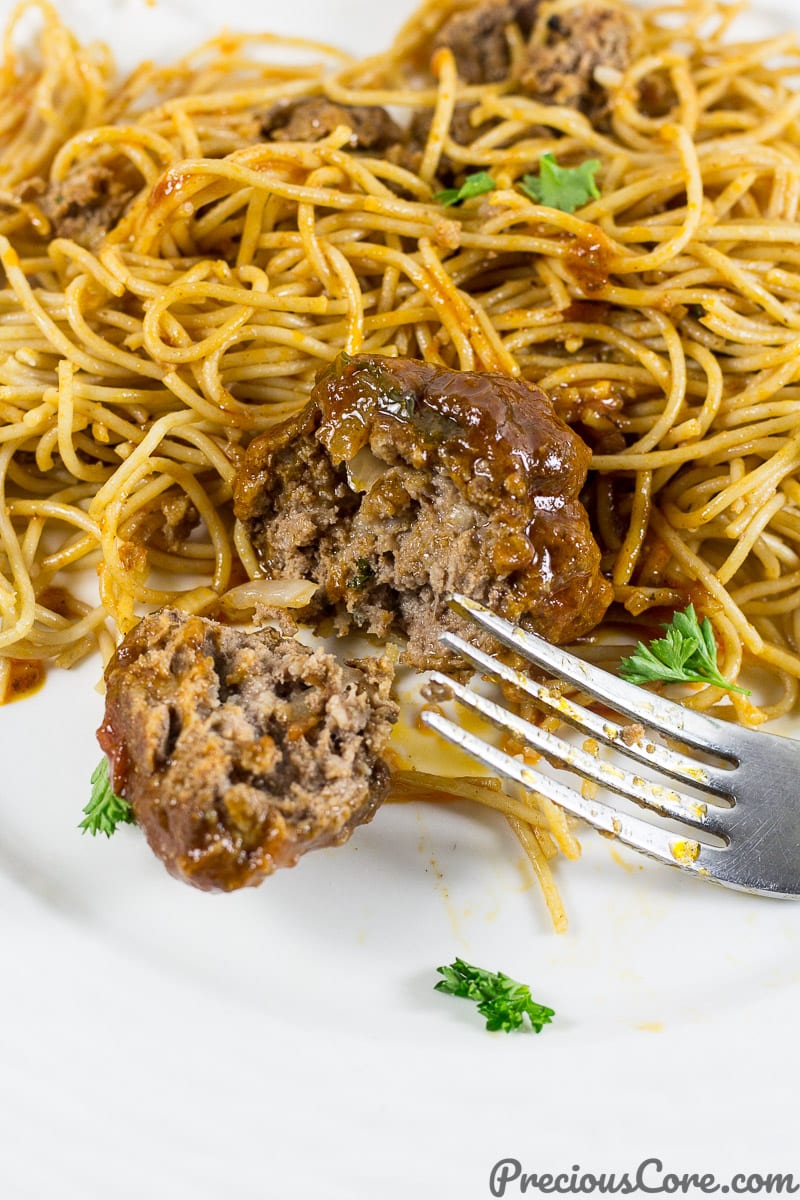 Watch the video and then go make some! You deserve some good meatballs on your table this weekend.
Watch how to make African Meatballs: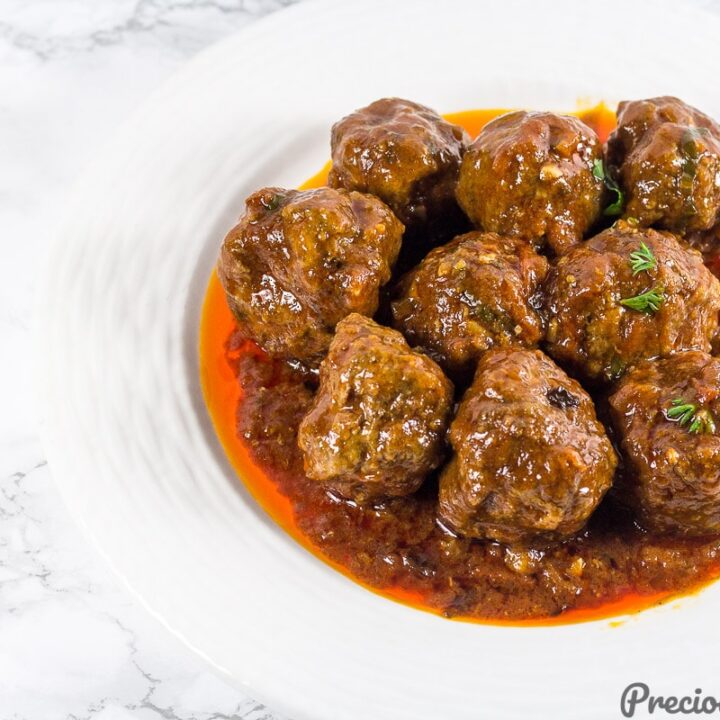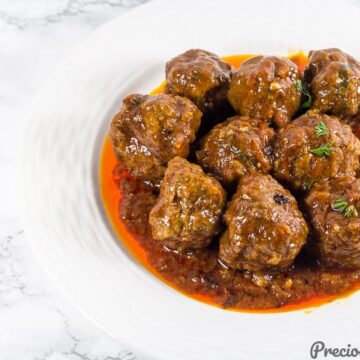 African Meatballs - Video Recipe
These African meatballs are made with garlic, parsley, onions and my all-time favorite spice, white pepper! They are simmered in an insanely flavorful tomato sauce. In my home, we eat this with pasta or rice. So good!
Ingredients
2

pounds

ground beef (about 1 kg)

1

medium onion - chopped

8

cloves

garlic - minced

1

large egg

3

sprigs

parsley - chopped

1/4

teaspoon

white pepper

4

seasoning cubes (Maggi - abt 4g per cube)

substitute with bouillon powder

1/2

cup

breadcrumbs

3/4

cup

oil

3-4

large tomatoes - chopped

16

ounces

tomato sauce (about 450g)

I used 2 8oz cans

3

leaves

basil - chopped

1

teaspoon

salt
Instructions
In a large bowl place meat, breadcrumbs, egg, parsley, half the garlic, half the onion, salt, white pepper and seasoning cubes. Mix with your hands until just combined.

Use an ice cream scoop to scoop out the meat mixture then form into a ball with your palms. Place on a tray. Repeat process until meat mixture is finished.

Heat the oil in a pan on high for about 5 minutes. Turn down the heat to medium then place the balls into the oil. Be sure not to overcrowd the pan with the balls.

Let one side cook for 3- minutes then flip to the other side and let it cook for about 3 minutes. Remove from oil and repeat process with the rest of the balls.

Add remaining onions and garlic to the oil and saute until fragrant. Add in tomatoes and cook while stirring from time to time until the tomatoes shrink. About 5 minutes.

Add the tomato sauce and cook for another 10 minutes or until the tomatoes no longer taste sour. Be sure to stir from time to time. At this point, adjust the consistency of the sauce. If it is too thick, add some water. About half to 1 cup of water is fine.

Add in remaining seasoning cubes, a pinch of salt and stir well. Add in the meatballs and mix gently, being sure to coat the balls with the sauce. Let it simmer for about 10 minutes.

Finally, add the chopped basil and stir gently. Turn off the heat and enjoy!

Serve over boiled spaghetti, another pasta of choice or boiled rice.
Notes
1. Meatballs freeze well so you could make them and freeze beforehand then make the sauce and add the meatballs to it for a quick dinner.
2. If you love heat, add a little cayenne, chili or habanero pepper to the sauce.
Nutrition
Calories:
500
kcal
|
Carbohydrates:
12
g
|
Protein:
24
g
|
Fat:
39
g
|
Saturated Fat:
9
g
|
Polyunsaturated Fat:
7
g
|
Monounsaturated Fat:
21
g
|
Trans Fat:
1
g
|
Cholesterol:
98
mg
|
Sodium:
1175
mg
|
Potassium:
676
mg
|
Fiber:
2
g
|
Sugar:
5
g
|
Vitamin A:
701
IU
|
Vitamin C:
13
mg
|
Calcium:
56
mg
|
Iron:
4
mg
Pin this recipe: