HERE'S WHAT'S UP: I'M A HAPPY WOMAN
Published Jan 05, 2016
Updated Apr 27, 2017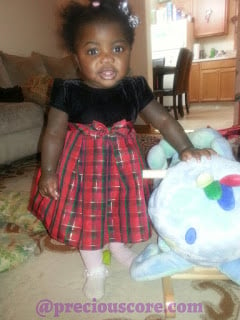 2016 is here! At the beginning of last year, I was a very angry woman. I was carrying a few days overdue pregnancy and all I wanted to do was give birth. The family and friends who kept asking if I had popped out my baby were not even helping matters. Well, that's a story for another day. Today, I am a very happy woman.
My baby turned 1! She is my little sunshine- so full of love, laughter and happiness. I can't thank God enough for blessing me beyond my imagination. Her older sisters are so much in love with her and they keep garnering for her attention. That girl you see up there is our little star!
You know how music stars always say things like they started singing from their mothers' wombs… well I have an example right before me. This girl started singing when she was only a few months old. She soothes herself by singing. She even has favourite songs. She stops crying at the sound of them. Just like girl number 1 loved dancing when she was only a few months old. She usually thrilled others with her rigorous dance moves. Now girl number 3 is a songbird. Don't ask me about girl number 2. I haven't noticed a distinct talent… oh she seems to be more in love with cooking.
I am happy because God has blessed me with these arrows, the children of my youth. May this year be one filled with giant steps for us all. I look forward to bonding more with them and teaching them. It is just amazing and fulfilling to teach kids and watch them grow.
Talking about this year, I have more stories waiting to be unleashed. Are you ready to roll with me? I look forward to more features on the blog.
In church, we were admonished to take the right steps because our actions have consequences. It doesn't matter if you do not want to go to Njinikejem. If you get to the motor park and board a vehicle going to Njinikejem, you'll inevitably get there. So make sure you make the right decisions because every decision leads you somewhere.
Well, that's what's up with me! What's up with you?
Have an all-round amazing new year!