MEAL PREP FOR LUNCH OR BACK TO SCHOOL
Friends, it's meal prep for lunch or back to school day! A number of you requested that I share some meal prep recipes for lunch and back to school. So here I am sharing recipes that could work for both. With these recipes, you will be getting a fair amount of veggies and protein in each bowl. Hope they inspire you to meal prep!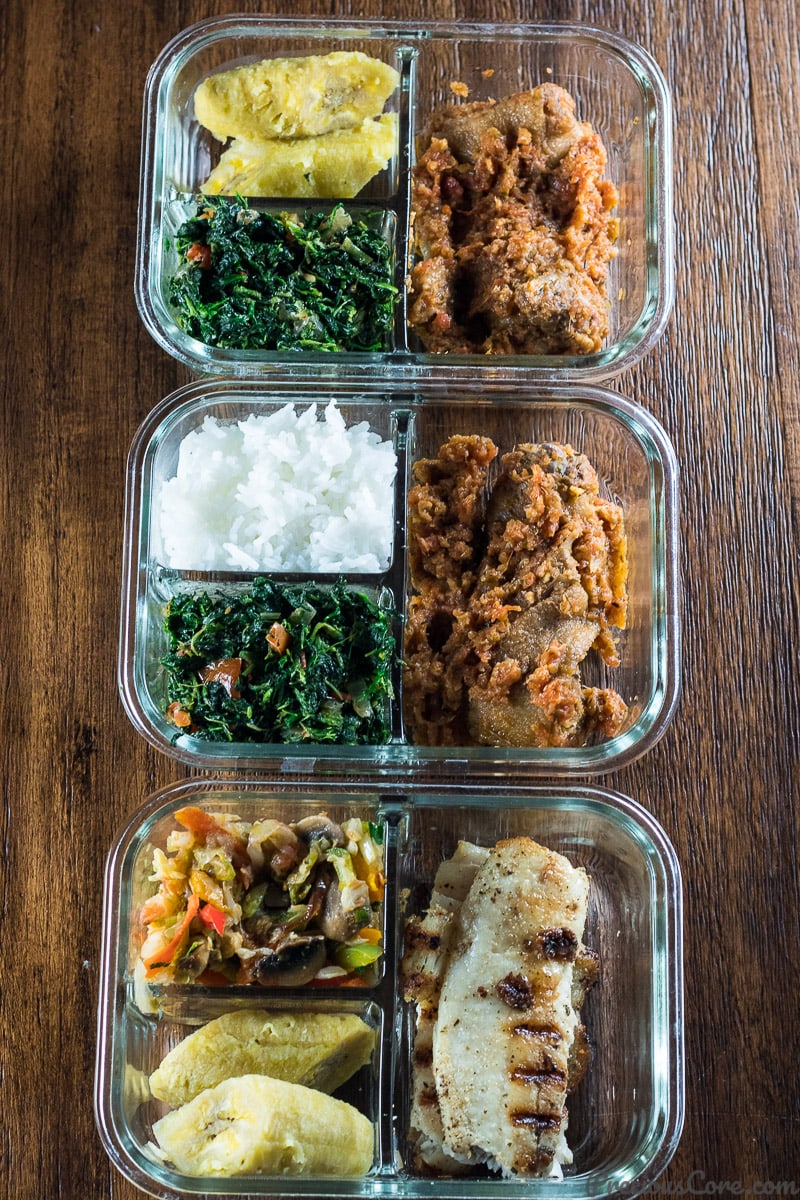 I put together a video, where you can see me prepping all the meals. Be sure to scroll down to see the video, And there's also a shopping list for you too towards the end of the post.
Note that, this is an African approach to meal prep so you will find meals that lean more toward the West African way of cooking. But you will also find "fusion" meals like pan-grilled fish (yum!!)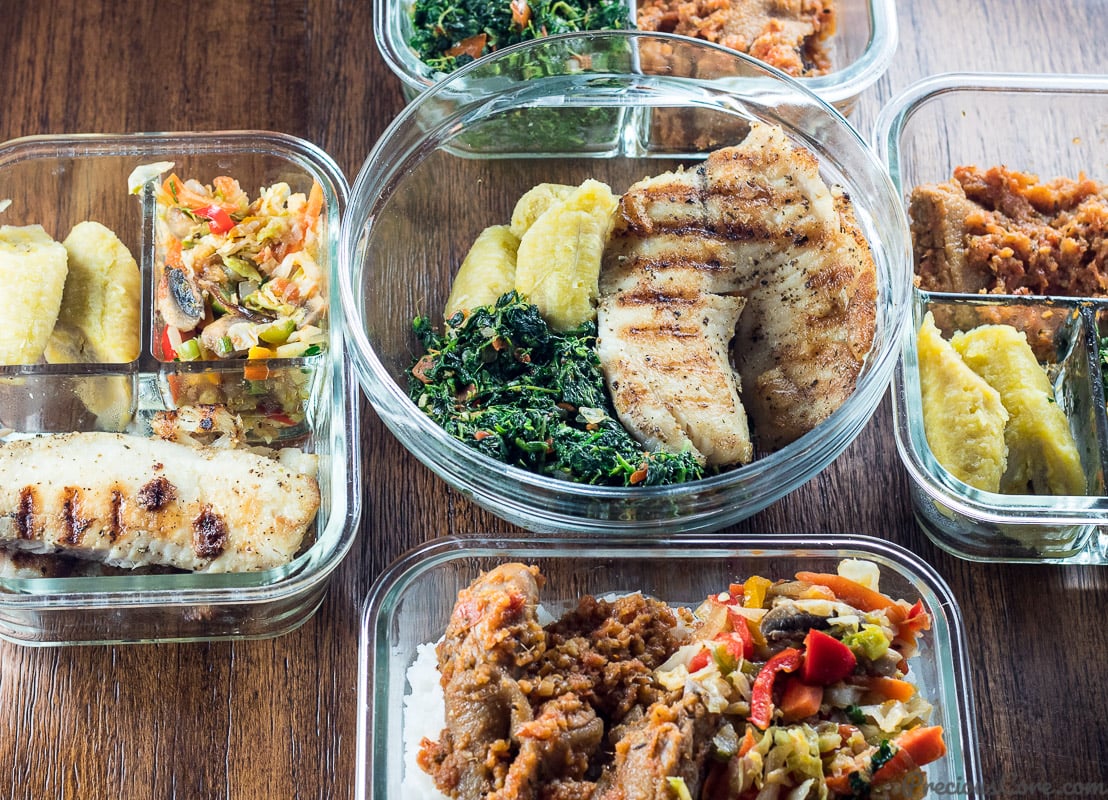 Let's look at the meals we are going to be prepping:
1. Chicken Stew: Chicken cooked in a flavorful tomato sauce but it doesn't contain a lot of sauce – just enough tomatoes and spices to coat the chicken. Insanely yummy! I used hard (African chicken) here but you could use any chicken you like. With hard chicken, the chicken cooks for a really long time – 90 minutes! Then I add in the other ingredients. But with (American) soft chicken just combine all the ingredients at once together with the chicken and cook until the chicken is done (no need to add extra water if you choose this method with soft chicken). So I will say adjust the cooking time of your chicken depending on the chicken you use.
Ingredients for the Chicken Stew
6 pounds chicken
6 Roma tomatoes
1 large onion
4 stems green onions (sub with half a leek)
3 sprigs parsley
6 cloves garlic
1-inch ginger
1 teaspoon salt or salt to taste
2 stock cubes (4g cubes)
1 teaspoon thyme
Watch the video to see how I make it.
2. Pan-Grilled Tilapia: For this recipe, I used tilapia fillets but you could use other fish fillets like salmon fillets. If you choose to use salmon, check out my pan-grilled salmon recipe here. This is a great way to cook fish with great flavor in a very short time!
Ingredients for Pan-Grilled Tilapia
4 tilapia fillets
1/4 teaspoon salt
1/8 teaspoon ground white pepper or ground black pepper
1/4 teaspoon dried basil
1/4 teaspoon ginger powder
1/4 teaspoon garlic powder
1 1/2 tablespoons oil (I used corn oil)
Watch the video to see how I make it.
3. Mixed vegetables: Cabbage lightly cooked together with other veggies. Insanely delicious and comes out perfect every time! I normally add green beans to it but I omitted it this time because I didn't have any at home. Click here for the full recipe.
4. Stewed Spinach: For this stewed spinach I omitted adding any protein to it as you will find in my recipes. That's because I already had delicious fish and chicken to go with the spinach. Find stewed spinach recipes here and here.
5. Boiled rice: Because rice is so versatile and can go with anything listed up there!
6. Boiled plantains: For more carbs because plantains are life!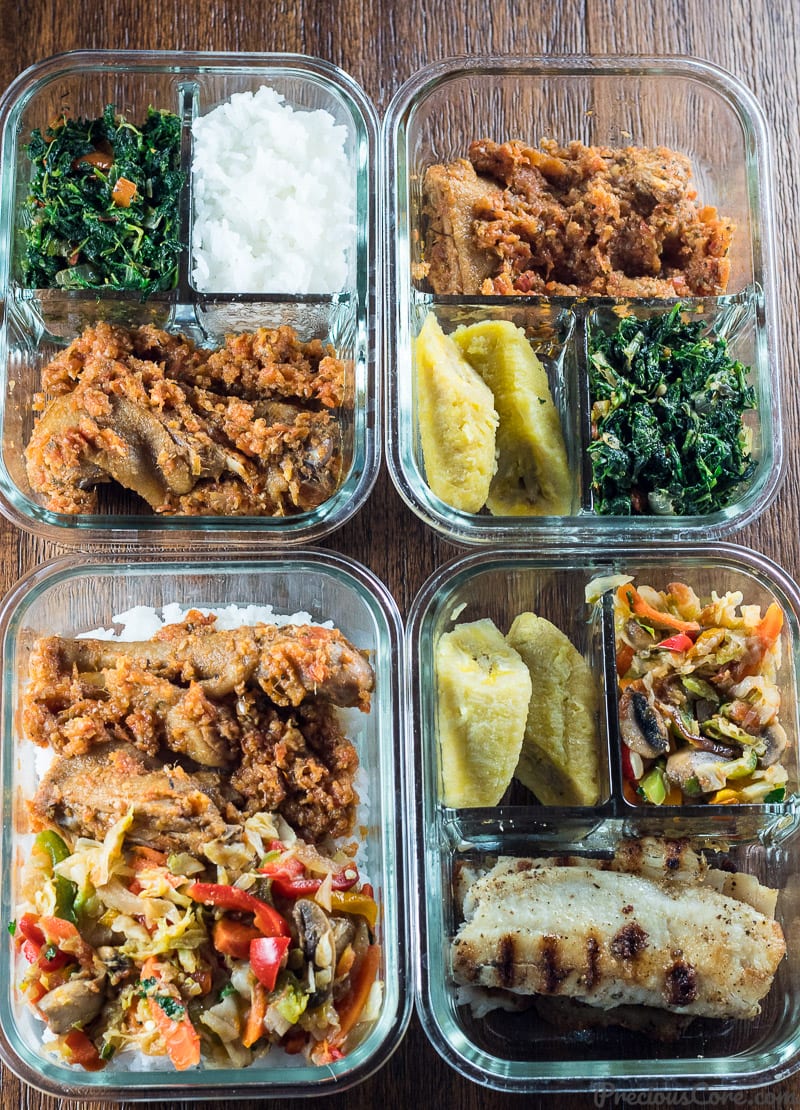 Now here is our shopping list:
Chicken
Tilapia fillets
Chopped (frozen) spinach
Cabbage
Tomatoes
Bell peppers
Carrots
Onions
Green onions
Parsley
Garlic
Ginger
Oil
Seasoning/stock cubes
Salt
White or black pepper
Plantains
Rice
Watch How to Meal Prep for Lunch or Back to School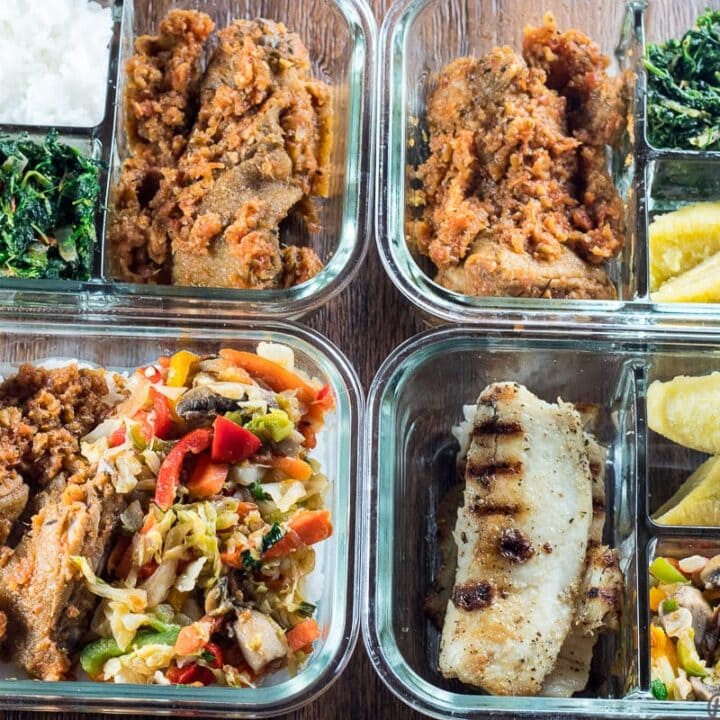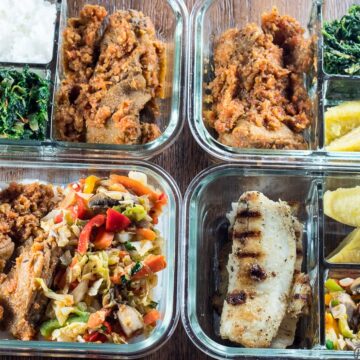 Meal Prep for Lunch and Back to School
Meal prep recipes that could work for lunch or back to school for the whole week! These recipes could serve 4 in all but I made just one lunch bowl per day for my husband since he is the only one who takes lunch to work. Then I enjoyed the rest of the food with my kids! This is great if you are looking for ideas on how to cook meals beforehand!
Instructions
Be sure to shop the day before you meal prep to make things easier on meal prep day.

Start with cooking the chicken and fish then make the vegetables and finally boil the rice and plantains.

Pack the food into lids with tight-fitting lids. Mix and match e.g one boul could have rice, chicken and mixed vegetables.

Place the prepared bowls into the fridge for easy grab and go on busy days.
Notes
You could pack the meals together with some easy-to-eat fruit on the side like apples or grapes for more nutrition.