NIGERIAN JOLLOF RICE
Published Aug 22, 2018
Updated Aug 08, 2021
The great Nigerian Jollof Rice! Who can resist a bowl of luscious jollof rice with chicken? Filled with big flavors, this is the ultimate African chicken and rice dinner or party food! Also, check out the video in the post to see how to make it!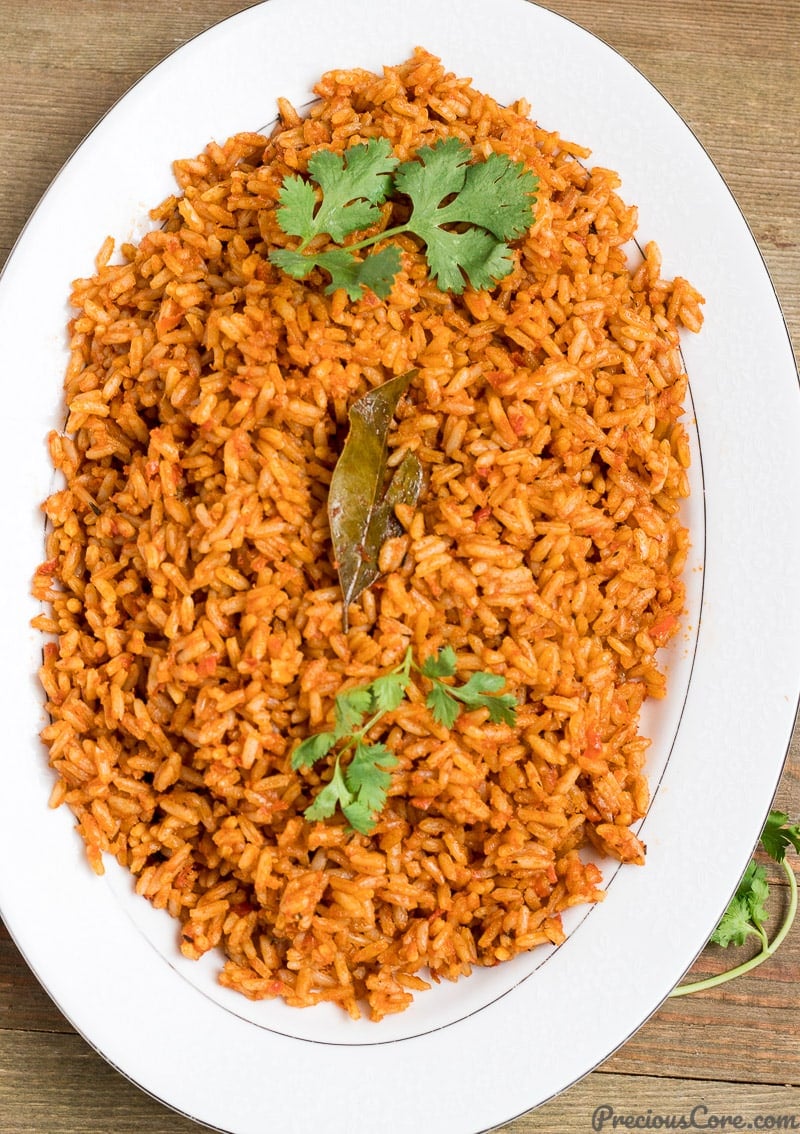 Happy World Jollof Rice Day! Last year, I celebrated World Jollof Rice Day with a video for my Cameroonian Jollof Rice recipe. This year, I am celebrating by sharing another jollof rice recipe: Nigerian Jollof Rice! Jollof Rice is such serious business that it is celebrated on August 22nd every year. All hail Jollof!
A while ago, I went to help a Nigerian family friend cook to receive some guests. She was going to make Nigerian Jollof Rice and she asked me to help her cook it.
Our family friend's mother-in-law makes the best Nigerian Jollof Rice I have ever tasted. But on this particular day, her mother in law was not around.
I put on my big-girl-food-blogger panties and cooked the Jollof Rice for her.
You guys, our family friend said my Jollof tasted just like her mother-in-law's. I felt so proud!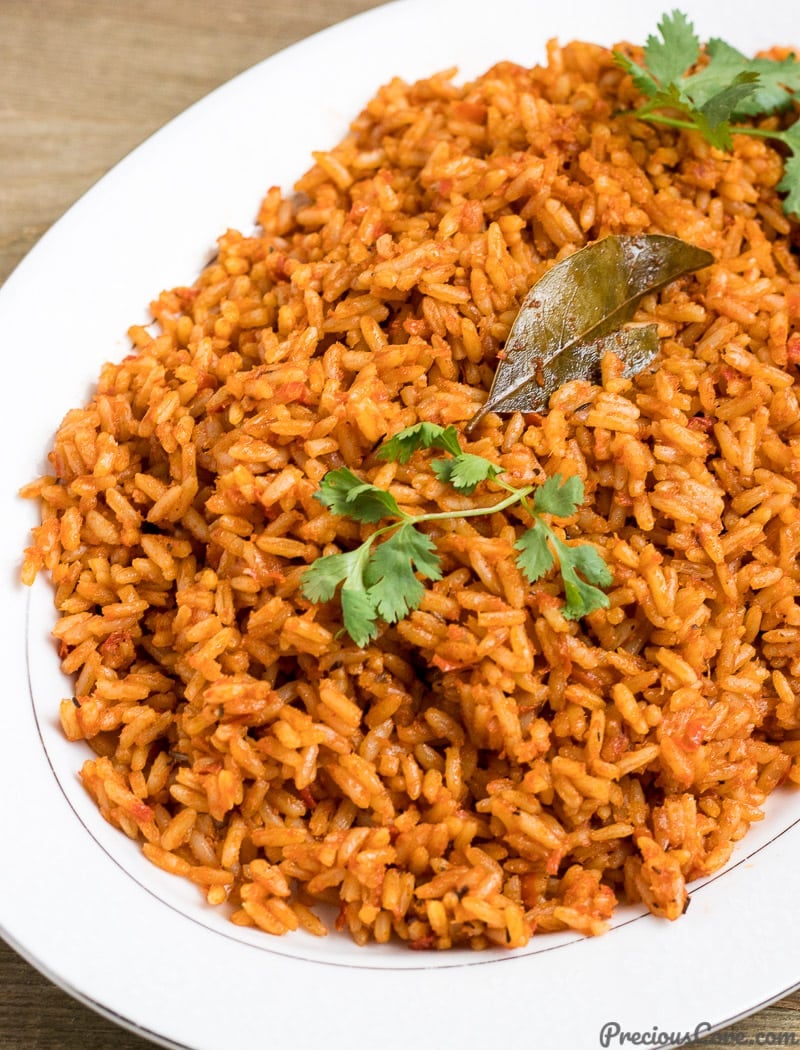 So this is it – Nigerian Jollof Rice that tastes so good, so authentic like the one an experienced Nigerian caterer will make (our family friend's mother-in-law has been a caterer for years!). When you look at it, you just see red/orange-looking rice which resembles Mexican rice. But put a spoonful in your mouth and there is an explosion of FLAVOR. It is spicy, smokey, moist but not mushy, rich and so good!
This is the rice I will eat at Nigerian parties and crave for more. This is the rice that reminds me of the Jollof I ate at a restaurant during my post-graduate days in Nigeria. It is so bomb.com.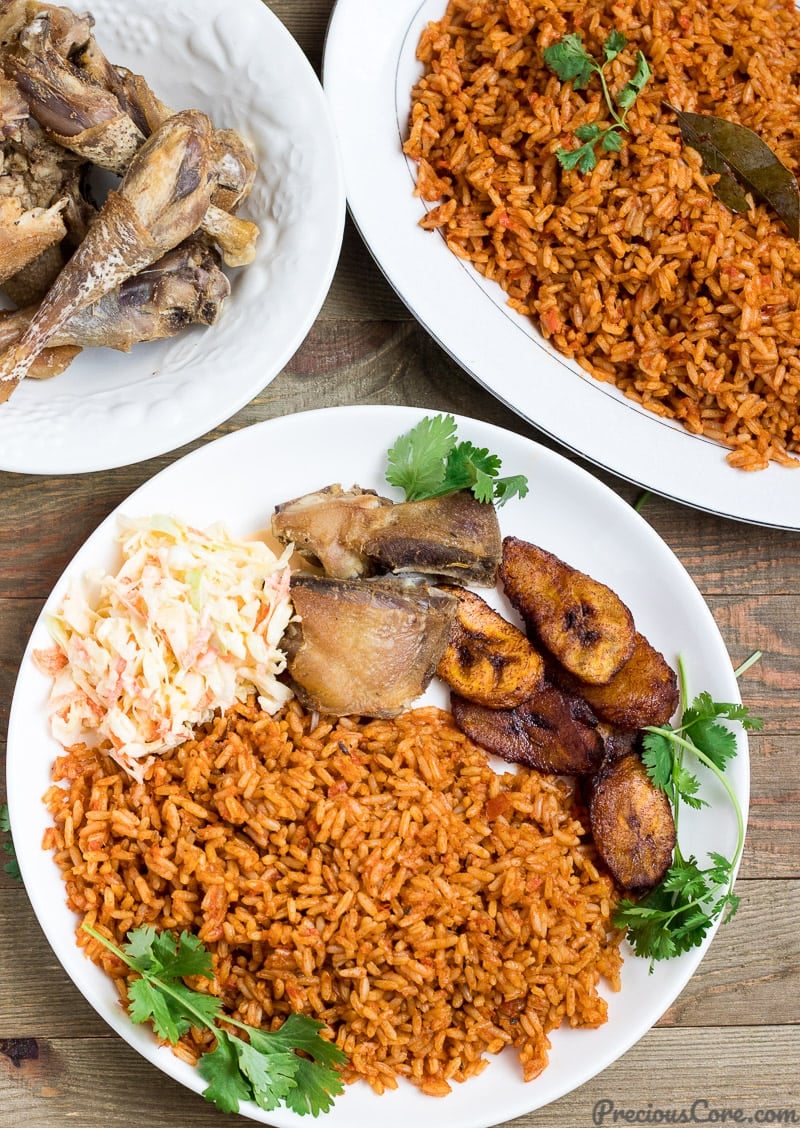 What is Jollof Rice?
Jollof Rice is a kind of West African pilaf or paella. It is perhaps the most known African dish. It is basically rice cooked in some sort of tomato sauce with a variety of spices mostly served with some form of protein: meat, chicken, or fish. Jollof Rice can be served vegan too! It is cooked in many different countries and the recipe varies from country to country and even from home to home. Yet one thing that is constant with Jollof Rice is it always involves rice and tomatoes.
Jollof Rice Origin
The name Jollof Comes from the name Wolof – the name of a West African ethnic group in northwestern Senegal, The Gambia, and southwestern coastal Mauritania. The Wolof people are the largest ethnic group in Senegal so it is safe to say in summary that Jollof Rice originated from Senegal.
Is Jollof Rice Nigerian?
No. Jollof Rice is eaten in a number of African countries including Senegal, Sierra Leone, Liberia, Ghana, Cameroon, Nigeria, and Togo. In French countries, it is called "riz au gras". Jollof Rice is cooked in many different ways across all these countries but the main ingredients are always rice, tomatoes, and oil.
How Do You Make Great Jollof Rice?
My secret is to make homemade chicken stock then use the chicken stock to cook the rice. Homemade chicken stock is unbelievably easy to make. You just need to cook the chicken in herbs, spices and seasoning et voila, you have chicken stock! My favorite herbs and spices to use include thyme, rosemary, garlic, and ginger.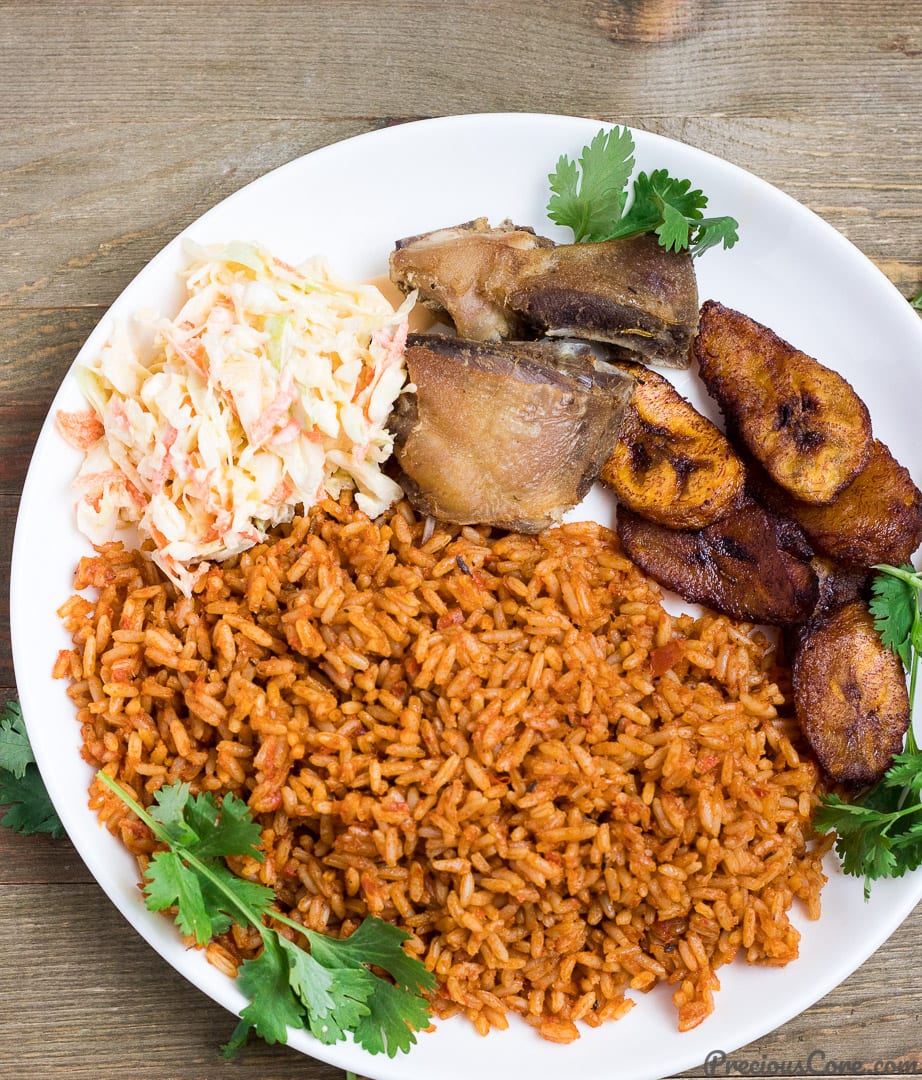 Jollof Rice and fried chicken is just a classic. No wonder it's such a hit at African parties! To make the meal even better, I served it with some coleslaw on the side.
My mama said I should always serve meals with vegetables and I love obeying mama. So Jollof Rice with Fried Chicken and Coleslaw for the win! P.S Click here for my coleslaw recipe.
For more Jollof Rice goodness, check out these 5 jollof rice recipes and this oven-baked jollof rice (so good!)
And once again, happy #WorldJollofRiceDay!
Watch How To Make Nigerian Jollof Rice: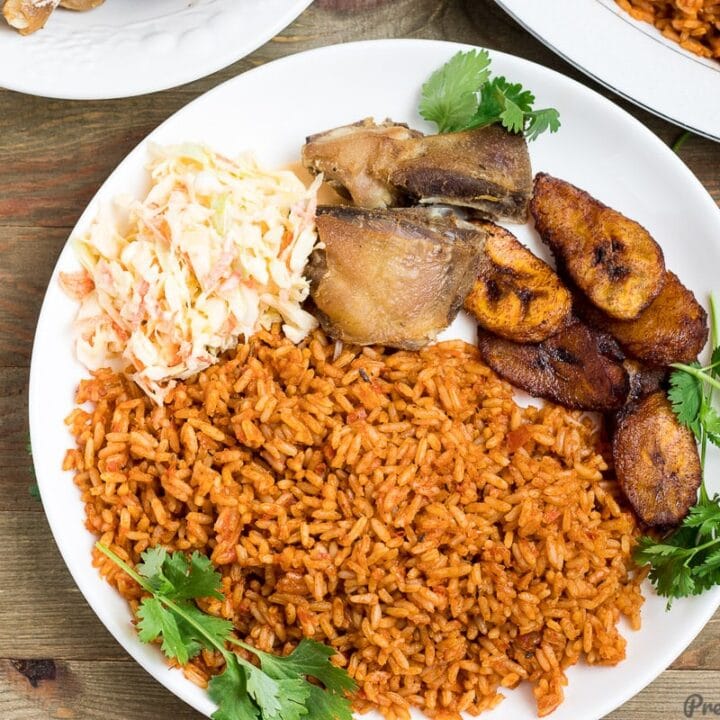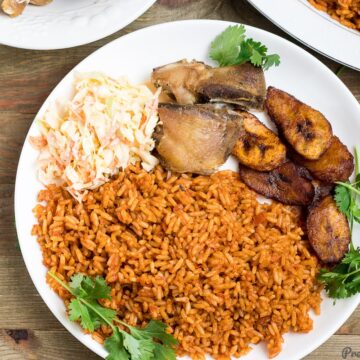 Nigerian Jollof Rice
Here is how to make phenomenal Nigerian Jollof Rice complete with tasty fried chicken on the side. It is the African rice and chicken meal you will want to make over and over again. Watch the video to see me walk you through the process.
Ingredients
4

cups

rice

4

medium tomatoes

1

red bell pepper

1

onion (medium to large)

1

cup

tomato paste

2

bay leaves

1

teaspoon

curry powder

1

teaspoon

thyme

1/2

teaspoon

white pepper

4

seasoning/stock cubes

4g per cube - I used Knorr seasoning cubes

11/2

teaspoons

salt

1/2

cup

oil

1

teaspoon

garlic powder

1

teaspoon

ginger powder

4-5

pounds

chicken

1/2

teaspoon

dried rosemary
Instructions
African Fried Chicken
Wash chicken thoroughly and place in a pot. If using a whole chicken, cut into little pieces before placing in the pot. Add water to just about the level of the chicken (I used 4 cups of water). To the chicken, add half a teaspoon of salt, 2 seasoning cubes half a teaspoon of thyme, half a teaspoon of rosemary and all the garlic and ginger powder. Mix to ensure seasoning coats all of the chicken. Cover and let it cook on medium high heat for about 20 minutes.

Drain chicken from the stock. Keep the stock for later. Place oil in a frying pan up to 2 inches and let it heat up to about 350 degrees Fahrenheit. Place the chicken in the oil and fry until golden brown flipping halfway through. About 2 minutes on each side. (Alternately, place the chicken on a baking pan and broil in the oven for about 20 minutes. Grilling is good too and healthier!)
Nigerian Jollof Rice
Roughly chop then blend together the fresh tomatoes, onion and bell pepper (remove seeds from bell pepper before blending). Place in a pot and bring to a boil. Let them cook on high heat until the water in the tomato blend dries out. Add in the tomato paste and stir then add in the oil.

Fry the tomatoes in the oil until they visibly shrink. About 10 minutes.

To the tomatoes, add the curry, and thyme then stir. Then add in 5 cups of liquid (the chicken stock you reserved plus more water if needed). Add the bay leaves, 1 teaspoon of salt and 2 seasoning cubes (or teaspoons of bouillon powder). Stir well then wash the rice and add to the pot. Stir well then carefully wrap the top of the pot with aluminum foil before covering with the lid of the pot. Let it cook on medium heat for about 30 minutes until the rice absorbs all the liquid and is soft.

When the rice is done, you might still see concentrates of tomato sauce over the rice. This is very normal. Spinke the white pepper on top then gently stir rice with a wooden spoon to combine. (See note 3)

Serve warm with the fried/grilled chicken on the side.
Notes
1. Chicken cooking times may vary depending on the thickness of your chicken so be sure to adjust as needed. If your chicken slices are too big, cook for a longer time.
2. Substitute the seasoning cubes with bouillon powder. 1 teaspoon per 1 cube.
3. To make your Jollof Rice tastier, place 3 tablespoons of butter in the on the rice once it is done and mix it in to melt. This takes the taste to a whole new level!
4. You can garnish with your jollof rice with carrots and peas before serving if you wish.
5. Jollof Rice might burn at the bottom when you cook it. That is perfectly okay and it learns the rice a smokey flavor that is to die for.
Nutrition
Calories:
792
kcal
|
Carbohydrates:
80
g
|
Protein:
28
g
|
Fat:
36
g
|
Saturated Fat:
6
g
|
Polyunsaturated Fat:
8
g
|
Monounsaturated Fat:
16
g
|
Trans Fat:
0.2
g
|
Cholesterol:
82
mg
|
Sodium:
2694
mg
|
Potassium:
531
mg
|
Fiber:
3
g
|
Sugar:
3
g
|
Vitamin A:
2075
IU
|
Vitamin C:
31
mg
|
Calcium:
54
mg
|
Iron:
4
mg
Pin this recipe:
Cooking for yourself is one of the greatest skills you can ever learn. So learn all you can and cook all you can.