Puff-puff and Beans/Achombo/Beignets Haricots
Published May 16, 2015
Updated Apr 27, 2017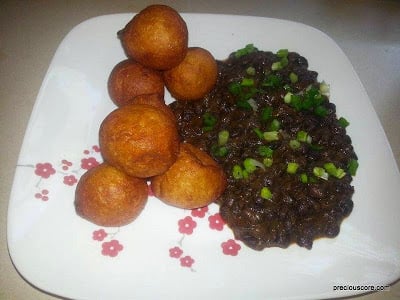 Puff-puff and beans
Hello beautiful people, today I bring to you one of my all-time favourite recipes; puff-puff and beans. The Francophones call it "Beignets Haricots" and it is also affectionately known as "Achombo".
In my university days, this meal was a lifesaver. All I needed was a few coins then I take a trip to one of the Achombo houses and place my order. There I could find students of different calibers trying to buy some of this goodness.
The air will be filled with sounds like, "Mami put me puff-puff for 200," "…add me pepper," "…add oil," "…put puff-puff for 100 and beans for 50…"
Puff-puff for 100 CFA Frs and beans for 50 CFA Frs was the standard amount of money I used to purchase Achombo. A friend taught me that trick. She said with that amount you get fuller and she was so right!
"Mami Achombos" (women who sell puff-puff and beans) have found this meal to be a reliable source of livelihood over the years in Cameroon. This is because people keep buying it and never get tired of eating it. That's how good it is.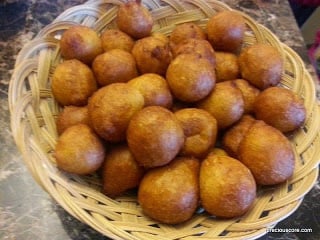 While growing up, some of our favourite days were the days when we had beans in the pot but nothing to side it with. We will convince our parents to provide some money for puff-puff. Then my younger brother will take to his heels to the puff-puff joint and return with the balls of goodness. Those dinners were memorable.
There's a reason why people keep scrambling to eat puff-puff and beans. That combination is the truth! And, you know what? Puff-puff is one of the easiest things to make with few ingredients. You no longer have to keep grudges with Mami Puff-puff because she failed to make them on a particular day. Get into your kitchen and bring Achombo right into your home!
Puff-Puff
Preparation time: 80 mins
Cooking time: 30 mins
Total Time: 1 hour 50 mins
Serves: 4-6
You'll need
2 cups of flour
1 teaspoon yeast
Half cup of sugar
Half teaspoon of salt
1 and a half cup WARM water
1 litre vegetable oil for frying
-Put yeast into part of the warm water and set aside for 5 minutes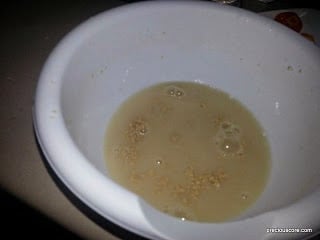 -Add in all other ingredients plus water and mix well with your hand. The mixture should look like this: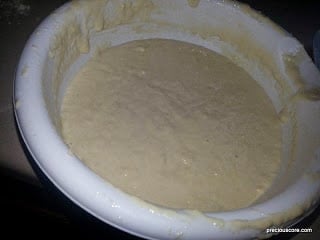 It should neither be too light nor too thick. You should be able to hold a good quantity in your hand.
-Cover with a plastic wrap or foil paper. I prefer the plastic wrap because it retains heat well and your puff-puff has to keep warm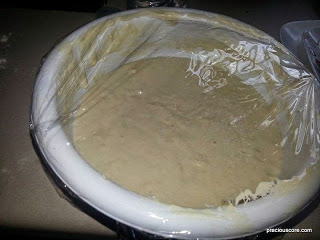 -Keep in a warm place to rise for about one hour. After that, the mixture should have increased: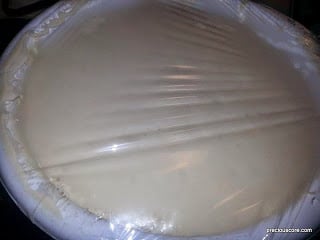 -Now heat up your oil on slightly above medium heat (Avoid very hot oil as puff-puff will get burnt without cooking properly). Test fry one puff-puff first. It it comes up and fries well then fry the rest by putting into oil with your hands or using a table spoon. You could also use an ice cream scoop to put the mixture into the oil. Avoid crowding the pan with many puff-puffs at once.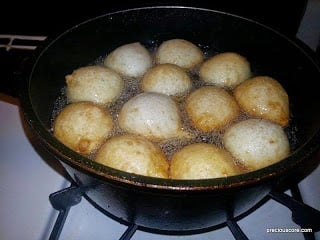 -When one side turns golden brown, flip to the other side and allow to cook too.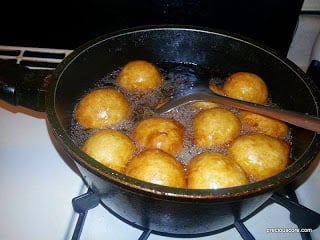 -Remove and place on paper towels to absorb the excess oil. Don't taste one yet. It will burn your mouth. Lol. Give it two minutes to cool and start munching!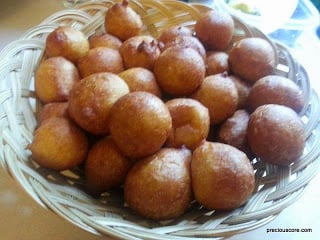 For the beans:
-If you are using dried beans, boil for about two hours till tender. Sometimes I presoak, other times I don't. When it is just about ready add some salt so the beans can absorb it.
-Drain and set aside. Pour oil in a pan, saute onions add in blended garlic, ginger, celery and parsley and fry a little. Add beans, maggi and salt and stir fry.
Notes:
If your dough fails to rise, warm up the oven LIGHTLY and place it in there. I do this all the time.
You can add some dry milk to your puff-puff for the ajebutter version. Lol
Don't forget to gist me when you try this recipe. Love and hugs!