Tomato Fish Stew – Cameroonian Fish Stew (VIDEO)
Published May 29, 2020
Updated Jul 08, 2020
Tomato Fish Stew is so flavorful and great for pairing with rice, pasta and other side dishes. The perfect dinner recipe for the whole family!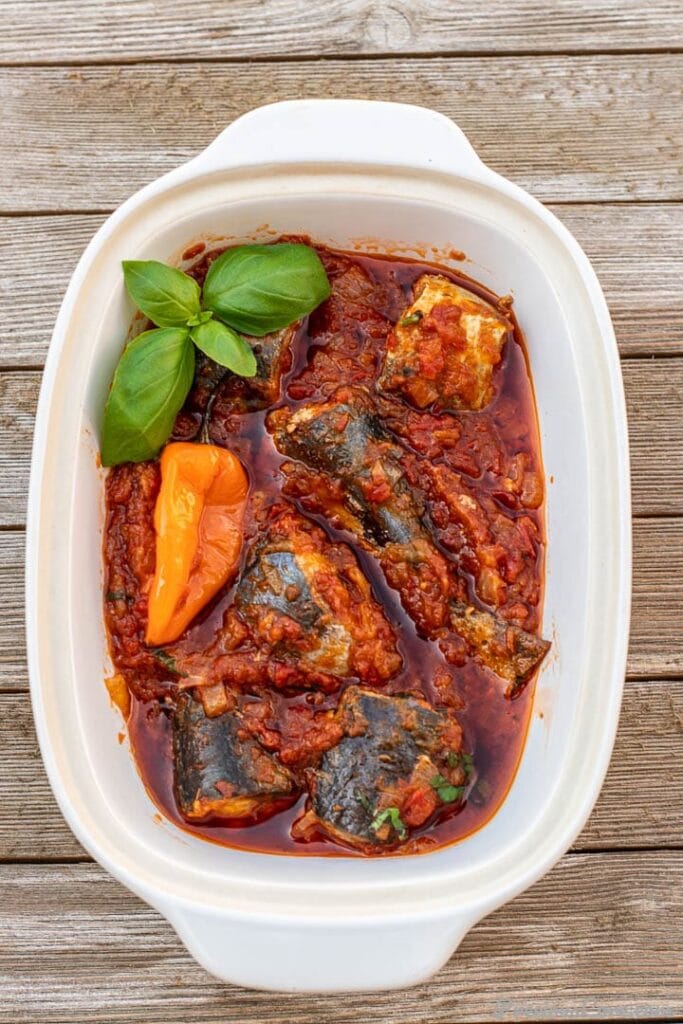 Tomato based stews are so common in West Africa! In fact, they are the kind of stew I knew while growing up.
West African tomato stews are either made with chicken, beef or fish. Growing up in Cameroon, Fish Stew was the cheaper version of stew. That's because fish was more more affordable than chicken or beef.
You'll love this Cameroonian fish stew because it is so flavorful, loaded with fresh ingredients and can be paired with so many sides.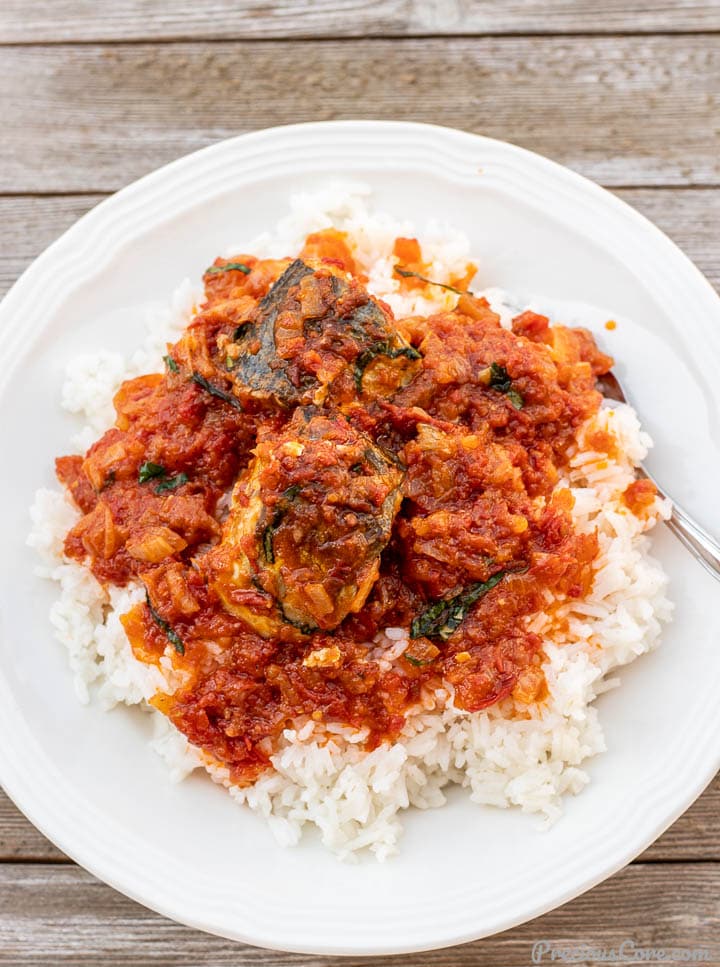 Cameroonian Fish Stew Ingredients
Cameroonian Fish Stew is made with whole fish, fresh tomatoes, onions, garlic, ginger, basil, oil, salt, Maggi seasoning cubes and sometimes habanero pepper or scotch bonnet pepper.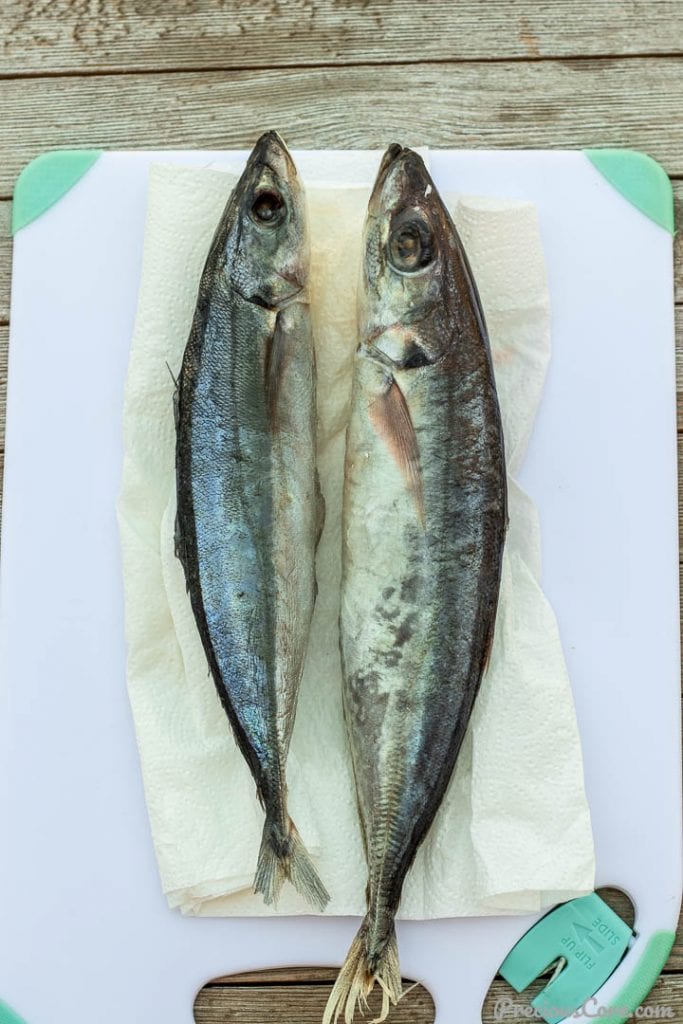 Sometimes tomato sauce or tomato paste is added to the stew. I also add some white pepper because white pepper pairs so well with fish.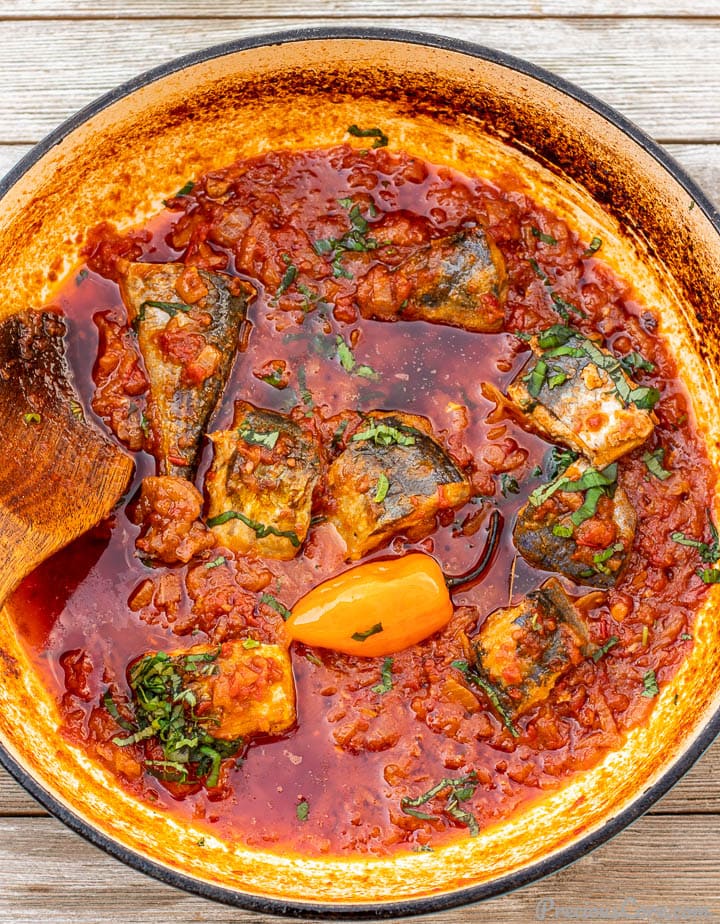 How To Make Tomato Fish Stew
1. Clean, gut fish and cut into steaks.
2. Blend together garlic, ginger, and basil.
3. Season fish with salt and a portion of the garlic, ginger, and basil blend.
4. Bake fish.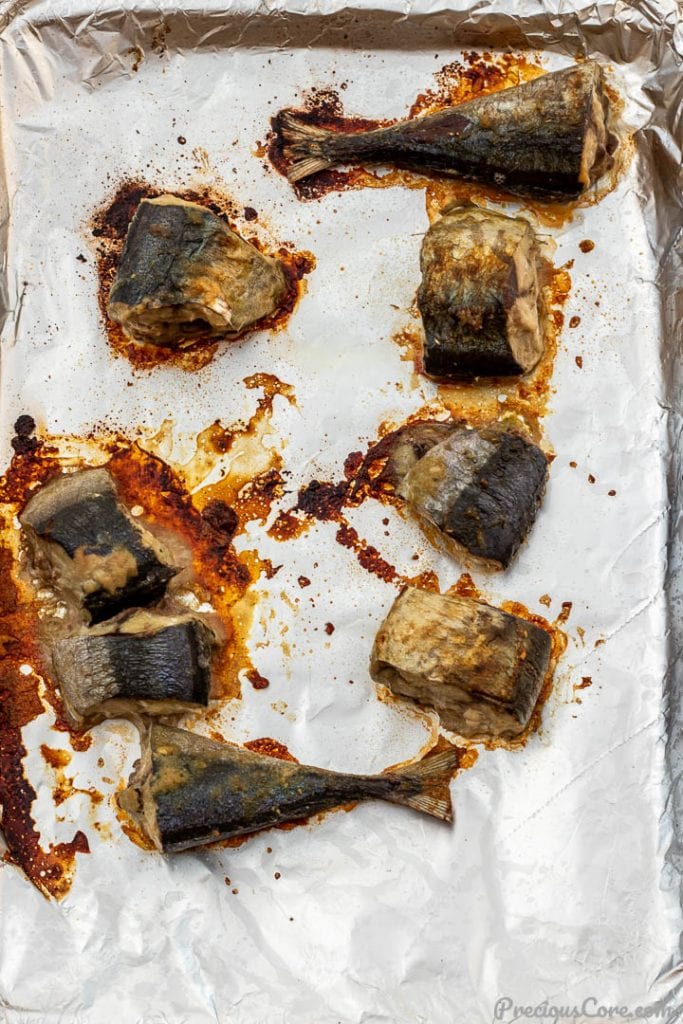 5. Blend fresh tomatoes.
5. Saute onions in oil then add blended tomatoes and cook down until tomatoes no longer taste sour.
6. To the tomatoes and onions add the spice blend, some water, salt, seasoning cubes, white pepper and stir. Add the baked fish steaks and let everything simmer together.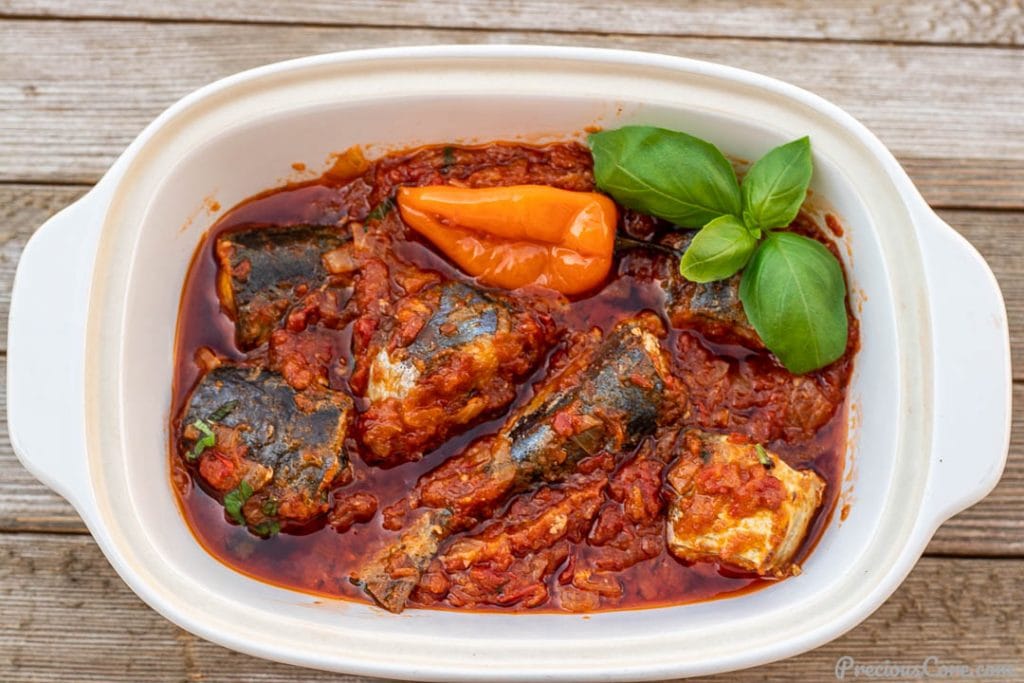 What To Serve With Tomato Fish Stew
Tomato fish stew goes well with numerous sides including:
Boiled rice
Pasta
Boiled plantains
Watch How To Make Cameroonian Fish Stew
Watch me making Cameroonian Fish Stew in the video below. If you haven't subscribed to my YouTube channel yet, SUBSCRIBE so you do not miss any of my videos.
Tips for Making Fish Stew
Use fish fillets if you are not familiar with working with whole fish.
Use fresh basil for a great punch of flavor.
Chop some basil and garnish the stew once it is done for even more flavor.
Hope you enjoy this tomato fish stew recipe. It is so hearty and it will make a great addition to your dinner rotation!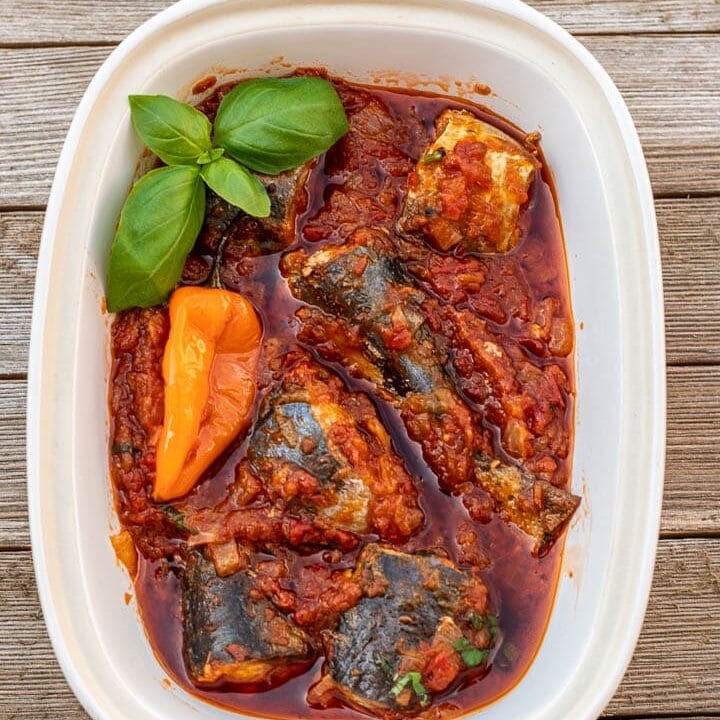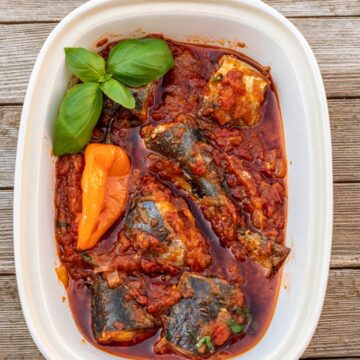 Tomato Fish Stew – Cameroonian Fish Stew
This Tomato Fish Stew pairs well with rice. It is garlicky, so flavorful with a nice sweetness for the tomatoes.
Ingredients
2

whole medium firm fish

see Note 3

7

cloves

garlic

1

inch

ginger root

peeled and sliced

4

sprigs

basil

1

medium onion – chopped

8

roma tomatoes

super ripe

1

cup

oil

canola oil, vegetable oil, corn oil will work (See Note 2)

1/2

teaspoon

ground white pepper

1/2

teaspoon

salt

3

Maggi seasoning cubes

4g cubes

1

habanero or scotch bonnet pepper

optional
Instructions
Prepare the fish. Use kitchen shears to cut the fins off the fish. Scrape off the scales from the fish using a knife. Cut each fish into 4 pieces. I cut and discard the head but you could include it if you want. Clean out the entrails of the fish carefully with a knife. Place the fish in a colander and rinse thoroughly under running water.

Prepare the spice blend. Reserve 1 sprig of basil to use later. Place the rest of the basil, garlic and ginger into a blender (I use the small cup of my Ninja blender). Add about 1/4 cup water and blend into a paste.

Season the fish. Add a tablespoon of the spice blend to the fish. Add 1/8th of a teaspoon of salt to the fish. Mix well so the seasoning gets all over the fish.

Cook the fish. Cover a baking tray with aluminium foil. Generously rub some of the oil (about 2 tablespoons) over the foil. Place the fish in a single layer on the foil. Preheat oven to 400 degrees Fahrenheit (200 degrees C). Place the fish in the oven and cook for 15-17 minutes.

Blend the tomatoes. Cut the tomatoes into quarters and add to a blender. Blend into a rough paste.

Make the stew. Place a heavy duty pot (preferably a cast iron pot) on high heat. Add the remaining oil to the pot and let it heat up for 3 minutes. Add the chopped onions to the pot and stir. Let it saute until soft.

Add the blended tomatoes and let it cook while stirring from time to time for 15 to 20 minutes until the tomatoes shrink considerably. Do not let the tomatoes burn.

Add the remaining spice blend to the tomatoes and stir for 2 minutes.

Add in 1 1/2 cups of water, the remaining salt, the white pepper and sprinkle in the Maggi seasoning cubes. Stir well to combine. Add habanero or scotch bonnet pepper if using.

Add the cooked fish carefully into the pot and let everything simmer together for about 5 minutes. Avoid stirring vigorously once the fish is in the pot. Only move the fish pieces around gently to ensure they aren't sticking to the bottom of the pot.

Remove the excess oil. Use a ladle or cook spoon to remove half a cup of oil from the pot. Reserve this oil to use in other recipes like Jollof Rice.

Garnish the stew. Chop the reserved sprig of basil and sprinkle over the stew. Turn off the heat.
Notes
1. Use super ripe tomatoes with a bright red color so the fish stew isn't too tangy.
2. Skim out half a cup of oil at the end of cooking to reduce calories. Cooking the tomatoes in this quantity of oil yields great taste.
3. I used a kind of fish called "round scad". I got it from an Asian store. Other kinds of fish like mackerel or croaker fish will work too. Asian stores in the United States mostly carry whole fish. You could also use fish fillets if that works better for you.
4. Nutritional information is an estimate and takes into consideration the fact that half of the oil is skimmed out at the end of cooking.
Nutrition
Calories:
368
kcal
|
Carbohydrates:
7
g
|
Protein:
2
g
|
Fat:
38
g
|
Saturated Fat:
3
g
|
Polyunsaturated Fat:
11
g
|
Monounsaturated Fat:
24
g
|
Trans Fat:
0.1
g
|
Cholesterol:
0.5
mg
|
Sodium:
683
mg
|
Potassium:
254
mg
|
Fiber:
1
g
|
Sugar:
3
g
|
Vitamin A:
719
IU
|
Vitamin C:
16
mg
|
Calcium:
25
mg
|
Iron:
0.4
mg
This post contains affiliate links.