Wisdom for Women: How to Talk to your Man
Published Aug 27, 2014
Updated Apr 27, 2017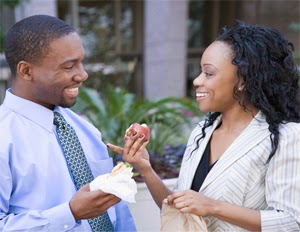 Yesterday, I engaged in an interesting phone conversation with a friend on marriage. She spoke emphatically on how women rarely talk to their men properly.

"In marriage, you have to learn how to talk to a man!" she said.
Then I told her, "I think I'm going to write next on 'How to Talk to a Man".
Thanks Justine, for inspiring this write-up!
The fact is a lot of women use their tongues to push their men away from them rather than pull them closer to them. No wonder, the Bible says death and life are in the power of the tongue (Proverbs 18: 21). Do you use your tongue to bring life or death to your relationship?
Here are some key factors you should consider when talking to your man.
MANNER
I am starting with this because a lot of women have used abuive language so much so that people usually say, 'woman e mop eh!' Sister, it is not a thing of pride when people know you as a very mouthy person. Don't insult your man nor shout on him. "A gentle answer turns away wrath but a harsh word stirs up anger." (Proverbs 15:1)
TIME
You must understand the mood of your husband before you bring up a topic. The time he returns tired from work is not the appropriate time to start telling him about financial difficulties. That will only paralyse him. Give him time to cool off first. Choose the right time to discuss the right things. Remember, there is time for everything.
CONTENT
Please do not discuss what you would typically discuss with your girlfriend with your husband. He is not a woman like you so he might not get the 'gist'. Again, he is not your gossip partner! The Bible says a woman should not go about bearing tales. So desist from gossiping. Let your speech be edifying (Colossians 4:6).
LENGTH
When talking with a man, go straight to the point. Women usually say a lot of other things before they 'land'. He may switch off before you get to the most important point. So dear, keep it short and simple because men are logical.
However, all of the above do not mean you can not chat and laugh with your husband. Just make sure you use your tongue the right way. Stay away from nagging so your man will always find your home inviting.