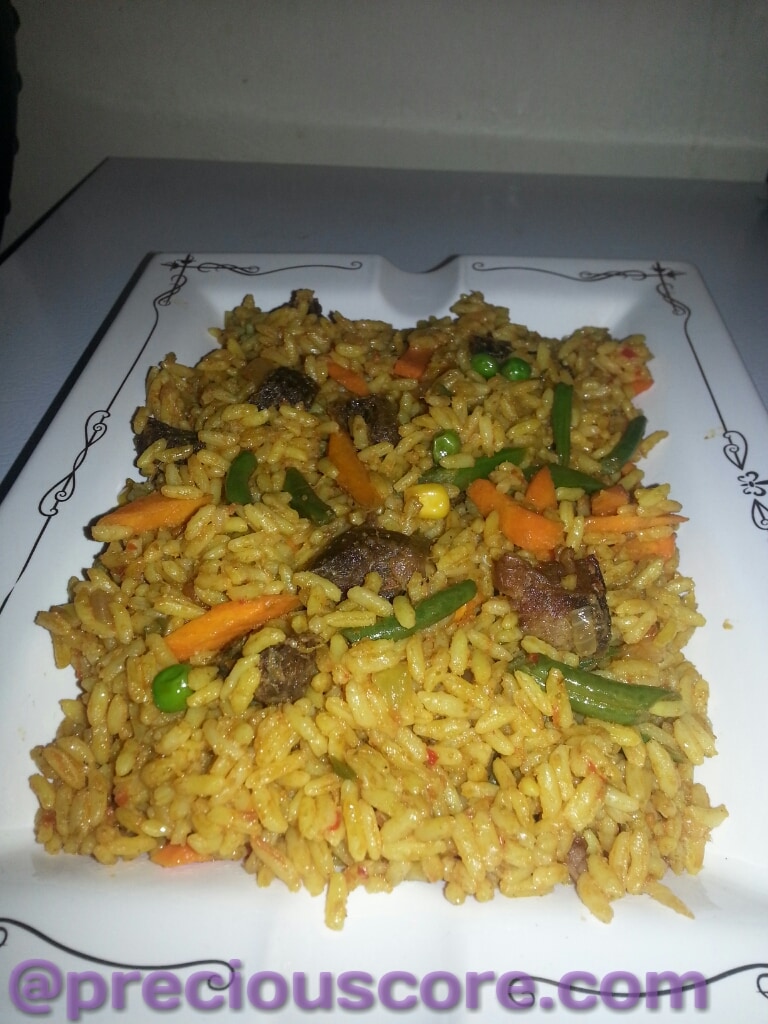 This is how my Mama taught me to make Jollof Rice. It is guaranteed to give you a great tasting and awesome looking rice whenever you try it. Has Jollof Rice been a struggle?  Don't worry, I got you.
Here are some things to keep in mind about making the perfect Jollof Rice:
Secondly, don't cook your spices with the rice right from the beginning. When you do it this way, the aroma of the spices get lost before your cooking is done (you loose nutrients too).
Thirdly, add your vegetables at the end to maintain their nutritional value and a vibrant colour.
Lastly, fry your meat after boiling or grill if you are #teamhealthy for that unbeatable exotic flavour.
Let's start cooking. Shall we?
CAMEROON JOLLOF RICE
Prep Time: 30 minutes
Cooking Time: 60 minutes
Total Time: 90 minutes

You'll need:
Parboiled Rice (2 cups)
5 tomatoes
1 medium sized onion
1/2 cup of blended mixed spices (4 garlic cloves, 1/2 inch peeled ginger root, 1 stem celery, 1 stem parsley and 2 stems green onions)
1 teaspoon curry powder
1/2 teaspoon white pepper
1 cup vegetable oil
3 seasoning cubes-Maggi/Knorr (or three teaspoons chicken bouillon)
1/2 pound beef (or chicken breasts) boiled and diced (see sizes below) and its stock
Salt to taste
1 habanero pepper (optional)
2 cups cut mixed vegetables: carrots. green beans, sweet corn, peas, bell peppers
What you need to do:
Boil rice with curry, salt to taste and two seasoning cubes. Please don't add too much water. You need the rice to be just ready and not overcooked. It is better if SLIGHTLY undercooked. I suggest 4 cups of water that's two cups of water per cup of rice. When cooked, it should look like the one in the pic below. The green colour is from the curry.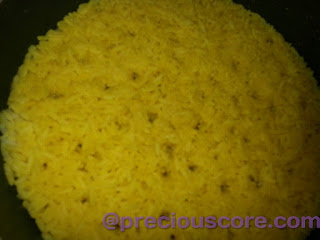 The green colour is from the curry
While the rice cooks, do the following:
Heat your vegetable oil on medium heat and throw in some seasoned beef slices-
Flip when one side turns brown-
Remove meat and throw in dices onions. Let them fry for 2 minutes.
Then add in pureed tomatoes and turn up the heat.
Your tomatoes are ready when they don't taste acidic and look like this:
Add in your blended spice mix (look at that green colour)-
Let it cook for a few minutes-
Add in mixed veggies-
Then add in the beef stock plus remaining seasoning cube-
Add in boiled rice and fried/grilled meat/chicken. Mix everything on low heat. Be careful not to break or mash the rice.
Final result:
P.S check out my other rice recipes:
Thirty Minutes Jollof Rice