Banana Fritters
Published Apr 30, 2020
Updated Apr 28, 2023
Yummy fluffy Banana Fritters made in under an hour from start to finish. So good, you'll want to have this for breakfast, snack time, or dessert. The perfect way to use up overripe bananas!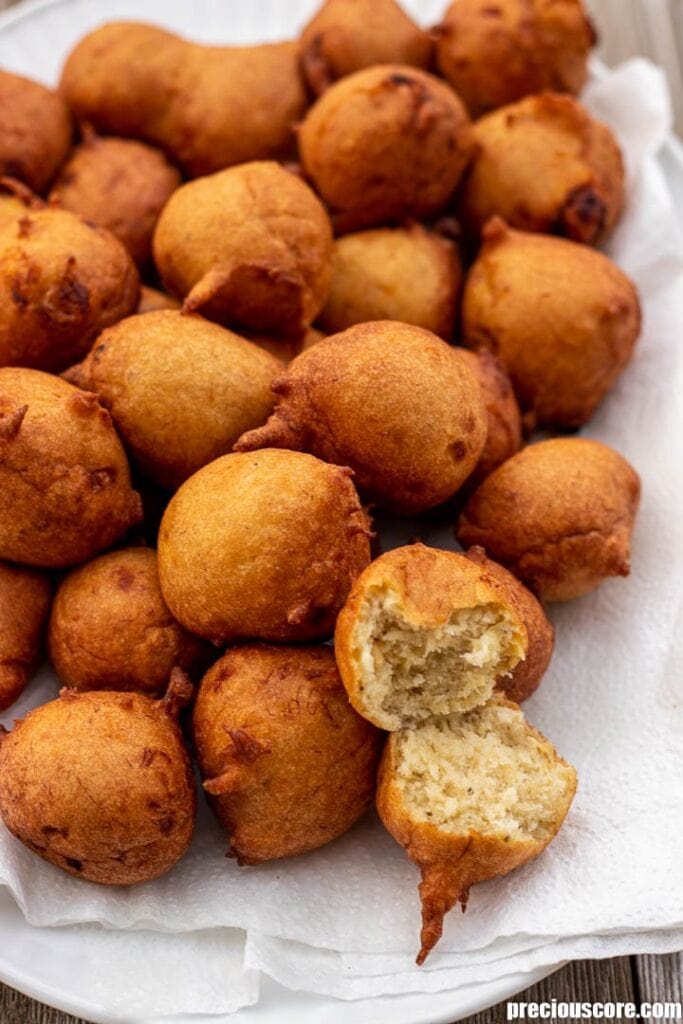 I am continuing to share my love for epic breakfast recipes with my recipe for the very best Banana Fritters.
They are soft, fluffy, and sweet but not overwhelmingly sweet (no added sugar!). AND the banana flavor in these fritters is ah-mazing.
Also, check out my African Twisted Doughnuts and my guide on How To Make Puff Puff.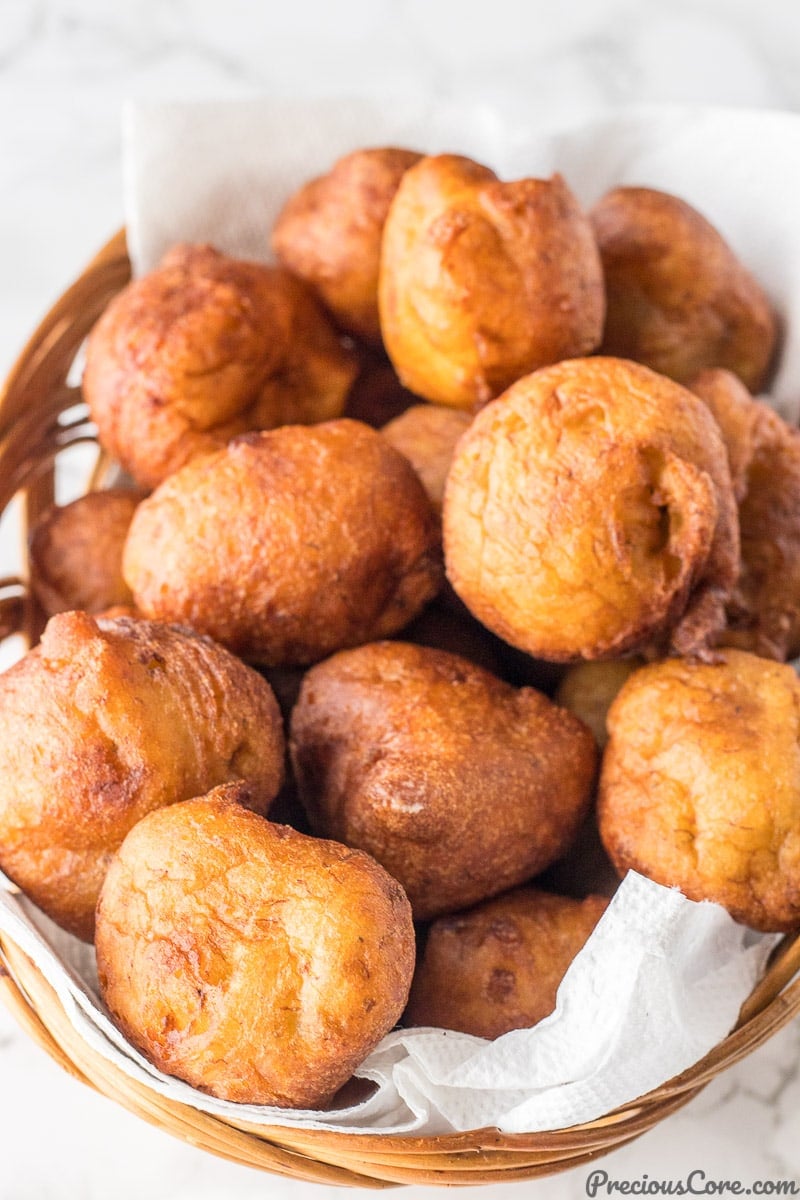 After sharing my mother's Savory French Toast, I think it is time for a little something sweet.
It happens every now and then. There are bananas on the countertop that are neglected and no one eats them. Then they quickly go from ripe to overripe and can't be enjoyed as they are anymore.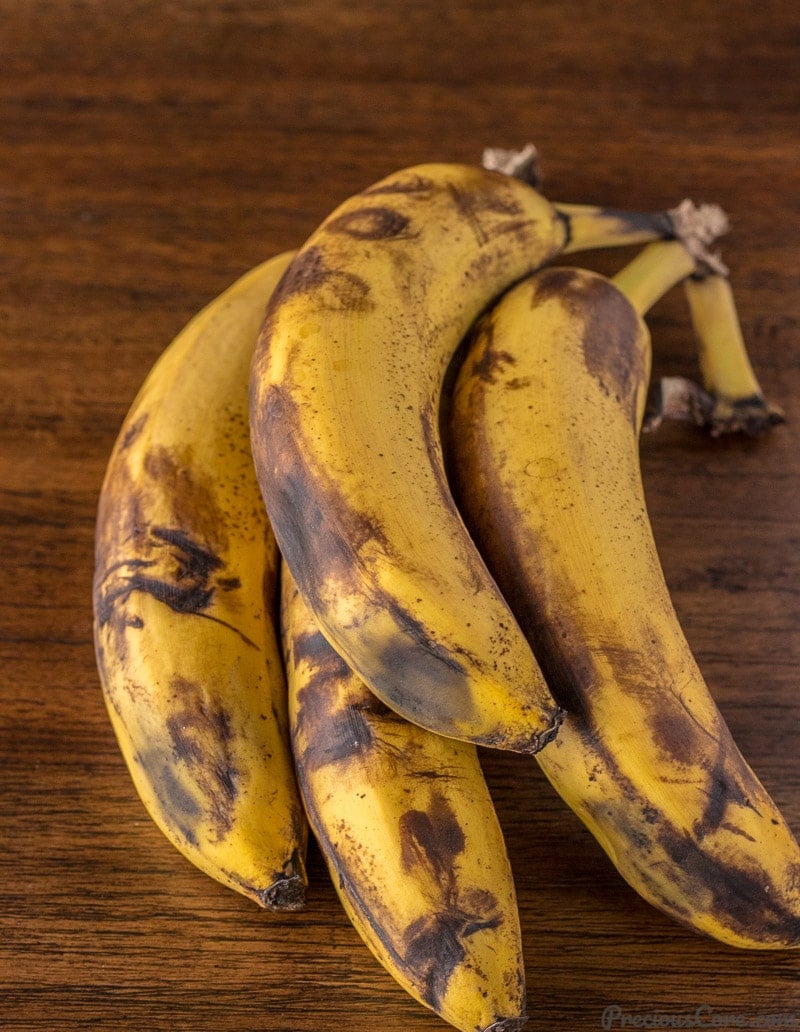 BUT when bananas get overripe, I get excited because overripe bananas yield great flavor to banana recipes. Like this banana bread which I have made over and over again and can now make in my sleep. Or this banana puff puff which is a cousin to banana fritters – YUM!
And now, banana fritters!! These are SO EASY to whip up. The flavor they yield is incredible. The first thing to note with this recipe is to make sure you make the fritters with overripe bananas.
Fairly ripe bananas won't cut it here. If the bananas are so ripe that they have developed black spots and some parts of the banana are mushy on the inside, then my friend, you have the perfect bananas for some banana fritters!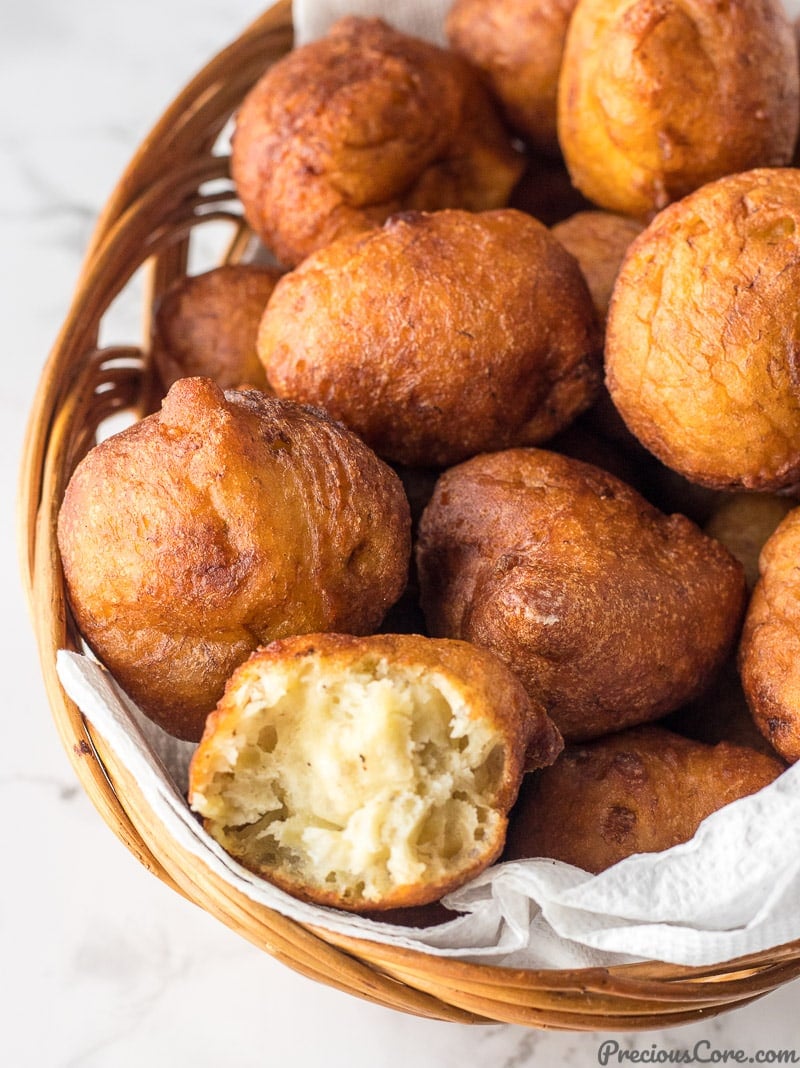 Ingredients for Banana Fritters Recipe
To make banana fritters, you only need a few ingredients:
Ripe bananas
Flour
Baking powder
Salt
Eggs
Milk
Nutmeg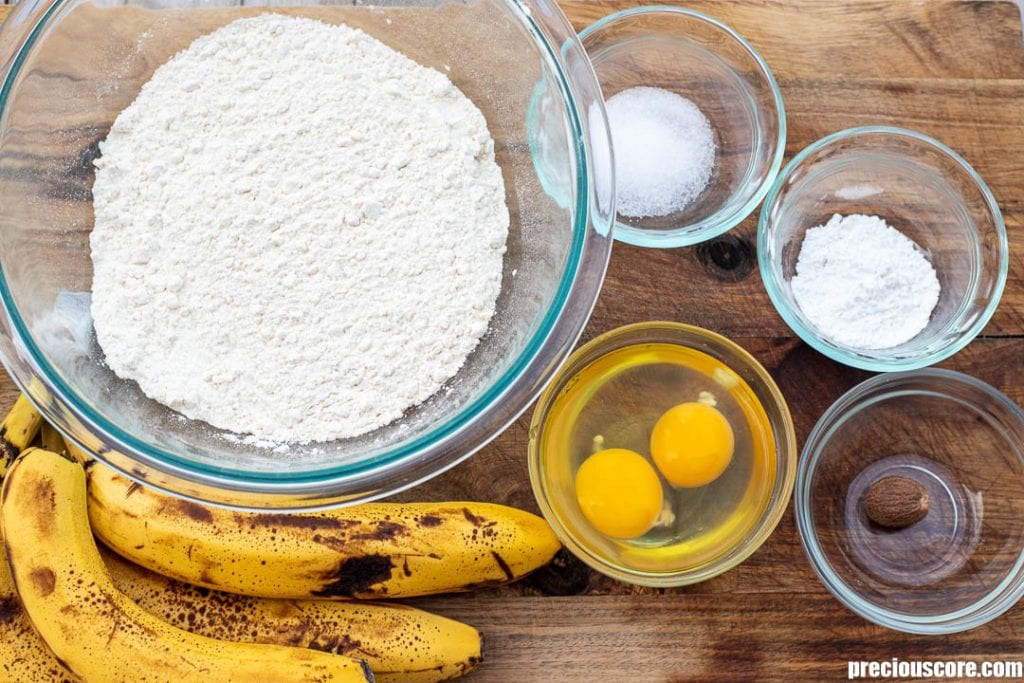 How To Make Banana Fritters
Making Banana Fritters is really easy!
Step 1: Mash some bananas with a fork.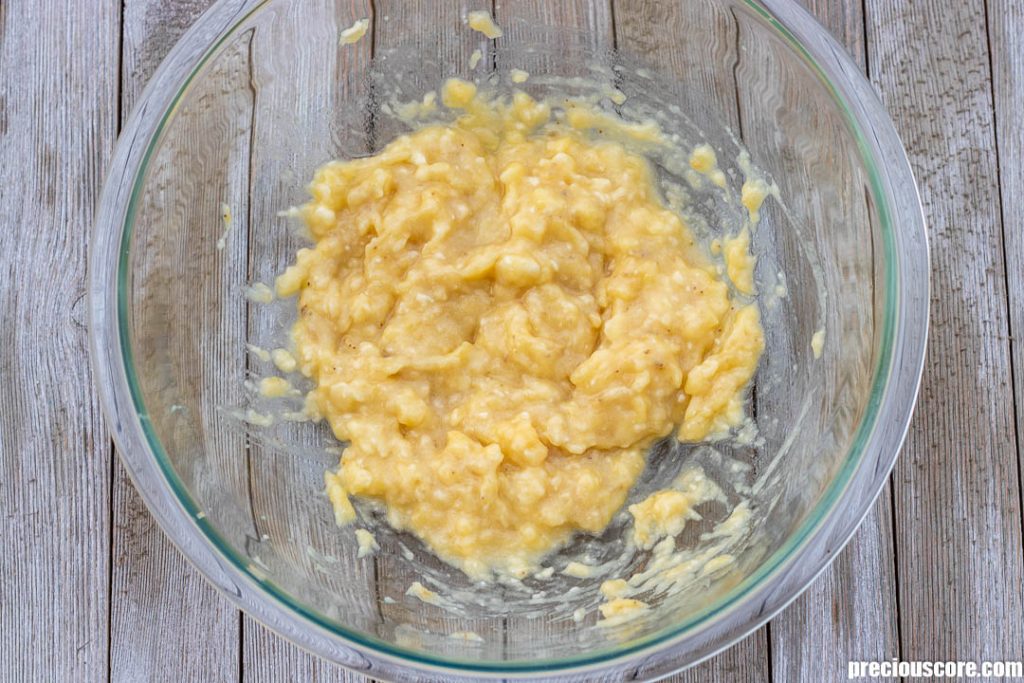 Step 2: Add in some flour, eggs, milk, salt and ground nutmeg. Mix everything to combine and form a batter.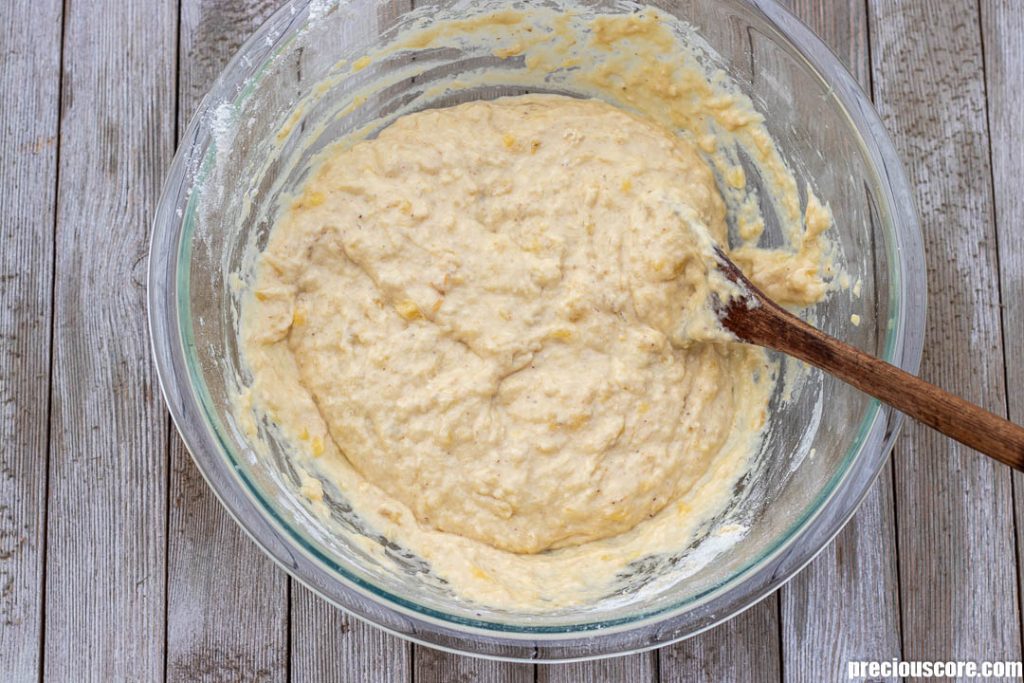 Step 3: Heat up oil and drop in spoonfuls of the batter to deep fry until golden brown.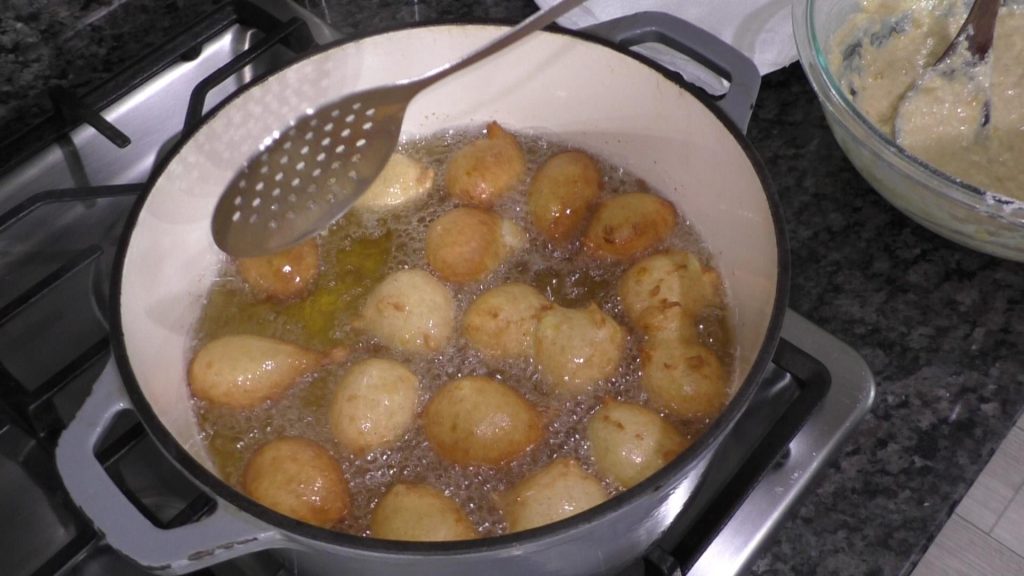 And there you have it! Easy banana fritters!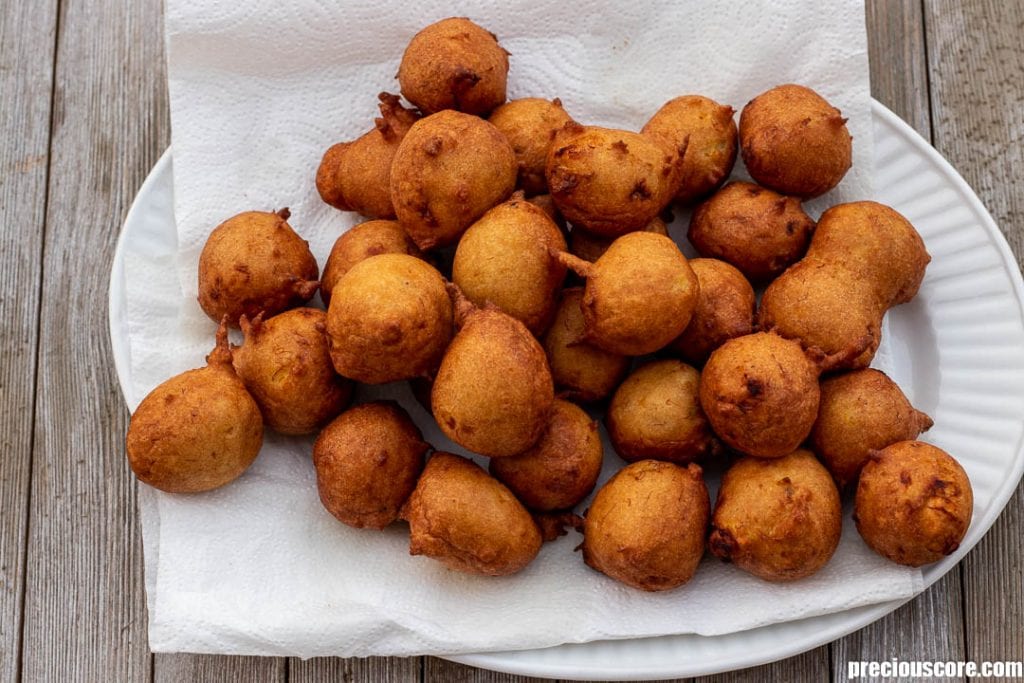 Can Banana Fritters Be Vegan?
Yes! Banana fritters can be made vegan. Simply omit the eggs and milk then thin out the batter with some water.
Without eggs or milk, you can still make great banana fritters!
What To Eat With Banana Fritters
Banana Fritters are so versatile. You could eat them with a lot of things. Serve with jam or chocolate sauce for a sweet option.
You could also sprinkle powdered sugar on them and eat. For a savory option, pair with a dipping sauce like this African hot sauce.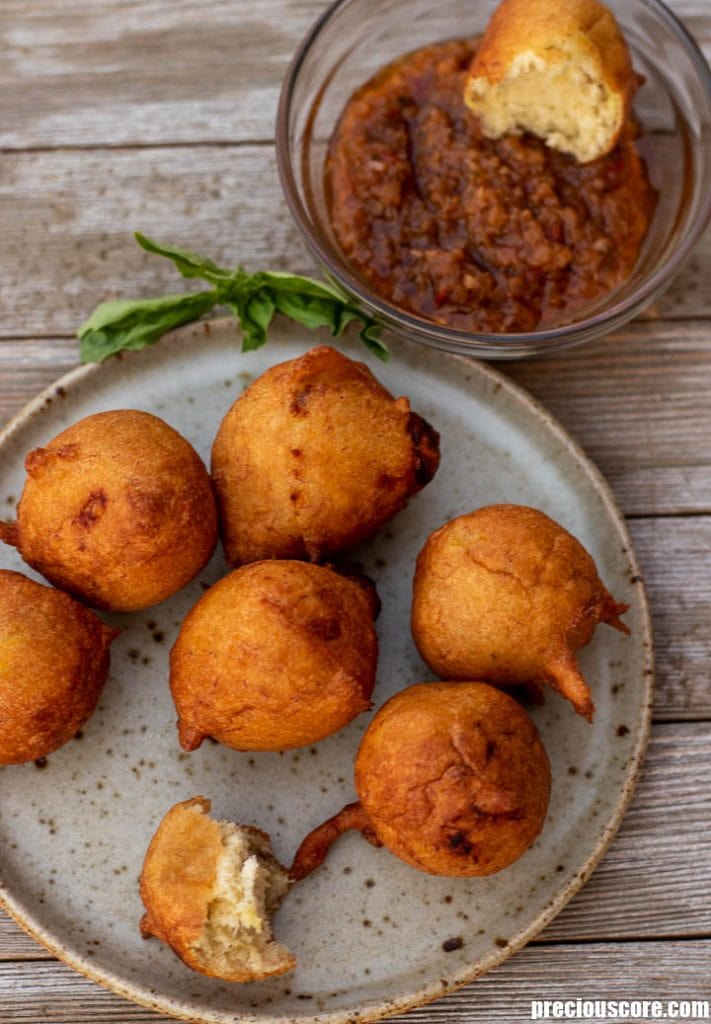 Where Did Banana Fritters Originate?
It is hard to tell where banana fritters came from because they are eaten in different parts of the world – in Africa, in the Carribean, and in other places.
Banana fritters have such a universal appeal and they are enjoyed in different forms in different parts of the world.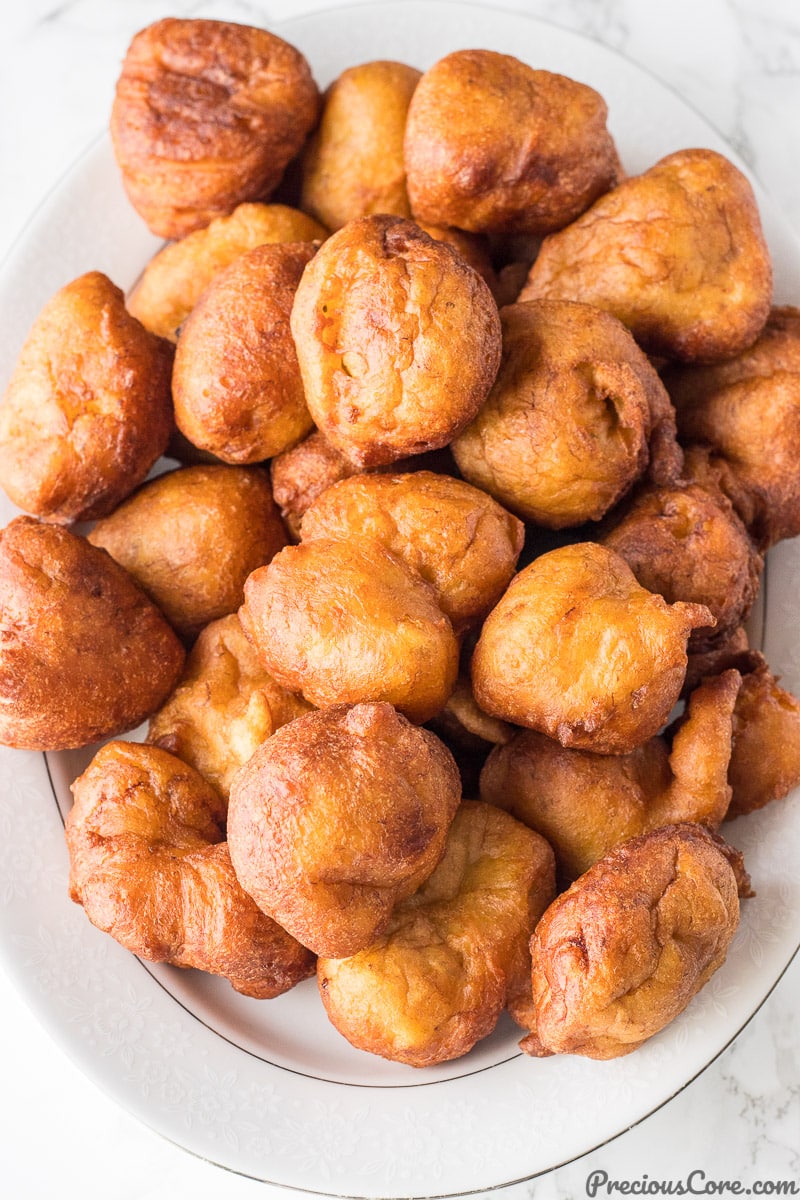 Watch How To Make Banana Fritters
Watch me making Banana Fritters in the video below. If you haven't subscribed to my Youtube channel yet, SUBSCRIBE so you do not miss any of my videos.
P.S. The photos in this post are from two different photo shoots – one when I shot the recipe and one when I shot the video. So the fritters might look different.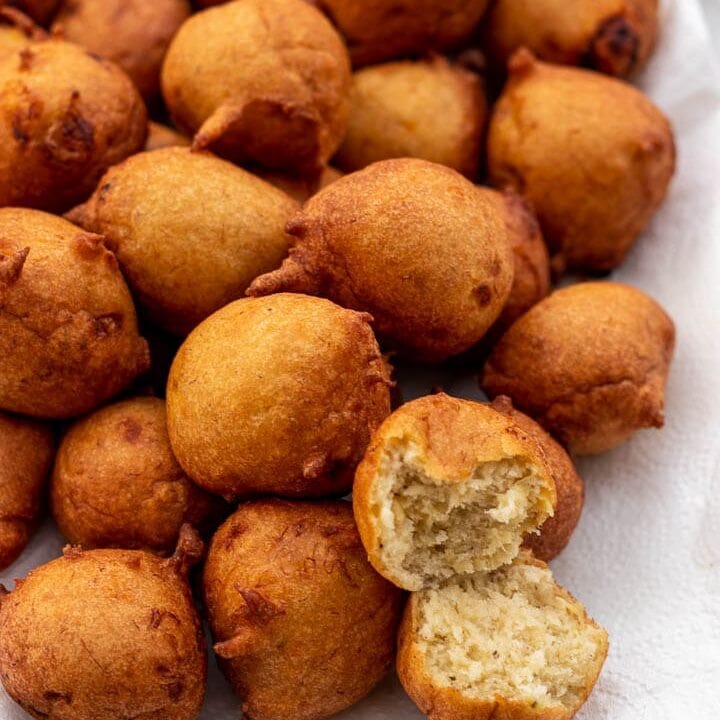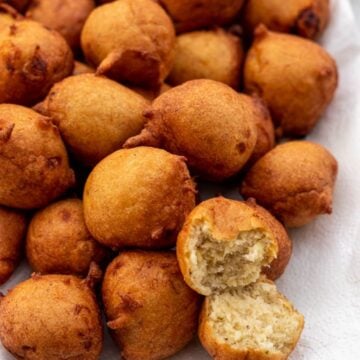 Banana Fritters
These banana fritters are the perfect way to use up your overripe bananas. They are sweet, but not overly sweet as they do not contain any added sugar. They are soft, fluffy with a rich flavor from the bananas. Enjoy for breakfast, snack time or dessert. They pair well with tea or coffee!
Ingredients
4

overripe bananas

2

cups

flour

2

teaspoons

baking powder

1

teaspoon

salt

1/2

cup

milk

2

eggs

1/2

teaspoon

ground nutmeg

Oil for frying
Instructions
Peel the bananas and place in a large bowl. Mash with a wooden spoon or potato masher to form a paste (it will have lumps in it and that's okay).

Add the rest of the ingredients into the bowl except the oil for frying. Mix until just combine to form a batter. The batter will be light and drippy.

Place oil in a pan up to 3 inches then heat up on high heat to 365 degrees Fahrenheit.

Reduce the heat to medium (this is important because very hot oil will result in the fritters burning on the outside without cooking through.

Place tablespoonfuls of the batter into the pan (if you have a small cookie scoop, use it to drop the batter into the oil). Do not overcrowd the pan. Let the fritters cook until golden. Flip to the other side and let them cook until golden too. Remove and place on paper towel to absorb excess oil. Repeat process with the rest of the batter.

Enjoy for breakfast with some tea, or as a snack, or serve with chocolate sauce as a dessert.
Notes
1. You could use a cookie scoop to easily drop the batter into the oil.
2. These fritters are best eaten warm but they could easily be reheated in the microwave. Reheat in the microwave for only about 30 seconds at a time. If you leave them too long in the microwave, they might turn rubbery.
3. Sprinkle confectioner's sugar on the fritters if you want to enjoy them sweet. They could also be served with sweet dipping sauces like chocolate sauce or caramel sauce.
Nutrition
Serving:
1
fritter
|
Calories:
54
kcal
|
Carbohydrates:
9
g
|
Protein:
1
g
|
Fat:
1
g
|
Saturated Fat:
0.5
g
|
Polyunsaturated Fat:
0.4
g
|
Monounsaturated Fat:
0.3
g
|
Trans Fat:
0.001
g
|
Cholesterol:
0.4
mg
|
Sodium:
177
mg
|
Potassium:
68
mg
|
Fiber:
1
g
|
Sugar:
2
g
|
Vitamin A:
14
IU
|
Vitamin C:
1
mg
|
Calcium:
39
mg
|
Iron:
1
mg
Pin this recipe: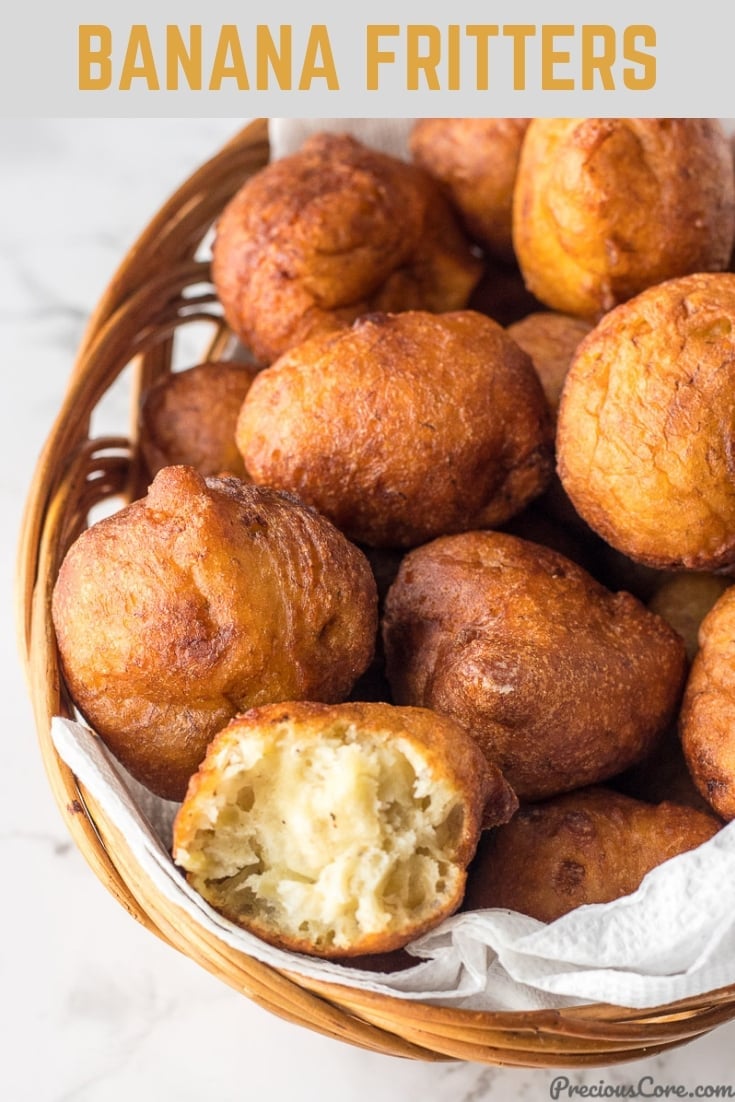 If you are alive today, it is an indication that God still wants you around. He still has a plan for your life. There is still hope for you.