CHICKEN AND SHRIMP FRIED RICE – AFRICAN STYLE
Published Aug 11, 2017
Updated Sep 26, 2018
Can you tell that I'm on a chicken and shrimp kick lately? First, I shared this chicken and shrimp spinach stew recipe. And now, this chicken and shrimp fried rice. Let me just tell you: this is farrrrr better than anything you would ever get from a restaurant. Craving fried rice? Just make yours, my friend. I've made this twice in the past few days and each time I make it, it disappears fast.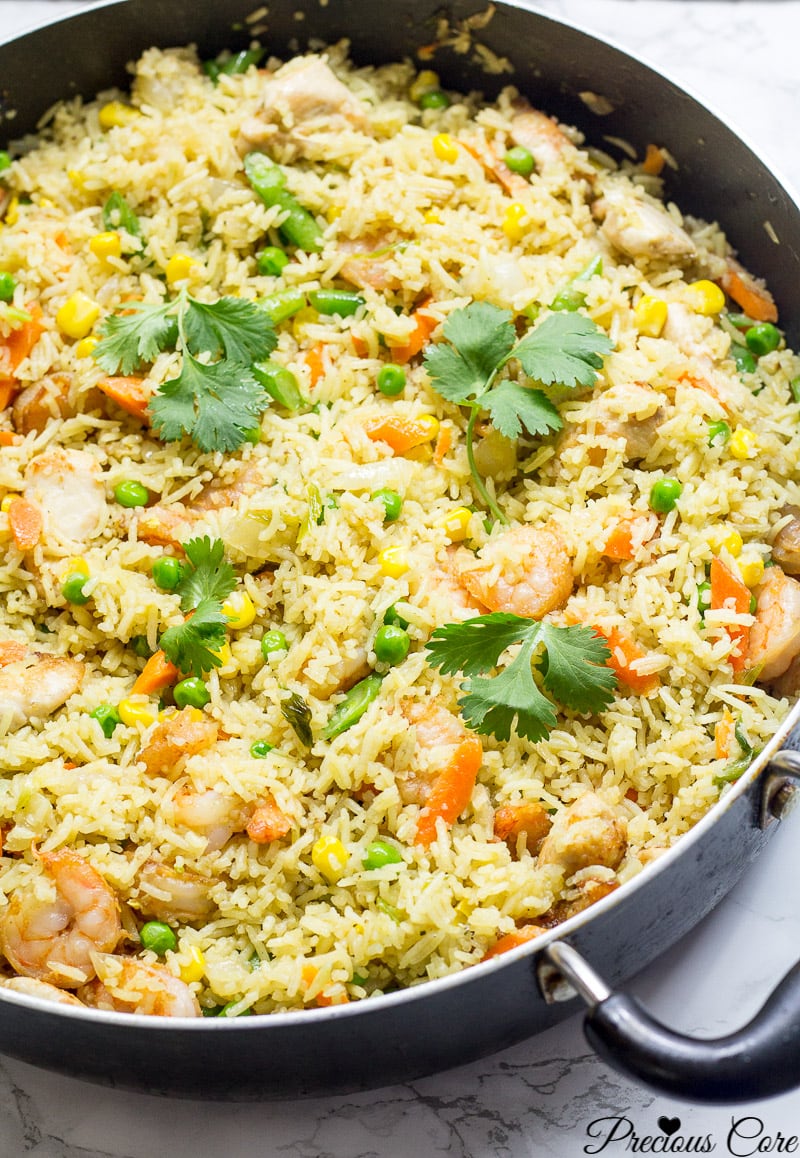 I love fried rice! And there is an abundance of fried rice recipes here on the blog. Like this coconut fried rice or this insanely yummy fried rice for which I made a video.
But today, I'm all about the chicken and the shrimp! The combo of chicken and shrimp in one pot is so enjoyable! If you have never tried this duo in a meal, I strongly suggest you do so.
To make this shrimp and chicken fried rice, I use basmati rice. I LOVE the flavor and look of basmati rice but you could really use any rice you like. Parboiled rice would be a great option too. Then I cook the rice in epic flavors. I then cook my chicken and shrimp in some oil then I saute some onions and spices. THEN I add in fresh crunchy vegetables and the cooked rice and stir-fry! And voila, epic fried rice bursting with African flavors!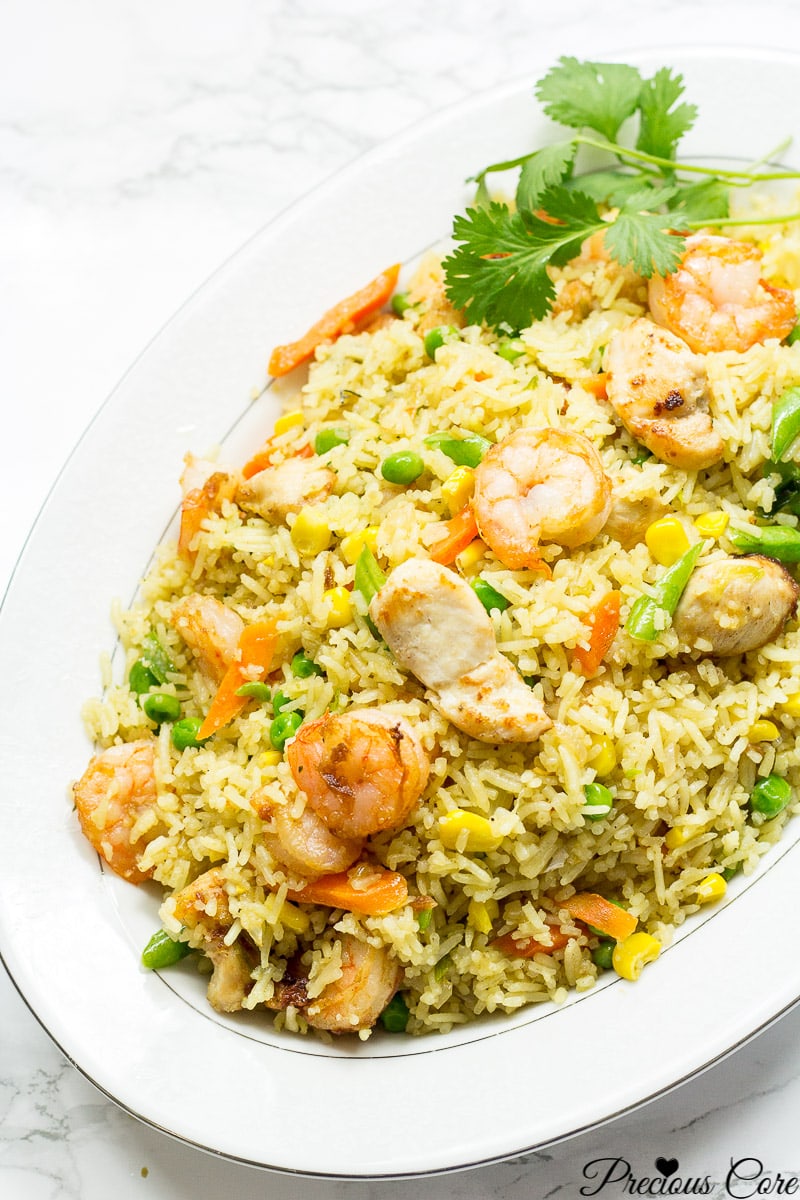 This fried rice is so tasty! Life is too short to eat bland and boring rice! It is a total party in the mouth! The veggies make it fresh too because I don't overcook my veggies and I strongly suggest you do same. That way, the vegetables stay fresh and crunchy with vibrant colors.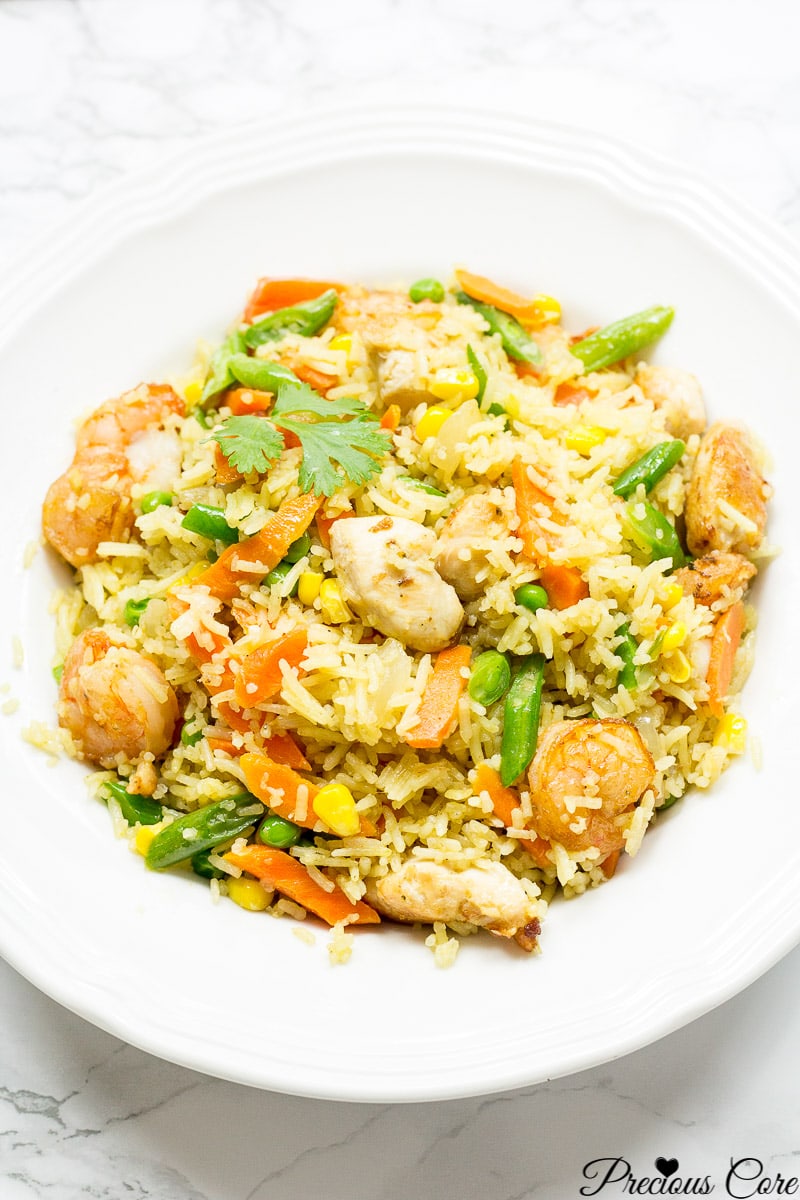 My kids rarely enjoy one-pot rice meals but they ate this one with joy! Make this for dinner, for guests, or for a party. This recipe is a winner!
I made a video to show you guys the exact process of making this epic fried rice. To make sure you never miss any of my videos, click here to subscribe to my YouTube channel. Hope you enjoy watching and ultimately cooking!
How to make the best chicken and shrimp fried rice: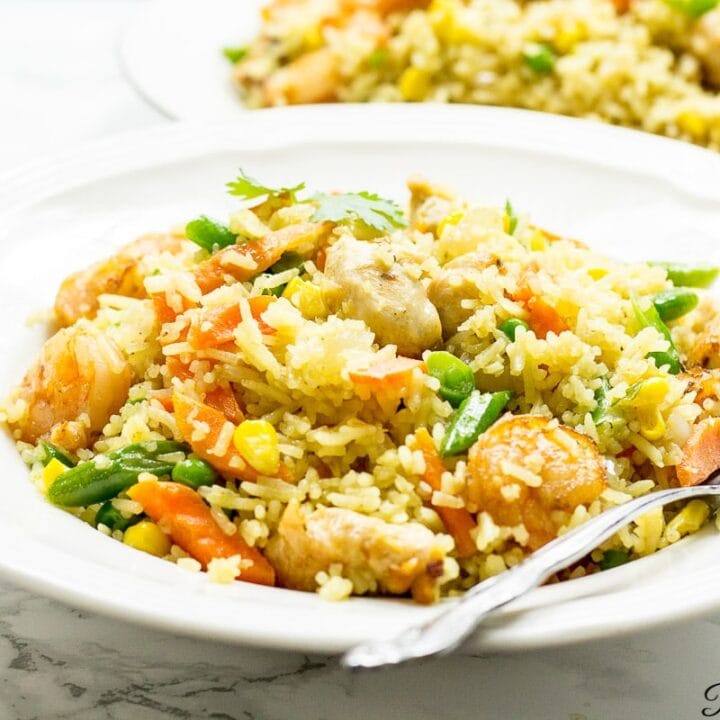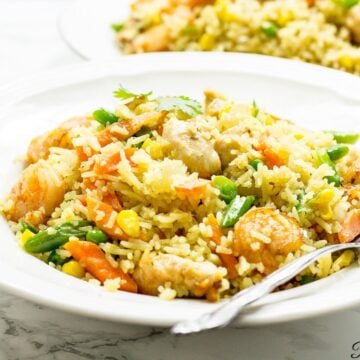 African Chicken and Shrimp Fried Rice
Chicken and shrimp fried rice is the best fried rice you will ever taste. Well flavoured and better than any takeout fried rice.
Ingredients
2 1/2

cups

basmati rice

sub with parboiled rice

1 1/2

cups

shrimp - peeled and deveined

1

pound

chicken breast - cut into 1 inch slices (about 1/2 kg)

5

garlic cloves - peeled

1

inch

ginger root - peeled

1

sprig

parsley

1/2

teaspoon

ground white pepper

2

bay leaves

1/2

teaspoon

curry powder

3

small cubes Maggi (about 4g per cube)

substitute with 3 teaspoons of chicken bouillon powder

1

cup

oil - I used canola

1

cup

chopped onion (from half a large onion or 1 medium onion)

1

stem

green onion - chopped

2

medium carrots - chopped

1

handful

green beans - chopped

3/4

cup

sweet corn

I used frozen

3/4

cup

sweet peas

I used frozen

Salt
Instructions
Blend together garlic, ginger and parsley with a little water to form a paste.

Season the chicken and shrimp. Sprinkle a pinch of salt over the shrimp and 1/4 teaspoon of salt over the chicken. Sprinkle 1/4 teaspoon of white pepper over the shrimp and the chicken. Then put half a teaspoon of the garlic-ginger-parsley blend over the chicken and put same (half teaspoon) over the shrimp. Mix both the chicken and shrimp to ensure that the seasoning goes all over them. Set aside.

Wash the rice about 4-5 times to remove the starch. Place in a pot. Add in 2 cups of water a teaspoon of salt, the bay leaves, the curry powder and Maggi. Stir well then cover the rice and set to cook on high heat. When it starts boiling, turn down the heat to medium and let it cook until it absorbs all the liquid. Add 1 more cup of water and let it cook until the liquid is fully absorbed. Cover and let it rest for about 5 minutes. Then fluff with a fork and spread the rice on a large tray to cool. (See note 1 about the rice).

Pour oil into a large pot then heat it for about 3 minutes. Put in the shrimp to cook for about four minutes. Flip halfway through. Take out the shrimp when done.

Put the chicken into the oil to cook for about four minutes like the shrimp. Flip halfway through. Take out the chicken when done.

Put chopped onions and green onions into the oil to saute for about 3 minutes until translucent.

Then add in garlic-ginger-parsley blend and stir well. Let that cook in for about 2 minutes.

Add in carrot and green beans then stir well. Add in sweet corn and peas then stir well.

Add back in chicken and shrimp then stir well. Finally add in the rice and stir until well incorporated.

Let everything sizzle together for about 2 minutes (you do not want to overcook the veggies). Then turn off the heat and serve!
Notes
1. You could boil the rice a day before to facilitate the process of frying. Day-old rice works well because it is cold, dry and won't break easily when you fry it.
2. If you like some heat in your rice, add some hot pepper (habanero, scotch bonnet or chili) when blending the garlic, ginger and parsley.
3. If you prefer the rice to look white, instead of slightly yellow, omit the curry powder.
Nutrition
Calories:
492
kcal
|
Carbohydrates:
46
g
|
Protein:
22
g
|
Fat:
25
g
|
Saturated Fat:
2
g
|
Polyunsaturated Fat:
7
g
|
Monounsaturated Fat:
15
g
|
Trans Fat:
0.1
g
|
Cholesterol:
86
mg
|
Sodium:
428
mg
|
Potassium:
458
mg
|
Fiber:
2
g
|
Sugar:
3
g
|
Vitamin A:
2448
IU
|
Vitamin C:
6
mg
|
Calcium:
60
mg
|
Iron:
1
mg

If you make this recipe, please take a picture of the meal and share with me on: