Coconut Chocolate Chip Cookies
Published Dec 22, 2016
Updated Dec 22, 2022
Coconut Chocolate Chip Cookies combines two favorite ingredients: coconut and chocolate into delicious chocolatey coconutty cookies. Perfect for Christmas or when that cookie craving hits!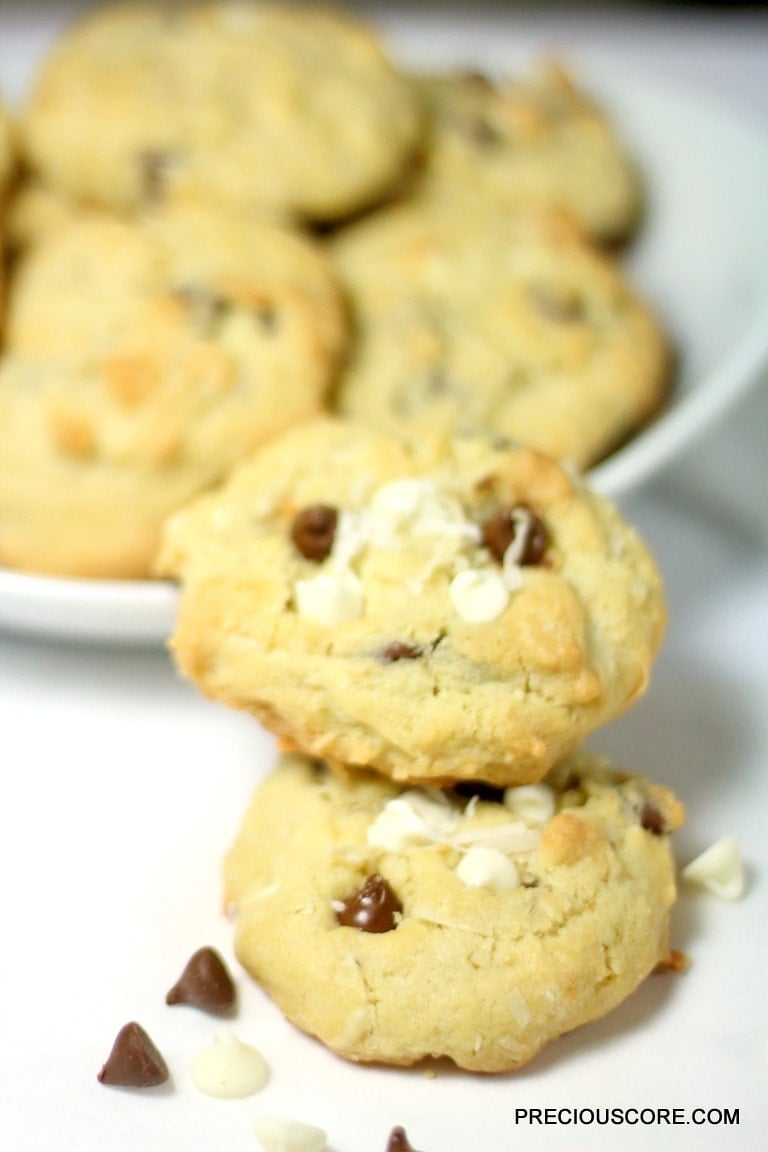 If you love cookies also check out my Easiest Chocolate Chip Cookies, Lemon Shortbread Cookies, and Danish Butter Cookies.
For The Love of Coconut
I have a confession to make. I. Just. Can't. Stop. Buying. Coconut. When I go grocery shopping I often grab a coconut-related item. It may be a whole coconut, coconut oil, coconut milk, or coconut flakes.
Lately, I've been grabbing off the shelves a whole lot of coconut flakes. That also means I have to find ways to cook and enjoy all the coconut in my life. Because I cannot "come and be" wasting Mr. N's money on coconut and we end up not consuming it.
That's why I came up with these Coconut Chocolate Chip Cookies. Coconut chocolate chip cookies. Say that really fast!
This recipe includes two of my culinary boos. Coconut – my boo for life and chocolate – my side boo. I'm loco for the coco and the choco!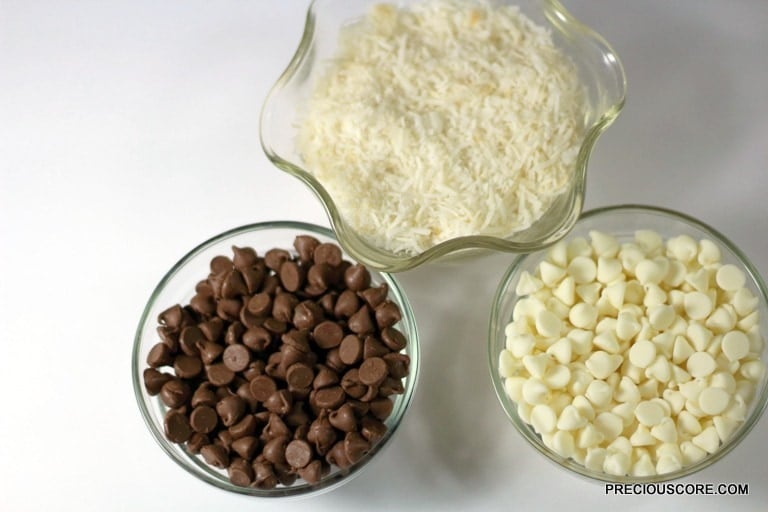 Ingredient Notes
I used both milk chocolate and white chocolate chips in this recipe but you could use only milk chocolate chips.
All you need to do is make a cookie dough with butter, sugar, eggs, vanilla, flour, salt, and baking soda in the right proportions (please see full recipe below). Then you fold in some chocolate chips and coconut flakes.
If you have no chocolate chips in your area, buy some chocolate bars – what is known as "Mambo" in Cameroon, my country of origin. I'm not sure what chocolate bars are called in other areas but I'm sure you can find some form of them where you live. If you are using the bars, cut them up and add them into your dough.
And if you have no coconut flakes, grate some fresh coconut and dry up on low heat, stirring constantly, or just use some coconut sweet (shredded candied coconut snack). You see, there is no excuse why you shouldn't make this luscious coconut-chocolate cookie dough.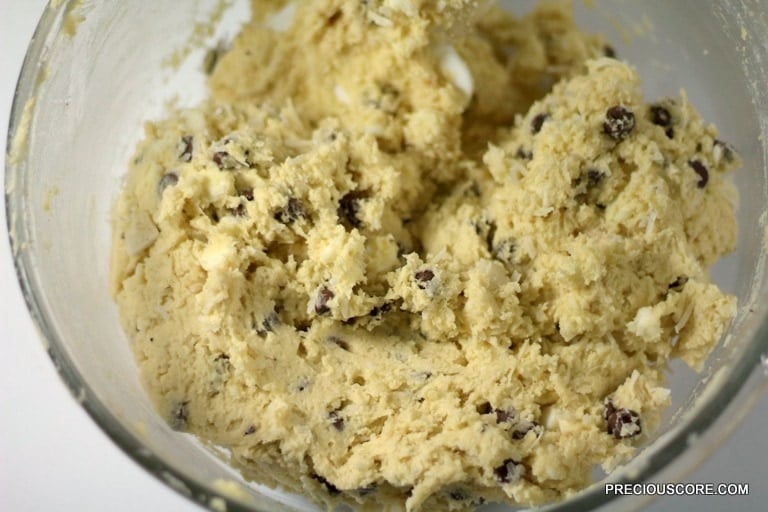 .
To form the cookies, all you have to do is grab rounded spoonfuls of the dough and drop them onto a prepared baking tray. If you have kids, this will be a fun thing to do with them.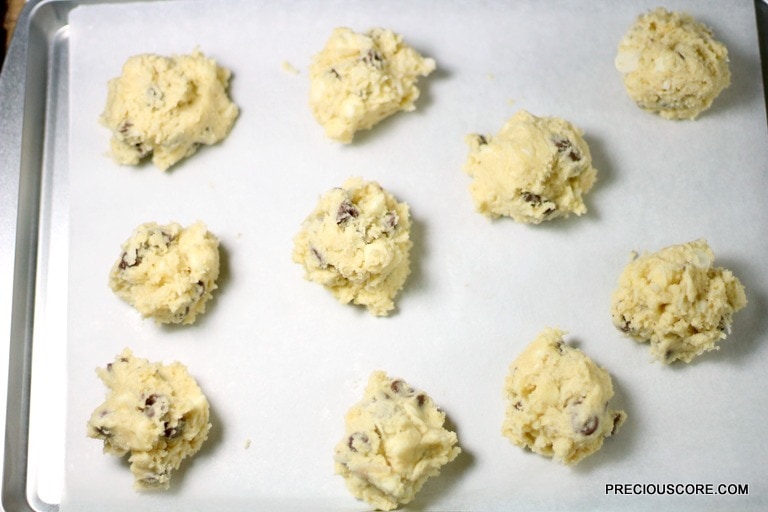 If you follow my exact measurements, you do not need to flatten the dough into cookie shapes because when you bake them, this happens: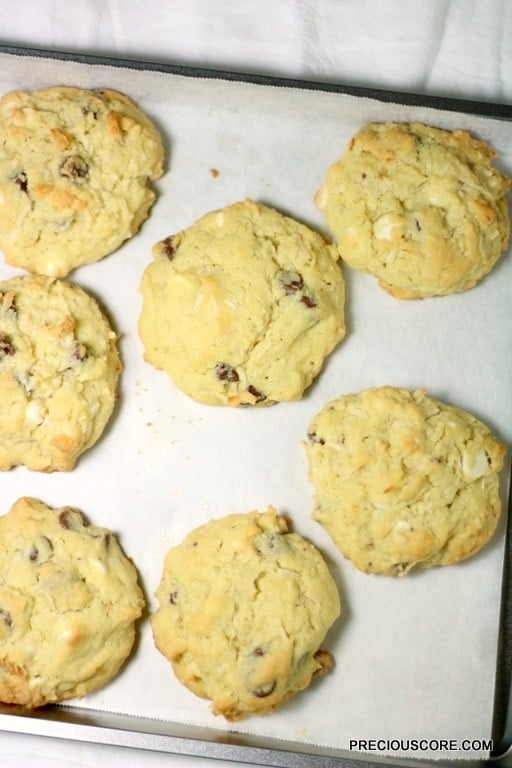 They flatten up on their own! That's because the dough is heavily laden with buttah and doesn't contain too much flour so the butter melts and flattens up. It's just the way I like it.
Now, if you want your chocolate chips to pop all over the cookies, press some more chocolate chips into the cookies as soon as the cookies are out of the oven and are still hot and soft.
With some of these cookies locked up in jars in my house, I feel a sense of security. A choco-coconut kind of security. It is weird. Maybe you will feel it too.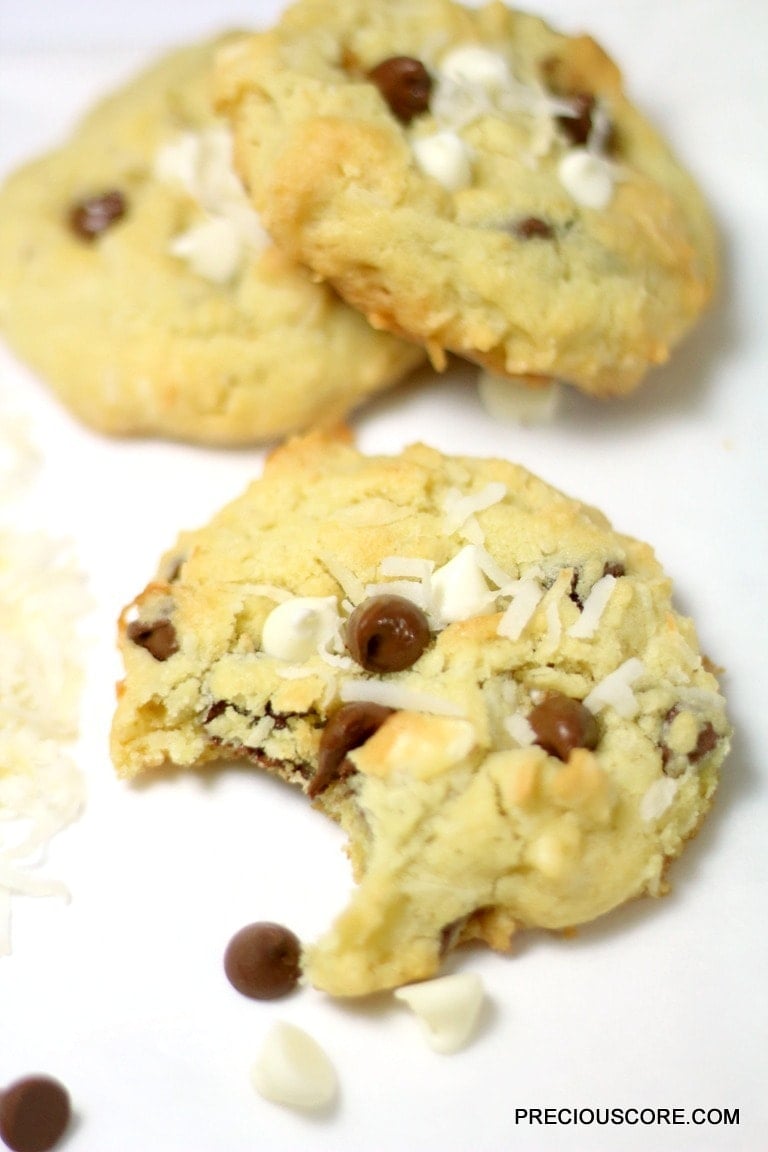 Enjoy these Coconut Chocolate Chip Cookies with a large glass of milk so you can get the whole experience. Check out the full recipe below. If you love the recipe, please consider leaving a star rating below. Enjoy!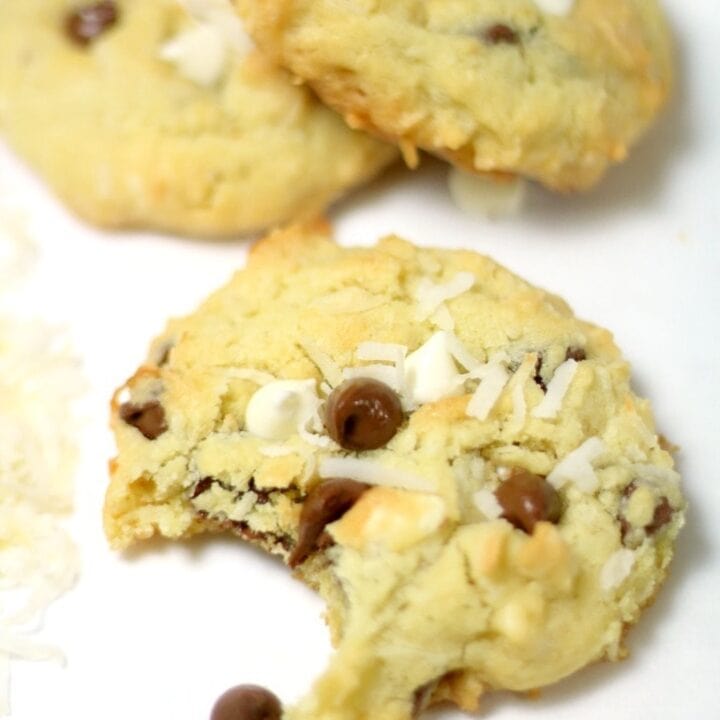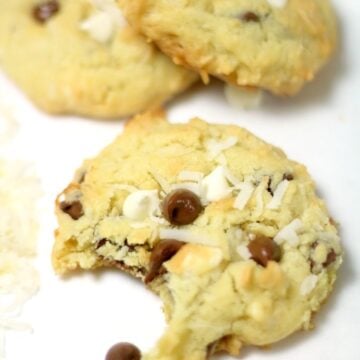 Coconut Chocolate Chip Cookies
Cookies made with the combination of chocolate and coconut. That combo is everything!!
Ingredients
2

cups

flour (1/4 kg)

1

cup

butter (16 tablespoons)

2

cups

chocolate chips

I used both white and milk chocolate

2

cups

coconut flakes

1

cup

sugar (16 tablespoons)

1

teaspoon

vanilla extract

1/2

teaspoon

salt

1

teaspoon

baking soda

2

eggs
Instructions
Line a baking sheet with parchment paper. Preheat oven to 350 degrees F (180 degrees C).

In a bowl, cream together the sugar and butter until light and fluffy. You could use an electric mixer for this.

Beat eggs and add in one at a time. Add in the vanilla and stir well.

Add in flour, baking soda and salt and mix until well incorporated.

Carefully fold in the chocolate chips and coconut flakes.

Place rounded one-and-a-half tablespoonfuls on the prepared baking tray. Note that you do not need to try to form the dough into cookies here. Simply make rounded portions and place the baking tray. They will flatten as they bake.

Bake in preheated oven at 350 degrees F (180 degrees C) for about 12 – 15 minutes until nice and golden brown.
Notes
This recipe makes about 30 cookies. I used small baking trays and each tray carried about 10 cookies at once so I baked in three batches.
Nutrition
Calories:
201
kcal
|
Carbohydrates:
24
g
|
Protein:
2
g
|
Fat:
11
g
|
Saturated Fat:
7
g
|
Polyunsaturated Fat:
0.3
g
|
Monounsaturated Fat:
2
g
|
Trans Fat:
0.3
g
|
Cholesterol:
29
mg
|
Sodium:
153
mg
|
Potassium:
36
mg
|
Fiber:
1
g
|
Sugar:
16
g
|
Vitamin A:
232
IU
|
Vitamin C:
0.1
mg
|
Calcium:
19
mg
|
Iron:
1
mg
I love to see your creations so if you make these cookies, please tag me in a photo on Instagram @preciouscore.