FISH BALLS – AFRICAN STYLE
Published May 09, 2018
Updated Sep 26, 2018
Before I tell you where I've been can we talk about these fish balls?? Crazy addictive fish balls which are so crunchy on the inside then moist and super tasty on the inside. The perfect appetizer for enjoying at home, entertaining guests, taking to picnics, and so on.
When the head of the tasting committee tried these fish balls, he couldn't stop eating them. "Sweet, that fish thing is so good," he said. My kids shared the same sentiments. They kept eating and eating with my toddler sneaking to swipe some behind my back. Ha.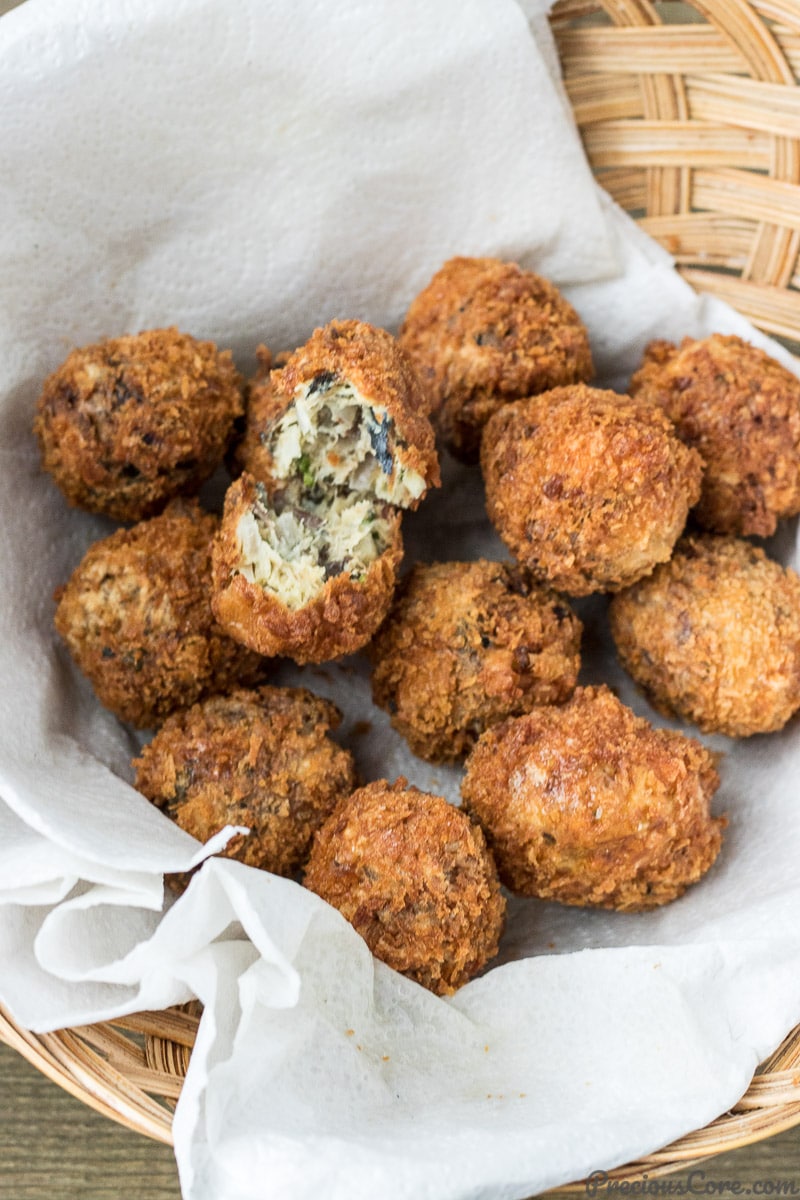 There are different kinds of fish balls – like Chinese Fish Balls and Italian Fish Balls. These fish balls are prepared with different seasonings and/or techniques just like meatballs are prepared in different ways around the world. So this post is focused on an African approach to fish balls, more precisely, a West African approach.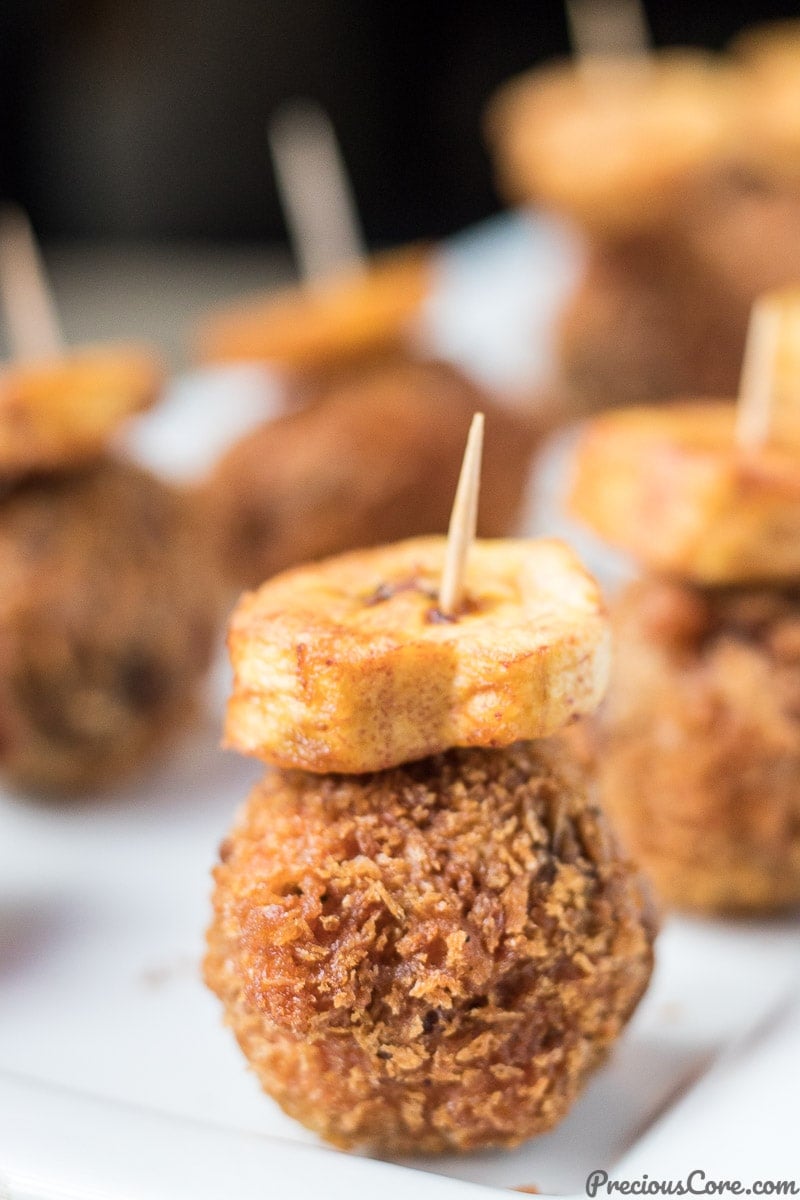 If you've never tried fish balls before, I encourage you to try it. You will be amazed!
The ingredients for these African style fish balls, are pretty simple: fish fillets, eggs, garlic, onion, cilantro (substitute with parsley), flour and some seasoning.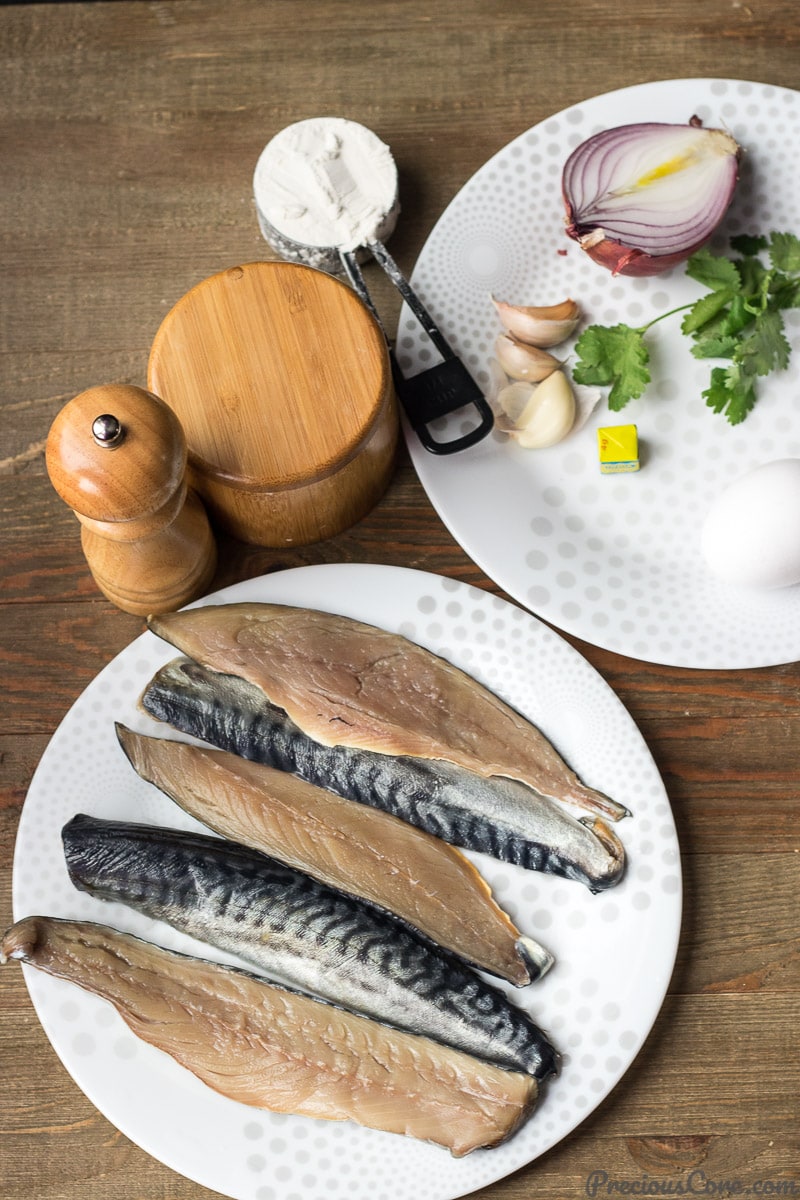 Also, you need breadcrumbs for that irresistible crunch on the outside. I had to capture the breadcrumbs together with the other ingredients but I forgot – blame it on the "mommy brain"! I used panko breadcrumbs here but you could use regular breadcrumbs or even make your own breadcrumbs.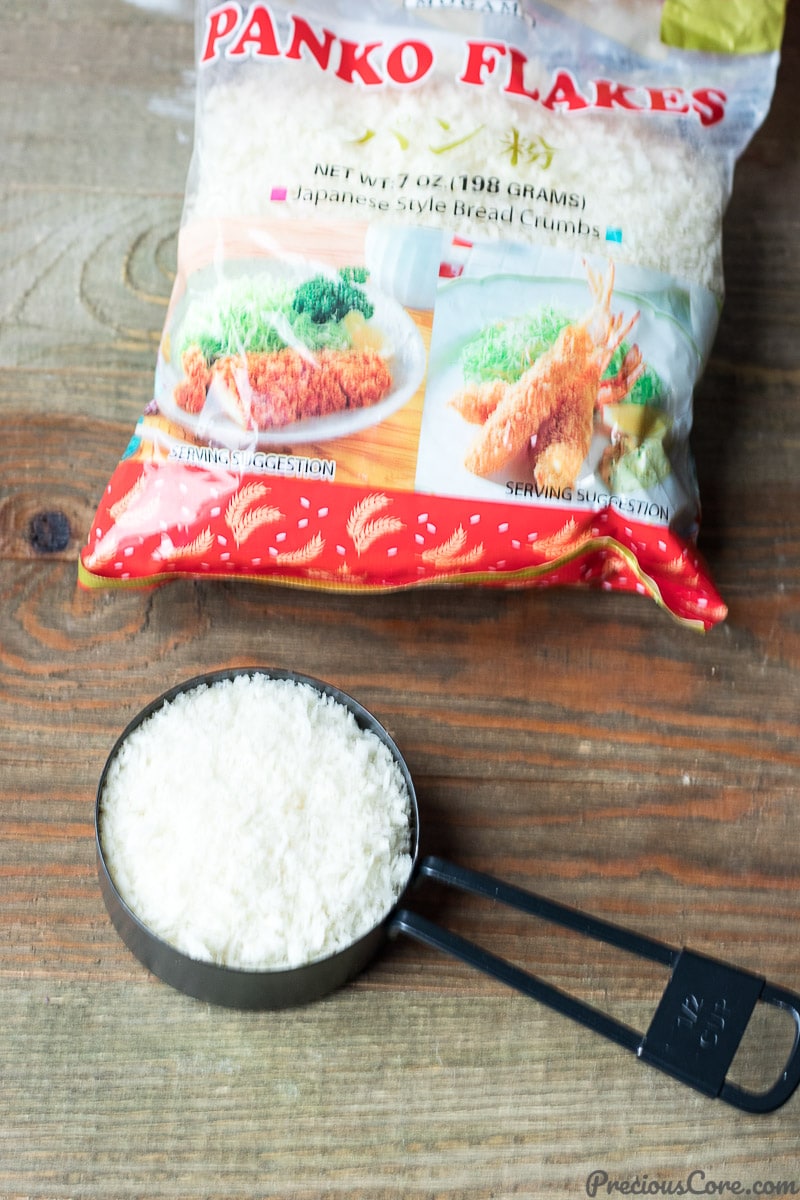 I start off by lightly boiling the fish with salt and white pepper then I place the fish in a bowl.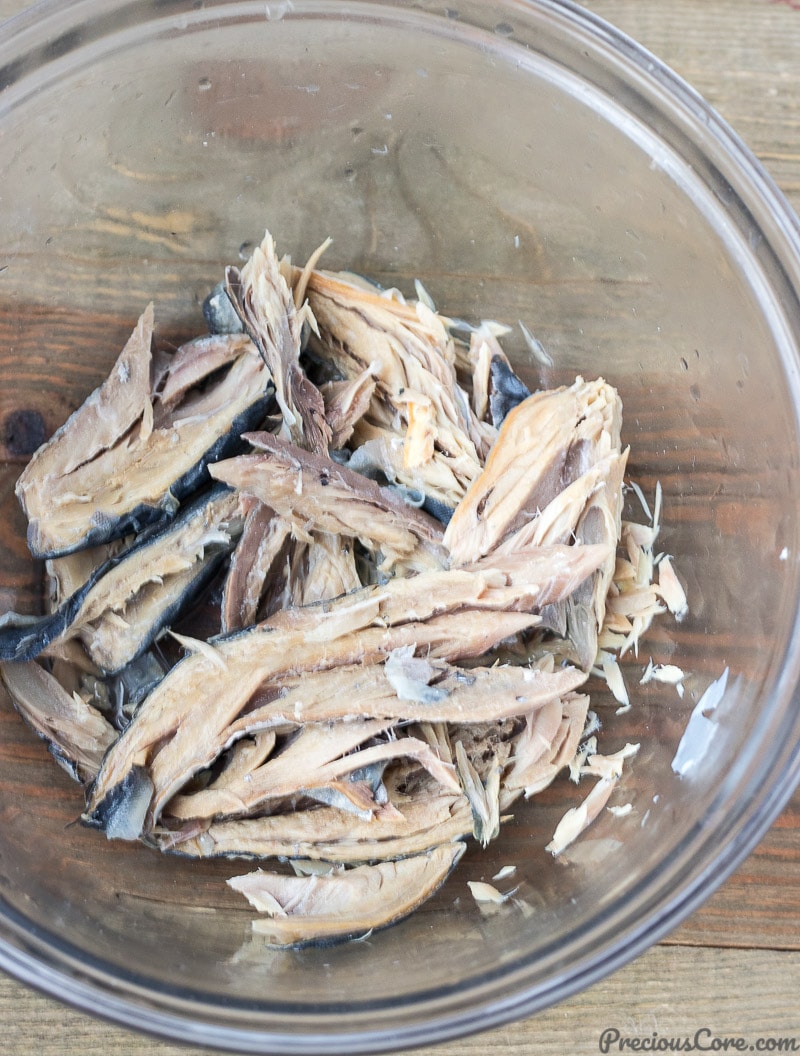 To the fish, add some minced garlic, onion, flour, an egg, some chopped cilantro/parsley and a sprinkle on a seasoning cube.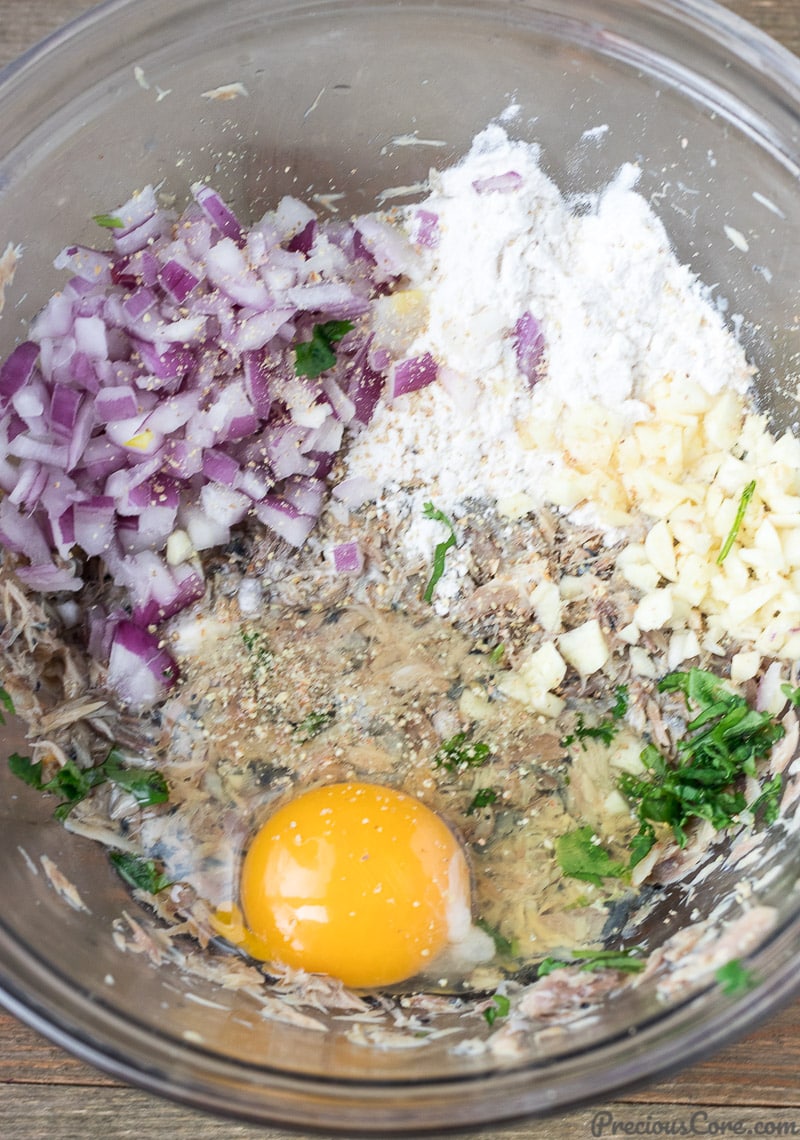 Mix them all up together until they become one and indivisible. This mixture is everything! So tasty just like my meatball mixture. Insanely good!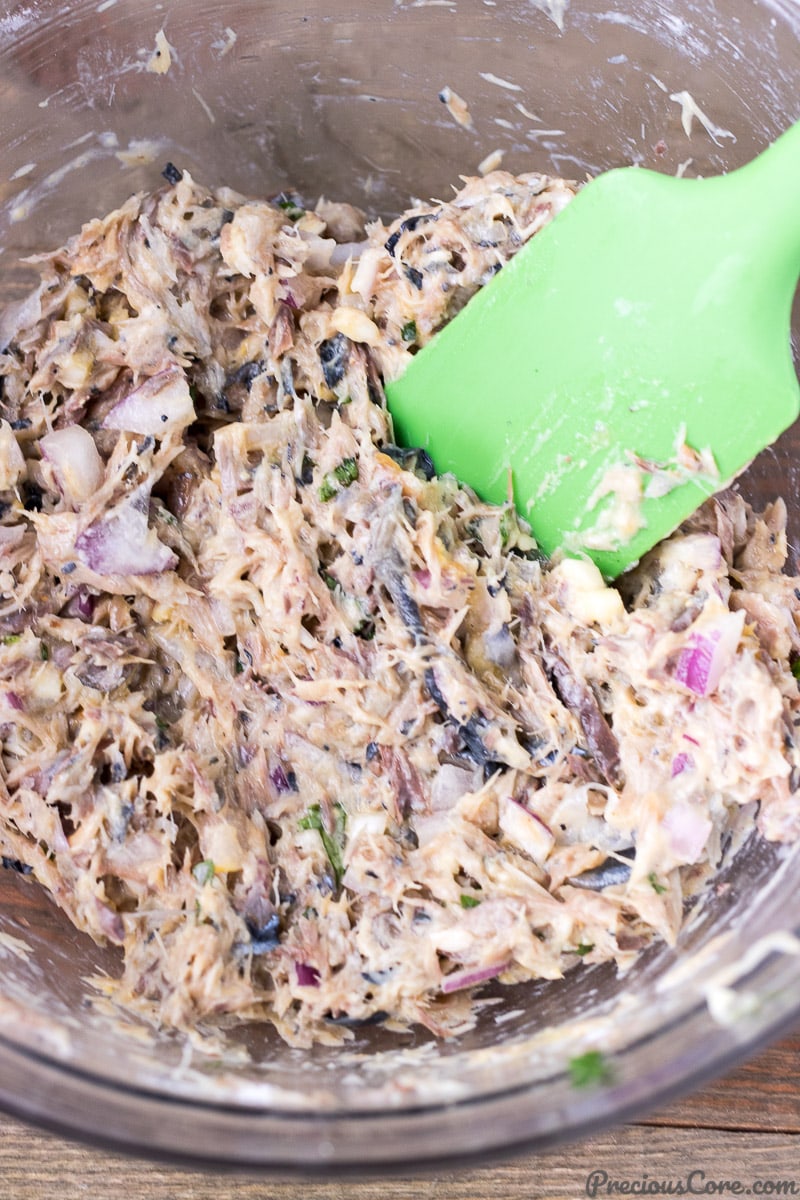 Now form this mixture into balls – I used a cookie scoop to scoop it out to give me fairly even shapes.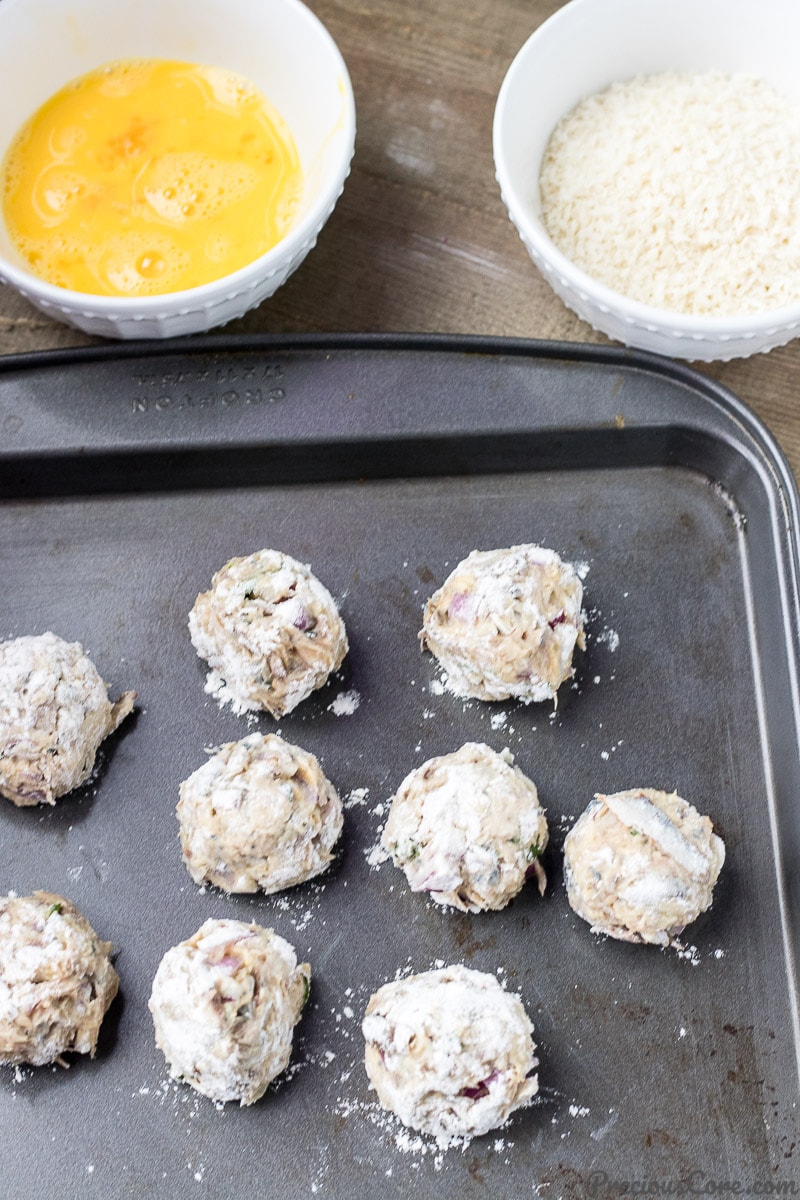 As you can see, the balls look covered in flour. That's because I rolled them in some flour right after forming them. After rolling them in flour, dip the balls into beaten egg then finally roll into breadcrumbs and fry!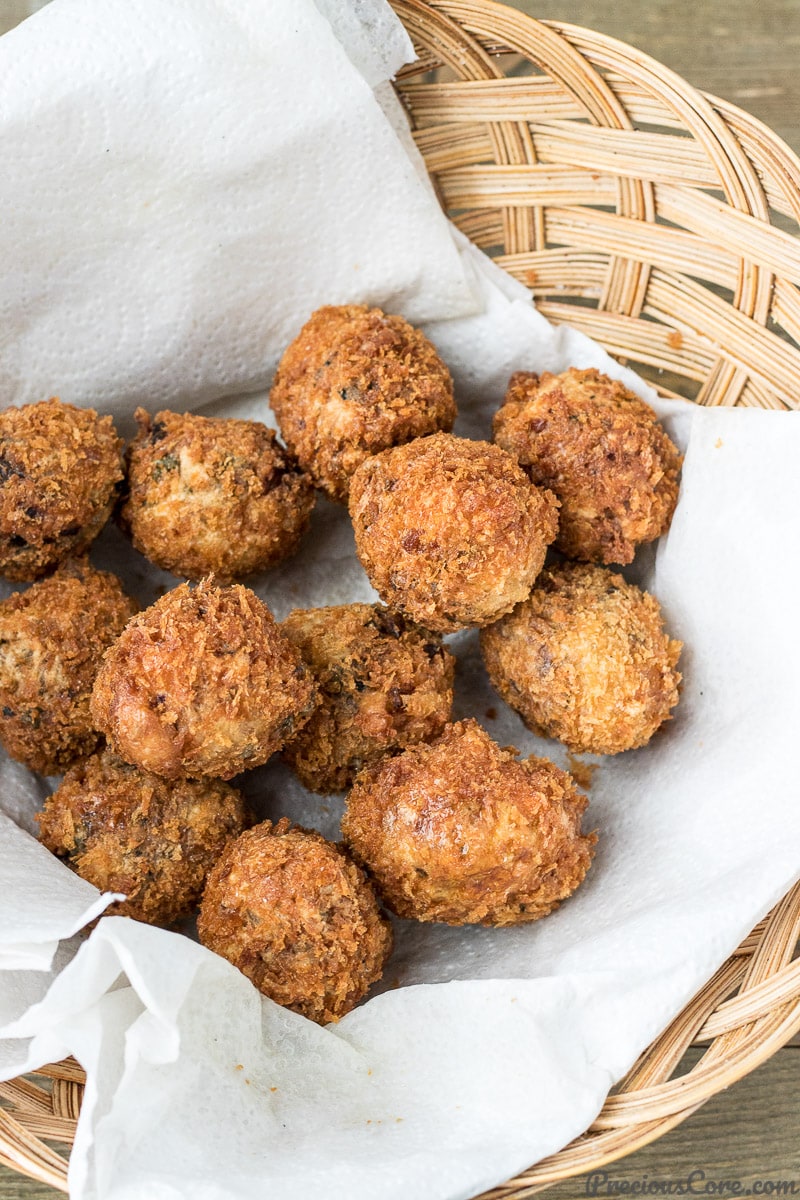 Can you taste the crunch from there? I don't know where I will be without good food like this. Making delicious happen is purely one of my joys in life. These fish balls are crazy delicious. The highlight for me is that crunch on the outside. All you hear is "grish grish grish" when you eat it.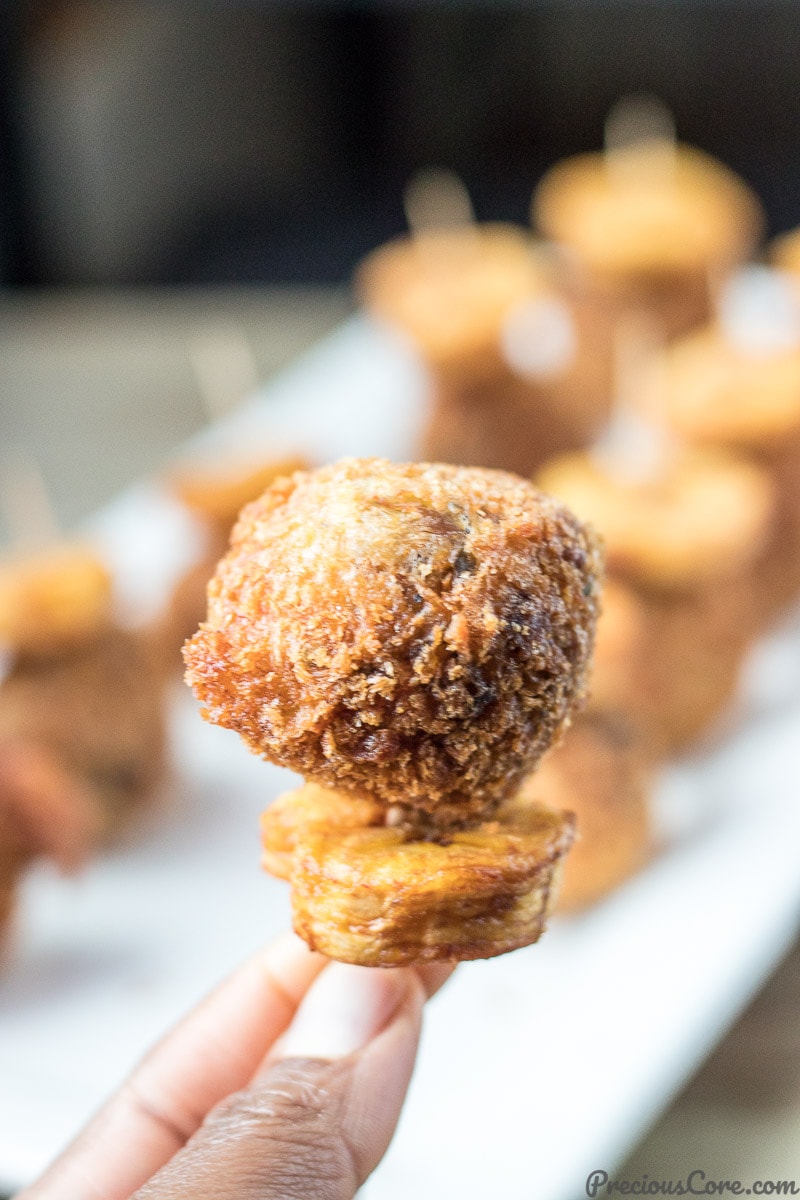 I made some fried plantains to go with it but you could also serve this with potato fries or any side you like. They are also great on their own. Another option is to make a simple African tomato stew to go with these fish balls then serve on rice. So good!
Crunchy African style fish balls together with some fried plantain and African pepper sauce and you are in foodie heaven! Print this recipe and go make some, friends. It is a thousand times worth it!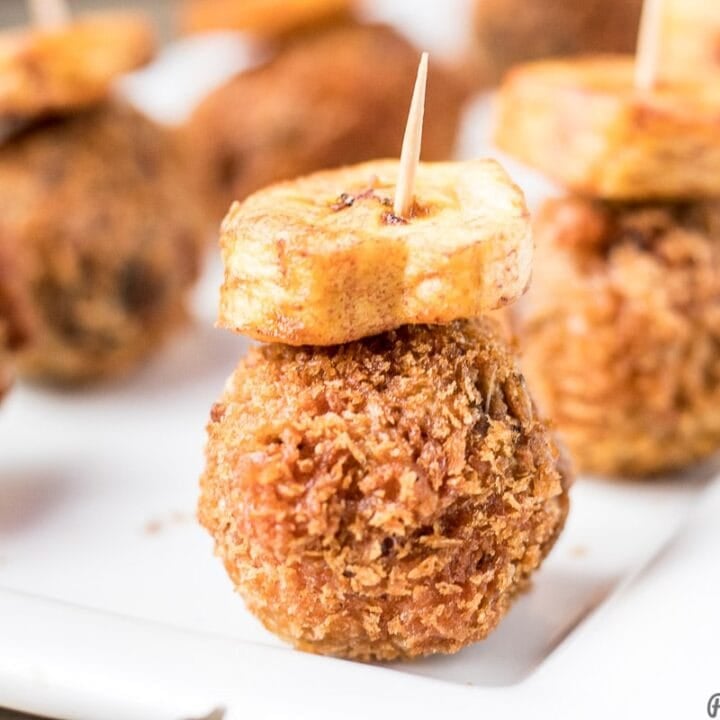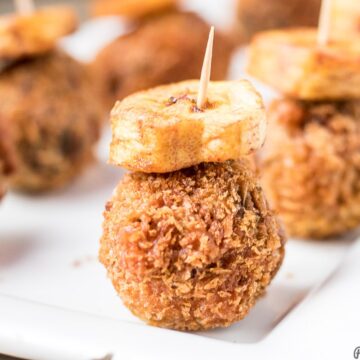 African Style Fish Balls
These fish balls made West African style are crunchy on the outside, moist, garlicky and tasty on the inside. Irresistibly good! If you are looking for a special recipe to wow, this is it.
Ingredients
12

oz

fish fillets (340g) - 5 small fish fillets

I used mackerel (see Note 1)

3

cloves

garlic - minced

1/2

medium onion - finely chopped

1

stem

parsley or cilantro - finely chopped

1/2

cup

breadcrumbs

I used panko breadcrumbs (See Note 2)

2

large eggs

1/4

cup

flour

1/2

teaspoon

salt

1/4

teaspoon

white pepper

1

seasoning cube (Maggi)

4g cube
Instructions
Place fish fillets in a pot, add 1/8th of a cup of water (the water should be very little and dry up as the fish cooks), salt and white pepper. Let it simmer on low heat for about 5-10 minutes until the fish is soft and flaky and the water is all dried up.

Place the fish in a bowl and use a fork to mash up. Add in onion, garlic, parsley, seasoning cube, 1 egg and 2 tablespoons of the flour (reserve the other part of flour). Mix all the ingredients together lightly then shape the mixture into balls.

Note: I used a cookie scoop to scoop out the mixture and shape into balls - this made sure they were all about the same size. You could do same or use a measuring tablespoon to scoop the mixture. If you don't mind large fish balls, then use an ice cream scoop to scoop the mixture (I prefer my fish balls smaller).

Also note: the fish ball mixture can get very sticky and hard to handle. If it gets sticky. wet your hands with water and continue forming the balls.

When all the balls are formed, place the remaining egg in one bowl and beat, place flour in another bowl then place breadcrumbs in another bowl. Roll a fish ball in the flour then place it in the egg mixture to coat it. Place it in the breadcrumbs and ensure the breadcrumbs coat the ball all around. Place the ball on a tray. Repeat process with the rest of the balls.

Place oil in a pan up to 4 inches then heat up the oil on medium heat to 350 degrees F. Place the balls in the oil, being careful not to overcrowd the pan. Let them cook for about 4 minutes on one side then you flip them to the other side and let them cook for another 3 minutes. Remove and place on paper towel to absorb the excess oil.

Serve fish balls as they are or with any side of choice. I love serving them with fried plantains and African pepper sauce.
Notes
1. I used mackerel fish because I found mackerel fillets at an Asian store I shop at. The fish I used is called "salt mackerel) and I had to soak it for several hours to remove the salt from it. HOWEVER, you do not have to use mackerel. You could use any fish fillet you like. Also, if fish fillets are not readily available in your area, then you could get whole fish and use a sharp knife to fillet the fish (seperate the flesh from the bones).
2. You could use regular breadcrumbs if you choose to but I used Panko breadcrumbs because they are much crunchier than regular.
Nutrition
Calories:
74
kcal
|
Carbohydrates:
6
g
|
Protein:
8
g
|
Fat:
2
g
|
Saturated Fat:
1
g
|
Polyunsaturated Fat:
0.5
g
|
Monounsaturated Fat:
1
g
|
Trans Fat:
0.003
g
|
Cholesterol:
41
mg
|
Sodium:
272
mg
|
Potassium:
122
mg
|
Fiber:
0.5
g
|
Sugar:
1
g
|
Vitamin A:
47
IU
|
Vitamin C:
1
mg
|
Calcium:
25
mg
|
Iron:
1
mg
Pin this recipe:

For everything there is a season,
    a time for every activity under heaven.
A time to be born and a time to die.
    A time to plant and a time to harvest. (Ecclesiastes 3:1-2)