I remember making this absolutely delicious creamy white sauce a lot with my mom when I was about 8 or 9 years old. It was at that age when my hands wanted to cook everything. So when a YouTube viewer requested that I demonstrate this recipe, I had to call mama.
Me: "Mommy, I want to make Mpuh fish. How do I go about it?"
Mom: "You need Njangsa! A lot of Njangsa! They normally make it with ground plantains but..."
She assumed that I won't have access to ground plantains.
Me: "I already dried some plantains in the oven. I just need to grind it"
Mom: "Good! So you will mix the plantain powder and Njangsa with water some spices. Bush pepper... then you rub it all over the fish. MAKE SURE IT ENTERS THE HEAD OF THE FISH"
"Then you place it on the fire to cook. If you like, drizzle some palm or groundnut oil on top. That's it."
My mom added that it could also be made into a pudding. Instead of cooking it in a pot as a sauce, you wrap the fish mixture in banana leaves (or foil paper) and steam.
So I diligently followed Mama's instructions except I don't have any bush pepper (a twisted kind of black pepper at home). So I used white pepper instead.
Update note: My mom says mpuh fish should be thicker than what my picture shows. It should be more of the fish and less of the sauce. Thanks mom!
Watch me whipping up the sauce below. If you want to know more about Mpuh fish, read on.
Mpuh fish or mpu fish or mpouh fish is a white flavourful sauce mostly eaten in the South West region of Cameroon. The key ingredient is fish (of course!), some plantain flour and njangsa, a nutty seed popular used to make pepper soup in Cameroon. It has a creamy texture that is to die for. It is earthy, spicy and mostly eaten with some boiled plantains or boiled rice. It is so easy to put together: basically a dump and go recipe.
As mom said, you need some plantain flour. Back home, we usually buy it ready-made from the market or dry plantains in the sun to make our own. But you don't need to purchase any or use the sun. Making plantain flour at home is SO EASY. Just get some unripe plantains and cut into thin strips then pop into the oven on very low heat (less than 200 degrees F) to dry them out. It took about two hours for these to dry completely.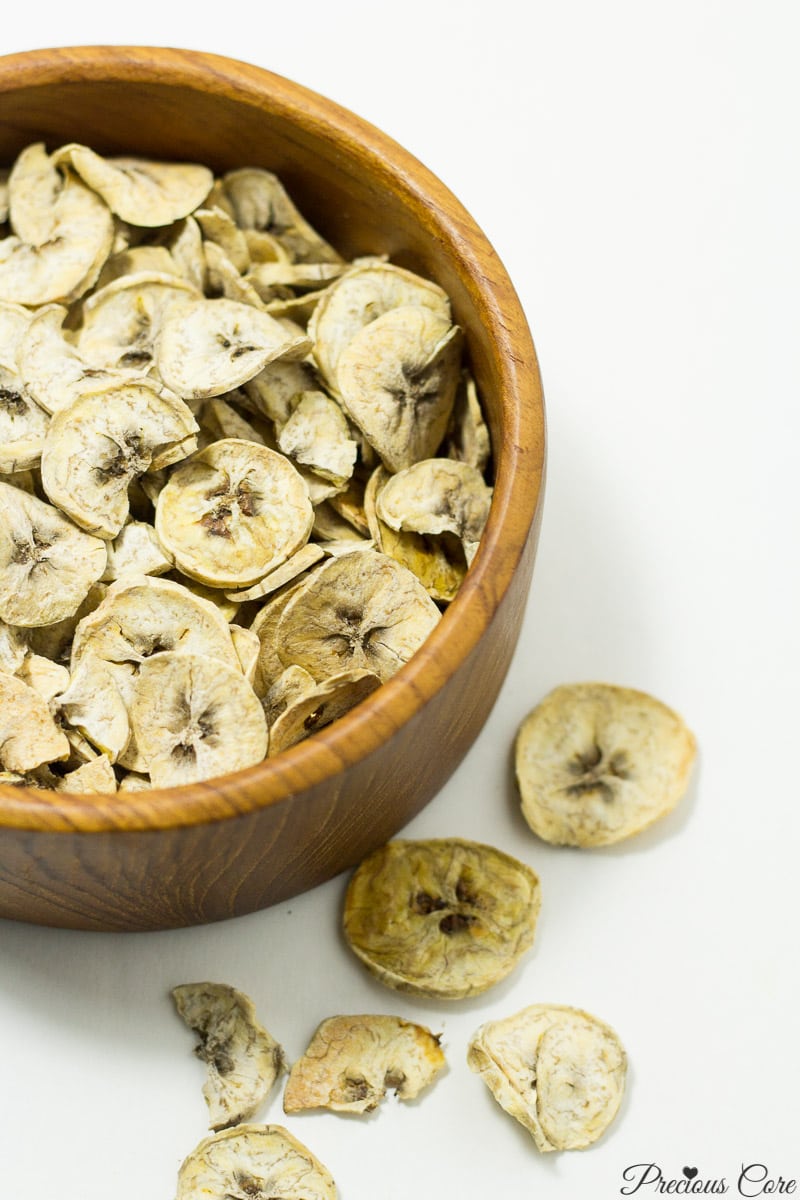 Then you let the plantains cool completely and blend them into a powder. You could use the small cup of your blender or a coffee grinder for this. And let me tell you: plantain flour is a healthier substitute to yam flour or corn flour. Fellow fufu-eaters, you should try plantain fufu sometime.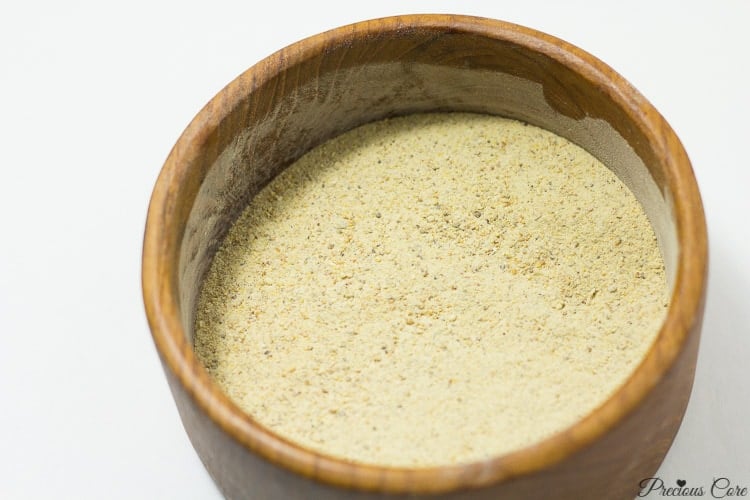 And you should definitely try Mpuh fish. Ahbsolutely ahmazinggg.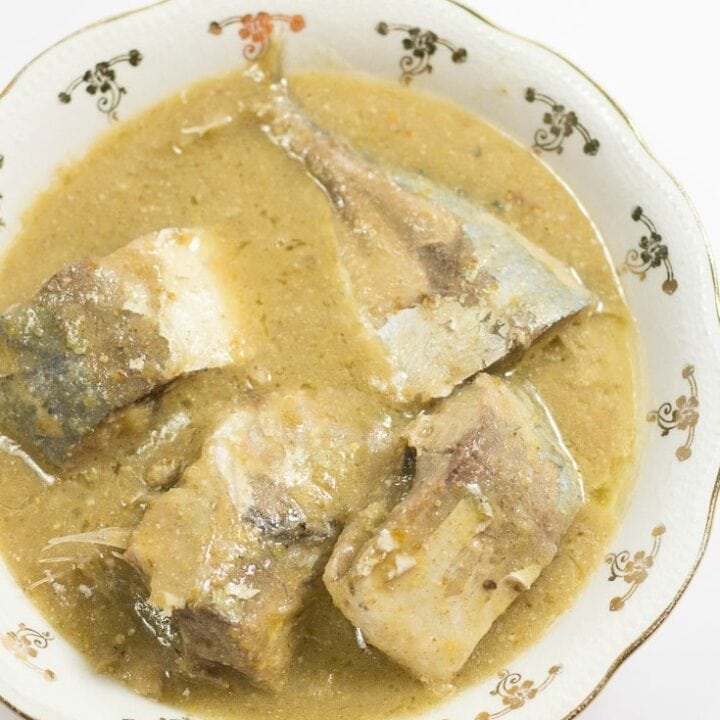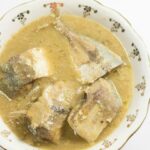 MPUH FISH
Spicy Cameroonian sauce made with plantain flour, fish and other ethnic flavours. This is how my mama makes it.
Ingredients
2-3

pounds

fish cut into steaks (about 1-1 ½ kg)

2

unripe plantains

1

cup

njangsa seeds - ground

2

cloves

garlic

½

medium onion - chopped

3

small seasoning cubes - Maggi

½

teaspoon

ground white pepper (or bush pepper)

1

teaspoon

salt

½

cup

vegetable/canola/palm oil
Instructions
To make the plantain flour
Cut plantain into very thin strips and place on an oven tray. Bake on very low heat (about 200 degrees F or 100 degrees C) until the plantain slices are dry and break easily when touched. Depending on how your oven works, you may need to flip the slices half-way through cooking.

Allow to cool completely then grind into a powder using the small cup of your blender or a coffee grinder.
To make the Mpuh Fish Sauce
Blend together onion and garlic. Then in a large pot, mix together, plantain flour, ground Njangsa, onion, garlic, white or bush pepper, hot pepper (if using), salt and Maggi and three cups of water.

Add fish into the mixture and cover to ensure the mixture touches every angle of the fish. Cover and let it cook for twenty minutes, checking half way through to add in water if needed. You can make it as light or as thick as you want. That's it! Enjoy!
To make the pudding instead
Put fish and spice mixture into banana leaves or aluminum foil and place in a large pot. Add water to about halfway through and steam for about an hour.
If you make this deliciousness, please tag me i a photo on Instagram @preciouscore. I'll love to see!