My First Pregnancy
Published Jul 24, 2015
Updated Apr 27, 2017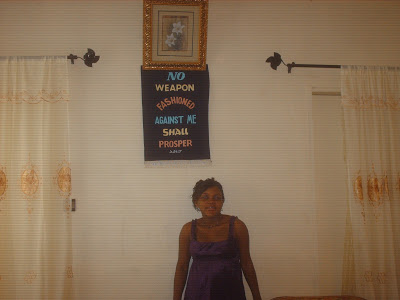 I sat on the brown bench at the health centre, which had visible signs of wear and tear. As usual, there was a long queue waiting to hear from the custodians of medical wisdom. Some were moaning in pain, others with less pain had taken quick trips to dreamland and drooled in the process. Some made annoying sounds with their mouths as they chewed on grains of boiled groundnuts (peanuts). Mothers kept restraining their curious toddlers from having their way.

As I continually positioned my behind on one end of the wooden seat, my patience drained down to two percent.A two hour wait was not a walk down a fancy park. I was one of the few people present who looked as though the clinic was a wrong destination. My illness was not glaring. Clad in a chic jean dress and open-toe shoes, I waited impatiently for the results that will determine the rest of my life.
After a long wait, the names that were called began sounding like mine. "Che Ernestine! Manka'a Gladys! Eyong Benjamin!" I kept convulsing at the sound of these names as though someone was poking me in sensitive spots. But there was one name that didn't sound like mine, "Keka Nicodemus!" Nah! I didn't move a muscle at that one. My ears instantly stopped playing pranks on me.
Finally my names resonated in the building, "Nchifor Precious!" I leaped like a frog and went to collect my results. The journey of forever had come to an end. I was eager to meet the doctor and know why my constant menstrual cramps had produced no blood.
I found my way to door number 2, quickly knocked and turned the knob. The doctor opened my old pink hospital book and said with a tone that spewed indifference, "So you're pregnant" I nodded in affirmation. I thought she was going to give some medical advice on further steps to take. She rather added a cold "Okay" to her monologue.
She stared at me and her eyes clearly said, "you can now leave." I picked my faux leather handbag and reached for the door. As I got home, I thought and thought and thought again.. I was lost in musings on my new status.
I scribbled a rough baby shopping list and stashed it into a frequently used handbag. I was filled with expectation.
Before I could fully assimilate my blissful pregnant state, the music turned into a war song. I woke up in the morning and the whole house was smelling. It was a stench I found difficult to endure. The kitchen was the worst place to be. The smell of previously cooked food that was usually a delight to inhale was an irritant to my nose and my throat.
When I went outside for fresh air, I got corrupted air. The warm clouded air in Douala was not helping in any way. Perfumes and grinding mills were enemies. I had many foes.
Then I began vomiting everything I ate. Nothing could sit in my stomach. My once favourite meals were now in my black book. I hated garlic, ginger, onions, everything tasted like poison.
The worst of them all was groundnuts. The nuts, which I sometimes cooked with were now unpleasant to even behold. I didn't want to see them, talk about them or hear about them. I mistakenly set eyes on them once and that resulted in a massive throw-up.
I could not apply body lotion on my skin because like everything else, it had an awful smell. My skin was dry, my eyes were white, my jaw bones sunk in. This pregnancy thing began to look like a curse rather than a blessing.
I solicited help from my Mum who quickly left her numerous errands in Bamenda to come and pamper me. She made different kinds of bland food for me to eat. I threw up most, a little stayed down.
Though everyone said it was a normal part of pregnancy, I chose to seek medical help. I went to the hospital and was given an injection that took the nausea away. I rejoiced but not for long. The very next day, the nausea returned seven times stronger.
Thankfully, as I entered the second trimester of my pregnancy, morning sickness took a gradual walk out. I could finally sit back, relax, enjoy being pregnant and… shop!
I feel like rushing through the rest of this story. Okay, let me stop here and recuperate. Watch out for the rest of my first pregnancy story and the phenomenal birth!
Read the next part HERE!
Do you have anything to say about first pregnancies? Talk to me down there!