ON FIGHTING FOR YOUR MARRIAGE
Published Jan 19, 2017
Updated Jan 28, 2017
I ran out of the house, went to the car, started it and zoomed off.
I wanted to go far, far away. As far as I could possibly get from my home and my marriage. Then I found a spot at a grocery store parking lot and parked there. I stayed there for perhaps hours. Just talking to myself, praying and shouting at God.
This is not how it was supposed to be, I thought. How can a relationship meant to bring you joy result in so much pain?
I engaged in a fleeing-from-marriage mission. I wanted to let go – not of the fight at hand but of the complete "thing" called marriage.
And I know my case isn't different.
Truth is, many people have at some point or the other wanted a way out of their marriages. Marriages made up of people who were deeply in love with each other. Still, for some reason, they can't stop fighting.
I love my man. Still, I get into conflict with him more than with any other person. We disagree, disagree again, then disagree some more. We are so different, so different that sometimes I begin to question our compatibility.
We fight – a lot.
But there's a better way to fight – not with my husband but for my marriage. You see, marriage is one beautiful institution that God created. But to see the beauty in it, you need to work hard. You need to fight for it.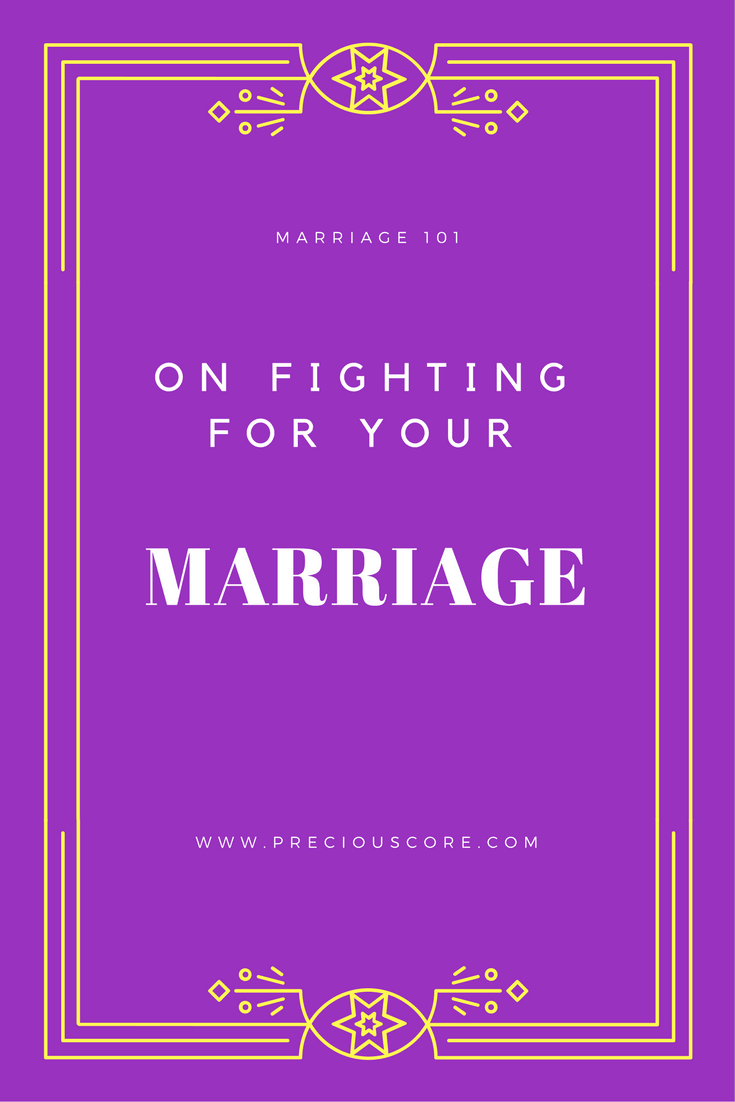 Intimacy and oneness are not things that get thrust upon you. You need to intentionally work for them. You need to fight… for your marriage.
There are so many voices out there that caution you not to fight for your marriage. You deserve better! Go out there and find someone who will treat you better! The grass is greener on the other side.
But your marriage is worth fighting for (and that grass is not greener on the other side). Your marriage is something precious. It is something valuable that must be protected. And just like with fighting for anything else, fighting for your marriage is not easy. It requires grace.
The grace to forgive even when your spouse doesn't deserve it. Because that's the way God loves us. He loves us even when we are undeserving. He keeps looking out for us even when we are far away from Him. His love for us is overwhelmingly strong.
That's the way you should love your spouse: loving them when they least deserve it. It is not the easiest thing to do in the world but it is the right thing to do. It is the godly thing to do.
You must decide what the roadmap for your marriage is. Is it the word of God? Is it opinion on social media? Or is it modern day philosophy?
If it is the word of God, then make that your final authority.
When I have a burning question about my marriage, I go back to the word of God to see what it says. And I decide to stick to God's word no matter what. Mixing worldly opinion and God's word just doesn't work for me. According to Romans 12:2,
And be not conformed to this world: but be ye transformed by the renewing of your mind, that ye may prove what is that good, and acceptable, and perfect, will of God.
The world is tricky. The word offers opinions that are contrary to the Bible. But we need to stand up for God's truth.
You have to realise that we have an enemy. Our marriages have an enemy. That enemy is not your spouse but he that moves about like a roaring lion seeking whom to devour – the devil. You do not fight this enemy by yelling or packing your things and getting out of the house. You fight this enemy by praying relentlessly. Praying for your marriage with all manner of prayer and supplication.
Because your marriage is worth fighting for. Nourish it, invest in it, believe in it.
How do you fight for your marriage? Please share below.