The Best Deviled Eggs
Published Apr 13, 2019
Updated Aug 21, 2023
These deviled eggs are creamy and rich with a bit of tang and sweetness. Such a delightful appetizer that is hard to stop eating! It is the perfect appetizer for Easter, picnics, potlucks, summer parties or the holidays!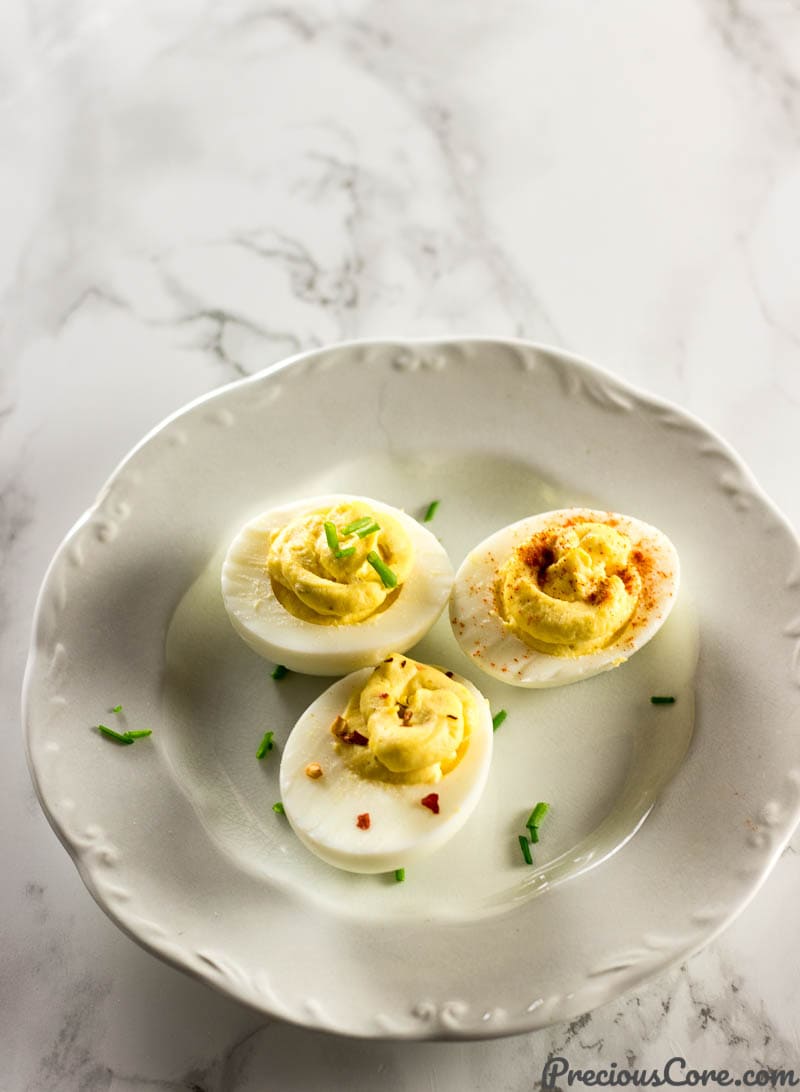 Where are all the hard boiled eggs lovers?? I luh hard boiled eggs. I love boiling a decent amount and storing in the fridge for guilt-free snacking!
For more appetizer recipes, check out these Garlic Butter Wings and Sweet and Salty Charcuterie Board.
I also love all the hard-boiled eggs treats! Like African Egg Rolls – yum! Or Scotch Eggs – take my money! Or really just perfect hard-boiled eggs topped with some African pepper sauce – gimme!
So these deviled eggs that start with hard boiled eggs as a base are right up my alley! They are truly the Best Deviled Eggs and I don't take that saying lightly.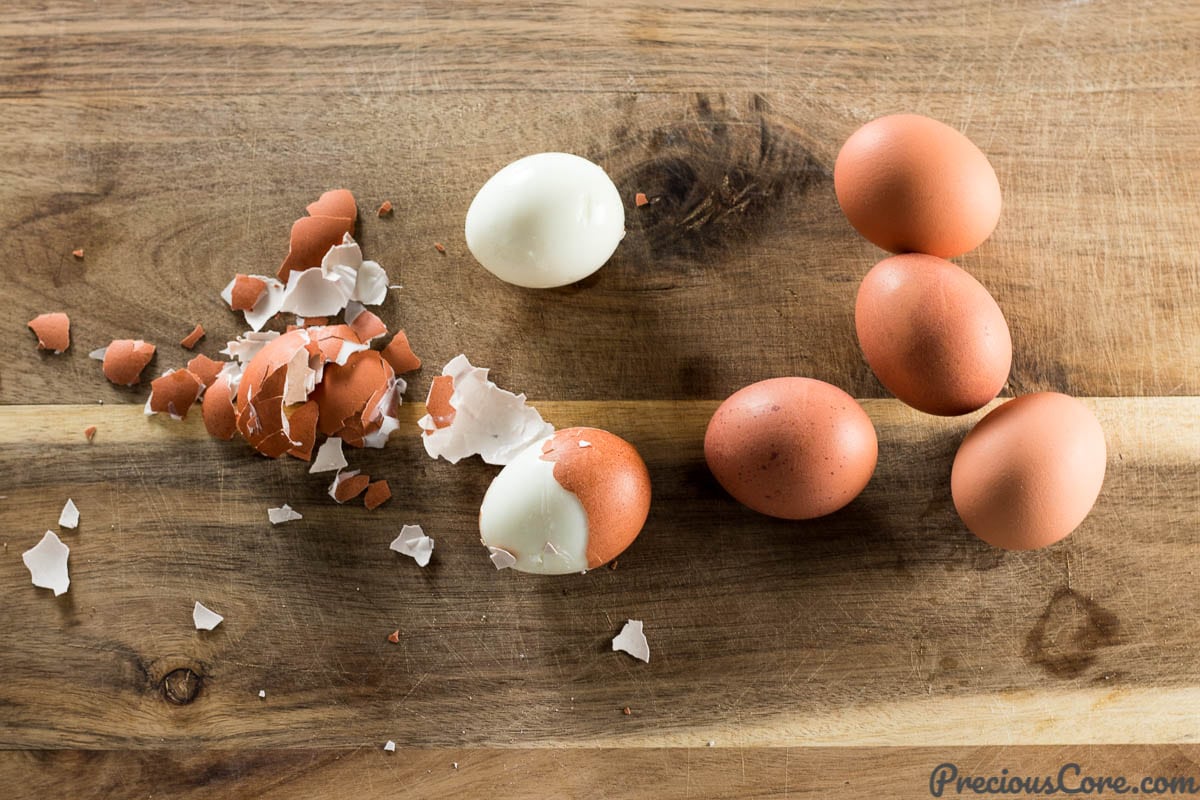 Where does the name Deviled Eggs come from?
"Deviled" is a word that was supposedly used in the 18th Century to describe food that is zesty or spicy. Deviled eggs are zesty due to the mustard in them.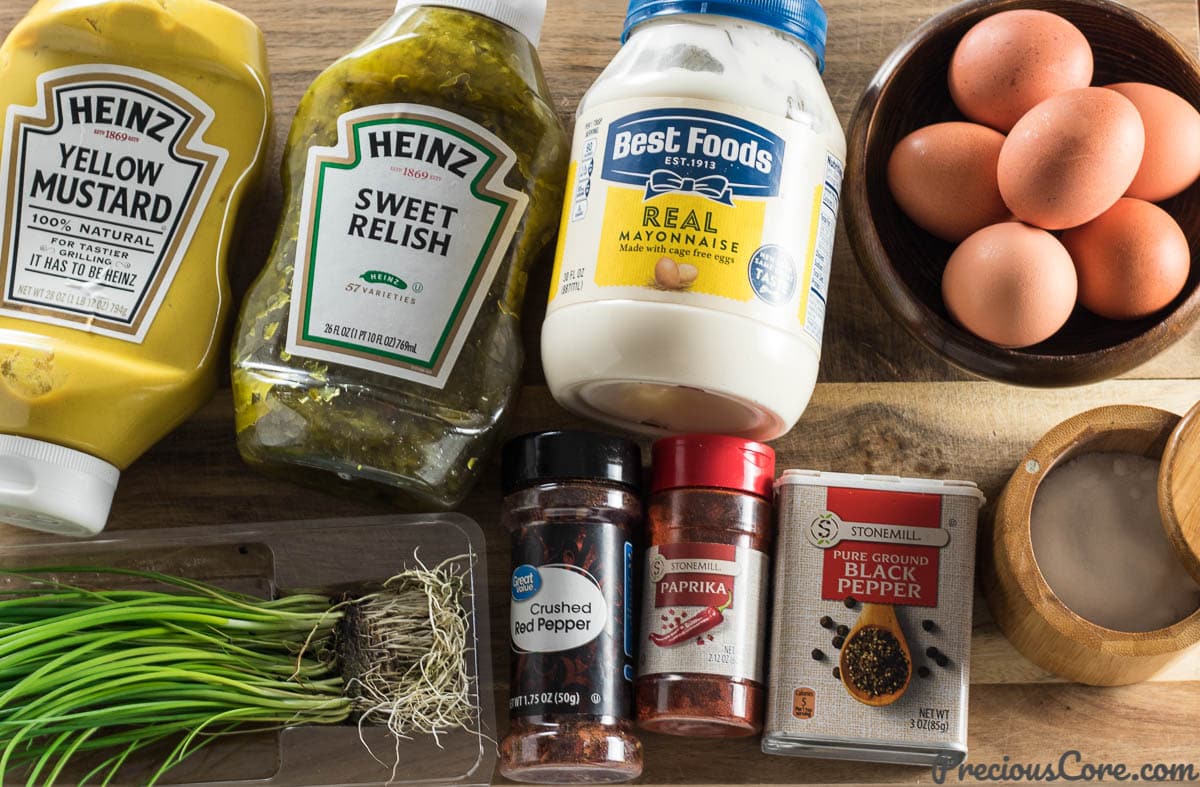 What Makes the Best Deviled Eggs?
1. The combination of ingredients used! Real mayonnaise is essential here. Also, yellow mustard works for the best tangy flavor. Sweet relish is essential as it adds a layer of sweetness to deviled eggs and just the right amount of zest.
2. The fluffiness of the yolk mixture. For a nice fluffy yolk mixture, mix all the ingredients first with a fork then beat with a hand mixer.
3. Piping the filling into the egg whites. This makes the deviled eggs look more uniform than when you use a spoon. You do not need a piping bag to do this. You can simply use a Ziploc bag.
How to Make the Best Deviled Eggs Ever
1. Perfectly hard-boil six eggs. Place the eggs in a pot and cover with water so they are completely submerged. Bring to a rolling boil. Turn off the heat and let the eggs stay covered in the pot for 10 minutes. While the eggs stay covered place ice in a bowl and enough water that can submerge the eggs. Remove the eggs from the hot water and place immediately into the water and ice to cool down for about 5 minutes. This is one perfect way of making hard-boiled eggs that don't turn out with the greenish tinge around the yolks.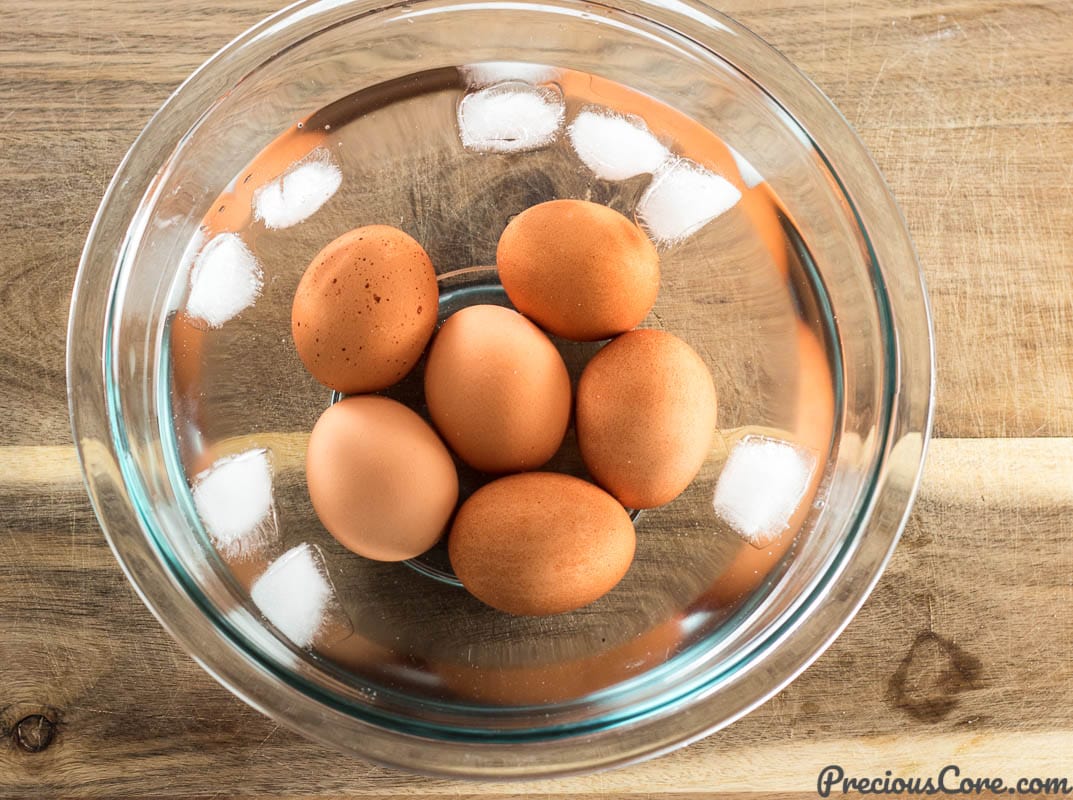 2. Peel the eggs and cut into half. Remove the yolks and place in a bowl. Wet a paper towel or clean kitchen towel then wipe your knife on the towel after cutting each egg. This ensures that the egg whites don't get yellow stains from the yolks, therefore, you get cleaner looking deviled eggs.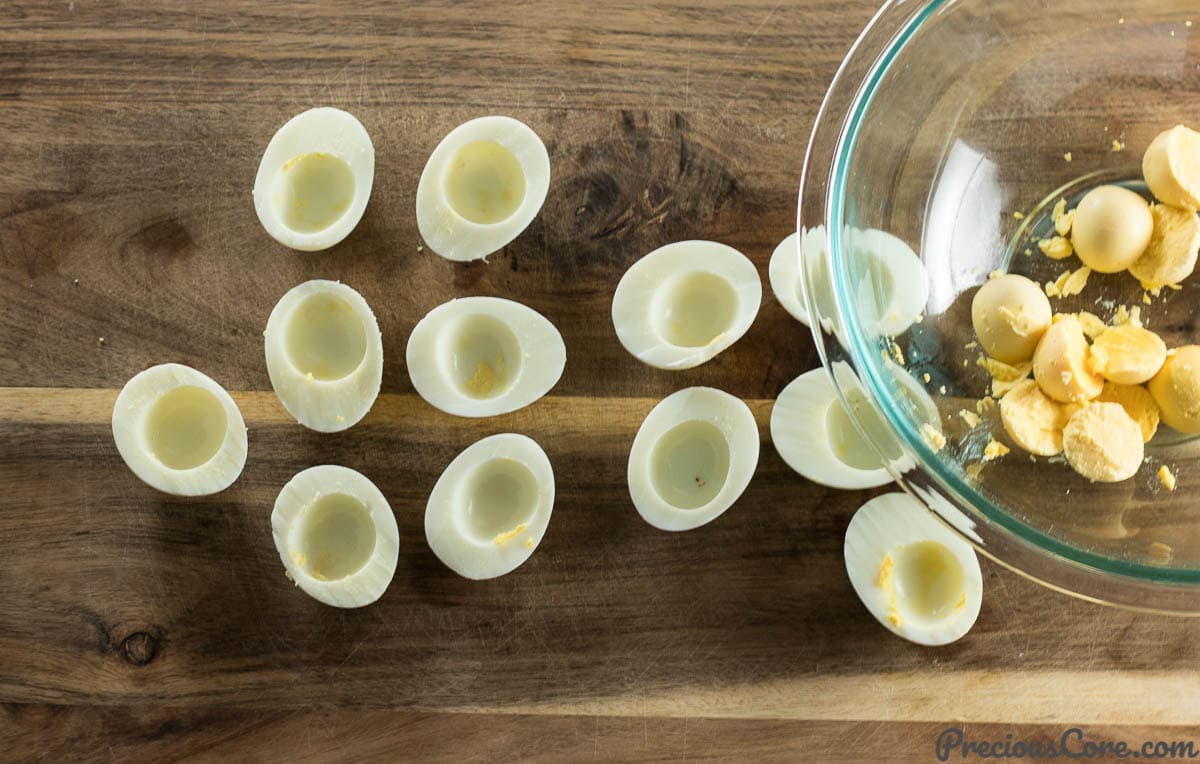 3. Mash the yolks with a fork. It is important to mash the yolks with a fork FIRST before adding the other ingredients.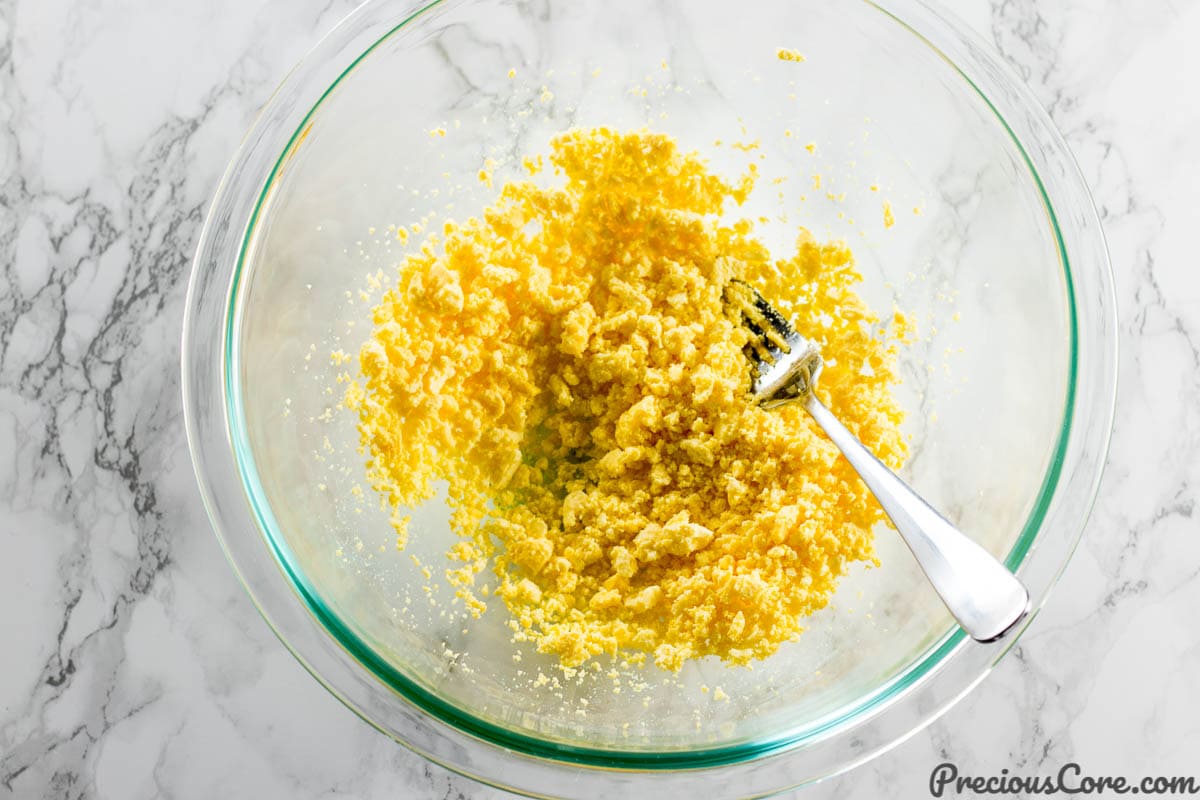 4. Add mayonnaise, mustard, relish, salt, and pepper. Mix to combine then beat the mixture for a few seconds with a hand mixer to make it fluffy. Without beating the mixture, I find that the yolk mixture is a tad rough. Beating helps make it extra smooth.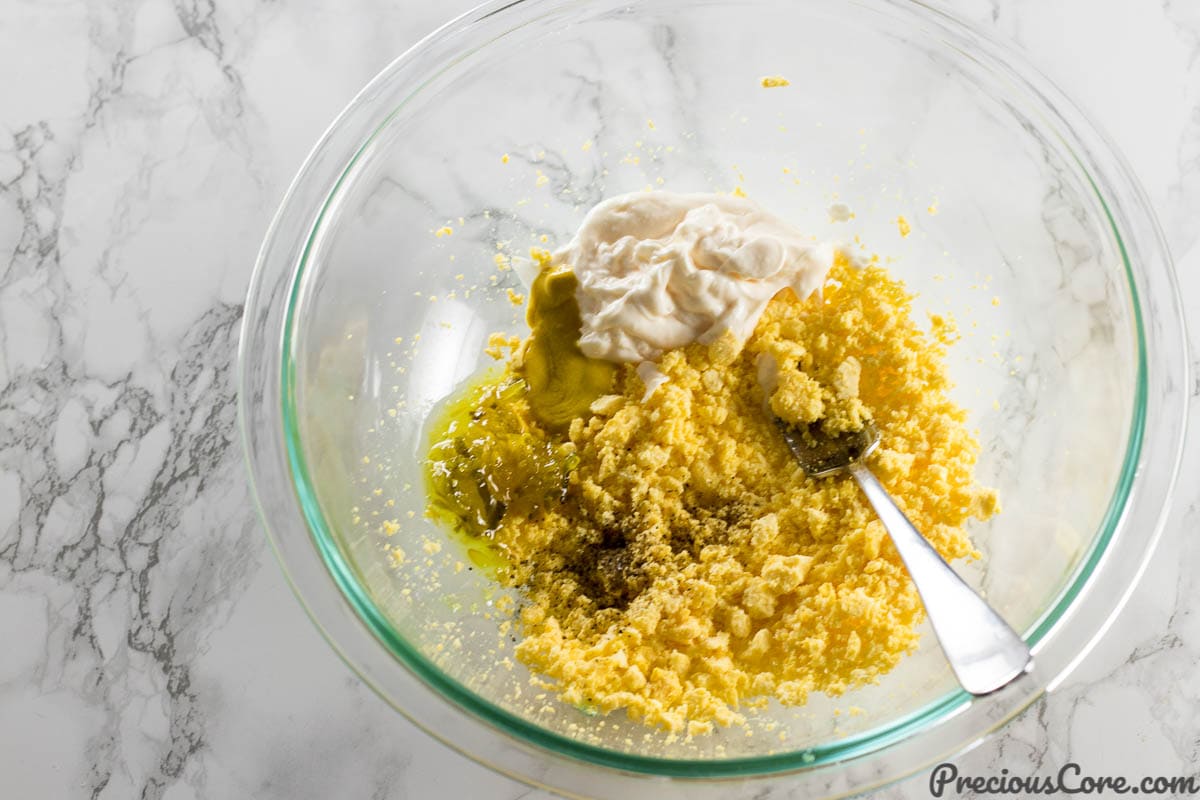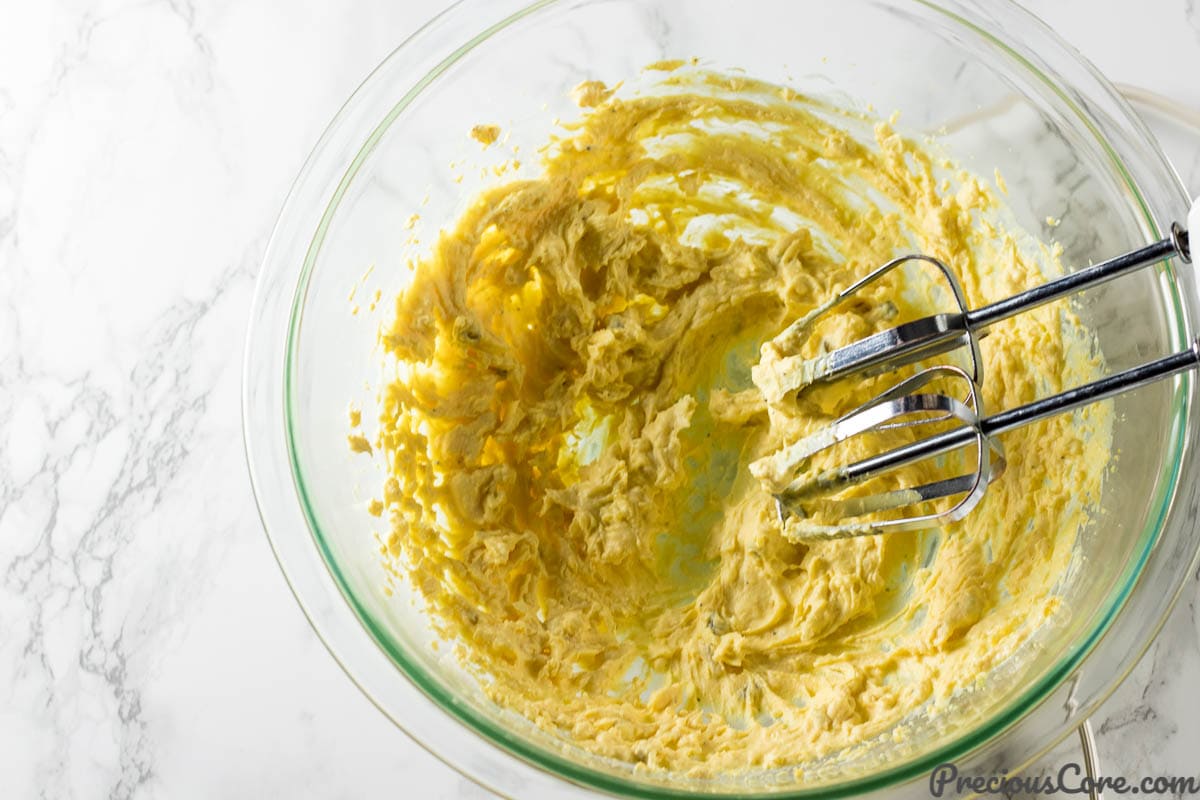 5. Place the yolk mixture into a piping bag then fill the egg whites with the yolk mixture. You could just place spoonfuls of the yolk mixture back into the egg whites but I find that piping the mixture instead of spooning it accounts for neater looking deviled eggs.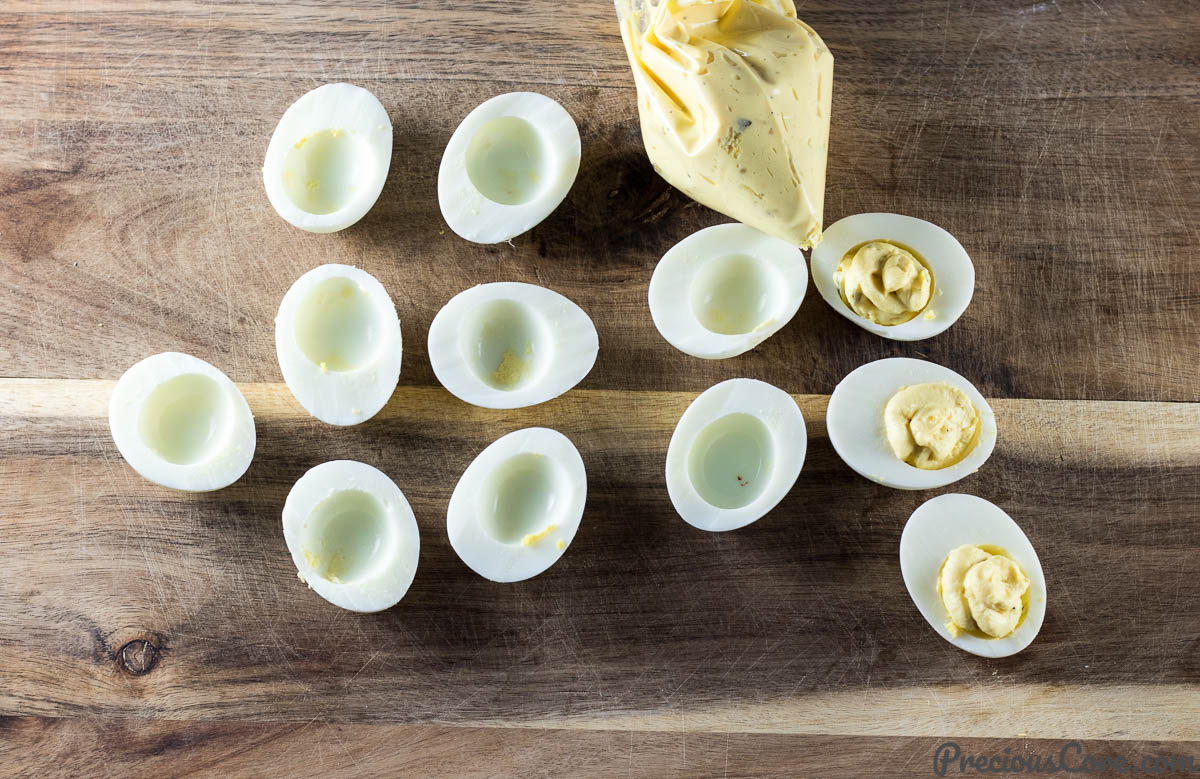 6. Garnish the deviled eggs with paprika, chives and/or red pepper flakes. Paprika is great for a classic look! Chives add color to your deviled eggs! Red pepper flakes add some heat if you do not mind the heat!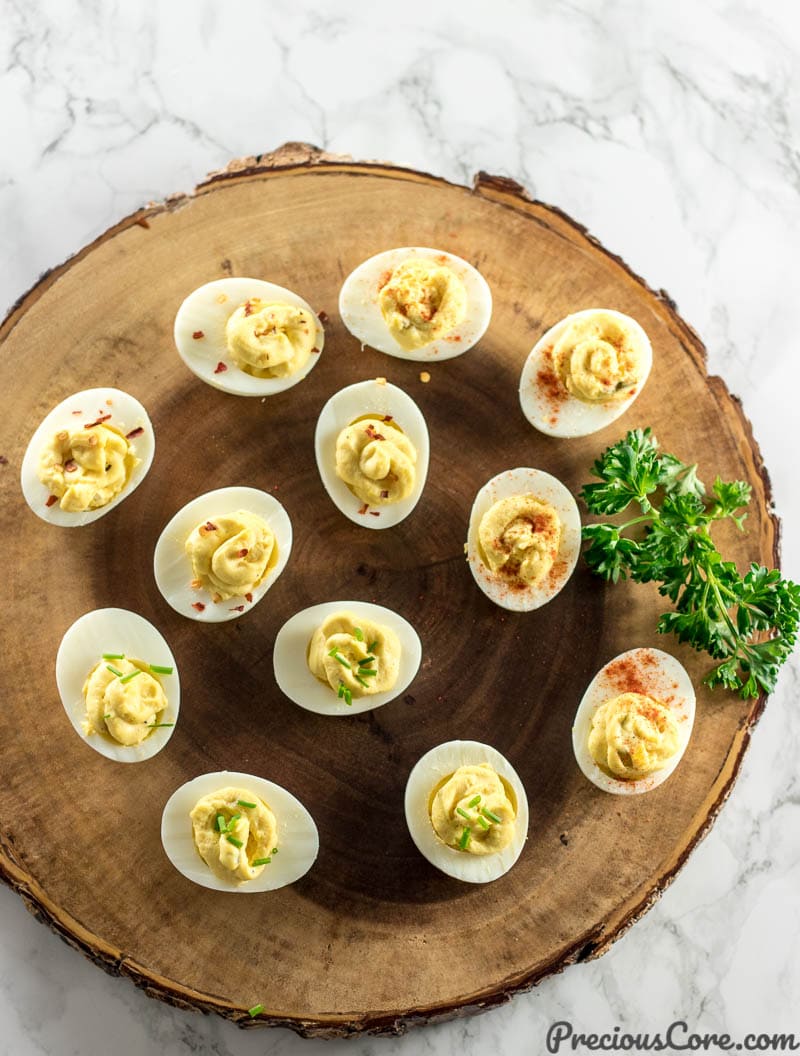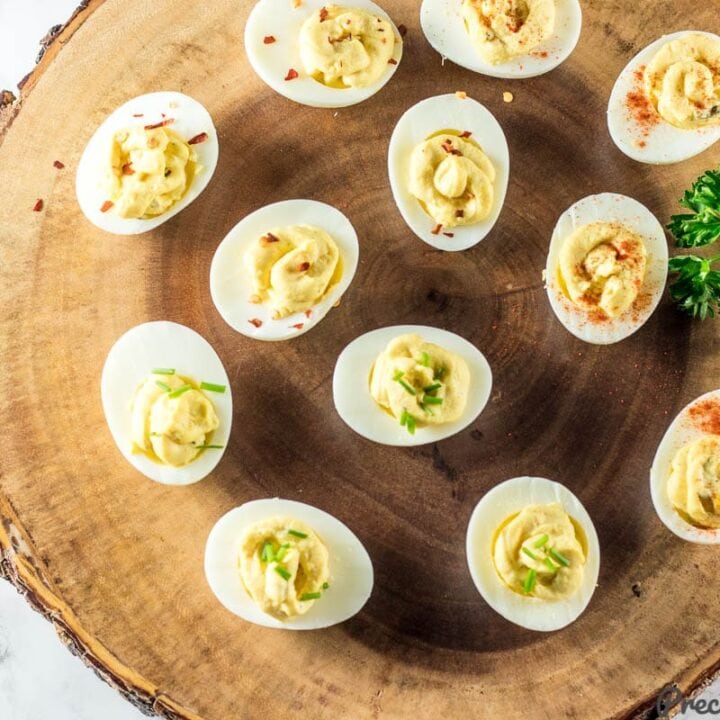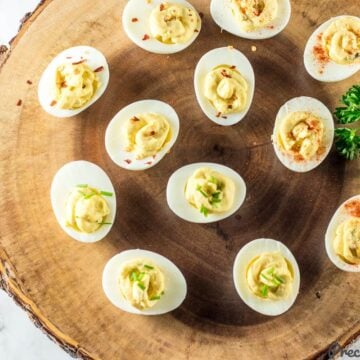 The Best Deviled Eggs
These creamy fluffy deviled eggs are truly the best deviled eggs. Serve as an appetizer or as a party or picnic food. So pretty on the table and perfect for the taste buds!
Ingredients
6

large eggs

I prefer organic(brown) eggs

2

tablespoons

mayo

1

teaspoon

yellow mustard

2

teaspoons

sweet relish

Pinch of salt

Generous pinch of ground black pepper

Paprika for garnishing

Red pepper flakes for garnishing

Chives or green onions for garnishing
Instructions
Place eggs in a pot then pour in water to completely cover the eggs. Once the water comes to a rolling boil, turn off the heat and let the eggs stay covered for 10 minutes. 

While the eggs stay covered place cold water and ice in a bowl. Remove the eggs from the pot and place in the cold water and ice. Let them cool for about 5 minutes. 

Remove the eggs and pat dry with paper towel. Gently crack the eggs and peel them.

Cut the hardboiled eggs into halves. Wet a paper towel or clean kitchen towel then wipe your knife on the towel after cutting each egg.

With the help of a butter knife or spoon, gently separate the yolks from the egg whites. Place all the yolks in a large bowl.

Mash the yolks with a fork until they are all crumbly.

Add the mayo and mix well. Add the mustard, relish, salt and pepper then mix well. To make your mixture extra fluffy, beat it for a few seconds using an electric mixer.

Top the eggs with a few shakes of paprika and/or some chopped chives or red pepper flakes if you love heat.
Notes
1. You could use just one type of garnish or all 3! I use each garnish per 4 deviled eggs because I am a little extra and I think variety is lovely.
2. Make Ahead Advice. You could make deviled eggs a few hours ahead then store in a dish with a tight-fitting lid and store in the refrigerator. I do not recommend storing the prepared deviled eggs for more than a few hours a day.
If you want to make the deviled eggs days ahead, prepare the filling and store separately from the egg whites in the fridge. Both elements should be stored in airtight containers. Then fill the egg whites just before serving. I do not recommend storing the filling and the whites for more than 2 days in the fridge.
3. If you want a lot of heat in your deviled eggs, a pinch of cayenne pepper is great!
4. Other ingredients you could add to your deviled egg filling include garlic powder and onion powder.
*Nutritional information is per deviled egg. 
Nutrition
Calories:
49
kcal
|
Carbohydrates:
0.5
g
|
Protein:
3
g
|
Fat:
4
g
|
Saturated Fat:
1
g
|
Polyunsaturated Fat:
1
g
|
Monounsaturated Fat:
1
g
|
Trans Fat:
0.01
g
|
Cholesterol:
83
mg
|
Sodium:
57
mg
|
Potassium:
32
mg
|
Fiber:
0.03
g
|
Sugar:
0.3
g
|
Vitamin A:
131
IU
|
Vitamin C:
0.01
mg
|
Calcium:
13
mg
|
Iron:
0.4
mg
This post contains affiliate links.