AFRICAN EGG ROLLS – AFRICAN SCOTCH EGGS
Published Jun 02, 2017
Updated Jun 12, 2017
You guys, the blog has been very 'minimalist' these days, aye? What do you do when you film two complete videos – one on how to make homemade suya spice and one on how to make suya using homemade suya spice; then you sit down days after to edit and notice that more than half of the footage is not there? Trying times people, trying times. I felt so bad that the hard work I put into two videos went down the drain but I'm definitely going to shoot those videos again. I'm not giving up! Thank God, I shot another video, which is that of these African egg rolls.

Some people actually call these scotch eggs but according to my food and nutrition teacher, they are egg rolls. They are not the same thing as the Chinese egg rolls.
This snack is made by wrapping hardboiled eggs in dough then deep frying. The dough tastes like a fancy kind of bread then when you dig deeper with your teeth, you discover the egg inside, which is like a hidden treasure. I love enjoying it with this pepper sauce to get 'the whole experience'.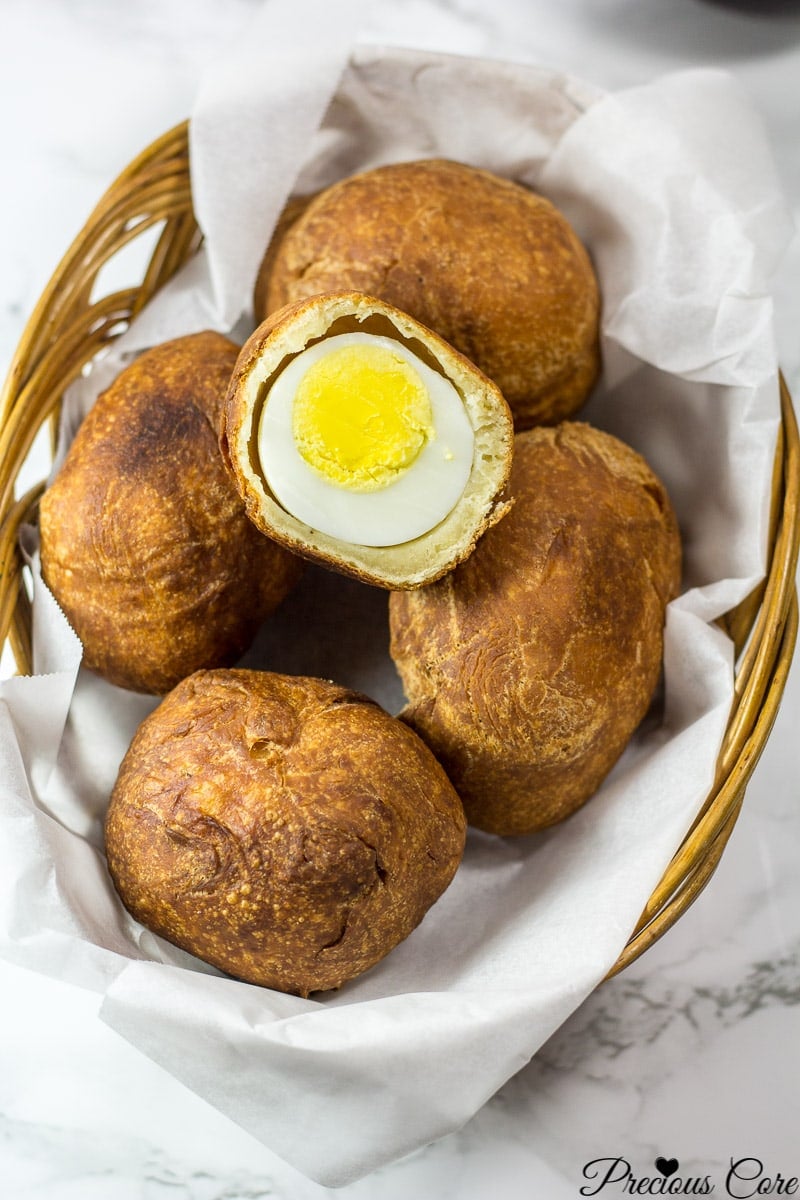 These "African scotch eggs" are widely enjoyed in Nigeria and Cameroon but just anyone can fall in love with them. They make a great snack, party food or picnic food. And let me tell you – they disappear fast once I make them!
Also, they are quite easy. All you need to do is boil some eggs and mix some dough. Then egg meets dough and they get married. Then egg and dough meet oil and fry to perfection. Insanely delish!
You can watch me walk you through the process of making the egg rolls from start to finish. To make sure you do not miss any of my awesome cooking videos, please subscribe to my YouTube channel. Click here to subscribe.
Watch how to make African Egg Rolls:-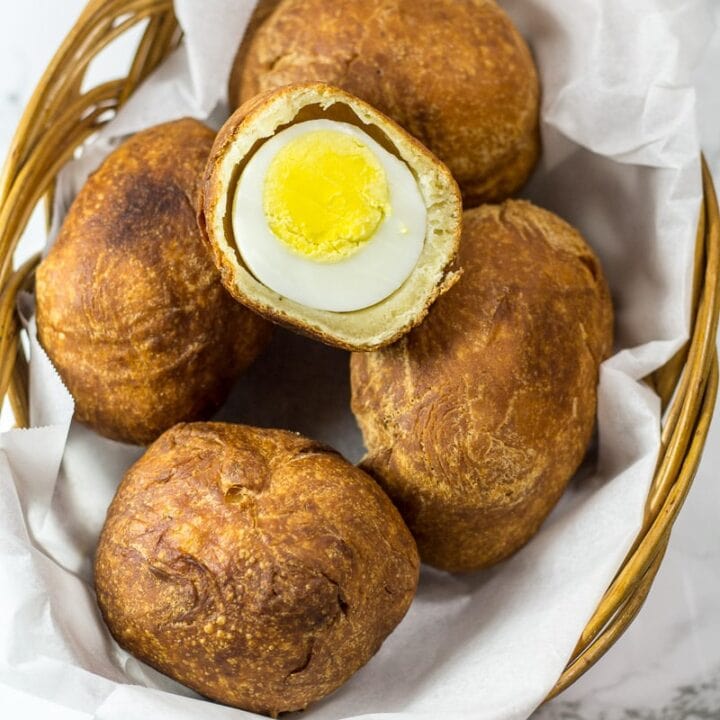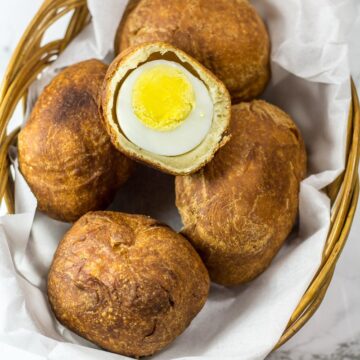 African Egg Rolls - African Scotch Eggs
These are egg rolls the way my food and nutrition madame taught me. Hardboiled eggs are rolled in dough then deep fried. Enjoy with some African hot pepper sauce to get 'the whole experience'.
Ingredients
6

hardboiled eggs - peeled

2

cups

flour (250 grams) plus more for kneading

1/2

teaspoon

instant yeast

2

tablespoons

margarine (or butter at room temperature)

1/4

teaspoon

salt

1

tablespoon

sugar

Pinch of nutmeg

1

egg - beaten

Oil for frying
Instructions
In a bowl, mix together flour, salt, sugar, yeast and margarine until well incorporated. Add beaten egg then mix, add in water and mix to form a sticky dough.

Flour board and place dough on top. Knead, sprinkling with flour as kneaded until the dough is smooth (about 2-3 minutes).

Cut the dough into six equal portions. Roll out one part then place a hardboiled egg in the middle and cover with the dough. Use your hands to mold until it forms a smooth (or almost smooth haha!) ball or oval. Repeat process with all the eggs and parts of dough.

Heat oil in a pan for about 5-10 minutes. Place the egg rolls in the oil and let them cook for about 10 minutes until nice and golden brown. Flip the sides halfway through cooking.

Place on a paper towel to drain excess oil. Enjoy as it is or with wome West African hot pepper sauce!
Notes
Ensure that your hardboiled eggs are patted dry with paper towel before covering them with dough. If they are not dry enough, your dough will be soggy.
No need to let the dough rise in this recipe.
Nutrition
Calories:
286
kcal
|
Carbohydrates:
35
g
|
Protein:
12
g
|
Fat:
10
g
|
Saturated Fat:
3
g
|
Polyunsaturated Fat:
2
g
|
Monounsaturated Fat:
4
g
|
Trans Fat:
0.003
g
|
Cholesterol:
214
mg
|
Sodium:
217
mg
|
Potassium:
129
mg
|
Fiber:
1
g
|
Sugar:
3
g
|
Vitamin A:
476
IU
|
Vitamin C:
0.01
mg
|
Calcium:
37
mg
|
Iron:
3
mg
Other scotch egg recipes on the blog:
DELICIOUS SCOTCH EGGS COATED WITH FISH
Have a great weekend, my friends!