Bread Pudding Sauce
Published Oct 01, 2019
Updated Nov 26, 2022
The most delicious Bread Pudding Sauce that is creamy, rich, and takes bread pudding (or pancakes, waffles, etc) to a whole 'nother level!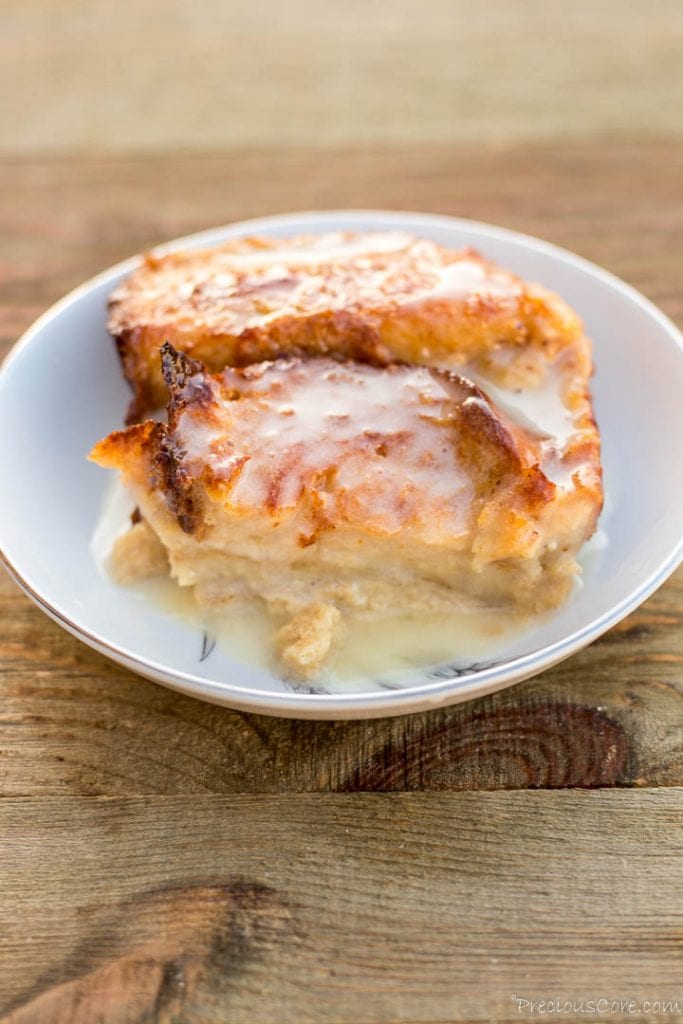 This sauce is the boss you guys! If you are looking for a delicious easy-to-make sauce to drizzle over desserts, welcome! You are about to fall in love!
This bread pudding sauce has only 3 ingredients! THREE! Yet, it tastes so fancy like a sauce you will enjoy at a fancy restaurant. It is sweet, but not overwhelmingly sweet. Just the right amount of sweetness to allow you enjoy whatever you are having it with!
Drizzle this sauce on crepes, pancakes, cake or pour it all over your bread pudding!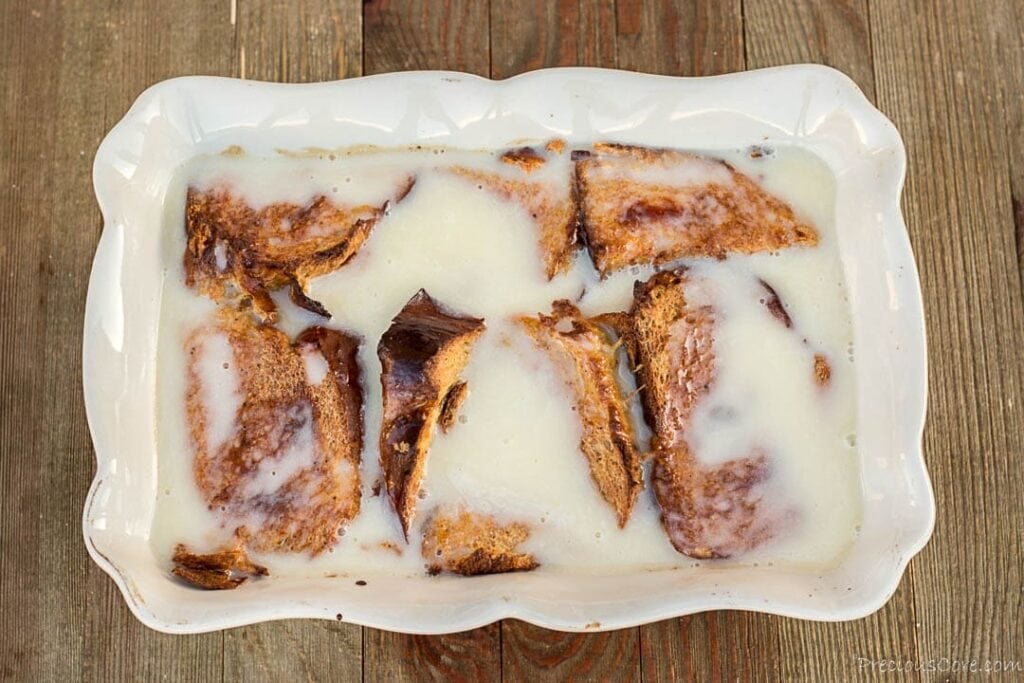 Ingredients for Bread Pudding Sauce
You only need 3 ingredients for Bread Pudding Sauce:
Butter
Sugar
Coconut milk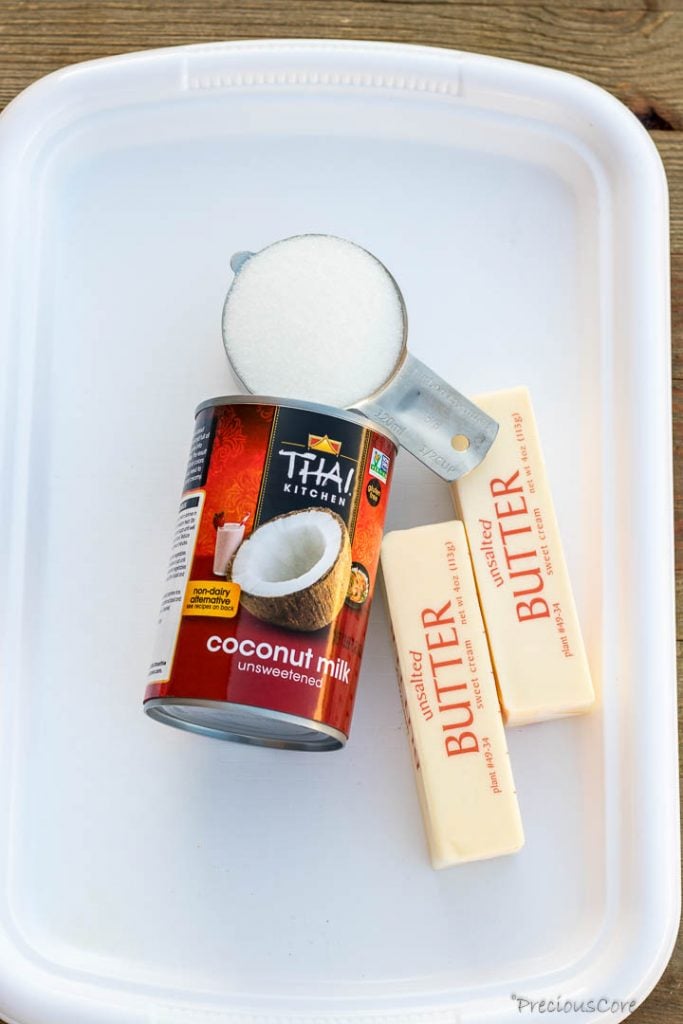 These 3 ingredients combined in the right way taste like a dream. So creamy and velvety with a slight nuttiness from the coconut.
Also, there are many other ingredients that can be added to Bread Pudding Sauce like rum, fruit juice or fruit zest.
But the 3 main ingredients are butter, sugar and some creamy liquid: milk, heavy cream or in this case, coconut milk. The coconut milk makes the sauce taste so good!
How to Make Bread Pudding Sauce
Place butter and sugar in a pot and set on medium heat. Let them cook until the butter completely melts and the sugar completely dissolves.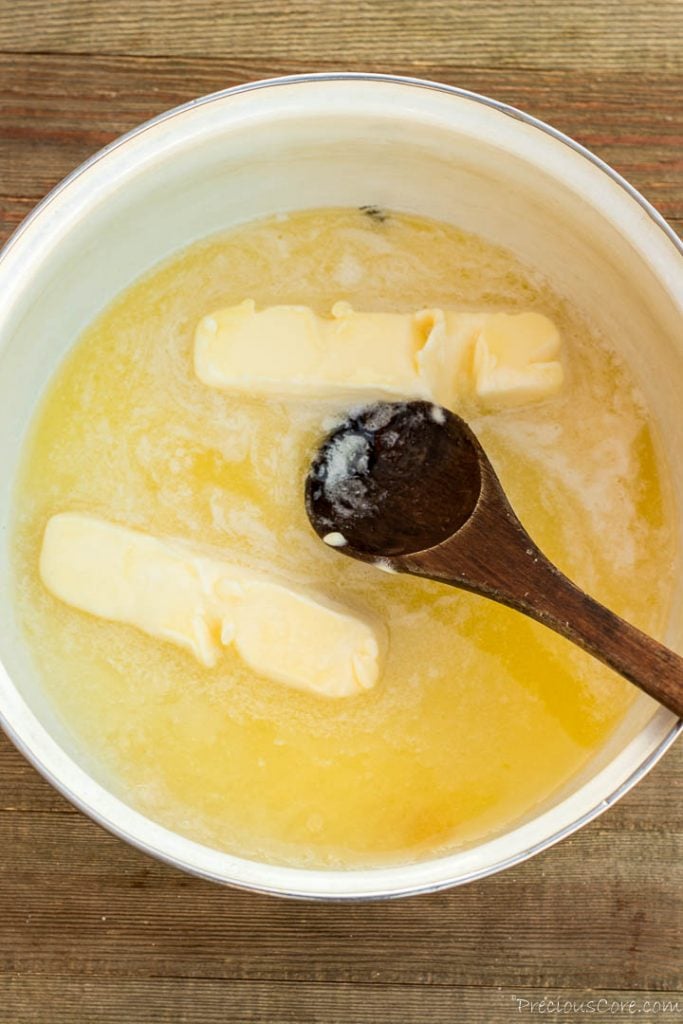 Add the coconut milk and let the sauce simmer for a few minutes. That's it, your Bread Pudding Sauce is ready!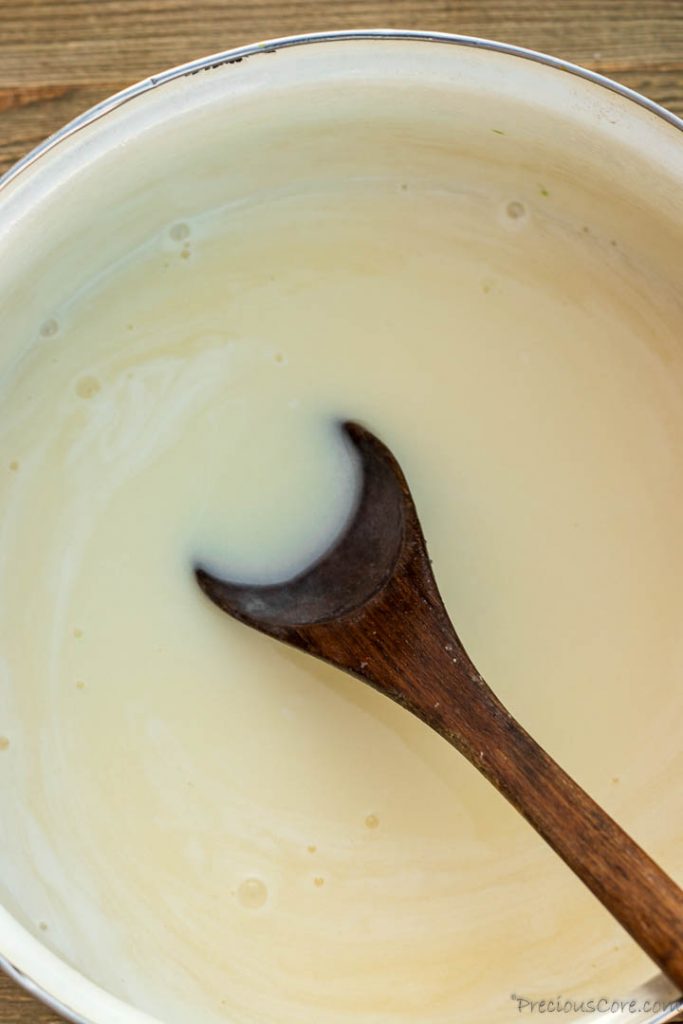 When this bread pudding sauce is still hot, it is light.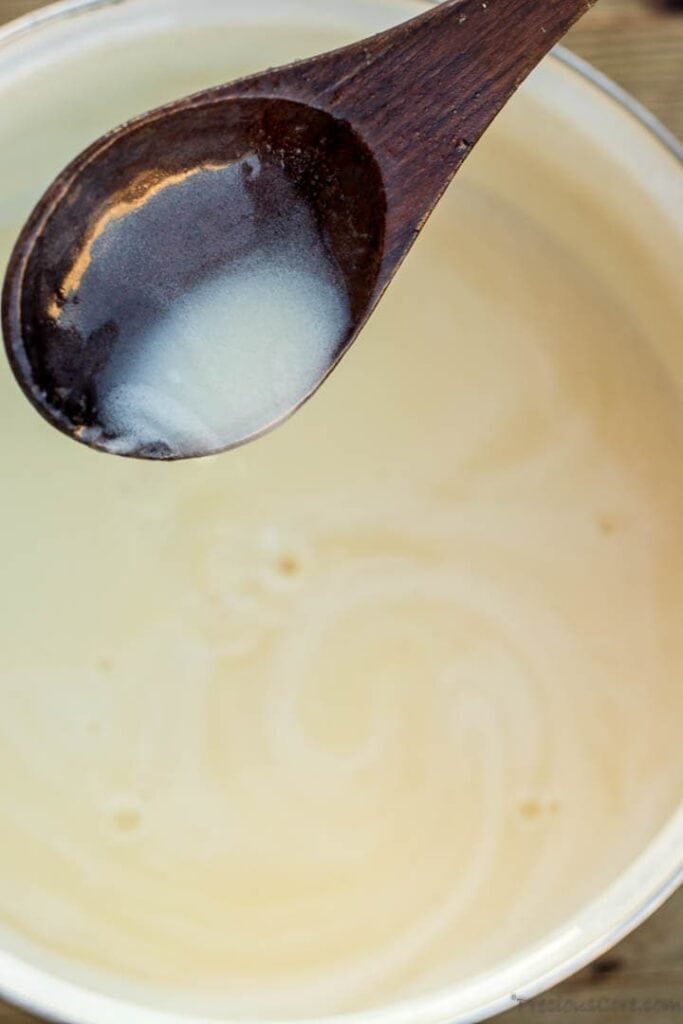 It thickens as it cools down so keep that in mind.
Save leftover Bread Pudding Sauce in an airtight container in the fridge. It is the perfect sauce to whip out to pour on desserts. It takes desserts to a new level!
But let's not forget that this is BREAD PUDDING SAUCE. So pour this goodness over your bread pudding sauce and enjoy!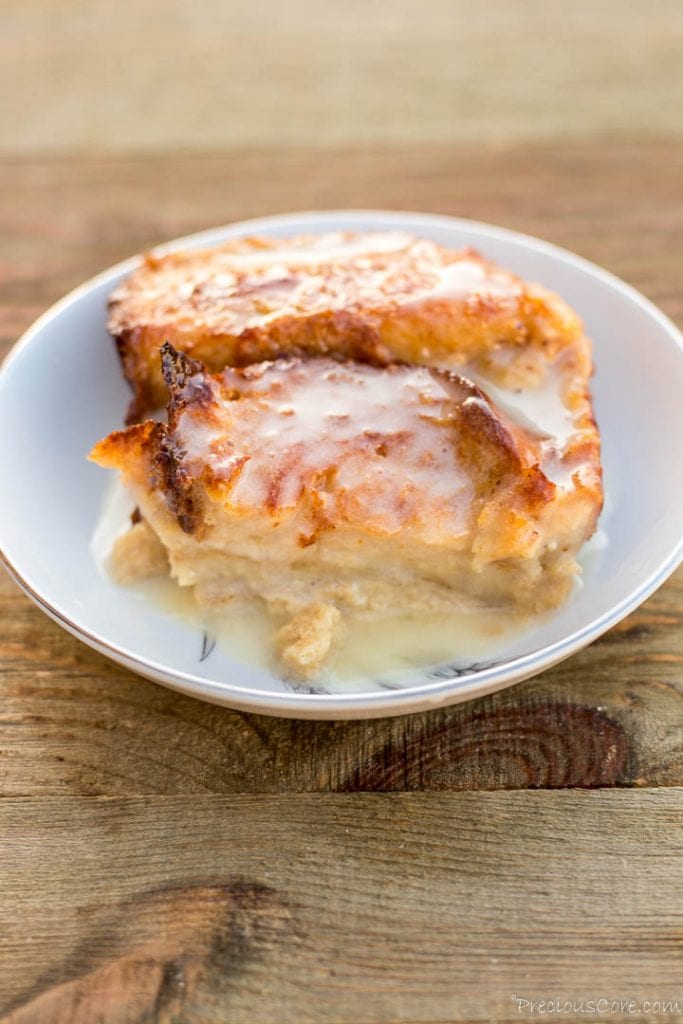 I have a phenomenal bread pudding recipe to go with this sauce. It is coming your way tomorrow. Enjoy, friends!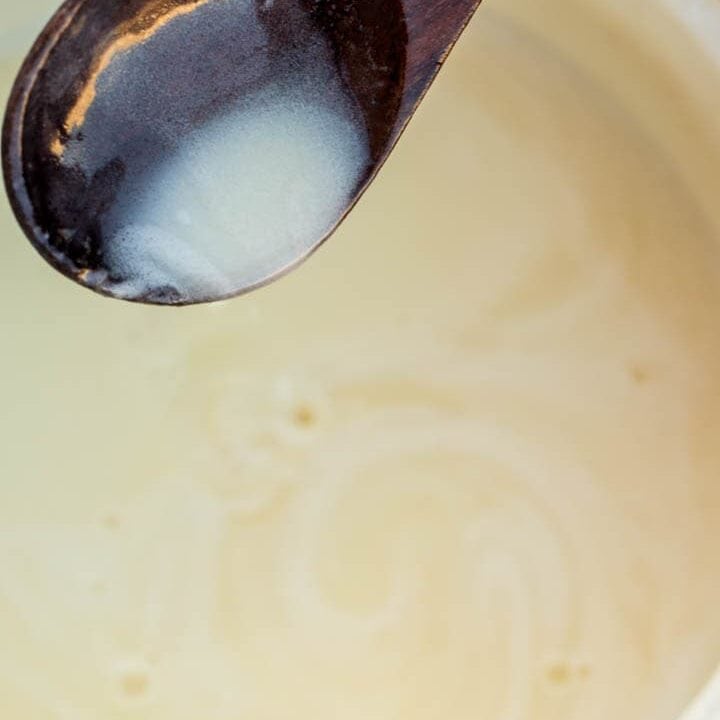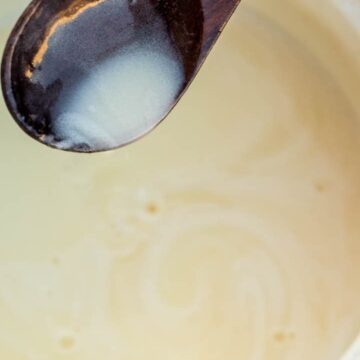 Bread Pudding Sauce
The absolute best Bread Pudding Sauce for enjoying with bread pudding, breakfast or other desserts. Only 3 ingredients and you will be a kitchen rock star!
Ingredients
1

cup

unsalted butter

1/2

cup

granulated sugar

13

oz

can of unsweetened coconut milk
Instructions
Place butter and sugar in a pot on medium heat and let them cook together while stirring from time to time until the butter melts.

Add the coconut milk and bring to a simmer. Let it simmer together for about 5 minutes.

Serve sauce over bread pudding, pancakes, waffles, cakes, etc.
Notes
1. You could substitute coconut milk with heavy whipping cream in this recipe. With heavy whipping cream, you will get a thicker sauce.
2. Once the sauce cools down, it thickens more. I took the pictures while the sauce was still warm. When it is cold, it is thicker.
3. Nutrition information is for one tenth of the recipe.
Nutrition
Calories:
477
kcal
|
Carbohydrates:
20
g
|
Protein:
2
g
|
Fat:
45
g
|
Saturated Fat:
32
g
|
Polyunsaturated Fat:
1
g
|
Monounsaturated Fat:
9
g
|
Trans Fat:
1
g
|
Cholesterol:
81
mg
|
Sodium:
14
mg
|
Potassium:
171
mg
|
Fiber:
1
g
|
Sugar:
19
g
|
Vitamin A:
945
IU
|
Vitamin C:
2
mg
|
Calcium:
19
mg
|
Iron:
1
mg