CAMEROONIAN COCONUT RICE
Published Jan 05, 2018
Updated Sep 26, 2018
That was really a weird way of saying Merry Christmas and Happy New Year! You guys, I took a long break from connecting with you here but now I'm back! Happy new year 2018! We are starting this new year with this Cameroonian Coconut Rice straight from my mother's kitchen!
This is one of those meals that mama made occasionally while I was growing up. And each time she did, I was so happy because this coconut rice is truly special.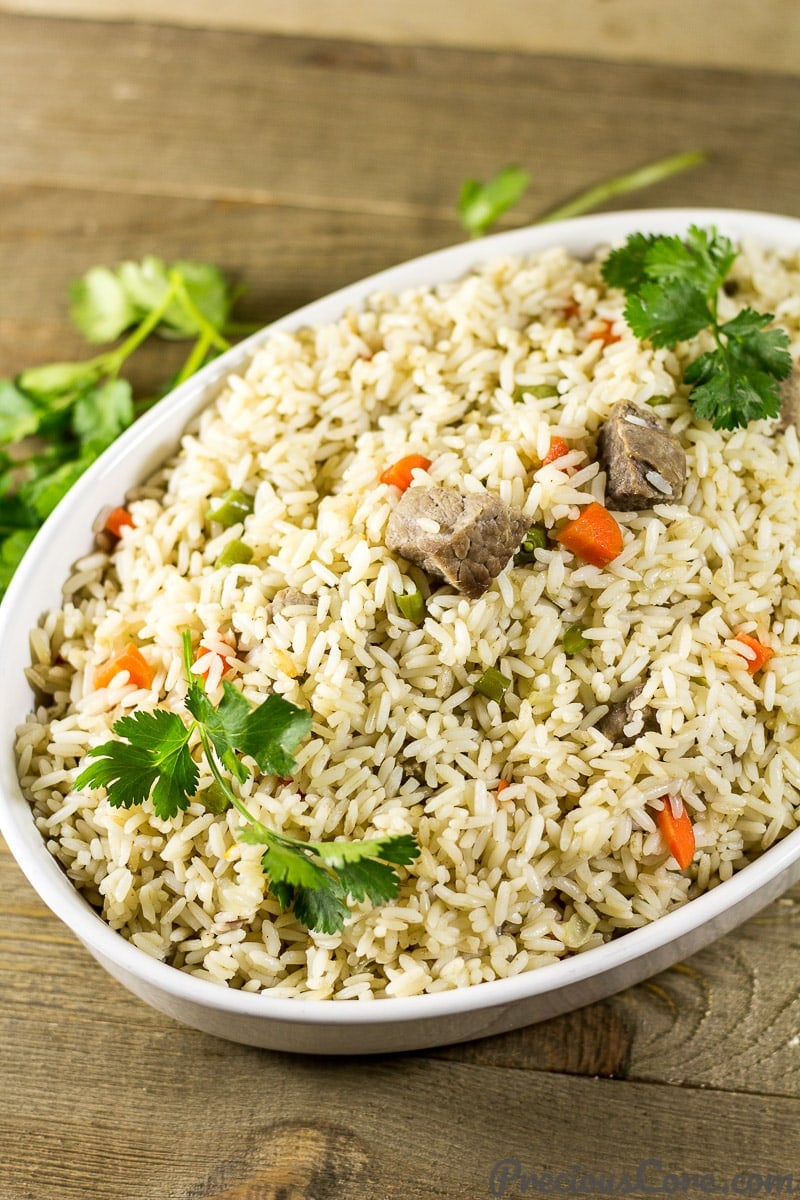 Coconut rice is a one pot dish that is mainly made up of coconut milk and rice, as the name suggests. If I were to choose a dish among fried rice, coconut rice and jollof rice, I would definitely go for coconut rice! The coconutty flavor that is all over the rice makes it so mouth watering. Reason why I have a number of coconut rice recipes on the blog:
Coconut is one of my fave flavors and I'm sure you know that already. I enjoy almost everything made with coconuts: coconut drinks, coconut cookies, coconut cake, everything coconutty!
This coconut rice recipe with African flavors is quite easy to make. Once you successfully extract your coconut milk from the coconuts, you are good to go! The rice is simmered in freshly extracted coconut milk, beef and a few spices. All you need is one pot, 10 ingredients and one hour to make this African coconut rice recipe. Yay for one-pot meals!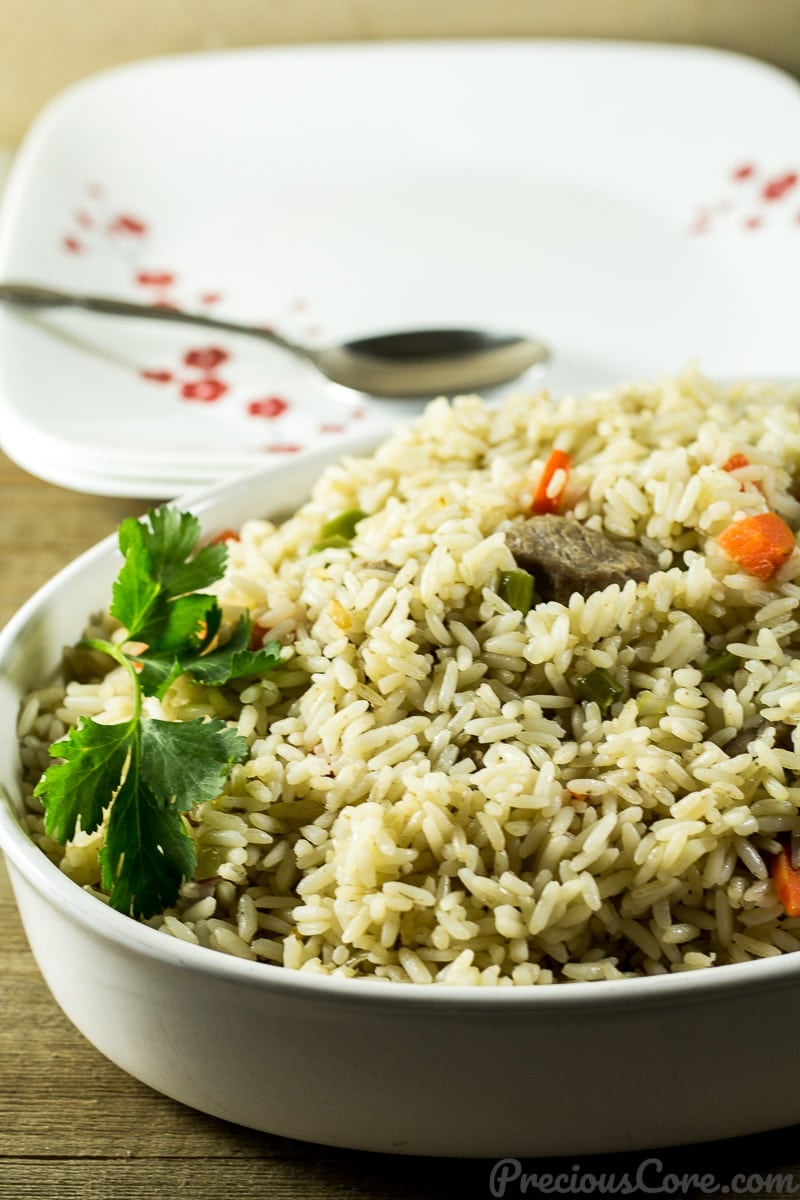 One key tip in making your one-pot coconut rice is use very little spices/seasoning. Don't use a lot of spices with big and bold flavors because they will overpower the coconutty taste. Coconut rice should taste like coconut!
I made a video to walk you guys through the process of making your own African coconut rice. Click below to watch and subscribe to my YouTube channel if you haven't done so already. I have a lot of interesting videos planned this year! Enjoy, friends!
Watch how to make Cameroonian Coconut Rice: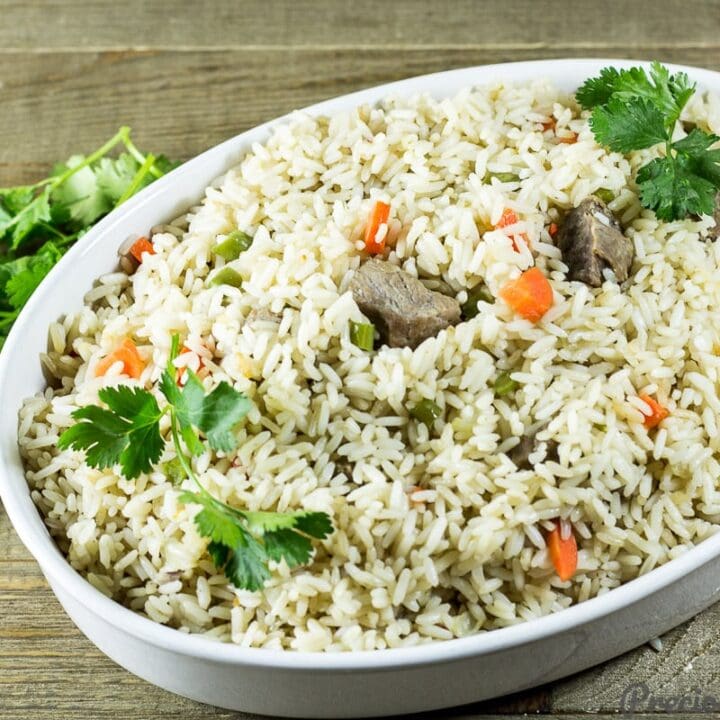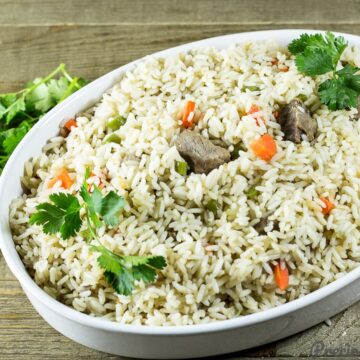 Cameroonian Coconut Rice
My mother taught me how to make this Cameroonian coconut rice. The rice is slowly simmered in freshly extracted coconut milk. It is a complete balanced meal all made in one pot! The crème de la crème of African coconut rice recipes. Hope you enjoy!
Ingredients
3

cups

rice

I used parboiled rice

1

medium brown coconut

1

pound

beef - cut into one inch pieces

about half a kg

5

cloves

garlic - peeled

1/2

inch

ginger - peeled

1

medium onion

2

seasoning cubes (Maggi)

about 4g per cube - substitute with 2 teaspoons of chicken bouillon powder

1

teaspoon

salt

1

hot (habanero) pepper

optional

1

carrot - diced

10

green beans - diced
Instructions
Crack open the coconut by hitting several times around its perimeter using the blunt side of a butcher knife. Be sure to have a bowl nearby to catch the coconut water when it starts dripping. See video to watch how I open a coconut.

Microwave the coconut on high for 2 minutes. Then use a pairing knife to separate the coconut meat from the shell.

Cut the coconut meat into about 1 inch slices then place in a blender. Add in 3 cups of water and blend till totally crushed. Pass the crushed coconut through a fine sieve to extract the coconut milk. Add in 2 more cups of water to the coconut milk and blend again to extract more milk. Pass through a fine sieve then set aside the remaining coconut chaff for use if eventually needed. 

Note that you may or may not need more coconut milk depending on how  much liquid your rice needs to cook completely. If you happen to need more milk. Simply add water to the chaff and blend again then pass through a sieve to extract the milk.

Place the coconut milk in a pot. Add in seasoning cubes/bouillon powder, and salt. Add in the beef then bring to a boil on medium heat.

While the milk comes to a boil, blender together garlic, ginger, half the onion and habanero pepper if using. Chop the other half onion. Also wash the rice 2 to 3 times to remove the starch. Add the rice, chopped onion and spice blend to the boiling coconut milk. Cover and let it cook until the rice is done - about 15 minutes.

When the rice is done, gently fluff with a spoon then add the carrot and green beans and mix to combine. Turn off the heat and enjoy warm.
Notes
1. Adjust the amount of coconut milk you add to the rice depending on the kind of rice. I used 5 cups of coconut milk with parboiled rice in this recipe. A different kind of rice will require more or less liquid depending on the cooking instructions of the rice.
2. You could add other vegetables apart from carrots and green beans: bell peppers, sweet corn, peas taste great in this African coconut rice.
3. For more taste, you could add a few herbs ( 1 or 2 sprigs) when blending together the garlic and ginger for more taste. My favorite herbs include parsley, celery and basil.
Nutrition
Calories:
391
kcal
|
Carbohydrates:
60
g
|
Protein:
17
g
|
Fat:
9
g
|
Saturated Fat:
5
g
|
Polyunsaturated Fat:
1
g
|
Monounsaturated Fat:
4
g
|
Trans Fat:
0.4
g
|
Cholesterol:
39
mg
|
Sodium:
588
mg
|
Potassium:
364
mg
|
Fiber:
2
g
|
Sugar:
2
g
|
Vitamin A:
1341
IU
|
Vitamin C:
5
mg
|
Calcium:
42
mg
|
Iron:
2
mg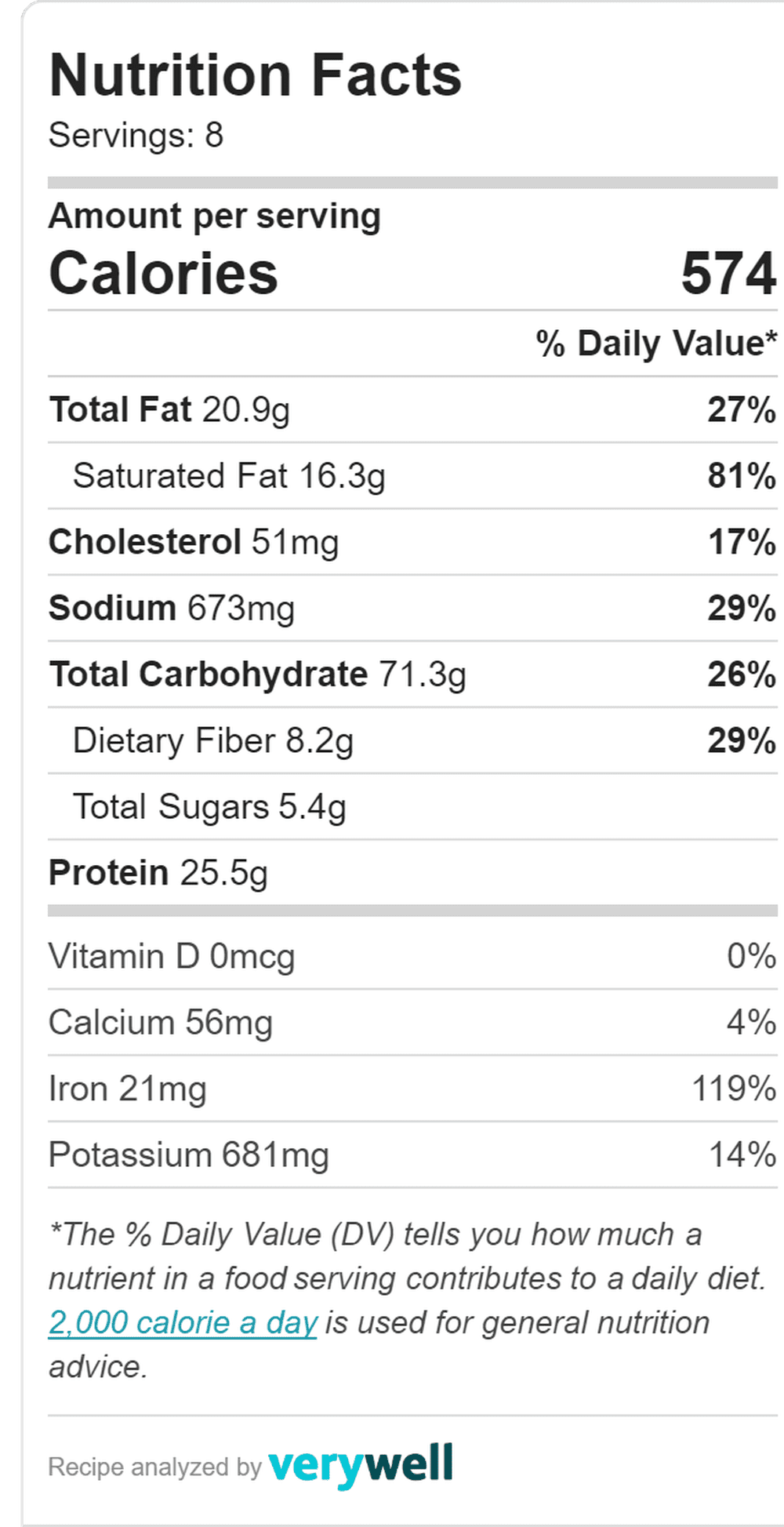 Pin this recipe:

*This recipe was first published in September 2014. It has been updated with new photos, tips, a video and a recipe card.