Green Seasoning Recipe – Green Marinade
Published Jun 14, 2019
Updated Jan 20, 2022
The best green marinade for grilling. Use it for grilled chicken, beef, fish and for adding to soups, stews and tons of meals! This Green Seasoning Recipe will change your life!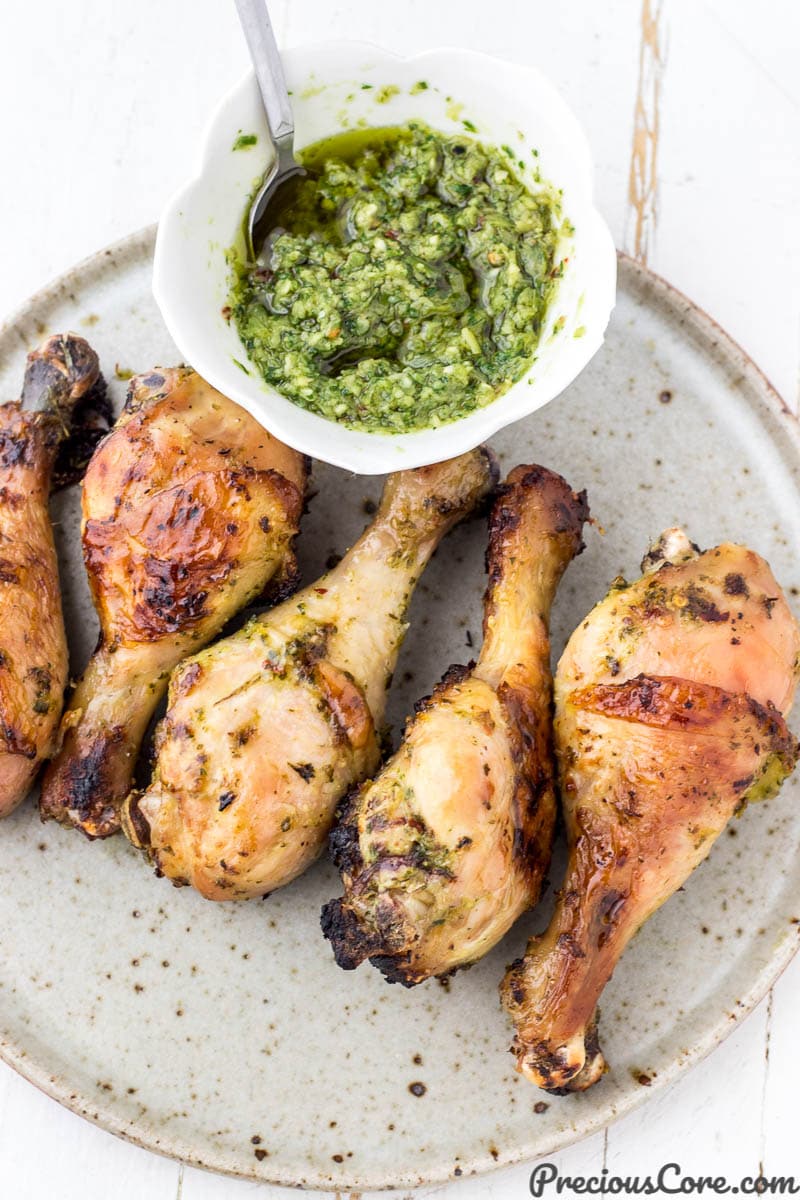 You guys, after sharing my Carribean Marinade recipe I knew I had to share my Green Seasoning recipe. It is the way I have seasoned food over the years! It is one recipe you want to make and keep in your fridge so you can use it to drastically improve on the taste of meals.
I use this seasoning to marinate meats/fish to grill and in my Bean Stew, Jollof Rice, Potato Hot Pot, Poulet DG and much more. So I keep a big jar of this green sauce in the fridge then I add spoonfuls of it to my meals. It is so good!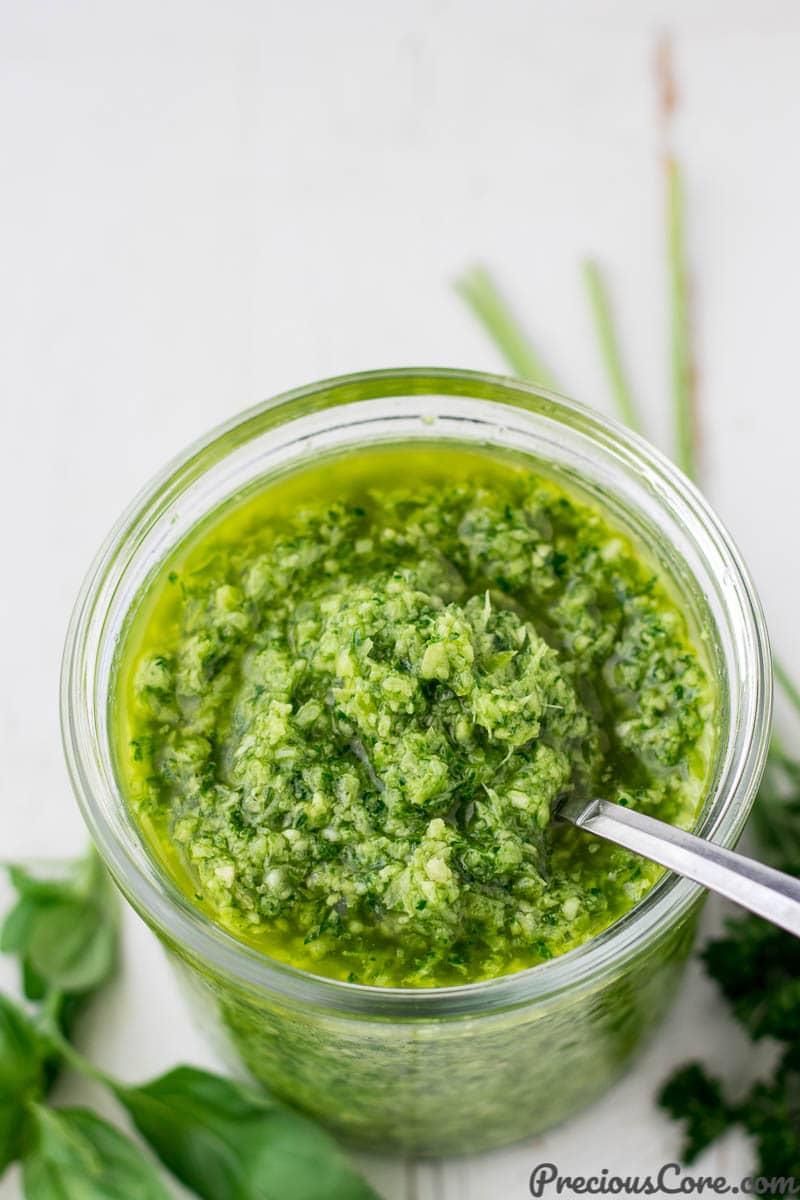 Often, in my recipes, you will see me include the ingredients for this green marinade. They include garlic, ginger, parsley, celery, and basil. In Cameroon, the trio of celery, parsley, and basil is called "green spices". We often grind them and add to many meals to improve on the taste!
This Green Marinade looks a tad like Chimichurri. Chimichurri is a sauce made of parley, oregano leaves, garlic, olive oil, red pepper flakes, and vinegar. Though this green seasoning and chimichurri look similar because of the use of herbs in both sauces, the green seasoning is… I dare say… way better.
It packs a ton of flavor to your grilled meats and fish and even grilled vegetables. It is like a gourmet sauce made by a famous chef, which you will purchase and add to your meals. Yet, you are the gourmet chef because you can easily whip this up in no time!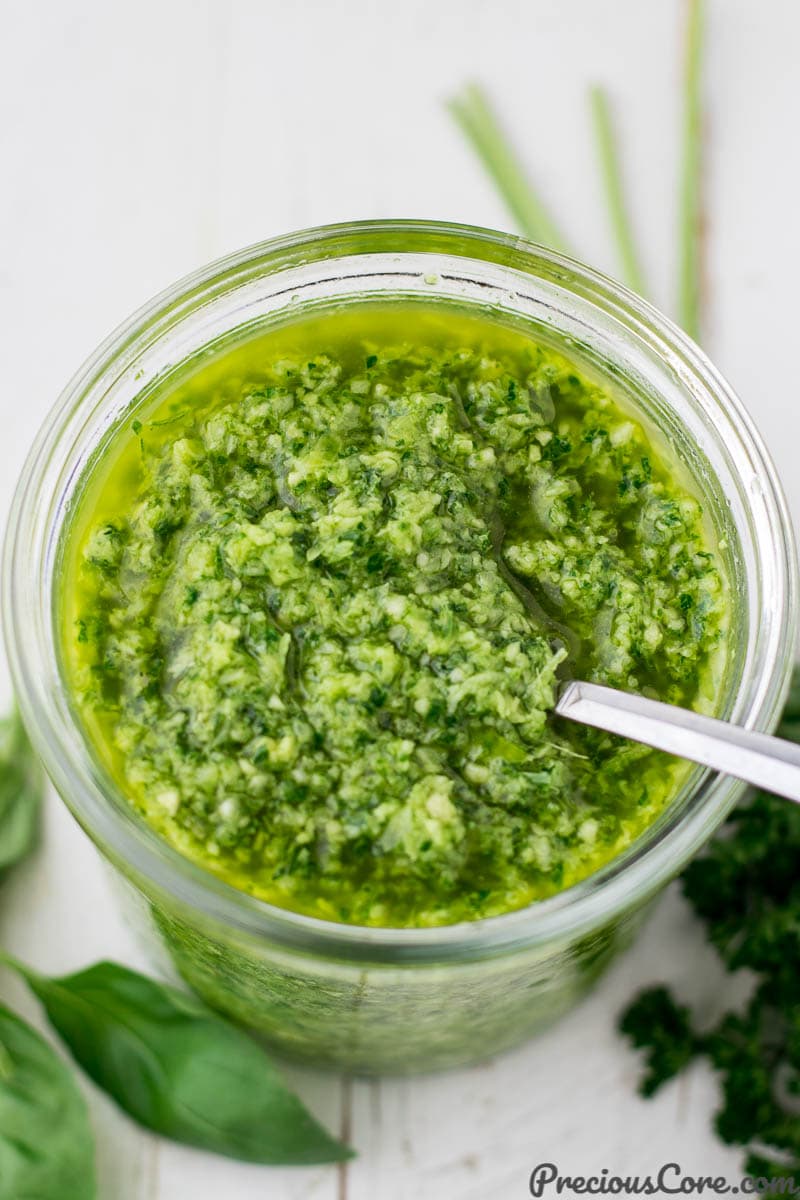 Use this green seasoning the way you would use a chimichurri. It goes so well with grilled food. Also, simmer some of the sauce with some salt and pepper then serve on the side of grilled meat or fish.
Make a big jar of this green goodness and keep in your fridge.
It is perfect for chicken: chicken legs, chicken wings, chicken thighs, whole chicken. It is perfect with beef: sirloin steak, skirt steak, chuck roast, brisket or any part of beef you want to grill. It is perfect with pork: use it on pork spare ribs, pork chops or any part of pork you like. Use it on lamb, goat meat, the list is endless. This green seasoning is also great on seafood! Use it on salmon, halibut, seabass, red snapper, mackerel or on shrimp.
It is such a versatile marinade. That's why I am sharing this with you because your kitchen needs this green goodness. Hope it makes life easier for you just as it makes life easier for me.
How to Make Green Seasoning
Place chopped celery, parsley, basil and ginger root in a blender. Add peeled garlic and oil then blend into a paste.
Place the green seasoning in a jar with a tight-fitting lid and keep in the fridge to save for up to two weeks.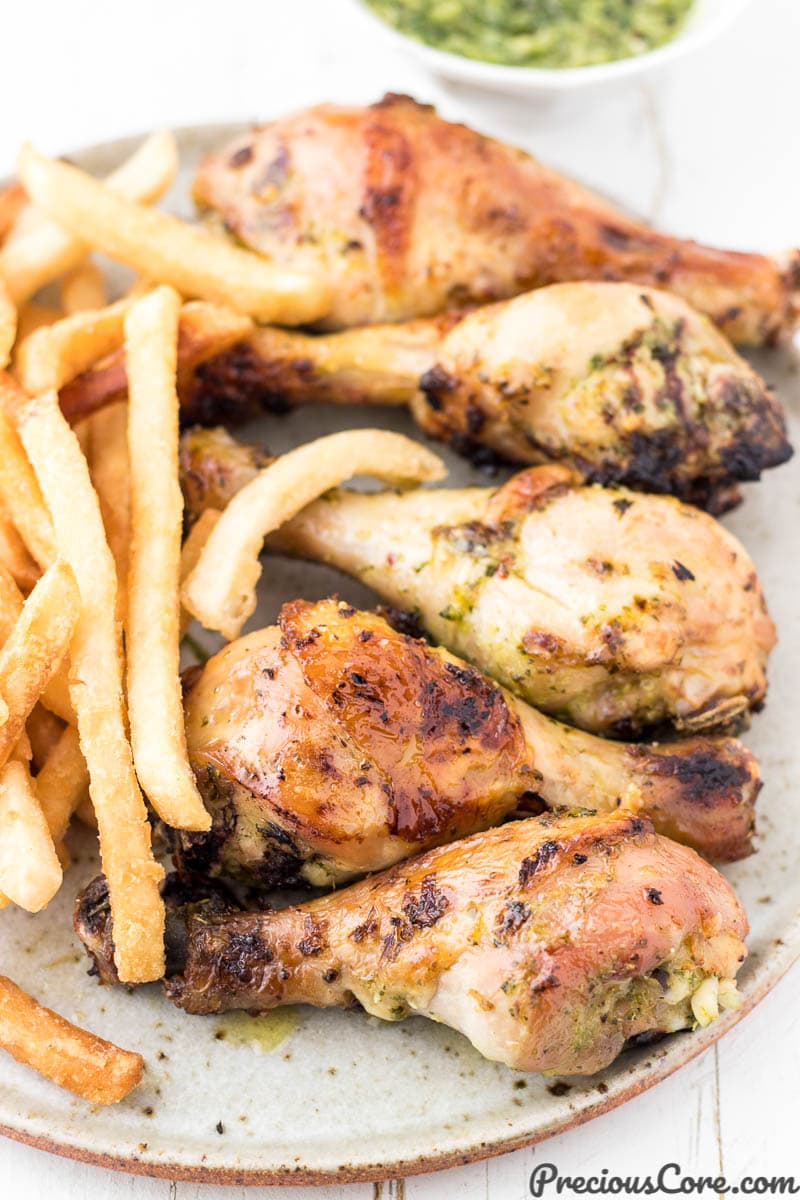 How To Grill Chicken with Green Marinade
Rinse and pat dry 5 pounds of chicken.
Add 1 cup of green seasoning to the chicken.
Add two teaspoons of chicken bouillon powder and 1 teaspoon of salt.
Add a quarter teaspoon of ground white pepper and a quarter teaspoon of red pepper flakes.
Rub the ingredients all over the chicken.
Cover in a bowl with plastic wrap and marinate in the fridge for up to 24 hours or grill immediately.
Place chicken on a baking sheet lined with foil paper and greased. Arrange the chicken in a single layer on the baking sheet. Grill in the oven on broil for 40 minutes. For the outside grill: place on the grill and cook for 40 minutes rotating every 15 minutes (and basting with the leftover marinade) until the chicken reaches an internal temperature of 165 degrees Fahrenheit (75 degrees Celsius).
Uses for Green Seasoning Recipe
Use green seasoning to:
Marinate chicken
Marinate fish
Marinate beef or pork
Make a green dipping sauce by simmering the marinade together with salt and pepper to taste.
Improve the taste of stews and soups
Some resources for this Green Seasoning (Amazon affiliate links. At no extra cost to you but I gain a small commission if you purchase through these links).
Blender. My Ninja BL660 blender is a professional grade for a moderate price and that's what I used to blend this.
Airtight jars for storing: I love this set of jars which lock airtight the marinade won't get bad fast.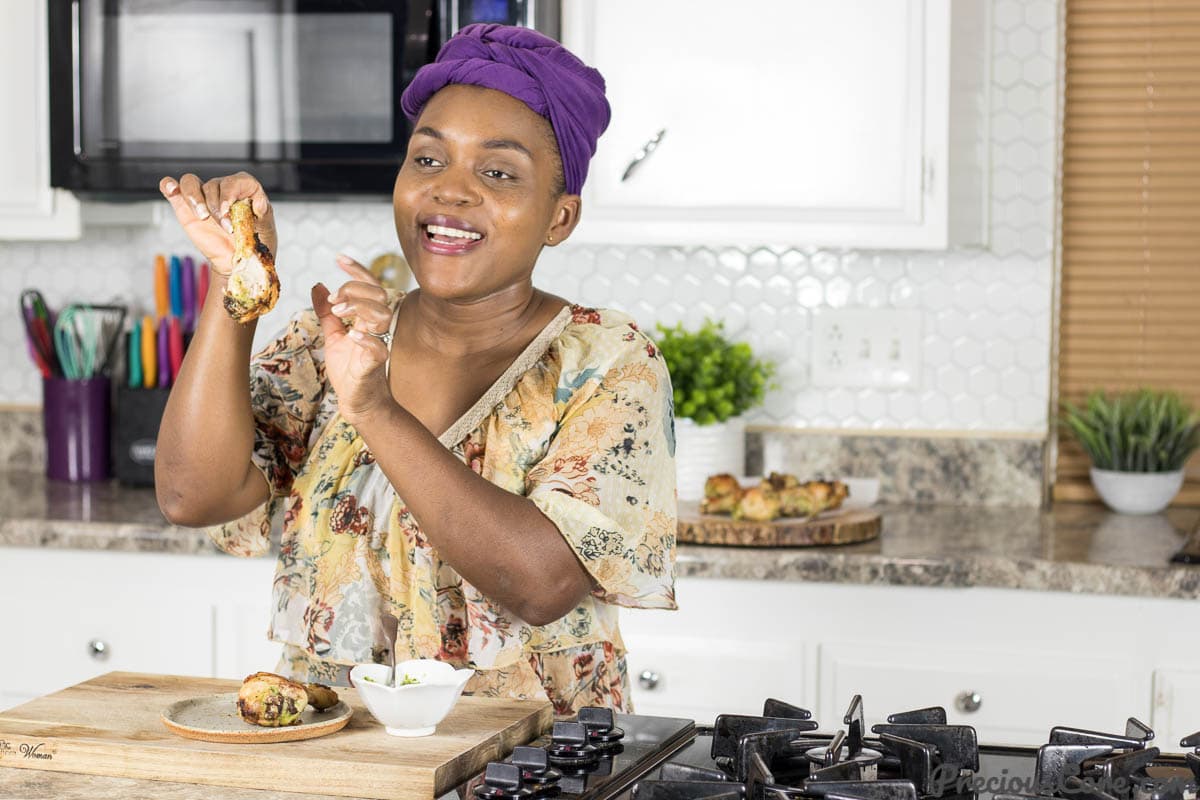 Watch me making this green seasoning plus grilled chicken with the green marinade on my YouTube channel. If you haven't subscribed yet, SUBSCRIBE HERE and click on the notification bell so you do not miss any of my cooking videos.
Watch How To Make Green Marinade and Grilled Chicken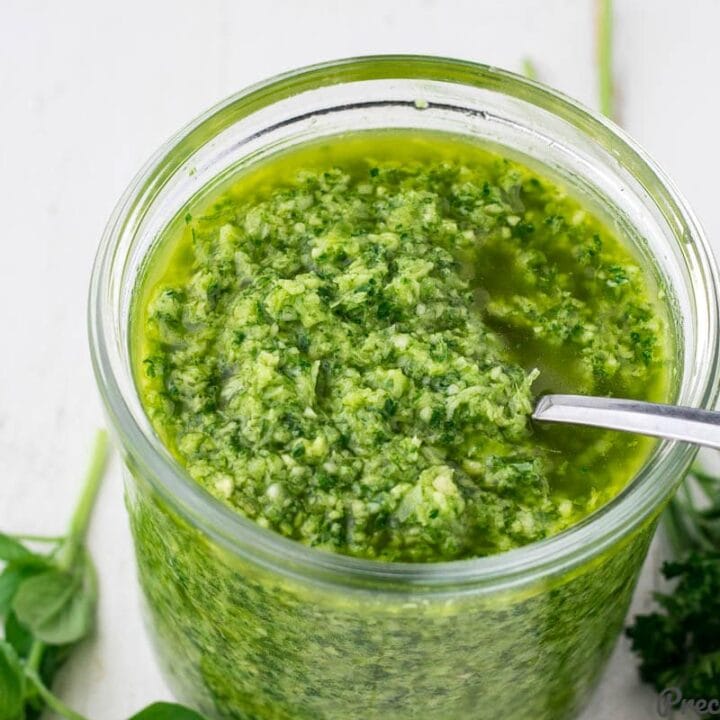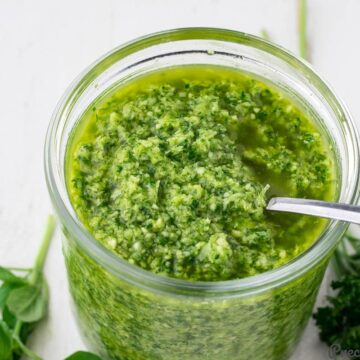 Green Seasoning Recipe
This Green Seasoning Recipe is the secret of good home cooking. This is the green marinade to use for grilled chicken, meat, pork, fish or vegetables. Add it to stews and soups to improve their taste. Make a big jar and place in your refrigerator. You are going to be thankful you did!
Equipment
Blender or Food Processor
Ingredients
4

celery stalks

if using celery with leaves (Chinese Celery), use 6 full stems instead.

2

cups

chopped fresh basil

2

cups

chopped parsley

2

inches

ginger root

peeled and chopped

2

bulbs

garlic - peeled

1

leek

substitute with 4 green onions

2

cups

oil

See Note 1
Instructions
Thoroughly wash the celery. Chop and put in a blender or food processor. Wash the leek and chop and add to the blender.

Add in the parsley, basil, leek garlic, ginger and oil then blend everything into a paste.

Pour the mixture into a jar with a tight-fitting lid and store in the fridge for up to two weeks.
Notes
1. Blending with oil helps the Green Seasoning to last longer in the fridge as opposed to blending with water.
2. You could add a variety of other ingredients to your green seasoning. Love onions? Add some in! Love thyme? Add some in! If you like heat then add a couple of habaneros or scotch bonnet peppers or chilis for some heat. I would personally just add 1 habanero because that way it is hot but the heat is not overpowering.
3. Use 1 cup of this green marinade for 5 pounds of chicken or beef.
Nutrition
Serving:
1
tablespoon
|
Calories:
51
kcal
|
Carbohydrates:
0.3
g
|
Protein:
0.1
g
|
Fat:
6
g
|
Saturated Fat:
0.4
g
|
Polyunsaturated Fat:
2
g
|
Monounsaturated Fat:
4
g
|
Trans Fat:
0.02
g
|
Sodium:
1
mg
|
Potassium:
13
mg
|
Fiber:
0.1
g
|
Sugar:
0.1
g
|
Vitamin A:
177
IU
|
Vitamin C:
2
mg
|
Calcium:
4
mg
|
Iron:
0.1
mg