HERE'S WHAT'S UP 3!: THE PARTY NO ONE ATTENDED
Published Oct 13, 2015
Updated Apr 27, 2017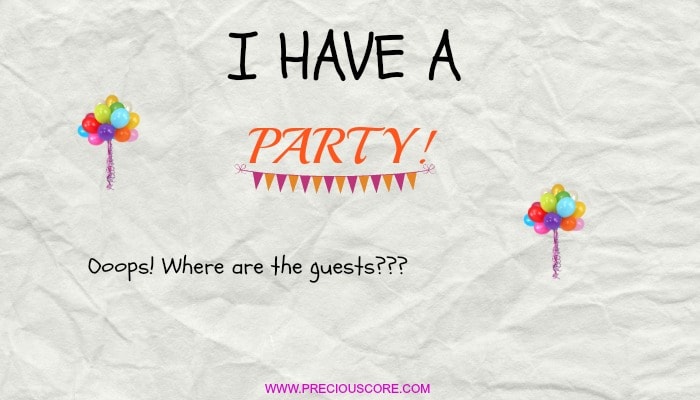 Hello dearies, how is October unfolding? I'm here with another edition of "Here's What's Up!" This time, I'm going to churn out another naked piece. You know, it is easier to blog about your successes than your um… failures. But today, I'm just going to be naked for someone out there who needs to know this and learn from my story.
I told you about my upcoming beauty makeover party in
this post
. The epic debut party was slated to hold on Saturday October 10th and then… you guessed right. Nobody showed up! Yes, after the new mirror Mr. N purchased and new lights so my lady friends could see their make up clearly, no one turned in. Hmmm, after several calls and text messages and follow up calls, no one came. Let me tell you about my guests:
-Guest number 1 actually showed up a few minutes before the event time. I called her to remind her about the meeting and she came in with her daughter. I was elated to have two makeover attendees show up right before the party time. My recruiter was still on her way. Then, guest number one acted a drama right before my eyes. She rushed out as though she was about to make a phone call and started calling her daughter. Her daughter reluctantly joined her and they vanished! Attempts at getting an explanation for her sudden urge to leave were futile. She left me with a cold, "We are coming."
So after spending the supposed party time with my recruiter learning about the products and materials in my starter kit, I dressed up to go for a baby shower I had been invited to. Guess who I saw: guest number one. She started stammering on seeing me and had to cook up a cock and bull story on the spot about how her cousin's mother died and she was depressed. Really?
-Guest number 2 is actually a family member and I told her I REALLY wanted her to be there. She assured me she will be there and nothing will stop except her car developed a fault. I told her I will pay for a bus fare if her car went gaga. Well, she messaged me some days later to say she had to work and her car had a fault.
-Guest number 3 promised to do all she could to make it but when I did a follow up call, she was at work and she said she couldn't come to the party straight from work because she was dressed in her pyjamas. Lol!
-Guest number 4 is a former school mate. She told me she will "see if she can come." I did a follow-up call, no response. I messaged her, still no response.
-Guest number 5 displayed some witchcraft tendencies. She assured me she was going to storm the party with two extra guests. She even asked that I cook much since she knows I'm foodie. Then when I did a follow-up call, she failed to answer. I called again and again, no response. Her house is a few blocks away from mine. No call, no show. Witchcraft!
-Guest number 6 really wanted to come but had no one to give her a ride.
-Guest number 7 said she will pass by if she gets "a time". Obviously time wasn't that generous to her.
-Guest number 8 claimed days before that her only hindrance was a ride. I promised to pick her up with her kids. Well she stopped taking my calls the day before the party and on the day of the party. I know she will probably call me to give some made-up excuse and try to 'mend' our relationship.
-Guest number 9 had come up with a plan with me on how she will leave work and quickly pick up her kids and come to my house. At least she called minutes before the party time to say she had so much to do.
There you have it! My trusted friends and family who were supposed to support me on my new journey. I am so happy that this happened because "na only when wind blow wey you go see fowl e nyash." (It is only when the wind blows that you see the anus of a hen.)
In other news, I went to a baby shower. Yes, it's the same baby shower in which I met guest number 1. Here's the gist: my pregnant friend has two girls and she found out her third child is going to be a boy. So she had this huge party! It was serious ooo. The ladies serving food at the parry wore t-shirts with her portrait on them and these words, "It's a boy 2015!" This is me moments after I arrived the venue: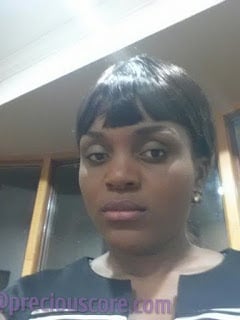 I ate some Nigerian Jollof Rice. For some reason, I find that Nigerian Jollof Party Rice always smells and tastes the same! Lol. Is this a plan? See the leftover grains of my Jollof below: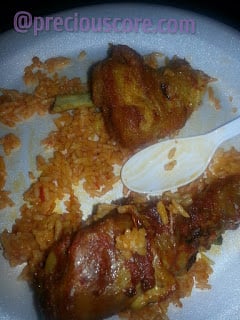 For my epic makeover party, I had intended to cook some
coconut fried rice
using jasmine rice. However, I discovered I had bought coconut cream instead of coconut milk. I decided to use it anyway since it had ad impressive coconuty scent. The result: A very sweet shiny rice. I named it, "sweet rice."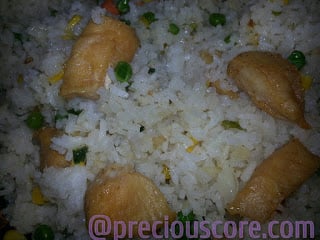 In church, we learnt about trusting God's way as the best. We studied the story of the fishermen who toiled all night but had no catch. However, at THE WORD of Jesus, they had a great catch. It is awesome when we let the Word of God influence what we do.
How about ya? How was your week? Have a good one!