HOW SH*T DISGRACED ME AT THE MARKET
Published May 05, 2016
Updated Apr 26, 2017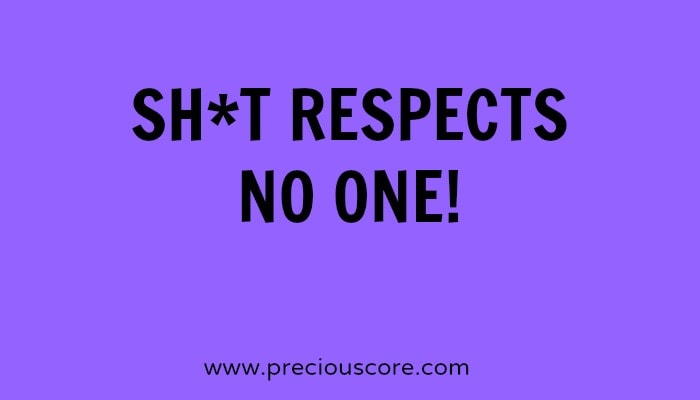 Years ago, when I was a graduate student in Nigeria, I got disgraced by the thing that you go to release in a room where no one is watching. It chose to visit me where everyone was watching. Ha!
So I decided to cook Nigerian beans, which is black-eyed peas or what we call,
Koki beans
. They make a bean porridge out of it and eat with rice or something just the way we eat 
beans with rice
 or with
Puff-puff
. After seeing my Nigerian roommates cook this beans over and over again, I decided to give it a try.
Fiam! Pot on the fire. Beans inside. Cooking was on.
After cooking I ate, and ate…
…and ate again. The next day I ate some more.
Then I lay down on my bed to relax. Bruuuuuuuuu,  I heard my tummy producing a strange noise.
Fiam! I rushed to the toilet thinking it was time for a release. My people, nothing came out so I went back to my room and started to chill. Bruuuuuuu proooooo, my tummy sang some more. This time, I was really sure I had to go. I went again to the restroom but nothing happened.
I had to go to a little market around my school to shop for groceries. So I wore some pretty slippers and started cat-walking my way to the market. As soon as I reached the market, it seemed like witches from my village just arrived town to give me the biggest disgrace of the year. This time, my tummy wasn't just singing. I felt like a rock band was performing in my stomach. In addition to that, my anal cavity was shaking and vibrating the way a loud speaker diffusing sound shakes. I was about to have a poop explosion right there in the market.
No way! I told myself I was going to scale through this. I managed to take a few steps with my eyes scanning the environs to see if I could locate a bush for my explosion. Brethren, there were no bushes in view. The place was filled with buildings. I was angry at why development happened so fast in the area.
I kept trying to take more steps then the unthinkable happened: my pretty slippers cut! As Mary Mary sings, "everything that could go wrong, going wrong at one time." Sah!
In front of me was a small shop with with an elderly man sitting at the front. A small girl of about 8 years of age stood by him.
"Excuse me sah, can this girl please take my slippers to the shoemender?"
I solicited.
The man gave me a suspicious look then said,
"She no dey go no wia. Na shoemender that. You go dia yourself."
On hearing this, I started cursing this man in my heart for being so wicked. If only he knew what I was going through.
As I stood at that spot, it was as though my feet were planted to the ground. Moving an inch was a difficult task because each step made my tummy to tremble and rumble. I thought of what I could do to save the situation fast.
I used my some of my grocery money to buy flip-flops AKA two-rope slippers from the 'wicked' man then I transferred my spoiled slippers into a plastic bag. I started moving as fast as my legs could carry me pausing whenever I felt like the dreaded explosion would happen.
Then like a miracle, I sighted an apartment where several Cameroonians jointly lived. I rushed there, sweating profusely and breathing heavily. As I got to the front of the house, I found the door open. I shouted with a shaky voice,
"Hello, anybody here?"
No one answered. I went straight into their toilet and positioned myself for a breakthrough:
Cacacacaprettetetebrrrrrrprooooobangbangbangwuuuu
I shat my life out. After that, I was a new creation. If anyone is free from the pressure of shit, she is a new creation. Now I had to worry about flushing since there was no running water. Thankfully, I found water in the water tank and flushed my multitude of sins away.
Remember, no one saw me entering the house. I heard footsteps and some noise in the living room meaning perhaps one of the owners was home. Shame wan kee me.(I almost died of shame). I wondered how someone will meet their 'visitor' coming straight from their toilet. After pondering, I summoned courage and opened the toilet door, where I met one of the inhabitants of the house, Emmanuel. I burst into a big fake laughter as a way to cover up.
"Emma, the thing that happened to me today eh!"
I proceeded to tell him my story and we laughed together. He then told me he had a similar experience some time back. In his case, a bush came to his rescue after okada (motor bike) riders refused to stop and carry him home. He even had to get into the middle of the road to stop a bike. Yet for some reason, no one agreed to stop. That's how he resorted to a nearby bush saying if he gets attacked there, he will tell his attacker to do whatever they want to do with him. After hearing Emmanuel's story, I felt relieved.
Each time I remember this experience I laugh but I pray it NEVER happens again.
What's your most embarrassing poop story?