With only 7 ingredients and in less than 15 minutes, you'll have this Pan Seared Sea Bass ready! The fish is crispy around the edges, the flesh is flaky and it is insanely mouthwatering.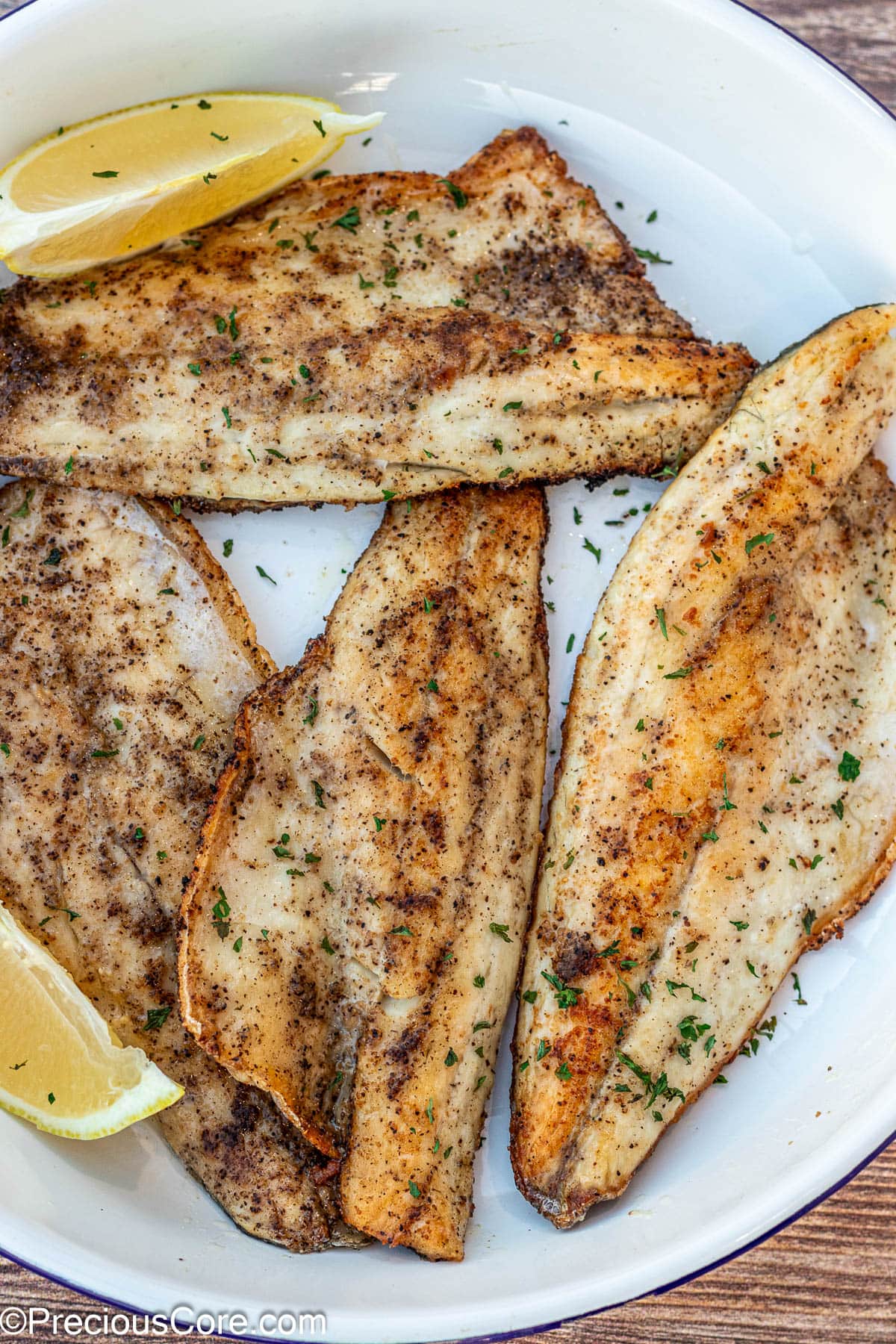 This restaurant-quality fish is perfect for everyday dinners, date nights, and elegant enough for entertaining and special occasions.
My kids can't have enough of this tantalizing flaky fish and it's easy enough for my 10-year-old to make!
Enjoy this tasty sea bass paired with Garlic Herb Rice and Mango Avocado Salad. You'll be swooned by how much flavor you can imbue onto fish filets in such a short amount of time.
If you love easy dinner recipes you can make in 20 minutes or less, also check out these recipes for Pan Seared Tilapia and Pan Seared Chicken Tenders.
What is Sea Bass?
Sea Bass is an envelope name that covers a wide variety of marine fish. A common characteristic of all sea bass is the gray color of their skin and their white flesh.
Sea bass is a fish with a really mild flavor which means it soaks up spices and herbs really well.
There are various kinds of sea bass of sea bass including Barred Sand Bass, Barramundi, Black Sea Bass, and European Sea Bass. Look for sea bass in the frozen or seafood section of your local grocery store.
The fish labeled "Chilean Sea Bass" is not real sea bass but Antarctic and Patagonian toothfish renamed to sea bass to enhance sellability.
For this recipe, I used "European Sea Bass" which I bought from Trader Joe's.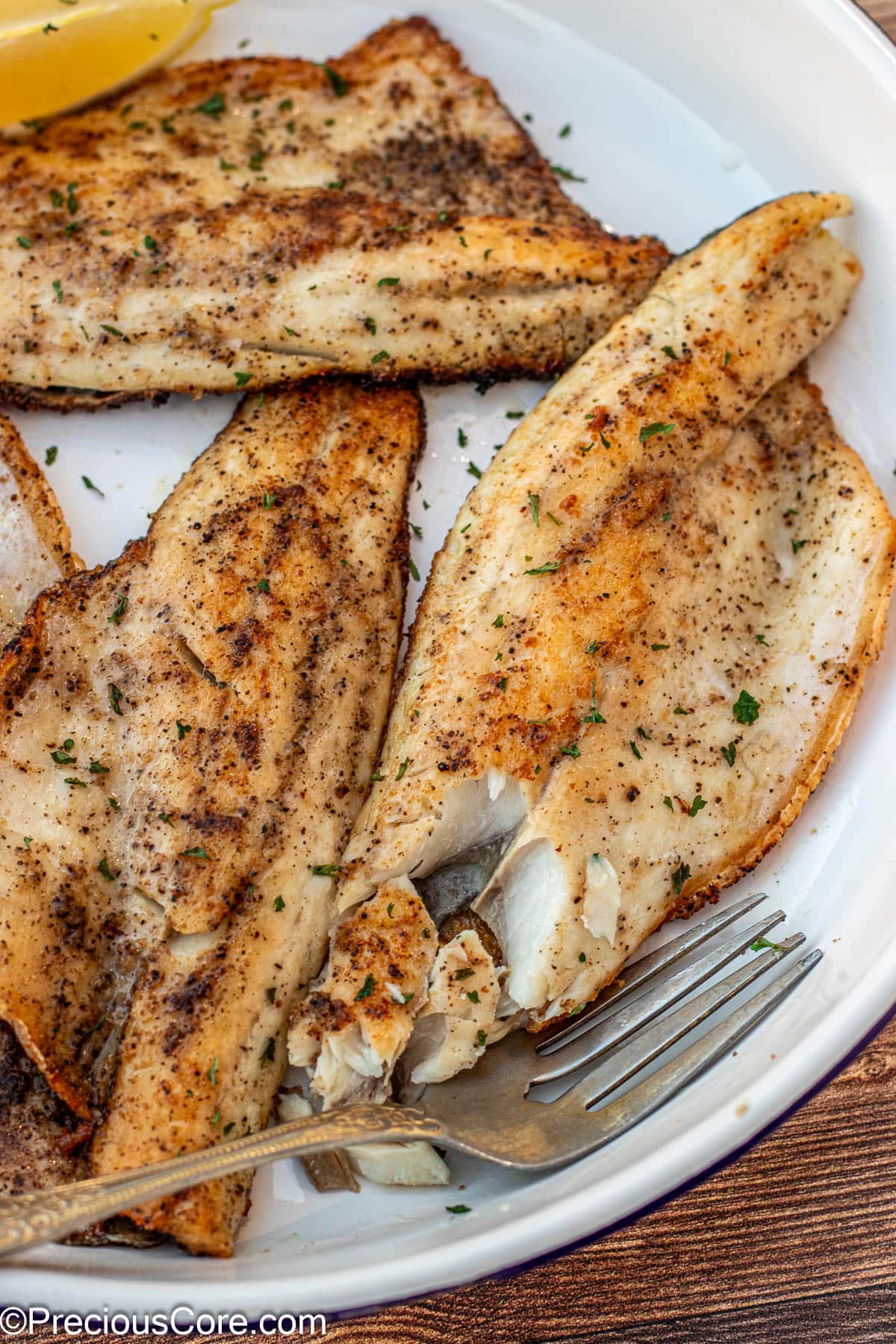 Why This Recipe Works
One thing about me is I'm gonna cook some fish! Whether it is cooking some Pan Grilled Salmon or making Lemon Butter Tilapia, fish is a regular in my home and on my recipe testing calendar.
There are many reasons to love fish which are reasons why this recipe works:
It is ridiculously easy. This recipe happens in less than 15 minutes. In today's fast-paced world, this is a winner. You can still fit making dinner into your busy schedule. Pan-sear some fish on one burner and make some Sauteed Vegetables on another burner and you'll have dinner ready in 15 minutes.
A great source of protein. Sea bass is high in protein, low in calories, and an excellent source of Omega-3 fatty acids. Experts recommend that you eat up to 12 ounces (two average meals) a week of fish and shellfish that are lower in mercury.
It is highly adaptable. If you can't find sea bass, just use any firm-fleshed fish filets you can find. Salmon, whiting fish, trout, snapper, and "responsibly farmed" tilapia are all great substitutes for sea bass.
It is family-friendly. The kids and adults alike love having their own piece of fish. If you have a large family like I do, scale the recipe to feed everyone.
Cooking fish in a hot cast iron skillet adds crispiness and a beautiful golden brown color. If you don't have a cast iron skillet yet, consider getting one as it is an extremely useful and versatile cooking tool.
Ingredients For Sea Bass
Here are the 7 ingredients (including salt and pepper) you need to make Pan Seared Sea Bass: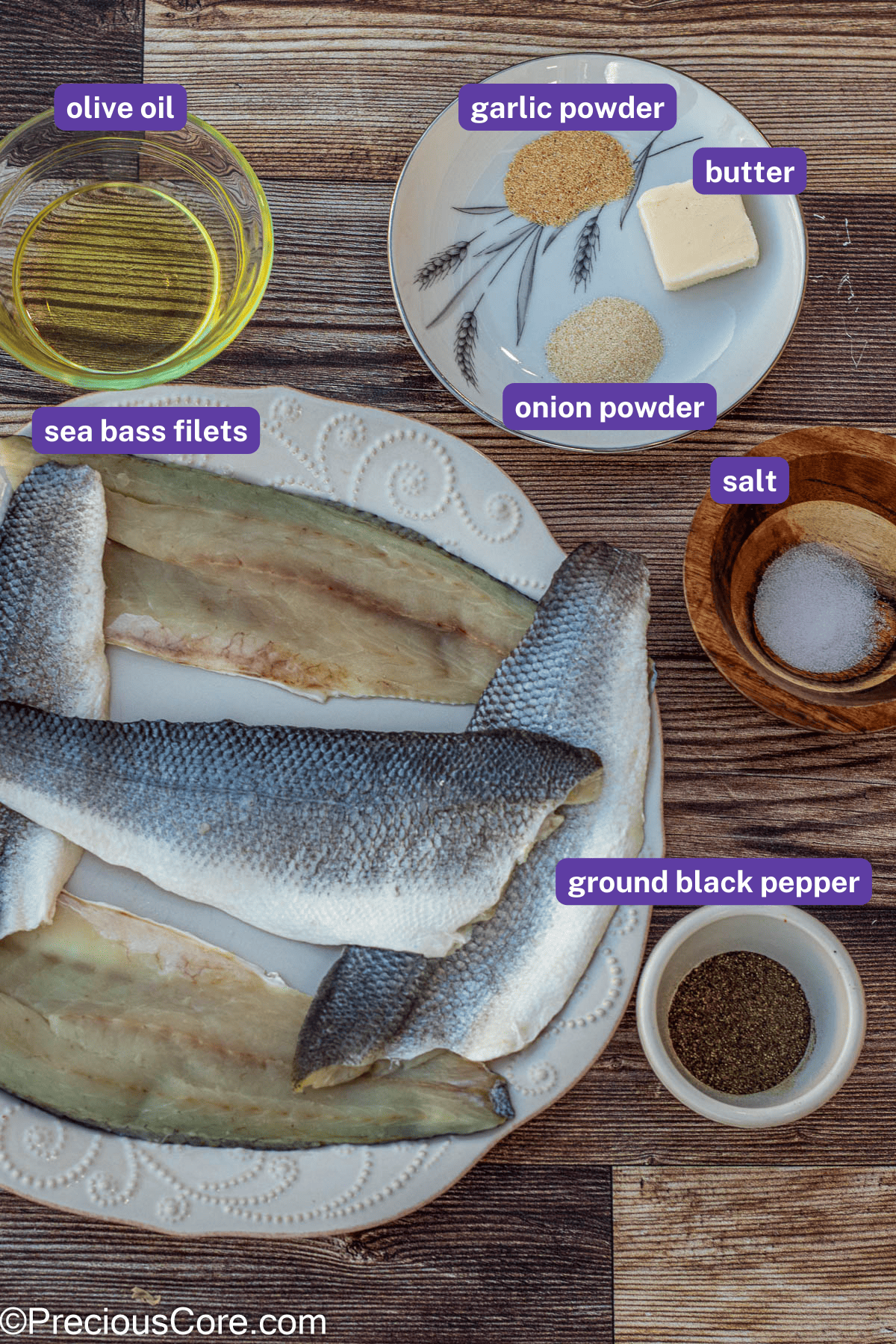 Sea Bass: You can get sea bass from the seafood section of your grocery store. You can also substitute it with other kinds of fish filets.
Olive oil: Helps to coat the pan before searing the fish so the fish flips easily. Be generous with the olive oil so the fish doesn't stick to the pan.
Onion Powder and Garlic Powder: These two simple spices will take the taste of the fish to the next level.
Butter: Adding butter to the pan to melt at the end of cooking, is a finishing touch that adds buttery flavor and finesse to the taste of the fish.
See the recipe card below with a detailed list of ingredients and instructions.
How To Cook Sea Bass
One of the easiest ways to cook sea bass is to pan-sear the fillets. Always bring your fish to room temperature first before cooking to promote even cooking. Here is how to make Pan Seared Sea Bass:
Pat the fish filets dry with paper towels.
Season both sides of the fish with salt, pepper, garlic powder, and onion powder.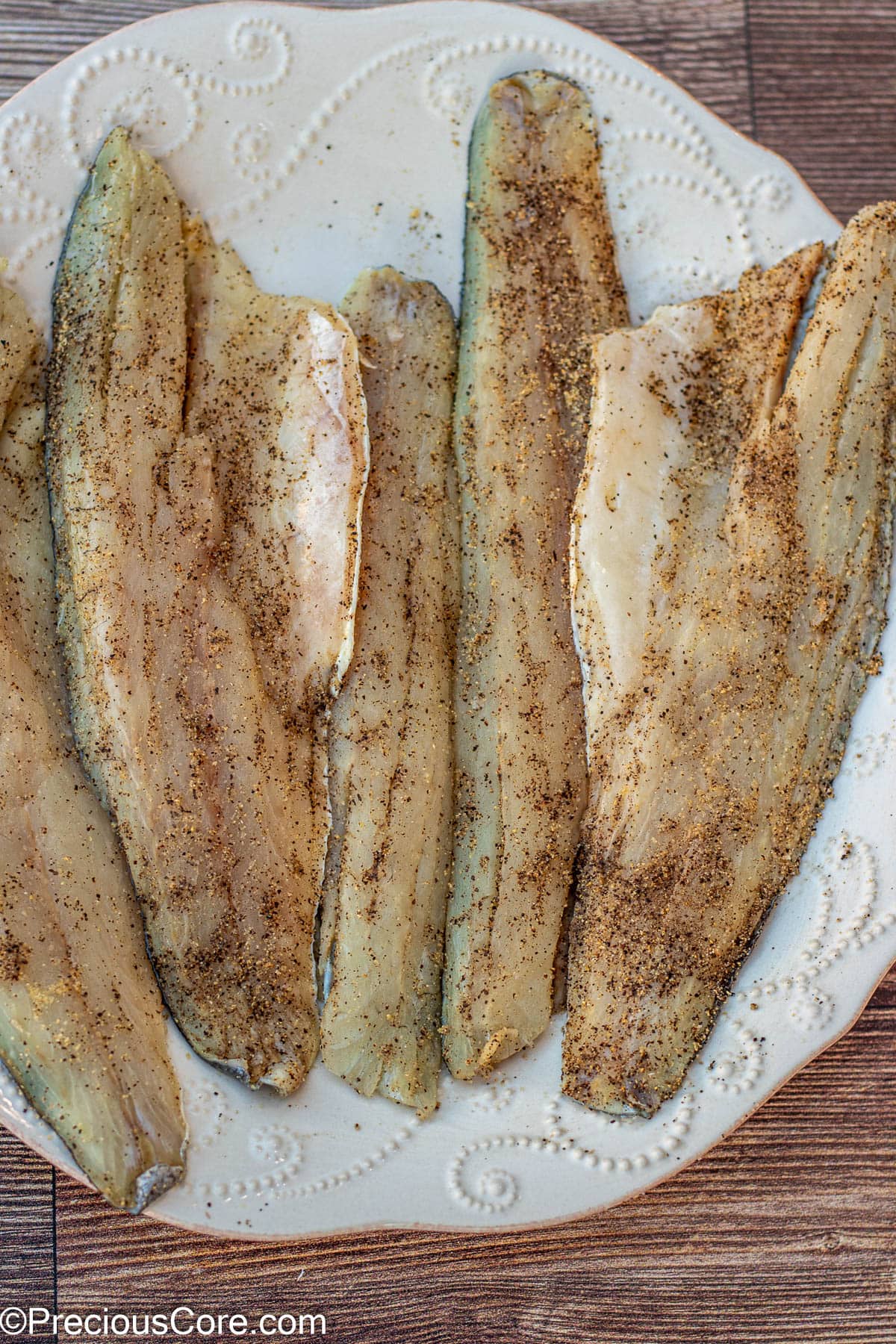 Heat oil in a cast iron skillet on medium-high heat and add the fish to cook skin side down. I use a large skillet (12-inch) so I can cook all my filets at once. If you use a smaller skillet, cook the fish in batches.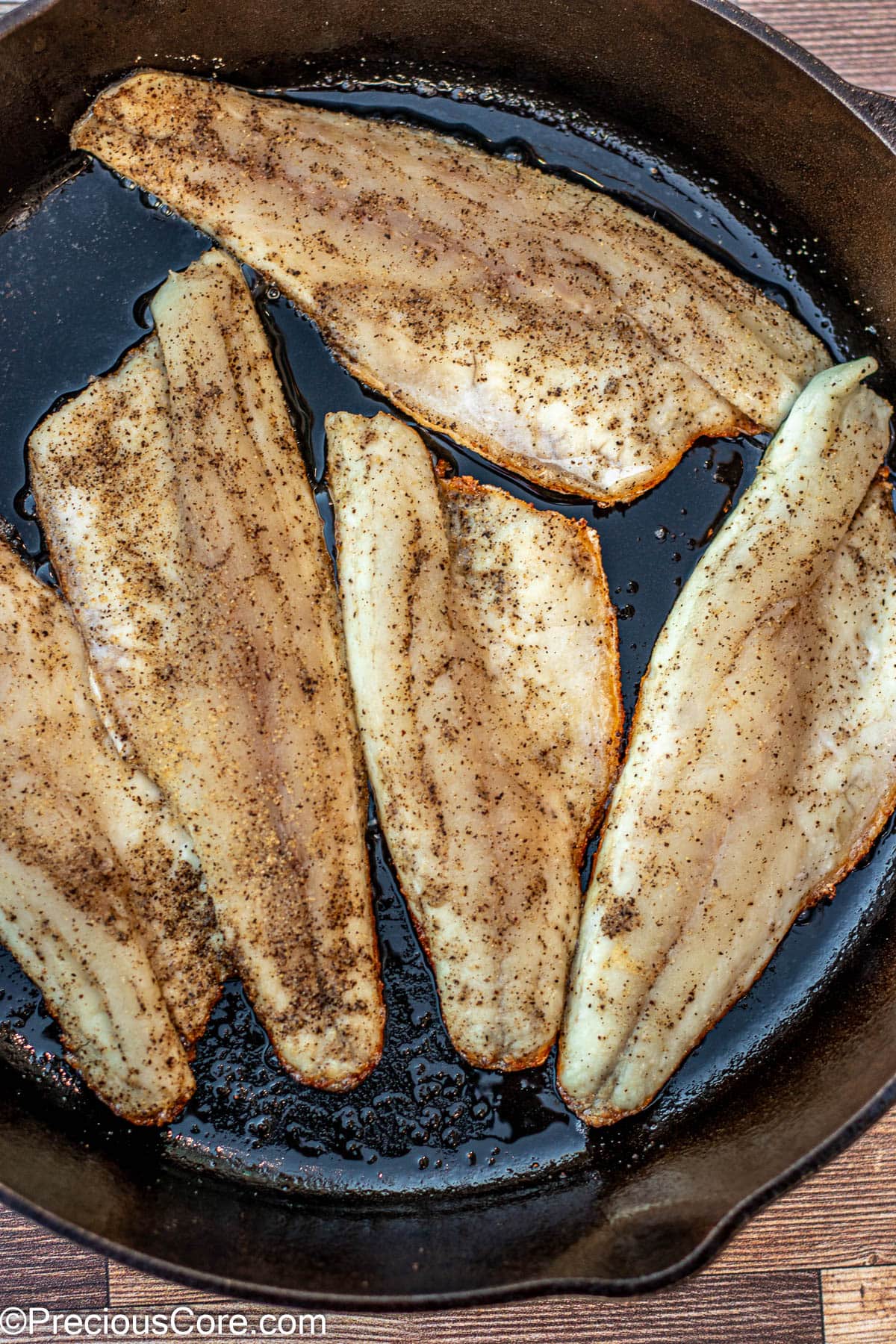 Let it cook for 2-3 minutes on one side until golden brown then flip to the other side. Cooking times will vary, depending on the thickness of the fish. Fish is done when it flakes easily with a fork.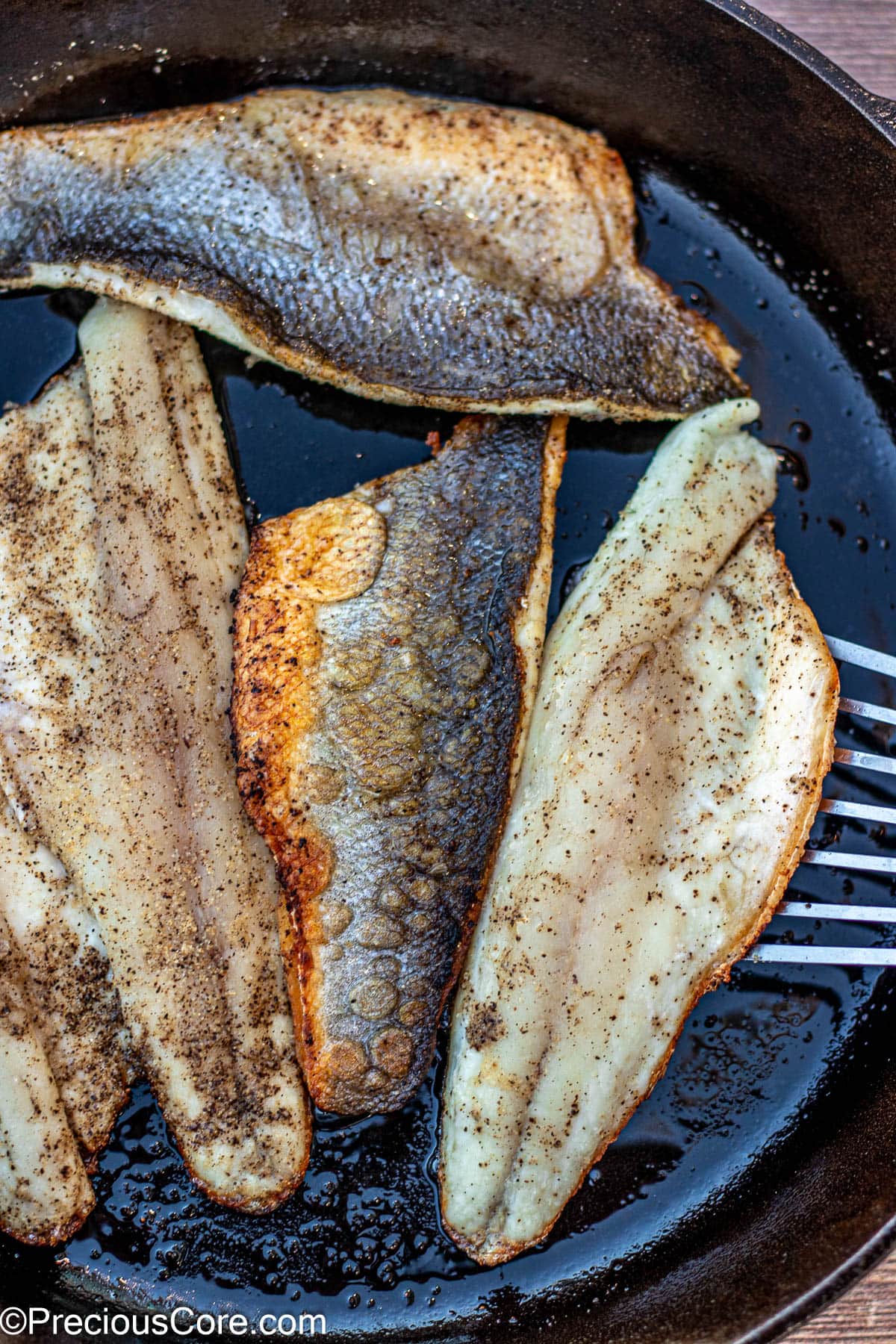 Add butter to the pan and let it melt. Baste the fish with the melted butter.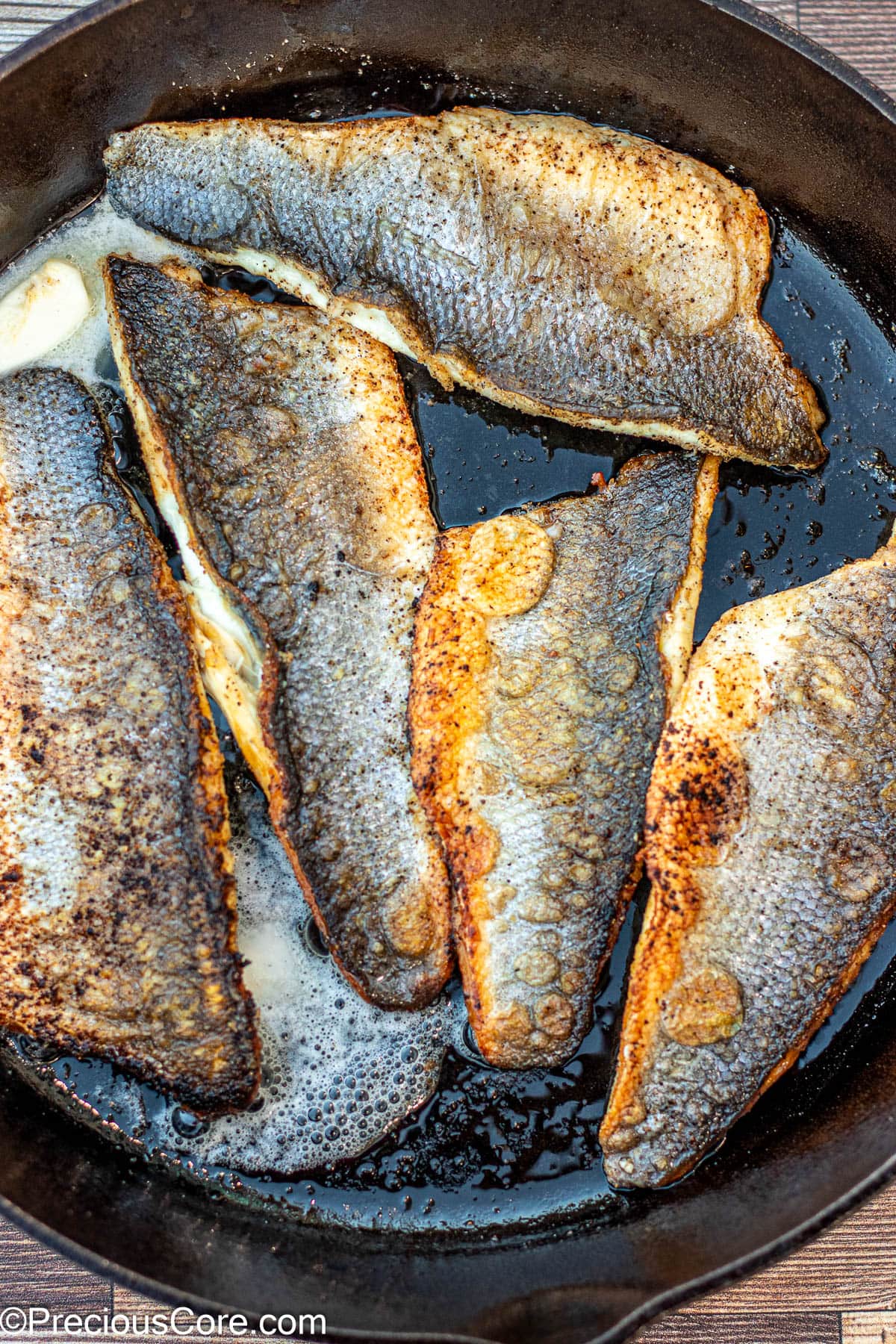 Serve warm garnished with minced parsley. Serve with lemon slices or wedges. A squeeze of lemon juice on cooked fish adds freshness.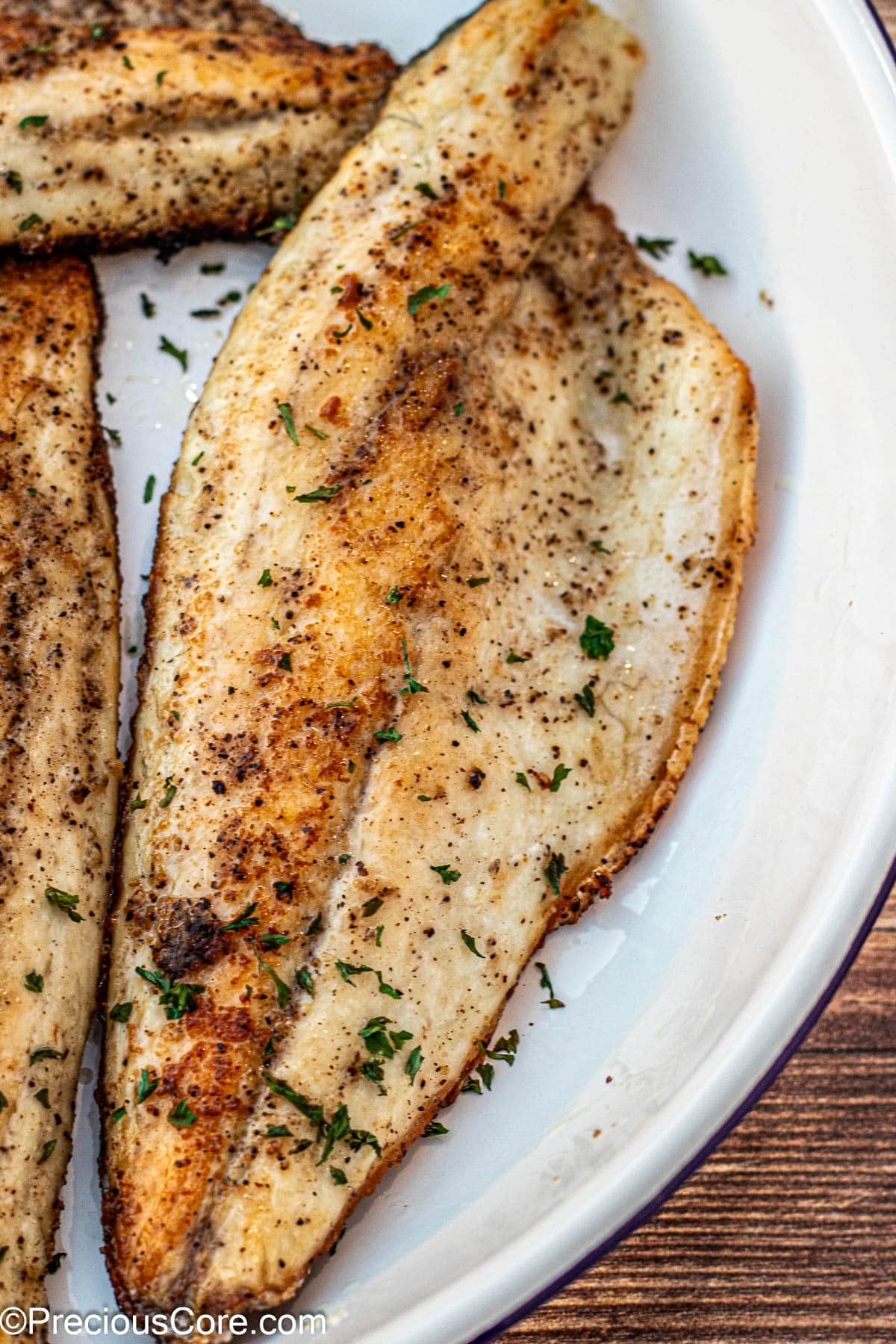 Expert Tips and Recommendations
Buy fish from a reputable source. Ensure that the label on the fish indicates that it is responsibly farmed or sustainably sourced.
If the fish filets smell fishy, the fish is not fresh. Fresh fish should smell sweet or salty.
Always pat fish filets dry with paper towels before cooking. Rinse them first before patting them dry if you like.
Inspect the filets for any bones the fishmonger might have forgotten and take them out with a tweezer.
Make sure the pan is well-greased with oil before adding the fish. This prevents the fish from sticking to the pan.
Recipe FAQs
What is the best cooking technique for sea bass?
The best way to cook sea bass is to sear it in a hot pan with oil. Ensure the pan and oil are hot before adding the sea bass to ensure a nice crust on the outside.
How long does it take to pan fry sea bass?
Sea bass cooks for 2 to 3 minutes per side for fillets that are about half an inch thick. Sea bass can be pan-fried in total for less than 10 minutes.
Is branzino and sea bass the same thing?
Yes, branzino is the Italian name for European and Mediterranean sea bass.
Serving Pan Seared Sea Bass
This Pan Seared Sea Bass pairs well with a wide variety of side dishes including the following:
Similar Recipes
If you love this recipe for sea bass then you'll love the following fish recipes:
If you make this recipe please leave a star rating below. Your rating helps others find the recipe plus I love hearing from you! Thank you!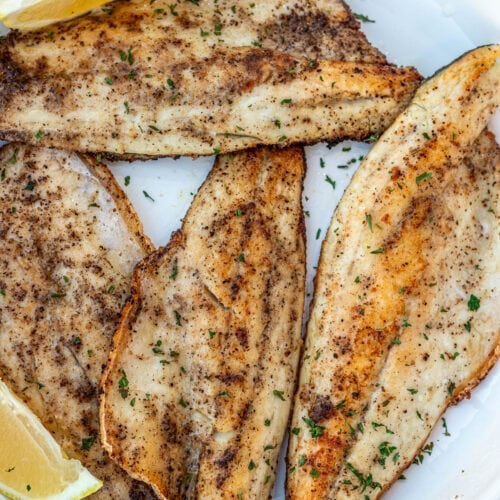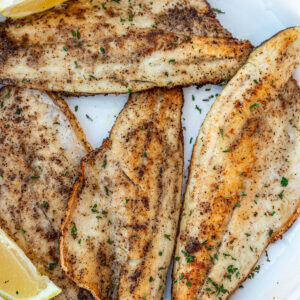 Pan Seared Sea Bass
Thin sea bass fillets are well seasoned and pan-seared to create a quick tasty meal. May this Pan Seared Sea Bass become a regular on your dinner table. You could replace sea bass with any other fish with firm flesh.
Ingredients
1

pound

sea bass fillets

I had 5 thin fillets per pound.

½

teaspoon

salt

⅛

teaspoon

ground black pepper

½

teaspoon

garlic powder

½

teaspoon

onion powder

2

Tablespoons

olive oil

Minced parsley for garnish

Lemon wedges for serving
Instructions
Prep fish: Remove fish fillets from the fridge 30 minutes before cooking so they can come to room temperature. Pat the fillets dry with paper towels.

Season fish: Sprinkle both sides of the fish with the salt, pepper, garlic powder, and onion powder.

Heat skillet and add fish: Put a large skillet, preferably a cast iron skillet, over medium-high heat to get hot. Add the olive oil and swirl so it coats the pan. Add the fish skin side down to the skillet pressing it down to ensure it touches the pan.

Pan sear fish: Cook on one side for about 2-3 minutes until the skin crisps up and is golden brown then turn and cook on the other side for another 1-2 minutes. I used really thin fillets so they cooked extremely fast. If your fillets are thicker you might need to cook them longer. Be careful not to overcook the fish. Fish is cooked when it flakes easily with a fork.

Serve with lemon wedges and garnished with minced parsley.
Notes
Patting fish dry: Don't miss the step of patting the fish dry with paper towels. This helps the fish crisp up nicely. Cook in batches if you have a smaller skillet. I use my large 12-inch cast iron skillet to cook all the fish at once. But you could use a smaller skillet and cook in batches. Scale the recipe to suit your needs. I need to double the recipe to feed my family of 7. There is a handy dandy scale button at the top of the recipe card to make scaling the recipe easier.
Nutrition
Calories:
174
kcal
|
Carbohydrates:
1
g
|
Protein:
20
g
|
Fat:
10
g
|
Saturated Fat:
2
g
|
Polyunsaturated Fat:
2
g
|
Monounsaturated Fat:
6
g
|
Cholesterol:
91
mg
|
Sodium:
369
mg
|
Potassium:
298
mg
|
Fiber:
0.1
g
|
Sugar:
0.03
g
|
Vitamin A:
102
IU
|
Vitamin C:
0.1
mg
|
Calcium:
19
mg
|
Iron:
1
mg