PLANTAIN PANCAKES
Published Sep 04, 2020
Updated May 06, 2022
Plantain Pancakes are made with no added sugar and perfect for breakfast, snacking or breakfast-for-dinner.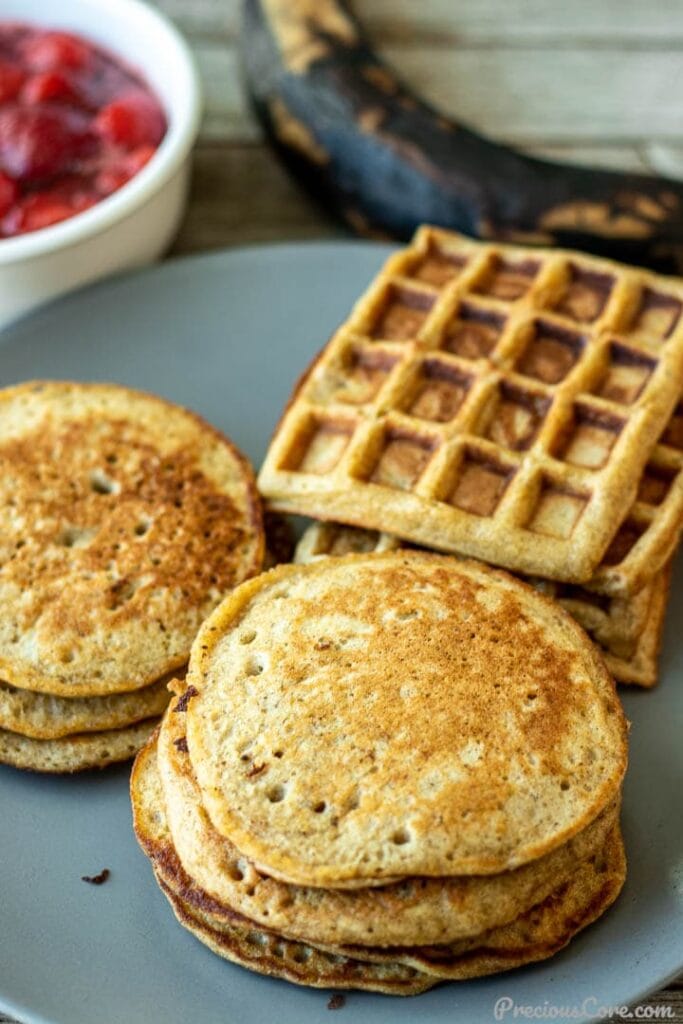 When life gives you overripe plantains, make Plantain Pancakes! Mr N always buys more plantains than I could use in a short time and I end up having a significant amount of plantains to use up!
So I keep coming up with ways to use overripe plantains that can't be cooked normally anymore. Some things I have made are Plantain Cake and Plantain Puff Puff.
And now, here are some Plantain Pancakes. My whole family enjoyed these pancakes for breakfast. They are soft, fluffy, slightly sweet with a hint of cinnamon.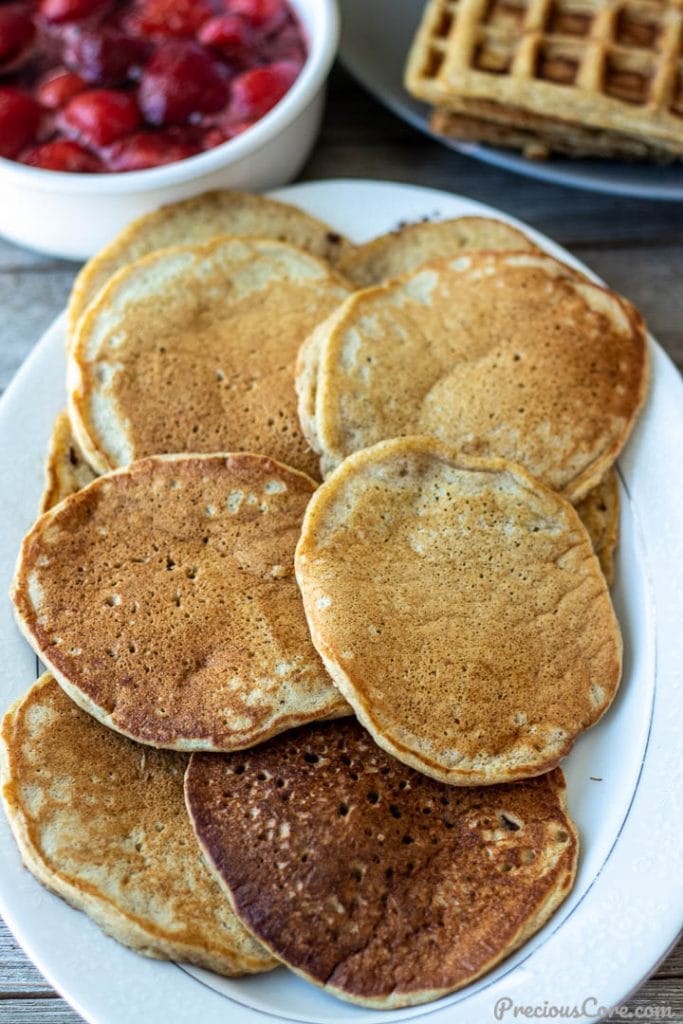 They are enjoyable on their own but add some butter and a drizzle of real maple syrup to take them to the next level!
Another thing you could do is make a quick fruit sauce to top the plantain pancakes with. I love a simple strawberry sauce made with fresh or frozen strawberries.
For the strawberry sauce, combine 12 ounces of frozen strawberries and a quarter cup of sugar in a pot. Set it on medium heat and bring the pot to a simmer. Let it simmer until the strawberries are softened but still hold their shape. Serve the strawberry sauce over pancakes or crepes.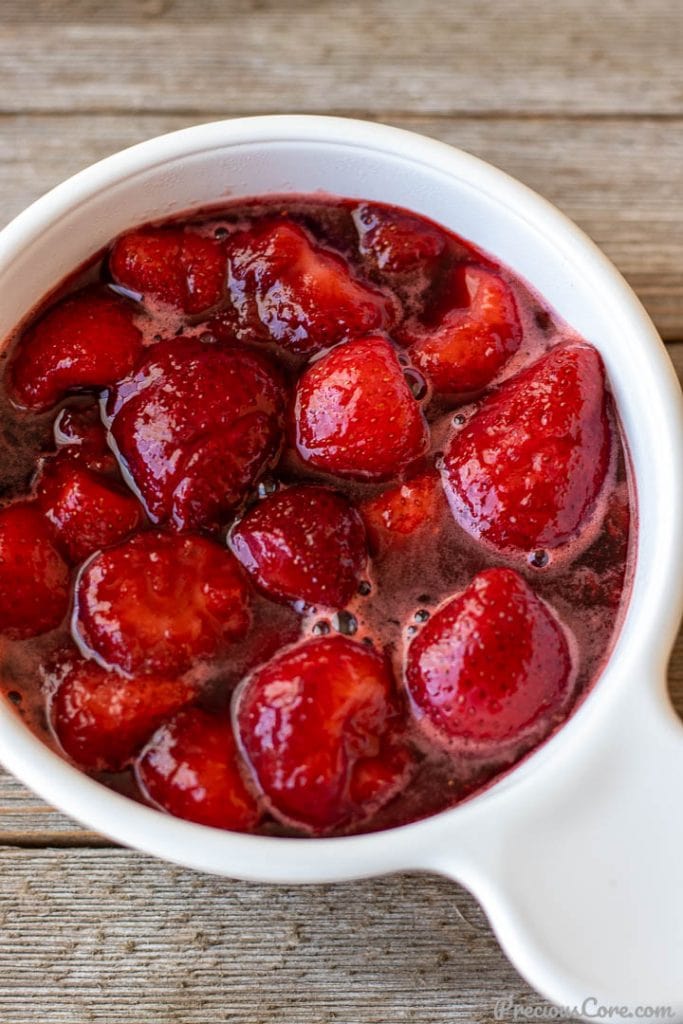 My girls totally enjoyed this strawberry sauce with their Plantain Pancakes. They also enjoy it with banana pancakes.
One amazing thing about this recipe is that you can use the same batter to make waffles. See the waffles I made below!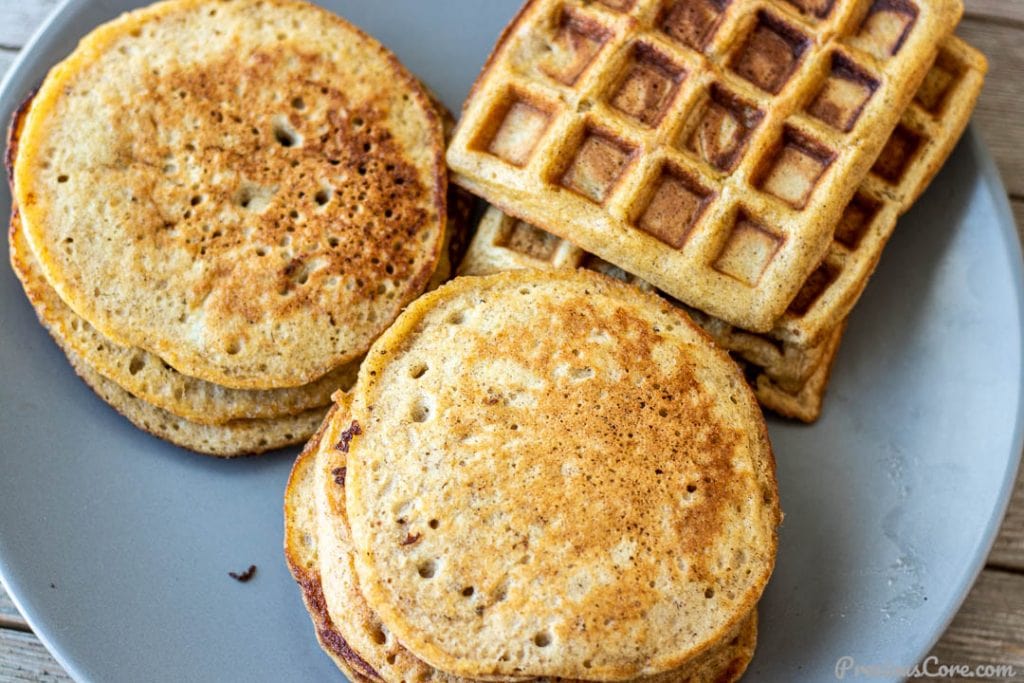 To make waffles, pour the batter into a waffle maker. With my waffle maker, a quarter cup of batter makes one waffle. Follow the directions of your waffle maker to cook the waffles and you'll have delicious plantain waffles!
Ingredients For Plantain Pancakes
For plantain pancakes you basically need the same ingredients for regular pancakes but with the addition of blended plantains. So the ingredients for plantain pancakes are:
Overripe plantains. The plantains should be very ripe with dark spots and soft when pressed.
Flour
Salt
Baking Powder
Baking Soda
Cinnamon powder. For flavor (cinnamon and plantains go well together in desserts)
Eggs
Water. You could replace water with liquid milk then omit the dried milk powder.
Watch How To Make Plantain Pancakes
Watch how to make Plantain Pancakes Watch me making some in the video below. Also, please SUBSCRIBE to my YouTube Channel so you do not miss any of my videos!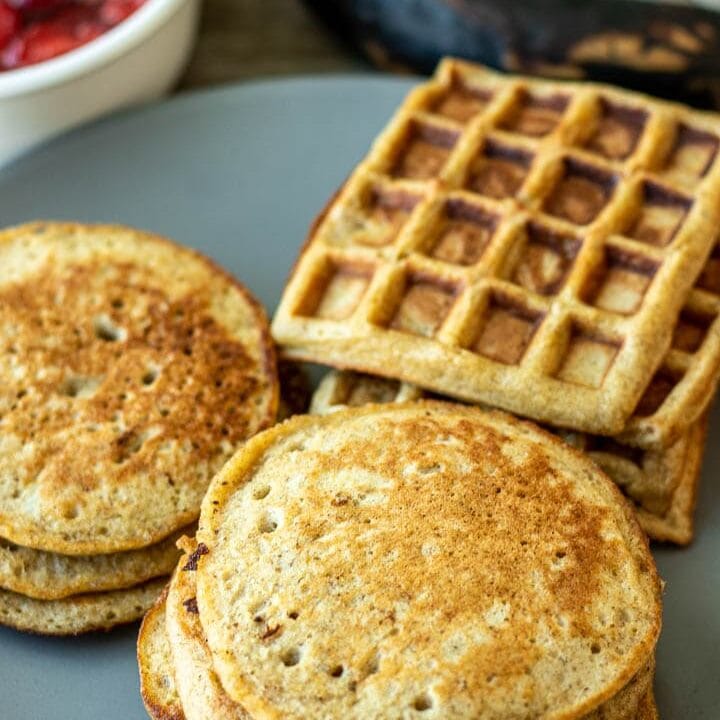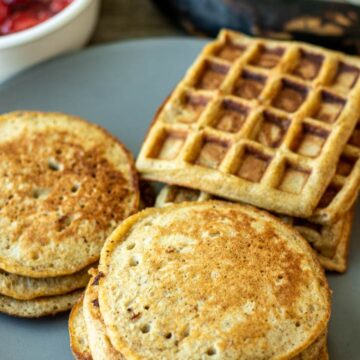 Plantain Pancakes
Plantain pancakes made with ultra sweet plantains need no added sugar because the sweetness from the plantains is enough! They are slightly sweet, with a hint of cinnamon and amazing plantain flavor. These pancakes are perfect for breakfast, brunch, snacking or breakfast-for dinner.
Ingredients
3

plantains, yellow with black spots and soft to the touch

2

cups

all-purpose flour (250 grams)

1/4

cup

dry milk powder

1

teaspoon

salt

1

tablespoon

baking powder

1

teaspoon

baking soda

1

teaspoon

cinnamon powder

4

large eggs, room temperature

2

cups

water (500 ml)

Unsalted butter or oil for cooking the pancakes
Instructions
Blend the plantains into a puree. Peel the plantains then cut them into 1 inch circles. Add them to a blender and blend int a puree. If your blender can't puree the plantains easily pour in a part of the water in this recipe to help puree the plantains.

Mix together the dry ingredients. To a medium bowl add flour, salt, milk powder. baking powder, baking soda and cinnamon. Whisk together to combine.

Mix together the wet ingredients. Pour the plantain puree into a large bowl. Add the 2 cups of water or the remaining water from blending the plantains. Also add the eggs to the bowl and whisk to combine.

Add the dry ingredients to the wet ingredients. Add the flour mixture to the plantain puree mixture and mix well to combine until there are no streaks of flour left. Once the mixture is combined stop mixing.

Cook the pancakes on a griddle or frying pan. Set a griddle or frying pan on medium heat. Generously rub the pan with butter or oil. Add quarter cup fulls of the batter to the pan to make one pancake, leaving at least 1 inch gap between each pancake. Let it cook until bubbles form on top. About two minutes. Then flip to the other side and let it cook for another 2 minutes. Remove pancakes from pan and repeat process with the rest of the batter.

Serve warm with butter, maple syrup and some fruit.
Notes
You could replace water with liquid milk then omit the dried milk powder.
Nutrition
Calories:
243
kcal
|
Carbohydrates:
48
g
|
Protein:
8
g
|
Fat:
3
g
|
Saturated Fat:
1
g
|
Polyunsaturated Fat:
1
g
|
Monounsaturated Fat:
1
g
|
Trans Fat:
0.01
g
|
Cholesterol:
83
mg
|
Sodium:
645
mg
|
Potassium:
464
mg
|
Fiber:
2
g
|
Sugar:
14
g
|
Vitamin A:
964
IU
|
Vitamin C:
13
mg
|
Calcium:
162
mg
|
Iron:
2
mg
This post contains affiliate links.