POULET DG RECIPE
Published Dec 24, 2016
Updated Sep 26, 2018
A while ago, I had an in-law from another country visit me. I kept pondering on what will be appropriate to serve him. And boom! The idea came! Make him some Poulet DG. I zoomed to the kitchen, made some and served him. He couldn't stop gushing about how delicious it was. I love when people from other nationalities taste Cameroonian food – the result is always love at first bite! Poulet DG is a very unique easy-to-love dish. It features an unbeatable combination of chicken, ripe plantains and vegetables in a flavourful tomato sauce. And let me tell you, nothing beats this combo. This meal is so special, so "must-makish" that I have put together a how-to video, step by step photos and a printable Poulet DG recipe to make it super easy for you.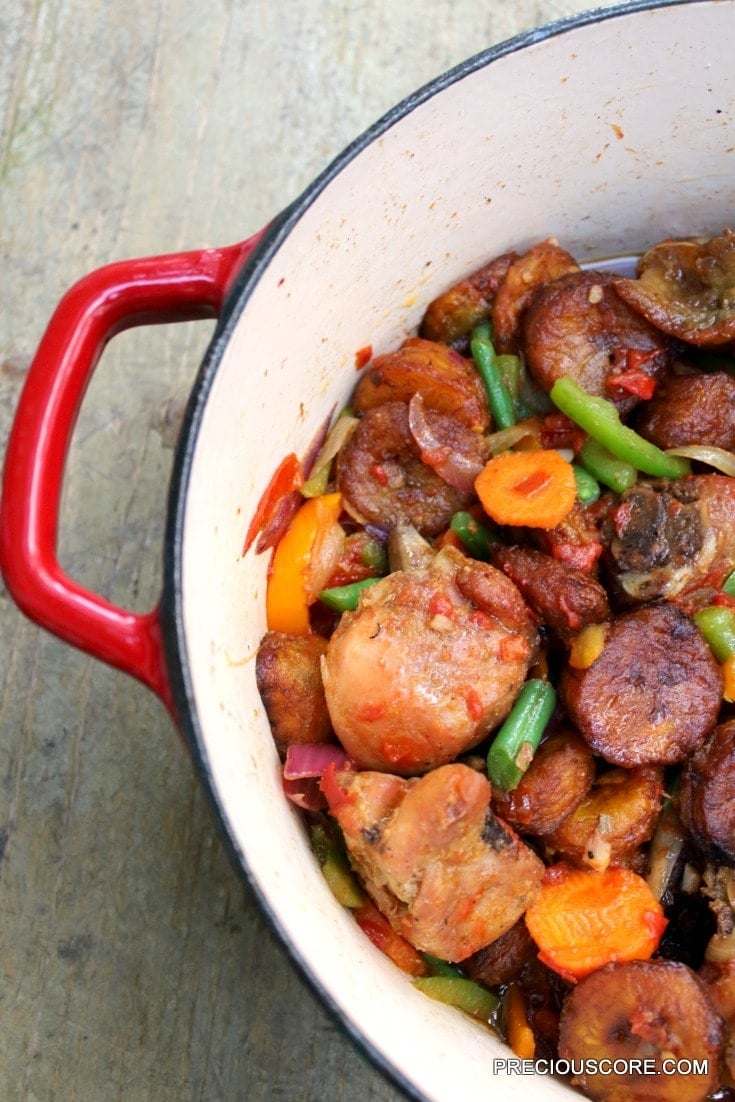 A little explanation here on why this dish is called Poulet DG. Poulet is the French word for chicken. DG is the acronym for Directeur Général in French, which means managing director or CEO in English. To translate directly, Poulet DG in French means Chicken CEO in English. An unusual name for a dish, right? But let me tell ya why a dish will be named Chicken CEO.
Once upon a time, DG as the dish is fondly called was mainly served to the upper class in Cameroon. Managing directors, CEOs, bosses, Ogas on top. That's because the dish combines two things that are very special: fried ripe plantains and chicken. Have you heard the adage that says history was made when a ripe plantain touched hot oil? That's one of my favorite quotes of all time. Seriously! The plantains and chicken are bathed in an exotic tomato sauce. They are garnished with variety of vegetables : carrots, green beans, bell peppers et al. So the DG doesn't only taste good. It is equally very visually appealing. And I love it.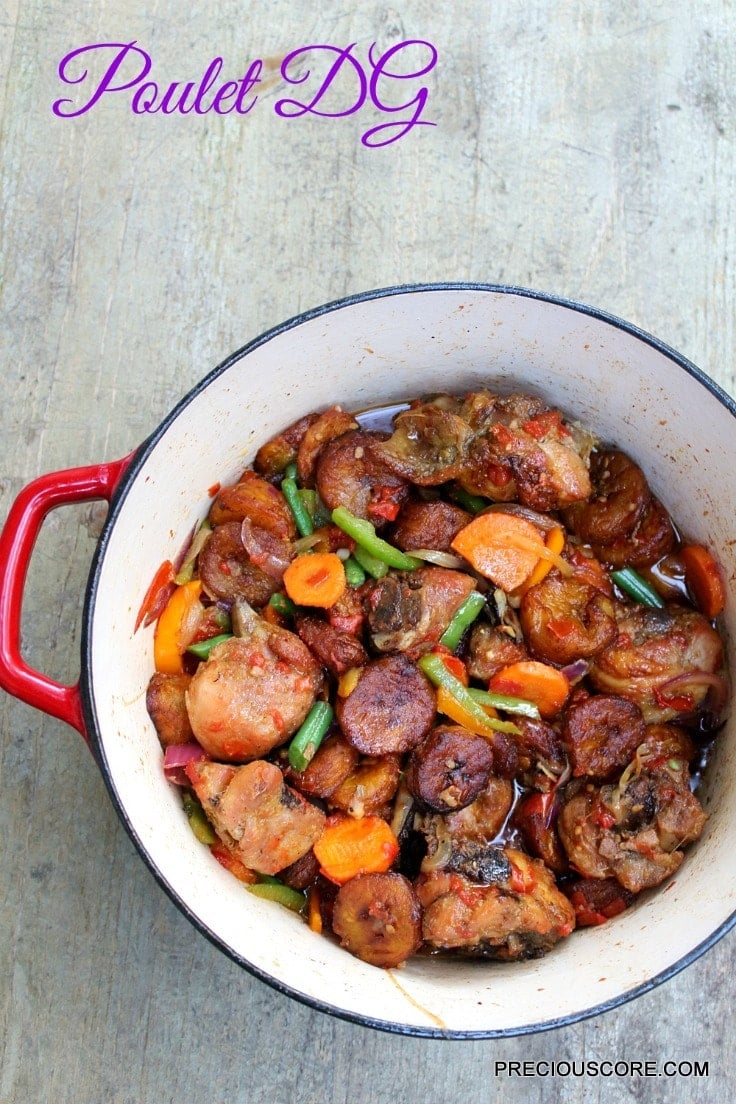 The chicken is cooked in aromatic flavours. The meal is meaty with the perfect balance of sweet and savoury. The mélange of well-seasoned chicken and fried ripe plantains just works. DG as it is fondly called is a must-try. In the video below, I show you how to make the perfect pot of this widely-loved meal. So click below to see me whipping some up!
Please keep reading for step-by-step photos and printable recipe.
A little note for you: If you are try to keep fit you could still make great Poulet DG. You could use unripe plantains in place of ripe. And instead of deep-frying the chicken as is typically done, you could oven-grill it. I oven-grill my chicken most of the time, anyway.
Here are the workers aka ingredients for the Chicken CEO:
Some ripe plantains. Now you shouldn't use plantains that are overripe here because we don't want them to get mushy and ruin our precious meal. They should be firm to the touch.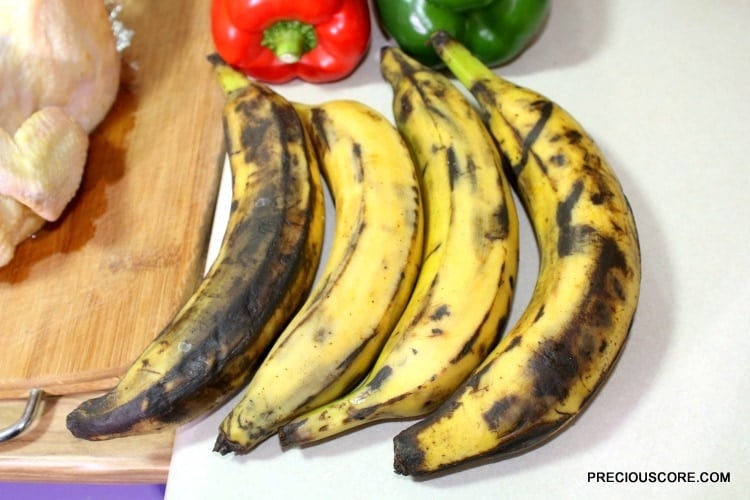 One whole chicken. Here is mine, miserable and helpless.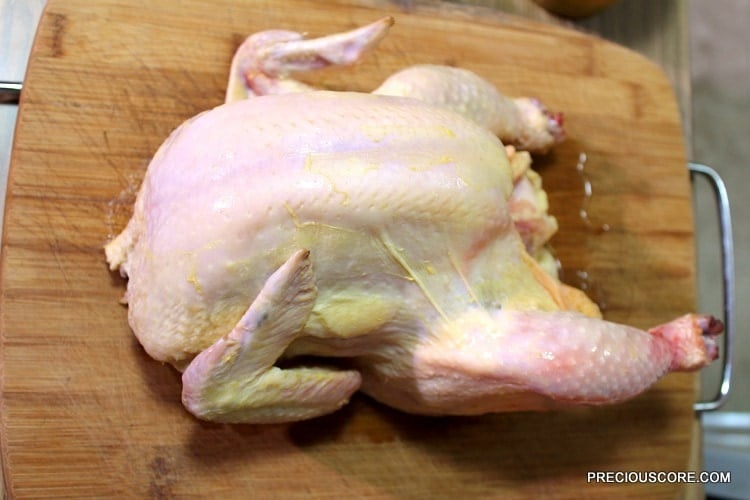 For the chicken, you could equally use chicken parts like chicken thighs or drumsticks aka condi for fowol.
You also need some lovely tomatoes. If they are not lovely, well don't use them.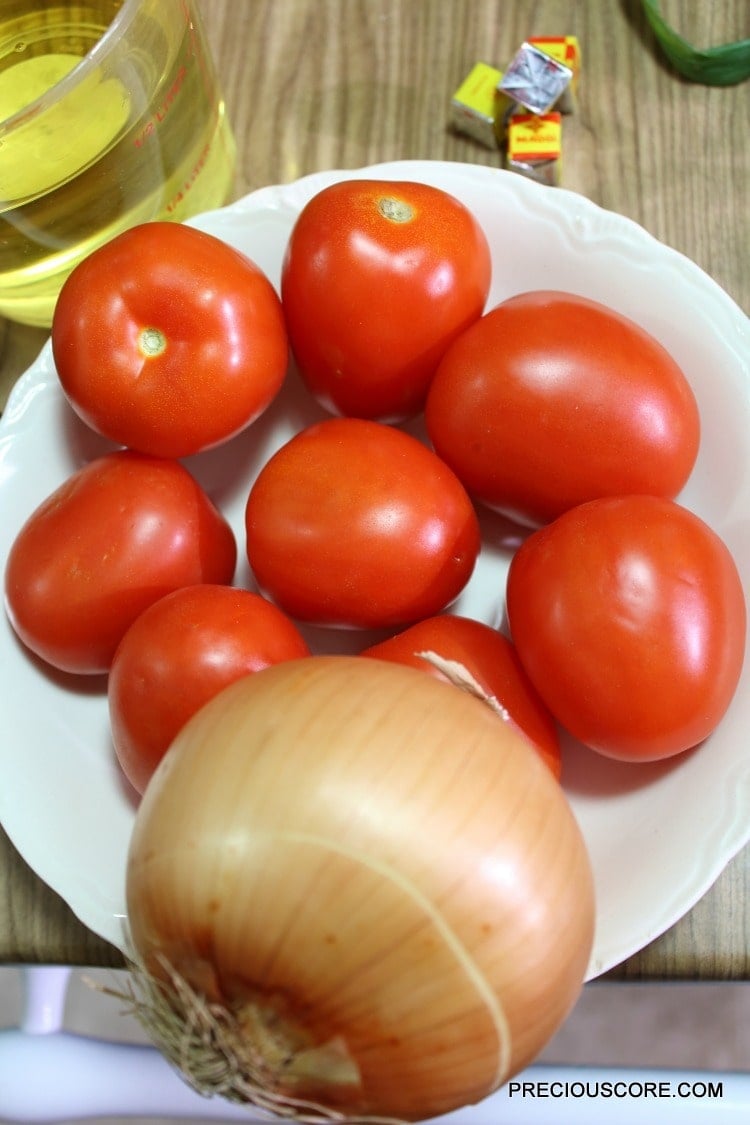 Behind the tomatoes, you can see some seasoning cubes aka Maggi and some vegetable oil. Don't ask me what was happening to the person holding this camera because the picture angles are a tad awkward and some ingredients keep photobombing the other ingredient photos.
Then you need some spices and herbs. Garlic, ginger, celery.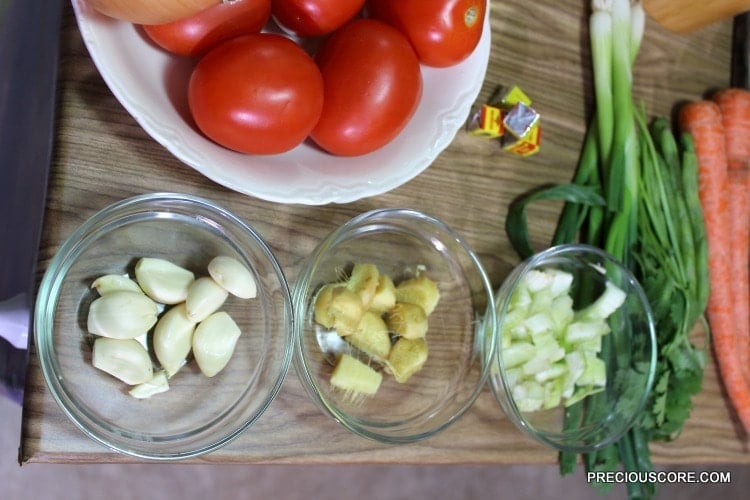 And some vegetables too. I typically use carrots, green beans, bell pepper and green onions.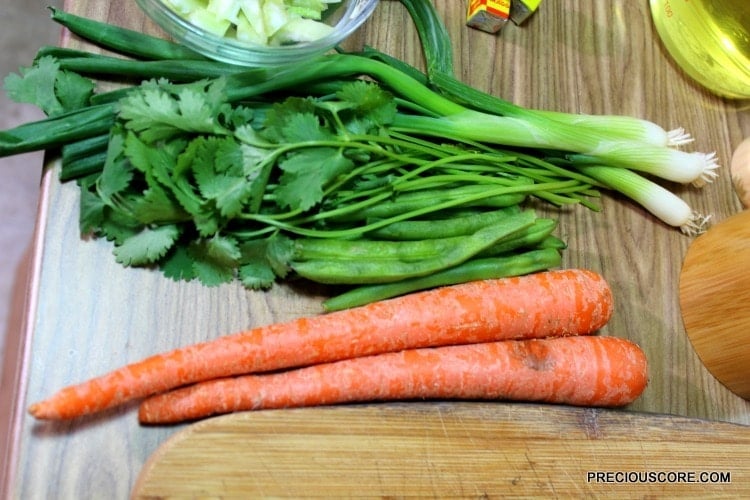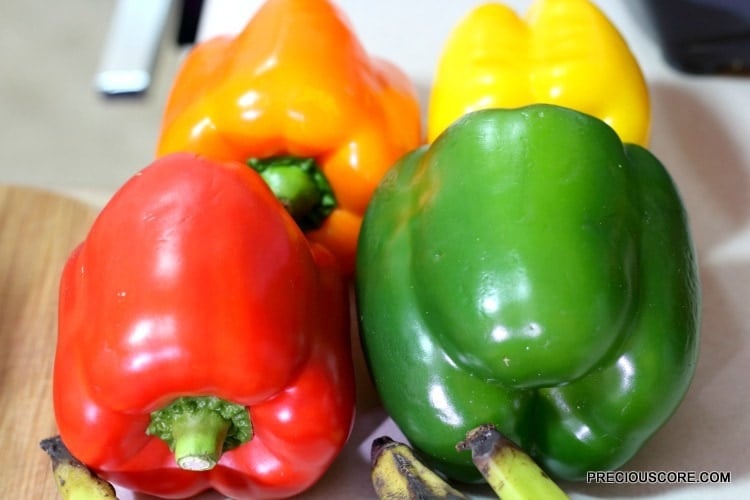 Aren't they lovely?? In case you are wondering, I only used a quarter of each bell pepper. If you can't find the various colours just use one large green bell pepper and your meal will be just as delicious.
How to Make Delicious Poulet DG
Cut up chicken and put in a pot with a blend of garlic, ginger, green onions, celery and onions. Also add in salt, Maggi (seasoning cubes or bouillon powder) and white pepper. Bring to a boil until thoroughly cooked. Remove from stock and set stock aside. Grill chicken for a few minutes in an oven or deep fry to give it a nice golden crust and more flavour. (Grilling is healthier than frying).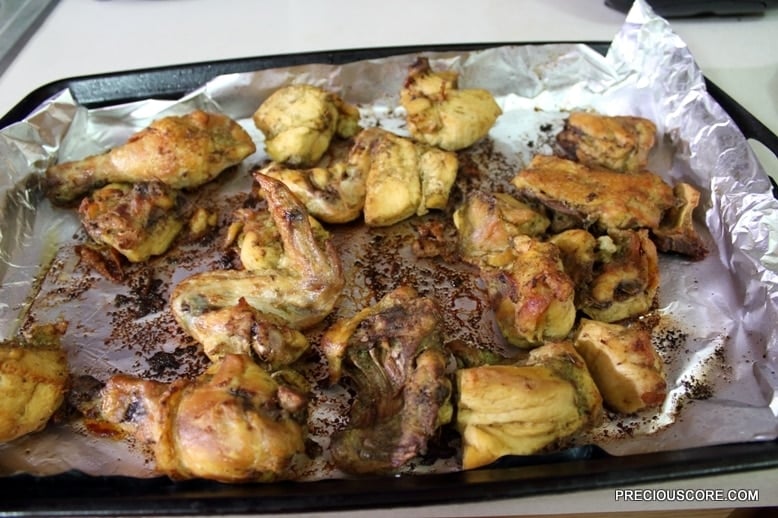 Cut plantains into desired shapes and deep fry until golden brown. I cut mine in circles. And make sure you grab some of these babies and fit into your mouth.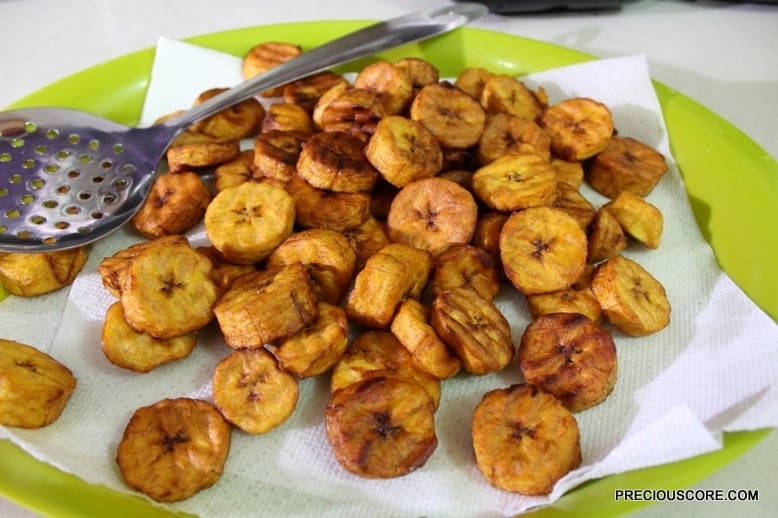 Chop onions and roughly blend tomatoes. Heat some oil then you fry the onions for a few seconds first before adding the tomatoes. Fry until acidity in the tomatoes is gone.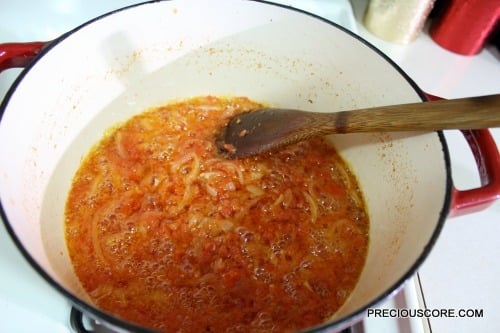 Add the stock from the chicken you reserved earlier and give that a good stir. Then you add in the chicken to bathe in all of that sauce. And let me just tell you, this sauce will be perfect with boiled rice. Finger-licking good just like my Epic Liver Sauce. You should try it sometime!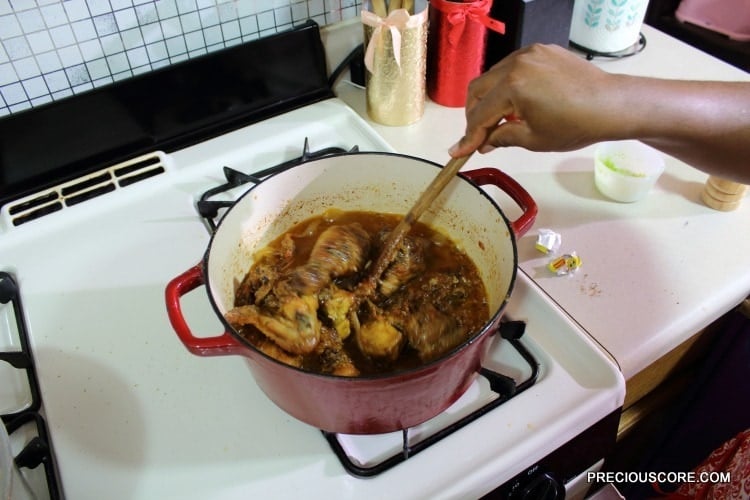 Now dump your plantains into the pot.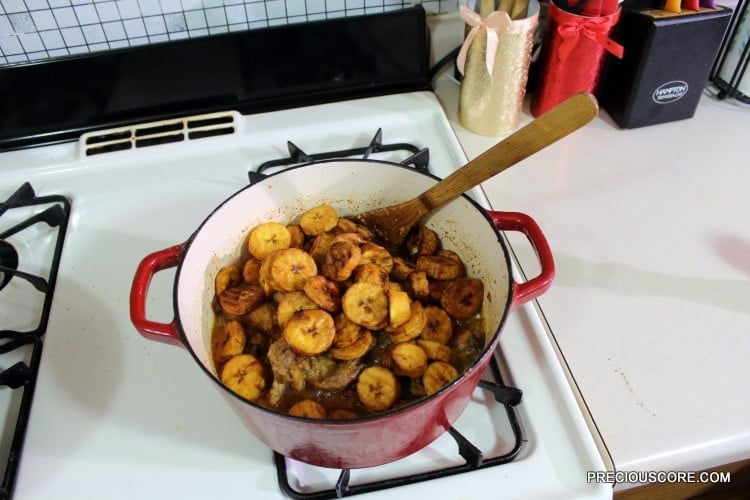 Stir until the plantain marries well with the chicken and tomato sauce then weep for joy! By this time ladies and gentlemen, you must have chopped up your veggies. Actually, this is something you should do while your tomato fries.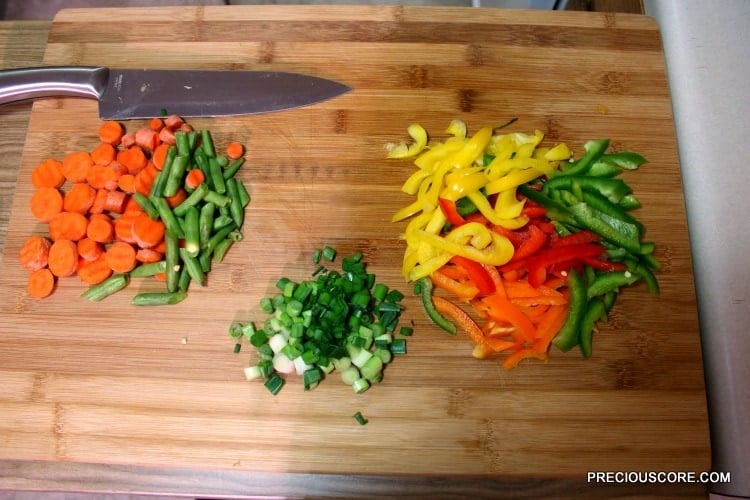 I love veggies! They make me grow big and strong. And they cover the multitude of sins in greasy dishes. I'm just saying.
Add them to the pot.
Ladies and gentlemen, give that a good mix. If your DG looks so dry, add a couple tablespoons of water to make it moist. Taste to make sure the seasoning is purrrfect.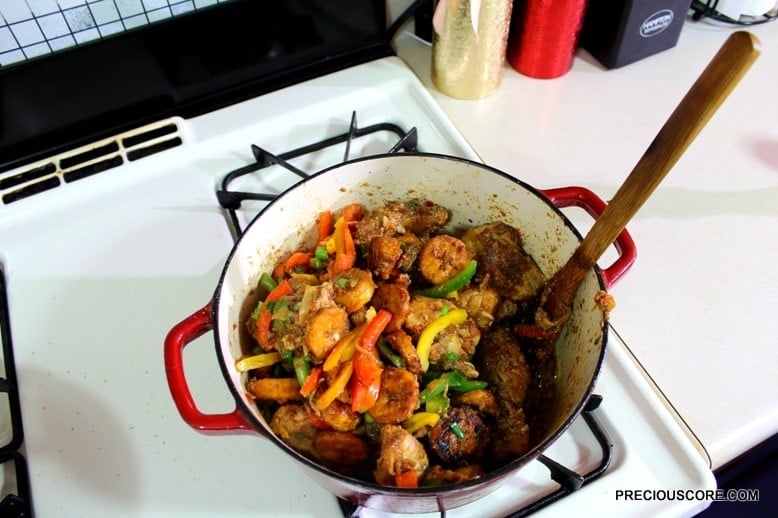 Here are some things you should discuss while eating this meal:
Your building project in Nsimalen
Your container on the high seas
All the contracts you are to sign
Remember this meal is for CEOs and you my friend, are a CEO in your own right. Make sure you enjoy this with a chilled glass of juice or something.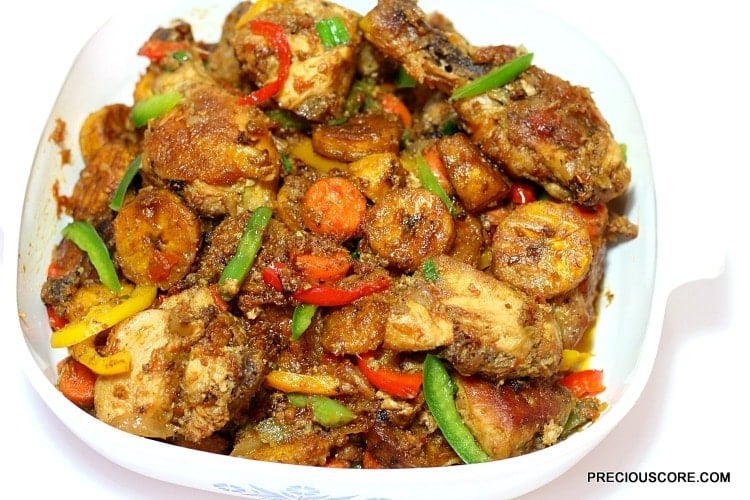 If there's anything better than Poulet DG, I haven't found what it is. If you know anything better than this please let me know below and I will chase after it. Everyone needs to eat now and then so if you are going to eat, make it memorable. Make it DG! Full printable recipe below!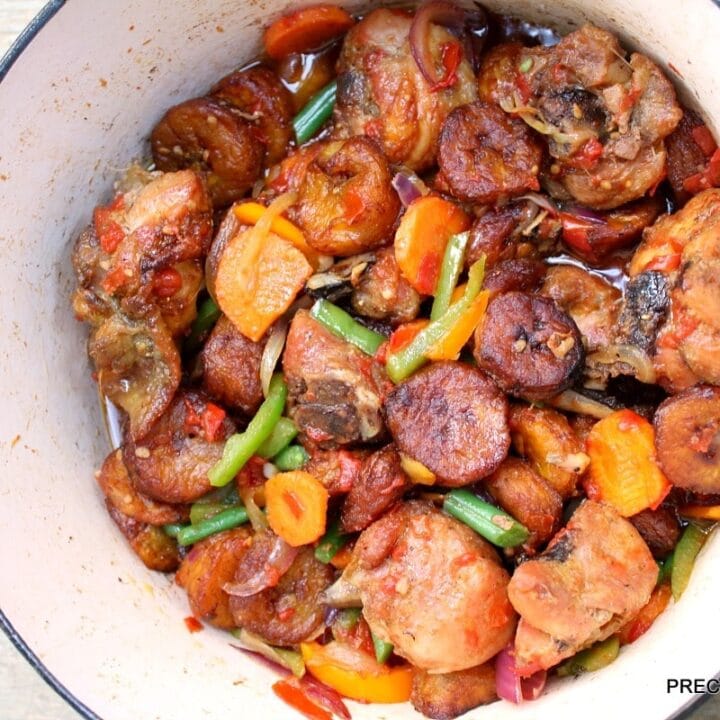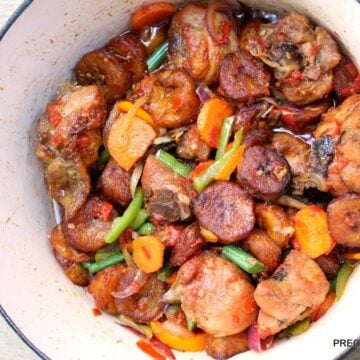 Poulet DG
Poulet DG (Directeur Général) is French for chicken CEO. That's because the dish was mostly served to high-ranking officials in Cameroon. It is a one-pot dish that combines chicken and plantains in a flavourful tomato sauce. It is so flavourful and a total party in the mouth.
Ingredients
4

large ripe plantains

they should neither be too soft nor too hard

1

onion - chopped

1

whole chicken (about 5 pounds or 2.5 kg)

8

medium tomatoes - blended

1

inch

ginger root (peeled and roughly chopped)

8

garlic cloves - peeled

1/2

teaspoon

ground white pepper

4

small seasoning cubes (Maggi)

1

celery stalk - roughly chopped

3

stems of green onions

8

stems of parsley - or cilantro

2

medium carrot - or 1 large

1

handful of green beans

1

bell pepper - or 1/4 each of 4 coloured bell peppers

2

cups

vegetable oil

1

teaspoon

salt

1

habanero (hot) pepper optional
Instructions
The first thing you need to do is make your spice blend. So combine all the garlic, ginger, celery, parsley, hot pepper (optional) and half of the onion in a blender. Add in half a cup of water and blend to a paste.

Rinse your chicken well, pat it dry then cut it up. Place chicken slices in a pot. Add in 3/4 of the spice blend, half a teaspoon of salt, 2 seasoning cubes, half of the white pepper and a cup of water. Cover and let it cook on medium-high heat for 20 minutes.

While the chicken cooks, put oil in another pot and heat on medium. Cut plantain into circles and deep fry until golden brown. Depending on the size of your pot, you may need to fry the plantains in two badges.

When chicken is done, remove from stock and place on a prepared baking tray. (You prepare the tray by lining with aluminium foil and rubbing oil on it). Keep the stock aside for later use. Now place in the oven at 400 degrees F (about 200 degrees C) to grill for about 15 minutes or until golden brown.

Go the pot where you fried the plantains and take away more than half of the oil to keep (you won't need all of the oil for the final meal) Now place the remaining oil in the pot on the stove to heat up on medium-high heat.

When the oil is hot, put in all the remaining onions to saute. Then add in the tomatoes and cook until it no longer tastes sour. Be sure to stir from time to time. As the tomato cooks, chop the carrots, green beans, bell peppers and green onions.

Add in the rest of the spice blend and let it cook for 2 minutes. Then add in chicken stock, remaining seasoning cubes and white pepper. Stir well and let them simmer together for two minutes.

Add in chicken and stir well. Add in fried plantains, then stir well too. Finally, add in the chopped vegetables and give it a good mix, being careful not to render the plantains mushy. If it looks too dry at this point, add a couple tablespoons of water to make it moist. Allow everything on the fire for two minutes then turn the flames off. It is done. This leaves your vegetables crisp and fresh, which I like. However, if you like your veggies cooked then you could leave them on the fire for a couple more minutes.

Serve warm and enjoy with a glass of juice or something because this meal is just too special!
Notes
I have seen people use unripe plantains to make this. So if you prefer, use green plantains.
Nutrition
Calories:
1091
kcal
|
Carbohydrates:
52
g
|
Protein:
28
g
|
Fat:
89
g
|
Saturated Fat:
23
g
|
Polyunsaturated Fat:
24
g
|
Monounsaturated Fat:
36
g
|
Trans Fat:
9
g
|
Cholesterol:
96
mg
|
Sodium:
1148
mg
|
Potassium:
1406
mg
|
Fiber:
6
g
|
Sugar:
29
g
|
Vitamin A:
7105
IU
|
Vitamin C:
81
mg
|
Calcium:
67
mg
|
Iron:
3
mg