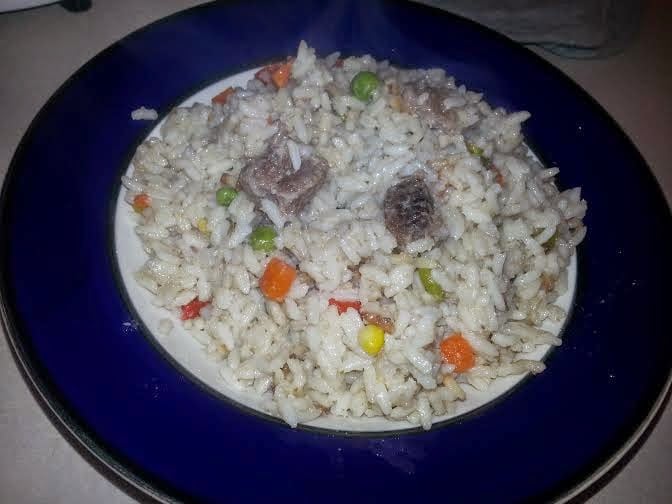 Coconut Rice
Hello everyone, hope the week has been unfolding nicely. Well, it is Wednesday and that means time to share another recipe on Precious Core. This week, I bring to you my version of coconut rice.
Coconut rice is a one pot dish that is mainly made up of coconut milk and rice, as the name suggests. If I were to choose a dish among fried rice, coconut rice and jollof rice, I would definitely go for coconut rice! The 'coconuty' flavour that surrounds the rice makes it so mouth watering. Coconut is one of my fave flavours, I enjoy almost everything made with coconuts; coconut drinks, coconut cookies, coconut cake, everything 'coconuty'!
This coconut rice recipe is quite easy to make. Once you successfully extract your coconut milk from the coconuts, you are good to go!
You will need:
1 medium size Coconut
Half kg parboiled rice
Half kg beef
3 seasoning cubes (Maggi)
Salt to taste
1 medium size onion
One teaspoon ground garlic and ginger
1 large carrot
Half of a red bell pepper
A little sweet corn and peas (Can add green beans and other vegetables depending on preferences)
Method:
Dice carrots, bell pepper, onions and set aside.
To make the coconut milk, shell the coconut and drain the coconut water (You could drink it, if you like. My daughters and I enjoy drinking it). Break the shelled coconut in to pieces and place in a blender. Add water and blend. Pour into a strainer, to separate the milk from the chaffs. You could return the chaffs to the blender, add more water and blend to make more milk but note that the second badge will be lighter than the first.
Put the milk into a pot. Cut beef into little pieces and add. Put in ground garlic and ginger, salt, maggi and diced onions. Bring to boil. Note that putting in a lot of garlic and ginger is not advisable her because their flavours may swallow up the flavour of the coconut.
Add rice to the boiling milk and stir. Allow to boil for a while. Keep adding in coconut milk until rice attains the desired softness.
When rice is just about fully cooked, add in your diced carrots, bell pepper, sweet corn, peas and any other vegetables and stir into the rice.
Adjust for seasonings, allow rice to cook until all the coconut milk is absorbed. Serve hot!
Enjoy your coconuty rice!