4 Ingredient Guacamole Recipe
You don't always have to spend time dicing ingredients when making guacamole. Here is a simple and no-fuss 4 Ingredient Guacamole Recipe that's perfect for serving with tortilla chips or Plantain Chips.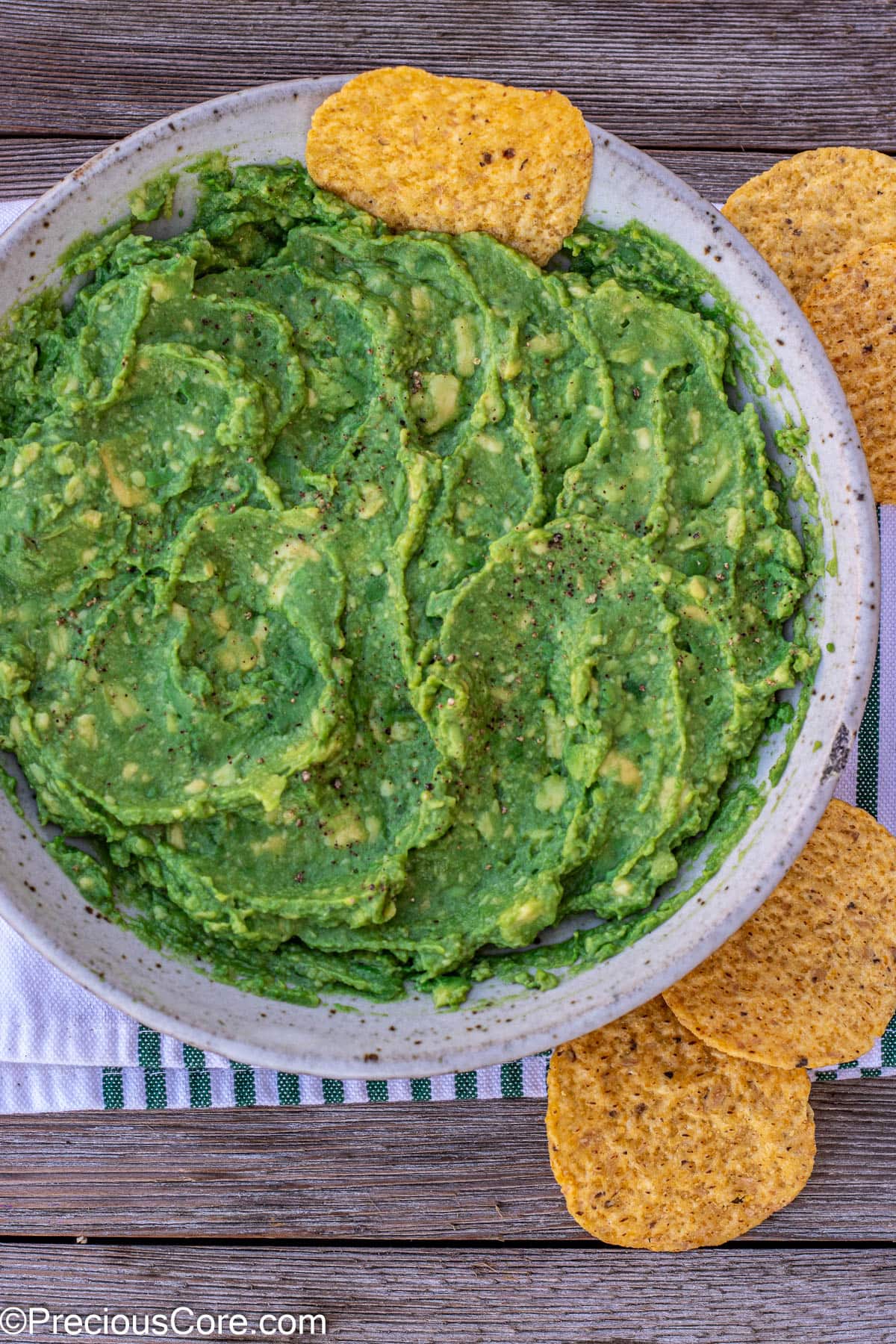 It's a dipping party at home when this creamy, fresh, tangy 4 ingredient guacamole is ready. I serve it with some good-quality tortilla chips as an appetizer before dinner.
Love tasty appetizers? Here are the tastiest Baked Dry Rub Chicken Wings and for an all-round versatile dipping sauce, try our African Pepper Sauce.
Simple Guacamole Recipe
If you are looking for an simple guacamole recipe that doesn't require slicing, dicing, or mincing, this 4 ingredient recipe is perfect.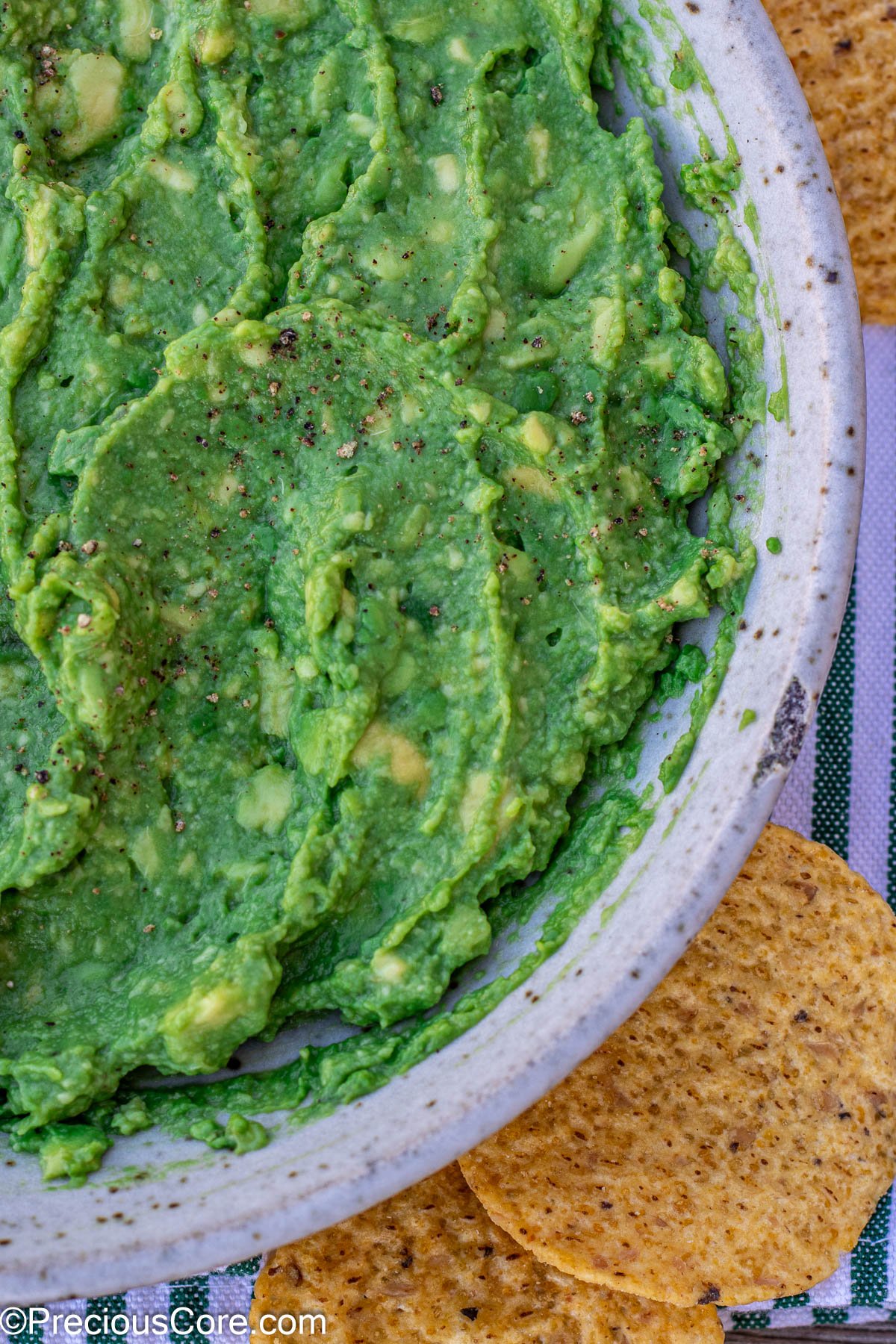 While a loaded guacamole recipe is great, sometimes you just need a quick and easy avocado dip. You'll this 4 Ingredient Guacamole recipes for several reasons.
It is quick. It takes 5 minutes total to scoop, mash, and season the avocados.
It is great for picky eaters. Some of my kids don't like other ingredients like onions in their guacamole so this is a recipe the whole family can enjoy.
It is customizable. Use this recipe as a base for making other kinds of guacamole. Add in the ingredients you like! See many options below.
It is wholesome and makes a great low-carb, nutrient-packed meal.
It is a versatile side dish that can be added to many meals like sandwiches, tacos, or wraps.
Ingredients
Here are the ingredients you need to make the easiest 4 ingredient guacamole ever!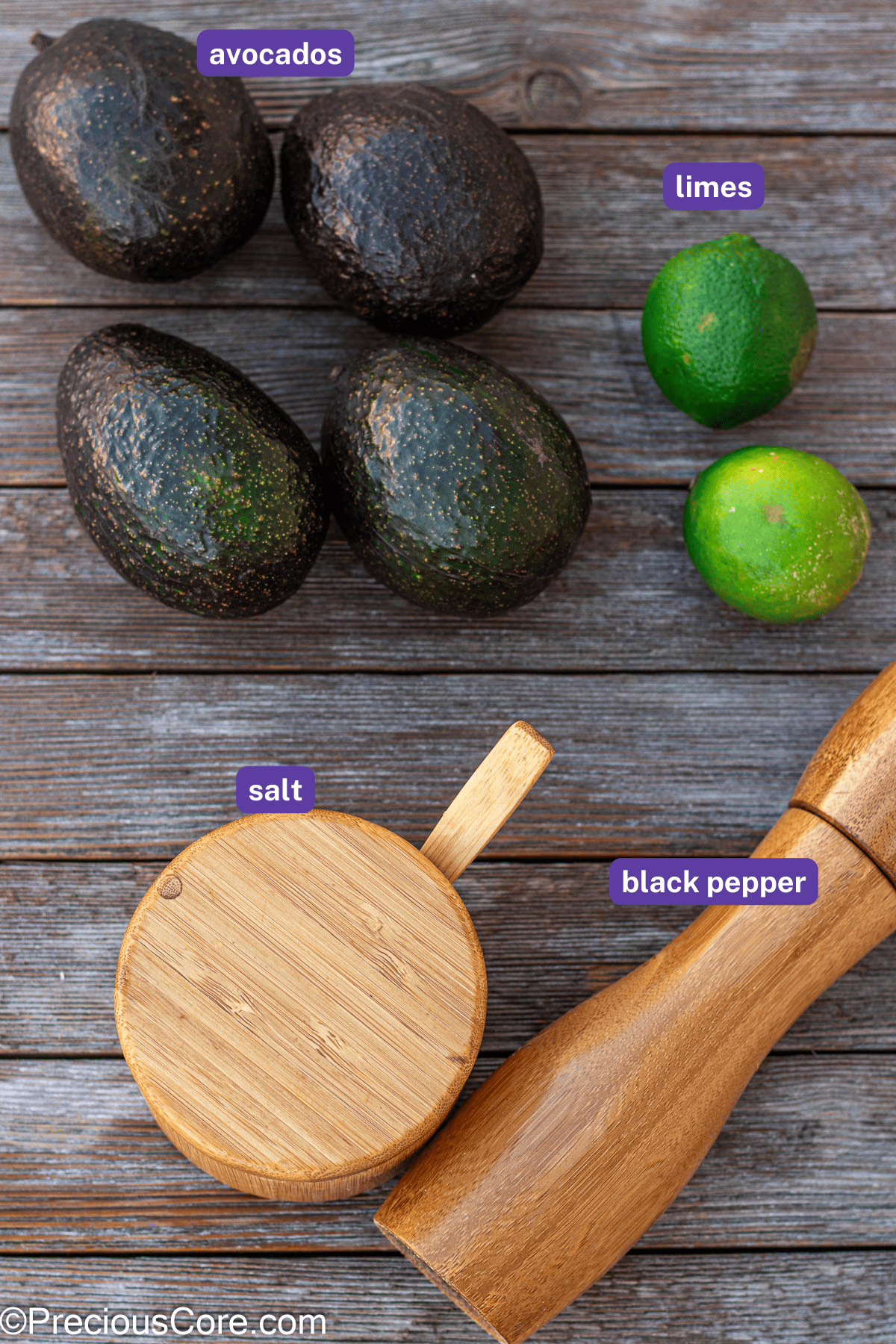 Here are some notes on the ingredients:
Avocados: Be sure to pick ripe but not mushy avocados. The avocados should give slightly when pressed down with a finger.
Lime juice: Use freshly squeezed lime juice for the best flavor. You could also replace lime juice with lemon juice.
Salt and pepper: Salt brings out the flavor while good black pepper adds a spicy hint.
See the recipe card below with a detailed list of ingredients and instructions.
Guacamole Variations
Looking to add more ingredients to your guacamole? Use our 4 ingredient guacamole recipe as a base then consider adding the following ingredients.
Diced onions: Diced onions will add flavor to guamole.
Minced garlic: Add some minced garlic for even more flavor.
Tomatoes: Dice up some fresh tomatoes and add for more texture.
Herbs: Add chopped cilantro or parsley for herby flavor.
Grilled corn: Grill some corn on the cob on the outside grill or on the grill pan, then cut the corn kernels and add to your guacamole.
Fruits: Add diced fruit like pineapple or mango for a fruity guacamole.
Spicy: Add diced Jalapenos for some heat.
Spices: Add dried spices like cumin powder for more flavor in the guacamole.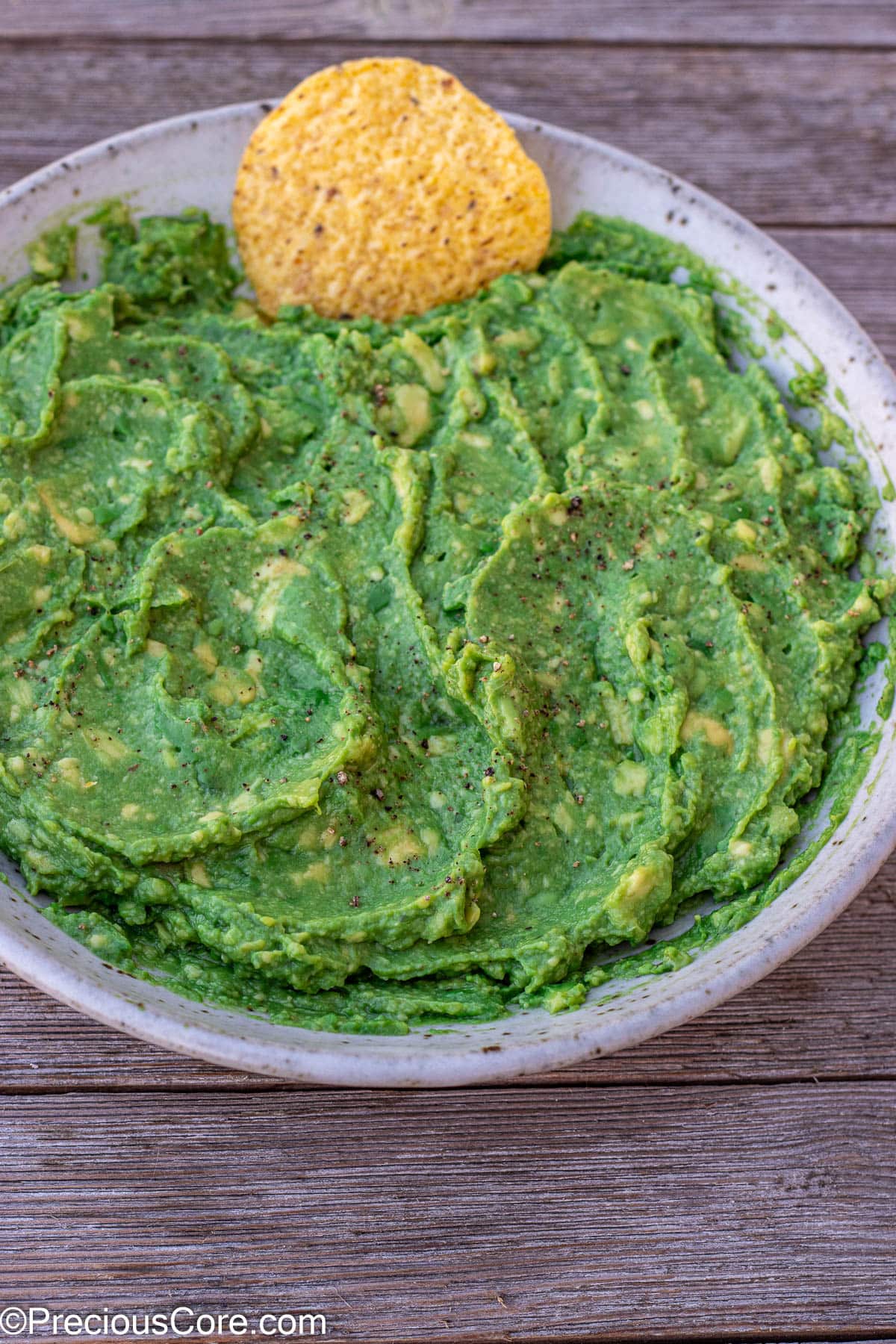 How To Make Avocado Dip
Making this 4 ingredient guacamole is quick and easy, perfect for when you want a quick no-fuss dip! Here is how to make it:
Cut avocados in half and scoop out the flesh. Scoop easily with a spoon or an avocado slicer.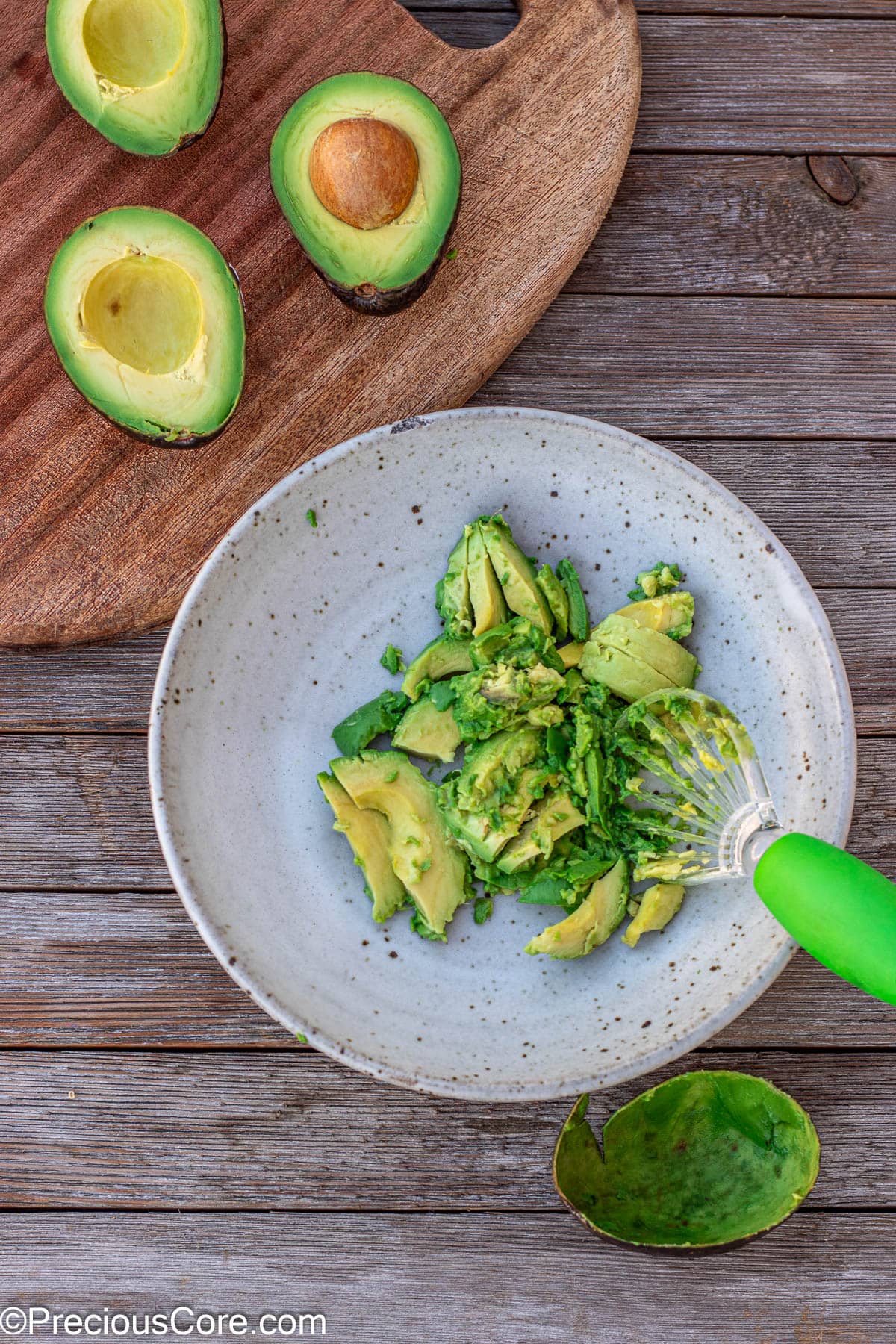 Mash the avocados with a fork.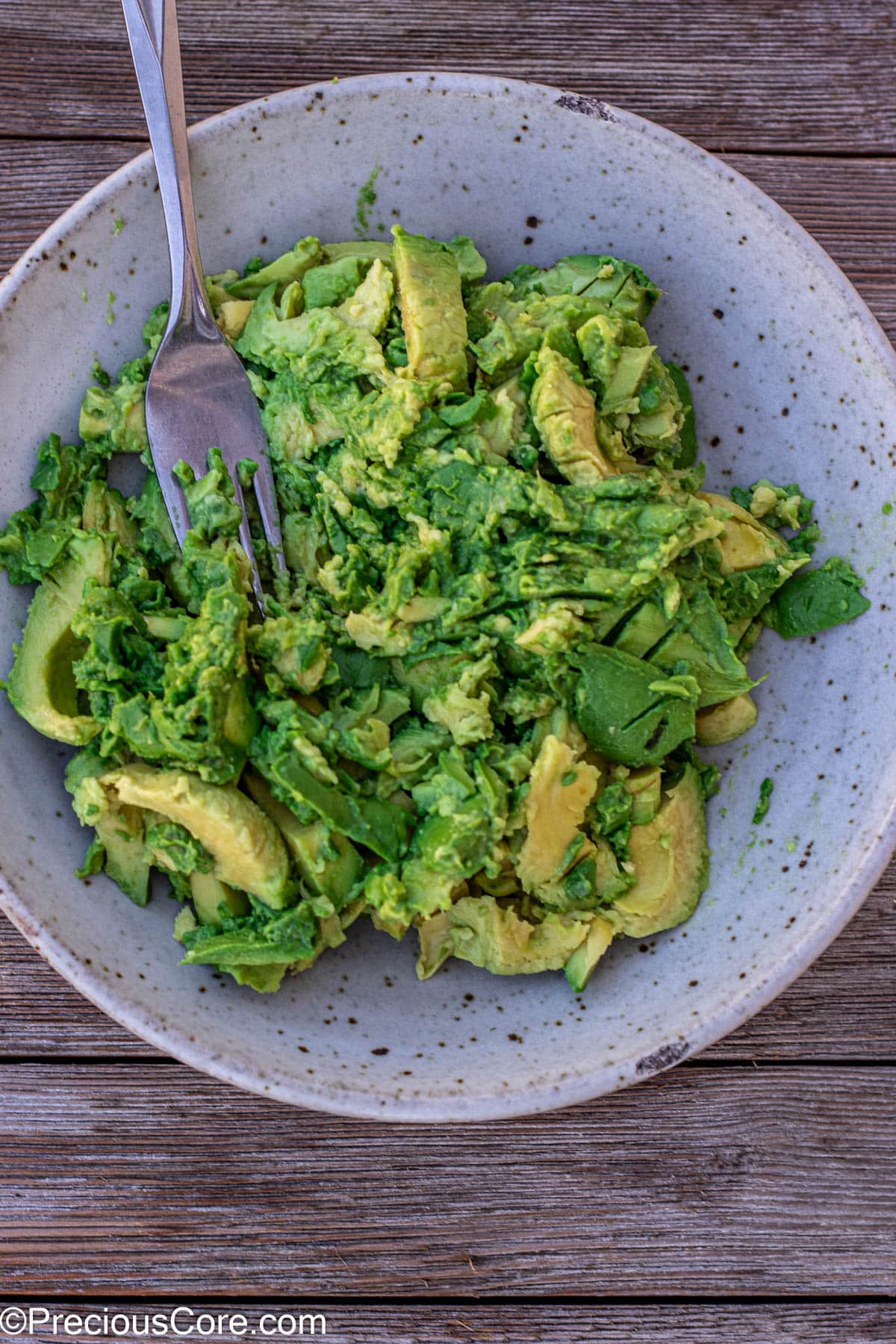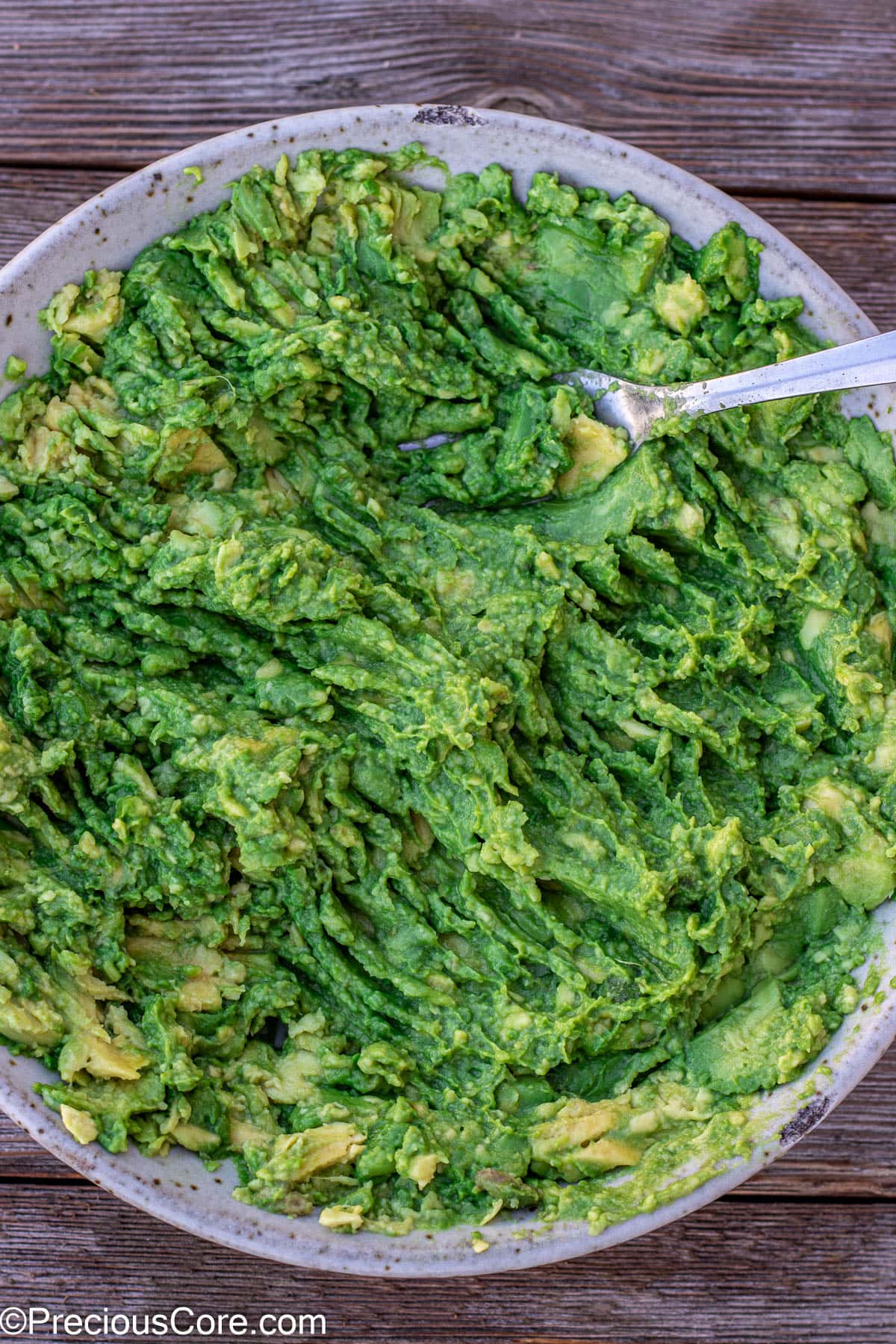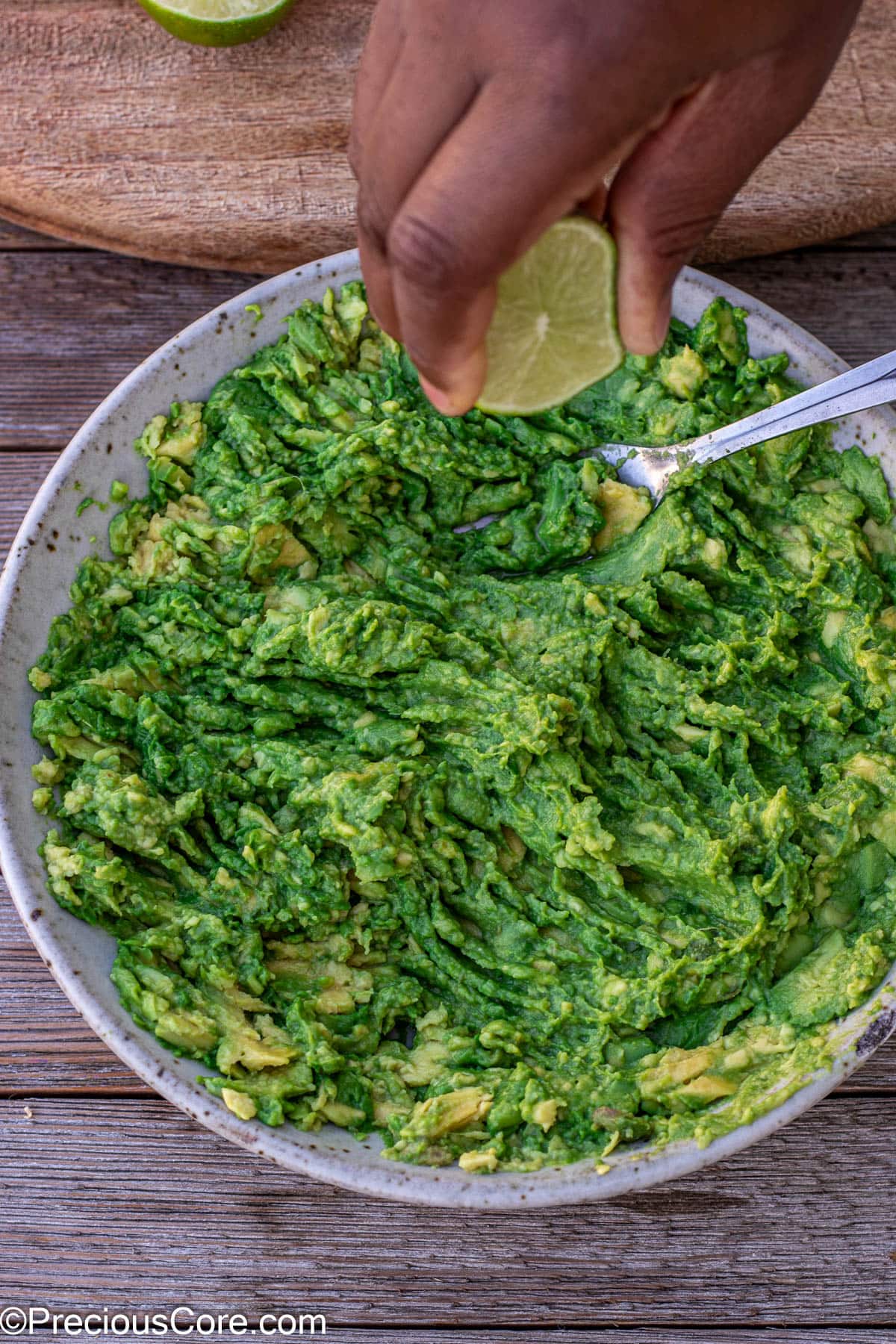 Season with salt and pepper.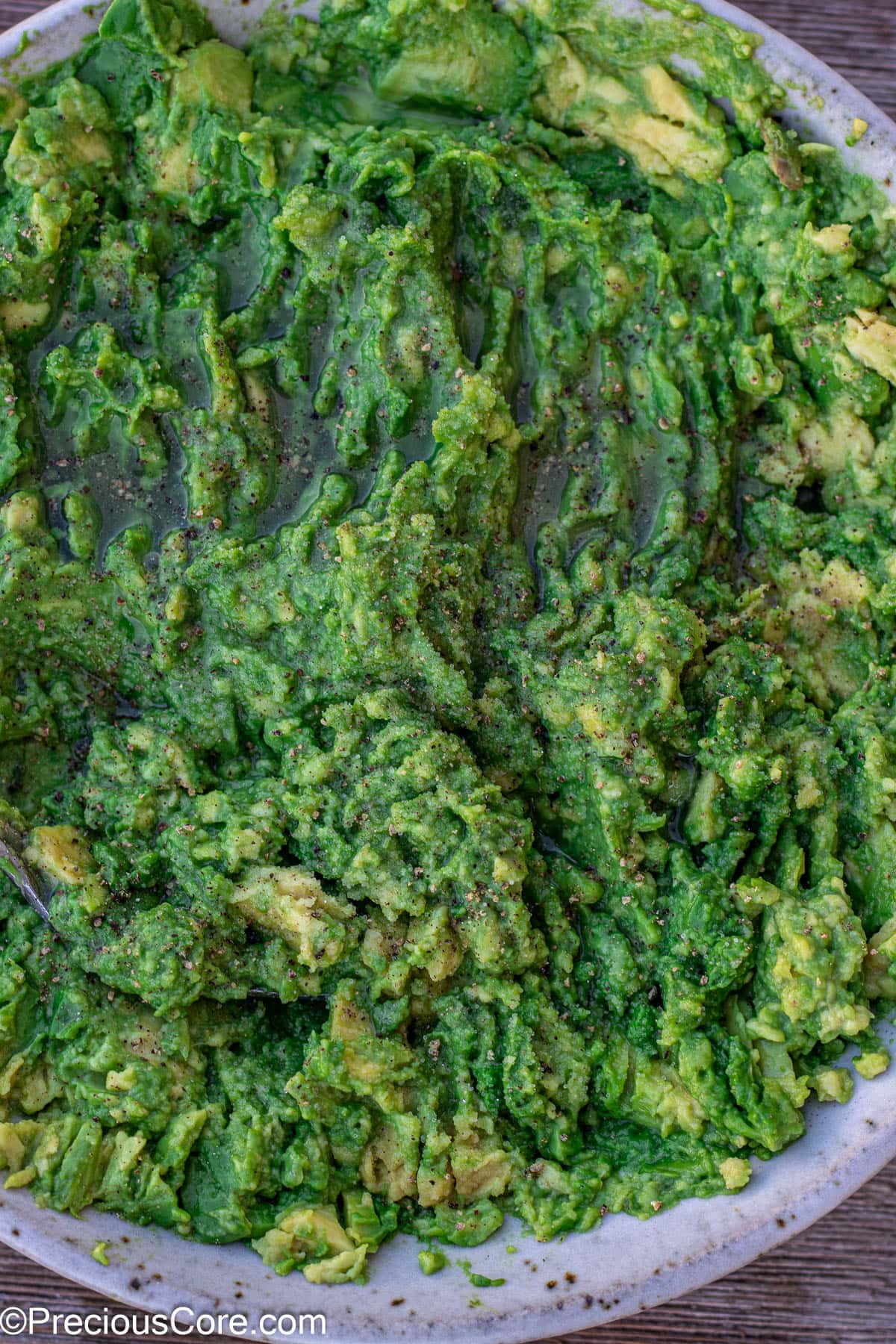 Mix to combine then taste and adjust seasoning and lime juice.
Serve guacamole with your favorite tortilla chips for dipping. These Plantain Fries and Twice-Fried Plantains also go well with this easy guacamole recipe.
You could use a potato masher to easily mash avocados to make guacamole.
Recipe FAQs
Can you use lemon instead of lime in guacamole?
You can definitely use lemon juice in place of lime juice in guacamole.
How far in advance can you make guacamole?
You can make guacamole up to a day in advance. To prevent the guacamole from turning brown, squeeze lime juice all over the top and store the guacamole in an airtight container in the fridge. Before eating, discard the excess juice on top so it doesn't change the flavor profile of your guacamole.
What is authentic guacamole made from?
Authentic guacamole is made with avocado, onion, tomato, cilantro, lime juice, jalapeno, garlic, and salt.
Serving 4 Ingredient Guacamole
This easy guacamole makes a great addition to meals whether for breakfast, lunch or dinner. Serve this guacamole with:
Burritos
Tacos
Rice Bowls
Fresh Vegetables, as a dip
Burgers
Toast
Wraps, and more.
If you make this recipe please leave a star rating below. Your rating helps others find the recipe plus I love hearing from you! Thank you!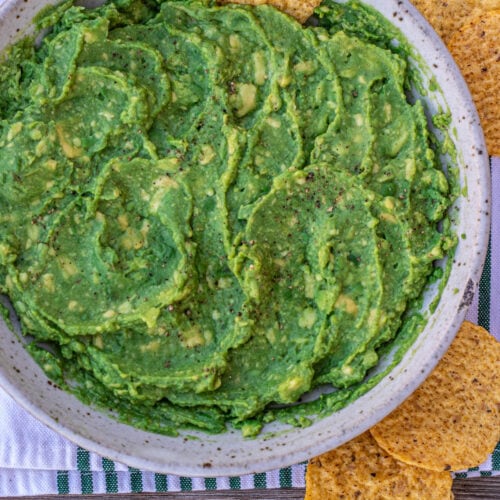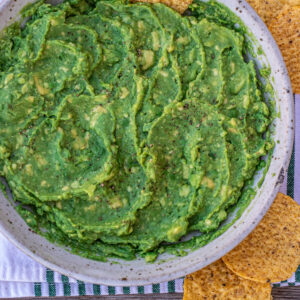 4 Ingredient Guacamole Recipe
You don't always have to spend time dicing ingredients when making guacamole. Here is how to make a simple 4 Ingredient guacamole. This simple guacamole recipe is a recipe my kids can actually eat and enjoy without worrying about diced onions inside. See the post above for lots of tips.
Ingredients
4

medium ripe avocados

1½-2

Tablespoons

lime juice

freshly squeezed, about 2 limes, adjust to taste

Salt and ground black pepper

according to taste
Instructions
Half the avocados, remove the pits and scoop out the flesh with a spoon. Add the scooped avocado to a medium mixing bowl and mash with, a fork into a chunky paste. Add the lime juice, salt and pepper. Mix well to combine. Taste and adjust the seasoning as needed.

Serve with tortilla chips or plantain chips.
Notes
Pick avocados that still have the stem attached and give slightly when pressed with a finger for the best avocados. Optional add-ins for guacamole include onion, tomato, garlic, cilantro, jalapeno, and corn. See the post above for other options. To store guacamole, place it in an airtight container and squeeze lime juice all over the top to prevent oxidization (browning). Cover tightly and store in the fridge for up to 1 day. Before eating, discard the excess juice on top so it doesn't change the flavor profile of your guacamole.
Nutrition
Calories:
324
kcal
|
Carbohydrates:
18
g
|
Protein:
4
g
|
Fat:
30
g
|
Saturated Fat:
4
g
|
Polyunsaturated Fat:
4
g
|
Monounsaturated Fat:
20
g
|
Sodium:
160
mg
|
Potassium:
985
mg
|
Fiber:
14
g
|
Sugar:
1
g
|
Vitamin A:
298
IU
|
Vitamin C:
22
mg
|
Calcium:
26
mg
|
Iron:
1
mg